Elise Dopson
Do you know what your business's maximum capacity looks like? How much can your team take on before they burn out? Knowing the answers to these questions is vital to ensure your team and business operate at their full potential.
While it's tempting to pour in as many resources as possible, most businesses work within tight budgets and limited team members. For that reason, it's essential to understand your business's capacity and how to manage it. 
In this guide, we'll share how to improve your business's capacity management and achieve your project goals while avoiding burnout and budget overspend.
Manage your team capacity on autopilot
Float is the #1 rated resource management software on G2 that gives you the most accurate view of your team's capacity to plan projects and schedule tasks with confidence.
Try for free
How does capacity management work? 
Capacity management ensures businesses maximize their activities and output. Companies use it to meet project expectations cost-effectively. 
It measures how much a business can achieve, produce, or sell within a given time period. When executed correctly, it helps companies optimize their processes for improved output. When companies don't correctly use capacity management, they may have lower revenue. Poorly managing capacity can result in a decreased market share, delayed projects, and, ultimately, customer attrition. 
For example, a business that begins offering a new UX web design service and then promotes it across its newsletter campaigns and social media channels can expect a sudden increase in demand. The inability to provide available UX web designers to work on new projects that come in would be a sign of poor capacity management. 
The challenge here is to produce at capacity while maintaining staffing costs and ensuring they don't spiral. Getting it right means companies can be agile enough to meet customer and market demands under all conditions.
Capacity may change according to these varying conditions and external factors: 
Seasonal demand
Market change
Staff availability
Team member skill sets
Carrying out capacity management might mean outsourcing some business processes, purchasing more equipment, changing your existing infrastructure, or leasing commercial property. 
Make sure your capacity management software syncs with your calendar
Connect Google or Outlook Calendar with your resource schedule in Float to seamlessly track and manage your team's capacity.
Capacity management process
You'll need a steady and accurate process to ensure you optimize capacity. These activities and sub-processes are usually done on a regular basis. Depending on the nature of your projects and business structure, you may need to perform them on a daily, weekly, monthly, or even longer interval basis. 
Here's a three-part capacity management planning process: 
1. Measure
Before you kick off any project, measure the key resources you're going to use. Whether they're team member hours, new IT infrastructure, or other types of resources, make sure you know what resources you need to deploy and how much of each one you'll need. 
2. Analyze 
During the project, analyze how your initial resource allocations are going. Do you need more or less? Continuously analyzing your resource spread will help you make swift changes if needed.
3. Track
Keep track of the number of resources you ended up using and how this compares to your overall capacity. Effectively tracking this during and after the project's completion will help you manage capacity better in the future. That way, you won't overspend on IT resources or stretch your team to the limit. 
How to calculate capacity
Calculating your team's current capacity is essential for knowing what they're able to take on in terms of current and future resource allocation.
For example, if an IT services business has five employees and each works 40 hours per week, the company has 200 hours of weekly capacity.
Note: This can also be referred to as five FTEs — full-time equivalent employees.
Therefore, the company can handle a maximum of 200 hours of business per week before overtime kicks in. Knowing this, the resource manager sees how many projects the team can effectively complete during one week without having to resort to overtime.
That way, if they need to increase future capacity, the resource manager can either search for external help, hire new team members, or temporarily outsource elements of the project.
Calculate your team capacity automatically with Float
Get a live view of your team's capacity and utilization with Float, the #1 rated resource management software on G2.
Try for free
Benefits of capacity management 
Effective capacity management helps your team complete projects to a high standard, meet deadlines, and better allocate available resources. 
You'll find that the benefits of capacity management don't stop there, though. 
Make a data-informed decision about staff and projects
When you have a company-wide central data center, including details on staff availability, upcoming projects, and your team's skill sets, it helps you decide who is the best fit for certain projects. Additionally, past records of other projects enable you to identify how long future similar projects will take and the kinds of resources you'll need to allocate. 
There's no guessing or rough estimations here. Instead, effective capacity planning allows you to draw on a centralized data-driven system for more accurate decisions.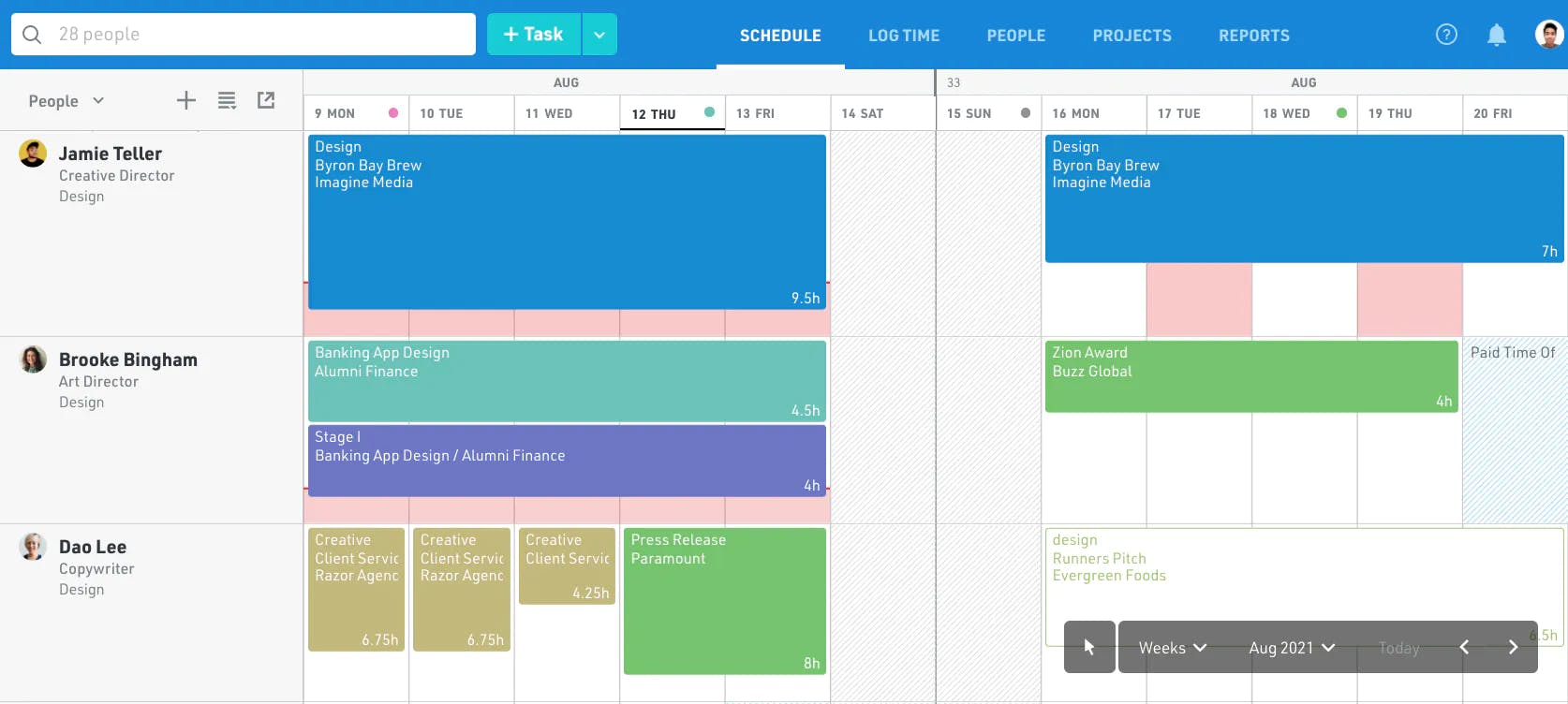 Create more accurate budgets
Capacity planning enables you to find the most cost-effective ways of fulfilling upcoming business needs while remaining on budget. 
Let's say you have a new web development project next month. There's a tight two-week deadline, and you know it's going to run over your team's maximum capacity. Inaccurate forecasting may get your team to the middle of the project only to have to panic-hire a freelancer who's double the price of your usual budget. But with effective capacity planning, you can predict this and contract someone within your budget a month before the project kickoff. 
By using capacity management, you're not over budget or time-strapped. Instead, you've adequately allocated resources and budget to where there's a gap.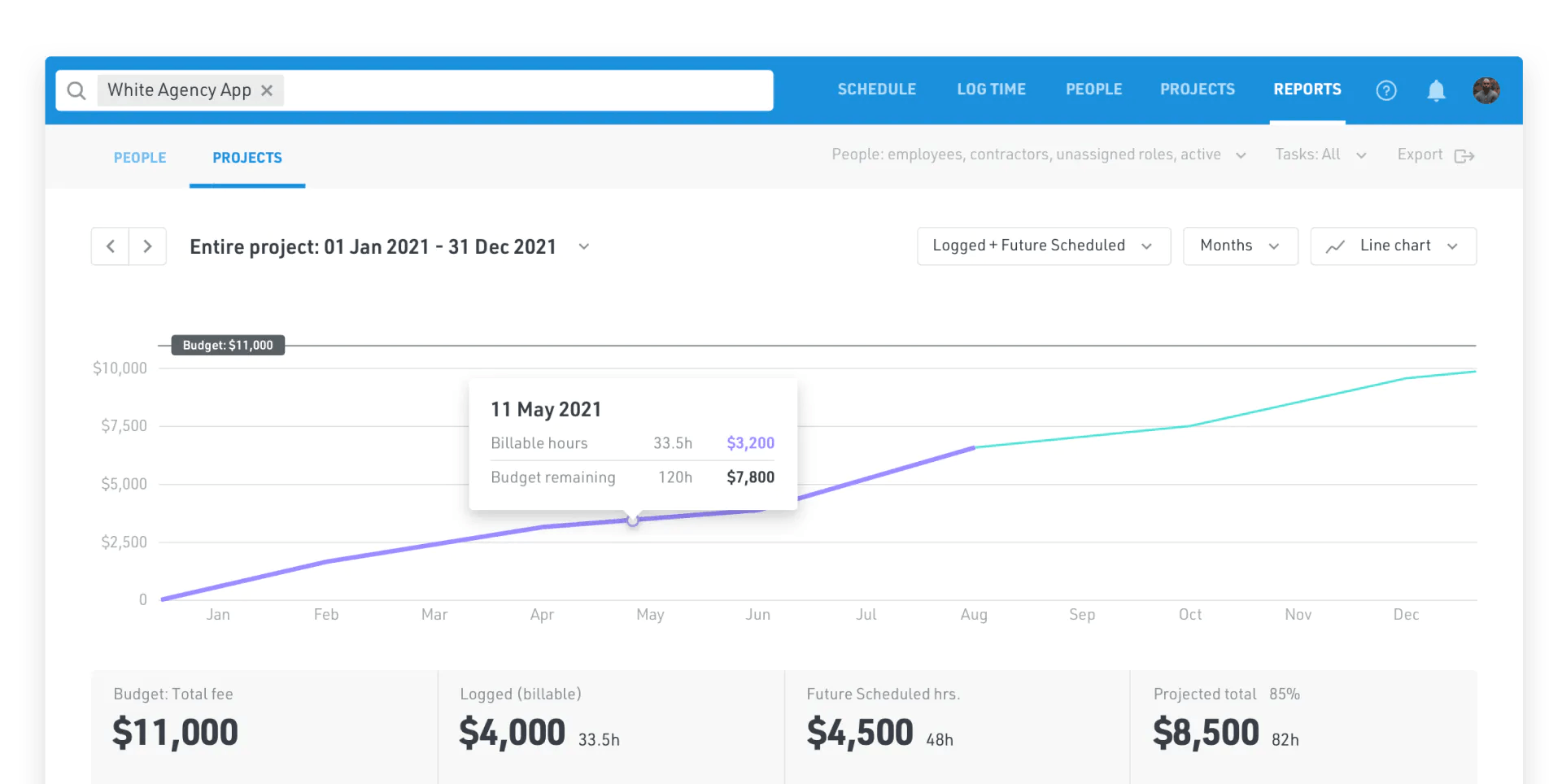 Reduce burnout
Next time you're about to sign that new client agreement, be sure your team has the availability to deliver the project. Consistently overbooking your team can lead to burnout. 
Effective capacity management shows you what bandwidth your team has to take on new work. Your team needs to be available to work on new projects, so you're not putting them under unnecessary strain or letting clients down. 
When you effectively manage capacity, you can quickly check who's busy and who's not and find the best-suited team members for the job.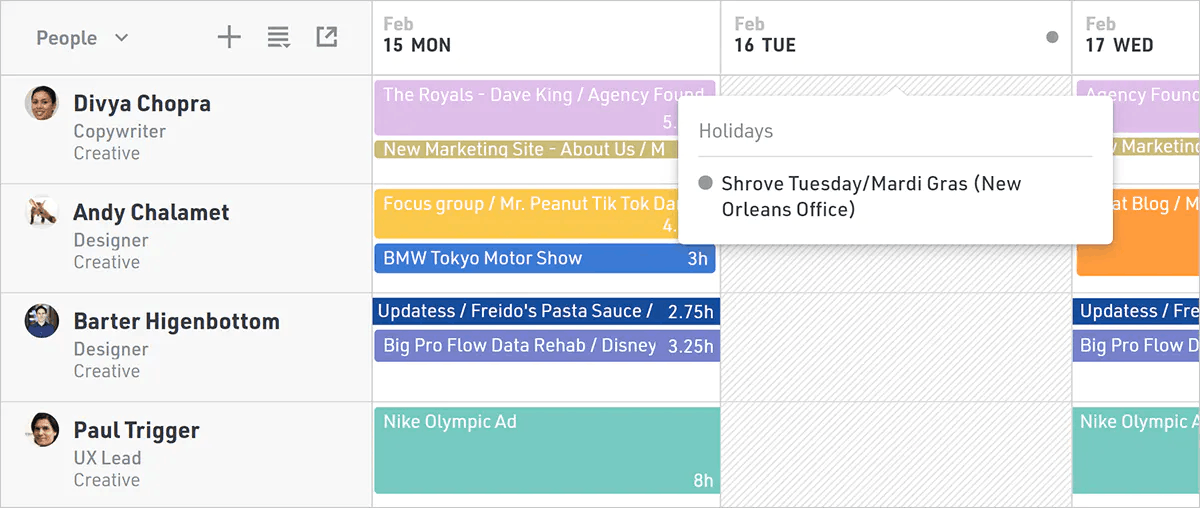 Understand staff skill set
Capacity management is tied to your team's skill set. Build a skill set inventory to track who can deliver what tasks and/or what skills they have. In a web design team, you can record each team member's skills, such as: 
Adobe Illustrator
XD
Webflow
Responsive design
UX
SEO
When it's time to assign a task, you can quickly evaluate who's the best fit based on their skill set. Whether you need an SEO specialist or a graphic designer, you can identify team members who are the right fit. 
Your skill set inventory needs to be an evolving document. When your team members up-skill, make sure to update your document. You can also use your skill set inventory to check that staff have relevant skills to deliver your business's services and remain competitive. 
Make time for training and up-skilling
You're all set to take on that new web design project, but you've just checked, and you've got no Webflow experts 😱.
Proper capacity management helps you spot these issues early on before it's too late. You don't need to take on or begin the project before realizing you don't have the right skills. When you manage capacity, you can see if your team is available and has the necessary skill sets. Recording team skill sets and recent training will help you identify skills gaps and shortages. 
With these insights you can: 
Train team members in new skills
Prioritize training and resource management to match market demand
Outsource externally to add skills to the team, either temporarily or permanently 
Modify the brief so you are using skills the team has
When you use capacity management, you can accurately allocate your training resources. You can also correctly identify the work you're more likely to do in the future and help your team develop professionally. 
Hire smarter
Having too few hands on deck is a common issue. But having too many team members and not enough projects is just as problematic. If you hire too many people for the amount of demand, you'll spend more on salaries, and business growth will slow. 
Knowing how many team members, resources, and skill sets you currently have available for client projects will help you make better hiring decisions. Once you're clear on which in-demand skills your team is missing, you can prioritize candidates that have those skills and make hiring decisions that align with your goals. 
Alternatively, skills may be in seasonal demand. For example, suppose you know that in January you usually experience a surge in website update inquiries. In that case, you can improve your IT capacity or improve your service desk by hiring some freelance support. 
Three types of capacity management
These three types of capacity management help you optimize your business processes and output.
1. Workforce capacity management
As your business evolves and your team gets busier, you need to manage your workforce's capacity to ensure projects are completed on time and to a high level. It's essential to strike a balance between having enough availability to take on new projects while also ensuring team members are busy with projects. 
Workforce capacity management is important for streamlining your workflow and maintaining realistic expectations of other team members. You need to visualize all the moving pieces in your company's growing output, project requirements, and your team's current workload. Knowing what's in the pipeline and your overall workforce availability will help your team better prepare for projects and manage their schedules. 
Social media agency Social Chain found it needed a streamlined system to manage its team's growing workflow. Its booking system relied heavily on email communication until, eventually, two teams accidentally found themselves working on the same project!
Social Chain switched to Float to manage its workforce capacity, and now they have full transparency in their schedule and can plan projects around their team's current and future workload.
Having visibility into all of your upcoming projects and resource capacity helps you understand whether your team can take on a new project or if you need to bring on a new hire or outsource some work to optimize their capacity.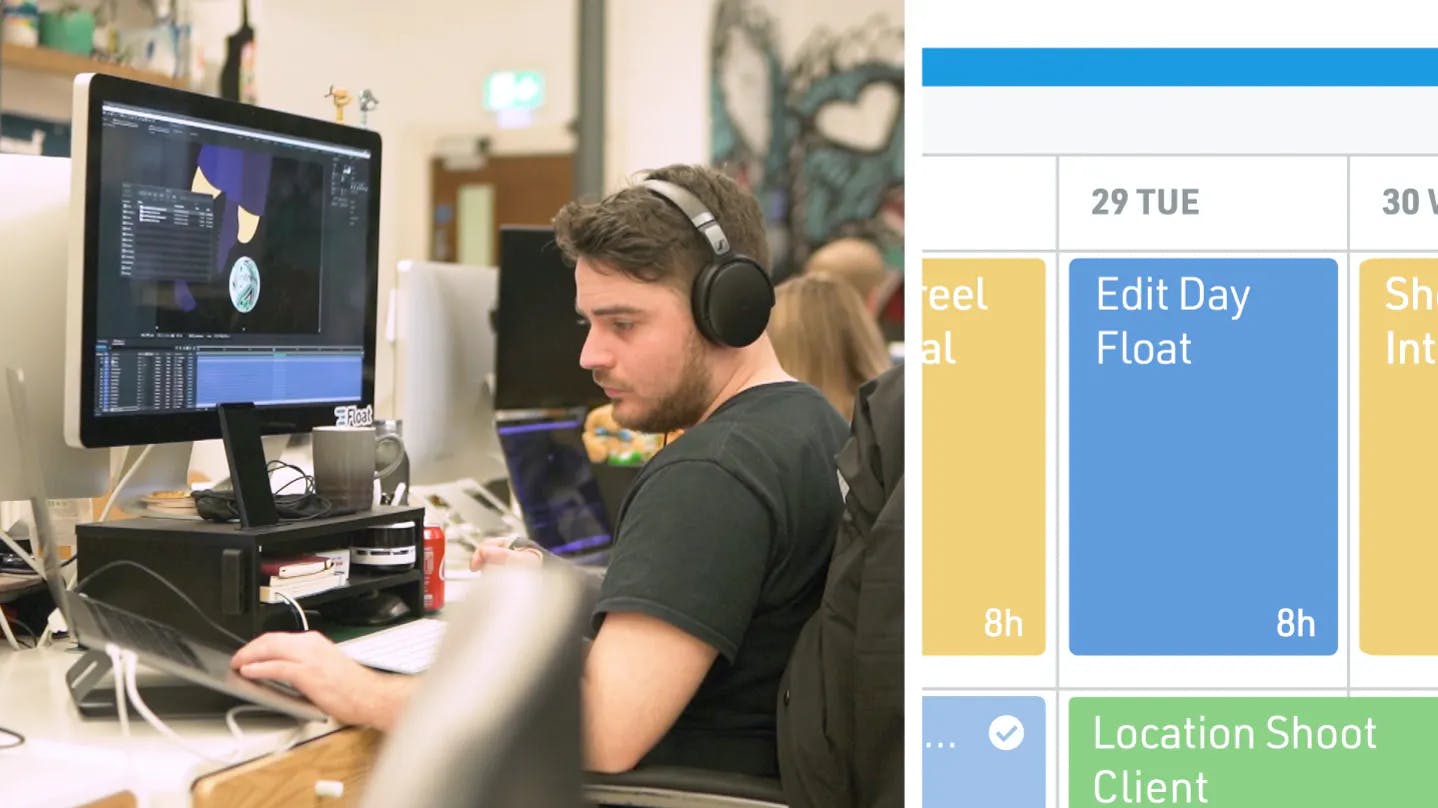 2. Effective capacity management
Effective capacity management enables your business to achieve the maximum amount of work it's capable of completing in a set period.
It helps you track how much capacity is needed and any possible deviations from the original plan. Using this strategy across several projects can help you determine final job performance and how well your business can reach the planned output.
3. Capacity utilization management
Capacity utilization focuses on helping you measure how effectively your business is meeting its potential output.
It's essential for accurate capacity management, as it measures the actual capacity compared to the estimated capacity. To ensure your projects remain profitable, you need to avoid overestimating or underestimating resource utilization.
Four capacity management strategies
There are four major capacity management strategies to choose from. When deciding which is right for you, think about your business structure and the level of risk you're comfortable taking on. 
1. Lag
Following the lag strategy, a team waits until their current capacity is stretched to its limit before adding more. Using this strategy, managers increase demand by improving capacity after the current strategy runs at its full potential.
Managers avoid the issue of having too many team members or resources but could end up losing potential clients to competing businesses that do have capacity. 
2. Lead
The lead strategy is a more combative approach. It requires an upfront investment in more capacity than is currently needed. 
The lead strategy takes care of the predicted increase in demand. In real terms, this might look like hiring another staff member before an anticipated busy period during the year. That way, when an influx of new work comes in, your team isn't left scrambling trying to find nonexistent availability for new projects. Instead, they're able to match demand. 
But this strategy isn't without its risks. If actual demand doesn't match predictions, businesses are left with more team members, resources, or equipment that they may need.
3. Match
The match strategy sits somewhere between lag and lead. This strategy uses gradual changes to a team's capacity rather than increasing capacity in advance or boosting capacity after the existing amount is consumed.
This is done by monitoring changes in the marketplace. Although it's harder to get right, it is a safer bet for most managers, as it's lower risk than other strategies.
4. Adjustment
The adjustment strategy involves adding or reducing capacity based on client demand or significant changes to your product or service structure.
Since this is based on current demand or actual changes to your business offering, it's much more accurate for planning capacities and avoiding shortages or too many resources.
But getting things right using the adjustment strategy depends on reliable capacity management tools and accurate recording methods. That way, you can make correct adjustments to your capacity based on real-time data and insights.
Capacity management best practices
Follow these key best practices for optimum results from your chosen business capacity management strategies. 
Track competency in one centralized platform
It's best to track project pipelines, current output, resources, and availability in one centralized platform so that project managers can keep up to date with the team's capacity. 
Visualizing everything in one place helps managers correctly allocate resources and team members to the right tasks. Simple lists or complicated spreadsheets make this task ultra-complex and leave room for human error. There may be a long lead time to acquire the right resources and team members with the required skill sets and experience, so it's important to make it easy for capacity managers to identify these.
A centralized color-coded and detail-oriented platform like Float enables managers to plan projects effectively. 

Choose a capacity planning strategy to manage pipeline projects
An efficient capacity plan helps you stop chasing your tail with those endless hiring and firing cycles. Instead, it helps you meet business requirements by fulfilling short and long-term future demands, ultimately stopping bottlenecks. 
Resource managers need to know about potential projects and upcoming resource demands. That way, they can effectively fill skill gaps and balance resources. For example, suppose they know an upcoming project requires an SEO copywriter but can see no one on the team has the right expertise. In that case, they can make the necessary decisions like actively hiring someone or outsourcing the project. 
Choosing this strategy prevents potential bottlenecks and enables you to stay ahead of the game. 
Project future capacity
Knowing which resources and skill sets you currently require for capacity makes it easier to project future capacity requirements and what you'll need. 
Using past and current records, determine whether you had too many, too little, or just the right amount of resources for capacity at that time. 
Evaluate these findings to project your future capacity and what you'll need to have access to the right amount of resources. 
Create workflows for resource allocation and requisition 
It's time to ditch the email threads and endless phone calls and messages. A workflow keeps everyone, including stakeholders, in the loop! 
Endless back and forth messages only lead to confusion and mess. When you actually get hold of the right resource, you've wasted valuable time, and the project may already be headed down the path to a billing loss. 
A well-structured project workflow is essential for getting the necessary resources on time. Document it and store it in a centralized location that everyone has access to. That way, everyone will stay in the project loop, and stakeholders will remain informed about where their resources go. 
Reduce bench time
Too many benched resources are the last thing any resource manager wants. It not only increases overhead for the business, it also lowers the productivity of the resources.
Make it a priority to predict bench time and take any necessary measures ahead of time. A solid capacity planning system helps you reduce bench time and resource shortfalls. It also gives resource managers accurate insight into the capacity and demand gap to plan their resources effectively. 
Start accurately managing your capacity today
Whether you're managing your business's first project or its 500th, accurately managing capacity is tough. There's team availability, skill sets, budgets, and resource allocation to think about. 
But managing capacity effectively doesn't need to be a headache. It can be as simple as using a centralized capacity management tool and viewing your team's availability, resources, and skill sets in one place. 
With Float, you can quickly see who's available and who's not, as well as find the best fit for the job. It's also easy to add holidays and individual work hours, and schedule time off for a clear picture of your team's true capacity. That way, when a new project comes in, you can confidently see how and when you will get it across the finish line.
Tired of using spreadsheets and lists to manage your capacity? Try Float, a user-friendly capacity management software, and start optimizing your output today.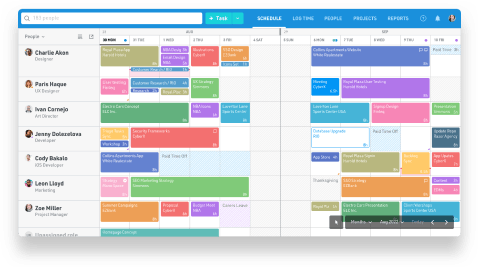 Manage your capacity with the #1 rated resource management software
More than 4,500 of the world's top teams choose Float for capacity and resource planning. Join them today!
Try for free