Nikoletta Bika
Resource allocation and capacity planning are both resource management processes with one ultimate goal: to meet project demand.
That said, while they share some similarities, they're not the same thing. It's helpful to understand how these processes differ because you need both to ensure projects don't get delayed and people don't become overwhelmed.
Let's take a closer look at these two concepts.
What is capacity planning in project management?
Capacity planning is the process of determining the resources you need to satisfy project needs. This involves looking at requirements (demand) and available resources (supply) at a given time—including those you already have and those you can request.
What is resource allocation?
Resource allocation is the process of assigning the best available resources to tasks. For example, delegating tasks to the people with the right skills ensures they're not overloaded or underutilized.
Capacity planning vs. resource planning
Now that we're clear on the individual definitions, we can take a look at the major differences.
Capacity planning is figuring out whether you have the right resources for upcoming projects.
Resource allocation is matching team members to specific tasks.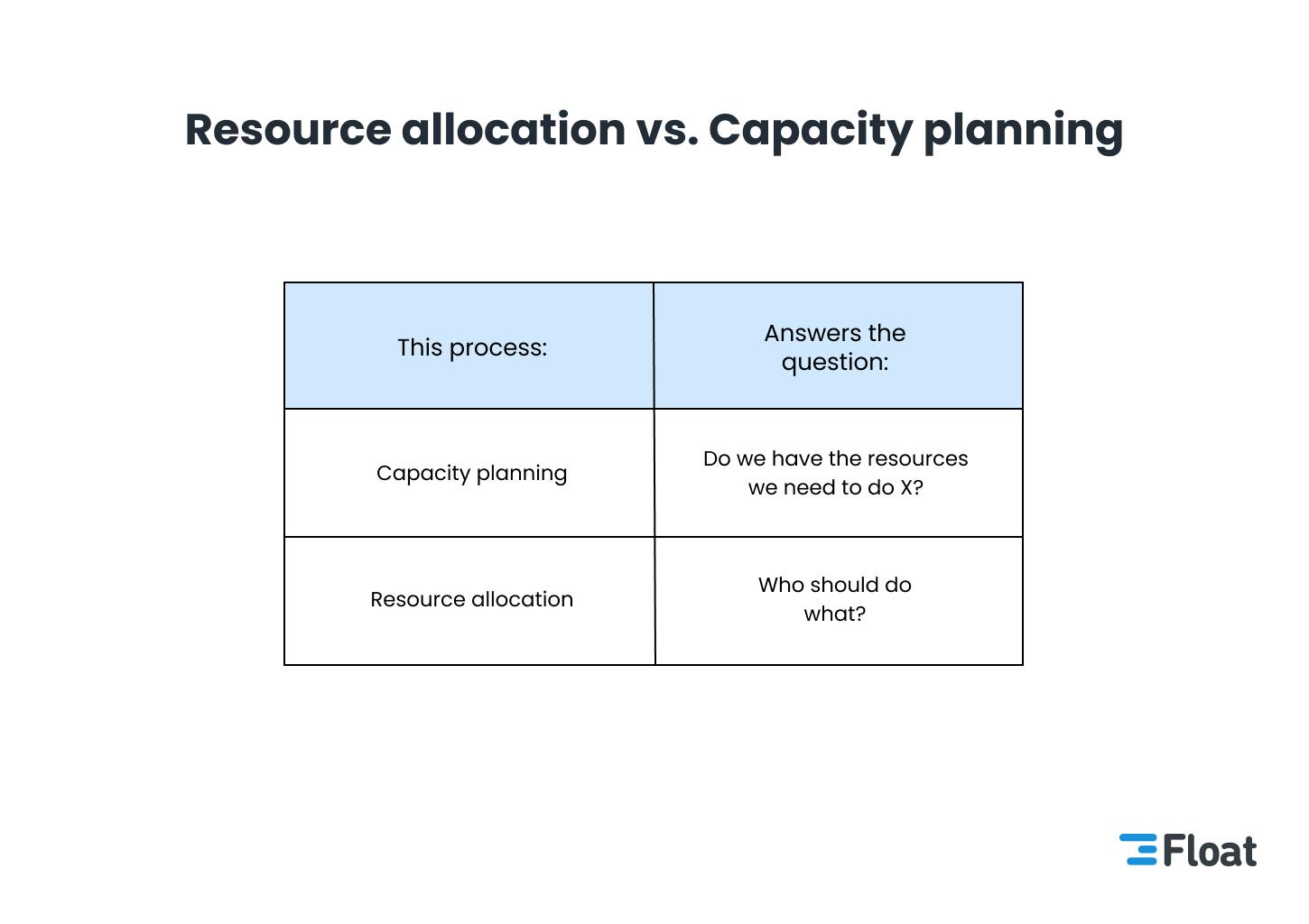 This shows that capacity planning has a more long-term scope to assist in project planning and feeds information (e.g., resource availability) to the resource allocation process. Resource allocation is more short-term and closer to execution.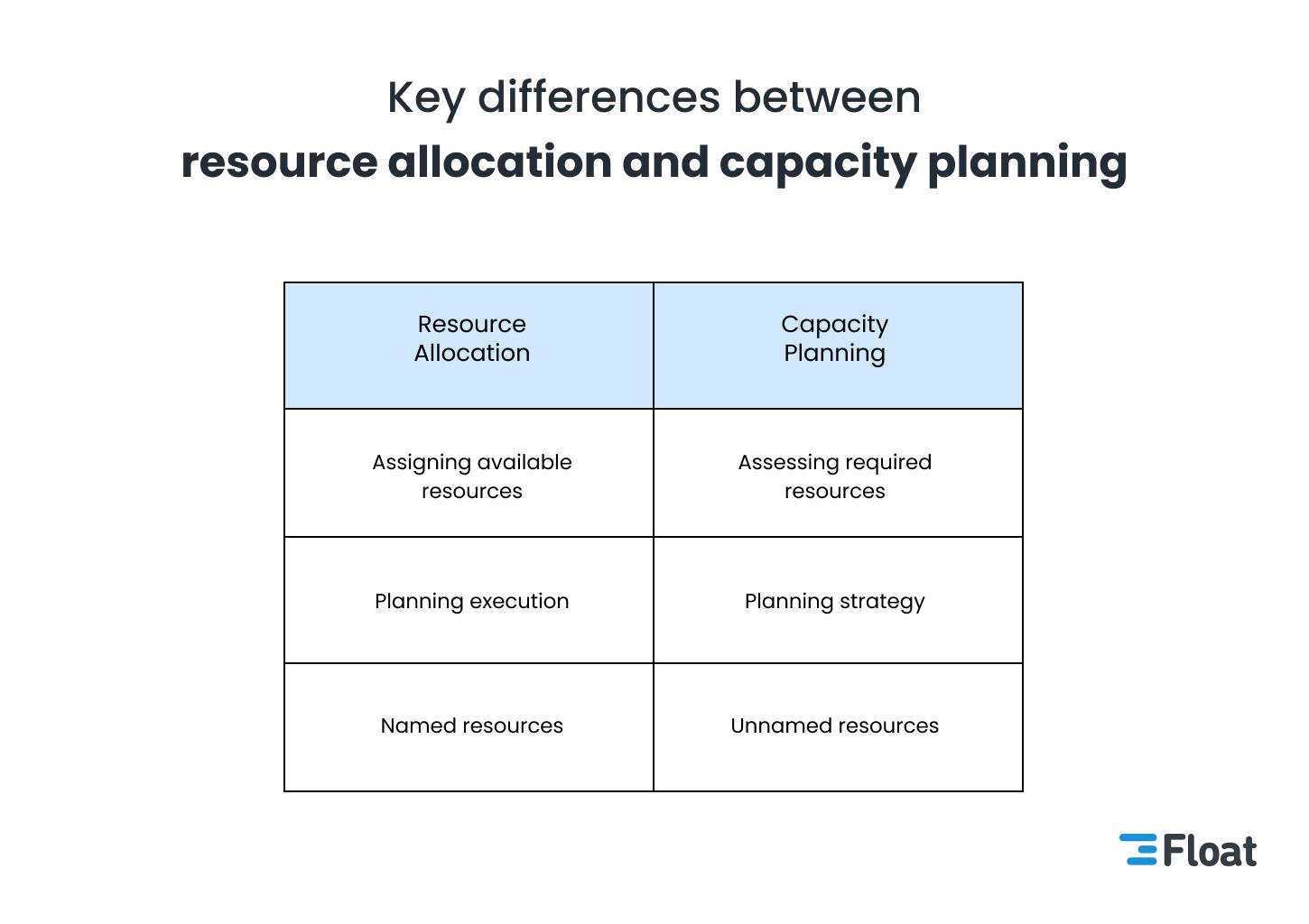 Let's look at some examples of resource allocation and capacity planning results to further illustrate their differences.
An example result of resource planning
You have Designer A and Designer B ready to be assigned project tasks. Based on their availability, skills, and planned time off, you allocate three hours a day for Designer A to do Task 1 and two hours a day for Designer B to do Task 2, so you can finish Project X on time.
An example result of capacity planning
You look at the resources you have to complete Project X and Project Y three months from now. Based on available skills and average workload, you estimate you can't take on Project Z unless you hire another developer with Java knowledge.
It takes two for effective resource management
Resource allocation and capacity planning go hand-in-hand. You can't agree to take on new projects unless you know your team can complete them. And they can't complete them until you break down tasks and assign resources to each.
Some of the benefits of these processes are:
Productivity. Everyone knows what tasks they should be working on and when.
Increased morale and motivation. Team members work at their capacity to avoid being overwhelmed or risking burnout.
Better coordination. By planning ahead, you ensure everyone knows which projects will be completed and which will be postponed, as well as the specific resources that will be needed in the future. If multiple teams are working with shared resources, having a full view of availability helps both department managers and resource managers.
Higher chance to deliver on time and budget. This is the ultimate goal for project management and resource management. You need effective and timely resource allocation and capacity planning to achieve it.
How do you make capacity and resource planning easier?
When you have lots of moving parts—resources, disciplines, projects, tasks—you need an easy way to track everything and be able to adjust. Resource management software will make your life much easier for both capacity planning and resource allocation.
For example, using Float you can track what your team is working on at any given time with a visual schedule that combines planned work and time off. Float provides live insights on capacity and utilization across your team, giving you a snapshot of each person's availability and how work is distributed. 
Know who can take on work (and who can't)
This is incredibly useful for resource allocation, as you'll know who can take on more tasks. Conversely, you'll see when someone's overworked to avoid allocating more tasks to them.
Also, you can track team members' skills using customizable tags in Float. Imagine you're planning a new project that requires knowledge of Python. With tags, you can easily find the developers who know Python and check their availability.
Planning capacity well ahead
Having all this information tracked regularly means you can accurately map your team's long-term capacity. Assigning work in Float allows you to plan weeks or months in advance so you can forecast when to take on new projects or hire new team members. Besides calendar integrations, Float tracks custom hours, time off, local public holidays, and even tentative tasks and placeholder roles for a complete view of availability weeks in advance.
If you want to learn more about planning resources and capacity effectively, check out our Guide to Resource Management.