Resource allocation helps resource managers schedule the best team for the job and optimize how work is assigned.
---
Are some of your team members always overbooked while some stay on the bench for weeks? Are projects constantly delayed because there's no one to work on them? Are you constantly putting out fires and missing deadlines?
All of these symptoms might point to a need for proper allocation of resources. And that's not just assigning someone to a task to get it done. 
To address these challenges, a strategic approach to resource allocation is essential. It involves not only assigning tasks but also considering the expertise, availability, and interests of your team members while directing them to high-value projects.
What is resource allocation in project management?
Resource allocation is the process of identifying and assigning resources – humans, money, materials, and time – to activities necessary to complete projects while considering availability, skills, and interests. However, since resources are often scarce, it becomes crucial to ensure that the activities undertaken align with the goals of your project or organization.
At any point, your people could be working on different projects. Thus, dynamic resource allocation, a term coined by McKinsey, emphasizes directing resources to areas that deliver the greatest value to your company.
Keep in mind that special consideration must be given to human resources, taking into account how resource allocations can impact their performance and well-being.
Why is resource allocation important?
There's a reason resource allocation is a top priority among enterprises, small businesses, and everything in between. This is because resource allocation, when done correctly, is an efficient way to avoid employee burnout, poor performance, and missed deadlines.
Let's look at the advantages of efficient resource allocation.
It improves the accuracy of project plans  
Resource allocation can prevent overspending on resources you don't need. It also stops you from running short of them halfway through a project. 
You can quickly see the availability of resources and timelines for projects in the pipeline and plan accordingly with the right tools. 
Resource allocation also gives a better understanding of your talent pool. You'd be more equipped to select the best people for each project and task, which improves resource management and the likelihood of project success.
It improves team well-being and morale
Poor resource allocation can lead to burnout among your workforce. When that happens, productivity and performance decrease. Consider that:
When you allocate resources effectively, you can avoid all these negative effects. Your people are less likely to be burnout or stressed when they are allocated work based on their capacity. And by extension, your organization saves money by avoiding worker turnover, absenteeism, and medical costs. 
This approach minimizes the chances of overloading employees and maintains their well-being and morale.
It improves worker satisfaction 
Research shows that job satisfaction increases when individuals' job roles align closely with their assigned tasks.
When individuals are assigned projects that align with their capabilities, they not only bring their expertise to the table but also feel confident in their ability to deliver quality work. This boosts their motivation and engagement, as they are working on tasks that are well-suited to their skill set. 
Moreover, when people are challenged and given opportunities to learn and grow through their assignments, they become more invested in their work and are more likely to go the extra mile to succeed.
4 signs you need to improve your resource allocation
Poor resource allocation can be glaring–bottlenecks that stall a project– or very subtle– multi-tasking team members. 
1. Context switching
"One of the signals of poor resource allocation is a lot of context switching where a team member is regularly jumping between different projects and trying to juggle a lot of work at the same time," says Colin Ross who leads the engineering team at Float.
It might seem like the multi-tasker is doing a good job, but the work might be subpar. "While this can look efficient, in terms of output it's never a good idea - there is little chance for the kind of deep focus generally needed to create high-quality work."
2. Bottlenecks
Frequent bottlenecks indicate that your people need to be allocated properly. Ross suggests looking out for "projects that are stalled because some critical resource is unavailable and thereby blocking the next stage."
Suppose you have got too many projects on pause because team members don't have the capacity to finish their work. In that case, he suggests identifying the jobs necessary to complete a project and focusing on completing them first. 
3. Too many active projects
It is tempting and quite common to pursue new ideas or take on new projects without considering if we can handle it. 
Ross points out that this is a sign of poor resource allocation. "Having too many projects taking place simultaneously is also a sign of inefficiency if the teams working on those projects are not partitioned." And more often than not, taking on too many projects can lead to the first two problems of bottlenecks and context switching. 
4. No single view of team capacity
A sign of poor resource allocation is a lack of a shared source of truth for who is working on what, and when according to Alice Winthrop, Senior Product Manager at Float. "If you don't know what people are working on, what kind of utilization rate or capacity you have, then you have no way of knowing how well or poorly your people are being managed."
You are not alone if you have seen any of these signs in your projects. In 2021, it was the third biggest project management challenge for businesses. Luckily, you can improve your resource allocation with the right strategy. 
How to allocate resources to a project
Resource allocation involves several important steps: figuring out project needs and resource demand, identifying the required resources, assessing their capacity, skills, and interests, assigning them to valuable projects, and making adjustments when needed.
Here, we provide you with steps to create a resource allocation plan that works effectively, giving top priority to your people.
1. Determine the resource requirements of your project
Refer to your project brief to identify the activities needed to meet your project objectives and produce deliverables.  
For instance, if your project involves the development of an e-commerce website, you will require a team comprising back-end engineers to handle the server-side functionality, front-end engineers to work on the user interface, copywriters to create compelling content, and QA testers to ensure the website's quality.
➡️ Learn more: IT resource management best practices + expert tips
2. Confirm the availability of resources
It's essential to identify the best-suited team members for the project. 
This involves considering various key factors. Firstly, assess their capacity to handle the workload – do they have the time available? 
Equally important is evaluating their skill set to ensure they have the necessary abilities for the assigned tasks. 
Also, take into account their interests and strengths in relation to the project's needs; this means checking if the roles resonate with their passions and contribute to their personal growth. 
You can easily find information on your team members' skill sets and availability in Float. 
Let's assume you need a back-end developer skilled in Javascript. But you also need to find someone who would be available for the duration of your project. 
Navigate to Schedule and then use tags to filter your team. For example, you can type "java".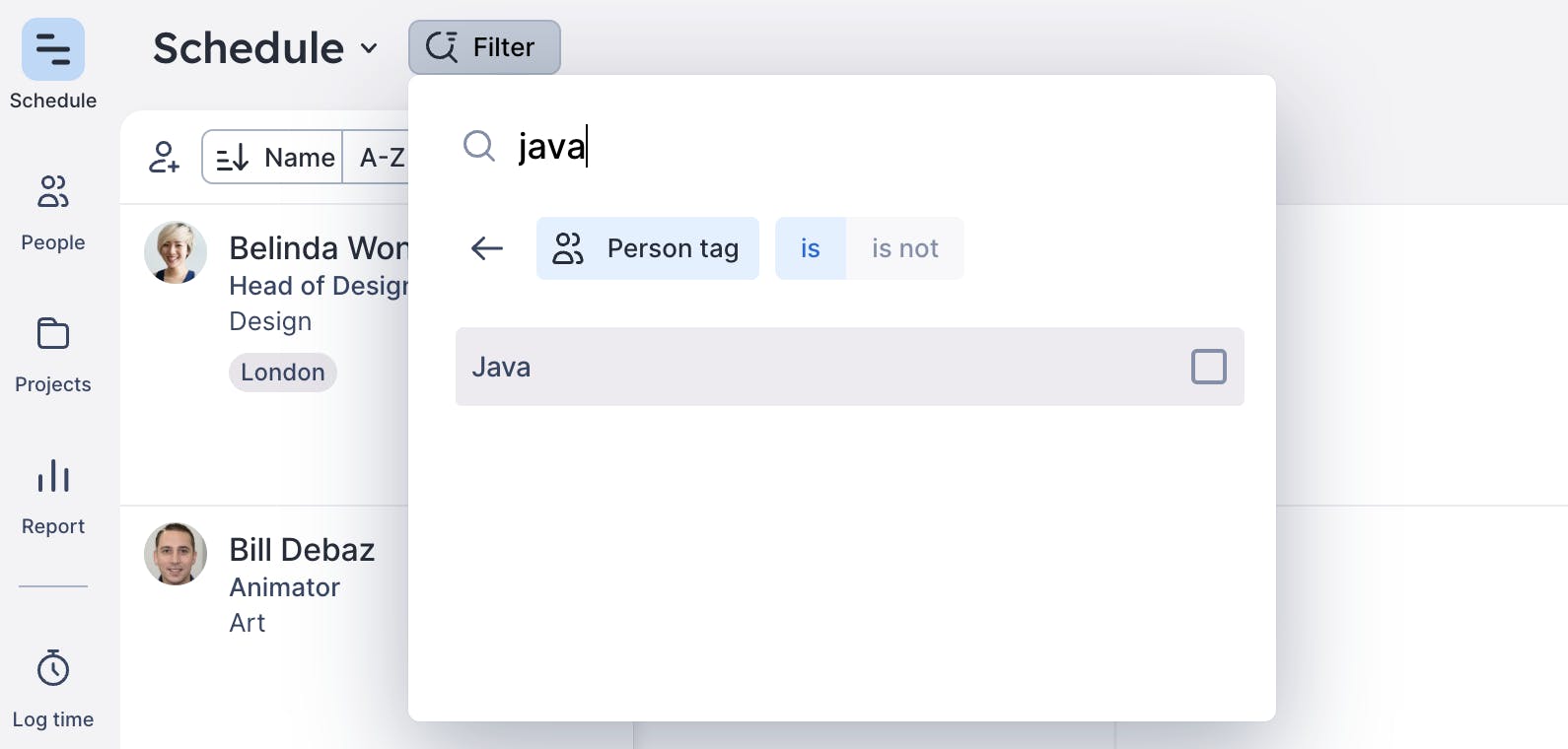 The profiles of team members skilled in Javascript will show on the schedule.

Let's assume that the project is to last for 5 months, and you want to find out if any engineer has their annual leave coming up. 
Add a filter and choose "Time off" and choose the leave type.

To make well-informed decisions, collaborate with team leads, department heads, and the resources themselves, who can offer valuable insights on growth opportunities and individual interests.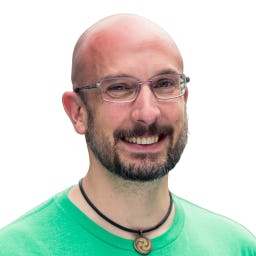 Colin Ross
Director of Engineering
Float
In the case where a team member is frequently requested for tasks, what strategies do you employ to avoid overutilization and bottlenecks? 
Firstly, strive as far as possible to allow a single focus at any given moment to avoid the cost of context switching. This leads to some hard decision-making about the critical path through the project list since this team member is the key to completing anything.
Secondly, looking to hire or cross-train other team members to help out in this area to ease the bottleneck, so that in the future this should be less of a problem. It is important to note that there will always be a bottleneck somewhere - the trick is to understand what level of 'throttling' you ultimately find acceptable at any given moment.
3. Allocate time to the project
Once you've found the people with the right skillset and availability, the next step is allocating time to the project. 
Because resource allocation is focused on finding the right people for project work, you want to keep it high level and avoid getting into details about tasks. 
Also, tasks and subtasks belong in your project management tool while your resource planner is meant for optimizing and tracking how your team spends their time. 
That's why we have recently renamed tasks to allocations.  
By scheduling allocations and optionally assigning them to related tasks, you can quickly understand your team's planned time and track total hours faster in your reporting. Find out more about this change here.
To allocate time to a project, simply click and drag over a date on the Schedule. This will bring up the scheduling menu.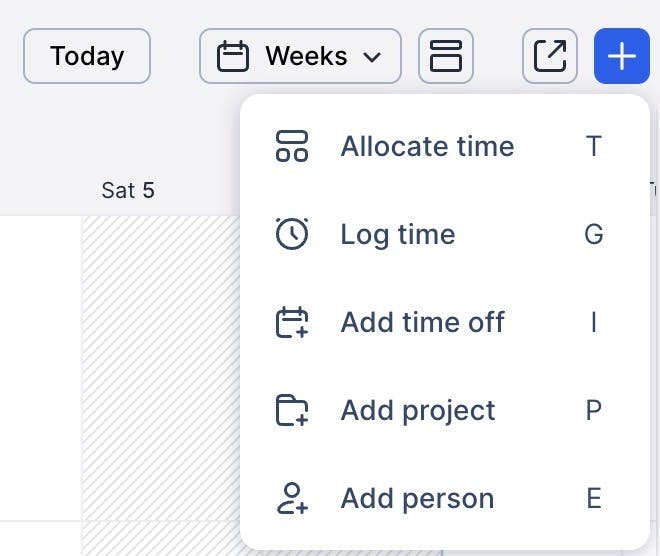 Next, specify the allocation hours and choose the client and project to add the allocation to the team member's schedule.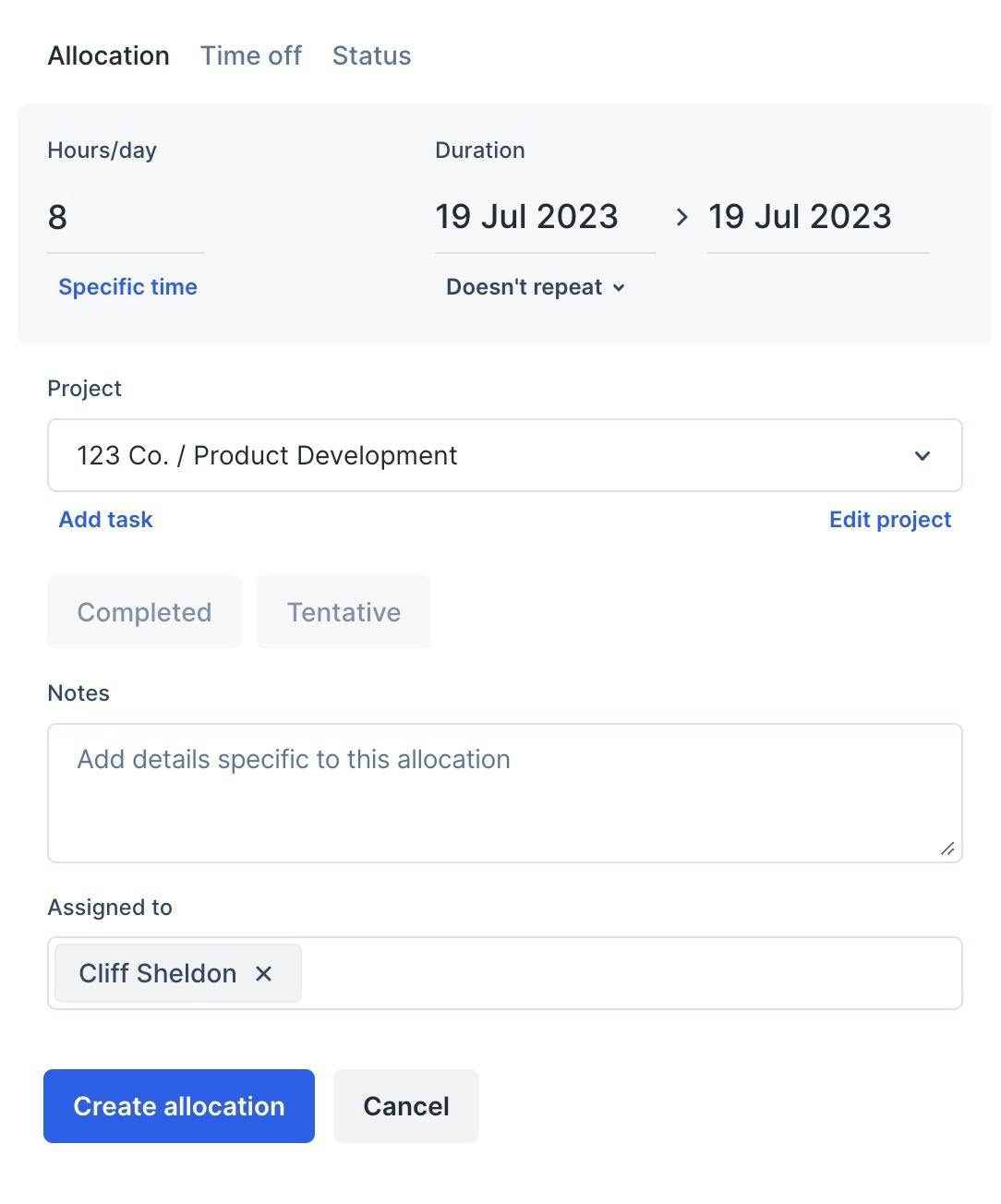 4. Get feedback from your team on allocations
Never assume that allocations are perfect without getting your team's input.
Without your team's feedback, you might assign tasks to individuals that do not align with their expertise or interests and impose unrealistic deadlines. This could lead to missed deadlines and subpar work.
One solution is to consult with team leads/department heads or even the resources about who is best suited for tasks.
Let's say you think a design brief should take roughly two hours to complete, and you block out time for the project. You check in with the designer and find out that your estimate is off and they need an extra hour to finish their task.
"Once allocations have been made, make it a habit in 1:1s and other discussions to ask your team how they feel about capacity allocations. Too much? Too little? Just right? And then adjust." says Michael Luchen, Director of Product at Float.
To maintain flexibility, you can initially keep allocations as tentative until you've gathered feedback from your team. 
When setting up an allocation, choose "Tentative" status. This will indicate that the time allocation isn't confirmed and will be displayed as a color outline on the Schedule.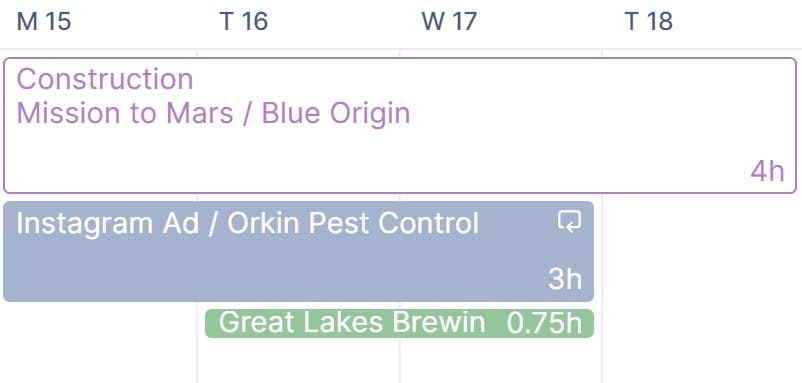 4. Monitor the progress of the project and make adjustments when necessary
After assigning tasks, you will need to keep an eye on the project so you can make bottlenecks or over-allocation and under-allocation.
Luchen suggests using software tools to track the state of allocations.  
"For software development projects, I rely on tools like Linear to automatically project velocity for individual tasks. Paired with a tool like Float, our team can make informed decisions on progress and resourcing–do we need to reduce the scope? Extend the timeline? If so what else has to move"
You might discover that you have too many resources at your disposal—or worse—you might have overloaded your team and are in danger of missing a deadline. In such cases, it's essential to remain flexible and ready to make changes when necessary.
Let's say a team member is allocated more than 40 hours a week.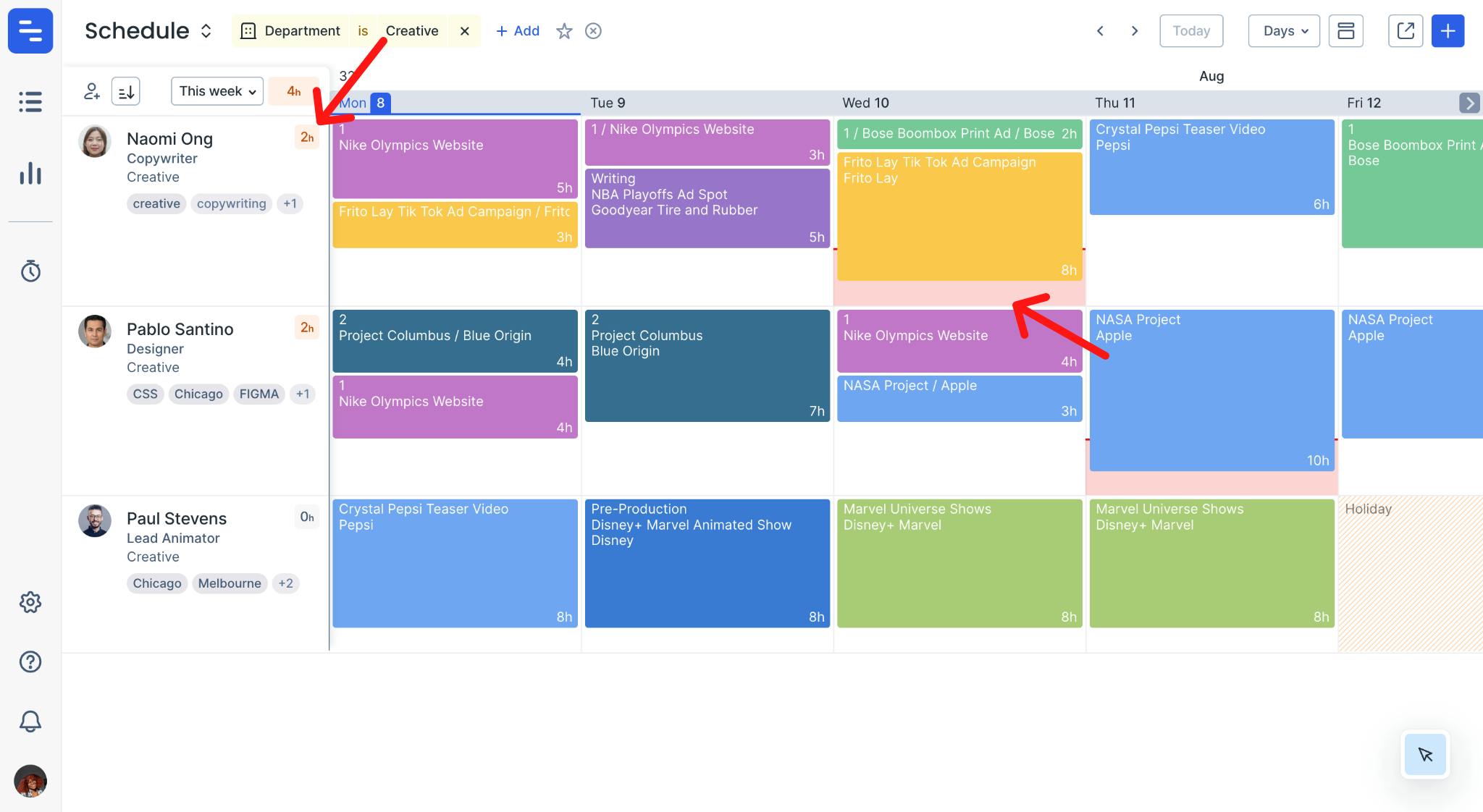 In Float, you can filter by availability and skills to find someone who can take on more work.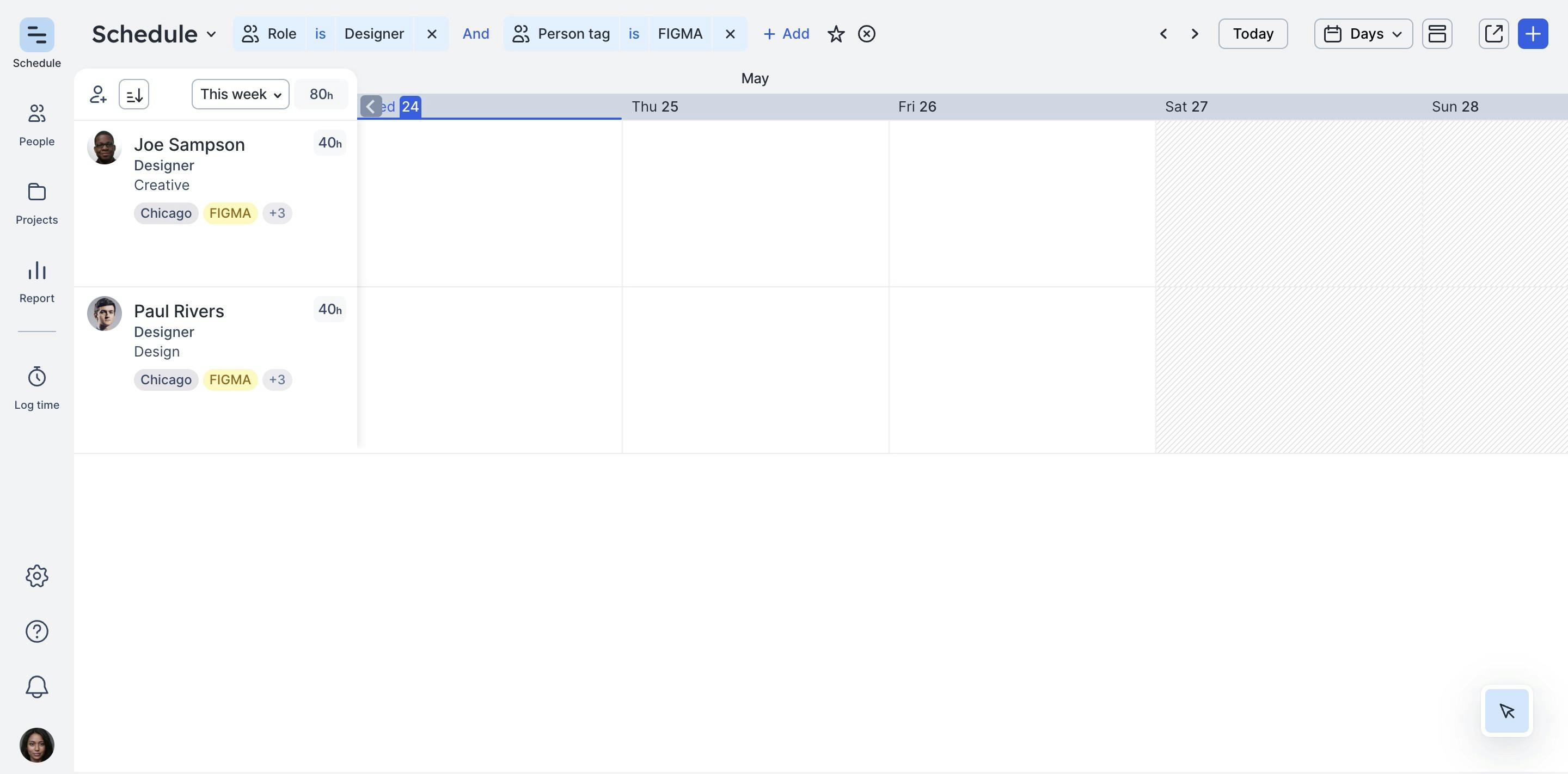 Then you drag and drop tasks into the team member's schedule.
5. Make plans for the unexpected 
Resource allocation for human resources can be a challenging task, due to the unpredictable nature of projects. 
A crucial resource to be reassigned to a project of higher priority. A team member might take a sick day. These can disrupt the planned allocation. 
It is best to be prepared for such situations before they happen. One effective approach is maintaining a roster of freelancers or contractors who can be readily assigned tasks when needed. 
By having a pool of qualified individuals readily available, the time and effort that would otherwise be spent searching for someone to fill a role can be significantly reduced.
Pro tip:
Use Float to save time on manual follow up with @mentions in the notes of any task, time off, or project. Simply type "@" followed by their name. Depending on their settings, notifications are sent via email, Slack, or mobile push. For example, you might alert your manager when you schedule new tentative time off or to check in on a teammate's progress on a task.
6. Run a post-project evaluation
At the end of any project, host a post-project evaluation to see what worked (and, more importantly) what didn't. 
Some basic post-project questions to consider are:
Were there delays or setbacks during the project? If so, what were they?
Did your team handle their tasks efficiently, or were they overloaded?
Were the project details, such as the scope and deadlines, clear?
What areas could be improved for future projects?
Don't hold back in these meetings—everyone involved must be open and honest about the triumphs and mistakes of the project. Doing so will help your project managers (and the rest of your team) plan and predict the needs of future projects more effectively.
Using resource management software, it's easy to pull data. You'll be able to spot which roadblocks you hit and if the estimated hours allocated matched the actual project hours.
Here's a detailed video on how to analyze your project data in Float.
Float Masterclass on real time analytics in schedule and project plan
Why resource allocation requires dedicated software
Resource management software provides the information and context you need to make the right resourcing decisions. 
Let's take determining capacity, for example. 
Projects can only be completed when there are available resources to perform the required tasks. 
But without insight into your team's capacity, you can't tell who is overbooked or on the bench. 
You also can't tell what they are scheduled to do now and what they'll be working on in the future. 
Resource management software shows you how your team spends their time. You can easily determine availability in a single glance. For example, Float supports tracking everyone's availability, including time off, public holidays, and workload. You can also see utilization rates for both teams and individuals.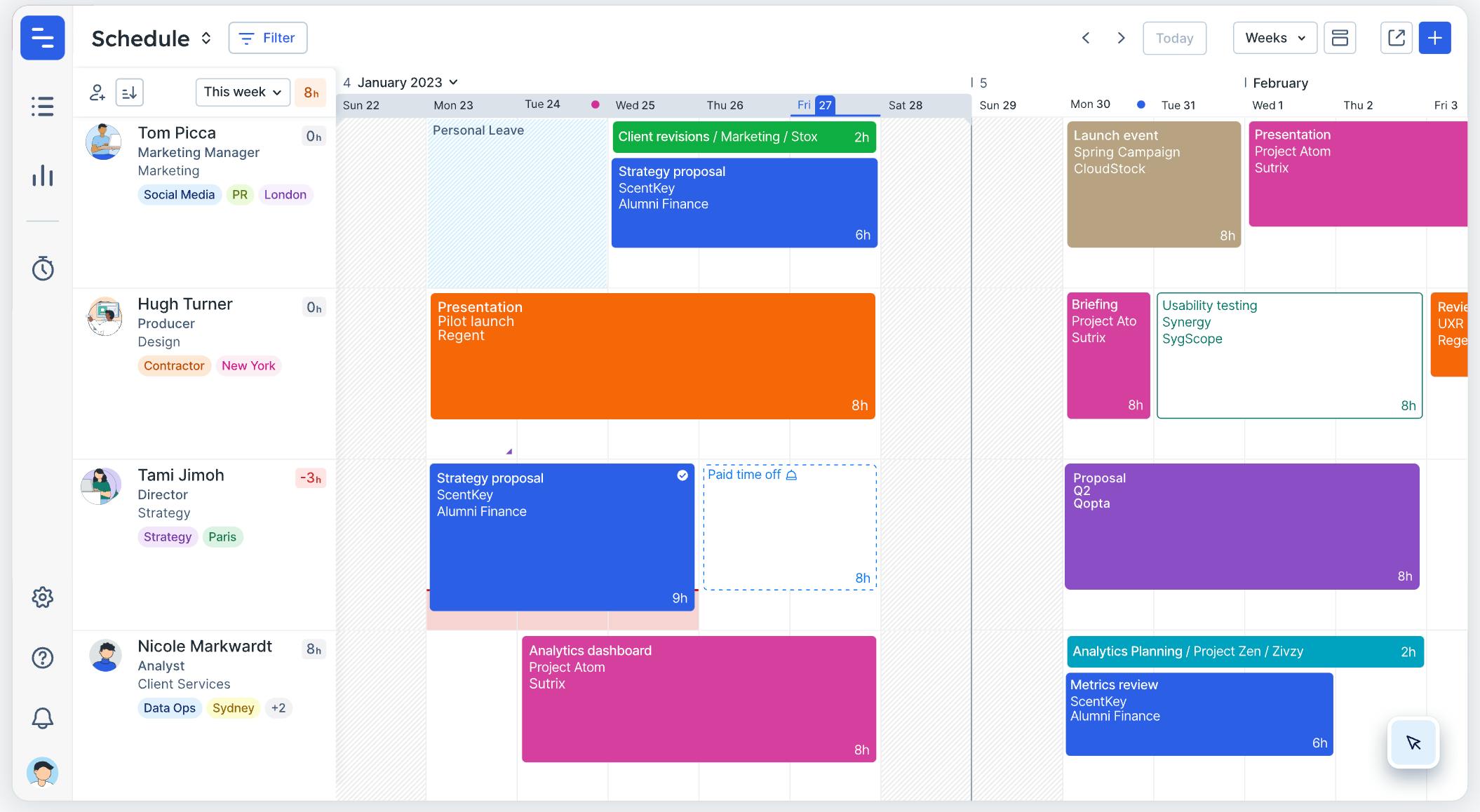 Also, consider that capacity is always changing. It shrinks and expands, impacting who gets assigned to what projects or tasks and when. Your resource management software can keep you up to speed by providing live information on your team's capacity. Float integrates with various tools, including calendar apps and project management software, to create a comprehensive and up-to-date schedule.
An important factor in resource allocation is the skills necessary to get the job done. It's possible to miss a skill gap until it's too late. Tags in Float make it possible to search for particular skills. For example, if you need a developer who is proficient in C++, all you need to do is to search for it in Float. If it doesn't turn up, you'll know you need to hire or find a freelancer to complete the project. 
Double booking and overbooking are rampant in projects. One reason could be that individual project managers are creating plans in silos. As a result, they book the same people to complete different tasks. Resource management software provides a single view of scheduled projects. Everyone from the project sponsor to the team members knows who is working on what project and when. 
Finally, resource management software is essential because it lets you forecast availability with tentative planning. This feature enables you to plan projects in advance. You can schedule a project with phases, milestones, and resources set out and see what you'd need and if they are available when needed, enabling you to make informed decisions. 
How to handle resource allocation problems
Even if you adopt all the right tools and follow resource allocation best practices, you will probably still run into problems. Hiccups are going to happen, so it's best to be prepared! 
Let's take a look at some of the top challenges project managers face and how to overcome them. 
The project scope changes
You did your best to plan resources for your upcoming projects, but there's still the chance of scope creep. Maybe the tasks were more extensive than expected or required skills you didn't account for. 
You need to be nimble and adjust your resources accordingly when this happens. To prevent scope creep, you should:
Ensure project scopes are always transparent and defined.
Set clear and defined project goals.
Strive to do your best work, but don't be a perfectionist if it will cause delays.
Build a work plan that guides your course of action
Create a system that allows workers to greenlight change requests and revisions.
Monitor team performance to ensure everything is on track.   
Use all the tools at your disposal to speed up progress.
Sometimes it's impossible to avoid scope creep. In such cases, having a scope change process helps you adapt fast and get back on course. It may look something like this:
Submit a specific form to document change requests (in writing).
Analyze the revision request to understand the scope creep thoroughly.
Get approval from the main stakeholders.
Document the approved scope changes in writing.
Resources become unavailable 
Uncontrollable outside forces prevent scarce resources from showing up as expected. A worker's car breaks down, and they can't get to the office. Or maybe they have other priorities in the organization that trumps working on a task you assigned them. What matters is what you do next.
Work quickly to find a replacement within your talent pool. If there's no one available with the skills you need, hiring a freelancer or contractor may be the best option. You can prevent this in the future by looking at task dependencies. Investigate other responsibilities team members have that may pull them away from the project.
Have a backup resource allocation plan if they are unavailable for whatever reason. One option is to have a pool of freelancers you can count on to fill in gaps on a whim.
Resources need to be shared
It's common for projects to share the same resources. This is especially true in smaller organizations that can't afford to hire an extensive staff roster. As you can imagine, shared resources can lead to issues that bog down the pipeline. Project bottlenecks may occur if resources are spread too thin. 
Use your resource allocation software to spot gaps in advance. Closely monitor workloads of team members who move between several departments. It's the best way to prevent over-allocating resources and burnout. 
Unexpected delays 
A delay can hit when you least expect it. People get sick, labor shortages arise, and miscommunication happens. That's when scope creep may rear its ugly head. Some issues are within your control, and others, not so much.
The most straightforward way to deal with issues is to try your best to prevent them in the first place. You can:
Schedule tasks based on skill, not just time. An expert or specialist works faster. Using Float, you can create custom skill tags for team members so you can find the right person for the job in seconds.  
Avoid overloading team members with too many other priorities—especially if the task depends on them to move through the pipeline.
Offer flexible hours. Some employees work more productively outside of traditional working hours. 
Map out project timelines, break them into phases, and track progress. Software helps to pinpoint potential delays before they become bottlenecks.
The more organized and transparent your resource allocation, the easier it is for everyone to take accountability for their role.
Manage your team's availability on autopilot with resource allocation software
Integrate directly with Google or Outlook calendar. Set custom work days and hours, schedule time off, import public holidays, and set a status to let everyone know where you're working from. With Float you get a live view to plan your team's capacity and workload, to allocate resources with confidence.
Try for free
A smarter resource allocation strategy empowers your team
Whether you're a team of two or 200, allocating your resources successfully depends on your ability to identify and utilize their individual skill sets and manage their availability. 
With the right tools and resource management in place, it's easier than ever to keep your team happy and deliver successful projects. Ready to find the right people for every project? Try Float for free.
---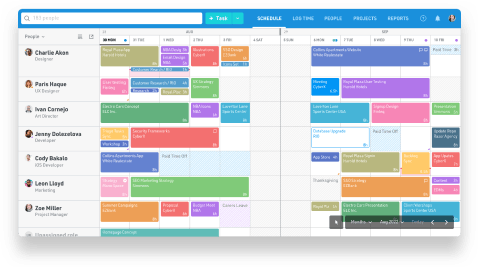 Allocate resources with the #1 rated resource management software
With Float, you can plan your projects and allocate resources with confidence. Try it free for 30 days, no credit card required.
Try for free