Jess Thompson
Planning work that fits within your team's capacity is crucial in setting them up for success.
However, keeping track of availability and capacity can be challenging for even the most agile teams. Monday is a public holiday for Chey, Jun's parental leave starts on Wednesday, and Miriam is working part-time hours from September onward—that's a lot of schedules to keep up with! 
What can you do to make things easier?
The first step in managing your team's capacity is setting up availability. Float provides a birds-eye view of working hours, time off, and planned work. As you add tasks and time off to the schedule, you'll see how capacity is impacted in real-time and how project plans are affected. Scheduled vs. available hours adjust automatically, and overtime indicators appear when tasks exceed daily working hours. 
In this guide, you'll learn how to set up and customize availability in Float—providing an automatic, always accurate read on your team's capacity.
Add everyone's availability for the present and future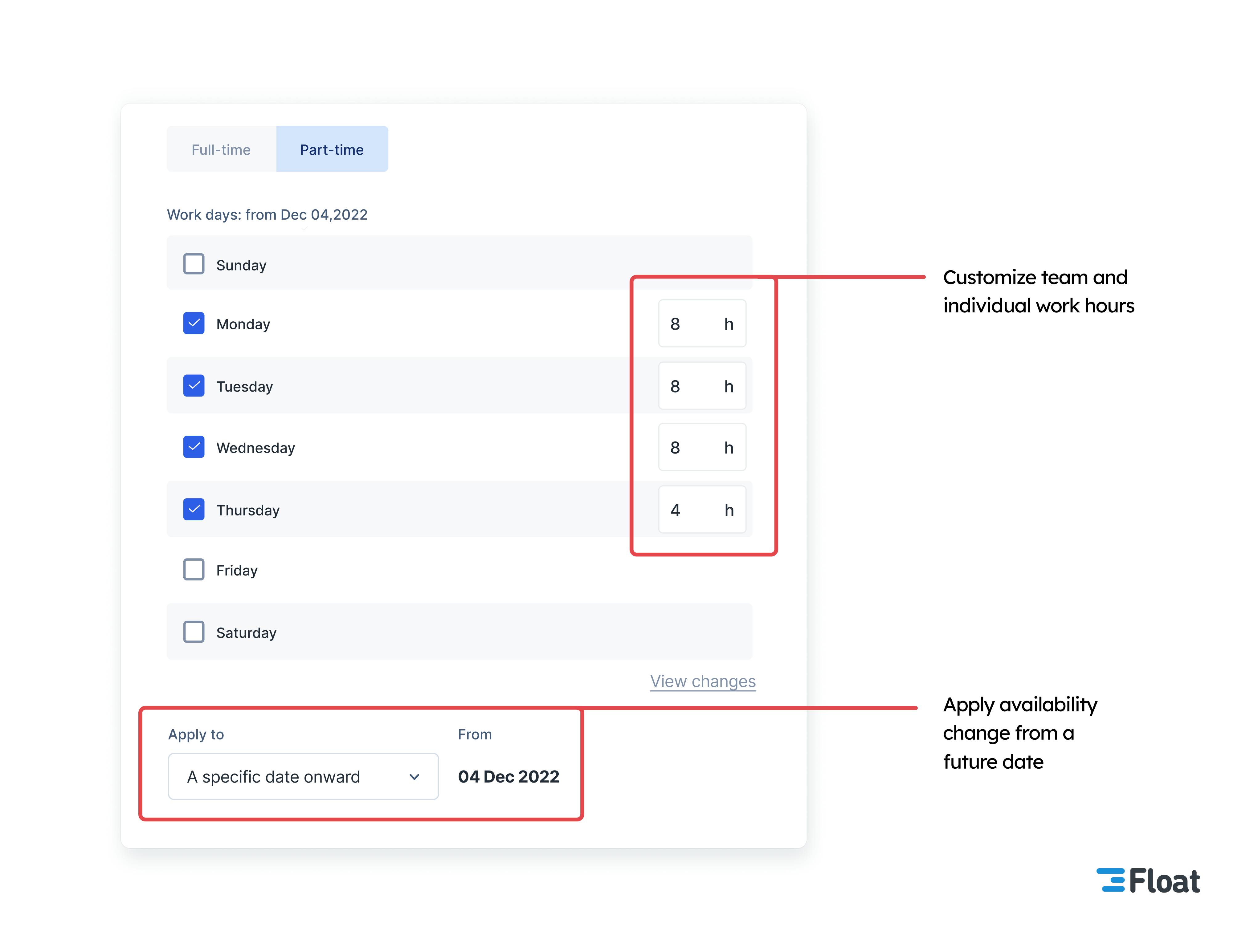 Set up time off types and policies to fit your organization
Choose from default leave types, or add your own based on your organization's offerings. For example, at Float, we offer an additional two paid time off days as Care for your Community leave.
Add time off policies for each type and select how the balance is accrued. Members with edit rights can book time off knowing how many remaining days they have.
Schedule time off as tentative or confirmed. Tentative time off won't affect capacity until it's confirmed.
Coming soon: We'll be introducing time off approval by a manager to ensure there's no surprise changes to availability.
Apply holidays across the whole team or based on location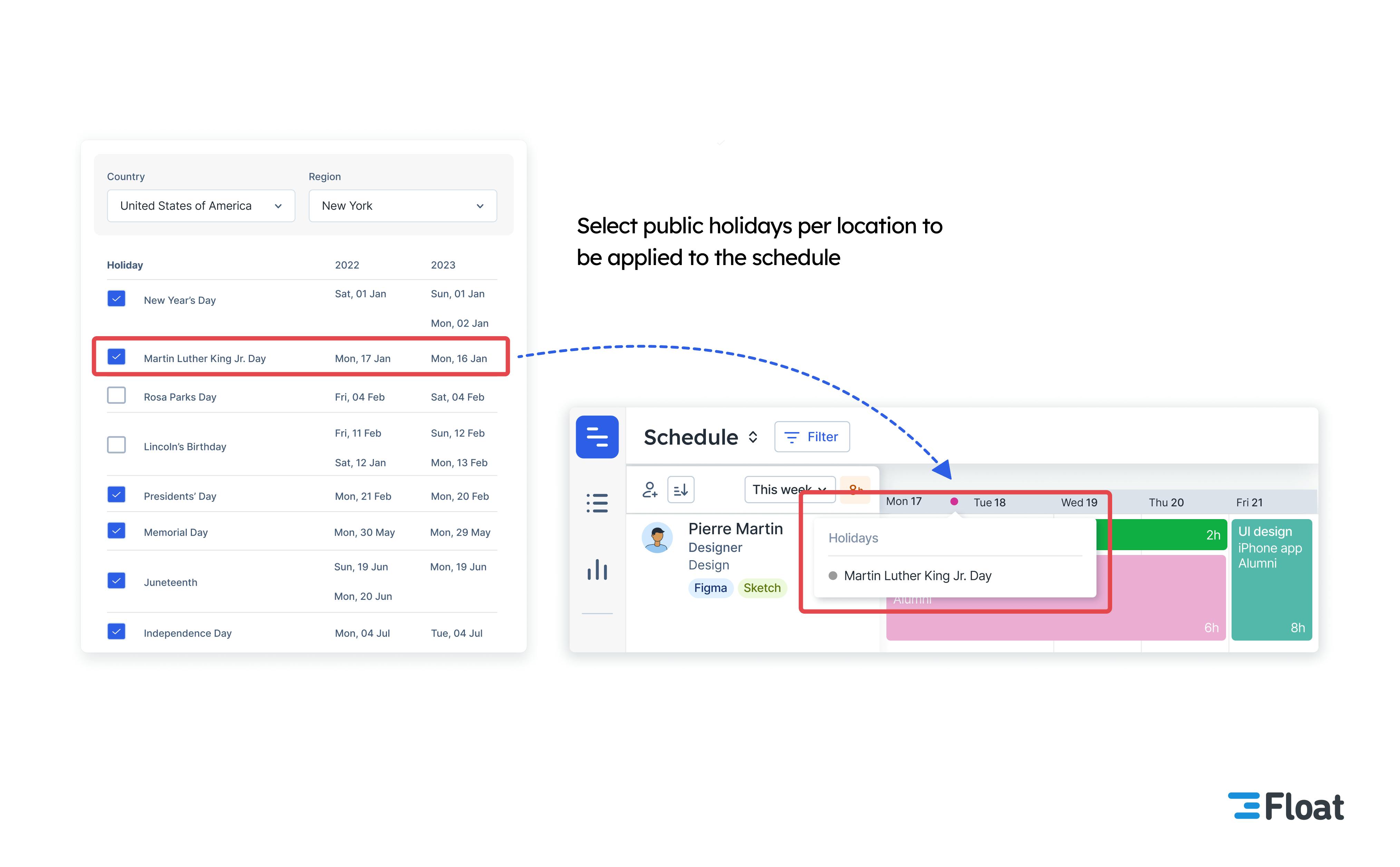 Import regional public holidays without affecting everyone's availability, e.g., Vicky in the U.K. gets the Platinum Jubilee bank holiday off, and Ben in Cambodia gets King Sihamoni's Birthday off. 
Give everyone a break at the same time with team holidays, like PwC's company-wide week off to unplug and recharge.
Combine calendar events with scheduled work
---
With your availability now in one place, you're ready to start planning projects, assigning tasks, and scheduling time off based on your team's capacity.
Looking for more guidance on setting up your team's availability? Schedule a demo or reach out to our friendly support team with any questions.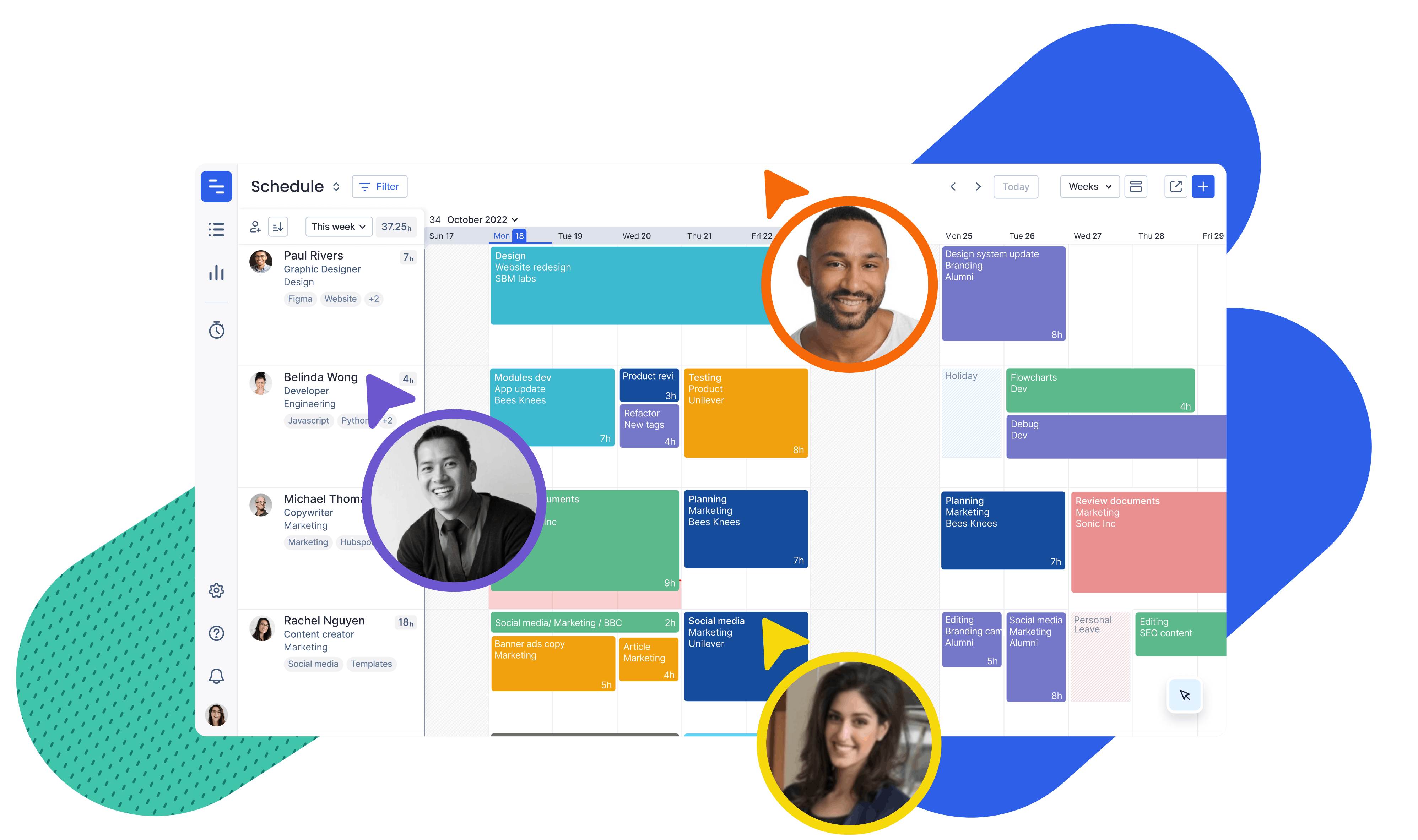 Book a 1:1 call with a Float expert
Chat with one of our friendly experts to find out how Float can help your team plan and track time.
Get a personalized demo