Elise Dopson

(Updated: )
Capacity planning keeps projects on track while making the most of your team's time. It ensures that you're matching what you need with what you have before your project kicks off, and helps you deliver work on time, on budget, and on scope.
---
Are you scrambling to find more time as a project deadline looms? 
Capacity planning keeps projects on track while making the most of your team's time. It confirms you're matching what you need with what you have before your project kicks off. 
The success of a project's workflow hinges on a careful balance of supply and demand. While getting more projects into the pipeline is a plus, not having enough people to get them done can mean overworked team members and late deliveries. 
On paper, getting the balance right is simple: Calculate your billable utilization, track people's hours, and don't overschedule. 
Job done, right? 🤷
Not so fast. Things are a bit more complicated than that. 
The reality is: the balance requires a mix of profit margins vs. team resources. That's where capacity planning comes into play; a strategy that helps you deliver work on time, on budget, and on scope.
For most projects, having a team member dedicated purely to capacity planning is unrealistic, which is why finding a better way to keep your team on track is key. In this guide, we'll share a handful of capacity planning methods to help you achieve that.
Table of Contents
What is capacity planning?
Capacity vs. resource planning
The benefits of capacity planning
Capacity planning methods
3 capacity planning examples
How to create a capacity plan
What is capacity planning?
Capacity planning is the process of matching available employee hours against the needs of a particular project. Team leaders are able to calculate the maximum amount of work their staff is capable of doing in any given period. It also takes into account hurdles like holidays, sickness, availability (including contractors or freelancers), and delivery delays.
The goal of capacity planning is simple: to paint an honest picture of how much work your team can get done—without burning themselves out or compromising on quality.
So, who's responsible for ensuring capacity meets project demands? It depends on the business (and its size).
In an enterprise, you may find a capacity planning manager, operations team, or PMO (project management officer) who oversees the production capacity of the entire organization. In a small company, however, capacity planning may fall on the desk of a project manager. 
But whoever you decide to hire for the role, they'll need to do the following:
👩‍💻 Determine how much your team can get done within their physical working schedule (i.e., full-time, part-time hours, etc.). From there, you're able to calculate how much work your team can realistically do within their available hours.
📋 Create a transparent pool that takes into account your team's capacity and skillsets. Their individual availability and skills are used to schedule their time effectively.
⏱️ Give team leaders a better look at their resources' availability and schedules. Because of that visibility, team leaders can see what people are working on. This allows quick decisions about how many tasks to assign without causing burnout.
The level of detail is what makes capacity planning a secret weapon for organizations. With an effective process in place, team leaders can widen their bandwidth without worrying if their staff has the time to get everything done.
Jumpstart your capacity planning with resource management software
Rated #1 for resource management on G2, Float gives you the most accurate view of your team's capacity to plan projects and schedule tasks with confidence.
Find out more
Capacity vs. resource planning: what's the difference?
Capacity planning and resource planning are a bit like a chicken and egg scenario—one can't exist without the other. 🐣
Beyond keeping your team busy (but not too busy), capacity planning has two key benefits: increasing project efficiency and making it easier for project leaders to plan for the future.
"As an agency, capacity planning is important for our team to identify where we have available resources, or where we need to hire, and to give us perspective on how we value our time. At Social Chain, every project and scheduled resource is managed through Float."
Read more about how Social Chain uses Float to plan and manage their team capacity.
Capacity planning looks at data to see if you have enough talent available to get a project completed (think, supply and demand). Resource planning, on the other hand, is the process of allocating these team members to tasks.
You're able to combine the two to get a project through from end-to-end. 
First comes capacity planning, which determines if your agency has enough people available based on team levels and skill sets. From there:
If you don't have enough capacity, your team leader will decide whether to cancel or delay projects in your pipeline, or hire more talent.
If your organization doesn't want to take on more staff, the team leader will look at other options like hiring contractors or freelancers to fill the skill gap.
Once your capacity planning finishes, you can begin your resource planning as follows:
Coordinate and allocate each team member to tasks within a project based on their skills.
Set deliverables for tasks to keep a project on track.
Use resources so your team will work efficiently and productively (but not burn out).
The benefits of capacity planning
Capacity planning is an agile strategy that helps teams create more accurate project plans and resource schedules. A full project pipeline is great, as long as you've got team members with the right skill sets to get it all done. 
That's the central, simple benefit to capacity planning: It ensures you have team members with the correct skills when you need them.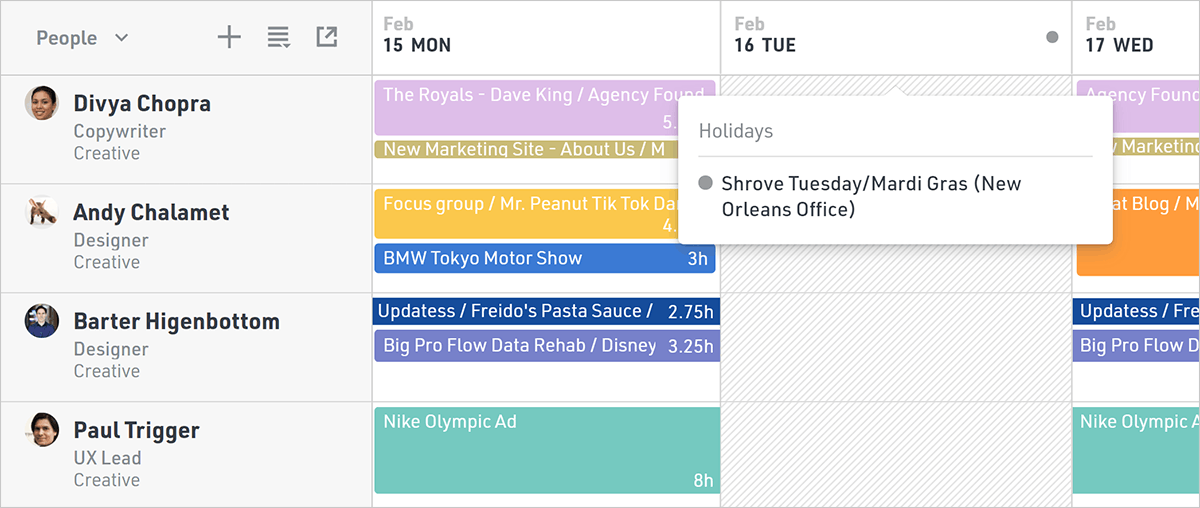 Beyond keeping your team busy (but not too busy), capacity planning has many benefits:
Increase efficiency of a project
Capacity planning goes beyond making sure your team doesn't burn out. It helps you make smarter resourcing decisions to deliver projects on budget and scope.
Most teams juggle multiple projects at once—especially service-based businesses (like agencies). You'll need an effective method for shuffling resources around when each project has its own tasks, each with their own level of priority. 
The good news? Capacity planning makes it easier for team leaders to see who is working on what and what's upcoming.
Let's put that into practice and say you have two designers with similar skill sets. Your agency juggles multiple projects which both designers are working on. The first project takes up 40% of one designer's time. They spend the remaining 60% of their time on the second project. Your other designer is also switching between tasks assigned on both projects.
Capacity planning strategies limit multi-tasking. Research shows that switching between projects cuts productivity by as much as 40%. Employees balancing too many projects at once are also more likely to make mistakes.
With that knowledge from your capacity planning tool, your team leader reassigns work to each designer. One works on the first project at 100% capacity; the other takes on the second project at 100% capacity.
"Capacity planning is our way of knowing if our company is capable of weathering the unpredictable sea of business and entrepreneurship. Being in the legal technology niche, the pressure to meet client demands is high. Thus, we need to ensure that we have the skilled manpower and necessary resources needed to satisfy our clients' needs and we can only do that through capacity planning." — Matt Spiegel, Founder and CEO of Lawmatics
Avoid bottlenecks 
Bottlenecks are a project manager's worst nightmare. It can slow down—or even halt—production entirely. If you can't quickly pinpoint (and remove) the plug in the system, it'll continue to jam progress indefinitely. 
Here are several common scenarios that indicate a bottleneck:
One person waiting on another who's falling behind
Tasks piling up on someone's desk
Deadlines being missed 
Poor communication between team members
For example, let's say you have two graphic artists. They're taking too long to deliver final designs to the production team. If you fail to do something, it'll create an ever-growing backlog. So you find three freelancers to play catchup. 
Bottlenecks can happen for a variety of reasons. Maybe it's because:
Important details were missing in the brief and there was a lot of back-and-forth
A team member miscalculated their availability
Someone got sick and their task wasn't reassigned to someone else
Finding a backup plan with enough time to act on before the project deadline ends is only possible if you can spot the bottleneck early on. With capacity planning, project managers can see where bottlenecks are and can even prevent them from happening. You'll have the right tools to see who (or what) is causing the problem.

Link tasks in Float to visualize and plan for project dependencies
Improve long-term strategic planning
Granted, capacity planning is important for daily operations. But it also plays a huge role in long-term strategic planning for your business.
A big hurdle for agencies wanting to take on more projects isn't just a fear of burning out their team. It's also having enough resources to get the job done well, on time, with minimal stress.
Imagine your agency is fully booked for the next six months. With capacity planning, it's easy to calculate if there's enough people available with the right skill sets to complete projects. Knowing this information in advance gives you time to hire more staff or look for freelancers to fill the gap.

"Sell realistic lead times whenever possible to allow time to plan resources effectively.  Communicate expectations internally. When everyone understands the nuances of the project and the level of service needed, it's easier to identify areas of over-servicing."
Capacity planning is a smart move for agencies to make. You can see where you have skill gaps or where your team is being underutilized. And, more important: you can fix problems before they become bigger problems.
Make hiring decisions
Bottlenecks eat away at productivity. Team members are calling in sick (or in the worst case scenario, quitting). Maybe there's a major project on the horizon where having enough people to fulfill each task is critical to its success. 
Capacity planning takes everything into account to ensure there are no hiccups along the way. Decision-making around hiring becomes much easier when you know what skills and people are available within your organization. 
With capacity planning tools, you get a visual of pending tasks, who's booked, and skill gaps that need filling. That way, you don't wait until a project lands on your lap—you begin your skill search right away, whether that's hiring additional employees or bringing aboard a handful of independent contractors.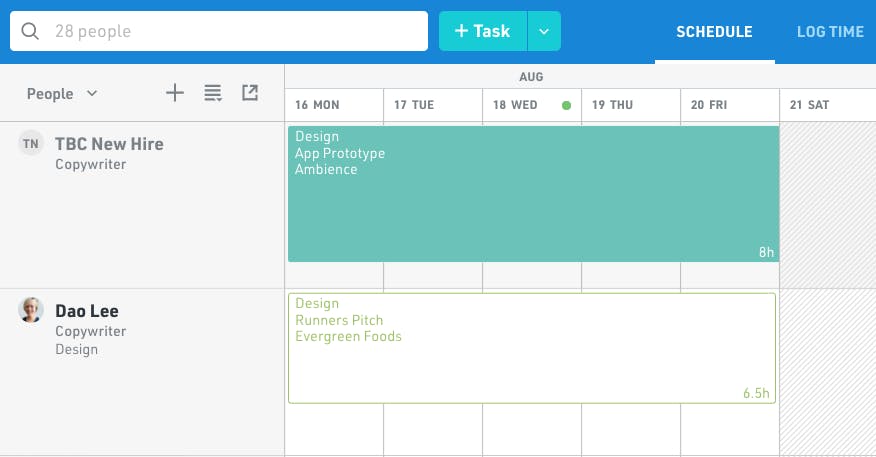 Capacity planning in Float is easy with placeholder people and tentative tasks to visualize what you'll need with what you have
Improve visibility for stakeholders 
Stakeholders want to be in the loop of what's happening within the organization. If there are unforeseen delays or problems, they want notification. This requires developing ongoing reports about productivity levels, project progress and completion, and budgets. AKA, a time-consuming task when you're using manual methods. 
It's easier to meet these capacity requirements when you use software that's accessible to everyone. Stakeholders know what's needed from them, by when, and which employees are contributing to a project. No more "we need to hit this revenue target by the end of the quarter", and scrambling to find a way to actually schedule the work in.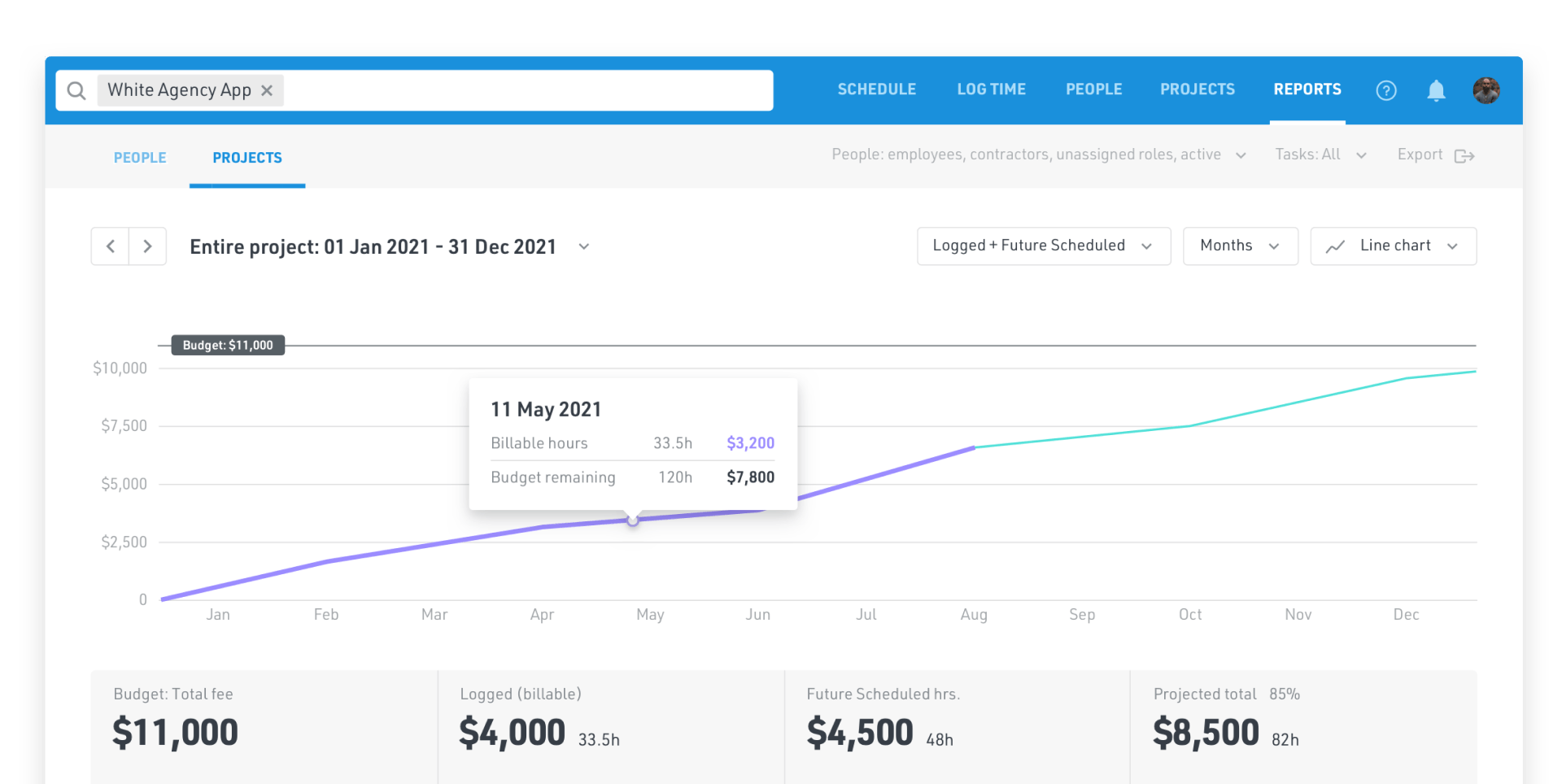 Calculate your team's capacity and monitor utilization rates
Using a resource management platform like Float, project managers can calculate their team's capacity based on their available work hours, and monitor utilization rates in real time.
Reports in Float give you a single view of your team's available hours (their capacity), compared to their hours scheduled (assigned tasks), to make data-driven resource decisions.
If that wasn't impressive enough, you're able to keep your team's resource availability up to date with automated workflows in Float. Integrate directly with Google and Outlook Calendar. Set custom work hours and days. Schedule time off in advance and add a status to let your team know where you're working from.
Try the #1 resource management software for capacity and resource planning
Float manages your team's capacity on autopilot. Get a high level view of your team's workload, availability, and project pipeline to plan resources with confidence.
Try for free
Capacity planning strategies
There are three ways agencies can approach capacity planning: lead, lag, or match. Each strategy has its strengths and weaknesses. Either can be used depending on how ambitious your organization is and the number of projects you're willing to take on.
Lead
A lead strategy is most often used in growing agencies. It envisions that you're going to be filling your project pipeline quickly.
The lead strategy is aggressive. It predicts whether your agency will have more projects than you currently do (or have in the past), which requires you to hire more staff so you can take on more work. 
✅ The benefit of this strategy is that you'll have a team ready to take on the work when it comes in.
⛔️ The downside? If those extra projects never materialize, your business will have made a large investment in excess capacity that you don't need.
Lag
The lag strategy happens when your organization works its staff at full capacity (or worse, over-capacity) because you didn't predict and plan for an influx of projects.
⛔️ Although lag means you didn't take on staff when they weren't needed, it can be a problematic strategy for agencies. For one, your agency is at risk of overworking your team, risking burnout, and late project deliveries. The other downside is that your agency is operating at 100% capacity, and your team is too busy to take on any new projects.
✅ If you're happy with growth, lag is a safe capacity planning strategy that cuts down the risk of hiring staff you don't need.
Match
The match strategy takes into account your agency's current capabilities while keeping one eye on the future. It tracks your capacity and resource utilization, and gives the option to increase your capacity when you hit a resource ceiling. 
For example, if your team is working at a utilization rate of 80%, it's a sign they're handling their tasks without being overworked. However, if that utilization rate creeps up to 90%, your agency can build a plan to ensure the workload doesn't impact your team or clients.
✅ Whether that plan is looking for external contractors or making more permanent hires, the match strategy means you aren't hiring talent without a need for them. 
✅ It also gives your agency room to grow. If the work is there, you can comfortably accept it and be confident that your agency can get it done.
"With 100+ projects on the go, Float gives us a high level view of our resource capacity so we can schedule the right team for the job. With most projects running for 2 to 3 weeks, and new work always coming in, we needed a robust tool that can give us an accurate view of our capacity to schedule and reassign work to whoever is the best available at that time."
3 capacity planning examples
What does capacity planning look like when it's run efficiently? Here are three real-world examples to inspire your own capacity management.
1. Buzzfeed: Plans project scope and schedules using Float
For years, Buzzfeed's post-production team used Teamweek (aka Toggl Plan) for project planning and resource management. But as the teams and projects grew, it became time-consuming to load everyone's schedules. 
After adopting Float, work processes sped up and project resourcing was simplified. Leah Zeiz, Buzzfeed's Post Production Manager was responsible for determining what's required to deliver video projects. 
The process began with the creative team filling out a form with project details—such as who's on the project team, the timeline, and deliverables. Then Zeis and the post-production team coordinators assess the timeline and start resource planning using Float.
"It's in Float that we start creating and assigning the editing tasks and resources to get the project delivered. We add information like the project due date and budget so that at a high level we can see what our resource capacity and availability is to schedule the right team for the job," says Zeis.
2. Social Chain
Social Chain is a creative agency with 500 team members all over the world. Each project is lengthy and complex—and they're working on several projects at any given time.
Without capacity planning, the Social Chain team relied on email chains—and often double-booked their employees on the same project. Head of Design Jamie Bryan explains:
"Back in our startup days our design booking system relied solely on email communication. One morning we found ourselves both working on the same project, without realizing another team member was already onto it! That was when we realized we needed an organized solution to help manage our schedule and balance our workload."
Social Chain switched from outdated email threads to Float. They visualize the moving pieces of each project on a color-coded shared resource calendar, as Jamie explains: "It helped us set boundaries for the work we continued to take on, to identify where we needed to hire resources, and also gave us a new perspective on how we valued our time." 
They've now scheduled around 550 projects with the help of Float, saving an average of four hours every week.
3. Impression
It's a common myth for project managers to believe that the tools they're already using to assign tasks can be used for effective capacity planning.
Marketing agency Impression found that out the hard way, as founder Charlie Hartley explains:
"We tried to use project management tools for our resource planning and it quickly became difficult, in fact nearly impossible, to forward plan our projects effectively. It ended up causing us all sorts of problems as it simply wasn't fit for purpose."
After the leadership team requested a breakdown of non-billable and billable hours, the Impression team noticed huge discrepancies between the actual data and that recorded in their project management tools.
So, they switched to Float—a capacity planning tool that helps Impression with forecasting. They can see their client's projects, foresee bottlenecks, and get powerful data on how their resources are being used.
How to create a capacity plan 
If you're thinking "how did I plan my team's work without a capacity plan?", there's no better time than now to create one. To leverage the power of capacity planning, you need to build a process. That's a set of five simple steps:
Identify projects and tasks
Determine metrics and KPIs
Build a realistic schedule using time estimates
Choose a capacity planning tool
Update capacity as the project progresses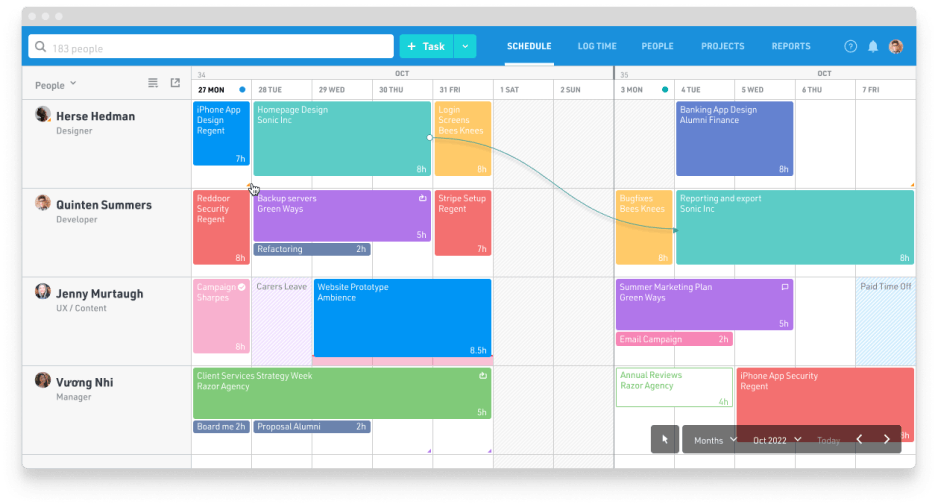 1. Identify projects and tasks
Before you can begin the capacity planning process, you need to know exactly what you're planning for. A detailed outline of what your company needs to get done—not only now, but in the future—is essential. 
Take a look at what projects are in your pipeline and coming up over a given time frame. (We recommend the next three to six months). Then, outline how long each task will take by breaking each project down into single tasks and estimating their length.
"First and foremost, the team asks the questions like: how many days to complete the marketing plan? How many days to execute it and the resources required for it. Will the plan adequately meet our client's needs?" — Simon Brisk, CEO at Click Intelligence
Next, run the outline past your team. They're the ones doing the work, and can tell you if your outline is accurate or not. 
It's important to also keep the scope of each project in mind to estimate how many team members you'll need to get each task completed. 
If you find there's limited availability, but don't have the budget to hire more people, then prioritize the most important tasks. Focus on projects with tight deadlines and high urgency. 
An urgent task is one that can't be delayed past the due date. It has a higher priority than an "important" task (but it's next in line). Important tasks receive ongoing attention and are only set aside for urgent projects. 
Organize all of your tasks in this manner. If you're using Float, you can tag or label each project/task based on the priority levels you set. It also integrates with project management software like Asana, Trello, Jira, and Teamwork.
2. Determine metrics and KPIs
Capacity planning requires a strategy to get results. But how do you know whether or not it's working? Like any other campaign, you need to establish goals and monitor Key Performance Indicators (KPIs). 
If you're unsure on which to track, here are several metrics to consider:
Efficiency: Are your teams more or less productive after using the new capacity plan? Measure this by using this formula: (Predicted capacity / actual output) x 100. 
Schedule compliance: How well do employees and contractors stick to the schedule you set? Are there issues with call-outs or missed deadlines?
Backlog: How many tasks are in your backlog? How many do you add each week? How long does it take to clear your backlog? 
Total actual hours: How well are you at predicting capacity? Look at how often you deviate from the schedule because there are too many or not enough workers/time. Be wary of total actual overtime hours to see if you're constantly under-estimating. 
Net capacity (vs. gross): If you have 10 full-time employees available 40 hours per week, don't schedule 400 hours as the capacity each week. Consider sick days, vacation time, tasks/projects being worked on, and other factors that take up their availability.
Gross profit margin: Is your capacity planning earning or losing the company money? Measure the cost of production and how much projects/tasks earn. Here's a formula: (Total profit - total costs) / 100. 
Return on investment: Which projects and tasks yield the highest ROI? Find out which tasks add to your bottom line using this formula: (Net benefits / costs) x 100. 
Earned value: How much did a project earn to date compared to how much you spent? Figure out using: (Net benefits/costs) x 100 
Customer satisfaction: Projects are on time, but how's the quality? One way to find out is to measure customer satisfaction. Create a customer satisfaction index (CSI) or Net Promoter Score (NPS)survey. 
Employee satisfaction: Equally important is the happiness of your workers. If they're satisfied, then they're not burnt out and will perform better. Use an Employee Satisfaction Index (ESI) to evaluate workers. 
Cost variance: What was the planned budget vs. the actual costs? Use this to measure weekly or monthly variances to determine whether a project is over budget. The goal is to have a positive cost variance. 
Cost performance: Using forecasts for cost performance makes it easier to estimate budgets. Look at your earned value vs. the actual costs.
3. Build a realistic resource schedule using estimates
Next, you need to take the outline you created in step one and use it to build a realistic working schedule for your team.
As capacity planning is linked to your team's availability and skill sets, the schedule needs to consider other aspects like:
Project type
Budget
Tasks
Hours needed
For example, you might have 20 front-end developers who can dedicate 50% of their schedule to a big project over the next three months. Your team leader uses that availability to calculate how many full-time equivalents can work on the project. In this case: 20 team members working at 50% capacity means 10 full-time front-end developers are available.
A little more math will show that 10 full-time developers working a 40-hour week for six months leaves you with 4,800 hours to use on the project. Using the available capacity of your team, you can then begin allocating tasks to developers based on their skills until you reach your team's capacity.
Keep in mind project and task dependencies. Who's responsible for tasks within a project pipeline? Will their other tasks slow down production for another project? Map it out in your capacity planning software so it's easier to visualize where someone may be stretched thin. 
Then, create a schedule that enables team members to manage all tasks efficiently. If they'll struggle to keep up with demand, it may be time to hire an employee or contractor to lighten the load.
Create a resource schedule that updates based on your team's capacity
The schedule in Float is designed to give you the most accurate view of your team's present and future capacity, so you can plan resources with confidence. Rated #1 on G2 for resource management, Float is free to try for 30 days with no credit card required.
4. Choose a capacity planning tool
Spreadsheets are an inefficient way to manage capacity planning. It's a time-wasting, soul-sucking process no project manager should have to deal with. Fortunately, you don't have to.
Today, there are a variety of capacity management tools you can use instead. But which should you choose? Here are some of the features to consider when researching your options:
Custom days/times: Choose which days and hours your team members are available (and make changes from future dates).
Shared view: Transparency is everything, especially for remote or large teams. 
Task assignment: Assign your team members to job titles, departments, and tags to organize everyone's role in a project. 
Designate hours: Set default work hours and customize everyone's availability on the fly—without messing up your reporting.
Vacation management: Import public holidays based on each team member's region, or add custom holidays (like an annual team meetup) to simplify managing days off. 
Custom statuses: Commuting to the office? Working from home? Headed to the beach? Keep your team in the loop. 
Hiring planning: Easily see unassigned roles so you can allocate them to contractors or new hires. Or store them for later when your teams are available. 
Sync with Google and Outlook calendar: Another way to stay transparent about schedules and tasks no matter where you are. 
Integrations: Tools that play well together, stay together. Make sure your platform integrates with the software you use. 
Try the #1 resource management software for capacity planning
Rated the #1 software on G2 for resource management, the world's top teams choose Float to plan their capacity and schedule resources with confidence.
Try for free
5. Update capacity as each project continues
All projects are linear, never-changing, and simple to plan. 
If only that were true! Unfortunately, it's anything but—hence why you need to treat project management like the iterative process it is. 🤯
It's vital to regularly update capacity for each project based on real-time data. Are there fewer contractors available than expected? Are certain employees falling behind in tasks? Or maybe you have idle team members who weren't needed after all. 
Whatever the case may be, update your capacity plan to reflect your need to scale up or down. 
Monitor how projects progress to ensure capacity doesn't exceed your ideal utilization rate. 
Without the right software, you'll need to rely on manual tools like spreadsheets. Adding software to your tech stack means your capacity planning efforts will be tracked automatically. Using Float, your team's capacity and scheduled hours are calculated automatically to ensure you're not over-allocating tasks.
Automate capacity planning to save time, money and endless headaches
Excel and similar tools have proven useful over the decades. But it's 2021 and it's time to upgrade from manual processes. Standard spreadsheets are too restrictive and impractical, which limits your ability to streamline capacity planning. 
A capacity plan gives your organization a solid grasp of how much time and skills you have to play with over a given period of time. 
The best part? With a capacity management platform like Float, you can stop manually generating reports for stakeholders, and wave goodbye to miscalculating availability and resource allocation ⚡️
---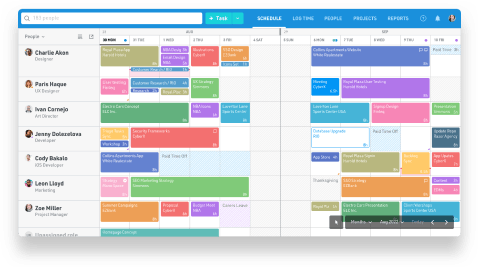 Plan your team capacity with the #1 rated resource management software
More than 3,500 of the world's top teams choose Float for capacity and resource planning.
Try for free