Elise Dopson
Resource management is critical for project managers to deliver work on time and on budget, whilst ensuring your team's time is scheduled efficiently.
---
What are the deliverables? What is my project budget? How long will it take to complete? Who is available to work on this? 
It's questions like these that go through every project manager's mind as they take on a new project.
On one hand, you have your team. They form the bulk of your available resources. But there's more to project planning than that. What you do with their time and skills across projects is where resource management comes into play.
In this guide, we'll share how to manage your team's resources—and get things done on time, every time (without the stress). 🙌
What is resource management?
Why is resource management important?
The benefits of resource management
How to manage resources
3 resource management examples
What is resource management?
Resource management is the process of planning, managing, and tracking your organization's resources, so you can deliver projects as efficiently as possible. It helps project managers plan their resource capacity, utilization rate, and schedules effectively. This way, teams deliver work on time and within budget. 
When we talk about managing resources, we can consider things like:
Time and availability
Human resources (the most crucial resource of all)
Hardware and software resources
Budgets
Think about the last time you planned a project. How did you organize your team member's time? Did you have a plan to stay on budget? How did you know whether you were on track to hit your deadline?
The main reasons projects fail, according to a study by Wellingtone, is the fact that teams are taking on too many projects at once. A lack of budgeting is another culprit. 
Without a clear plan that tells you where your project is going and how it'll get there leaves you with a higher risk of failure. This is where you can use resource management to your advantage.
Why is resource management important? 
Resource management is about making the most of the resources at hand. In other words: doing more with less. 
If the goal is to maximize revenue, a reliable resource management tool that helps you manage it all becomes an indispensable part of your project workflow.
As an essential puzzle piece to reaching your goals, resource management helps you:
Make better hiring decisions
Meet deadlines with better precision
Keep team members from overworking and burning out
Predict the timeline of future projects with more accuracy
Improve your company culture
Every business manages resources differently. Some bring on team members whose sole purpose is to watch, manage, and assign resources for optimal performance, whether that's as a PMO position or otherwise. But most times, using resource management software can be the smarter and more efficient route.
Luke Zhang, the founder of Dunk or Three, explains:
"Whenever I have an event in my organization, I plan a few things first. I plan what vendors to use for promotional purposes, allocate different tasks to my employees, and software that will register the attendees. I divide the tasks first and then allocate them to my employees according to their competencies. Resource management makes my job much easier."
The benefits of resource management
Resource management can help you deal with challenges like accurately managing your team's availability, overlooking their progress, and forecasting when you'll meet deadlines.
Though, the many benefits of resource management don't stop there.
Prevent team burnout
Accurately deciding how much to book your teams so you don't over or under work them is an issue businesses are constantly running into. 
There's a fine line. If you take on too many projects, your team will be spread thin and you'll miss deadlines. Take on too few projects and your resources go underused while your revenue takes a hit.
Resource management helps you make sure you put your team's capacity to good use—without pushing them overboard to the point of total burnout. Any time a project timeline shifts or plans change, you can easily reassign tasks and resources so your team can still complete their work on time.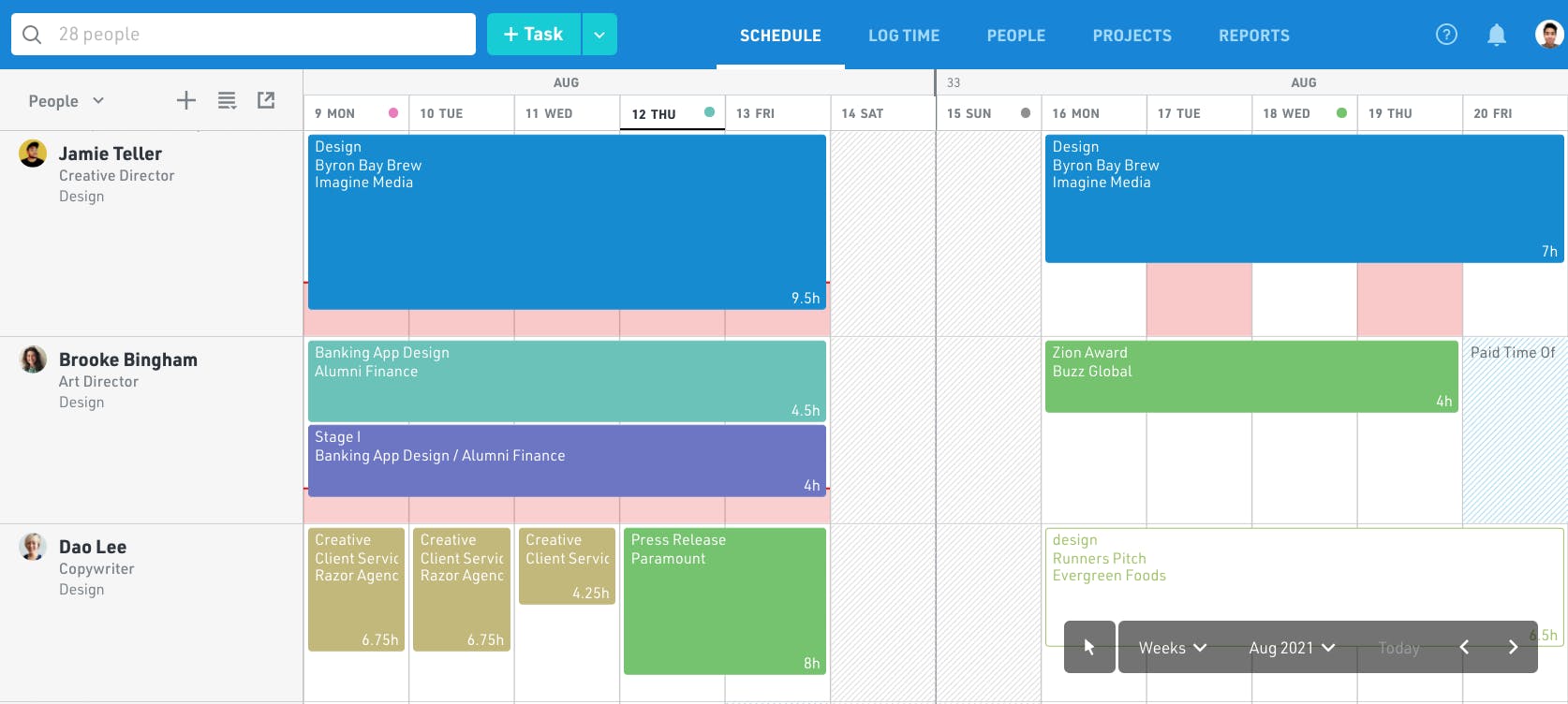 In Float, you can visualize in real time whether your team is being scheduled over their regular working hours.
How will you know if you can take on a few extra deliverables your client asked for mid-project? Will the extra work throw off your project timeline? Does your team have the capacity for the extra work without the risk of burning out?  
These are all questions resource management software can help you answer. It helps you make decisions on whether you should pull team members from other departments to take on the added work, if you should look into hiring contractors, or if you should negotiate a timeline that buys you extra time.
Situations like these aren't uncommon. They happen so often that it isn't surprising for your software to morph into your "single source of truth" for resource planning on every one of your projects. 
It saves you time and lets you see current and future resource gaps—two important elements in staying away from burnout. 🙌
Improve cross-collaboration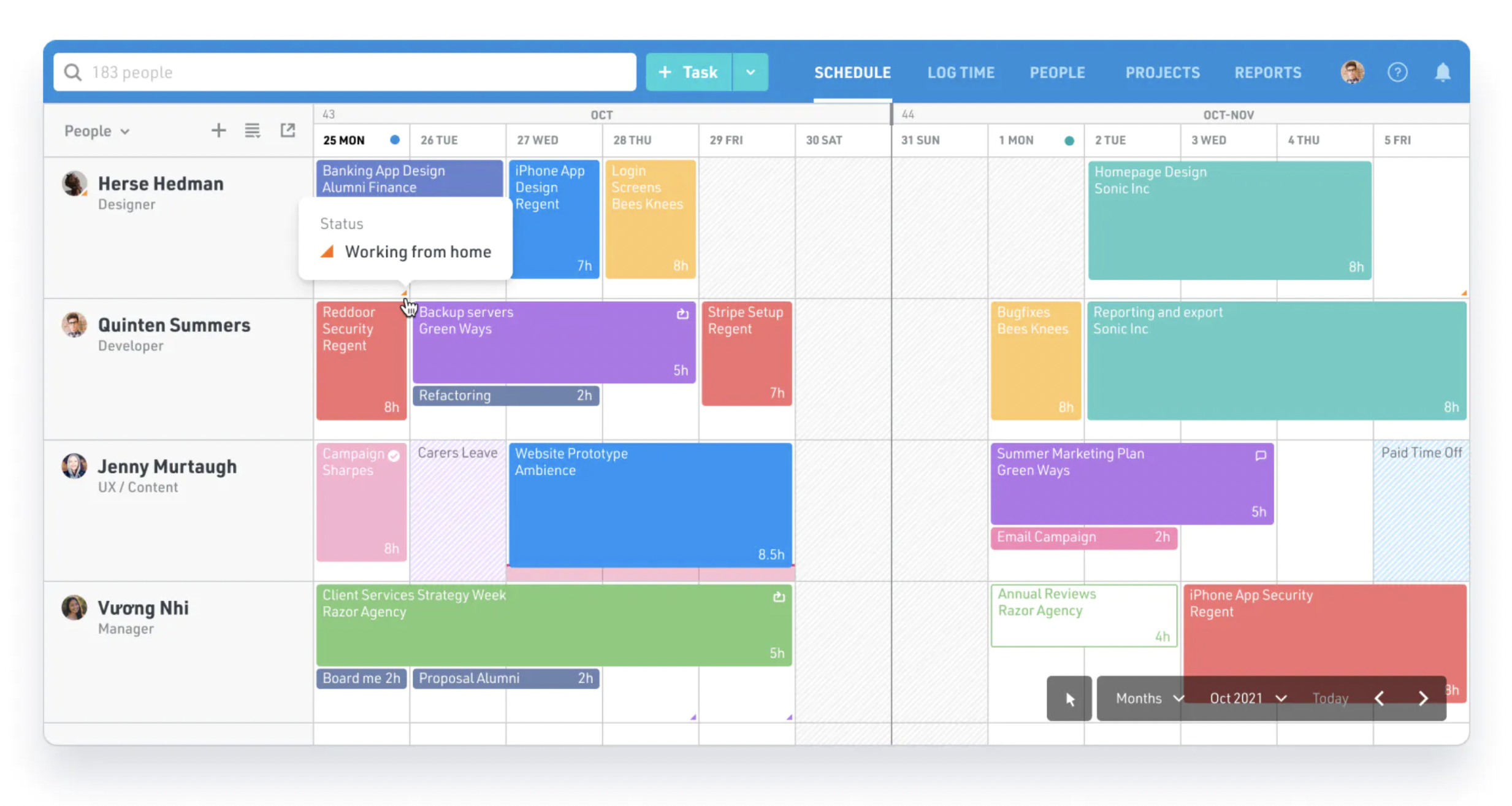 The success (or failure) of a project can hinge on how well your team works together.
Say you're a media production agency, for example. You need everyone—from your art director to your designer and your copywriter—working in sync to make sure projects get delivered on time. Without that much-needed collaboration, projects simply won't get finished.
With resource management, everyone on your team can get a bird's eye view of what's happening within a project and when tasks are due. This takes a lot of the guesswork out of the who, what, when, where, and why of a project as the deadline approaches.
Okay Bueno, a digital project studio, uses resource management software to encourage team collaboration. Product designer Alvaro Secilla says that Float, their resource management tool of choice, helps the whole team be aware of what other members are up to at any given time.
Secilla says the software's simple navigation helps relay information easily to their entire team, and the visual UI makes it much more user-friendly than similar tools available or (ugh!) spreadsheets.
"The whole team knows, at a glance, what other team members are doing at all times, and that's really useful when you have to collaborate." — Alvaro Secilla
Monitor utilization rates 
Utilization rates and actual cost—it's a big component of the whole resource management methodology. 
Employees who don't carry a full workload can and will affect your bottom line in a big way. On the flip side, taking on too many projects you don't have the capacity for will lead to losing clients.  
You can fix all these financial bottlenecks with resource management. By reallocating team members to other tasks while automatically keeping track of project budgets, resource management software pays for itself in the long run. 
Still, it can be challenging to track how much you've spent on a project's resources if you're doing everything manually—through a spreadsheet or by assigning the task to an employee. With the right software, project costs are automatically calculated based on allocated tasks.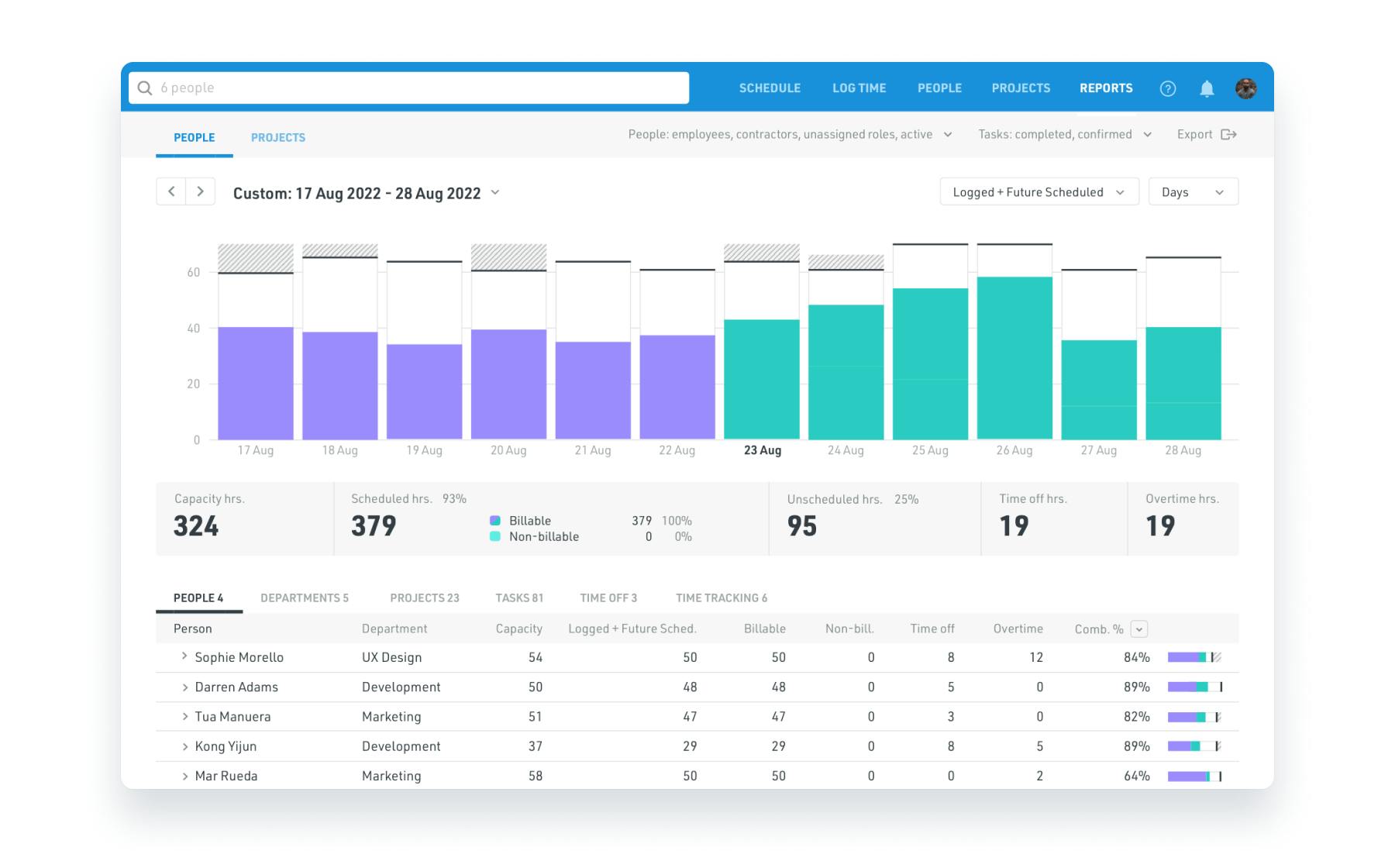 Let's say you assign a designer to a project for a 10-hour task. Their hourly rate is automatically deducted from the project's total fee, giving you a figure of how much you have left to spend.
Take VCFO as an example. Before they began using resource management software, it was a real struggle for the company to accurately allocate its time and keep employees on task.
Vita Trevino-Garcia says resource management software has helped their entire team to get on the same page. It also keeps their schedules and budgets on track.
If one of their sourcers spends 20 hours of time looking for a professional, and another spends 10 hours on the same search, the total time spent on the project is 30 hours. VCFO uses Float to figure out if the search made them a profit by taking those 30 hours of sourcing expense (e.g., at $40/hr) and deducting it from the overall project fee.
"Using resource management software has given us a better ability to calculate cost per hire based on the number of hours worked on each role." - Vita Trevino-Garcia
Float makes VCFO's lives easier by:
Tracking several sourcers' hours spent working on the same project.
Totaling the many hours spent on that project and figuring out the total expense.
Automatically deducting that expense from the project fee to determine if the search made them a profit.
"This gives us a very clear picture of our 'cost of hire' for every placement." — Vita Trevino-Garcia
Meet (or beat) deadlines
Resource management helps you get rid of the guesswork that can often come with meeting deadlines.
Staffing the right project with the right team members—as well as the right resources—can all converge into a reliable workflow. The goal? To hit all your metrics and get you to your final deadline on time. 😍
Resource management acts as the blueprint that helps your team build a project with milestones. You'll get a clear view of resource capacity. It's when all these things come together that your chances of meeting (or beating) your deadlines go up.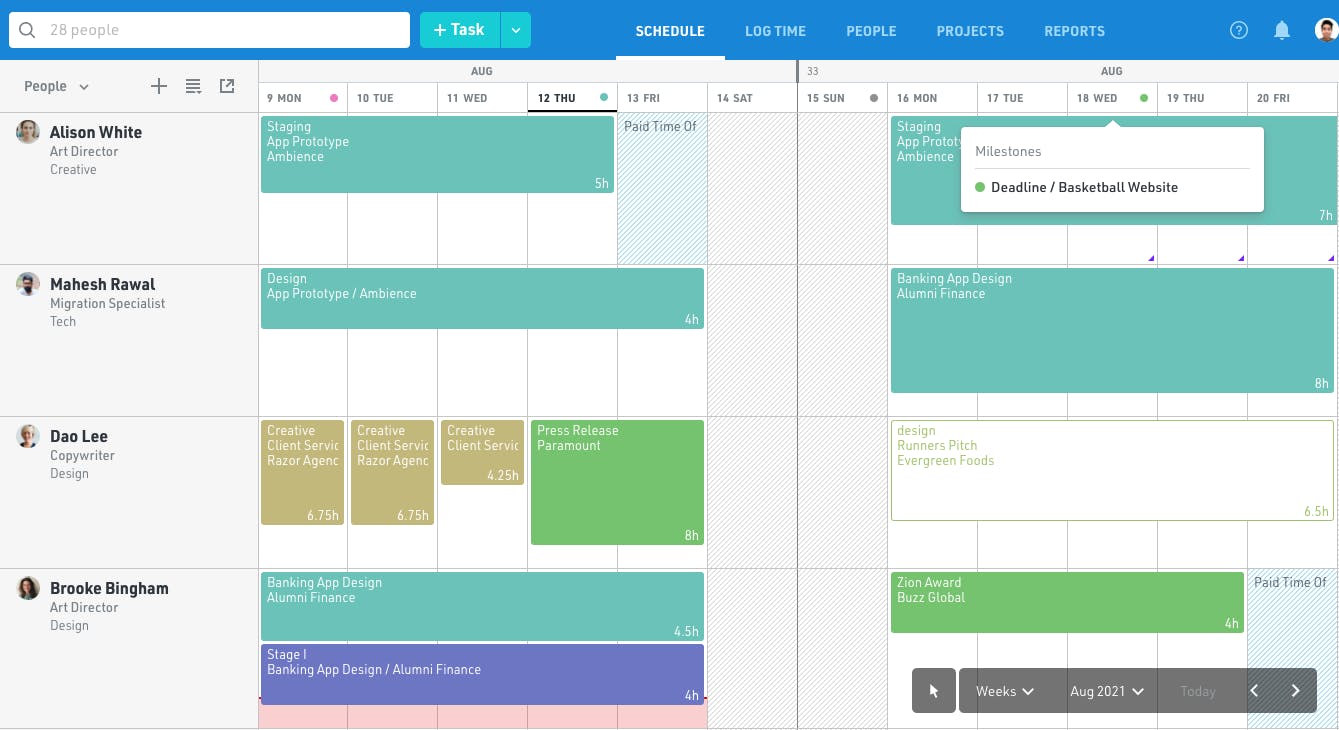 Validating project schedules starts with taking stock of your human resources. From there, you can see how they fit into your project pipeline by allocating tasks and goals accordingly. 
It's only then that you can be prepared to not only tackle a project with confidence, but present clear answers when stakeholders ask for updates.
Give stakeholders insight
Speaking of stakeholders, no one likes to be left in the dark. It's no different with stakeholders. 
Your clients might want to know how you're managing their project, how long the whole process will take, or how involved a particular step in the project pipeline is.  
Without any tools to give you oversight on these metrics, you're left shrugging your shoulders without any concrete data to show for when asked. Resource management turns scenarios like those on their head.
Where you once weren't able to tell how long a task took, you're now able to see:
How many billable hours were allotted to that particular project.
Who worked on it.
Whether it was finished according to the project milestone.
Once stakeholders know you're keeping your finger on the pulse of everything that's happening with their project, you set yourself up to build rapport and customer loyalty.
How to manage resources
Now that we've covered all the valuable benefits of resource management, let's take a look at the steps you can take to start managing your resources effectively.
1. Plan an upcoming project
Got a new project on the horizon? Now's the time to start thinking about resource utilization as part of your project management process.
Any available resources you have should be accounted for during the planning stage. That way, you can stay away from resource shortages and prevent overallocation throughout the process.
Granted, this is easier said than done. You'll need real-time access to your team's project calendar as well as a system to book their time. So, when changes come up or timelines don't happen as planned, resource managers can reassign tasks and reschedule resources quickly and easily.

2. Track resource availability
Whether you're working with employees or contractors, each team member has a unique set of skills and availability. 
Managing that without resource management software is a disaster waiting to happen. However, these tools arm you with the ability to manage and track your employee schedules. You'll build profiles that contain each of your team member's unique skills, making it easy to spot who needs to work on each project, their hourly rate, and the time they have available.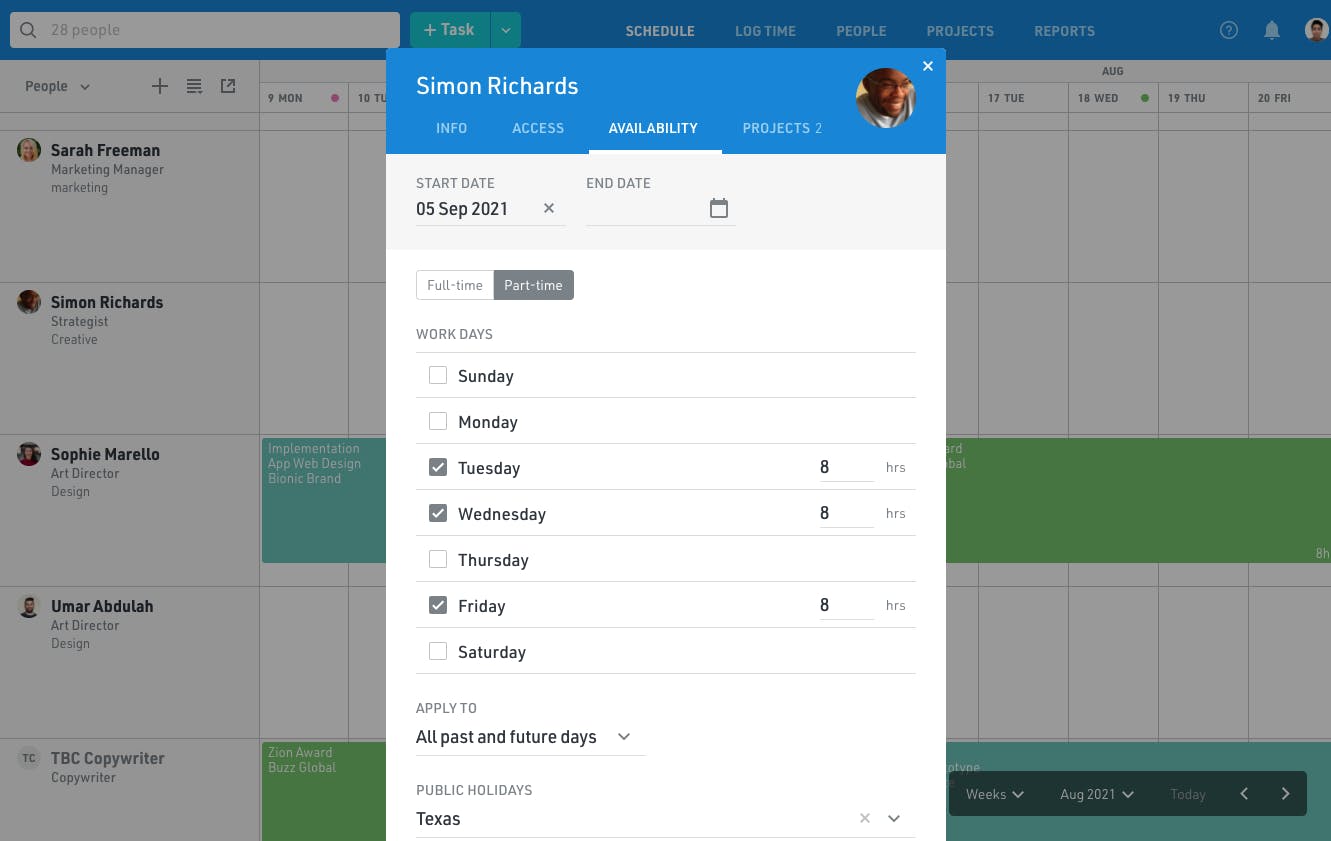 From there, project managers can filter and sort by the variables found in each of their profiles to determine who the best resources are for the new project. That's important considering human resource management, especially availability, is one of the most challenging variables for project managers to stay on top of. 
During the resource availability stage, you can't forget about resource leveling and capacity planning. This makes sure that you're spreading resources—whether that's skill sets, time, hardware or software—fairly across the board.
3. Forecast resource capacity
Now, here's where resource management really starts coming together for businesses.
Forecasting gives you insight into your future resource capacity. It helps companies identify whether you can afford to take on more projects. Resource management software like Float lets you get an instant snapshot of both your team's capacity and availability. This way, they're never overbooked or underused.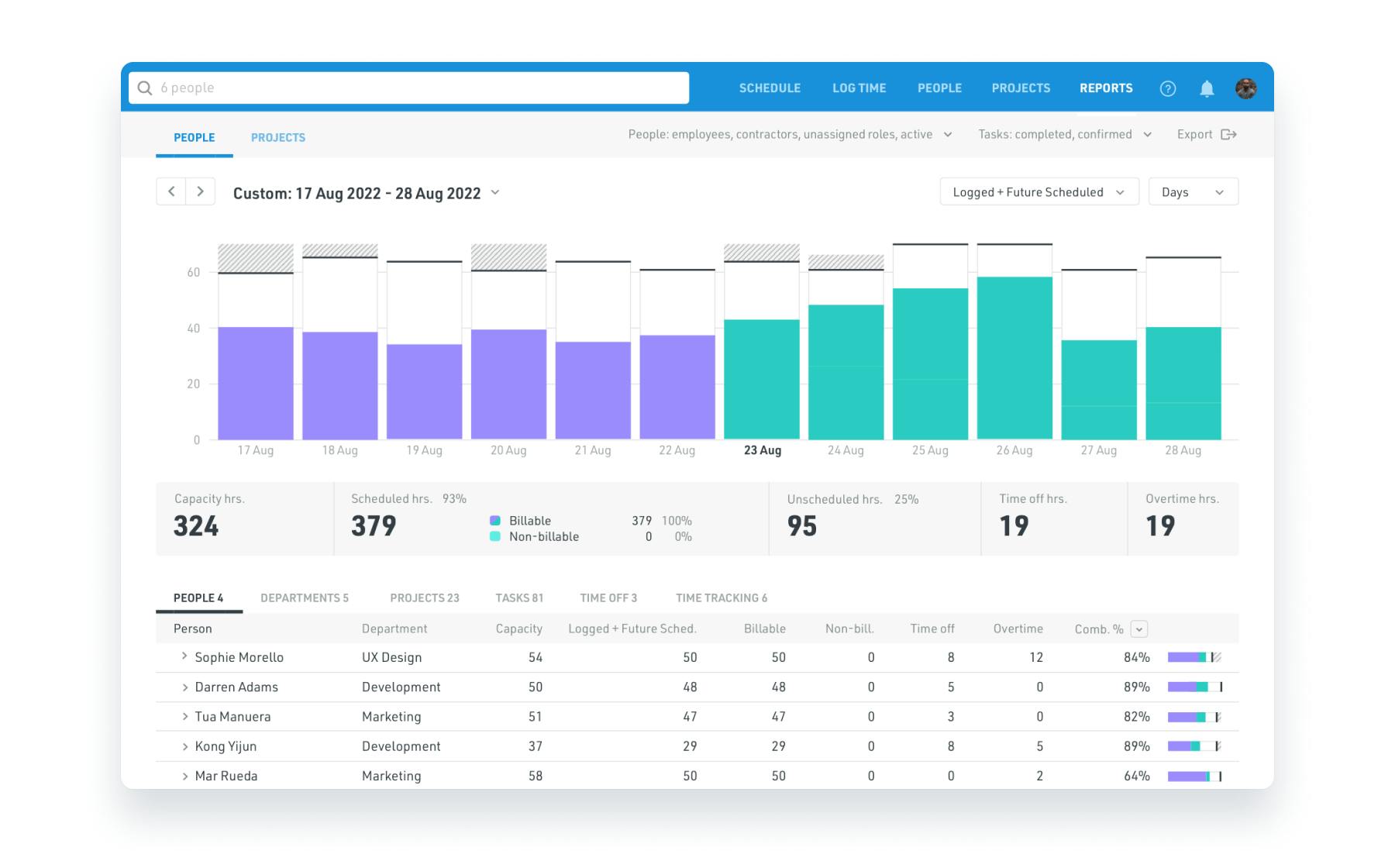 Not only that, effective resource management does the job of capturing your team's data on sales, projects, launches, and schedules. Say hello to smarter resource decisions moving forward—and no more unsustainable overbooking. 😬
4. Choose a tool
Managing resources can get overwhelming fast. 
The bigger your team or the harder the project at hand is, the more resources you'll need to manage simultaneously on a moving timeline. This is where you'll want to make a sound decision about the tools you use.
That begs the question: how do you choose a resource management tool? For starters, consider the options at hand as well as their price points.  
What specific features are you looking for? What's your budget for a resource management tool you can onboard for the long run? Who will use such a tool and what level of skill will they need to deploy it successfully?
For instance, Float has all of the essential automation and organizational features you need to visualize & manage your team's workload. It'll help you plan projects, manage your team's capacity, and schedule tasks and time off with a single click. 
The best part? Your team will always be in the loop as you mark tasks as "complete" or "tentative" if it's yet to be finished. It's tools like these that make your resource management life easier and more manageable.
3 resource management examples
Now we know what resource management is and how to do it, you might be wondering how real companies put the strategies into action. Here's a closer look at three thriving brands that are making the most of their resources.
Social Chain
Social Chain, a social media powerhouse with more than 500 team members located around the world, has been able to save more than four hours per week using Float.
How? Jamie Bryan, Social Chain's Head of Design, puts it best:
"Being able to visualize our workload in a timeline, in all of Float's color-coded glory, gave us much-needed structure during a period of intense growth. It helped us set boundaries for the work we continued to take on, to identify where we needed to hire resources, and also gave us a new perspective on how we valued our time."
Team members can work across many projects at a time without making the mistake of duplicating a project. Instead of communicating through a disconnected series of emails to book design projects, Social Chain's team members can now rely on a visual dashboard that lets them in on the project's schedule and workload.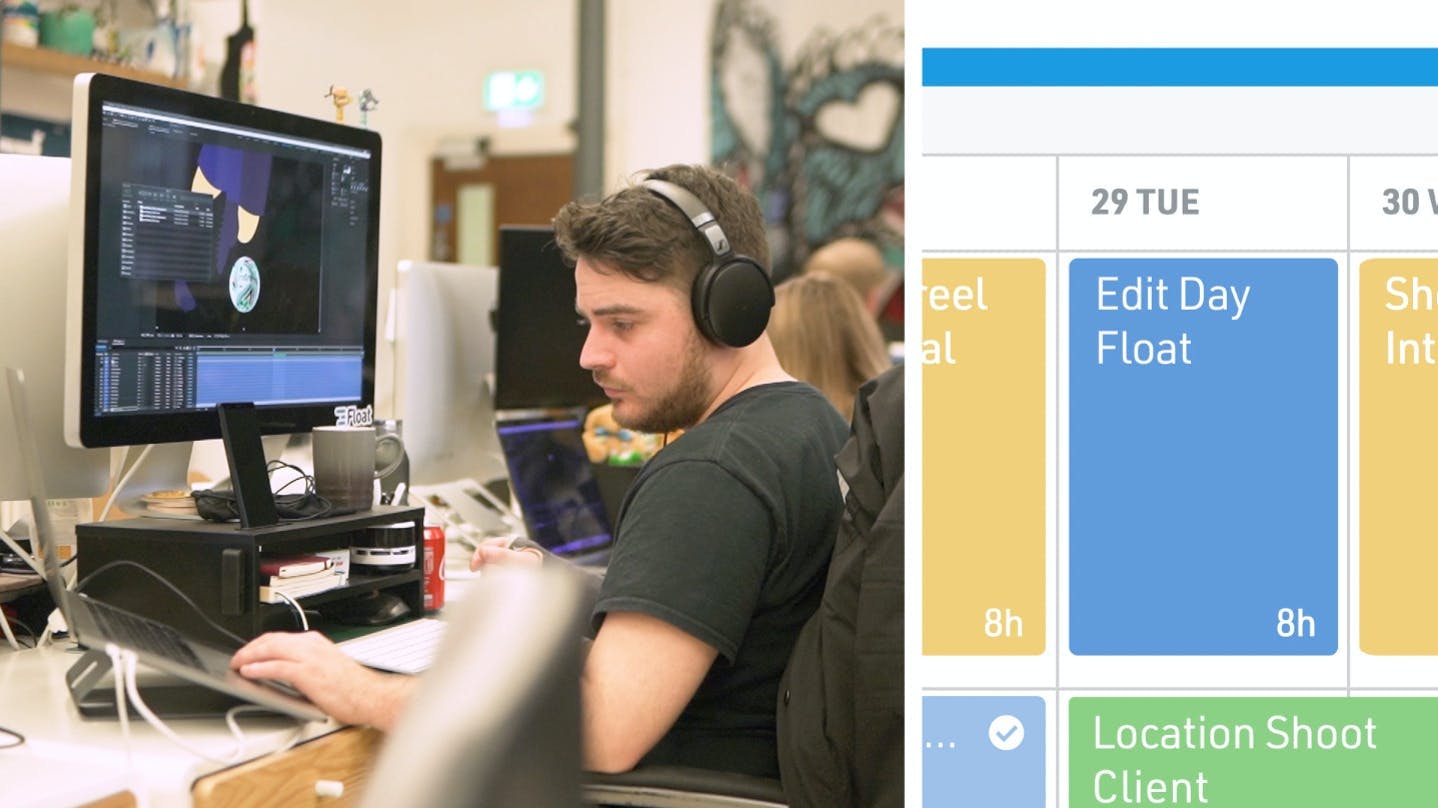 Buzzfeed
You've likely heard of Buzzfeed. Their familiar quizzes and takes on pop culture are all over the internet and reach millions of people daily. It likely won't come as a surprise to hear, they're juggling a lot behind the scenes.
The post production team is responsible for editing the raw content that goes into making Buzzfeed's video content. This means teams can be juggling anywhere from 100 to 200 projects at a time.
Leah Zeis, one of Buzzfeed's production managers, says this about using Float to manage projects:
"It's in Float that we start creating and assigning the editing tasks and resources to get the project delivered. We add information like the project due date and budget so that at a high level we can see what our resource capacity and availability is to schedule the right team for the job."
Not only that, Float can create custom views for project managers to visualize color-coded data in a way that makes sense for any given project. Its sorting and filtering options help the team sift through their favorite schedule views for faster and easier management.
Impression
Digital branding agency Impression needed a better way to manage its professional services. Their biggest challenge? Being able to accurately track both billable and non-billable hours. 
They didn't have a resource management process that enabled them to track how their time was being spent and where. According to Hartley: 
"We needed one solution that offered flexible resource scheduling, a simple process for employees to track their time, and powerful project reporting on our project data. For us, Float ticks all the boxes."
With Float, the team plans their mornings around their Float schedule. It lets everyone know what's down the pipeline and who's currently working on what. Now, Impression's team is easily able to apply time tracking to each project and make better decisions with more accurate data.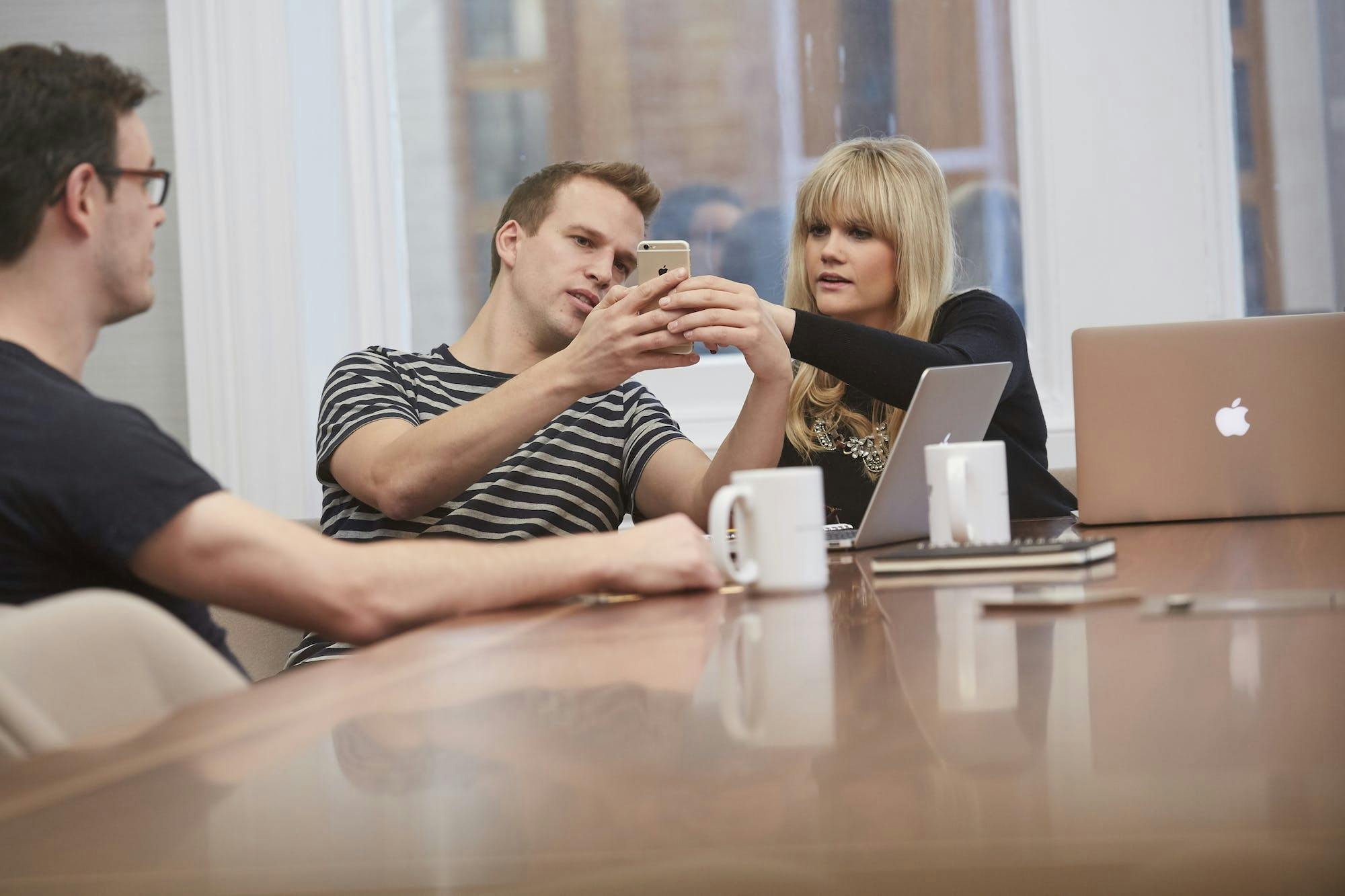 Ready to better manage your team resources?
No matter the size of your company, juggling all your projects, accurately managing resource allocation, and meeting looming deadlines is hard work. 
Managing it all doesn't have to be dull spreadsheet work. It can be as fast and as easy as dragging and dropping tasks into a team member's calendar.
With Float, you're able to automate the essentials—like budget, hours, availability, skills, and capacity tracking. You'll make smarter decisions about what your team should be working on, when, and how. And, when a project comes into your pipeline, resource management software makes it easier to visualize how you're going to get it all done.
Tired of using spreadsheets to manage your resources? Join 3,000+ teams that choose Float, the #1 resource management tool for projects of all sizes. Start your free trial today.
---