Stella Inabo

(Updated: )
Resource management is critical for project managers to deliver work on time and budget while ensuring your team is scheduled efficiently.
Managing resources in a project can often feel like you're wearing an infinite number of hats. From assigning team members to different projects and balancing your team's workload, to accurately forecasting and tracking project costs, the challenges are endless. The good news is that if you plan right and help your team stay on top of everything, your project will be a success! 
So how do you handle all the moving parts when starting a project? The answer is resource management.
Resource management helps project managers accurately determine available resources, allocate them to the right tasks, identify resource gaps, and maximize performance.
In this guide, we'll share:
What resource management is
The importance of resource management 
How to manage your team's resources—and get things done on time, every time (without the stress). 🙌
What is resource management?
Resource management is the process of planning and utilizing resources needed to complete a project. It helps project managers plan their resource capacity, utilization rate, and schedules effectively. This way, teams deliver work on time and within budget. 
A resource is anything you need to complete a project—team members, budgets, office spaces, machinery, software, etc. All resources are finite and need to be managed well to avoid  running out before the project is complete. 
You can meet deadlines with better precision and accurately predict timelines for future projects when you manage resources efficiently.
The benefits of resource management
Effective resource management can help you deal with challenges like managing your team's availability, staying on top of their progress, and forecasting when deadlines will be met.
The benefits of project resource management don't stop there.
Prevent team burnout
Gauging team capacity is a problem businesses deal with constantly. 
There's a fine line. If your team takes on too many projects, they will be spread thin and you'll miss deadlines. If you take on too few projects, your resources go underused and your revenue takes a hit.
Resource management helps you make sure you put your team's capacity to good use—without pushing them overboard to the point of total burnout. You can estimate the amount of work your team can take on based on their availability.  Float shows your team's availability and capacity at a glance, making it easy to ensure workloads are balanced and sustainable. Whenever a project timeline shifts or plans change, you can easily reassign tasks and resources so your team can still complete their work on time.
Improve cross-collaboration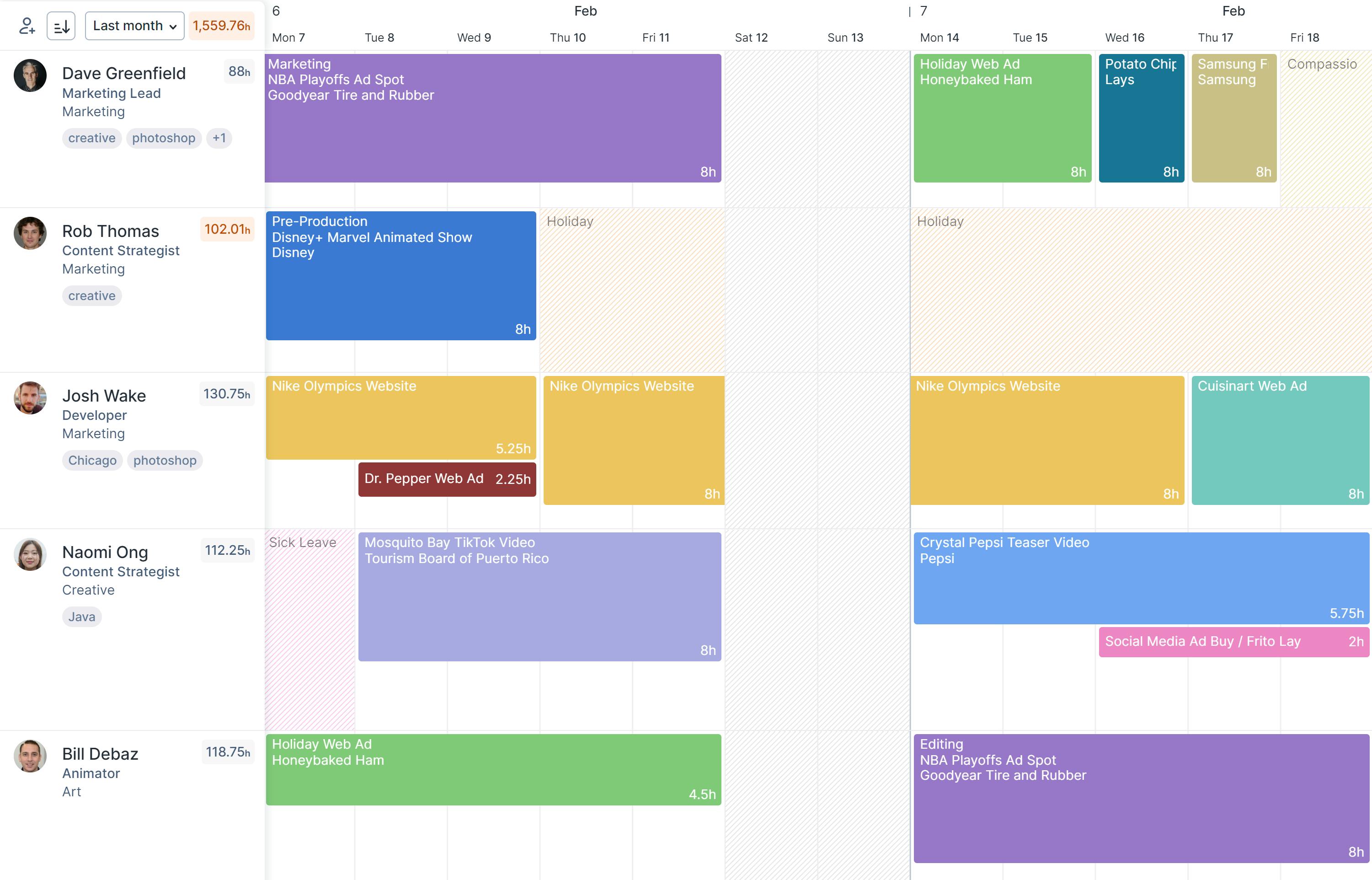 The success (or failure) of a project can hinge on how well your team works together.
Say you're a media production agency, for example. You need everyone—from your art director to your designer and your copywriter—working in sync to make sure projects get delivered on time. Using Float, the whole team can see scheduled work at a glance and understand their impact in relation to the project and their teammates. You can integrate with communication apps like Slack to keep everyone in the loop on schedule updates for smooth collaboration.
Okay Bueno, a digital project studio, uses resource management software to encourage team collaboration. Product designer Alvaro Secilla says that Float is their resource management tool of choice because it gives the team awareness of what other members are up to at any given time.
"The whole team knows, at a glance, what other team members are doing at all times, and that's really useful when you have to collaborate," says Secilla
Monitor utilization rates 
Utilization rates help you keep tabs on how team members spend their time. It also shows you who is working above or below their capacity.  It can be challenging to track a project's resources if you're doing everything manually (through a spreadsheet or by verbally assigning the task to an employee). With the right software, you can automatically see utilization rates and assign work to underutilized employees or identify non-billable tasks taking up precious time.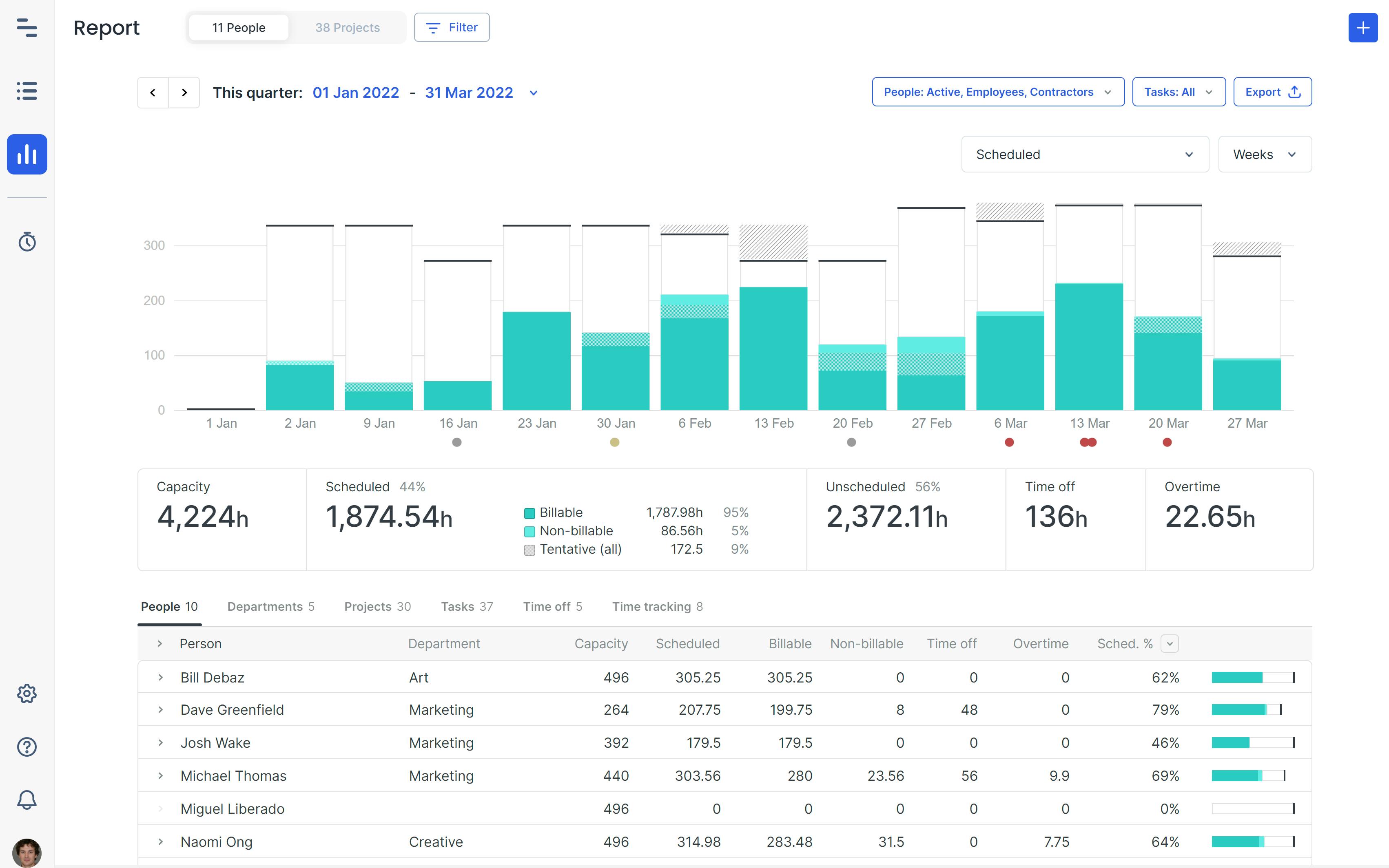 Meet (or beat) deadlines
Resource management helps you eliminate the guesswork that can often come with meeting deadlines.
Project resource management is the blueprint that helps your team build a project with milestones. You'll get a clear view of resource capacity, and the chances of meeting (or beating) your deadlines go up dramatically.
How to manage resources
In an ideal world, managing resources would be easy. But as we all know, projects hardly go as planned. The good news is that you can follow repeatable steps to use resources effectively.
1. Choose a resource management tool
The bigger your team or more complex the project is, the more resources you'll need to juggle simultaneously. In such cases, seeing the big picture is a must, so you need to pick a resource management tool that offers you visibility and other important features.  
Asking the questions below will give you a clear picture of what tool you need: 
What specific features am I looking for? 
What's my budget for a resource management tool I can onboard for the long run? 
Who will use such a tool, and what level of skill will they need to deploy it successfully?
A resource management tool like Float helps you visualize and manage your team's workload. It helps you plan projects, manage your team's capacity, and schedule tasks and time off with a single click.
2. Create a resource management plan
While having the right tool is important, you still need a plan to execute your project. When done right, your plan provides a detailed way to identify, estimate, acquire, and manage your team and physical resources.
Your resource management plan should contain important details such as the scope, deliverables, budget, resources needed, activities, and workload requirements. Building out a resource management plan can be tricky because it involves forecasting (and several meetings).
However, you can get started by asking the right questions like: 
What resources do we need to complete this project? 
What skills are needed to complete this project?
How much time will it take to complete the project? 
Who should be allocated to what tasks? 
Are there any task dependencies? 
You might not be able to give accurate answers to every question at the beginning (we'll get to how you can later), but it helps to consider all the factors above. 
3. Estimate the resources needed
Before you begin any project, it's essential to identify what you need to complete it. As you can imagine, estimating resources is pretty hard to do without a crystal ball. 
Thankfully, there are several (non-magical) techniques you can use to get the info you need: 
Look through your resource management tool
One way to estimate resources is to look through your resource management tool. 
Let's say you want to estimate the duration of building a website for a client. If you've worked on a similar project in the past, you can look at the time logged and estimate the length of the new project. 
Using a tool like Float for resource management helps answer a number of the above questions with little effort:
An inventory of all your people resources and a 360 view of their time.
Track skills and assign tasks according to specialties
Comprehensive reports allow you to predict project timelines based on previous project performance.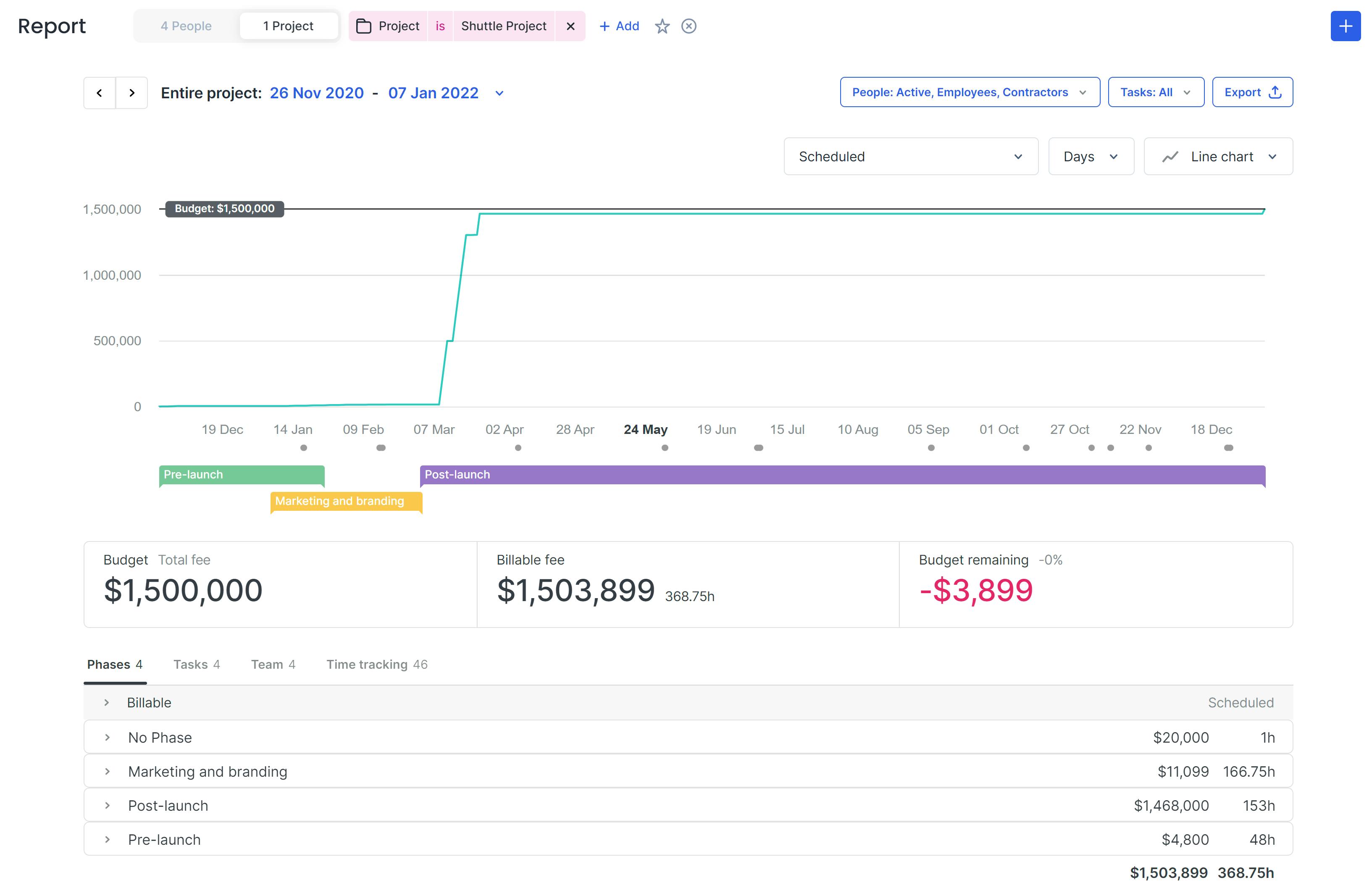 If you've not decided on a resource management tool yet, don't panic. The techniques will work just fine for you. 
Another way to estimate resources is to ask the pros. Speak to people who have managed projects in the past within the organization. You can benefit from their knowledge of resource planning.  
This technique requires you to break all the activities to be done into smaller units. Then estimate the cost or need of each individual (in this case, it would be hours) and add them all up to arrive at an estimate.
Analogous estimating requires you to look at similar projects carried out in the past to gauge the cost and duration of new projects.  For example, based on historical data, you can estimate that a graphic designer would need to work 2-3 hours every day for a week to meet the project deadline.  
Remember that analogous estimates are only reliable when both projects are very similar. 
Use parametric estimating 
Parametric estimating uses an algorithm to calculate estimates based on historical data and other variables. It is more accurate than analogous estimates. 
4. Acquire the resources 
Now it's time to assemble your team! 
Depending on your organization, this might be as easy as sending a team member an email inviting them to join the project. Or you might need to write a resource request asking for a team member or equipment to be allocated to your project. 
Tracking availability is vital at this stage. If someone you request for a project is unavailable (e.g., they might be out on vacation or engaged with other work), it helps to know beforehand. 
Using a spreadsheet is definitely not the best idea with changing schedules and priorities. You might make mistakes like double booking a team member. 
With a resource management tool like Float, however, project managers can filter and sort by variables like capacity and skills to determine who the best resources are for the new project.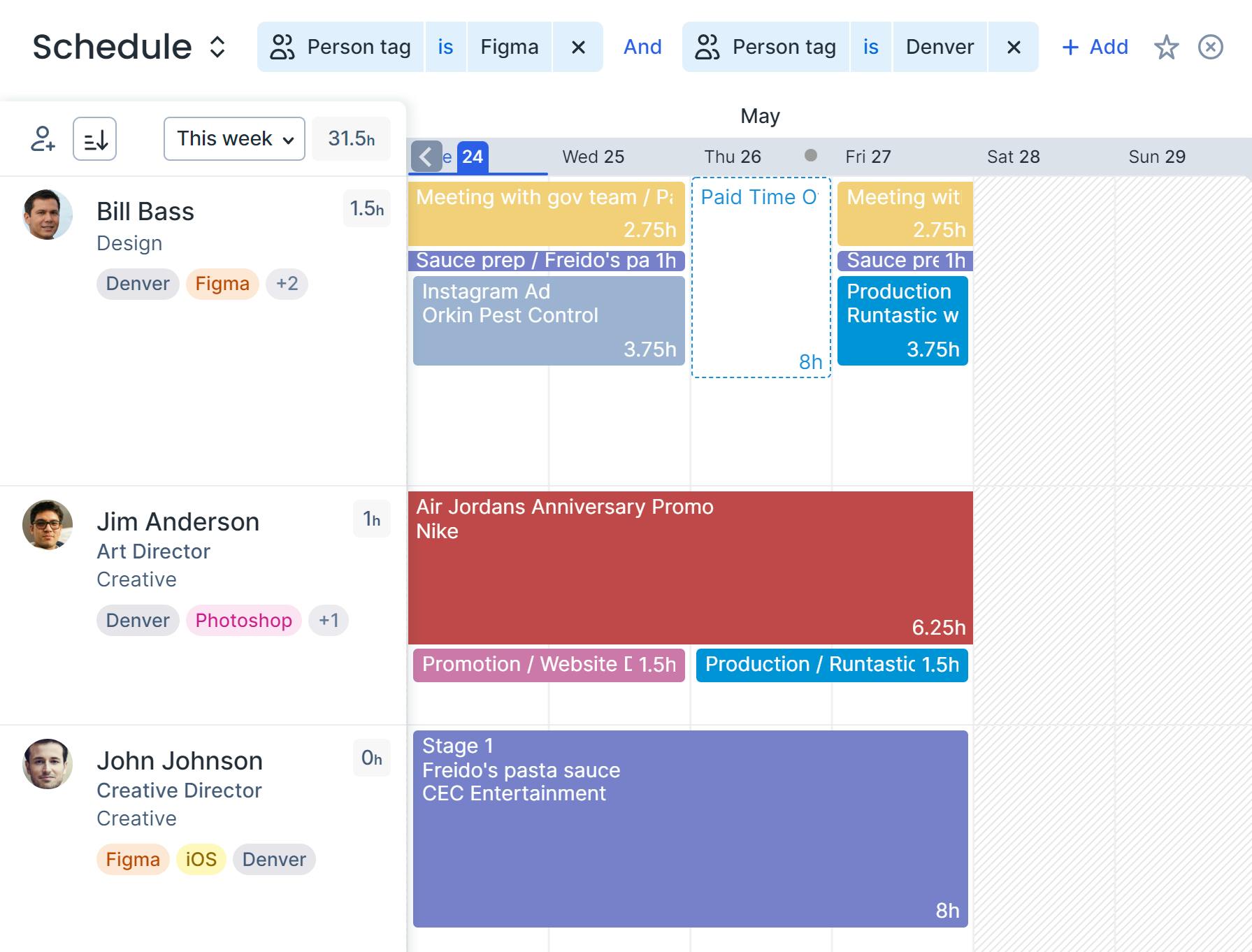 You can schedule tentative projects and tasks in Float until they are ready to be confirmed. Scheduling ahead of time shows you proposed work in the context of planned work. It enables you to see what resources are available and estimate timelines and plan accordingly. 
You should also plan ahead and send out resource requests or emails (whatever the case may be) beforehand. If a resource is unavailable, you'll have enough time to find an alternative. 
5. Develop and manage the team 
On their own, resources don't get the job done. You need to manage the team and ensure that the project is going as planned. Actively managing your team will enhance teamwork and motivate team members to do their best, ultimately leading to better results.   
To achieve this, you might need to: 
Step in to handle conflicts
Ensure people log time 
Track performance and provide feedback
Lay down ground rules for communication
Celebrate milestones 
It's no easy task to keep track of all the resources in your team, so it is best to automate as much of the process as possible. At Float, we use Slack messages and emails for async communication.  We log time and keep tabs on the progress of ongoing work in our own resource management tool. All important information is documented in Notion so that everyone can find out what they need when they need it.
The tools you choose may be different, but it's crucial that they help you work smarter. 
6. Monitor the use of physical resources 
Some businesses use physical resources—equipment, software, and office spaces—to get the job done. In cases like this, it's essential to monitor how physical resources are utilized. 
Depending on the nature of your project, you might need to keep an eye out for equipment shortages or ensure spending is still within budget.
Try the #1 resource management software for project work
More than 3,500 of the world's top teams choose Float to plan, schedule, and track their team's time. Rated #1 on G2 for resource management, Float gives you the most accurate view of your resource capacity to plan project work.
Try for free
Resource management techniques
Knowing how to manage resources is a great first step, but there will still be some bumps along the way. Resource management techniques can help you avoid scope creep, reduce unplanned requests, unrealistic budgets, and conflicting schedules. 
Resource allocation
Resource allocation is the process of assigning available resources to tasks and projects. It involves making the best use of the right people to work on projects. 
Resource scheduling 
Resource scheduling is the process of assigning tasks to team members based on availability and capability. It prevents burnout and exhausting resources by taking into account what your team members can achieve with the time and skills. 
Resource forecasting 
Resource forecasting helps you predict future demands on resources at the start of a project.
Think of resource forecasting as a project manager's crystal ball. It provides insights into potential gaps, and ensures you remain on budget with the right people to do the job.
For example, a branding agency can assess if they have enough brand strategists, copywriters, and designers to carry out upcoming projects. 
Resource leveling
Resource leveling is the process of shifting schedules to ensure projects are completed with available resources. 
Project managers use resource leveling to prevent overallocation and handle resource constraints. Say an engineer is supposed to work 20 hours a week on a project but is out sick for most of the week. The project schedule is adjusted by moving the end date forward  to accommodate the time spent during the sick leave.
Three real-world resource management examples
Now that we know what resource management is and how to do it, you might be wondering how real companies put these strategies into action! Here's a closer look at three thriving brands that are making the most of their resources.
Social Chain 
No of employees: 500+ 
The challenge:  Tracking who is doing what and when in the team of 500 proved hard for project managers at Social Chain. It was common for a team member to start working on a project only to discover that someone else was also working on it. 
The solution: Using Float, Social Chain has been able to save more than four hours per week using Float.
How? Jamie Bryan, Social Chain's Head of Design, puts it best:
"Being able to visualize our workload in a timeline, in all of Float's color-coded glory, gave us much-needed structure during a period of intense growth. It helped us set boundaries for the work we continued to take on, to identify where we needed to hire resources, and also gave us a new perspective on how we valued our time."
Team members can work across many projects at a time without making the mistake of duplicating a project. Instead of communicating through a disconnected series of emails to book design projects, Social Chain's team members  now rely on a visual dashboard that lets them in on the project's schedule and workload.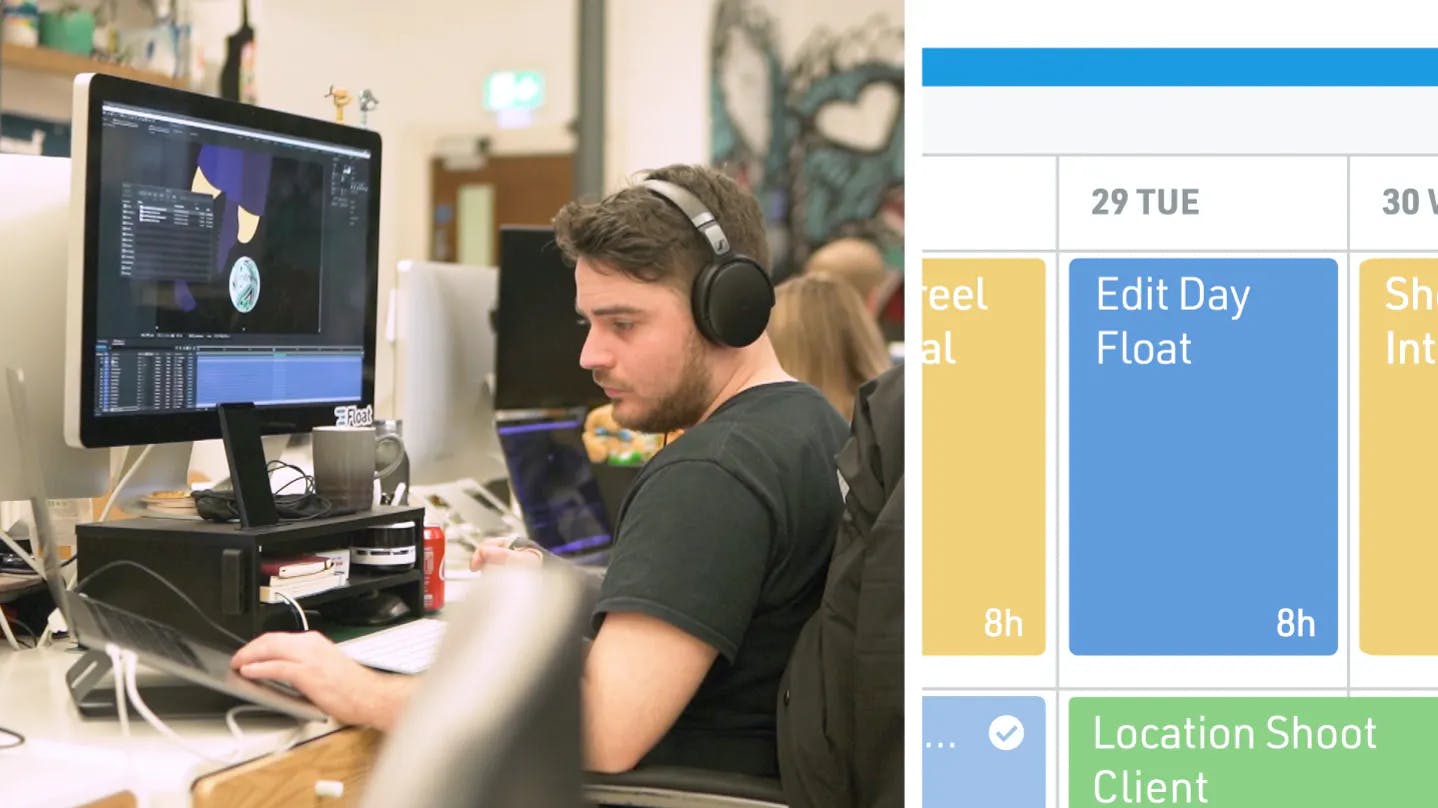 Buzzfeed
No of employees: 1,200+
The challenge: At Buzzfeed, things move fast. The team creates a consistent stream of quizzes, videos, and takes on pop culture that reaches millions of people daily.
The post production team is responsible for editing the raw content that goes into making Buzzfeed's video content. This means teams can be juggling anywhere from 100 to 200 projects at a time.
The solution: Leah Zeis, one of Buzzfeed's production managers explains how Float helps them manage projects:
"It's in Float that we start creating and assigning the editing tasks and resources to get the project delivered. We add information like the project due date and budget so that at a high level we can see what our resource capacity and availability is to schedule the right team for the job."
Not only that, Float can create custom views for project managers to visualize color-coded data in a way that makes sense for any given project. Its sorting and filtering options help the team sift through their favorite schedule views for faster and easier management.
Impression
No of employees: 10+
The challenge: Digital branding agency Impression needed a better way to manage its professional services. Their biggest challenge? Being able to accurately track both billable and non-billable hours. 
They didn't have a resource management process that enabled them to track how their time was being spent and where. 
The solution: With Float, the team plans their mornings around their Float schedule. It lets everyone know what's down the pipeline and who's currently working on what. Now, Impression's team can easily apply time tracking to each project and make better decisions with more accurate data.
According to CEO Charlie Hartley, "We needed one solution that offered flexible resource scheduling, a simple process for employees to track their time, and powerful project reporting on our project data. For us, Float ticks all the boxes."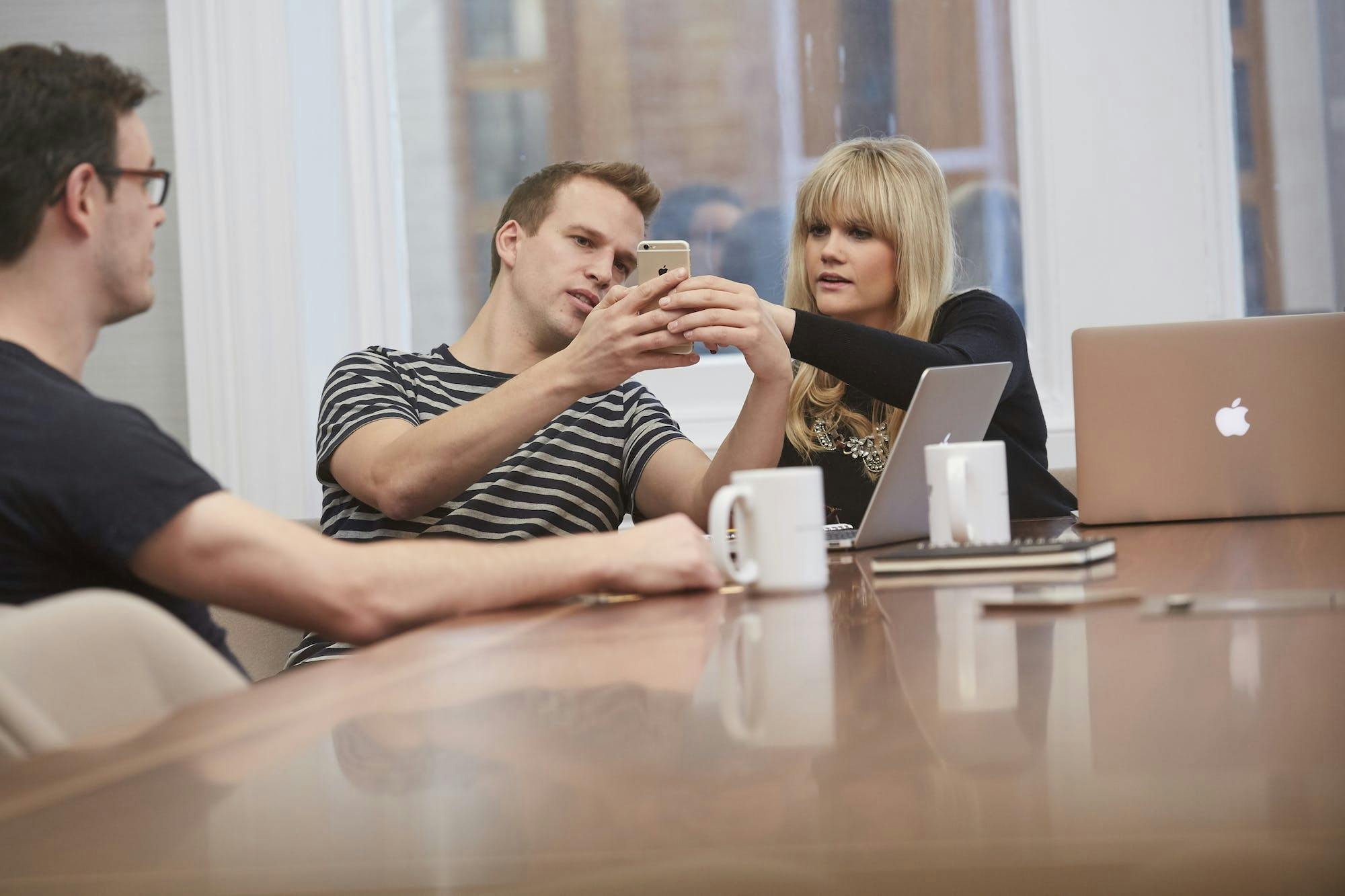 Ready to manage your team resources better?
No matter the size of your company, juggling projects, managing resource allocation, and meeting deadlines is hard work. 
But it doesn't have to be tedious spreadsheet hard work. And you certainly don't need a complicated tool that makes things even harder. Instead, it can be as fast and as easy as dragging and dropping tasks onto a team member's calendar.
With Float, you can automate the essentials—like budget, hours, availability, skills, and capacity tracking. You'll make informed decisions about what your team should be working on, when, and how. When a new project comes into your pipeline, resource management software makes it easy to visualize how you're going to get it done.
---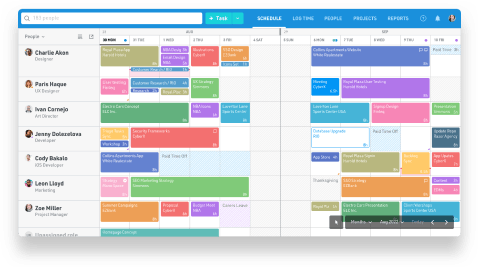 Try the #1 rated resource management software
Float is the #1 rated resource management software on G2 for planning projects and scheduling your team's time.
Try for free