How We Manage Feature Requests at Float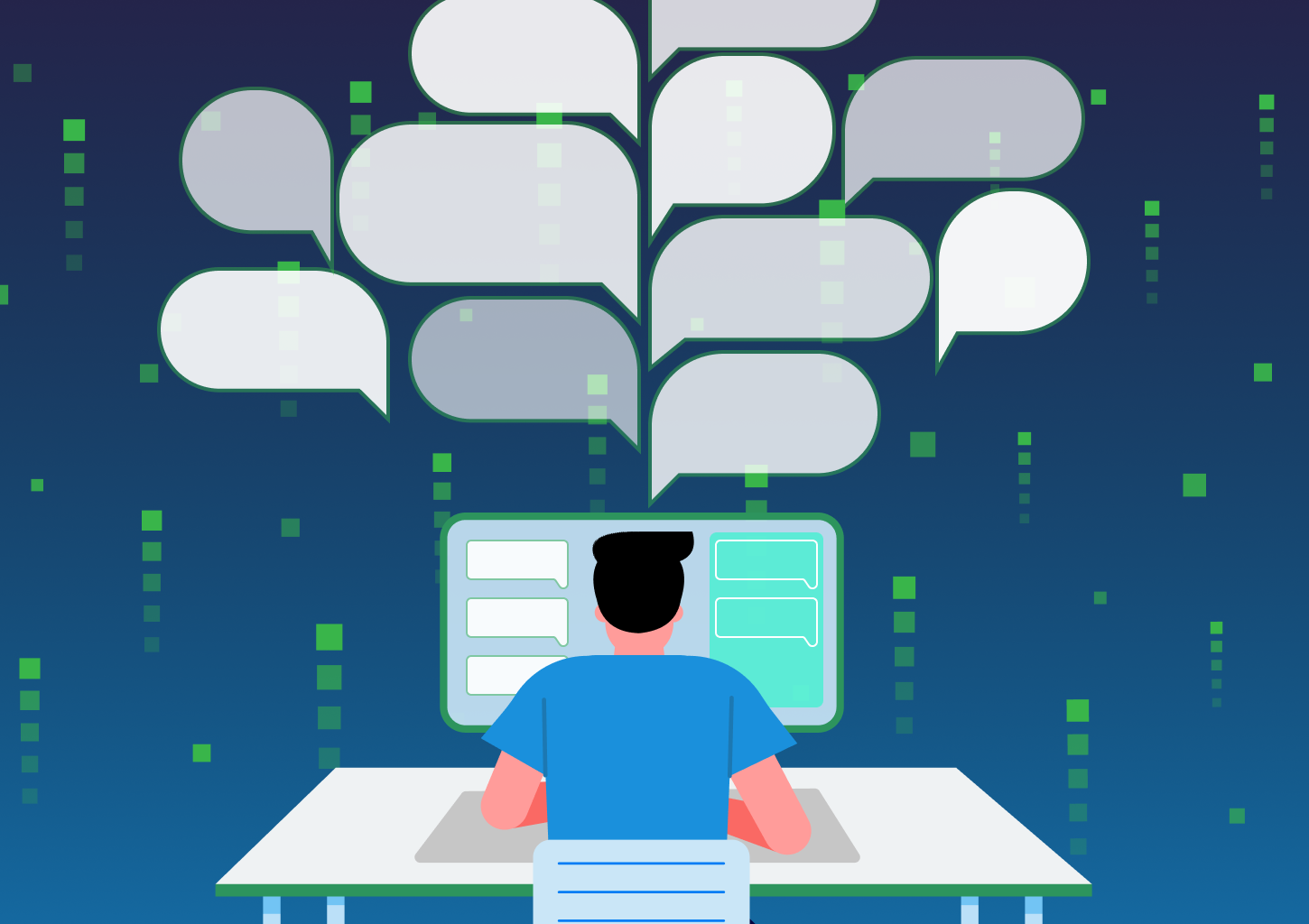 At Float, one of our company values is that we are always striving to improve. Through continuous learning and improving, we've built a best-in-class resource management platform that helps teams make the most of their time. This is a collaborative process, and our customer feedback plays a significant role in making Float what it is.
Ultimately, if customers don't love using our product, we haven't done our jobs well enough.
Our goal is to deliver new features that are simple and effective—without any bloat. Our customer success team is on the front lines of this effort. They're educators on resource management and the impact that smart planning has on delivering projects successfully. They also help users learn how to achieve their business goals and maximize their team's time using Float. Last, but definitely not least, they're the feedback loop between our users and those of us on the product team.
This post covers how we manage user feedback and provides insight into how a feature request makes it onto our product roadmap and, ultimately, into Float.
We're curious, we listen intently, and we record every feature request
We make it as easy as possible for users to ask questions and give us feedback. With a user base spread globally, we receive messages around the clock via the in-app chat in our web and mobile apps. In-app chat is our primary way to communicate with users, and we've found it encourages more "in the moment" feedback than email alone.
Lately, we've seen an uptick in users recording screencasts of their feedback (using apps like Loom) and then sharing those with us. ​Loom is also a great way for our team to share how a feature works with a user.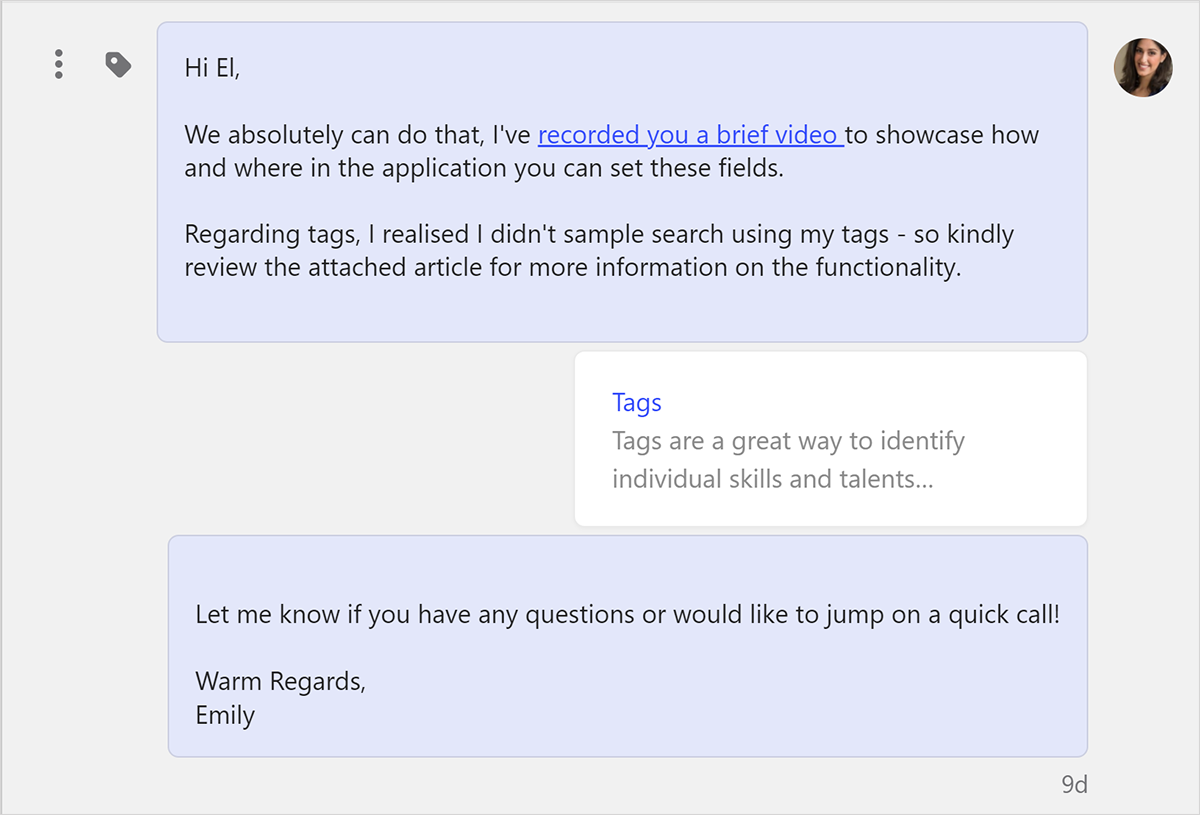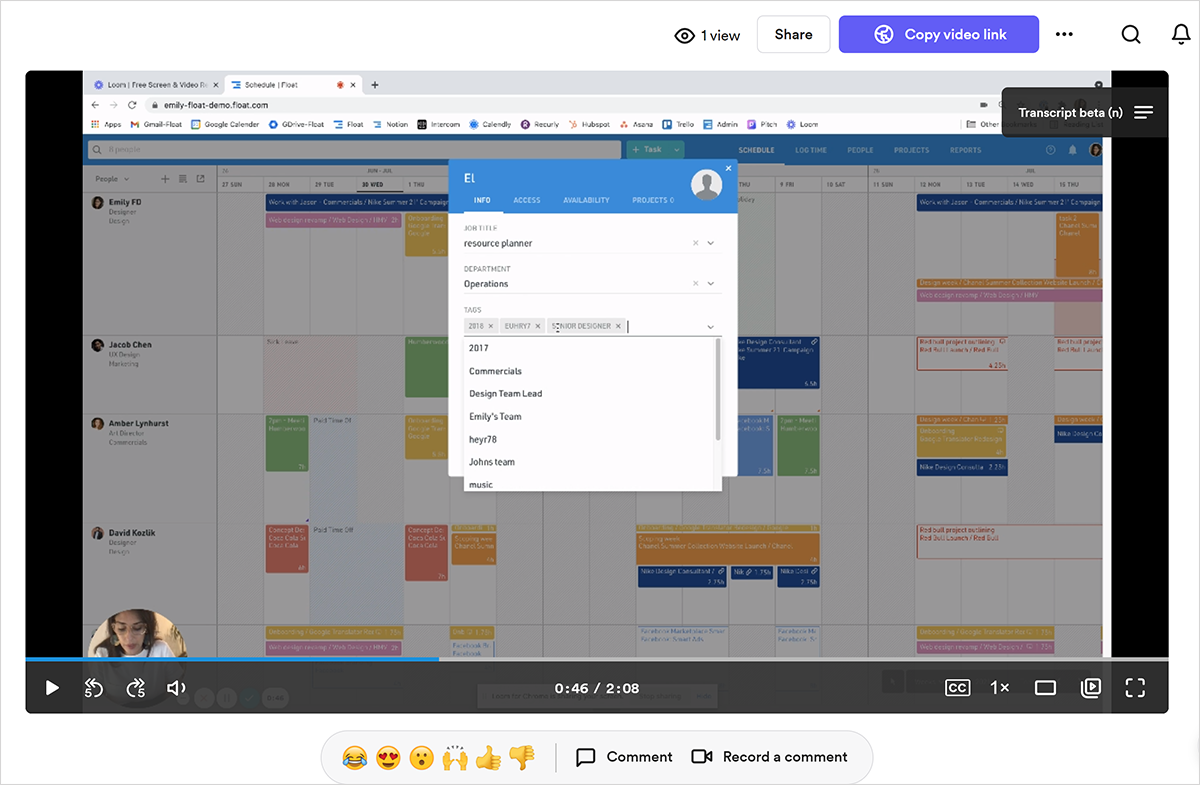 Our customer success team records every piece of feedback we receive in Trello. Each card is organized according to which part of Float it relates to and then ordered by popularity. Whenever a card gets added in Trello, an automated notification is also sent to a Slack channel for even greater team visibility.
Over time, consistent feedback and themes begin to emerge.

At a glance, we can easily see the most popular requests across the whole of Float, regardless of whether it is a scheduling, time tracking, integration, or an API request.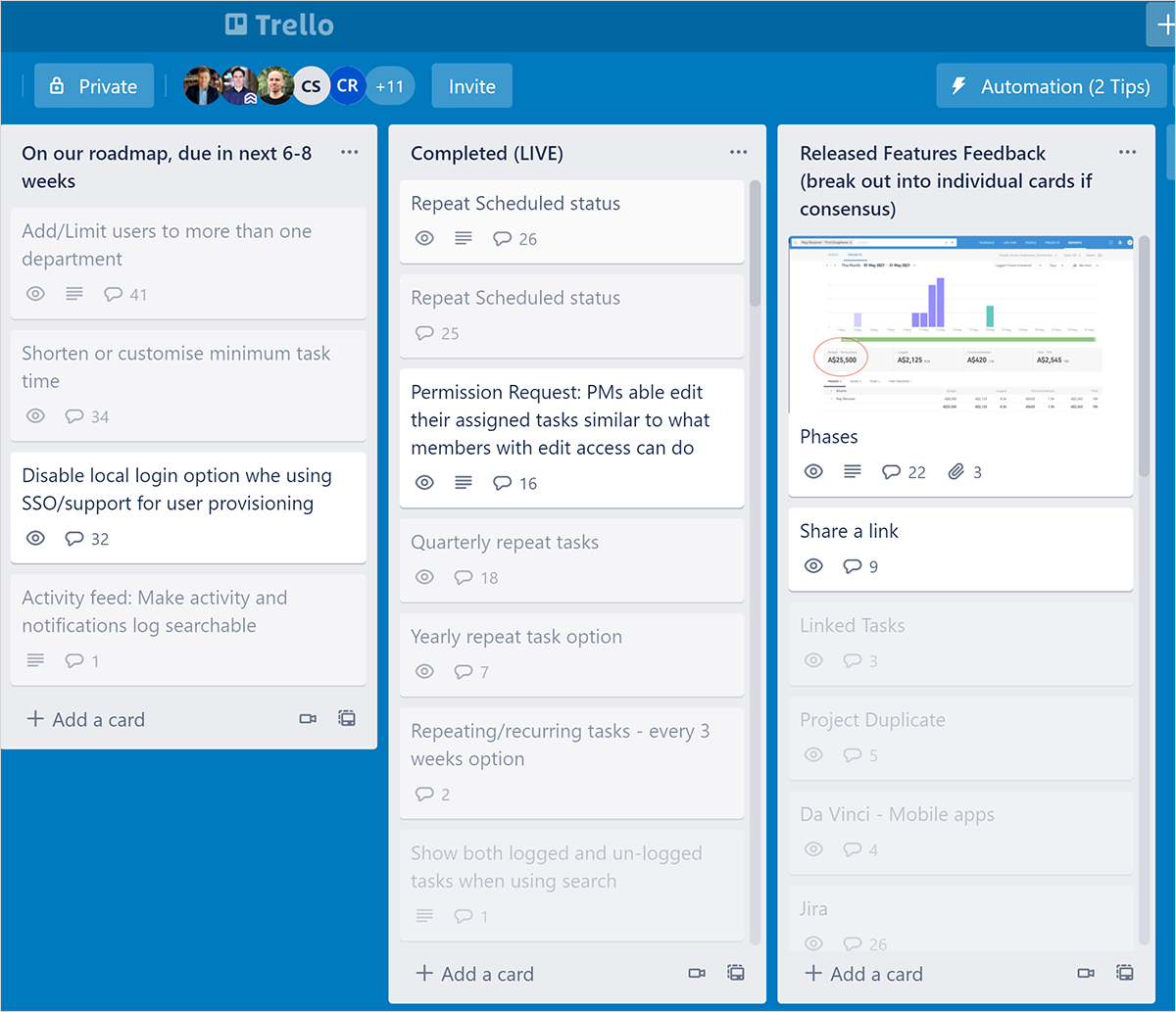 We validate top feature requests and then move them into a discovery phase
Our product managers regularly trawl through the feature request board and sometimes even jump back into the original thread in Intercom to see the full conversation. It's an excellent way to gather additional context on the request and observe what type of user the requester is (i.e., a scheduling wizard or a Float freshie).
We'll often reach out to users directly to get more detail and seek clarification on how a feature would improve their experience in Float. For example, when we were developing time tracking, understanding the pain points users were having in other apps gave us a lot of confidence that our single click option for logging scheduled time would appeal to the greatest number of people.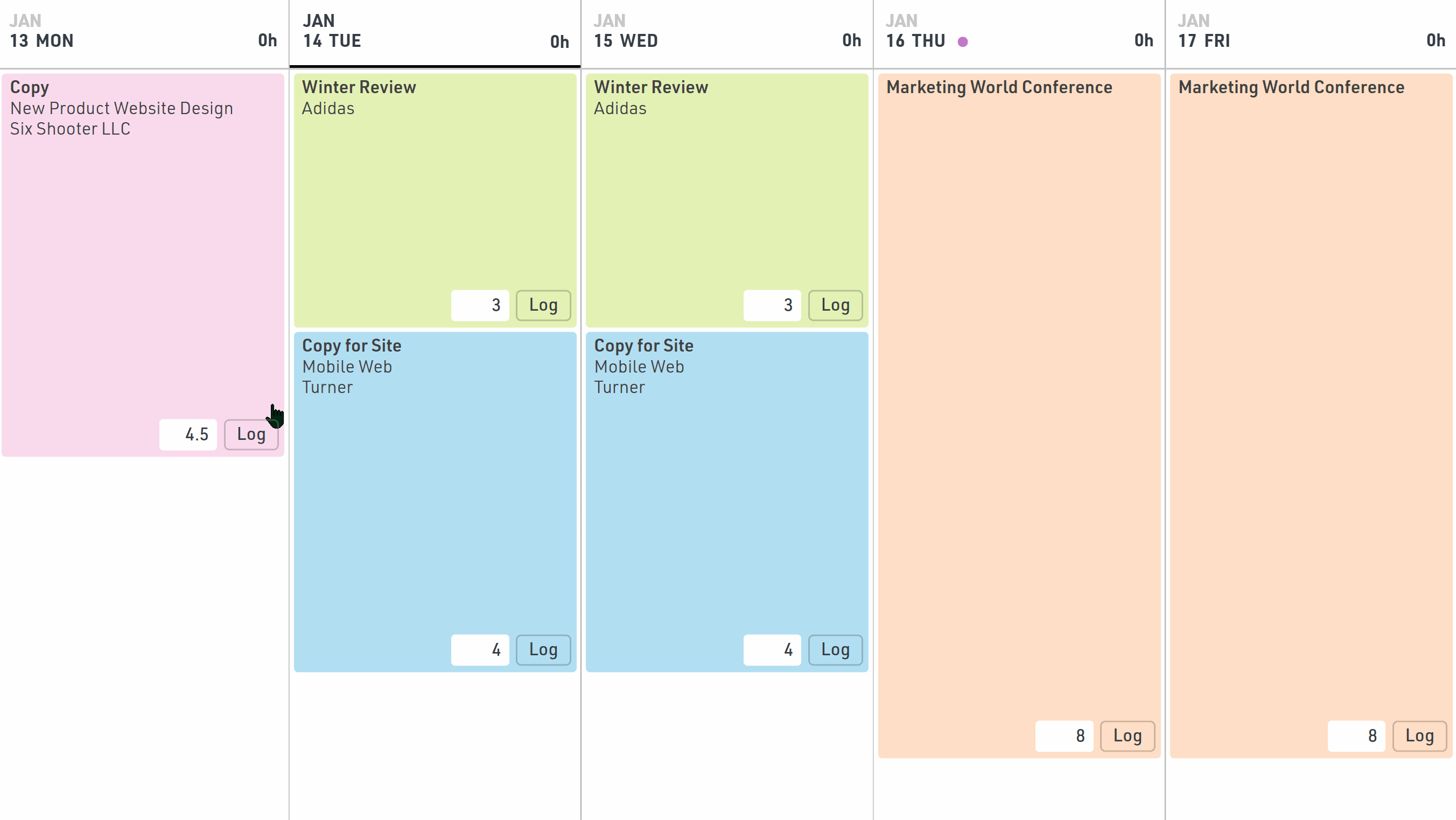 We cross-reference what users say they want with what analytics show that they do. This helps us understand the "why" behind the "what" of a particular request. Multiple data points make a trend. While not every idea gets acted on, every opinion is at least considered. The more similar the feedback is, the more likely we are to prioritize the feature.
Once a feature is prioritized, a project is created on our roadmap.
The roadmap is a scheduled list of projects our product and engineering teams work on to understand user needs and design experiences that meet those needs. At any one time, our teams are juggling a dozen projects in various stages of "to-do," "in-progress," and "done."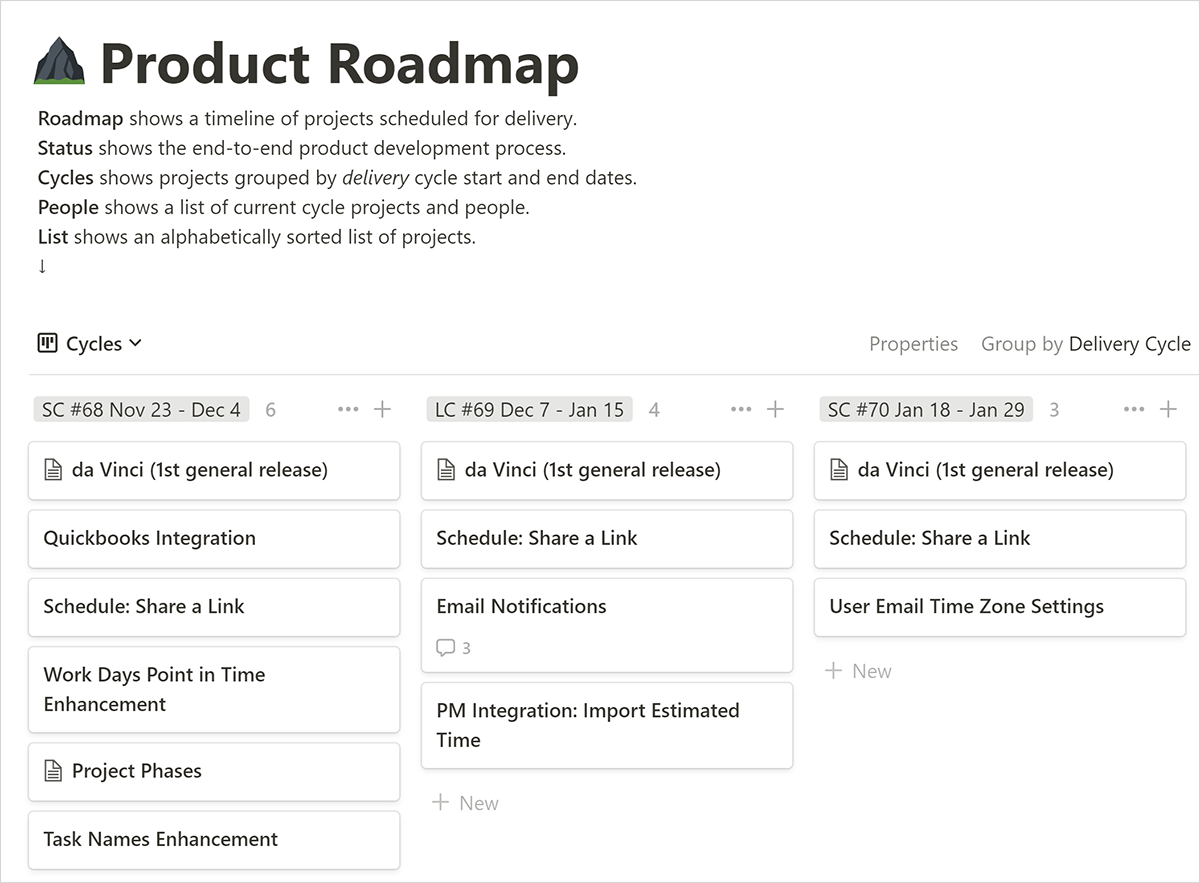 In a new project, the original assumptions are stress-tested, and we seek out additional information. As ideas are explored, discounted, or validated, we eventually coalesce around a single solution. That solution is then examined and prototyped.
We test new features and then release them into the wild
When we are confident that a new feature satisfies a need for our users, we write and test production-ready code. Sometimes we also invite a small number of users to try the feature out before anyone else. Doing so helps ensure that it meets their expectations before being released to everyone in Float.  
For example, before the project phases feature launched earlier this year, it went through three weeks of strenuous user testing. It was during this beta phase that we captured valuable feedback like how helpful it would be see phases in the project budgets report.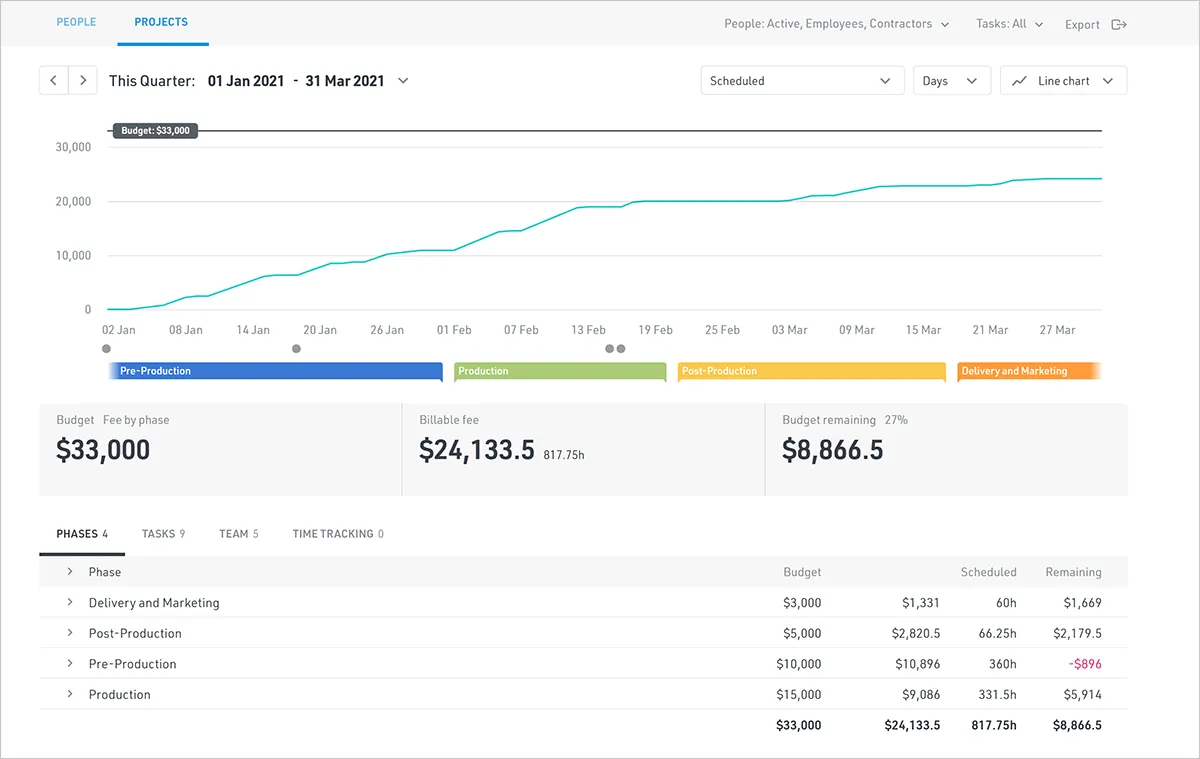 Depending on the complexity of the feature, days, weeks, or (even) months later, it's released to Float. Customer feedback is carefully monitored for the first few weeks for additional feature requests and any reports of bugs.
Once we're in the clear, we start the process all over again.
Product feedback FAQ
The inspiration for this post came from our senior account manager Emily, who joined the team earlier this year and inquired about a public product roadmap. We thought it might be helpful to list the most common questions we receive regarding product feature requests below.

Do you have a public product roadmap?
As priorities can often change or dates can get shifted, we don't share our roadmap publicly. Sometimes we invite select users to try a new feature before it's released to gather feedback, and we always reach out to every user who has submitted a request for a feature once it is available.  
How do I send a feature request or feedback?
You can use the in-app chat feature or drop a note to our customer success team at support@float.com. We log every feature request!
How do I know if my request is being worked on?
We track which users have requested specific features and notify them when it's in beta (released to only a few early users) and again when it goes live.
How can I be notified of new product features?
You can check out the latest features in Float on our What's new page. You can also sign up for our monthly newsletter at the bottom of this post to stay up to date on the latest news.
Do you offer training on how to get more out of my Float subscription?
Our Help center is a good place to start if you have a specific question on how to use Float. Our customer success team is also happy to demo our latest features and answer any questions you have. Get in touch—we'd love to hear from you!
---
Get exclusive monthly updates on the best tools and productivity tips for asynchronous remote work
Join 60,000+ readers globally