The Role of Insights: Fueling Continuous Improvement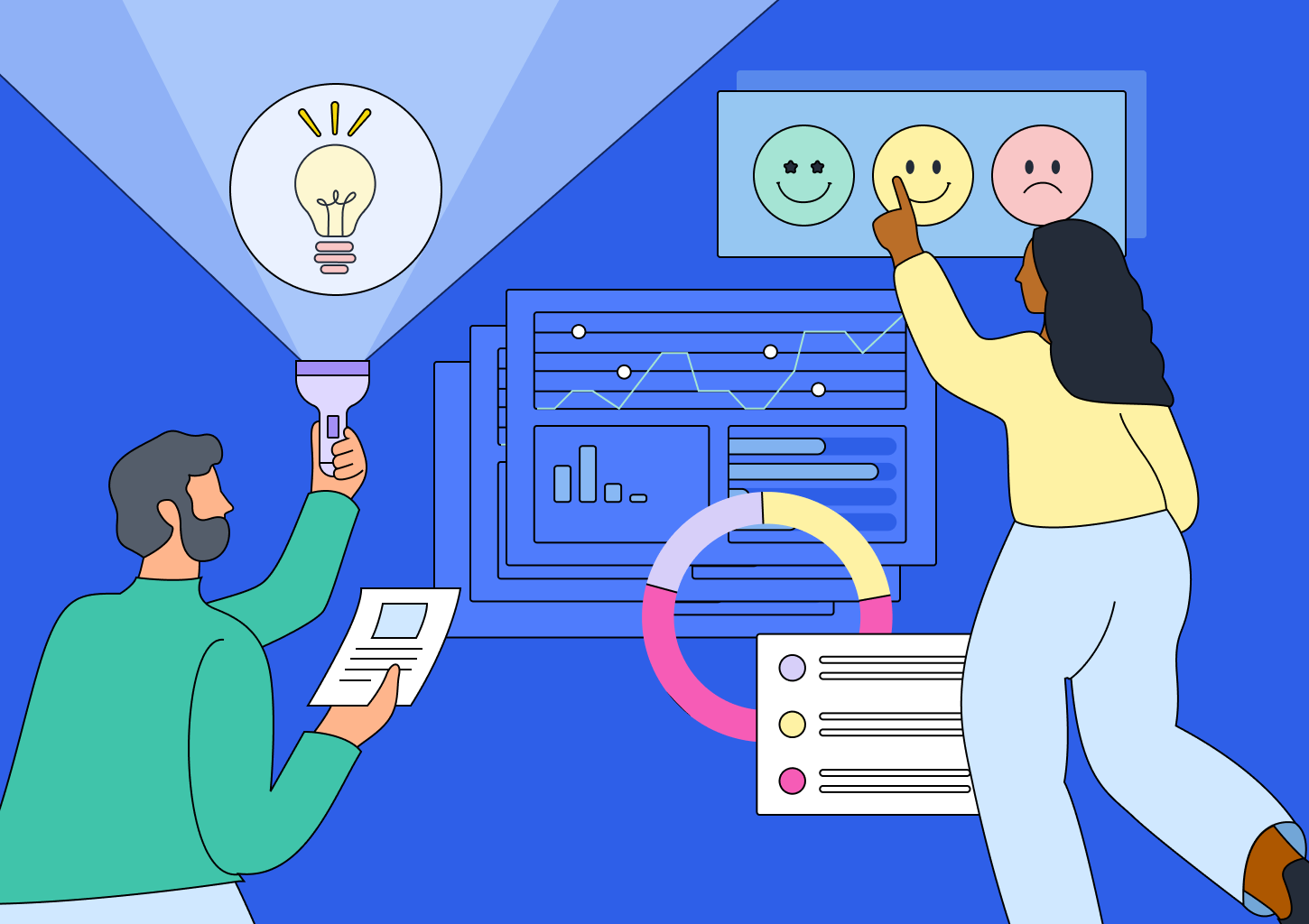 Every organization eventually finds itself at a point where there are more questions than answers to customer behaviors and preferences. The more intimate you are with your customers' reality and how they are using your product, the better you'll be at serving them.
To achieve a high level of understanding and identify valuable opportunities, companies need insights—which are an interpretation of trends and patterns based on what customers say, do, and signal.
Our insights team was born out of a need to be proactive
In 2021, our global customer base expanded significantly and our team size doubled as a result. I came on board as the UX research lead, and Colin Lethem joined as our senior data and analytics analyst. We tackle both qualitative and quantitative research and analysis. We take a cross-disciplinary approach, leveraging methodologies across market research, design research, data analysis, and customer experience.
"As an early-stage startup, so many data points were reactive: customer feature requests, competitor and industry movements," says Float CEO Glenn Rogers. "With our insights team, we're able to shift to the front foot, answer the big questions, place bigger bets, and validate those bets earlier."
We embrace approaches that recognize how our skills complement each other to deliver the research questions who, what, how, when, and why. This includes customer interviews, statistical models, usability tests, and dashboard development, which all support the product, marketing, customer success, and engineering decision-making.
"I knew that the future of Float required us to truly understand our audience's pain points, and build shared empathy within our growing team."  Glenn Rogers, CEO and co-founder of Float
Beginning to understand our customers
A critical early project for the insights team was a customer segmentation study, where we surveyed our user base to get a more comprehensive view of their roles, workplaces, and the challenges they face with resource management. This foundational strategic research helped quantify institutional knowledge, fill gaps, and challenge assumptions.
"Recent work uncovered a customer desire to have a desktop app, independent of the web app, which allowed us to kick-start the discovery process from the engineering side. Without this kind of insight, we would have been behind the curve in awareness of this unmet need, "says Colin Ross, Float's director of engineering.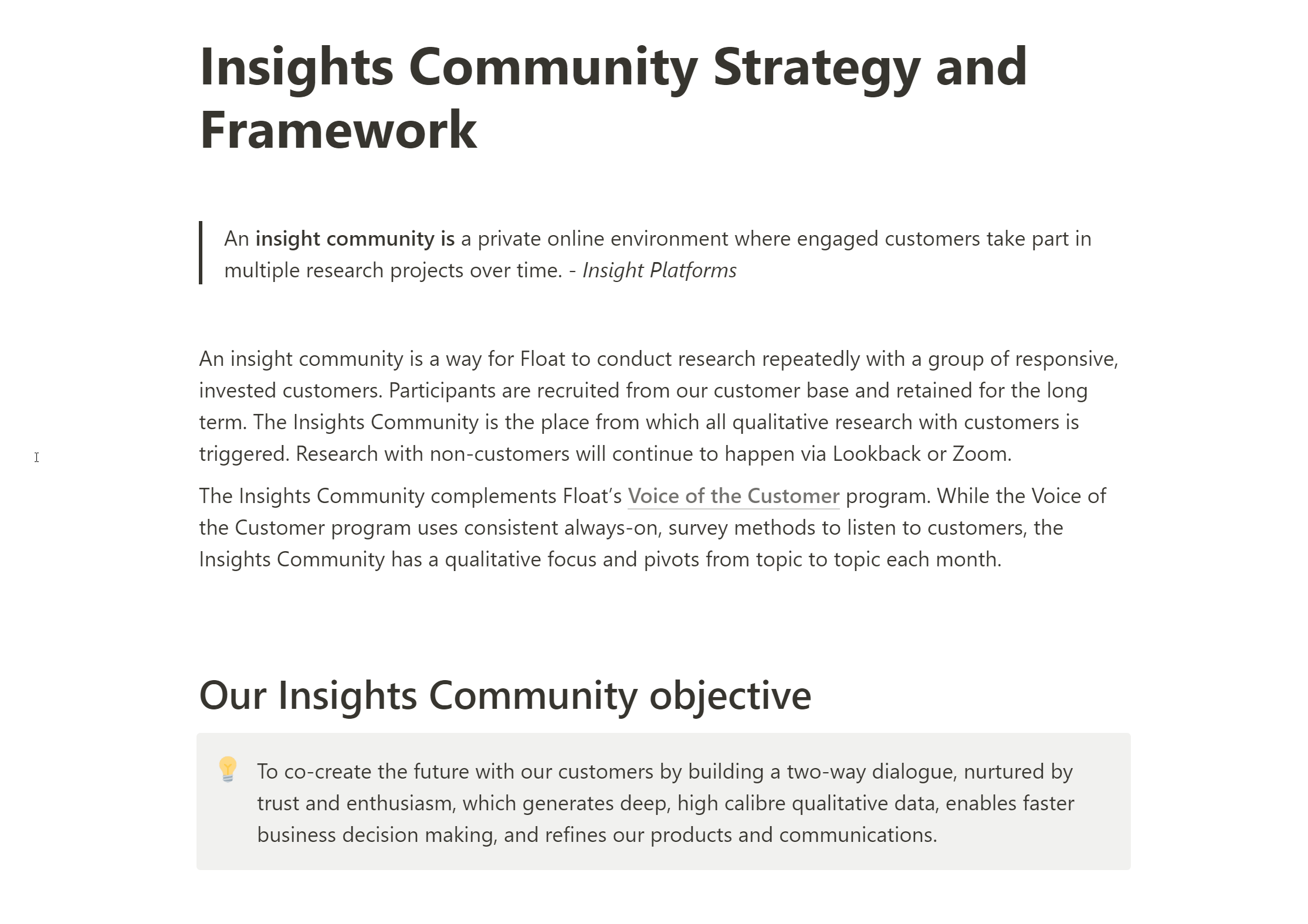 "Being able to both talk to customers and also identify these kinds of behaviors via data helps us recognize that not all customers use Float in the same way. We can start to segment our features according to these different personas."
We use insights to power up customer success
More sophisticated analytics infrastructure has enabled data visualizations that reveal how prospective customers move from leads to trialists to engaged users. They've highlighted the onboarding and adoption milestones we need to support and where we can reduce friction so that people can introduce Float smoothly into their organization.
"Without insights, it feels like I'm building a puzzle with missing pieces," notes Alison Prator, Float's director of customer success. "As I've gotten more help from the insights team, we've been able to start connecting the dots and become more sophisticated in our decision making. We're moving from being reactive to proactive in our customer support."
New initiatives with customers in mind
Right now, we're expanding our Voice of the Customer program so that we can continuously take the pulse of how we're performing. We've also set the strategy to form an insights community, where customers can share their opinions and experiences through ongoing research activities. Both of these initiatives will help Float listen to more customers faster.
They also help Colin and me deliver on our vision to create an information-rich environment where our colleagues can make decisions that help Float continuously improve. We want to nurture an atmosphere of growth where uncertainties about our direction get flagged and discussed so we can find answers and provide context.
"When you're close to and passionate about your work, it can be easy to make assumptions about what you think customers want," says Siobhan Hayes, Float's director of marketing. "Our insights team helps us validate any new ideas that we have objectively, and even more excitingly, hear ideas and feedback that customers have—firsthand, and in their own words."
Data insight is key to delivering product improvements
Crucially, our work also allows the team to get feedback on their work. Whether measuring customer sentiment after a UX revision, tracking the adoption of a new feature, or quantifying the impact of a new marketing campaign, having access to objective data allows our team to evaluate their work honestly and decide what is and isn't working.
"Improvements are of a higher quality when they get released as we've made lots and lots of smaller decisions based on evidence from data," adds Tony Rule, Float's senior product manager. "Insights help us avoid acting purely on intuition and give us confidence that new features will delight our customers."
A look to the future: Helping customers get their best work done
There are still numerous unanswered questions to address, and Float's OKRs and product strategy direct our attention to where it's most needed. The insights team will grow and evolve with Float, expanding our capabilities to run standardized and repeatable experiments, evaluate improvements to the UX, and identify strategic growth opportunities.
We're recruiting more UX researchers to join the team and building internal data systems that enable self-serve analytics. We don't want to just keep pace with current plans but also equip our team to get exploratory.
"Our success is a result of our customers' success. We're driven by overdelivering value to our customers, and our vision to enable teams to live their best work lives," says Glenn. "Our insights team is intensely focused on understanding our customers' challenges, needs, and wants, which means we're better positioned to support their success."
It's a virtuous cycle that prepares us for the long run and signals our commitment to helping customers get their best work done!
---
Get exclusive monthly updates on the best tools and productivity tips for asynchronous remote work
Join 100,000+ readers globally