Why We're Introducing New Time Off Policies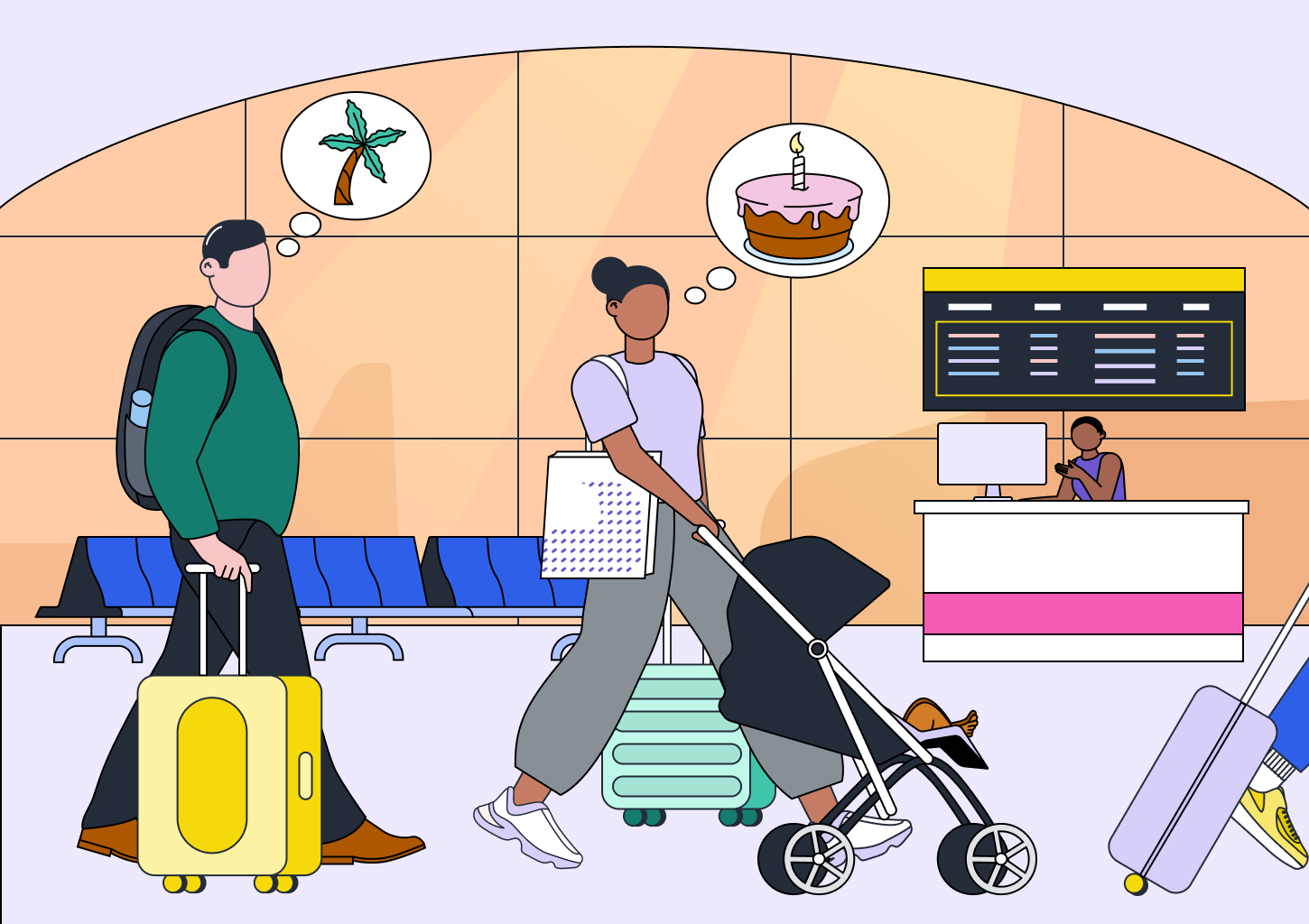 At Float, we believe that time is our most valuable asset, and we are passionate about being intentional and productive with our time at work.
But we also know that time off matters, and increasingly so. For example, the pandemic has forced 58% of workers to rethink their work/life balance, and organizations are offering higher wages just to compete for talent. Historically, when pay rates increase, workers also value their time off more.
Nurturing our culture with new policies
One of the challenges as we scale is protecting and nurturing our culture. That doesn't mean keeping things the same—quite the opposite actually. Rather, we want to cherish, celebrate, and champion the good bits of our culture and continuously look for areas of opportunity to improve.
"Culture = values + behavior" - Simon Sinek, author and inspirational speaker
Perks and benefits are a vital driver of behavior within an organization. When you champion the right behaviors, you allow your culture to bloom. At Float, we want a culture that celebrates people taking time off. This is why we've taken steps to introduce new perks and benefits that encourage that specific behavior.
Earlier this year, we introduced 16 weeks of paid parental leave through the development of flexible leave plans. Our team can tailor leave plans to suit their family circumstances. By enabling the team to take leave in a flexible way, we have seen a 50% increase in family leave usage!
We introduced No FOMO week last December, an all-team holiday at the same time each year. This is the quietest period of the year for us, so we operated with skeleton staff and took a whole week off without any fear that we were missing out or in danger of returning to a pile of work. Our Slack was completely silent throughout the week, and everyone was able to switch off.
In terms of other time off, our team currently gets 35 days off each year (10 public holidays, 15 vacation days, 5 days for No FOMO Week, and 5 personal days). Last month at our all-team meetup in France, we announced an additional 5 days of paid vacation leave, plus the introduction of a new leave type, quarterly life leave (which allows for one day off per quarter planned in advance). This means that, from 2023 onward, our team will have up to 44 days off each year!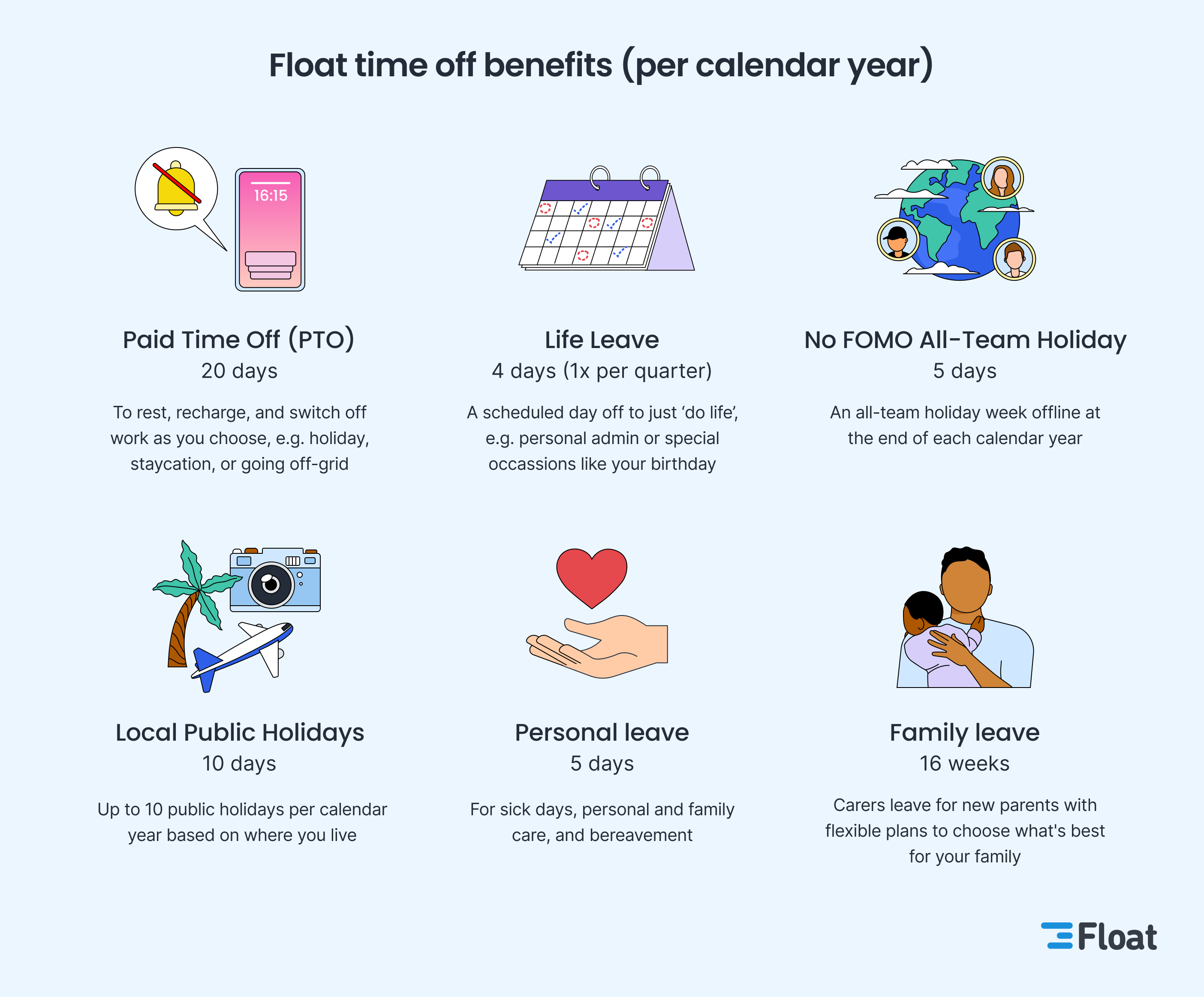 The quarterly life leave benefit's purpose is twofold—we want to encourage the habit of regular time off, and we also want to reinforce the idea that it's okay to take time off to just do life. You don't need a planned holiday to justify switching off.
The most generous time off policies will fail if you don't enable your team to use them
A recent study by Namely found that employees of their clients took an average of 12.09 days off when they had unlimited leave and 11.36 days with capped leave. So far this year, our team has used 70% of their allocated PTO, which amounts to an average of 15.5 working days per team member (up 5% from last year).
This means we are doing better than a lot of teams with our averages, but we know there's an opportunity to do even more! The beauty of being a fully bootstrapped and profitable team is that we have the flexibility (and means) to shape our time off policies to suit the needs of our team.
Specifically, our time off policies aim to help our team live their best work lives. That includes being able to take time away from work to unwind and unplug. We want to encourage our team to find meaning and balance in their work and personal lives. That requires setting boundaries and being able to log off completely—because the quality of our time away from work really matters.
A flexible time off policy does not mean it's ambiguous
We committed to improving our compensation and employee perks and benefits as one of our company OKRs this year. We also debated introducing unlimited leave—which would have allowed our team to take as many sick, personal, or vacation days as they wanted.
Ultimately, we landed on 5 additional vacation days and our quarterly life leave because an unlimited PTO policy was simply too ambiguous.  As a fully remote, asynchronous team, we rely heavily on clear (and unambiguous) documents, policies, and processes. It's what allows us to have the flexibility to design our own workdays and collaborate effectively within a globally distributed team while still maintaining autonomy
This way of working doesn't restrict us—it empowers us. The same is true of our time off policies.
While perks and benefits are essential in bringing new talent to Float, and unlimited leave certainly sounds attractive, we haven't seen any proof that it actually results in people taking more time off! We think that carefully considered policies deliver better value and that ambiguity does a disservice to our team. Getting people in the door is one thing, but helping them succeed and live their best work life is another entirely.
We can't wait for our team to start using the new quarterly life leave benefit, and we hope it continues to help foster a culture that values our time offline as much as we value being online. We certainly won't hesitate to amend the policy as needed to fit our evolving needs.
After all, designing and supporting a best work life requires detail, creativity, and purposeful perks and benefits that positively impact our team.
---
Get exclusive monthly updates on the best tools and productivity tips for asynchronous remote work
Join 100,000+ readers globally