No FOMO Week: Why We're Taking an All-Team Holiday Offline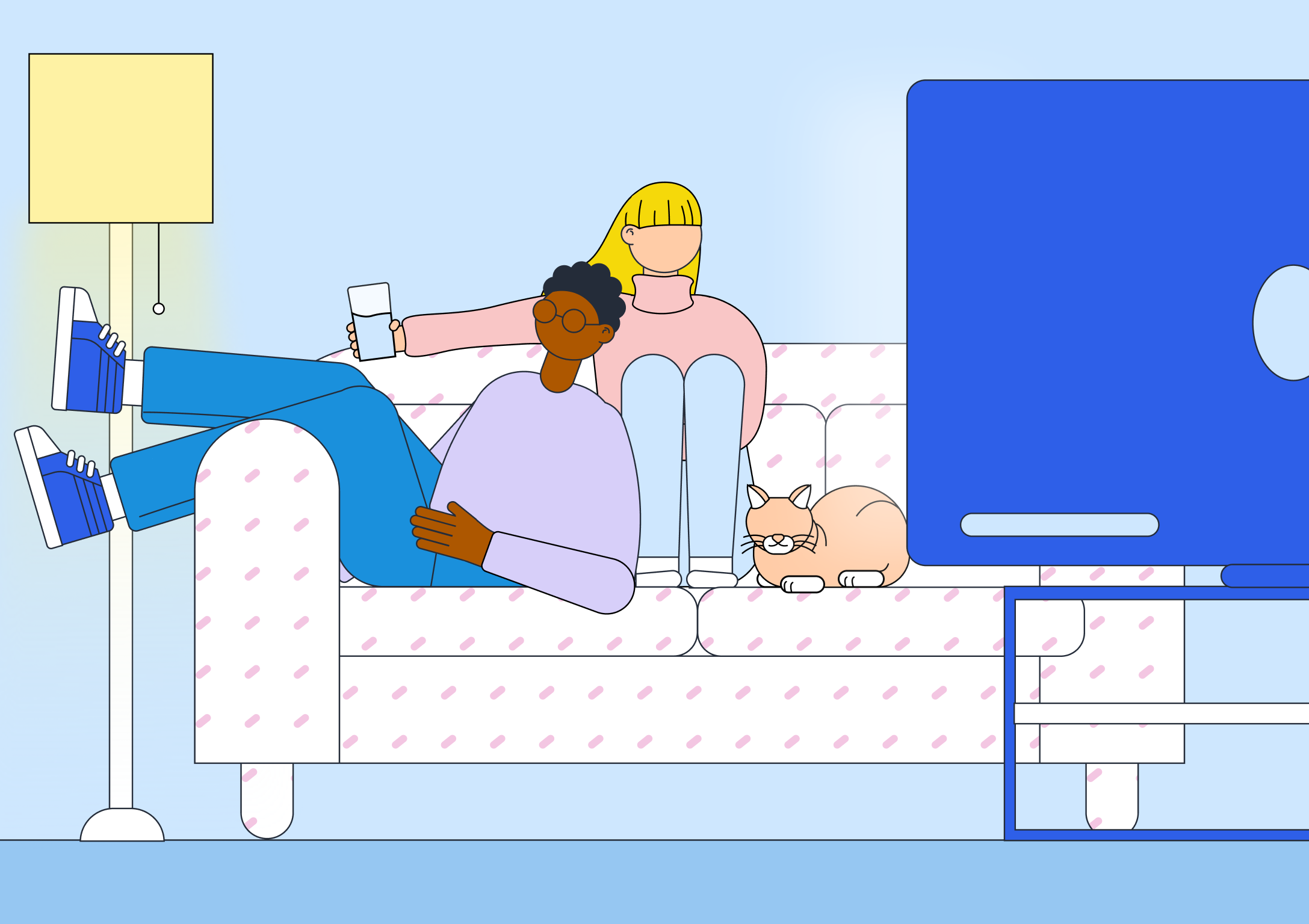 We review our team perks and benefits (P&Bs) at least once a year at Float.
Traditionally, it is all about ensuring that we are competitive in the market to attract great talent and keep our team happy (and that's still really important to us!). However, this year we are stepping up our focus on building a best work life culture.
With a team that has nearly doubled in size over the last 18 months and continues to grow, we're passionate about setting the bar for asynchronous remote work. A best work life culture means having the opportunity to do our best work and live our best life in a uniquely meaningful way to each of us.
Our goal on the operations team is to design an employee experience that actively aims to foster this within the larger group at Float. I now review our P&Bs with the criteria below to ensure that they:
Support and encourage a best work life culture
Align with our values
Drive desired team behaviors
Leverage current behaviors, artifacts, and beliefs that are unique to Float
Paid time off doesn't always mean switching off
Paid time off was one of the first P&Bs we revised at the beginning of the year.
Today, 70% of all 2021 PTO has been requested or already used. In addition, we pay up to 10 local holidays per team member, and each person uses these days when relevant in their region. We also offer five personal days a year that can be used for sick leave, carer's days, bereavement, or mental health. Our team has used 50% of their available personal days this year too.
At a quick glance, these time off policies seem to be working well. Most of the PTO is being used, and most personal leave hasn't been maxed out. Looking closer, however, it's clear that we aren't always hitting the measures above. The policies don't necessarily allow our team to properly switch off and make the best use of their non-work time.
We've picked up on some unintended consequences:
We get FOMO. Some of our team worry they are missing out on something important so they tend to log on while vacationing to check out what's happening.
Slack debt. Many of us dislike the inevitable Slack debt we come back to after vacation. It can be stressful thinking about what you need to catch up on after time off, and many of our team members log on to Slack before they are due back at work as a result.
As we want our team to have the opportunity to switch off properly and avoid FOMO and Slack anxiety, we are trying something new this year.
No fear of missing out (FOMO) week: our all-team holiday
Late December is typically quieter for us in terms of development, shipping, user traffic, and customer support.
We see this as a unique opportunity for everyone to take some much-needed time off. Each year, we will allocate one week during the quieter period in December for an all-team holiday.
Our team can still book holidays and use their PTO whenever they want to, but we have added an extra "set week off" so that everyone has some dedicated, no excuse time to disconnect from their work.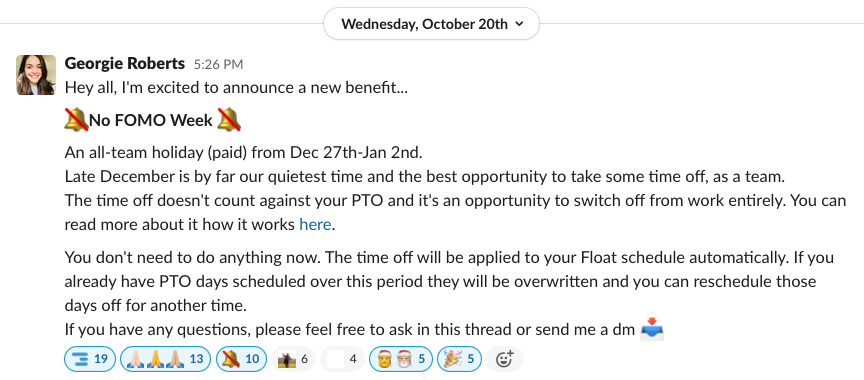 We are all for everyone finding time throughout the year to book time off and balance work and life on their own, but we have introduced this all-team closure to take a firmer stance in our belief that switching off properly helps our team truly live their best work lives.
The time off is fully paid and is in addition to the six weeks of paid leave we offer throughout the year through PTO, personal leave, and national holidays.

We decided to schedule the time off during a set period each year for two reasons:
We know that we can implement this with minimal impact to our customers.
If we do it as a team, we can remove the temptation to log on as no one else will be online.
This year we are taking our first team holiday from 27 Dec-2 Jan. We will continue to support our customers throughout the week with a skeleton staff, but we are essentially closed outside of that.
No shipping, no Slack, and no more FOMO!
---
Get exclusive monthly updates on the best tools and productivity tips for asynchronous remote work
Join 100,000+ readers globally