The Challenges of Asynchronous Communication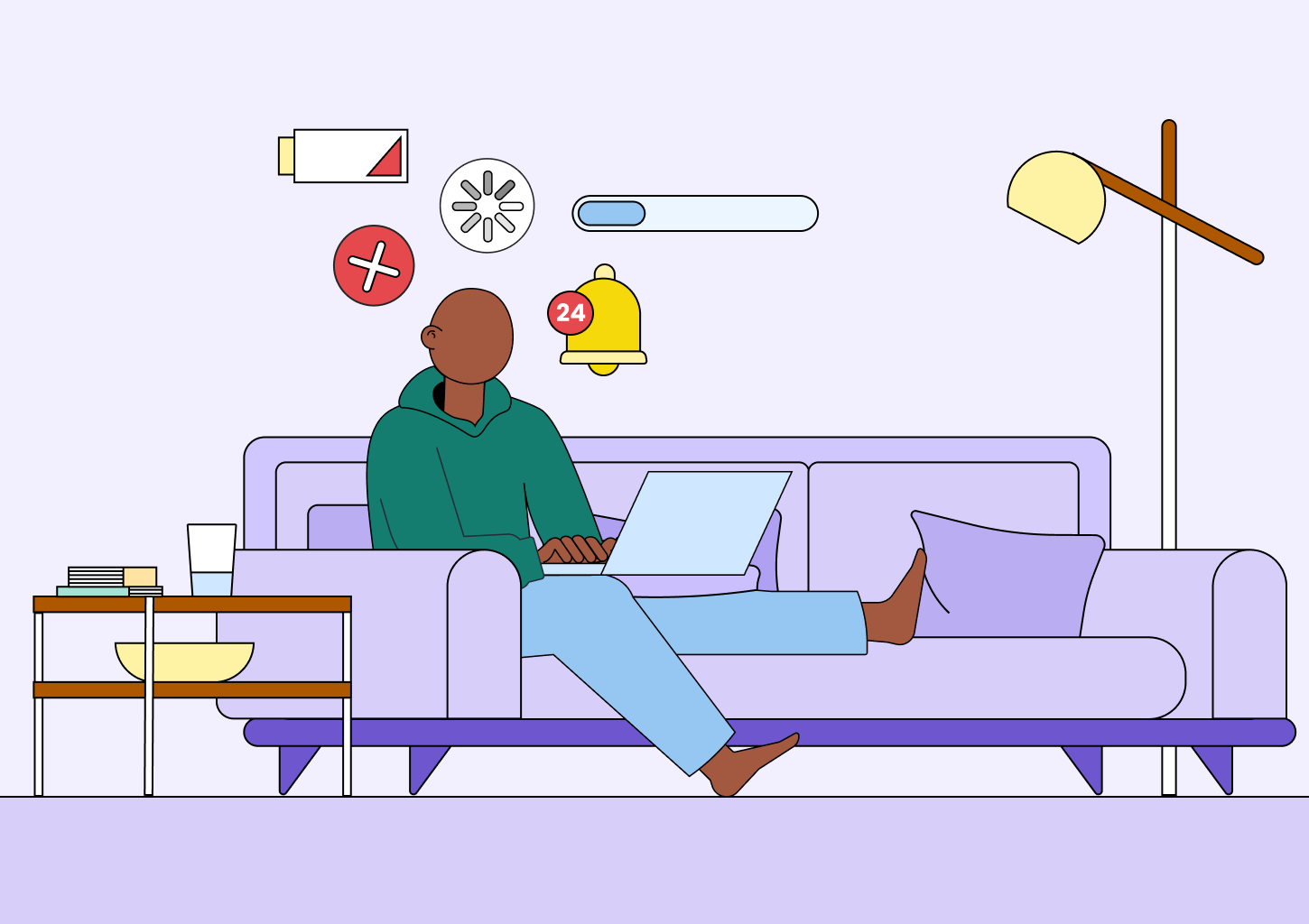 At Float, we're big advocates of asynchronous work. As a fully remote and global team, asynchronous communication is practically a necessity. It also gives us the freedom, flexibility, and autonomy to self-design our best work life.
For those unfamiliar, synchronous communication is in real time, and asynchronous communication isn't. That means that we have very few meetings (for me, it's less than two hours per week on average), and we don't expect an immediate response to messages or emails. Asynchronous communication protects our time and encourages communication to always be clear, concise, and conducive.
While it would be easy for me to romantically recite an endless list of the benefits of asynchronous communication, there still are many challenges to making this style of work…work. And for the record—it's not for everyone!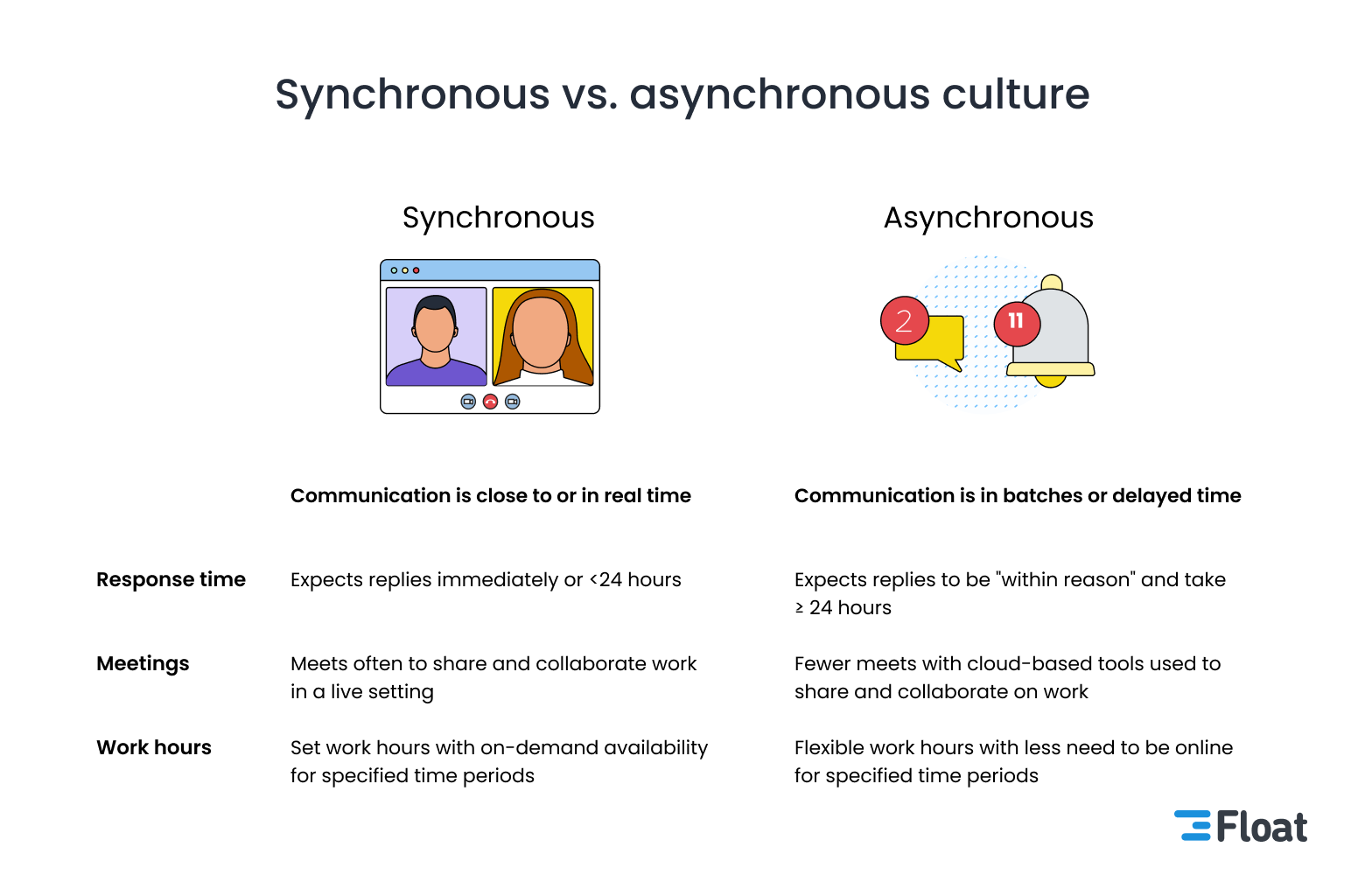 These are the biggest challenges I've experienced with async remote work (both as a team member and manager), and the strategies we use at Float to overcome them.
Top five challenges of asynchronous communication
1. Effectiveness relies on personal time management
When I tell folks that less than two hours of my week is spent in meetings, the most common response I get is, "So what do you actually do?" Cue a big grin on my face as I tell them that my time is spent doing actual work! I have blocks of time to think deeply, research, and work on our marketing strategy; check in and contribute to project tasks; respond (asynchronously) to my teammates; do whatever else needs to be done to hit our department OKRs. The challenge of having this much time in a workday is that the onus is fully on me to manage it.
The lack of a prescribed structure can be problematic for some, and I will say that it does take some getting used to. Setting your own hours (as we do at Float) requires a high level of accountability for personal time management and self-awareness.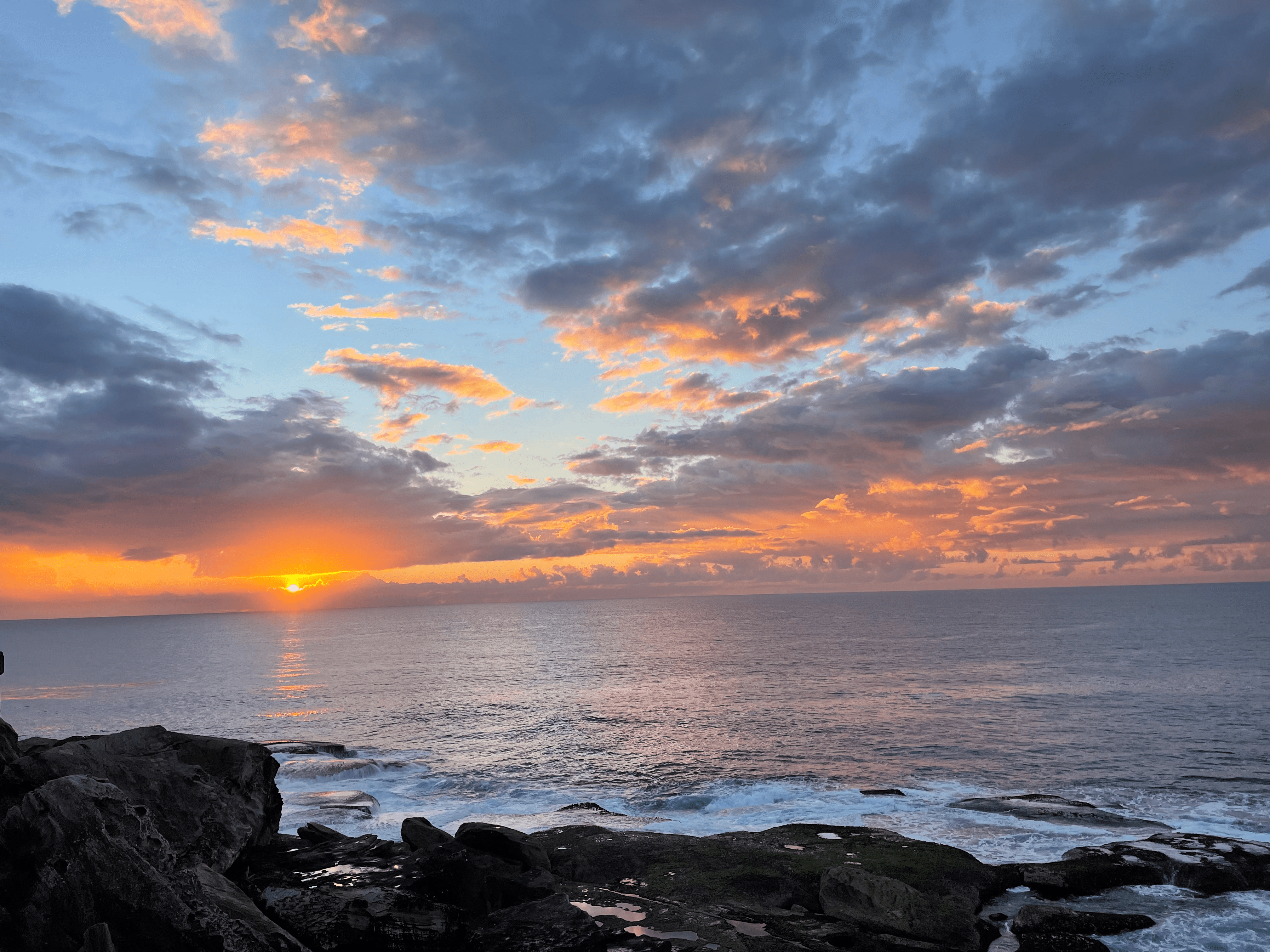 Here are some quick tips to self-manage your time effectively and design a productive workday:
Identify your best hours of the day for different types of tasks (e.g., I prefer to do analytical and strategic work in the morning and creative work in the afternoon).
Set public deadlines for when you'll deliver work. Let your teammates know when to expect deliverables from you to help you stay accountable.
Time block your day to avoid context switching. Sometimes I like to listen to brain.fm to get into the zone and use their timer setting to stay focused.
2. As teams grow, so does the notification noise
Asynchronous communication doesn't mean radio silence. What would usually be covered in a synchronous meet is replaced with a direct message or document. At Float, the majority of our team communication happens via Slack. As our team has grown, the volume of communication has also increased. We routinely review our processes to stay mindful of the signal vs. noise ratio to combat this.
Here are a few tactics we use to minimize the noise of notifications and our impulse to respond immediately:
Create separate Slack channels for short-lived vs. long-term conversations.
Mute notifications for periods of deep work and non-working hours.
Time block periods of the day to respond to messages (I prefer to do this when I first log on in the morning).
Specify which tools best suit the communication type (e.g., Slack for conversations vs. Notion for informative documentation).
An all-team offline holiday—what we call No FOMO Week— where Slack messages and async communication don't accumulate because everyone is offline together.
Slackxiety (noun): Anxiety caused by a large volume of unopened Slack messages that require being read and/or responded to.
3. Less live communication slows down trust building
Some things happen synchronously that just can't be replicated to the same effect asynchronously. A person's tone of voice, body language, facial expressions, and other cues that are picked up in live conversation help build trust within teams. These moments are small but significant. It's why we place such a high importance on our annual team meetup—where once a year, we pay for everyone's flights and accommodations and meet in person somewhere in the world.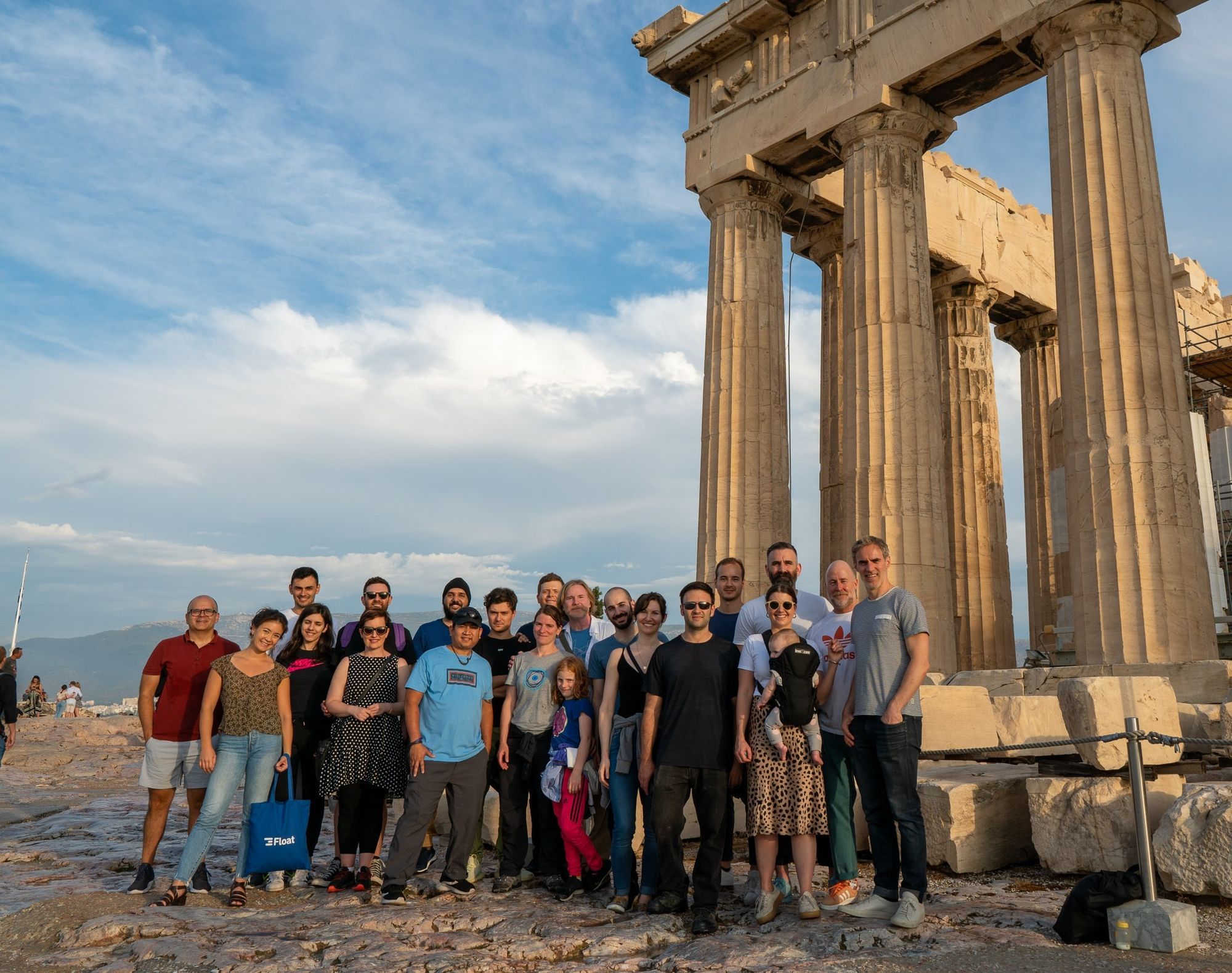 As an extrovert, I've enjoyed the creative ways that my teammates and I have connected more personally async. Here are a few of the methods I've appreciated most:
Sending a voice note or video message via Slack. Instead of always sending direct text messages, this is a nice way to mix up how we communicate.
Creating light-touch rituals of connection. Every Monday, Geekbot asks us, "How was your weekend?"—which is shared with the entire team in our #status channel.
Using emoji reactions and GIFs. A GIF or emoji really is worth 1,000 words and adds personality! 🤠
Scheduling intentional meets. When we do meet, we share any relevant notes or reading prior, so our time is spent on productive discussion.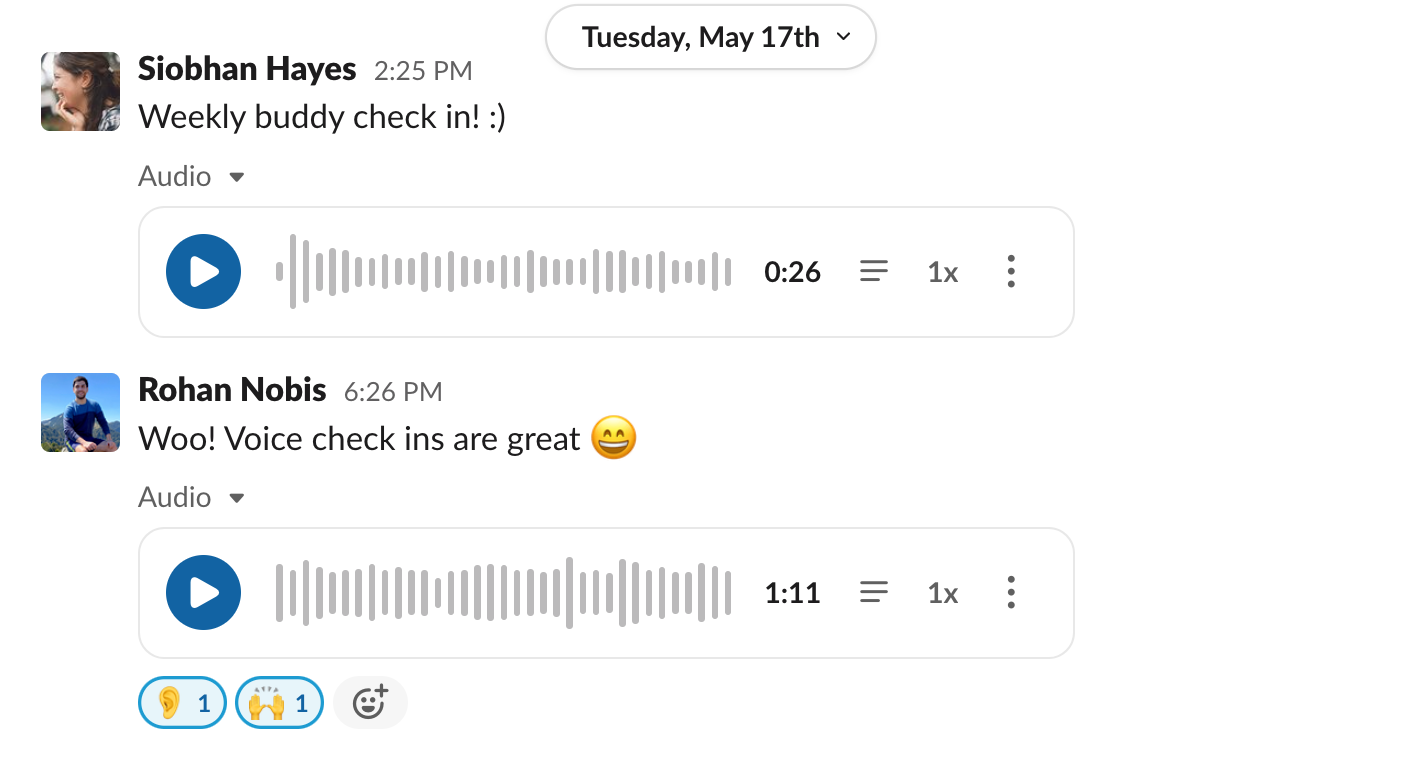 4. Crafting the right async message takes time
The flip side of less frequent, more intentional communication is that crafting your message can take more time. However, the extra time it takes to communicate well asynchronously should (ideally) be regained by the time saved on any back and forth communication.
Here are some tips for sending an efficient and effective asynchronous message:
Be clear, concise, and conducive (find out how).
Choose the best medium to communicate your point. For example, we use Loom when we want to show and explain something.
Add relevant hyperlinks where it provides helpful context or additional information. This is especially useful for brevity and looping folks in at different stages.
5. Self-serve documentation is critical but time consuming
Asynchronous communication removes the expectation of immediate replies, which makes self-serve documentation your team's best ally. Like great self-serve customer support, the best documentation for asynchronous remote teams is proactive and provides knowledge and answers before your team members realize they need them!
While creating self-serve documentation is time consuming, not having to respond to interruptions with a LMGTFY is well worth the return on investment. We use Notion to document all of our important company policies and processes and as a strategic directory for all departments. It's our single point of truth as an internal intranet, so we're vigilant in eliminating any double handling or bloat.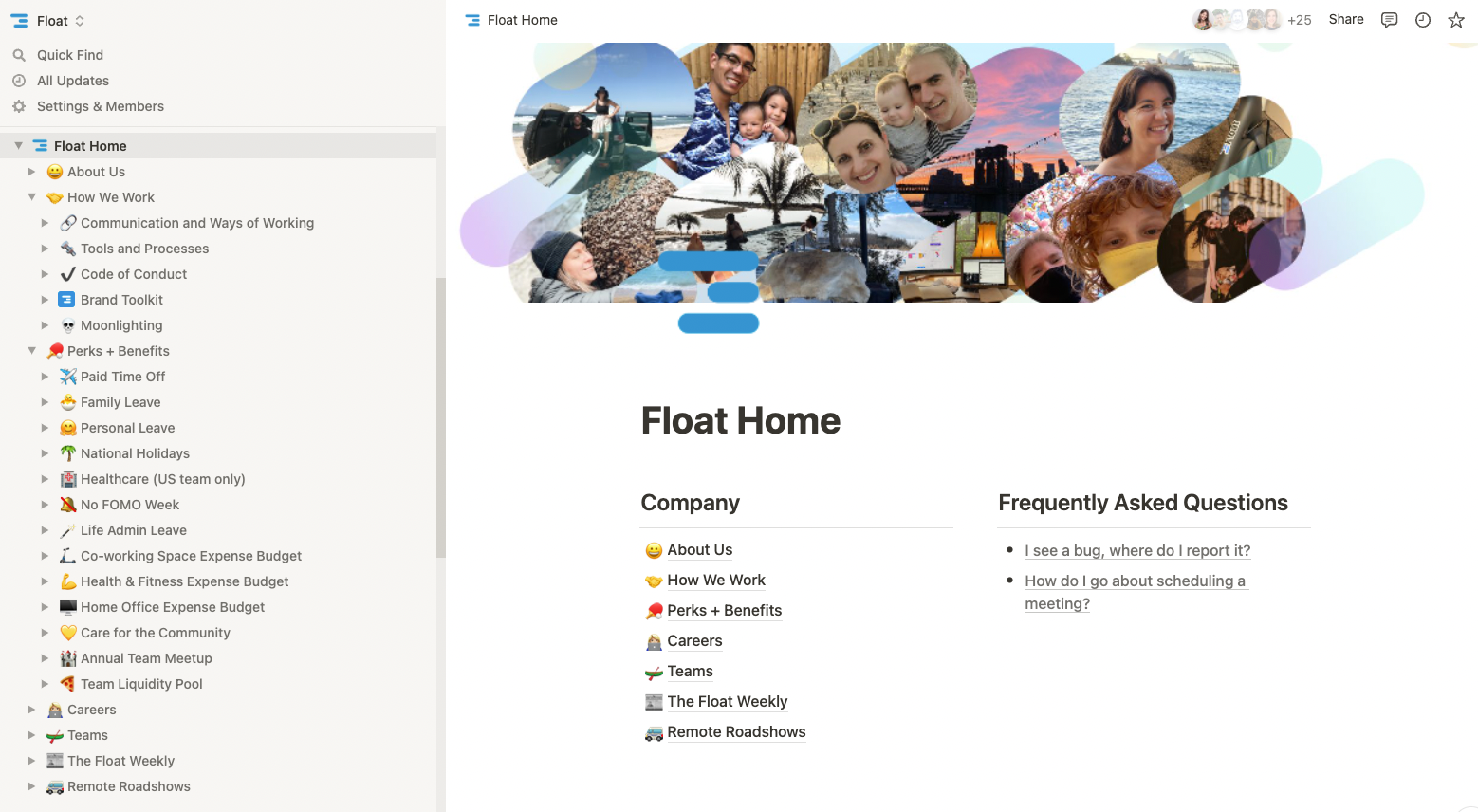 Asynchronous communication isn't for everyone. For remote teams especially, it requires a high level of individual self-awareness, discipline, and team trust. In my experience, though, it's conducive to an agile and fast-moving pace of working, prioritizes outcomes over outputs, and encourages a high-performing culture.
Working asynchronously can present a unique set of challenges that might take some time adjusting to (especially for more traditional synchronous teams). However, I firmly believe that when you get async communication right, it makes it so much easier for your team to truly live their best work life.

---
Get exclusive monthly updates on the best tools and productivity tips for asynchronous remote work
Join 100,000+ readers globally