Top 10 Remote Tools and How We Use Them to Work Asynchronous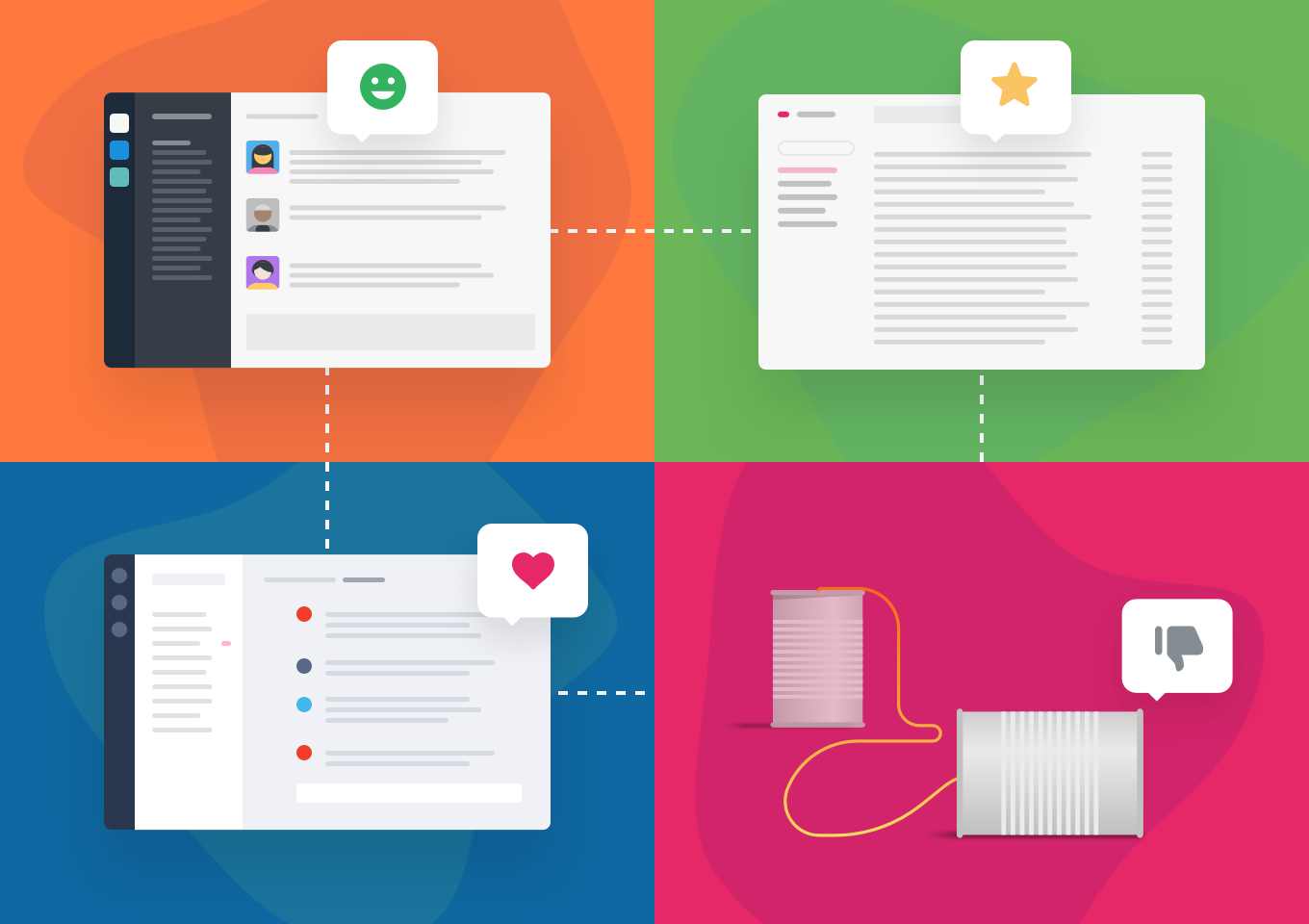 I first wrote this post in 2019, after six months at Float. Back then, I didn't know anyone else who was working remotely. Fast forward to 2021, and remote work is old news. The pandemic has accelerated trends in workplace communications and forced many employers to adopt a more flexible approach to telecommuting. However, despite the overwhelming amount of advice, tips, and how-to's produced over the last 18 months, the switch to remote-first operations is still an evolving work in progress for many teams.
At Float, remote work is the foundation of our company culture. It empowers our team with the flexibility and autonomy to choose where (location) and when (hours) you work best. As a result, asynchronous communication is our default.
We're 28+ folks working across 14 countries, which means that it's rare (somewhat impossible) for us all to be online at the same time. While many organizations have struggled to recreate the office online, we've spent ten years building a virtual HQ and fostering a productive remote culture by working async.
There are tons of great remote tools available, and the list is only growing. As a team that prioritizes keeping it simple and working with minimum viable processes, we favor those that save us time by adding value and reducing bloat to our workflows.
You've likely already heard of many of the tools mentioned below—they're popular for a reason! My goal with this post is to give a firsthand insight into how we utilize these tools as a remote team to get the most out of our time working async.
Here goes.

1. Float — Our shared calendar to see everyone's availability, where we're working from, and track time off
Float is our single source of truth to see everyone's work hours, public holidays, and scheduled time off. Our operations team has selected the public holidays for every country that our team works in, so they're automatically imported into the schedule. For example, I can see that it's Canadian Thanksgiving for Linda on Monday, and Michael has the day off for Columbus Day in the US.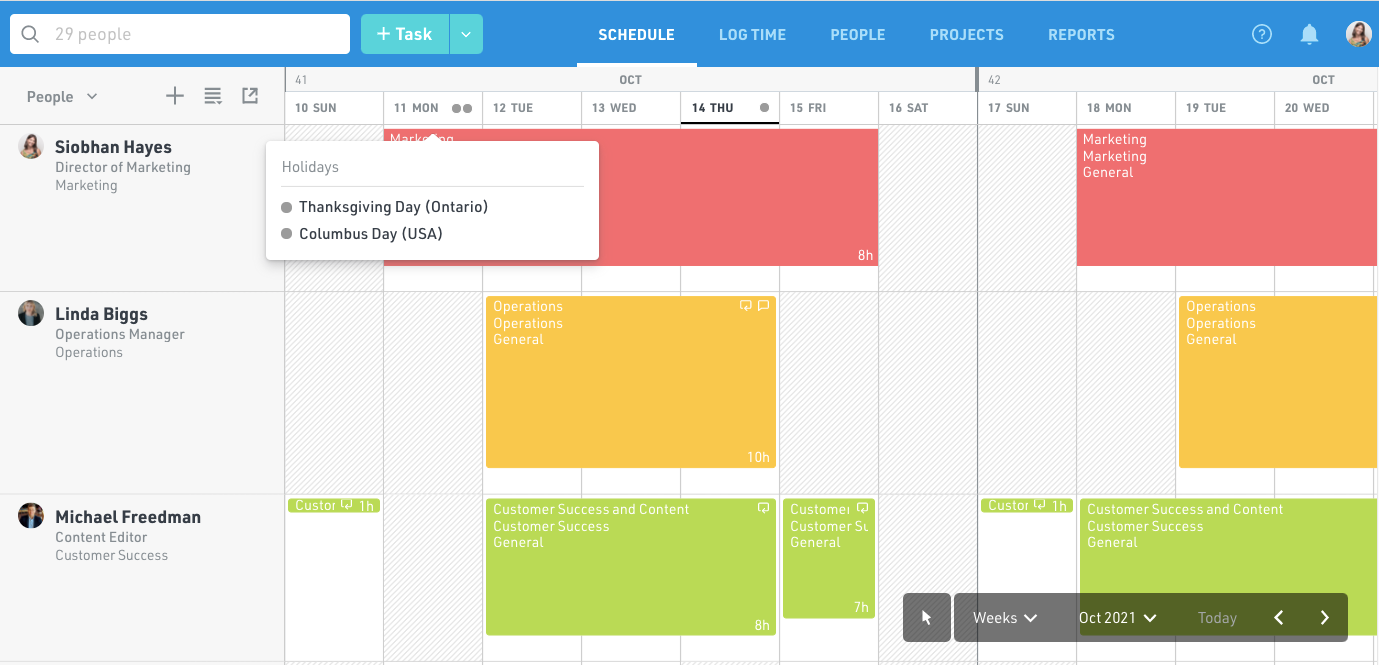 The time off feature also lets me track how many days of PTO and sick leave I have remaining. Even though remote work has its benefits, vacays and switching off are still important! 🍹
2. Notion — Our company intranet to find who, what, how, and why
How many company intranets are actually inspiring and interesting to look through? How many companies do you know that don't have an intranet at all and rely on their people to reiterate standard employee information?
At Float, Notion is like our company intranet that we've personalized and continued to build over time. It covers everything from our company vision, mission, and values, to our team directory, process documentation, team benefits, and business strategies. As we've scaled our team, Notion has played a key role in providing a self-service way to keep track of who's who, where's what, and why we do what we do.
What I love most about Notion is that we've been able to make this feel unique to our team and how we work (because it is!).
3. Loom — Personalized screen recordings
If you're wondering what tool I used to walk you through Notion above, it was Loom! Loom is a handy tool for recording quick screen shares with the option to have your camera on to narrate. We've been using Loom internally to create explainer videos and provide more detailed project updates. It allows us to create a much more personalized experience across the team, that we're able to engage with async. That's a win-win for us!
Our customer success team also uses Loom to respond to customer questions quickly and efficiently. They've been loving the quick editing tools available and the ability to share videos with an inline link instead of downloading and reuploading them.
4. Slack — Our virtual office for daily stand-ups, department and topic chats, and meeting rooms (via Zoom)
I'll skip explaining what Slack is and instead give some highlights on how we use Slack as a fully remote team working async.
Daily standups via Geekbot, which is shared in our #status channel
Every day, we receive a daily stand-up prompt at 8:30 am (at your local time), which is sent via Geekbot. This keeps everyone in the loop on what we're working on and provides any relevant updates async. I also find status a great way to hold ourselves accountable. I'll share more specifics in tool #5.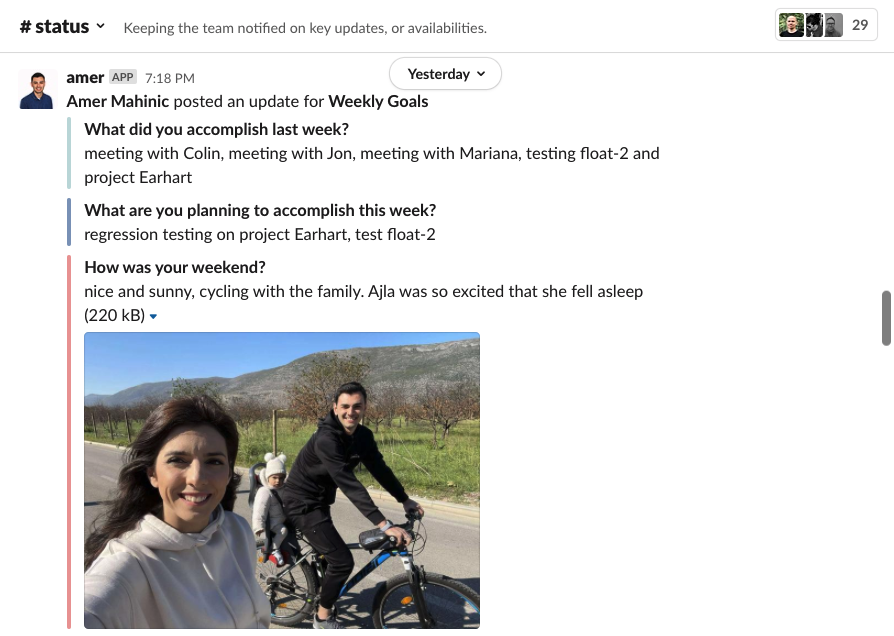 Department and topic chats
We're mindful of not having too many Slack channels that become overwhelming to stay on top of, especially as one of our values is to "keep it simple"! As a baseline, our channels are set up to cover:
1. Daily standups: In our #status channel explained above
2. Departments: Other than operations, each department at Float has its own dedicated channel, e.g., #marketing, #customer-success, #product, #engineering
3. Coverage updates: This includes devops like deployments in our #releases channel, a #qa channel to keep the team across the status of testing, and #twitter-mentions that syncs notifications from our @Float Twitter account.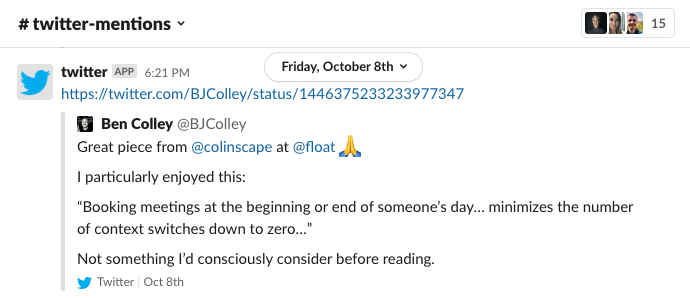 4. Projects: Temporary channels set up for projects that extend over multiple release cycles
5. Everything else: We have a #float channel for company-wide updates, and #general for everything in between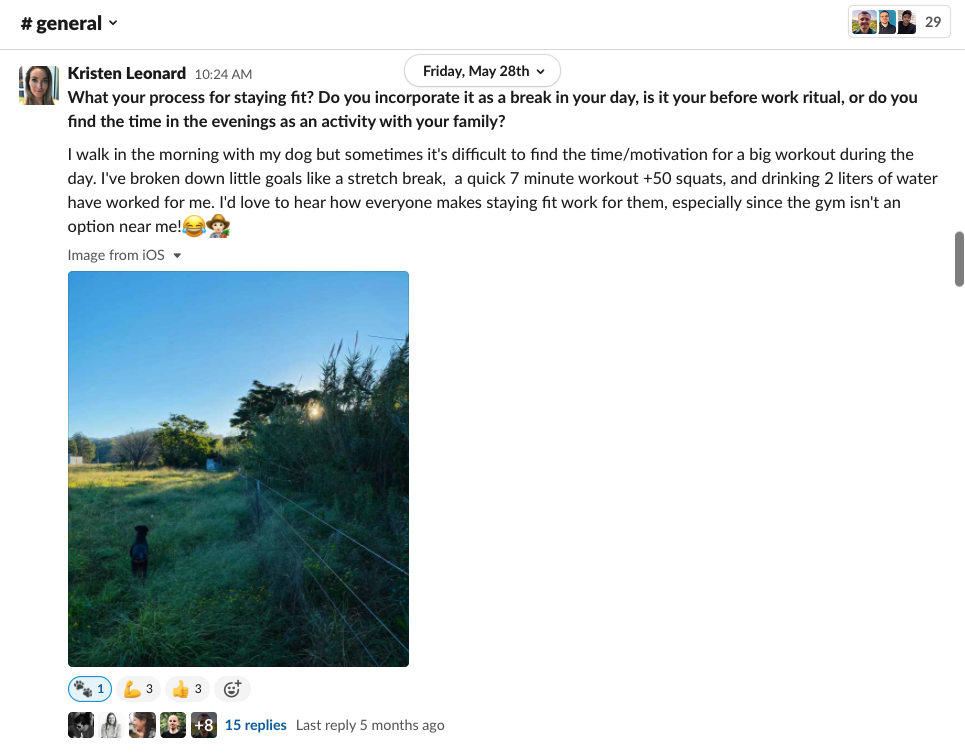 Meeting rooms
All of our internal meetings happen directly from Slack. We'll send a Google Calendar invite to book in with each other, and initiate the call via DM or a nominated channel. We utilize the Zoom integration for this, which we've still found to be more reliable than the Slack huddle feature.
Zoom, integrated with Slack so we can video conference team meetings directly from the relevant channel or via DM
I'm not officially including Zoom so I can save a spot in my top 10! The Zoom integration with Slack makes all of our internal meetings seamless and easy. We don't schedule custom urls for these meets either, we simply initiate them directly from Slack.
5. Geekbot — Automates and personalizes our daily stand-ups
Geekbot is a stand-up integration built for Slack that we've customized to ask everyone what they accomplished yesterday, what they're working on today, and how they are feeling in general. It's important in a remote work environment that everyone feels accountable and engaged, and these quick status updates are an effective way to communicate to each other what we're all working on.
The "How do you feel today" question is my favorite part of our daily stand-ups. It gives us a little window into each other's day and the opportunity to check in with each other on a more personal level.
6. Donut — 15-minute sporadic #real-time meets between Float team members
When your entire team works remote, we don't get the same opportunities for hallway run-ins or coffee break chats. We use a tool called Donut, which integrates with Slack, to connect us at random with another member of the Float team for a 1:1 meet. Each meet is scheduled for 15 minutes, and we're prompted a new donut date each month.

It's been an easy and effective way to foster more opportunities for us to connect with each other across the team.
7. Pitch — A sleek presentation tool that we use as a modern alternative to Google Slides
We switched from Google Slides to Pitch for the internal presentations we give at our quarterly town halls. Our senior account managers also use Pitch for their sales presentations—which can be personalized for each customer.
It's a much more intuitive experience for presenting, and its collaboration features are helpful when you're working asynchronously. We also love how easy it is for us to customize with our own brand design and style, which has been great for the onboarding presentation we use to welcome new team members.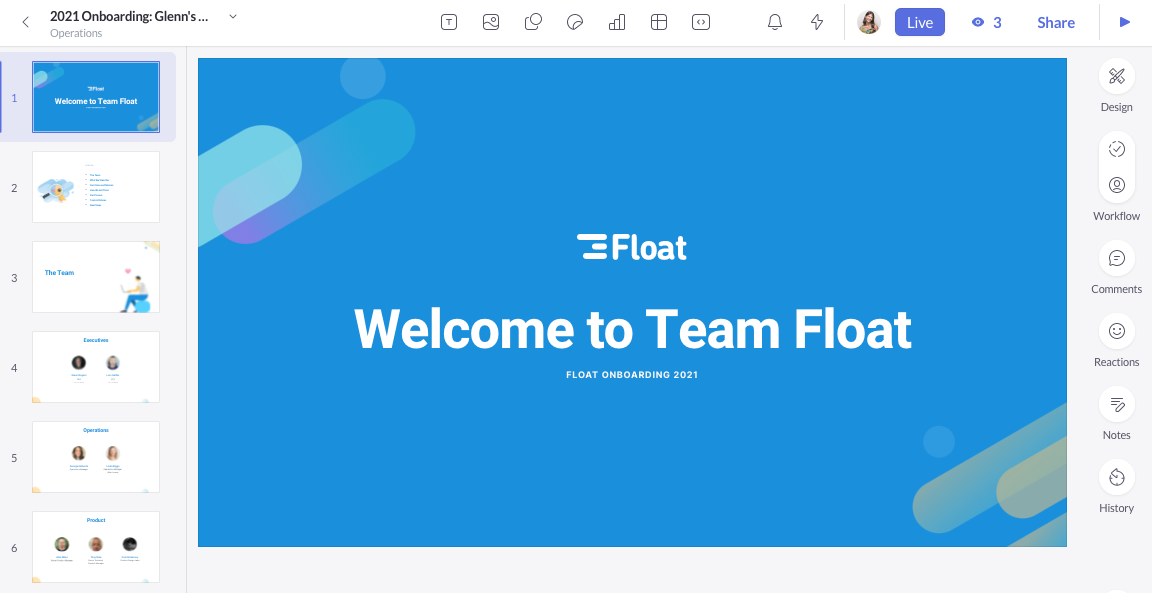 With so many new hires joining the team (check out our open roles here), I've been relying on this tool for setting up interviews and onboarding meetings. It's not a very exciting UI, but it does the task required!

9. Calendly — A smart, self-service way to book meetings based on your calendar availability
The back and forth emails that accompany most meeting requests can be time taxing, especially when you're trying to coordinate different time zones as well. We love that Calendly automates all of this for us. It provides you with a personalized, shareable link to book meetings, and syncs with your nominated calendar to ensure this is always based on your live availability. The sync is two-way, so any meetings booked will be added to your calendar as well, and you can set preferences such as time in between meetings, advance notice to book, add a custom Zoom meeting link, and more!
10. CloudApp - Take screenshots or video recordings and share them instantly with a unique shortlink
Save your desktop from being invaded with screenshots! CloudApp is seriously the quickest and easiest way to take screenshots and share them with your team. With a desktop app for Mac and Windows and a Google Chrome extension, CloudApp is super handy to have in your toolbox. Capture screenshots, screen recordings, or GIFs, and annotate comments and share them instantly with a unique shortlink. It even automatically copies the link to your keyboard, so you literally only have to press "Ctrl+V" to paste the link wherever you choose!
We don't believe in adding new tools just for the sake of it. In fact, we're advocates of reducing the number of services that we use at Float (where we can). Here a few tips for what to consider when shopping for a tool that will help your team communicate and collaborate more effectively:
Self-service and cloud-hosted without complex development requirements
Intuitive and easy-to-use that require zero (or very little) training
Connects with or supports your existing workflows

At the end of day your remote tools stack should feel like you're working smarter, not harder. Period.
---
Get exclusive monthly updates on the best tools and productivity tips for asynchronous remote work
Join 100,000+ readers globally