10 Essential Tools for Remote Teams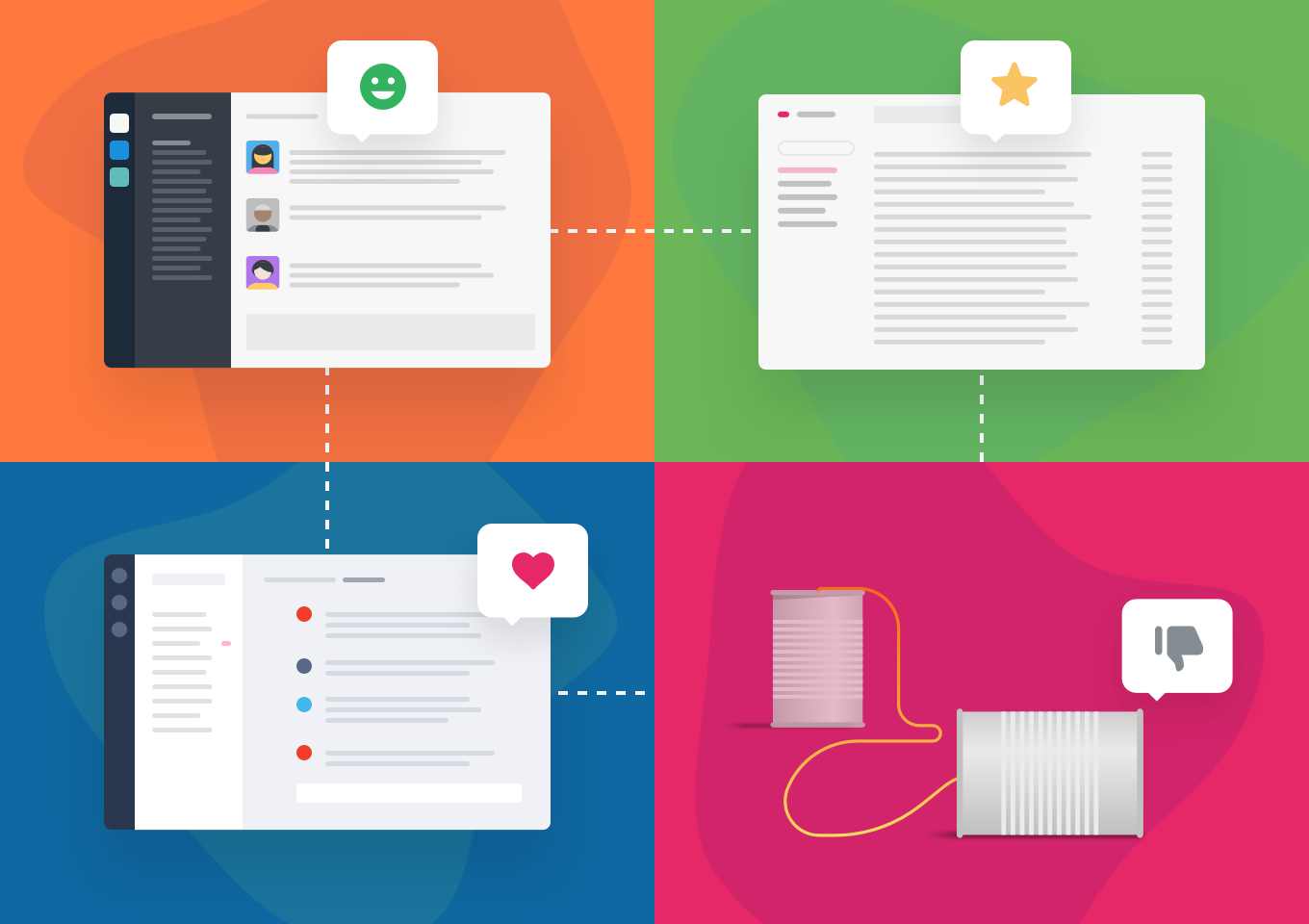 June 25 note: In the last 12 months we've doubled in team size, which has placed even more importance on the tools we use to be efficient and effective while working remotely. This blog post has been updated with five new bonus top tools we rely on to make remote work, work!
At Float, we are a fully remote company with a distributed team of 25+ folks located across five continents—North America, Australia, Asia, Europe, and Africa). We work asynchronously and the tools we use to communicate, document, and operate are critical to our productivity.
Float is the first (and only) fully remote company that I've worked for, and I found working remotely to be quite an adjustment when I joined the team in early 2019. On the practical side, I quickly learned just how much impact your digital operations have on company culture and work productivity, especially when your digital systems are pretty much your "virtual office." Personally, I took a keen interest in the creative challenge of finding non-traditional ways to connect with colleagues, boost morale, and create an energetic and inclusive team culture. I also love to hear about nifty software tools that help us work a little smarter or make our days a little brighter.
With that in mind (and in no particular order), here are the top remote work tools we use regularly at Float to keep our days efficient, and a few new ones that we've been trying out to keep us more connected!
1. Float - Our shared calendar to see everyone's availability, where we're working from, and schedule time off
Juggling variable work hours, public holidays, and time off can be tricky for remote teams, especially when trying to coordinate multiple time zones across calendars. We use Float to give us one shared view of everyone's schedule and availability—with any and all changes saved in real time!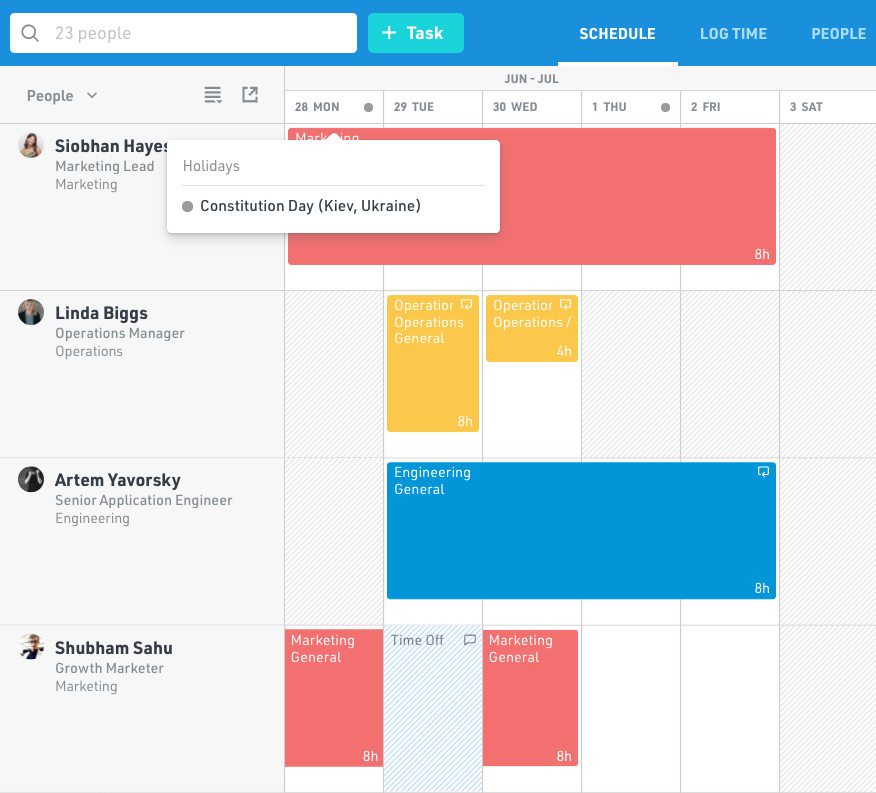 At a glance, I can see that Artem has a public holiday in Ukraine on Monday, Shubham is taking some time off on Tuesday, and Linda will be off on Friday for Canada Day!
At previous companies, I used to receive calendar invites to my team's vacation days, knowing that I was never actually invited to attend their beach holiday! This live view of our team's availability in Float is a much easier way to keep track of our team's work schedule and availability. Oh, and if you did want to invite me to your beach holiday, Float integrates with Google and Outlook Calendar, so I'd happily still click "Attending'"! 😉🌴🍹
2. Slack - Our virtual office for daily stand-ups, department and topic chats, general communication, and meeting rooms
Since I started working remotely, my perception of what it means to "turn up to work" has changed. At Float, I view Slack like our own virtual office. It's the first tool I open when I'm starting my work day, and it's the place where I check in with my teammates.
Whereas in a past working life I used to start my day sifting through email chains and trying to upkeep multiple email folders (which I never mastered, FYI), it's so much easier and more enjoyable to simply catch up on relevant channel updates where all the sorting is done for me. If I want to acknowledge that I've read something, I don't need to clog other people's inboxes with a reply all of "Ok" I can just add a 👍 or 👌 reaction in Slack!

At Float, we have set up our Slack channels based on team functions, e.g., #customer-success and #product, as well as specific topics or projects, e.g., #marketing-site and #analytics.
We use our #float team channel for anything broadly business-related, and #general is where we share non-work related chats and banter, like Amer's Laker fanboy updates!

3. Geekbot - Runs our daily stand-ups and team check-ins
Geekbot is a stand-up integration built for Slack that we've customized to ask everyone what they accomplished yesterday, what they're working on today, and how they are feeling in general. It's important in a remote work environment that everyone feels accountable and engaged, and these quick status updates are an effective way to communicate to each other what we're all working on.
The "How do you feel today" question is my favorite part of our daily stand-ups. It gives us a little window into each other's day and lets the team know when we're feeling 💪 and ready to conquer the world or like 💩 and you'd better save that favor request for tomorrow. In the last year especially, this daily question has been a great way to check in with each other on a more personal level and share our lives outside of work, which can ultimately impact our workday too.
4. Zoom - Integrated with Slack so we can video conference team meetings directly from the relevant channel or via DM
Our Zoom calls integrate with Slack which makes kicking off and keeping track of all of our video meetings seamless and easy.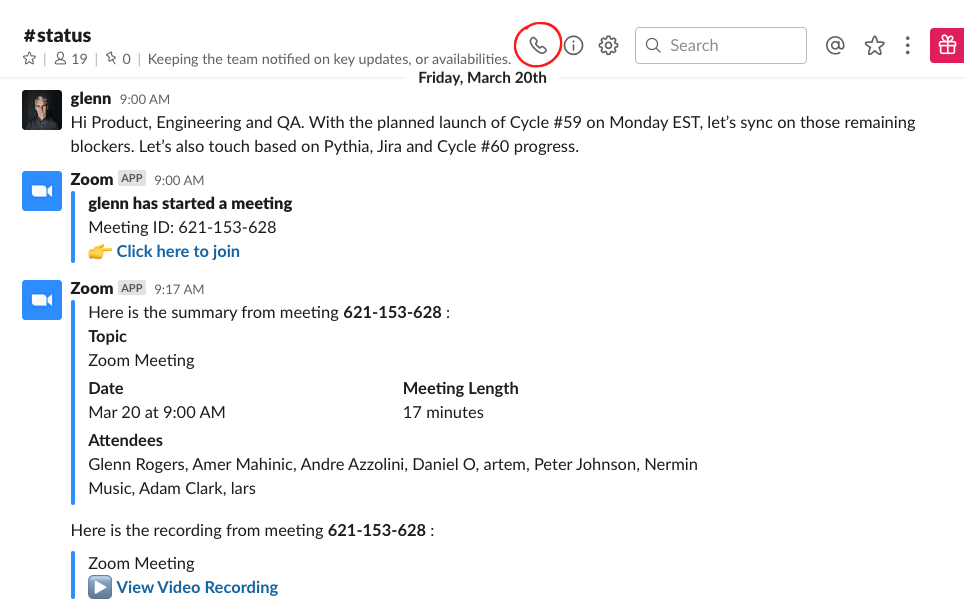 The video recording feature eliminates the need to keep meeting minutes for anybody absent and creates an automated filing system within each relevant channel.
5. Notion - Our team Wikipedia
Notion is like our Float HQ. It covers everything from our company vision, mission, and values, to our team directory, process documentation, team benefits, and business strategies. As we've scaled our team, Notion has played a key role in providing a self-service way to keep track of who's who, where's what, and why we do what we do. We believe that smart time management empowers us to do the best work of our life, while still having a life.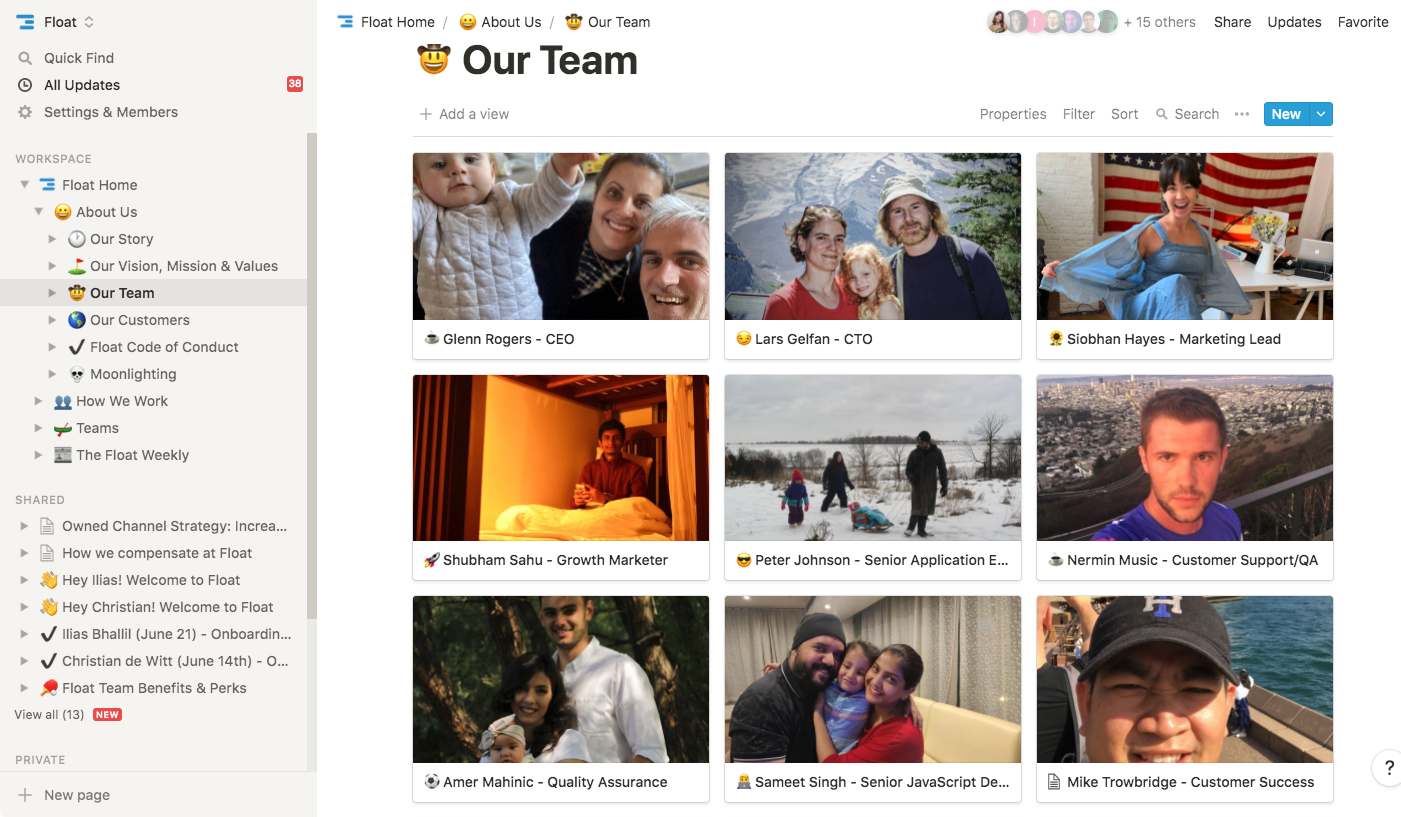 What I love most about Notion is how easy it is to use and the flexibility it offers in creating different page and content block types. It has a lot of creative freedom, which is a cool way for us to make our Float Notion page feel like it's unique to our team (because it is)!
6. Calendly - A smart, self-service way to book meetings based on your calendar availability
The back and forth emails that accompany most meeting requests can be time taxing, especially when you're trying to coordinate different time zones as well. We love that Calendly automates all of this for us. It provides you with a personalized, shareable link to book meetings through, and syncs with your nominated calendar to ensure this is always based on your live availability. The sync is two-way, so any meetings booked will be added to your calendar as well, and you can set preferences such as time in between meetings, advance notice to book, add a custom Zoom meeting link, and more!
Hot tip: Sync your Calendly events in Google or Outlook Calendar with your team schedule in Float. Check out our integrations here.
7. CloudApp - Take screenshots or video recordings and share them instantly with a unique shortlink
CloudApp is seriously the quickest and easiest way to take screenshots and share them with your team. With a desktop app for Mac and Windows, and a Google Chrome extension, CloudApp is super handy to have in your toolbox. Capture screenshots, screen recordings or gifs and annotate comments, then share them instantly with a unique shortlink. It even automatically copies the link to your keyboard, so you literally only have to press "Ctrl+V" to paste the link wherever you choose! Here's a surprise example for you 🐶: https://share.getcloudapp.com/d5u0JQDk.
8. 15Five - Team performance check-ins and reviews
In January of this year, we moved from self-managing our performance review process to the purpose-built platform 15Five. We chose 15Five because it's lightweight, simple, and we could customize the review questions for our team. Our operations team is passionate about having effective and efficient systems so our internal processes don't become unwieldy. So far, 15Five has been the perfect fit for our team and company.
Our quarterly 1:1s and annual performance reviews are now fully managed in 15Five, and we're excited to try out their approach to asynchronous weekly check-ins, which we'll be rolling out shortly. They also have some great resources for people managers in their "Best-Self Academy," which is also helpful to us as we start to implement more reporting lines at Float.
9. Loom - Screen and video recording
Loom is our all-in-one tool for recording Float tutorial videos and responding to customer questions quickly and efficiently. After trying a few different services to record our new features and support videos, what we loved about Loom is how easy we could simultaneously record our screen and webcam (in HD too), the quick editing tools available, and the ability to share videos with an inline link instead of downloading and reuploading them.
We've also started using Loom more internally to create training videos or walk each other through detailed project updates. It's been a game changer for us as our team grows and works async.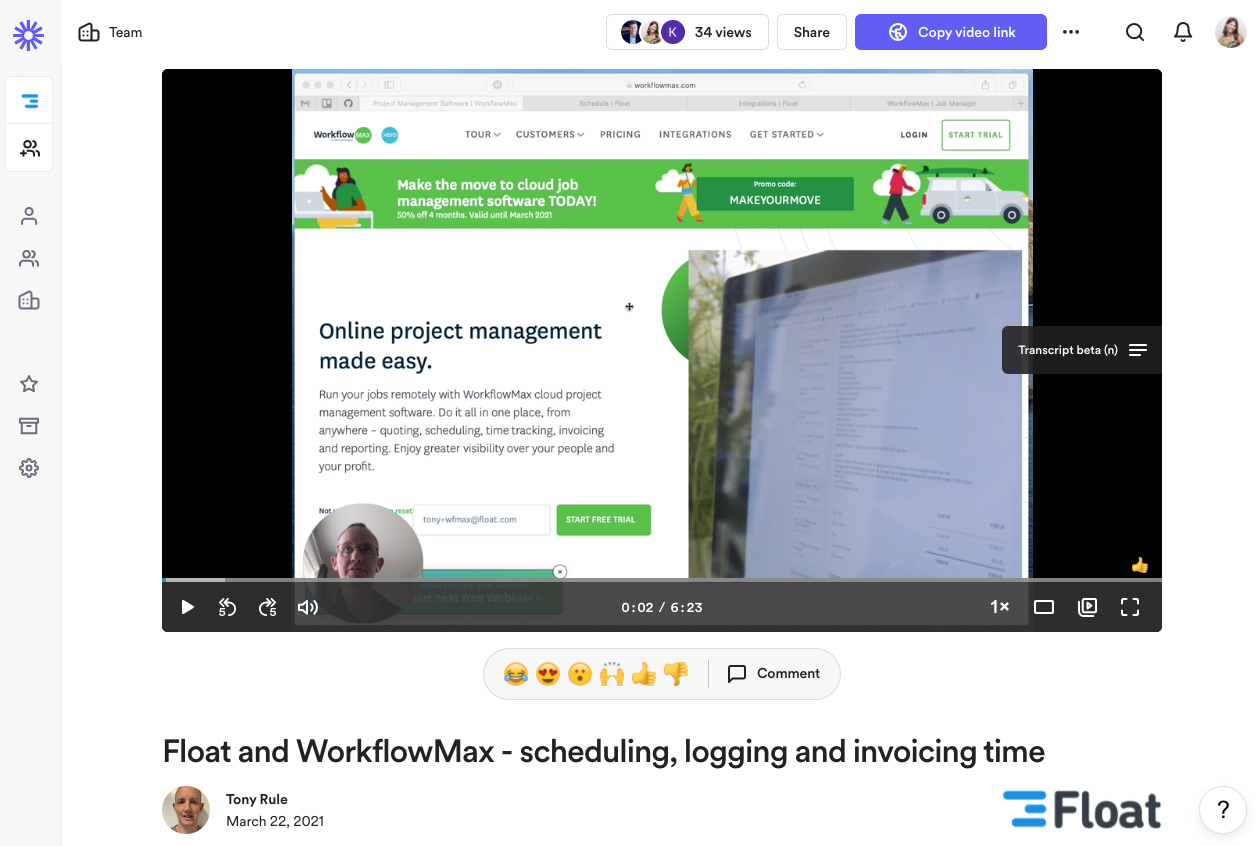 10. Pitch - A sleek presentation tool that we use as a modern alternative to Google Slides
Earlier this year, we switched to Pitch for the internal presentations we give at our quarterly town halls and when onboarding new team members. Our senior account managers also use Pitch for their sales presentations—which can be personalized for each customer.
We love how smooth the user experience is in Pitch and it's collaboration features, which are essential for remote, async teams like us.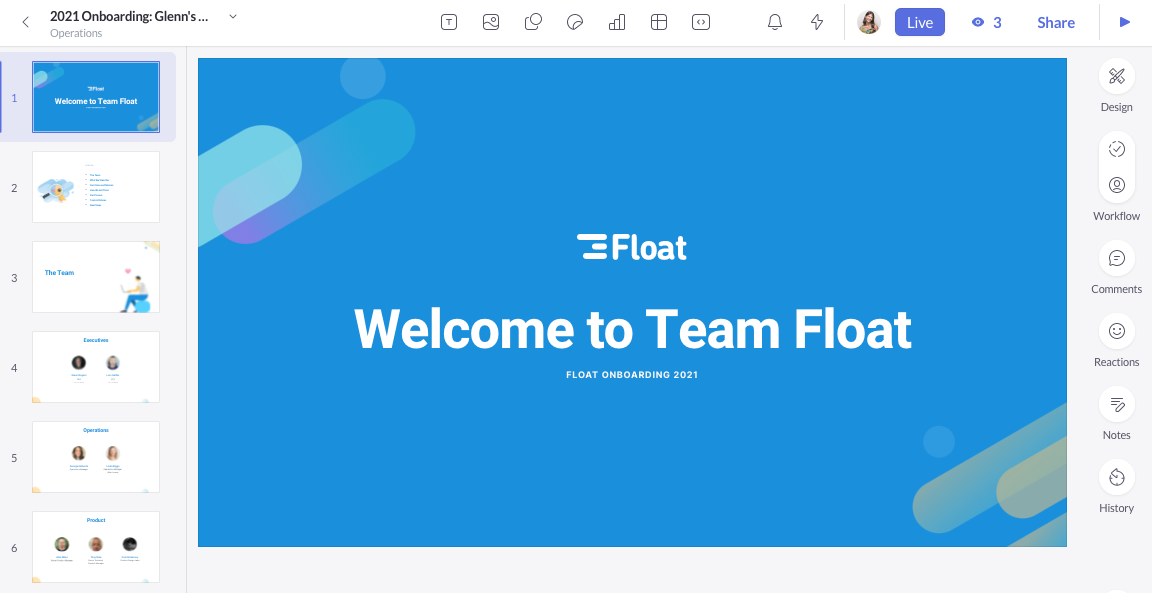 Keeping this list to just 10 tools has proven to be difficult!. There are several other remote tools we love and use across the team at Float that I couldn't resist adding a bonus five!
11. Kahoot - Host a remote team trivia
We used Kahoot for the first time at our Float trivia night in May. It's a fun tool that lets you make quizzes and easily host them live by sending players a unique game pin that they enter from a browser on their device.
Our trivia night was such a success that we're doing it again in a month! Who will be the person to knock Chris off the leaderboard this time?!
12. Zapier - Automate workflows with Zaps
Zapier is like the prized blank letter in Scrabble, as it makes nearly any integration possible. With various platforms collecting and updating data, Zapier is the magic wand that makes them all talk to each other. It's saved us countless hours of what would otherwise be double handling workflows and helps us keep on top of our data source points and systems. We also have a Float app for Zapier. Check it out here.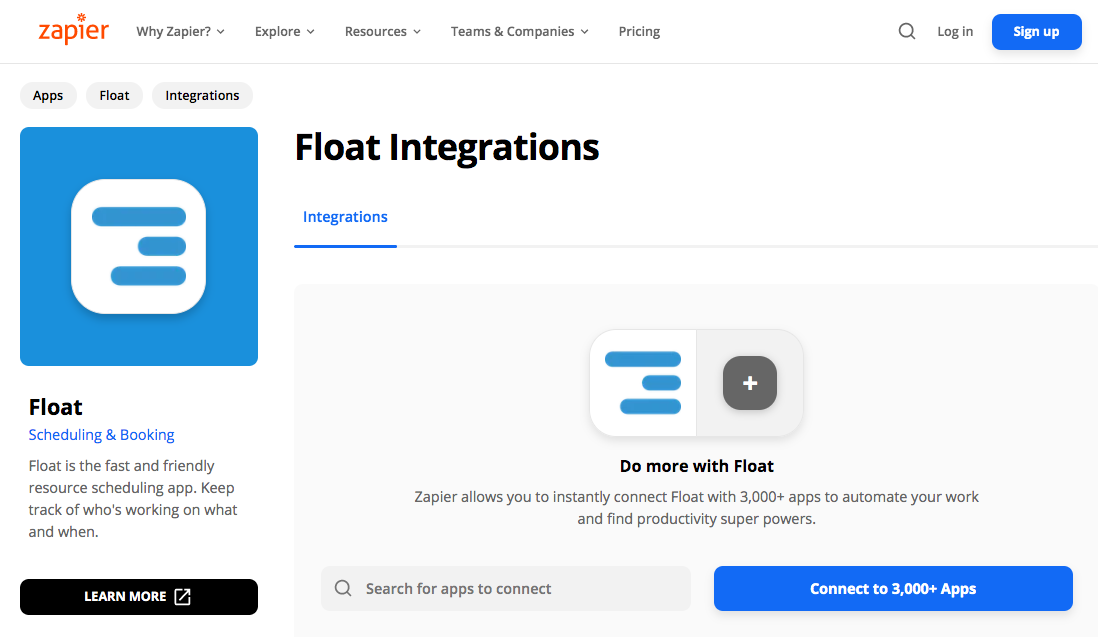 13. Fellow App - Create good meeting habits
I first heard of Fellow App in our 2021 Global Agency Productivity Report (GAPR). To be honest, we don't actually use it at Float because we have so few meetings. From roles at previous organizations, though, I am familiar with work days being filled with meetings (groan), and 50% of teams in our GAPR said that they're having more meetings working remotely than they did in the office! With features like agenda templates and live note taking, Fellow App is a game changer for creating good meeting habits.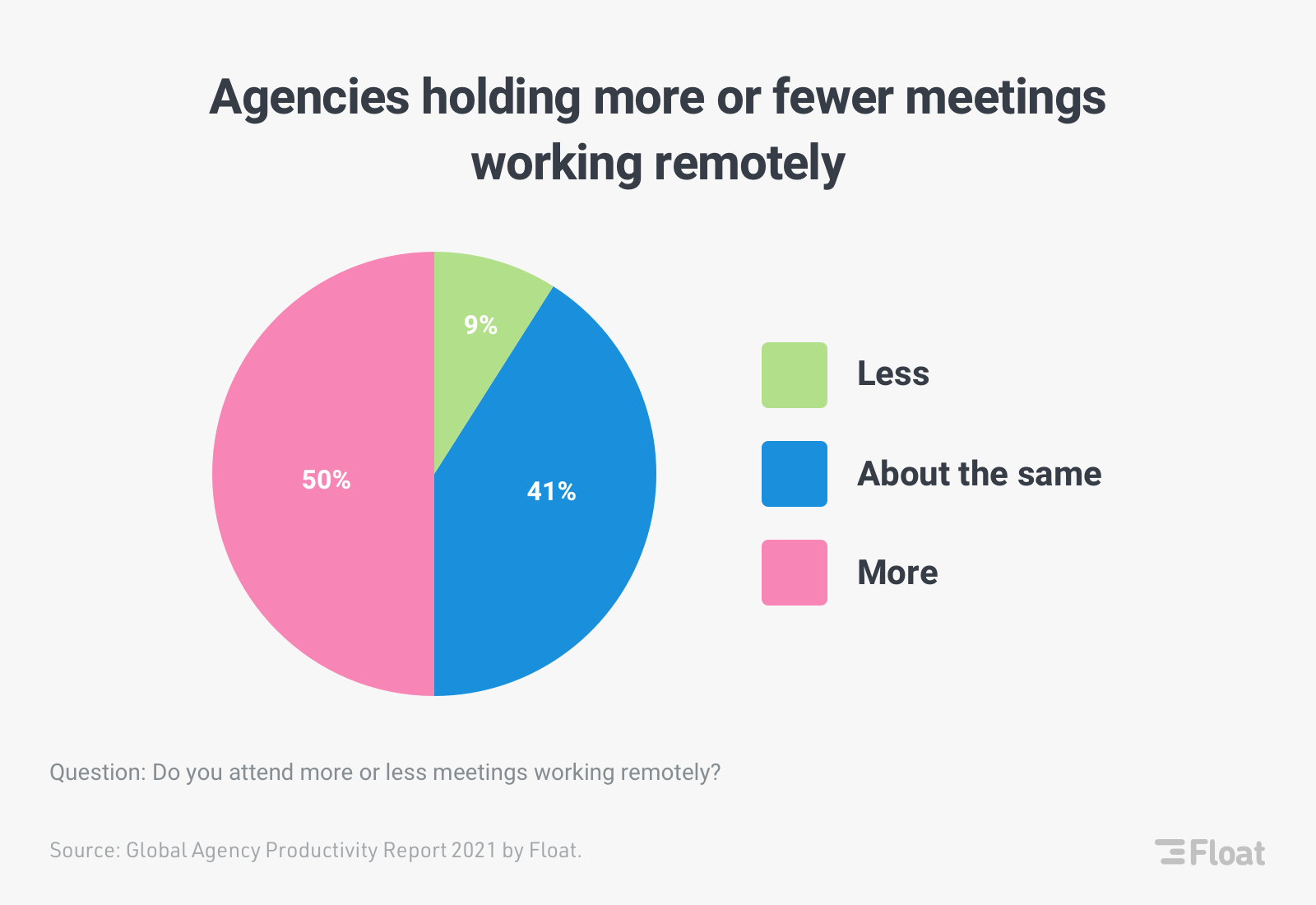 14. Figma - Real-time design that facilitates a smoother handover process
Our product design lead Cam recently migrated us from a Sketch and Zeplin design tool stack to Figma. In his words,
"As a more synchronous real-time tool, Figma brings together features from Sketch, Invision, Zeplin, and Abstract, into the one tool with feature benefits to designers and the design process. An added advantage is Figma's ability to extend beyond design to better consolidate tools that can facilitate engineering handover and access for marketing file exports."
I should also mention that Cam communicated this process update in Notion and used Loom to explain it! 🙌
15. Trello - Simple and easy to use kanban-style task management
Our marketing team uses Trello to track smaller projects and tasks. Asana is our primary tool for larger projects, however, Trello is a simpler tool that we can use within our smaller team of three to track activity like blog posts, monthly newsletters, and our marketing of new features. Its lists and cards format is super clear and easy to use, and we rely on the comments functionality to keep each other updated on progress asynchronously.
---
We're always looking for new ways to improve our efficiency and productivity at Float and connect with other teams with similar experiences. Got a remote tool that we've missed? Drop us a note on Twitter!