Stella Inabo
If you are the lead on a project, you will likely have to handle a schedule conflict at some point or another. Whether it's a front-end developer working on two major components simultaneously, or a UX copywriter with several deadlines set on the same day, conflicts are bound to happen. 
In fact, Float's Global Agency Productivity Report found that 62% of agency leaders say resource scheduling is their biggest project management challenge! But scheduling conflicts don't have to throw your project off course. You can get back on track with careful foreplanning and prioritization.
This guide will walk you through what causes scheduling conflicts, how to avoid them, and what to do when they happen.
What are schedule conflicts in project management?
A schedule conflict is when two or more events or activities are set to take place at the same time. 
As a result, team members might be stretched thin and unable to complete their tasks. It could lead to tension within your team—not to mention delays, missed deadlines, and (perhaps even) failed projects. 
"Nothing ever goes as planned, so of course, you have to get used to the idea of conflicts derailing a task, meeting, milestone, or whatever it was that you had planned," says Brett Harned, a digital project management consultant and author.
Why do schedule conflicts occur during projects?
Schedule conflicts can happen for various reasons—from last-minute meetings to miscommunication to a lack of visibility.
For example, you might assign tasks to the UX copywriter on a project you lead, only to find out that they are swamped with work on another project. Failing to check in with other project managers or team leaders about a shared resource's availability and capacity is a recipe for disaster. 
"Usually, it comes down to project managers within an organization not talking about their projects and shared team members. Or worse, they don't consider workloads and other projects when creating plans," notes Harned.
Abby Fertz, the director of product at Louder Than Ten, says another reason for scheduling conflicts is assigning team members an unrealistic amount of work or loading their schedules to full capacity. Not leaving enough buffer to cover up for "possible delays in receiving client feedback and deliverables, low task estimates, unplanned complexity, and general context switching between too many projects" can cause tasks to pile up on the calendar. 
But sometimes, conflicts are unavoidable. They can happen when other urgent tasks crop up or an established project tracking system is not being used.
How to avoid schedule conflicts
The best way to avoid a scheduling conflict is to stop it from happening in the first place. Here are some preventive measures you can take: 
1. Plan projects with realistic estimates 
Scheduling problems begin in the project planning phase. If your estimates are off and you never adjust them to meet reality, you might find team members lagging and getting booked on other tasks. 
In his book Project Management for Humans, Harned points out that the best way to get the correct estimates is to speak to the people who do the work: "Sure, it's easy to read Jim's job description and find out what he 'does for a living,' but that doesn't tell you much about the mechanics of what he does on a task level… So, how are you supposed to understand Jim's role on the team and how his work will impact an estimate? You just have to talk to Jim."
You might think it will take your back-end engineer two weeks to build an e-commerce website from scratch when it ends up taking them a whole month. You won't know this unless you converse with them and ask questions. 
Another way to get better at estimating time is to compare estimated vs. actual time for tasks. Look at data from past projects in your project planning tool. Did the UX copywriter take longer than expected to create copy for the onboarding process? Did the QA engineer identify errors and document them on time?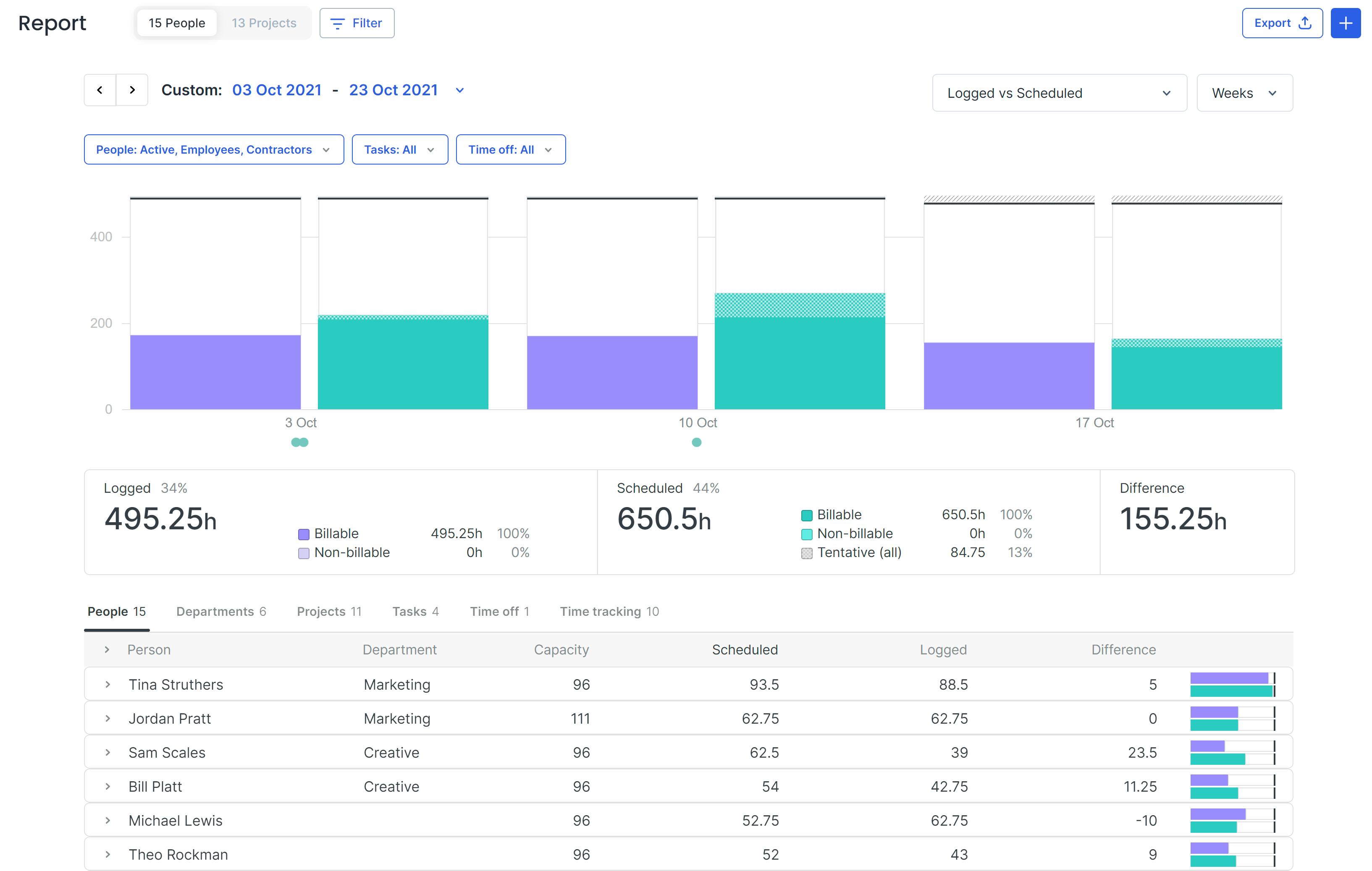 2. Use a resource calendar to monitor availability and capacity
Consider using a resource calendar to improve your task scheduling. Float lets you log hours against planned work to compare the actual time spent on tasks to what was planned. Project timelines can be forecasted and planned more accurately with logged time data that shows how long work takes.
"I'm an advocate for picking up the phone and coordinating; however, in fast-paced environments, it's not always easy to take a call, so sending a text message can be effective. Scheduling software tends to offer a one-and-done solution that syncs to your calendar and is user-friendly," says Stephanie Hockborne, employee experience and resource manager at Sequence Inc.
A resource calendar also improves visibility into your team members' schedules. When you have a central view of projects and assigned resources, you can see team member availability ahead of time and determine their actual capacity before you allocate tasks. 
For example, when scheduling in Float, an overtime indicator shows when someone is overscheduled.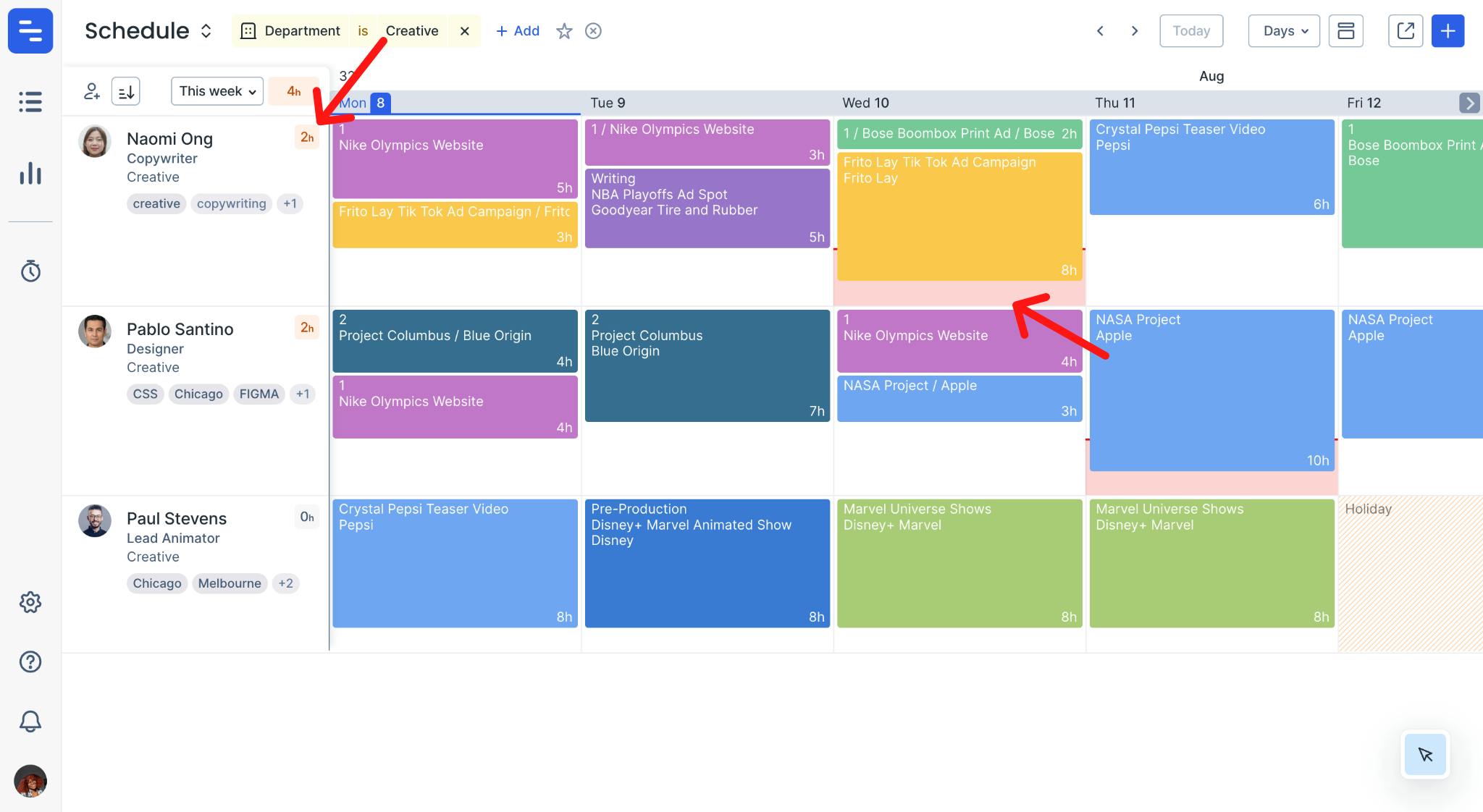 A centralized view of people and projects makes it easy to see who's working across several projects and when. Teams can schedule more effectively with a live view of everyone's capacity. If you ever need to find someone else to take on a task, you can filter people by skill and availability. Including time off and public holidays in your single view of planned work and capacity allows you to anticipate unavailability so that you can find alternative solutions ahead of time.
3. Communicate with other project managers and team members
Unless a team member is assigned to your project exclusively, you should stay in contact with other PMs or functional leaders to keep tabs on the demands on the resource. 
"Build a consistent, clear line of communication open between project leads. Meet regularly to review possible scheduling red flags and openly work with each other to evaluate the priority of tasks and possible alternative solutions to getting the work done," recommends Fertz. 
It could be as easy as sending a message before delegating a task to a shared resource. You could say:  "I'd like to assign a task to Jane that will take two weeks. I wanted to find out if you had any tasks you plan to assign to them or have assigned to them during that period?"
Your team members can also be instrumental in stopping resource conflicts before they happen because they know when a task is taking longer than estimated. Fertz recommends keeping lines of communication open and ensuring psychological safety so that they can alert you "if they need more time for a task or see a potential scheduling conflict coming up." 
Pro tip: Communicate with your team before finalizing work
Create a tentative task in Float and use the @mentions function to tag a teammate before locking in a task on the schedule. When everyone's onboard, you can update the task from tentative to confirmed. 
4. Add buffers when planning timelines 
When planning your projects, ensure you add buffer times to account for unforeseen circumstances.  
"If there's a project I can get done in a week, I'll estimate two and half weeks for it. I like to overestimate, so I'll have more time in case an unforeseen circumstance occurs," says David Ibia, CEO of BoxMarshall LLC.
While planning, consider using the critical chain method— a resource leveling technique that utilizes available slack in your project. You can always change the schedule if anything goes wrong without affecting the project's timeline. 
Use project planning software to schedule your team time effectively
Float shows your team's capacity at a glance with a visual schedule. Add each person's availability, time off, and outside calendar events to paint a complete picture of their time and capacity. You can see the number of scheduled vs. available hours for precise project planning and forecasting.
Find out more
How to handle schedule conflicts at work
Let's assume the worst has happened, and now you have a scheduling conflict 😱. What do you do? Here are some ways to resolve scheduling conflicts:
1. Communicate before acting
Before diving in to try and solve the problem, consider speaking to the other parties involved. Including others in solving the problem reduces tension, and there might be less pushback if you all can come up with a way forward. 
Alternatively, come up with your solution and then reach out to find a consensus. "If you're nervous you won't get much from your team, brainstorm some options and bring them to the huddle. What's most important is that you're all aligned on the solution and commit to making it happen," says Harned. 
2. Make changes to the schedule 
Sometimes the only solution is to change the schedule. When the other project is of higher priority, or you have a considerable amount of slack to use, you should consider the following options:
Split tasks: e.g., the UX copywriter is assigned to a task for three hours a day for two days instead of six hours for one day.
Reduce the scope: e.g., your team cuts back on some tasks and follows the critical path, so the MVP of the project is ready by the launch date.
Delay the start time: e.g., a new project is put on hold for a week until the lead developer returns from their vacation. 
Move tasks ahead: e.g., a project with lower priority is moved to next month to let team members focus on a more critical project.
Always ensure you communicate any changes to everyone involved!
3. Have extra help ready
If you don't have any slack and need to get the task done, you might need to bring in an extra pair of hands. "Maintain healthy relationships with contractors or freelancers so that if a scheduling conflict appears to be a potential ongoing issue, they also have the option to bring in a trusted person from outside their full-time team," says Fertz. 
Keep a roster of freelancers with similar skills and contact them when needed. If you bring on a freelancer, it might cost you more money than the project allows. If you decide to bring in a junior team member instead, be prepared to step in if needed to help them get the job done.
4. Change the project duration
If none of the above works, consider changing the project duration. This is an option of last resort, but it is better to deliver the project late than to let it fail. 
Reach out to the stakeholders and let them know that the project timeline has to be changed due to scheduling conflicts. Ensure you provide them with a new completion date (and stick to it). 
"If you've built good relationships with your clients and have been communicating project risk to them from the beginning, conversations about scheduling conflicts will be much easier," says Fertz.
Reduce scheduling conflicts with a project planning tool 
Scheduling conflicts are bound to happen, but you can reduce their frequency with a project planning tool. 
Float helps you schedule tasks while avoiding overallocation, monitor workloads in real-time, and make changes on the fly if a team member is overloaded with work. See what team members are available, flag potential hiccups, and identify alternate resources to assign work to. 
Need a tool to help your team allocate resources and avoid schedule conflicts?
Join the thousands of teams managing their resources in Float, and easily keep track of workloads and project schedules.
Start your free trial
---