Are you looking to create a project timeline but feeling overwhelmed by the thought of starting from scratch? 
Project timeline templates are just the thing you need. Not only are they quick and easy to use, but they also offer the added benefits of consistency and accuracy. 
With just a few clicks, you can customize one of these free and downloadable project timeline templates to suit your needs and get your project planning underway quickly.
Stay on track with Float
Did you know that a staggering 66% of projects miss their deadlines, according to Wellingtone's Annual Report on The State of Project Management?
One major reason for this is that teams lack visibility into project tasks and deadlines.
With Float, you can easily plan and manage your project schedule, stay on track, and swiftly address any issues. Don't let missed deadlines and project delays become the norm for your team!
Try for free
1. Simple project timeline template
Achieving project success doesn't have to be complicated. This simple project timeline template provides a clear roadmap for your team to follow, helping you to stay on track, on time, and within budget.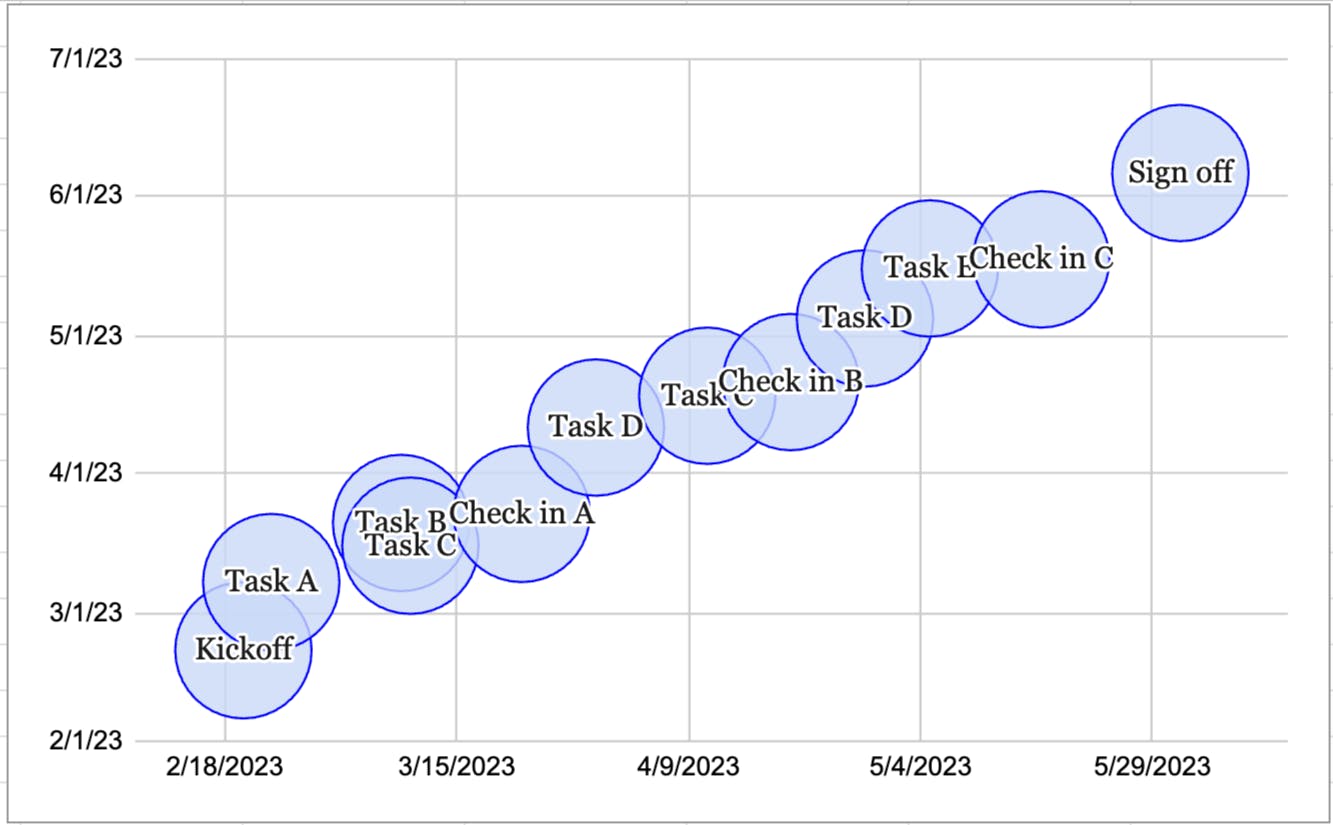 ➡️ Make a copy of the simple timeline template here 
2. Multiple project timeline template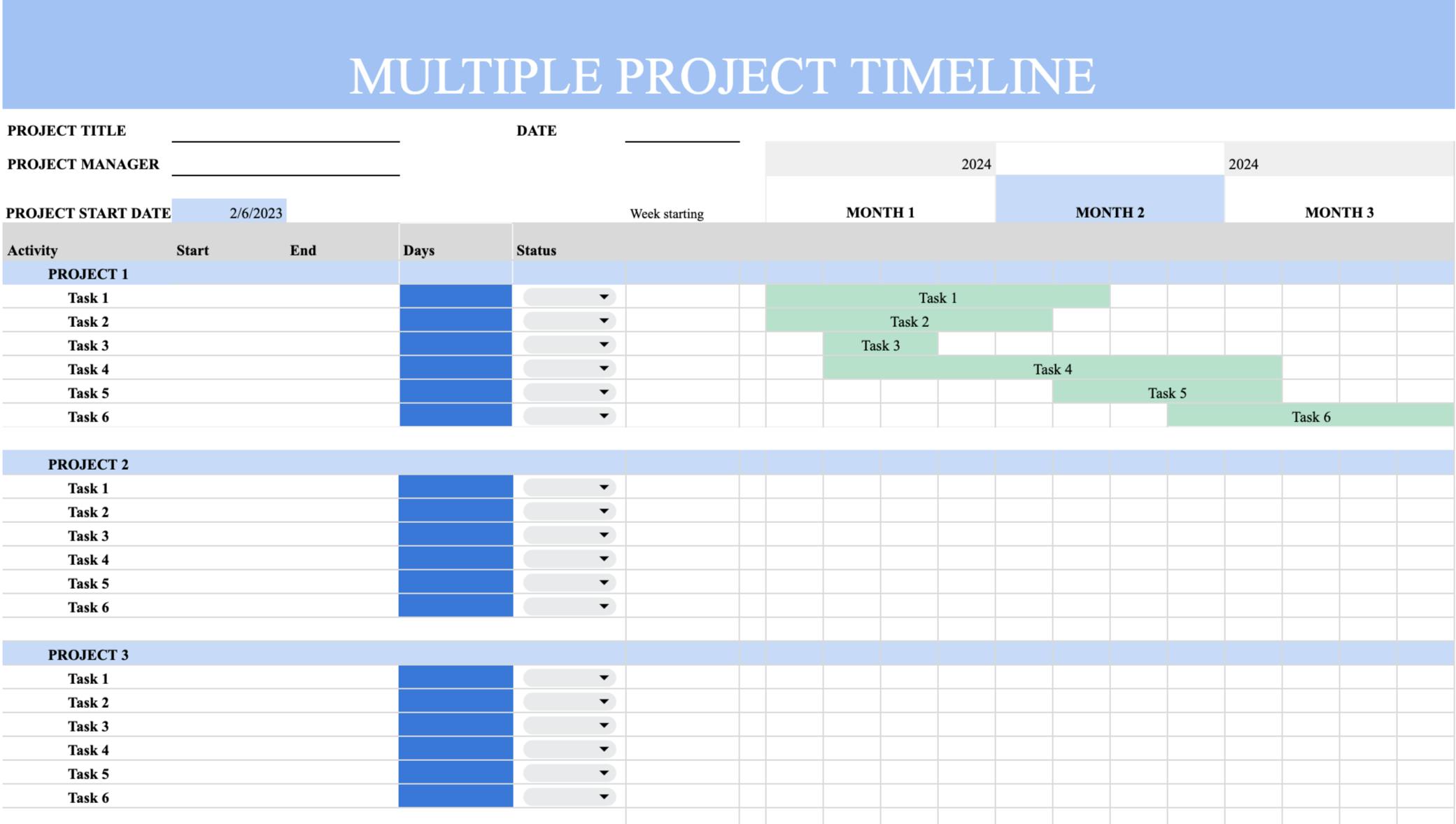 A survey of 220 PMs showed that a majority of project managers run several projects at the same time. Juggling several projects at once can be overwhelming without a clear view of all your projects. This timeline for multiple projects visually represents all ongoing projects so you can identify potential conflicts, prioritize projects, and modify resource allocation.
➡️ Make a copy of the multiple project timeline template
3. Weekly project timeline template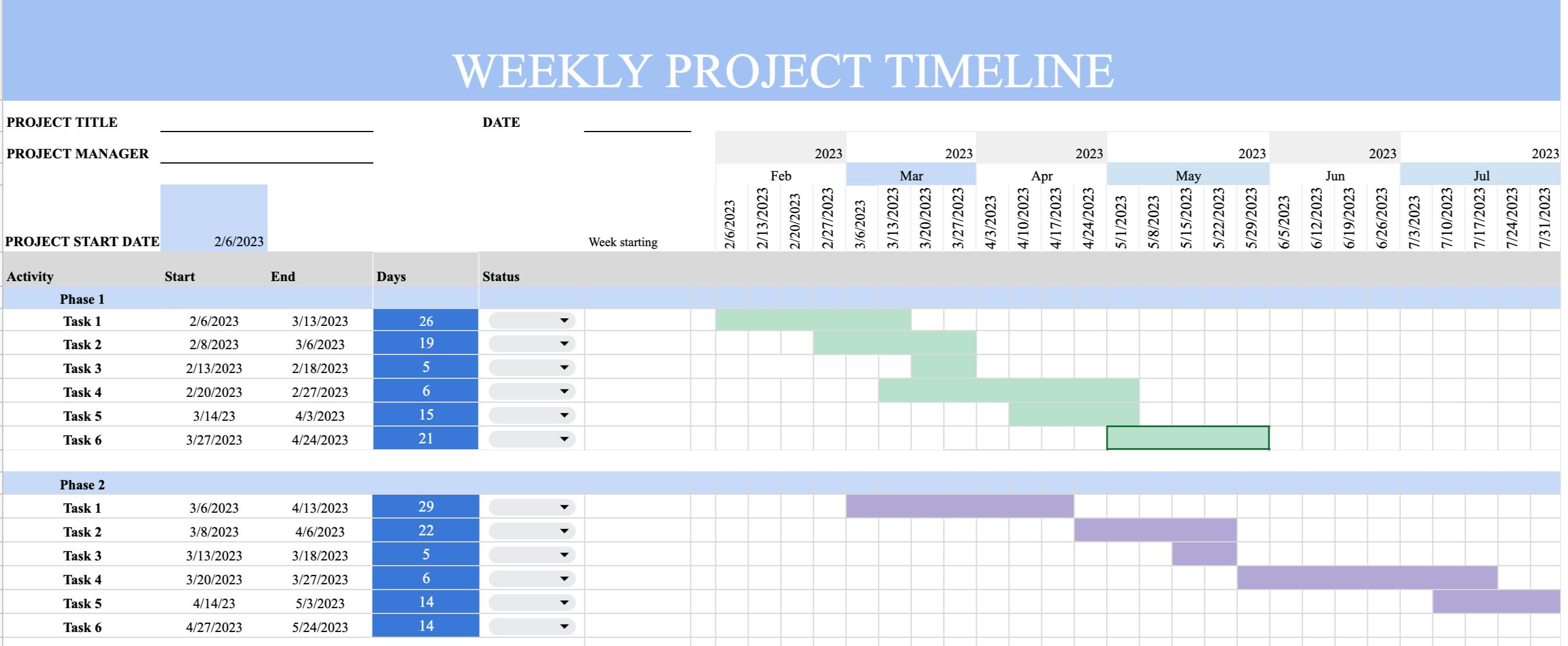 Take control of your project's progress with this weekly project timeline template. This template allows you to easily monitor and track your project week-by-week, ensuring that you stay on top of everything and avoid any potential delays. 
➡️ Make a copy of the weekly project timeline template
Say goodbye to wasted hours
Did you know that as many as half of all team managers waste hours compiling project status information? Don't be one of them! 
Skip the tedious task of updating static Excel sheets and effortlessly manage your scheduled projects in one place—Float. 
Float has a timeline view that keeps everyone in the loop. Streamline your project management and say goodbye to wasted hours!
Try for free
4. Monthly project timeline

Are you working on a longer-term project? Use this monthly project timeline to get a more strategic view of the project schedule, monitor progress, and identify issues that may impact the project's progress.  
➡️ Make a copy of the monthly project timeline template
5. Three-month project timeline template

This three-month project timeline template is designed to help you plan your project's schedule, outline tasks, and set deadlines with ease. With a clear and concise overview of your project's timeline, you can keep your team on track and ensure everything is completed on time. 
➡️ Make a copy of the three-month project timeline template
6. Six-month project timeline template

Looking to tackle a long-term project that will span six months or more? This template provides a high-level overview of your project's tasks, phases, start and end dates, and durations, allowing you to stay on top of everything and ensure that you're progressing steadily toward your goals. 
➡️ Make a copy of the six-month project timeline template
7. Annual project timeline template

Ready to tackle a project that will span over a year? This annual project timeline template is the perfect tool for you. This template enables you to easily schedule milestones and tasks for your project, providing a clear overview of everything that needs to be done and when. 
➡️ Make a copy of the annual project timeline template
How to create a timeline template in Microsoft Excel
Want to create a timeline template in Excel? Follow these simple steps:
Determine the tasks required to complete the project and estimate the start and end dates.
Enter the task information in a new worksheet in Excel, creating columns for task name, start date, end date, and duration.
Use the function "=IF(start date="","",NETWORKDAYS(start date,end date))" to calculate the duration for each task. 
Create a Gantt chart to visualize the project timeline using the Stacked Bar Chart feature. Select the task names and start, and then go to the "Insert" tab and select "Stacked Bar Chart" or "Bubble Chart." 
Customize the chart to suit your needs by changing colors and formatting.
Update the worksheet with actual start and end dates as the project progresses.
How to create a project timeline in Google Sheets
Follow these easy steps to set up your timeline view in Google Sheets:
Input your project data, including tasks and start and end dates, into your Google Sheet cells.
Select the data you want to use for your timeline view. Click on the "Format" tab and select "Timeline view." This will create a new tab with your timeline view.
Customize your view by changing the colors and formatting as desired.
Create timelines with the click of a button in Float
Are you tired of struggling with outdated project timelines? Updating static spreadsheets is a time-consuming task that doesn't provide any insight into team capacity or availability and can cause scheduling issues later on. Plus, it's often a separate document that isn't easily accessible to all team members.
With Float's timeline view, you can easily see your team's schedule for both people and projects, allowing you to toggle between views and spot any potential issues. Float supports linking tasks together so you can easily connect and move dependencies when the timeline changes. 
Float also integrates seamlessly with your project management tools, ensuring that your timeline is always up-to-date and in sync with other project plans. 
Say goodbye to outdated project timelines and hello to streamlined project planning with Float. Try it for free today and see the difference for yourself!