Stella Inabo

(Updated: )
Do you need to create a plan for your next project but are unsure what it should include? Do you want a way to plan your projects more efficiently and reduce stress? Are you interested in using project plan templates that may cut your planning time in half? 
If you said yes to any of the above, here are 15 free project planning templates to help you keep track of timelines, budgets, deliverables, scope creep, and more!
What is a project plan template? 
Project plan templates are pre-filled documents that provide the framework for building your project plans.
Just as the skeleton provides the all-important structure and support for our bodies, project management templates offer direction on what to include in your plans and how they should be organized. 
How to use a project plan template
1. Begin by downloading a project planning template of your choice.
2. Customize the sections based on your project's specific requirements. Start by filling in the details for each section necessary for your project.
3. Check for accuracy and consistency throughout the document. Make sure that all data points are accurate and up-to-date.
4. Review all sections before submitting the template for approval from relevant stakeholders.
15 free project plan templates
1. Simple project plan template 
A simple project plan outlines the steps and resources necessary to complete a project. This template allows managers and team members to track progress, stay organized, and communicate with stakeholders.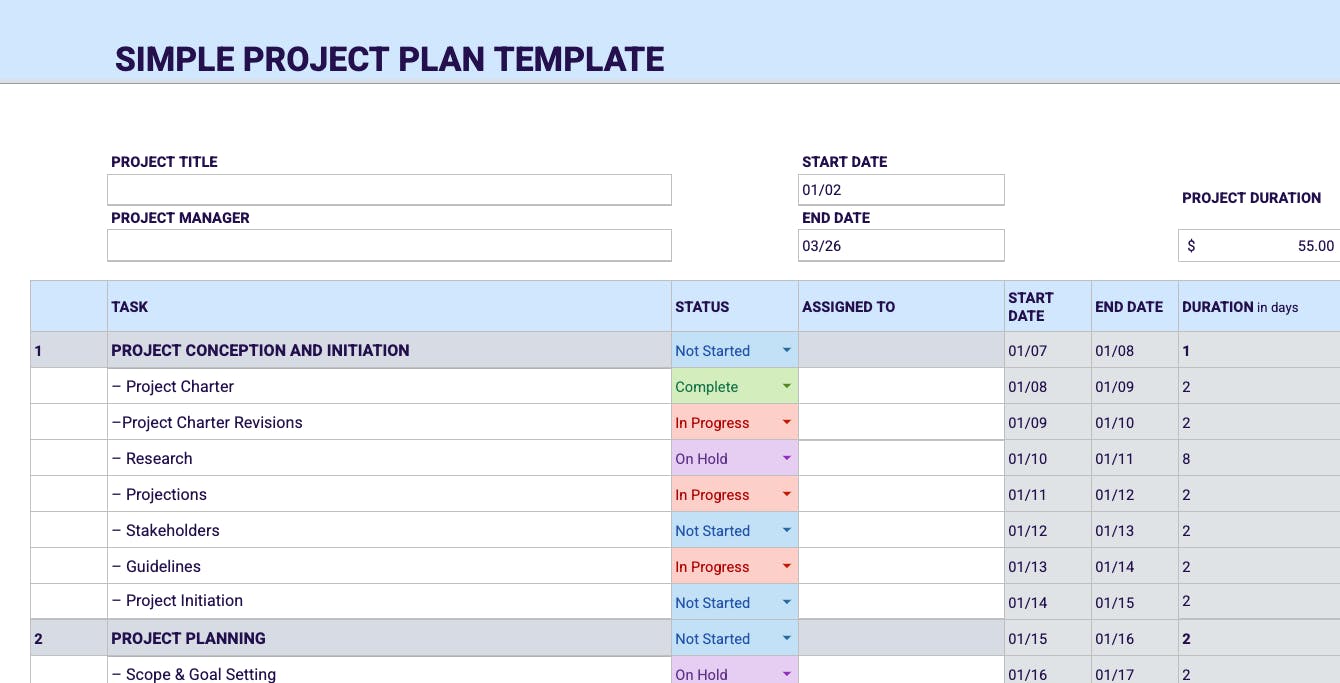 2. Project action plan template 
A project action plan template outlines the steps to complete a project successfully. It guides the team on what needs to be done and when it needs to be completed.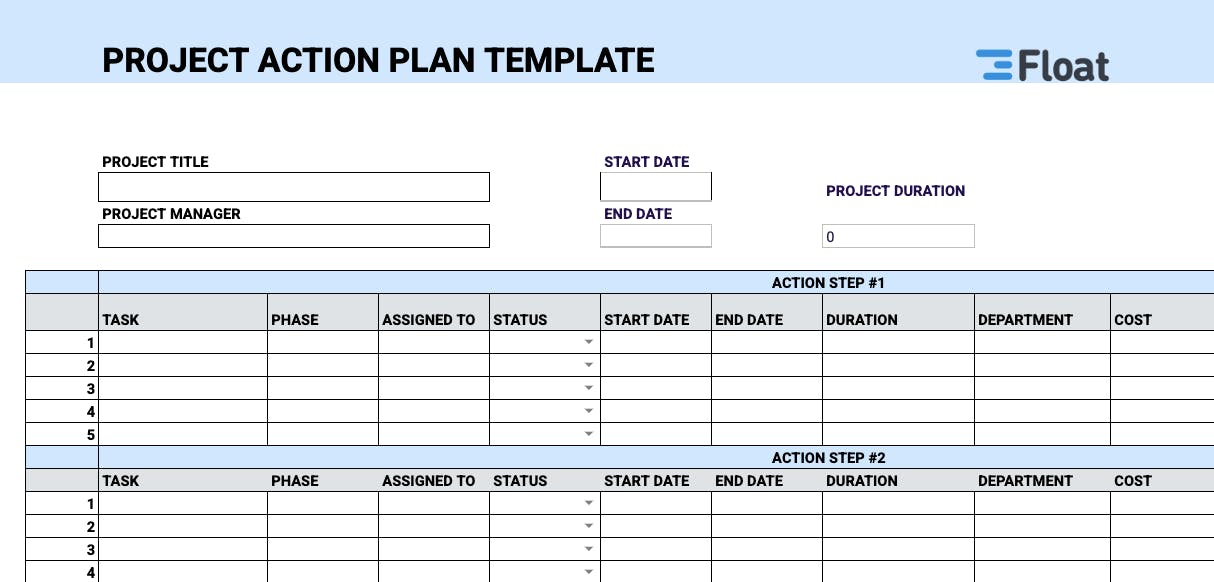 3. Business case template 
You can use the business case template to provide justification for your project, document reasons why it should be undertaken, and show decision-makers the potential return on investment (ROI).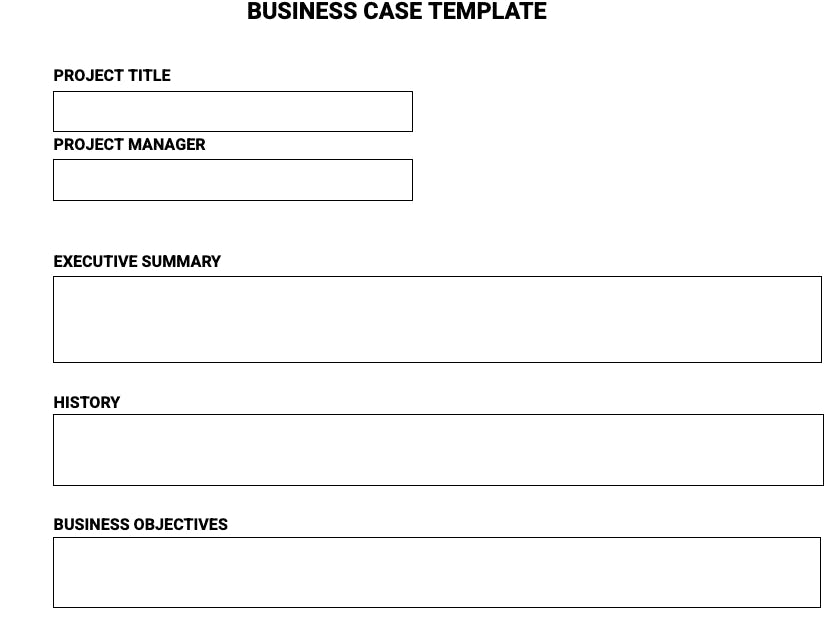 4. Project schedule template
Outline the timeline, deliverables, and tasks required using this project schedule template. Quickly enter the resources needed for each task, the time allotted, and any dependencies or milestones. 

5. Project budget template
Plan and track the financial resources necessary using this project budget template. The pre-filled document outlines all the expenses associated with the project, such as labor costs, materials, equipment, and other related costs. 
The template also includes a section for projected revenue or funding sources and an area for any cost overruns.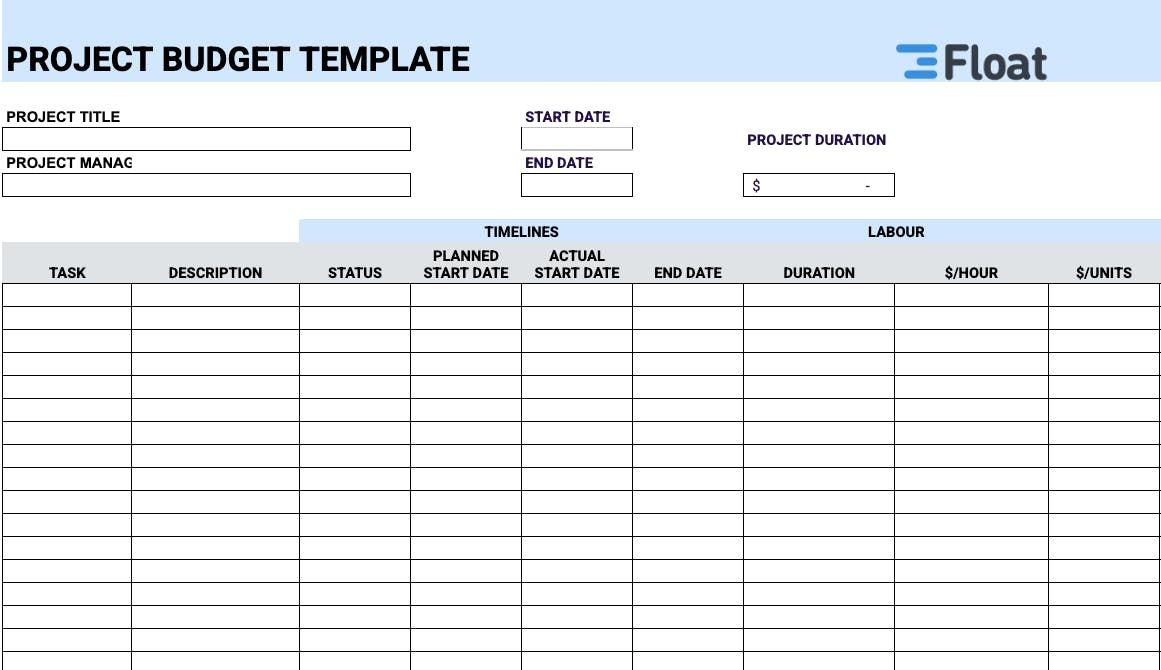 5. Quality management plan 
This template can create a quality management plan for a specific project or business. It provides a structured format for documenting objectives, standards, responsibilities for project stakeholders, and the methods and tools to monitor and control quality.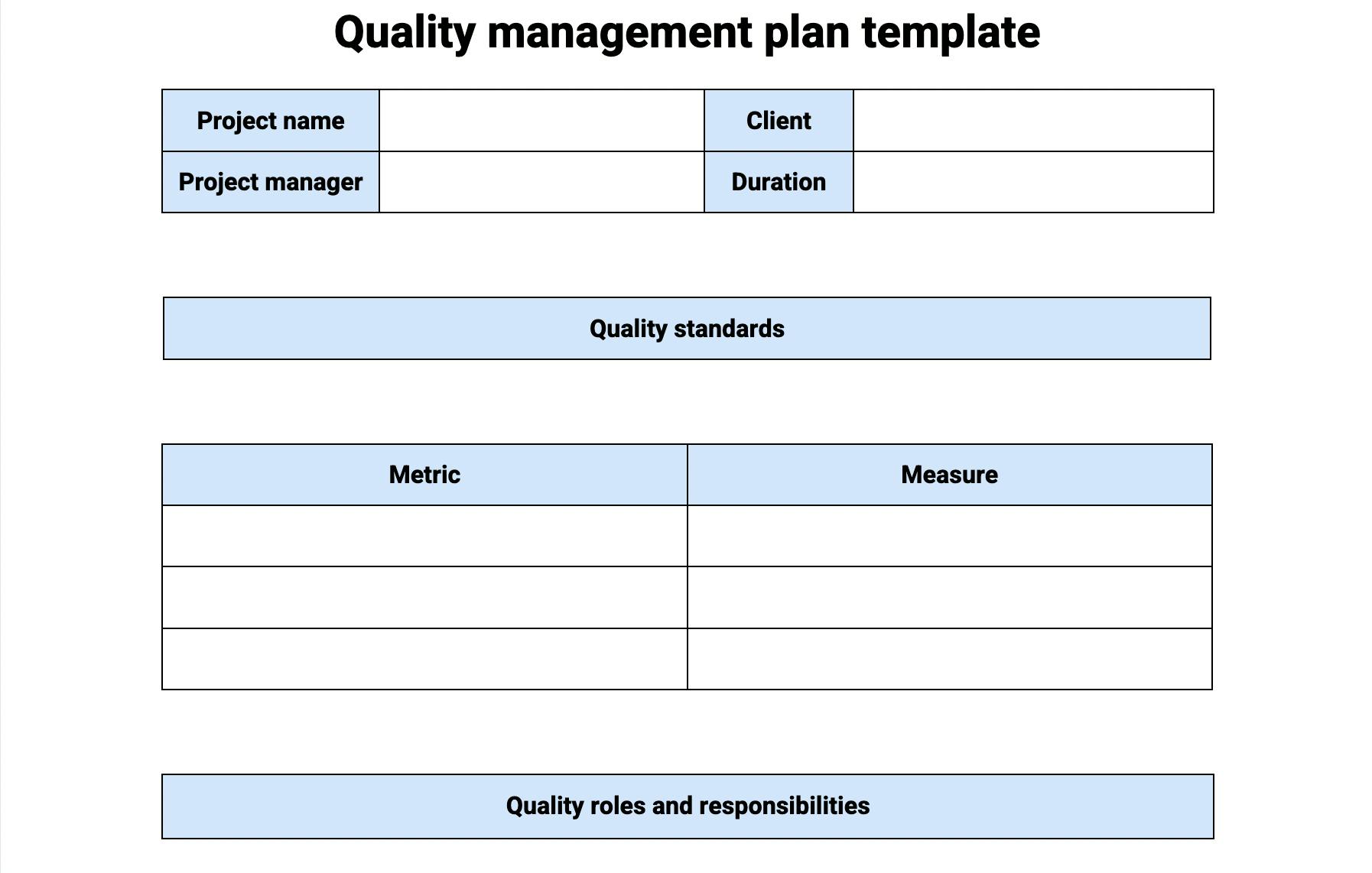 6. Stakeholder management plan template 
Use the stakeholder management plan template to document how the project team will engage with and manage stakeholders' expectations. With it, you can quickly outline how to address stakeholder interests, needs, and concerns.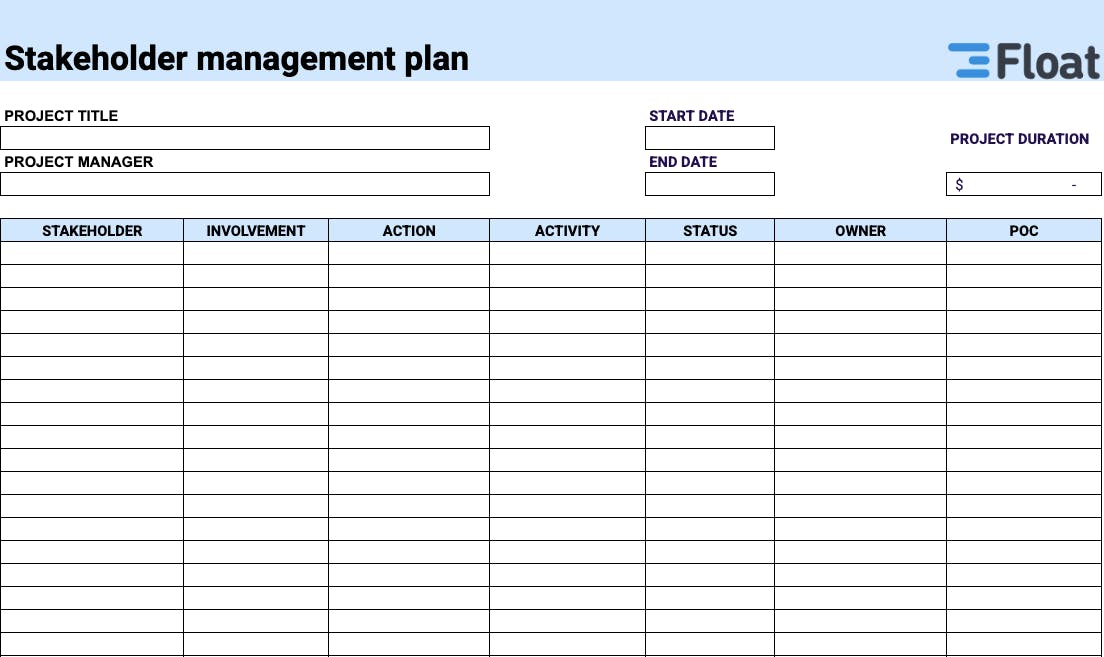 8. Communication plan template
Keep your team and stakeholders informed and up-to-date on the progress and status of the project using the communication plan template.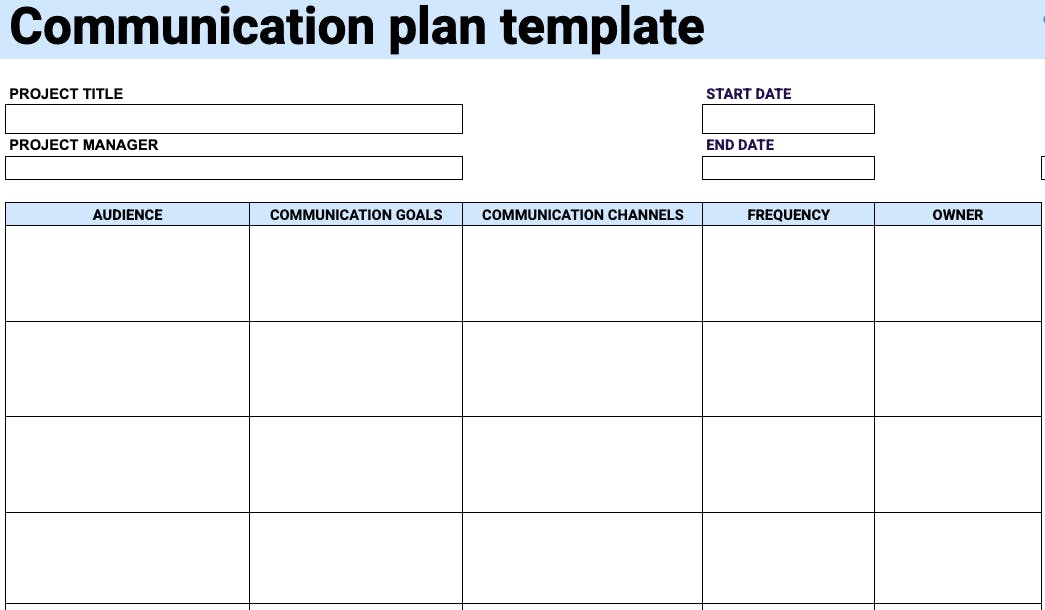 9. Project milestone template
Track the progress of a project and ensure that it is on track to meet its goals using the project milestone template. Outline a project's significant achievements or critical points as it progresses so stakeholders can make informed decisions about its direction.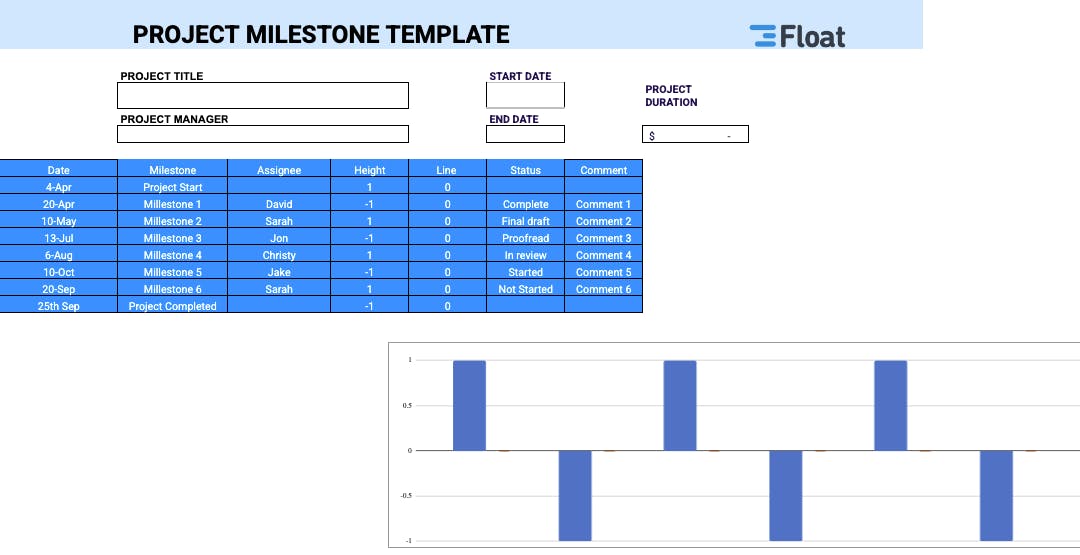 10. Gantt chart template
Plan and track the progress of your project, and identify potential issues or delays before they become problems using the Gantt chart template. Gantt chart templates visually represent a project's schedule and display the tasks, dependencies, and milestones.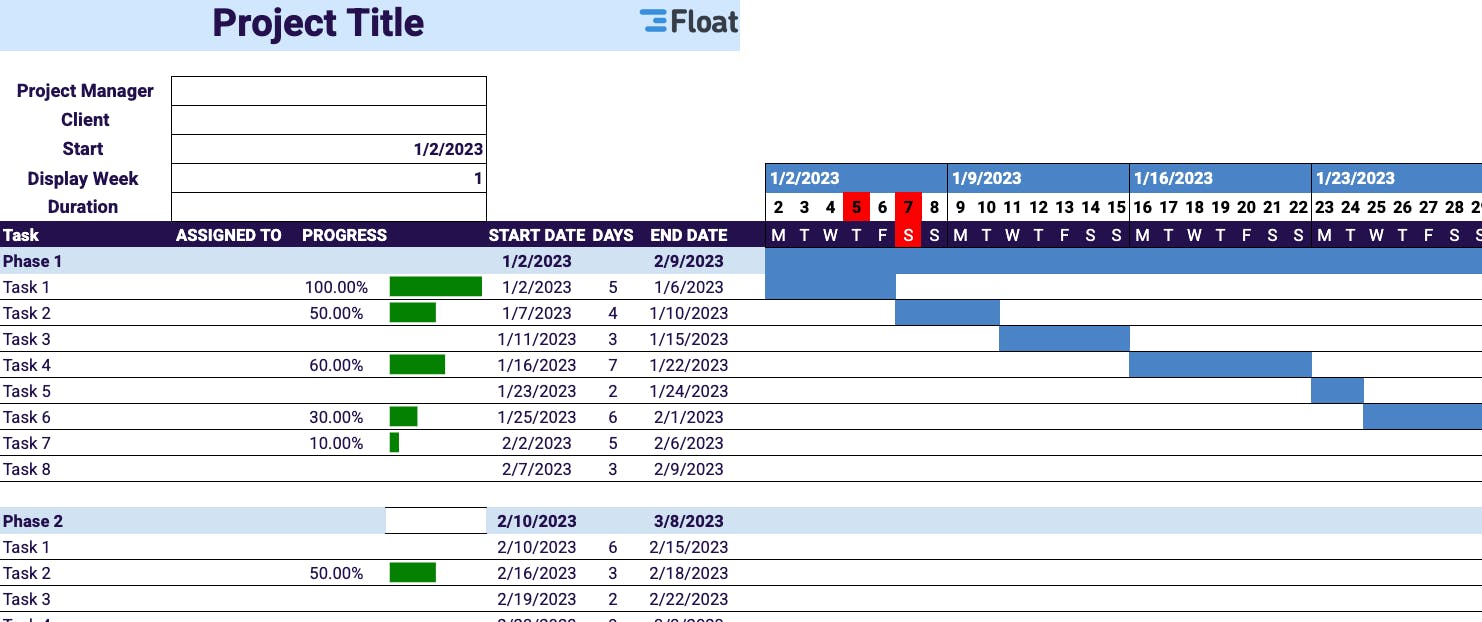 11. Work breakdown structure template 
This work breakdown structure template slices a project into smaller tasks and subtasks. Define the scope, organize, and manage project work with this template.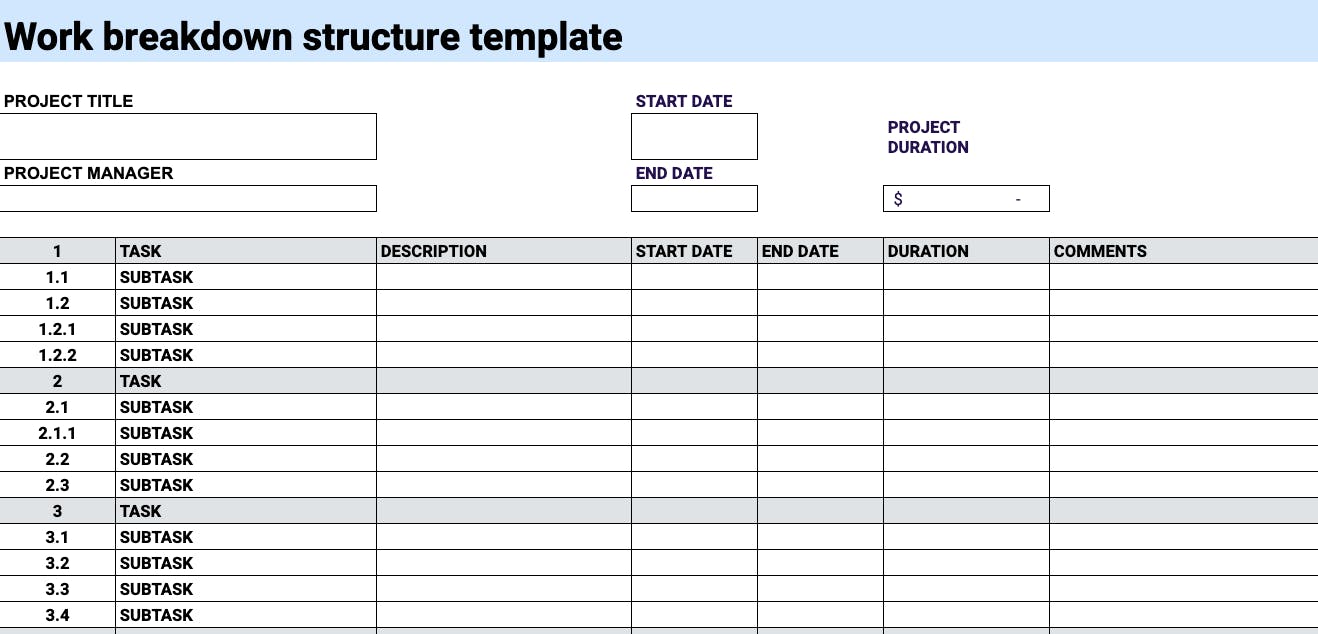 12. Project resource plan template
The project resource plan template helps you allocate tasks to the people with the suitable capacity and skills. Document and outline the resources required to complete your project.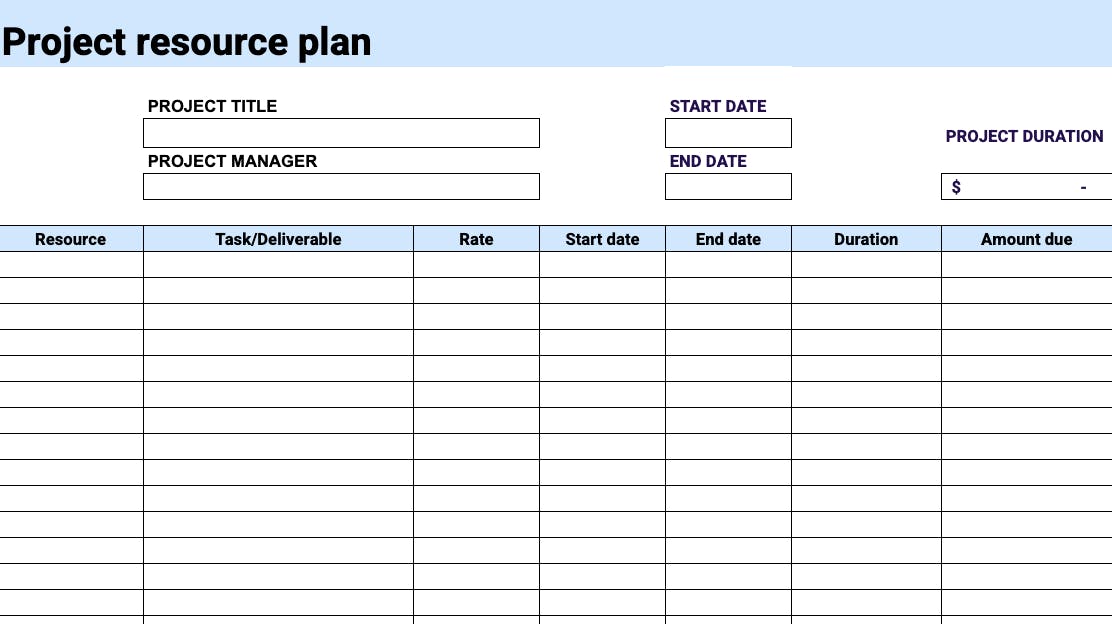 13. RACI chart template
Clearly define roles and responsibilities for completing a project or task with the RACI chart template. Clarify task responsibilities, decision-making roles, and oversight duties before getting started.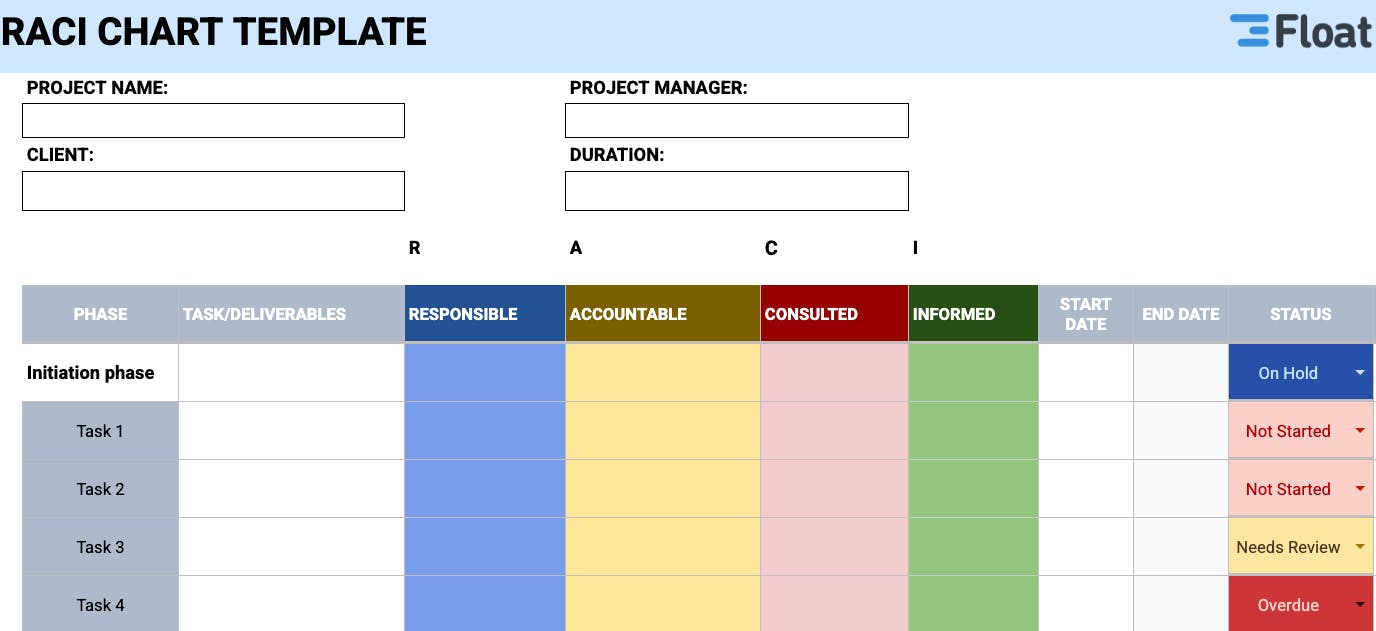 14. Risk register template
Use the risk register template to identify, assess, and prioritize project risks. Track and manage potential risks that could impact project success, and ensure your team takes the necessary steps to mitigate them.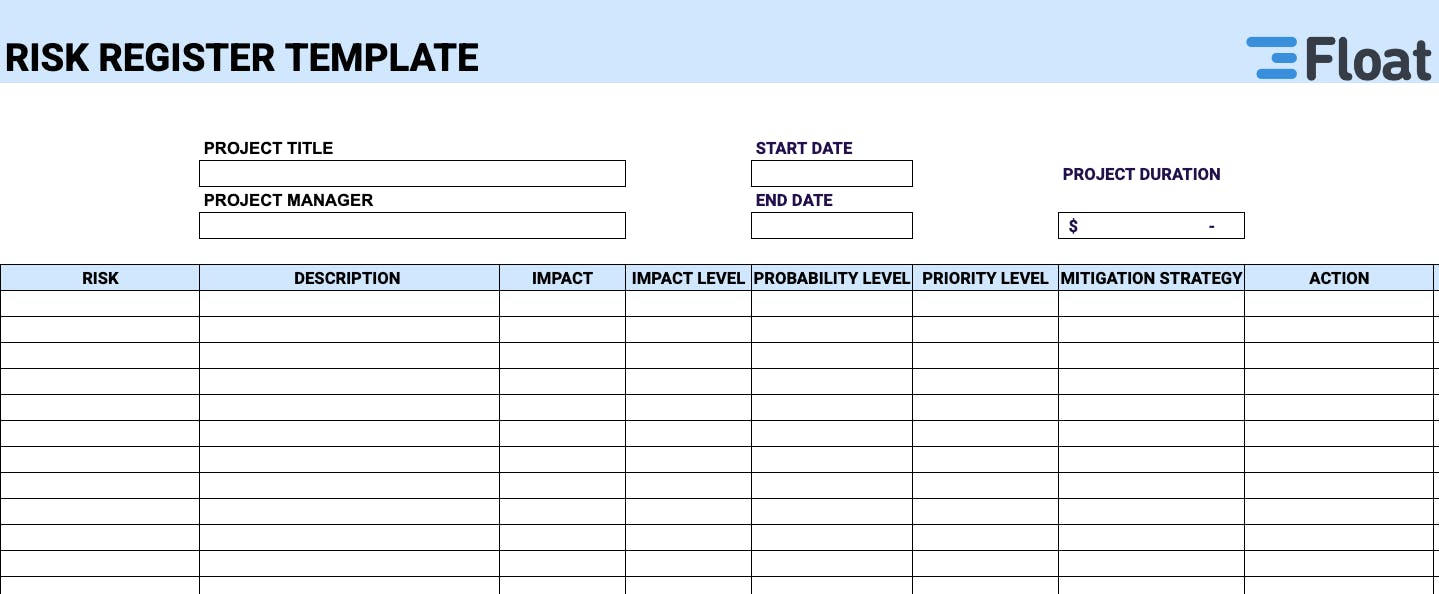 15. Change control log template
Use the change control log template to track and document the changes that occur throughout your project. Get visibility into the project progress, ensure accountability for any adjustments made along the way, and confirm that any changes align with the overarching project goals.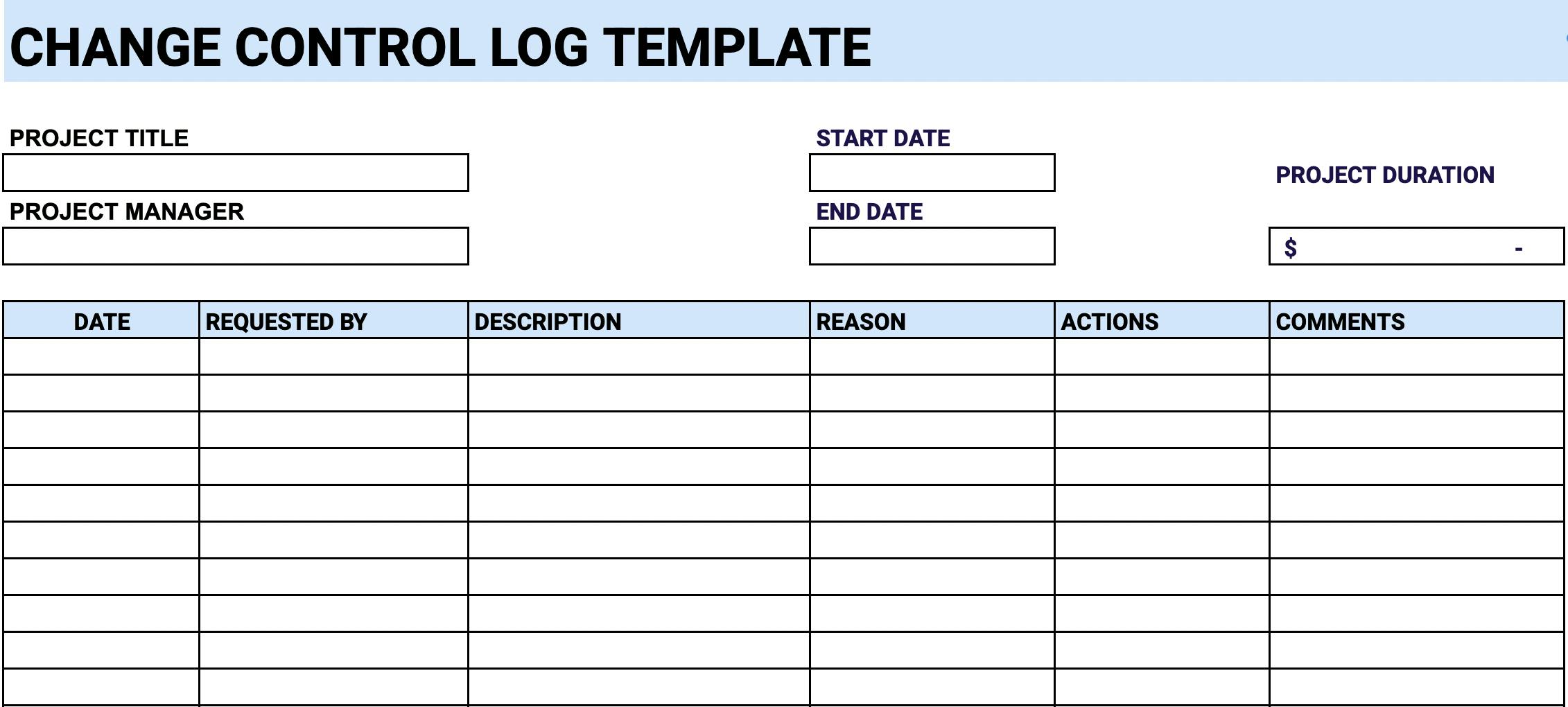 Plan smarter
Try the #1 project planning software. More than 4,000 of the world's top teams choose Float to plan, schedule, and track their team's time. Rated #1 on G2 for resource management, Float gives you the most accurate view of your resource capacity to plan project work.
Find out more
How to build project plan templates in Float
While templates can save you time, they require vigilant tracking and updating to remain helpful during a project. Additionally, project plans might not be visible to everyone on the team—creating an information gap. 
A more efficient option is using a project planning software like Float. Project plan templates created in Float are easy to reuse, and the data can be quickly turned into a report. 
You can assign tasks based on your team's availability and capacity and forecast work for entire projects ahead of time. When unexpected changes arise, you can quickly adapt the project plan by reassigning tasks or extending their duration.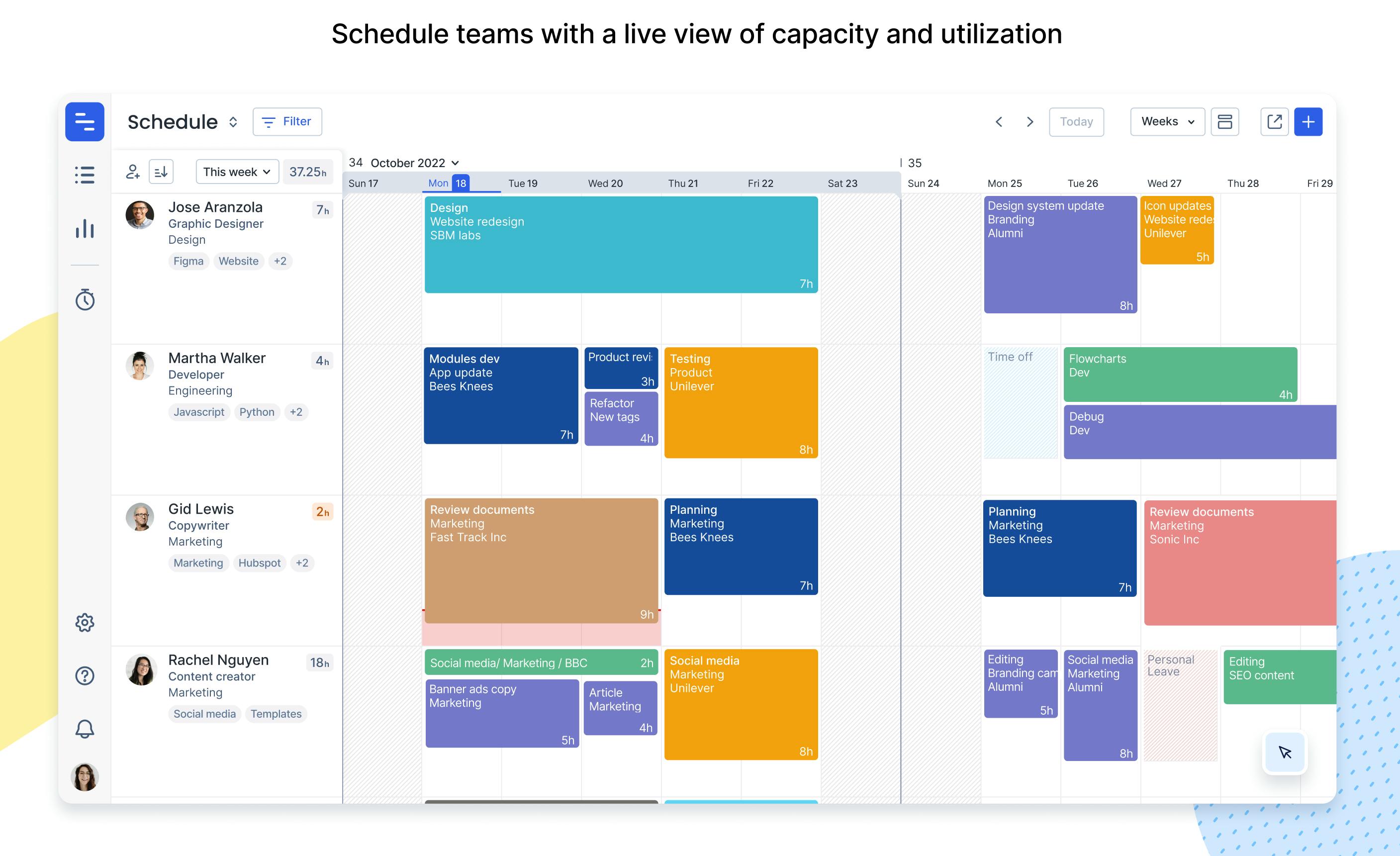 With all your people and project data in one place, you can monitor your budget, actual costs, and utilization rates in real time. 
Using the time tracking feature, you can compare scheduled vs. logged hours to monitor your project's progress.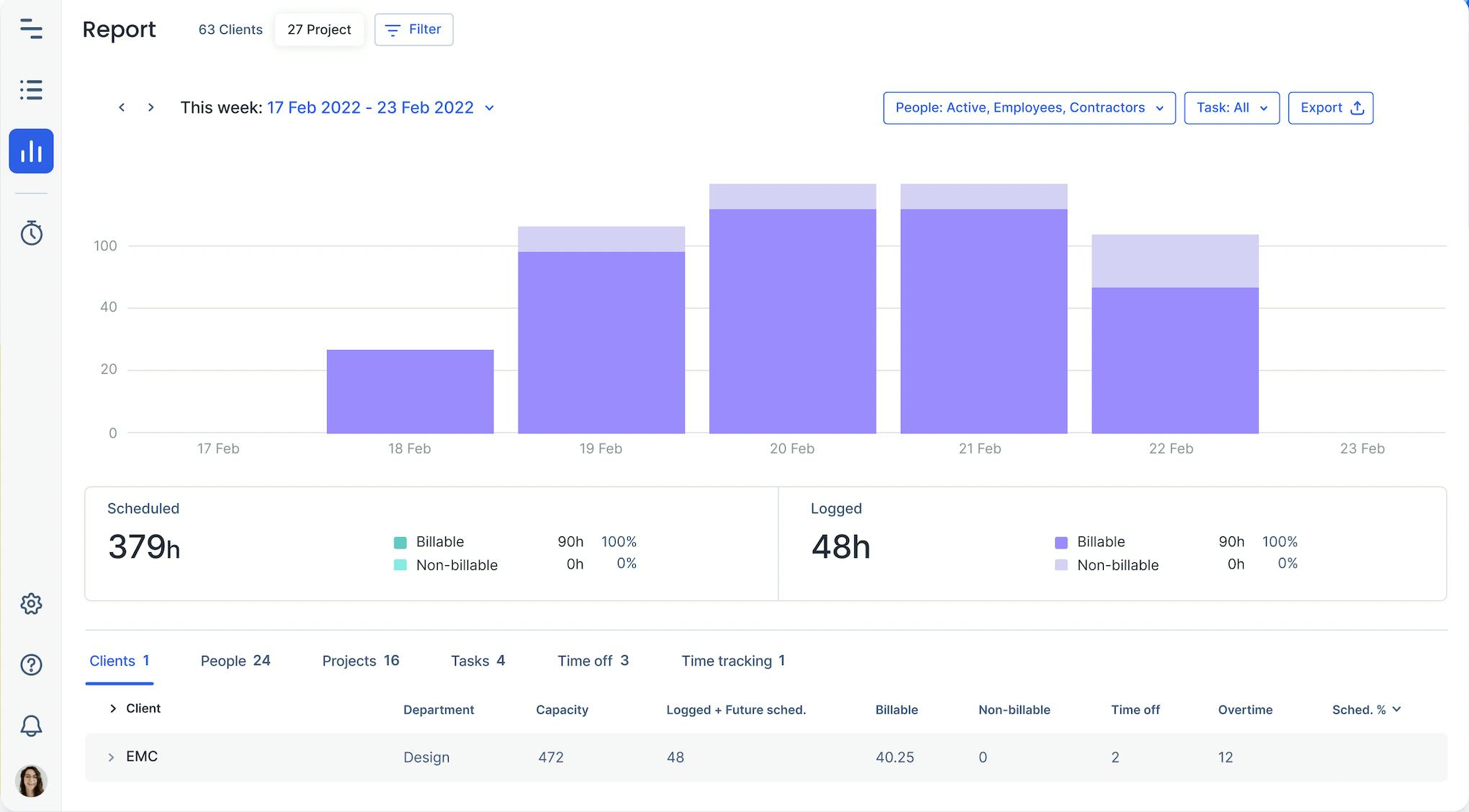 You can pick hourly or dollar-value budgets and set tasks to billable or non-billable hours—all of which are kept track of in real time within your reports. Try it for free today.
FAQ

Why should you use a project planner template?
Project plan templates are essential because they provide a structured approach to managing projects. By using a template, project managers can ensure that all tasks are accounted for and that no critical steps are missed. It can also reduce errors, reduce design time, and help create consistent documents.
What should be in a project plan template?
Your project plan template can be as straightforward or complex as you want it to be. That being said, most project planner templates contain documents for: 
Schedule management 
Communication management 
Scope management 
Cost management 
Quality management 
Resource management 
Change management 
How do I write a project plan?
To create an effective project plan, follow the steps below:
Start by setting goals and tasks with input from stakeholders, team leaders, and your team.
Next, create realistic deliverables by plotting the tasks onto a project timeline and consulting your team.
Set a work breakdown structure by starting with the end goal and working towards smaller tasks.
Plan resources by allocating tasks throughout the team and maximizing budget spend.
Define task dependencies and bottlenecks by identifying which project tasks depend on what resources.
Run a risk assessment to prepare for when projects go differently than planned. 
Finally, plot your project on a final timeline after collecting information from your team about availability issues, instructions needed, etc.