Workload management is a multi-step process that efficiently plans, schedules, and distributes work across your team. It optimizes how work is assigned and helps keep teams and projects on track.
---
Picture for a moment the steps it takes to complete a project from start to finish: 
A project enters your pipeline 
You verify you have the capacity to get it done 
You divvy up the responsibilities to your team 
Your team completes their assigned tasks 
It sounds clear-cut, but often it's not. 
The UX designer who appeared available might be allocated 60 hours per week. The QA engineer might be working on three other projects.
To ensure a successful project, you must have full visibility of your team's current and future capacity before any actual work begins. 
Understanding your team's bandwidth can be the difference between a project delivered on time and on budget and one that encounters schedule chaos and leaves the team burnt out. 
This is where workload management—a layered approach to delivering successful projects comes in.
What is workload management?
Workload management is the process of distributing tasks and responsibilities among team members. It takes into account your people's capacity and skills to achieve optimal productivity and efficiency.
Jump start your workload management with resource management software
Rated #1 for resource management on G2, Float gives you the most accurate view of your team's capacity to plan and schedule project work with confidence.
Find out more
Why is workload management important?
Workload management helps you prioritize tasks more efficiently, improve the balance of work across your team, and create more accurate project schedules. As a result, your team has the capacity and confidence to deliver quality work.
It improves the accuracy of project schedules 
Workload planning brings you closer to creating an accurate project schedule, which in turn enhances your ability to deliver the project on time.
For example, while looking at your resources schedule in your project planning tool, you discover that the resource you need on a project is already 100% allocated to another project for several months. You immediately look for another internal resource with similar skills or onboard a freelancer. 
An added benefit is that you are better equipped to tell if a project might take longer because your resources have reduced capacity. For example, instead of allocating a resource for 50% over the course of 3 weeks, you might have to reduce it to 25% over 6 weeks.  
It prevents burnout
In a study on burnout and its relationship to workplace stress by the Institute of Work and Health (IWH), researchers found that overwhelming workloads were one of the factors that lead to burnout.
Tired employees with an unbalanced workload are less likely to finish work and more likely to play catch-up. "Overall, a stressful work environment is a stronger driver of burnout than burnout is a driver of more stressful work," says Dr. Faraz Vahid Shahidi, who published a paper on the IWH study. 
In contrast, when workloads are properly distributed, your people lose less time at work and improve their performance.
"The evidence in this paper is a useful reminder that job stressors are the driving force behind burnout, and if we modify those aspects of the work environment, we may make headway towards reducing and even preventing burnout symptoms."- Dr. Faraz Vahid Shahidi, The Institute for Work & Health
It distributes work fairly
Team workload management is essential for the fair and equitable distribution of work. The most efficient workers will likely be involved in multiple projects during workload planning. If left unchecked, it can result in the underutilization of other team members. By implementing workload planning, every team member is assigned tasks that match their abilities and capacity, providing them with an opportunity to grow while ensuring a balanced workload distribution.
It reduces employee turnover
Effective team workload management increases employee retention, as people are happier when they are not overworked and under pressure. Just ask anyone who has set boundaries for a healthy work-life balance.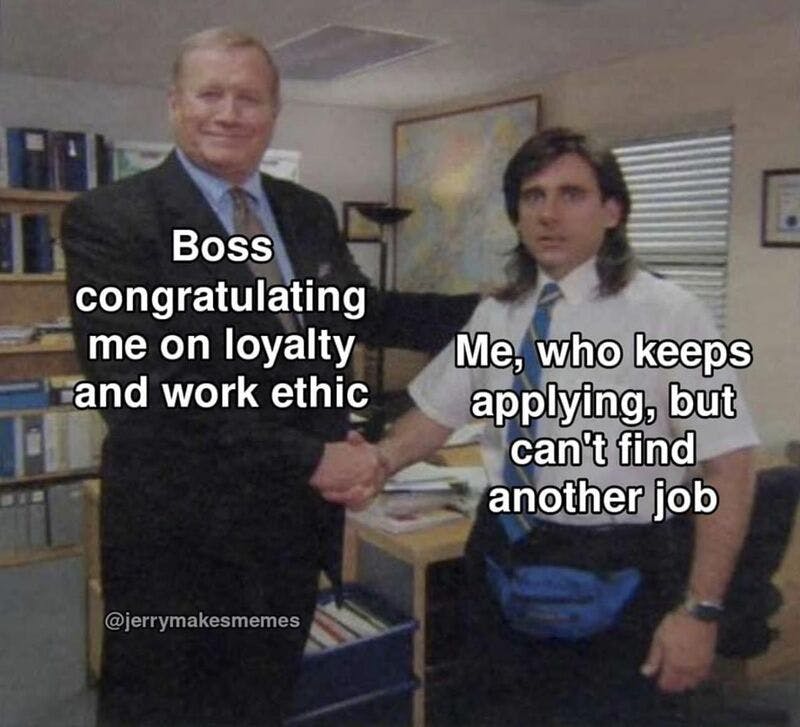 How to create a people-first workload management process
Taking a people-first approach to managing workload means that you plan based on your team's capacity and consider their skills and interests when assigning tasks. 
Follow the steps below to get started:
Map out all projects (current and incoming)
Identify and centralize ongoing (and tentative) projects in a single location. 
Your team's most important projects will often be documented in project management tools. But these tools often do not track time spent on ad-hoc tasks and meetings. 
With visibility into ongoing tasks and future work requirements, you will have an accurate picture of your team's workload both now and in the near future. 
A good place to consolidate all of these is in your Float schedule.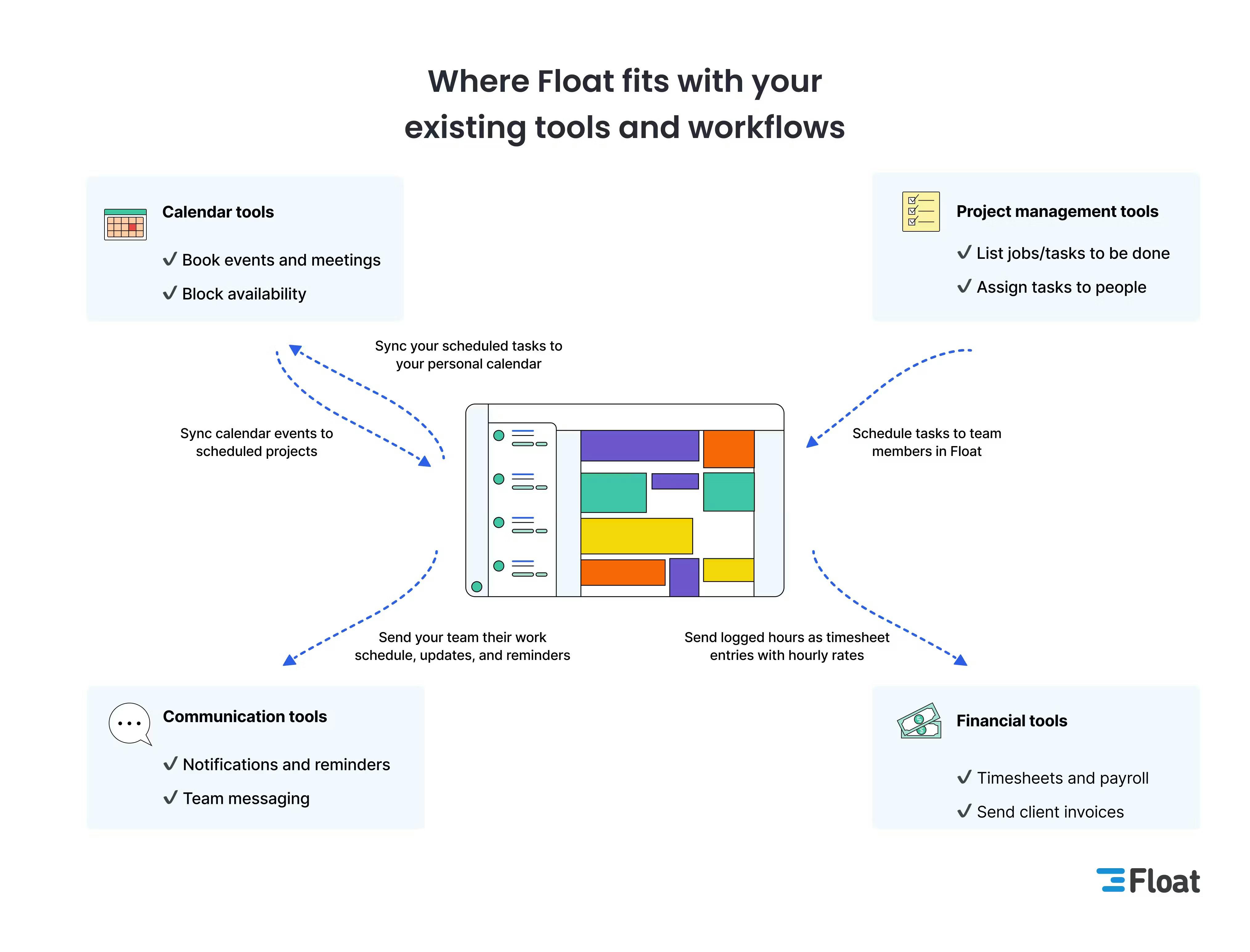 You can import projects and tasks from CSV or your project management tool and sync them to the schedule. Alternatively, you can create a project from scratch in Float.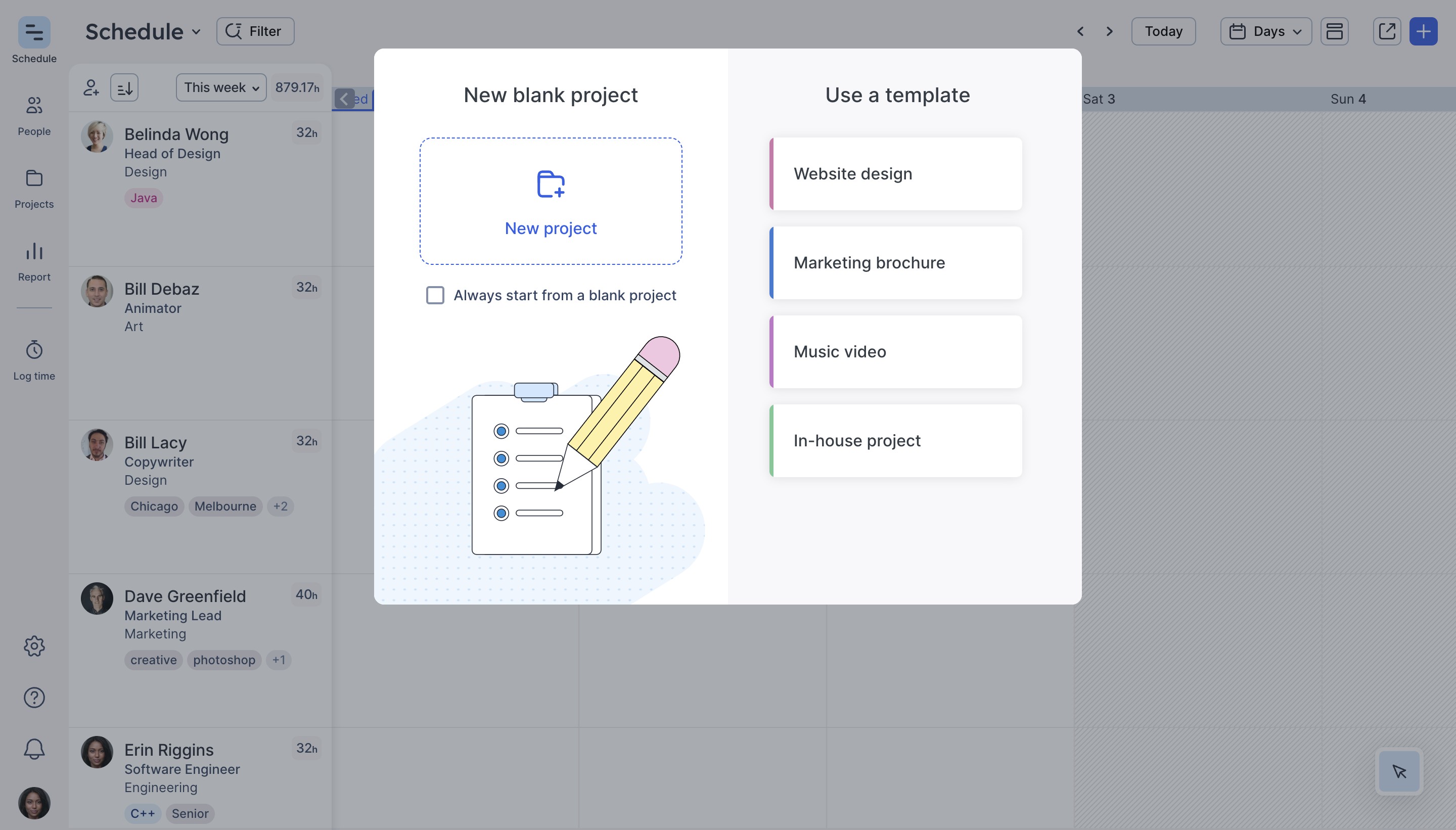 Once you have entered all your planned work into Float and connected with your calendar and communication tools, you'd have a full view of your team's schedule.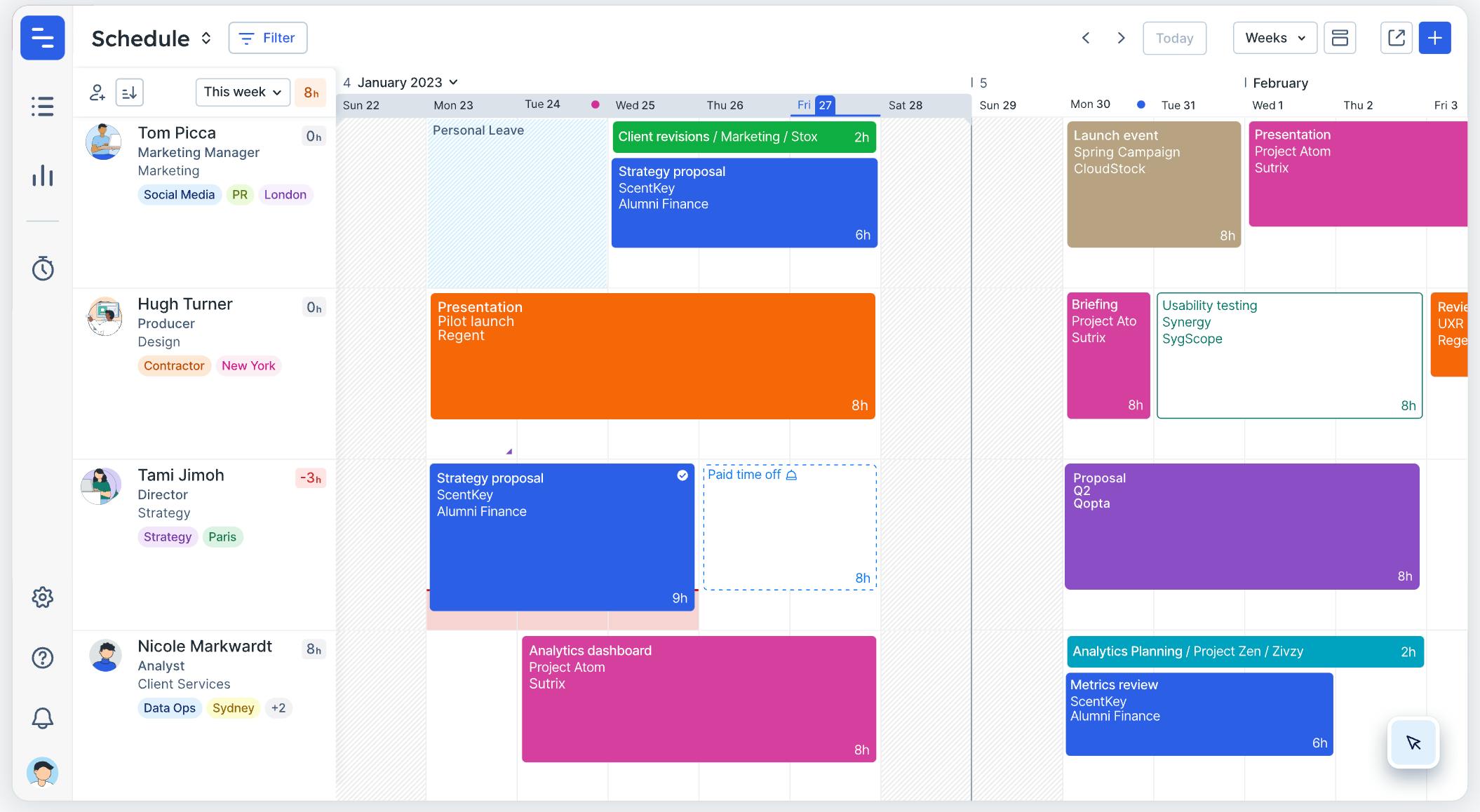 Break down projects to get a complete understanding of workload
Raise your hand if you've ever jumped into a project only to find your team feeling overwhelmed and understaffed🙋🏽‍♀️. It's not uncommon to get a little overzealous and take on a project without understanding the entire scope. 
Any successful project manager will tell you that it is crucial to determine the project tasks and deliverables your client expects beforehand. This lets you know what specific tasks to tackle and how long your team needs to complete each one.  
The weapon of choice for project managers at this stage is the work breakdown structure (WBS). You can use a WBS to visualize project tasks, map each process step, and create deadlines for multiple tasks.
Let's say you want to create a work breakdown structure for an SEO campaign for a popular apparel company. The first step is to determine the primary goal of the project. In this case, it is building and executing a plan to increase the company's visibility on Google. 
Next, you should identify the tasks that must be carried out to meet the goal. For the SEO campaign, you need to: 
Determine the target topic
Distribute content and build links  
Measure results 
Think of these tasks as the first level, as they still need to be broken down into subtasks. Let's take apart the determined target topic task. This task requires the team to: 
Select the medium and longtail keywords 
Build out briefs for writers 
Create content
Publish  
Depending on your project, your work breakdown structure might also include phases.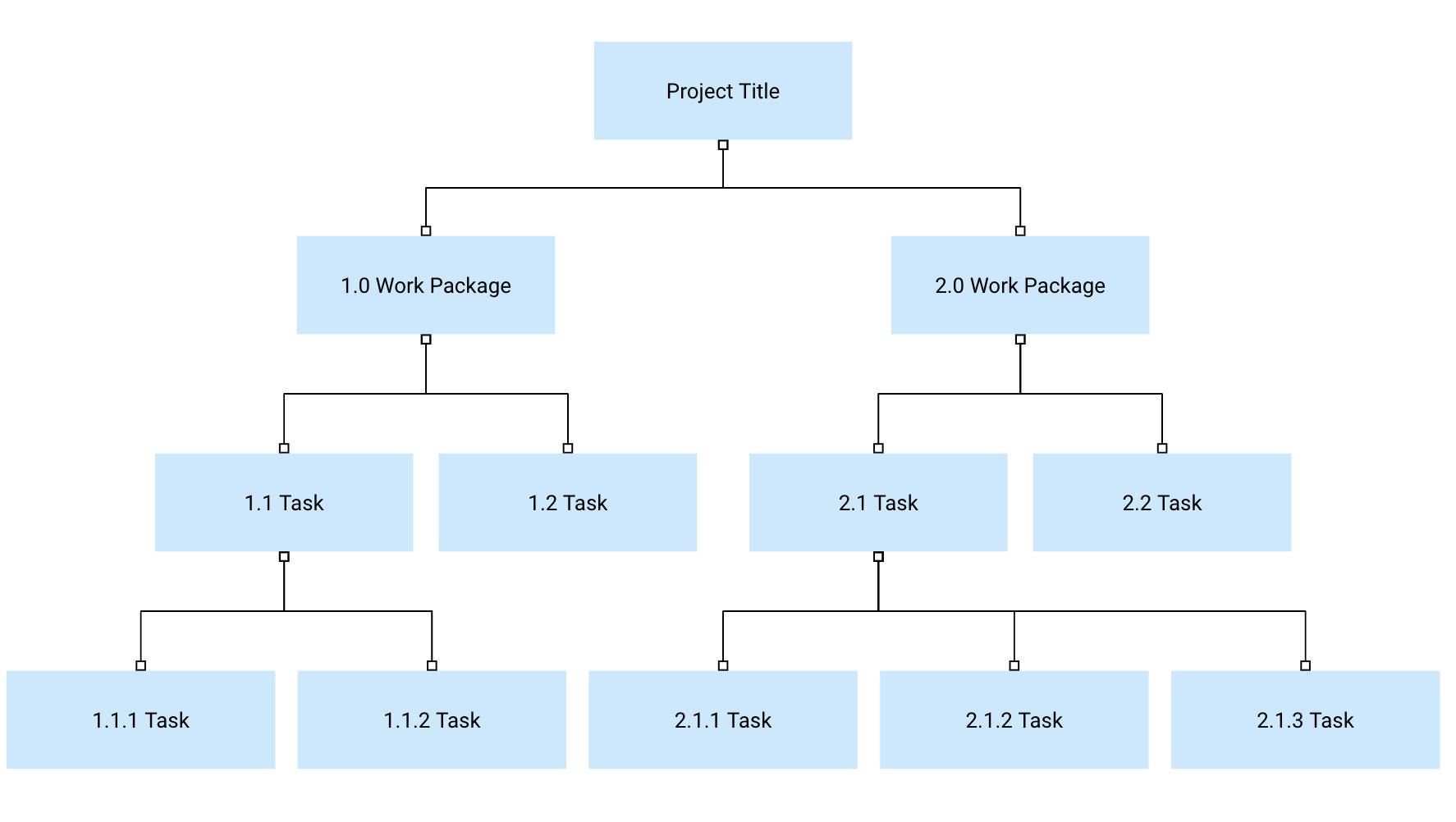 There are a variety of ways to prepare a WBS. You can:
Break down your project using a Kanban board like Trello
Map out tasks and timelines using Gantt charts in a project management tool like Asana 
Use a WBS template to make it easier to collect all information
You might be wondering whether you should make your WBS before or after determining how much work your team can take on. "I think it could go either way, particularly if you consider the project management triangle," says Float's Director of Product Michael Luchen.
"When starting a WBS, if you know how much time (capacity) you have for the work itself, then that states how much capacity you have to work with. And if you are unsure what your team's capacity is, you would have to use estimates and then make adjustments as you go." 
Check team capacity to determine their bandwidth 
How much time does your team really have to work on tasks? Sometimes, resources are 50% allocated to a project and seem to have the capacity to take on work. But on closer inspection, you might discover that they have meetings and planned time off that will cut into the remaining time that they have. 
Capacity planning is critical to team workload management. It enables you to identify if an employee can take on a new project or if their schedule is already full. 
As a project manager, you have to work with your team's actual (not expected) capacity. If you expect that someone has 40 hours to give to your project every week and in reality, they have only 25 hours, that sets up your project for failure. 
"Team capacity can provide valuable knowledge in guiding what the team can and can't do." -Michael Luchen, Float
Save time by calculating your team's capacity and utilization rates automatically
The reporting feature in Float crunches all the numbers you need to know like overtime, team utilization, capacity hours, and billable hours. See for yourself how easy it is with a free 30 day trial below.
Try for free
To determine your team's bandwidth here are a couple of questions to ask 
What is their % allocation to planned work? 
What are their working hours and days?
Do they have any PTO planned? 
Are they a shared resource? 
What ad-hoc tasks are they working on? 
What meetings do they have scheduled? 
A resource management tool like Float combines these elements into one schedule for an accessible, live view of overall capacity.
For example, let's say you're working on a new ad for a client and need to see when the team has time to contribute over the next four weeks. A tally of available hours per person is listed next to their name on the schedule, and the totals for the team are displayed at the top. If it's red, it means they're already in overtime.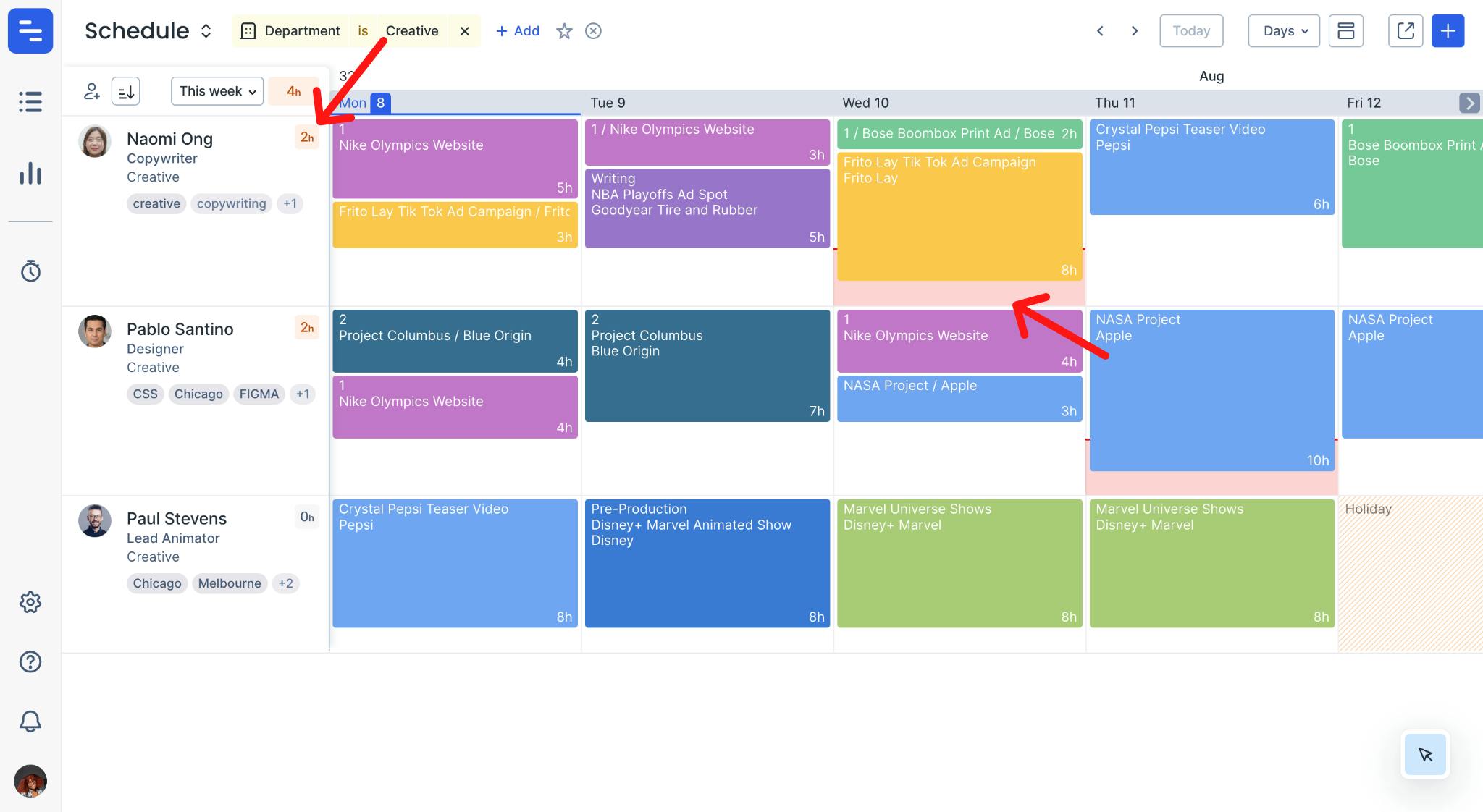 Pro tip
A benchmark resource utilization rate to aim for is 80% when calculating capacity. This target allows a 20% buffer for other tasks that can't be planned ahead of time. It also gives your team time to attend to ad-hoc tasks like responding to emails and following up with clients.
Assign tasks to team members based on skill, availability, and capacity 
If you have the capacity to take the project on, it's time to assign tasks to team members with the right skills.
If you've created your work breakdown structure in a tool like Trello or Asana, you can integrate Float and assign tasks directly to the schedule. You can also import projects via CSV or create and schedule tasks from scratch. 
When assigning tasks to team members, don't forget to factor in skills and interests. Research indicates that job satisfaction increases when individuals' job roles align closely with their assigned tasks. This is because it's less mentally tasking for people to do work that they have the competencies for, than for them to be constantly assigned tasks they are not skilled at. Not only that, the quality of work delivered will be up to standard and will probably take less time. 
Let's say you're looking for a designer in the Creative department who is a Figma pro to create some pages for your website redesign project. 
To find a person who fits the bill, you'd choose the Filter option then select from the preset filters or you can type in your own.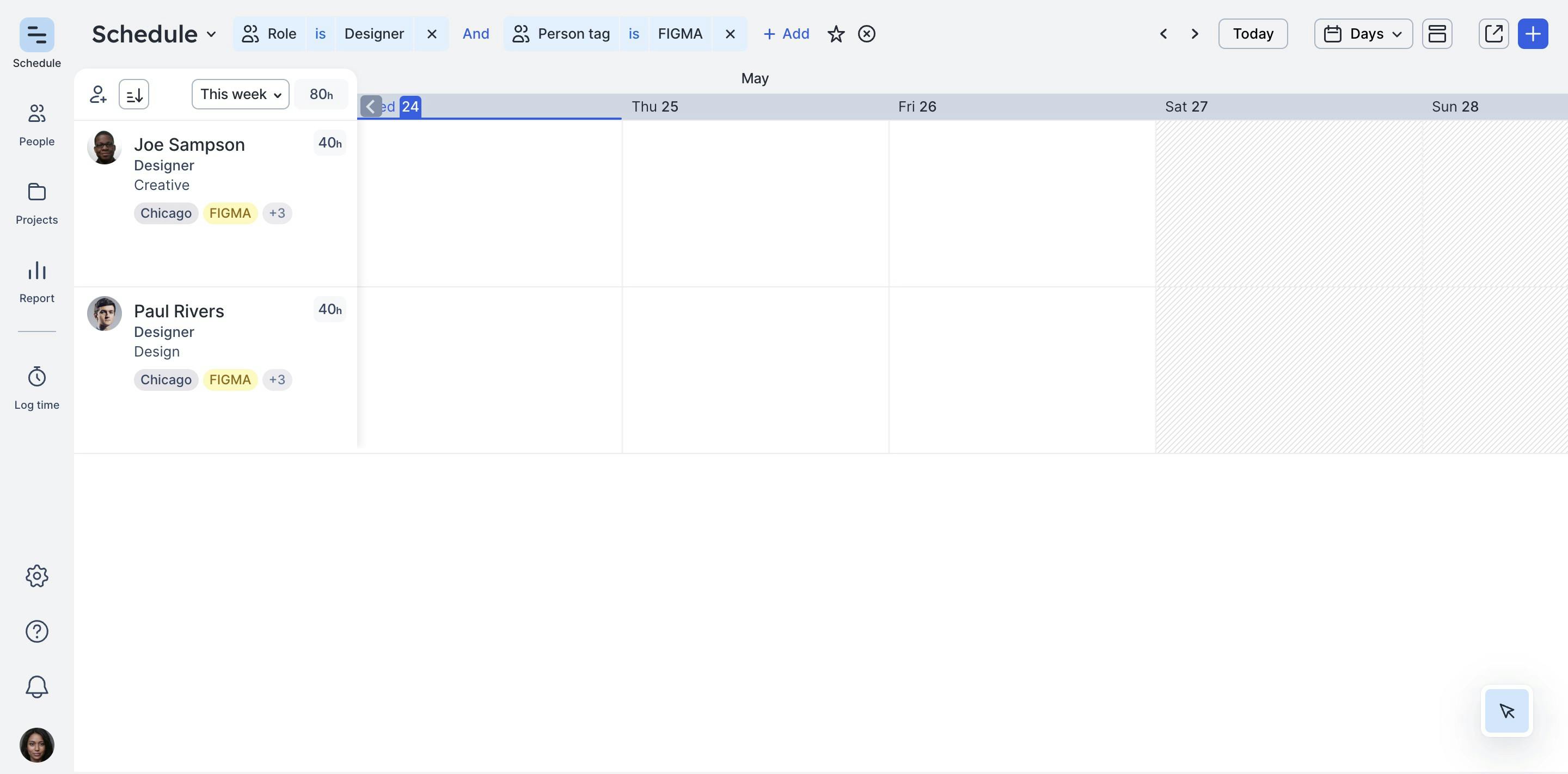 From the schedule, you can also see team members who are available to take on work.
Here are some other things to keep in mind when assigning tasks:
Share dependencies with your team 
It's essential to identify and track all project dependencies, so team members know what tasks they need to do and when to do them. Are there tasks that have subtasks? What are the tasks that can't start before another is finished first? 
Sharing dependencies helps your team avoid bottlenecks and lets them see where they fit within the bigger picture.
Involve your team members
It's easy to put a deadline on a task and walk away thinking everything will get done in time. Asking your team if their workloads can be cleared within the set times ensures they don't feel the tasks are a burden and helps avoid missed deadlines.
For example, instead of a project manager assigning tasks to the team and leaving it at that, they can drop a message in Slack asking everyone to review the deadlines and request changes if necessary.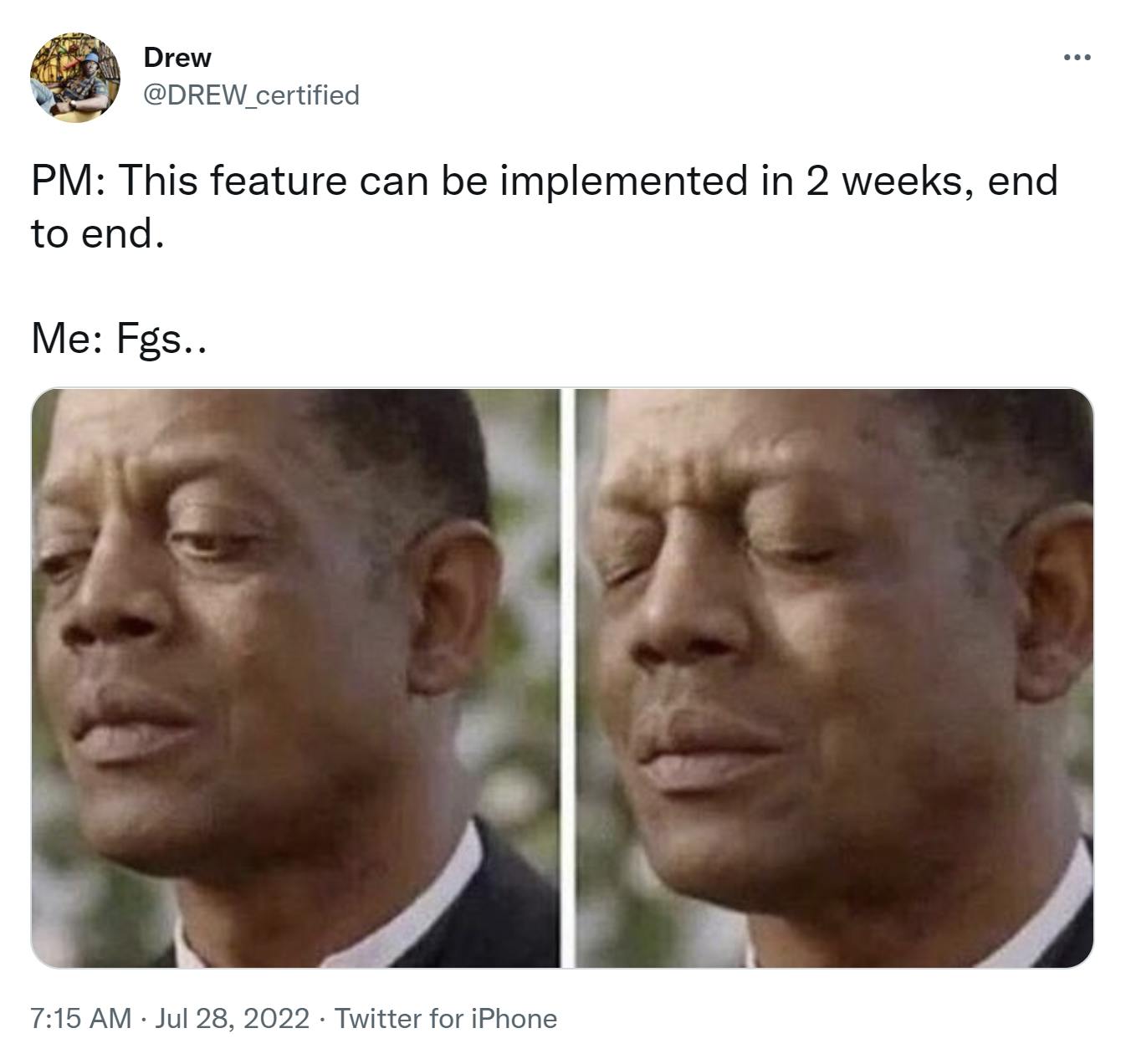 Use mentions on task notes in Float to check in about a deadline
Involve team members in allocation by using @mentions. Get their feedback on a due date or an assigned tasks before scheduling it.
Find out more
Step 4: Monitor schedules and project progress 
Finally, always keep an eye on employee performance and be willing to change things up if necessary.
Monitoring employee workload and utilization rates in real time can help flag any issues and avoid burnout. For example, if you track your team's utilization rates and notice someone above 80%, you can quickly take action and reassign some tasks to someone else. Or, if someone is underutilized, you can investigate why and fix their schedules.
Difficulties with workloads might not always be obvious, so you should check in on your team members through: 
1:1 meetings  
Async updates 
Daily stand-ups 
Status reports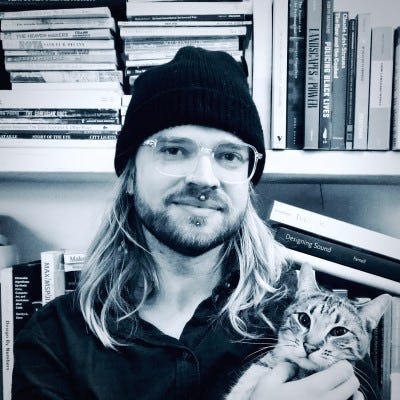 Haakon Jack
Lead Frontend Engineer
Float
How do you know when a team member is overloaded? 
Right now I'm relying on a mix of signals to determine when someone is overloaded, such as;
Keeping tabs on who's merging what into GitHub, and how often
Team members self-reporting when they have too much work to do
PM and managers reaching out to me if they've noticed interruptions in delivery or communication
What actions do you take to reduce the workload of overloaded team members? 
Redistributing work, reprioritizing, and deferring and delaying projects are all potentially on the table. Obviously, we want to keep our commitments, so changing a deadline is a last resort – but shipping an incomplete project isn't really an option, and sometimes there's no choice but to push things back. If I have the capacity, I'll also jump in and help get something across the line, but I have to balance my commitments as a lead.
Schedule sustainable workloads in Float
Float provides you with a visual view of your team's capacity and workload, enabling you to spot and avoid overallocation while scheduling tasks.
Try for free
Balance out workloads 
Whether it's an unexpected sick day or a new project coming in, the balance you have carefully tried to achieve might slip. 
When this happens, you can reallocate tasks or hire extra help.  
Let's say your team has some people allocated 80 hours in a week and others allocated 10 hours. 
In Float, you can easily reassign tasks to people with the skills and availability to handle them. First, filter through the schedule for a team with availability.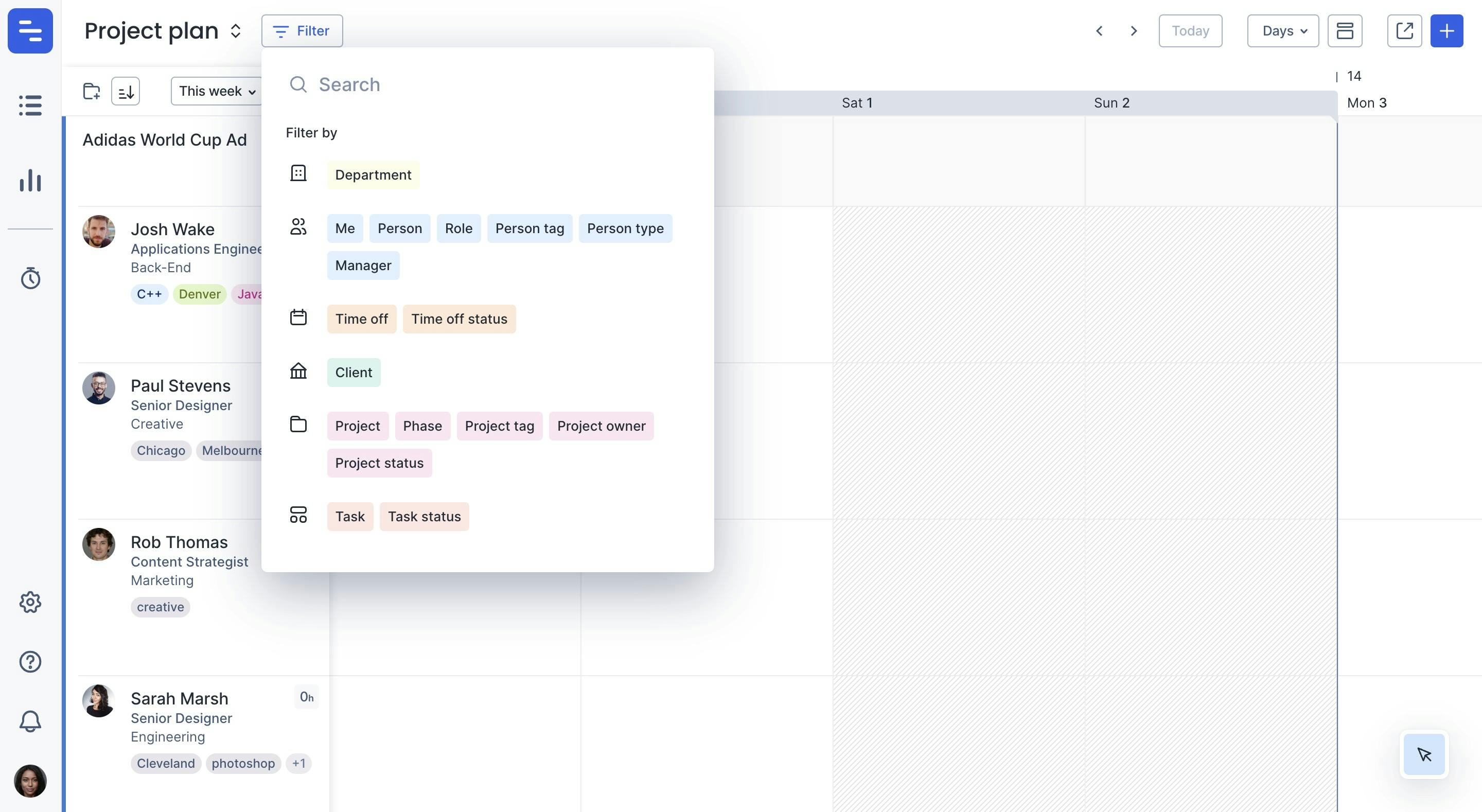 Then drag and drop the task onto their schedule. 
When your team has no space for more work, you can bring in a freelancer for the project's duration. 
Because of how hard it is to find help on short notice, it's always a good idea to keep a running rooster of possible resources you can reach out to. They should have the right skills for the work at hand. 
However, this option would be constrained by cost and time. Do you have enough in the budget to bring on a new person? Do you have time to onboard them? 
A less reactive measure you can take is tentative planning in Float. This feature helps you plan ahead for projects that might not yet be approved. This will help you prepare for future demands on your team's time beforehand. 
Tentative planning in Float
Click Tentative from within the project menu to mark a project as tentative. Then you can assign resources and set timelines without the project affecting the main schedule. A tentative project is usually outlined in color to differentiate it from active projects.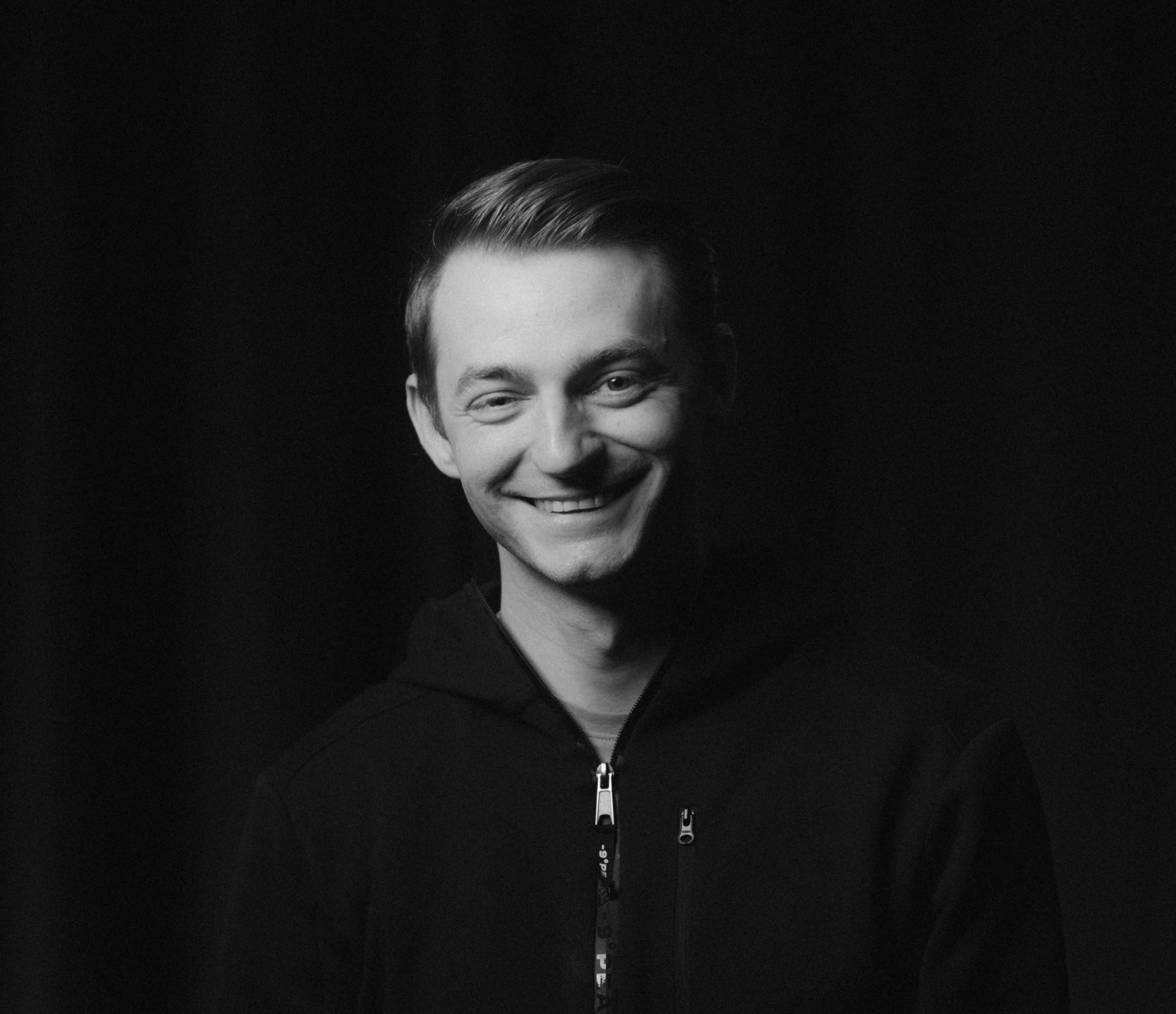 Matt Smith
Producer
Storm & Shelter
Matt Smith is a producer at Storm & Shelter, a content production company. He manages several projects involving both internal and external team members.
Have you ever encountered a situation where you needed to assign a task to someone at the last minute? If so, how did you handle assigning unexpected tasks
Last-minute requests are bound to happen, and it's tough to decide whether to shuffle your schedule to accommodate them. But fear not! Good ol' communication comes to the rescue (again). If possible, gather the key folks involved and brainstorm some potential solutions. It's not one person's burden to solve. In fact, involving the team in devising the plan will give you more ideas and more buy-in. Remember, it's a collective effort.
When a particular team member needs to be shared among multiple projects, what measures do you take to prevent that resource from becoming overwhelmed? 
Let's not forget something crucial: each person on your team is more than just a resource. Treating people solely as assets to be arranged and used has a very real human cost. Take, for example, someone working a grueling 12-hour day on set. It's unrealistic to expect them to be firing on all cylinders the very next morning. That's why it's important to avoid scheduling highly demanding tasks for them during that time. The shorthand of "resource management" to describe teams and individuals is unhelpful. Instead, let's shift our perspective and fully embrace the fact that they have their own needs and limitations. By acknowledging that we are all human, we can foster a more supportive and understanding way of scheduling our teams.
How do you avoid overwhelming a team member who is frequently requested for tasks? 
Context-switching really takes a toll on our productivity. Our team constantly juggles numerous projects, resulting in fragmented tasks and frequent interruptions. It affects our efficiency and puts a heavy burden on our mental load, leading to quick burnout. To tackle the issue, we've implemented a strategy of limiting the number of projects a team member can be scheduled on any given day. On top of that, we actively encourage our team to communicate when they need focused time to tackle their task list without any distractions.
Best practices for managing workloads more effectively
Inevitably, you will run into some bottlenecks while managing your team's workload. Here are some tips to assist in handling them. 
Help team members prioritize tasks  
New research from Maryam Kouchaki, an associate professor of management and organizations at Northwestern University, finds that we are more likely to complete tasks that seem urgent (e.g., replying to a Slack message) rather than important ones (e.g., fixing a bug in software). To avoid cherrypicking while working on multiple projects, you can teach your team members to use the Eisenhower matrix.
To create your matrix, categorize your tasks into four subsets: 
Important and urgent tasks like writing a report that's due tomorrow 
Important and not urgent tasks like asking for a status update from the product manager
Unimportant and urgent tasks like reading emails 
Unimportant and not urgent tasks like scrolling through social media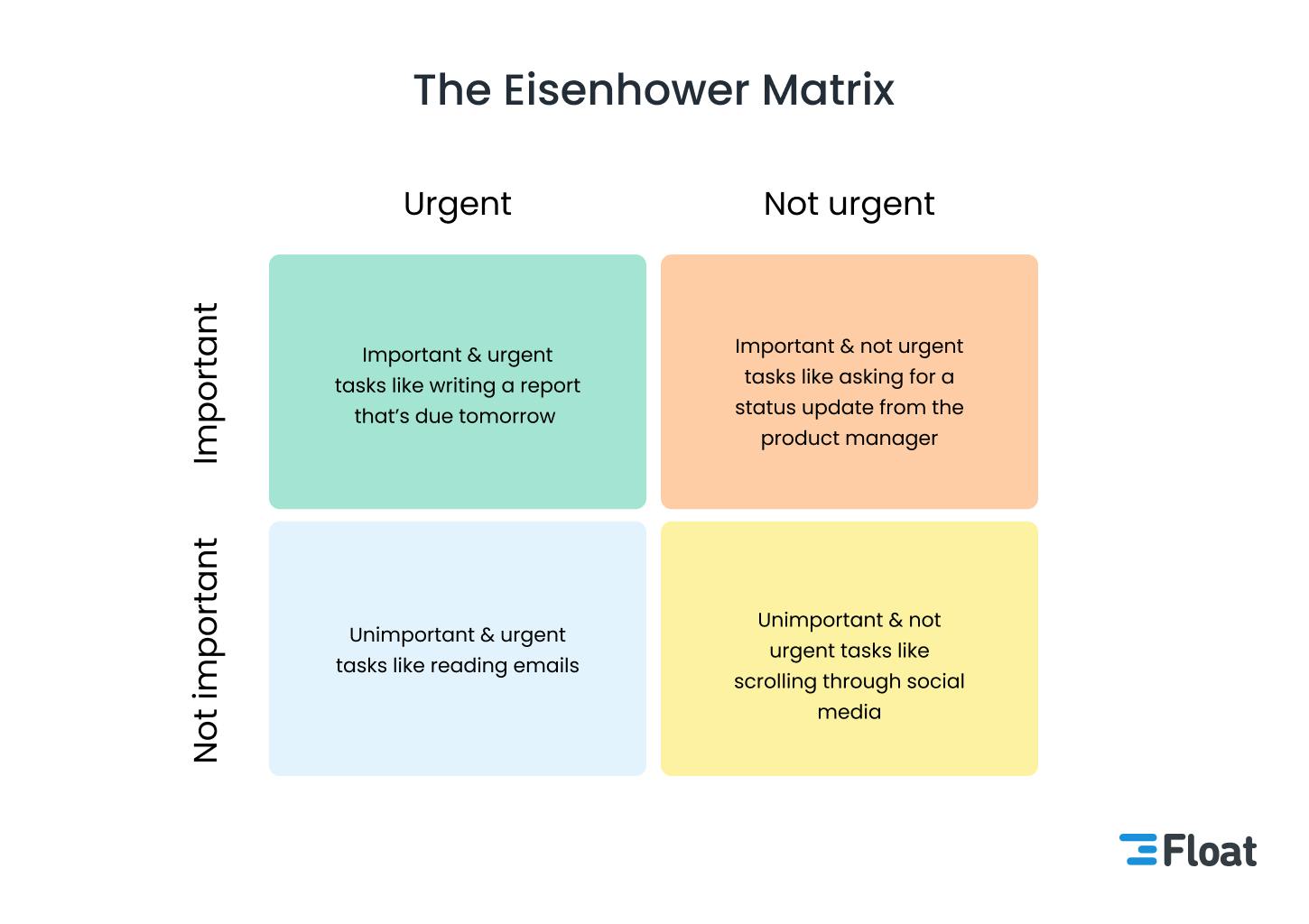 The most difficult or highest priority tasks should be tackled by your team first, not last. Getting the complex tasks out of the way early on in a project can ease the mental exhaustion and stress of a project, especially when a deadline is looming.
"This preference for easy tasks pays off in the short-term with high performance; the department is more likely to finish more tasks. But in the long run, the most learning happens through difficult tasks. When you avoid them, you escape those benefits." - Maryam Kouchaki, Kellog School of Management
Manage your team's capacity on autopilot
Keep your team's availability up to date with live capacity management features in Float. Set custom work hours and days, including future availability changes, e.g., switching to part-time hours. Schedule time off and require managers to approve their team's leave requests. Sync your Google and Outlook Calendar events directly to your Schedule.
An always accurate view of your team's capacity lets you can schedule workloads with confidence.
Try for free
Accommodate different styles
Another fundamental part of managing workloads is recognizing that everyone works differently.
Some of your team might want to work in time blocks. Others may like to knock out complex tasks in the morning and leave their afternoons free for meetings and emails. Try to create work schedules that embrace what suits each team member best.
Advocate for your team 
Sometimes workloads get unmanageable, especially with expanding scopes and short deadlines. Team members can hack their way with productivity techniques, but managers still have a role to play. 
Step in to protect your team from extra tasks and unnecessary meetings when needed. You can also help by drawing stakeholders' attention to problems like short timelines or requesting more resources on a project.
Track hours to validate capacity and plans
A popular way to know how your team's time is spent is to track it! 
Insights from time tracking will help you understand project burndown rates, estimated vs. actual time, and how to plan more effectively for future projects. You'll be able to schedule workloads knowing how long tasks actually take at a team or individual level and avoid schedule conflicts in the long term.  
Use a workload management tool to plan your team's time
Keeping tabs on your team's workload and availability can be time-consuming if done manually. If you invest in the right toolkit, you can automatically track your team's utilization and capacity and see what tasks they're working on.
Float gives you a live view of your team's availability and capacity so you can assign sustainable workloads. The visual schedule helps you avoid overburdening your team and lets you quickly reassign tasks if needed. You can track time in the same place you plan work with easy pre-filled timesheets and insightful reports for planning and forecasting.
Workload management can be complex, but it's crucial to your team's health and your organization's profitability. Make things easier by following these tips. Your team will thank you! 👌
Why not get started with resource management software today? Float provides an overview of your team's workload and helps you plan your projects in one place. Start your free trial here.
---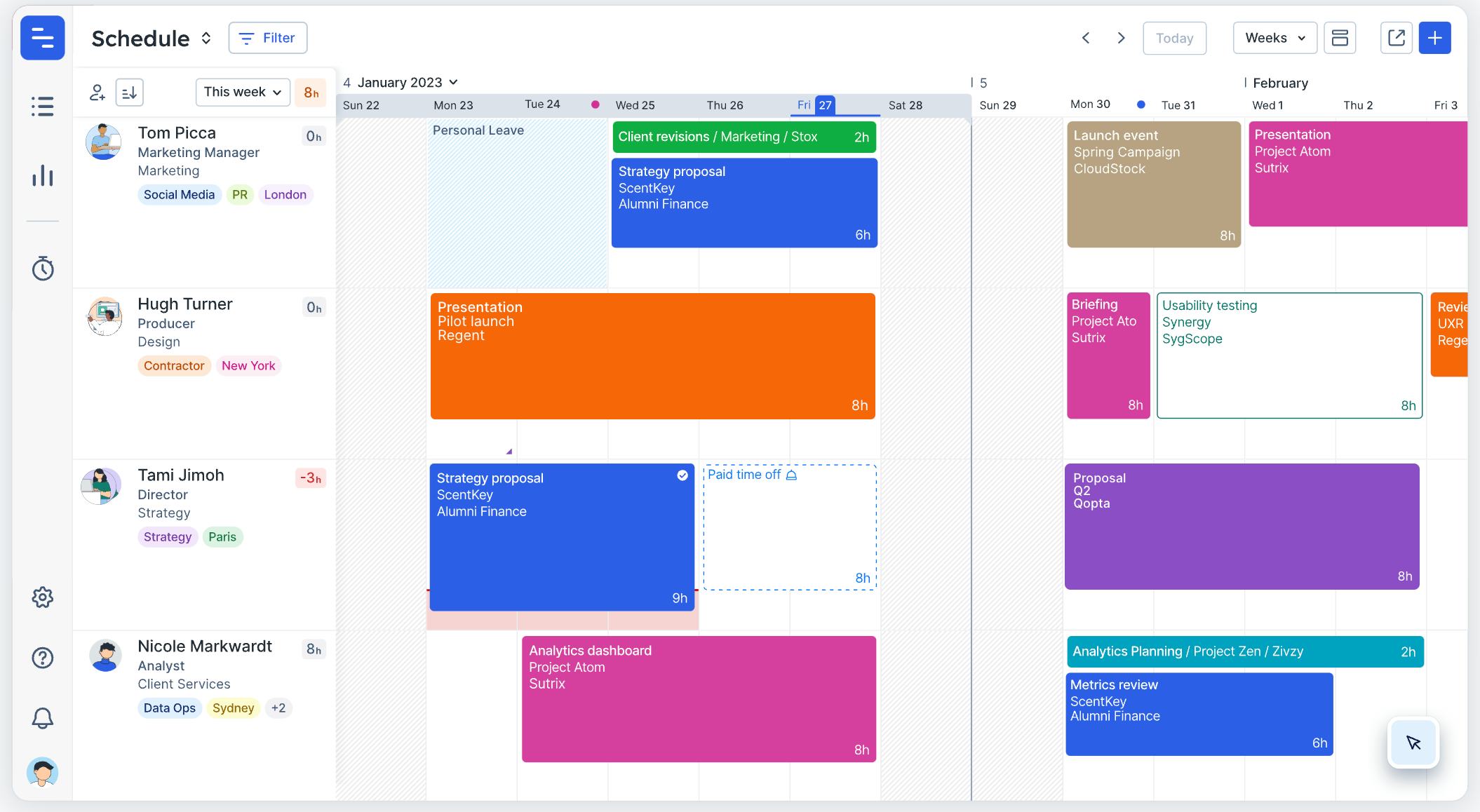 Plan your team's workload with the #1 rated resource management software
More than 4,500 of the world's top teams choose Float to manage their team's workload.
Try for free