Kimberlee Meier
Projects will only make it through your pipeline if your team works together as one to get across the finish line.
---
While it would be nice if projects could magically finish themselves, the truth is, they'll only make it through your pipeline if your team is meeting deadlines, completing tasks, and working together as one to get everything across the finish line.
Jump start your project planning with resource management software
Rated #1 for resource management on G2, Float gives you the most accurate view of your team's capacity to plan projects and schedule tasks with confidence.
Find out more
There are two ways to get from the start of a project to the end: you can either take things as they come and hope (or pray 🙏🏻) that you meet your deadlines and budget, or you can create a project plan and stick to it!
Project planning is about more than simply meeting deadlines and staying under budget. It provides your team a clear path to hit essential milestones, optimize their workloads, and deliver great work on time. It can also help you overcome one of the main barriers to completing a project according to a Wellingtone study: poor resource management.
With the right project planning, teams can overcome barriers and optimize their workflows. In this guide, we're going to break down:
• What project planning is
• How resource planning fits into project planning
• How to create a project plan in 3 steps
Ready to get planning? 📝
What is project planning?
Project planning involves identifying, prioritizing, and delegating the tasks and people needed to complete a project.
Think of it as a project blueprint. It acts as a single source of truth for your team regarding deadlines, milestone dates, and resource capacity. It will guide your team and your decision-making process from the moment a project kicks off until it's ready to be delivered to your client.
Depending on your needs, the project planning document may change or be updated once a project kicks off. With the right software, you can plan projects from start to finish by creating tasks, setting deliverables, and tracking budgets without messy spreadsheets or shared Google docs.
With Float, you can allocate tasks onto your team's schedule, track how much time they're spending on them, and set budgets to manage your expenses. Jamie Bryan, Head of Design at Social Chain says:
"Every project and scheduled resource of our video production team is managed through Float. We needed a system to manage our growing project workflow and more importantly, our expectations of each other. To put it simply, if it's not in Float, it's not getting done!"

Jamie Bryan, Social Chain
75+ peopleManchester, U.K.
Read more about how Social Chain scaled their agency with Float.
How resource planning fits into project planning
The most important part of planning a project is organizing your team.
This is called resource planning, where a team leader allocates tasks and deliverables within a project to the people working on them. It also helps project managers maximize resource utilization and track resource capacity to keep projects on budget.
Including resource planning in your project planning phase allows you to:
• Maximize your budget spends
• Optimize your team workflows through resource forecasts and capacity reporting
• Take a more in-depth look at overspent budgets (and figure out what needs to be done differently next time)
Let's say one of your team members works part-time and does three 10-hour days a week (instead of the usual 9-5). Using resource planning, you can set their individual hours without changing the overall capacity of the rest of your team. This (along with setting different rates for different team members) makes it easy to see when you can schedule tasks and keep track of a project's budget.
Manage your team's availability on autopilot
Keep your team's availability up to date with automated workflows in Float. Integrate directly with Google and Outlook Calendar. Set custom work hours and days. Schedule time off in advance and add a status to let your team know where you're working from.
Try for free
Resource calendars help ensure that your team is only scheduled when they're available for work—which is why it's a crucial part of any successful project planning!
Want to find out more about how resource planning can help you? Check out our guide to resource planning here 📝.
How to create a project plan in 3 steps
1. Set your project goals and tasks
Before you dive into plotting your project onto a timeline, you need to outline and allocate tasks and goals for your team.
This starts with talking to your project stakeholders (like the client you'll be delivering the project to), as well as your team and team leaders who'll be in charge of making it happen. These discussions should hash out the project's needs, budget, deliverables, deadlines, etc.
When the project's stakeholders are all on the same page, you can then create a list of tasks and milestones your team needs to execute in order to deliver the project on time and on budget. Here's a Shopify example of a breakdown of tasks for a new website build: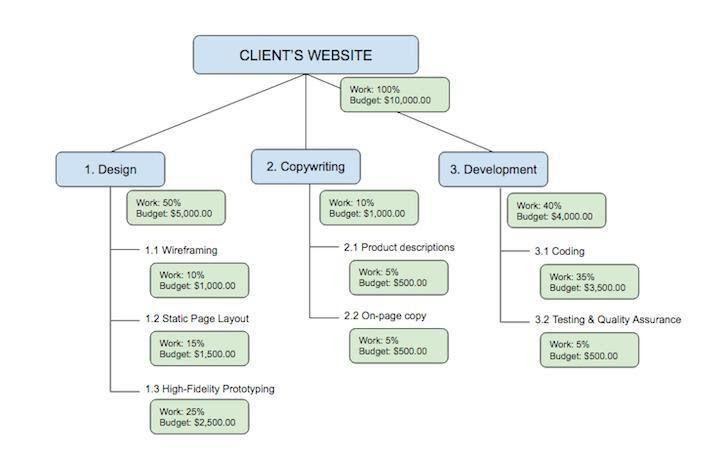 As you can see, the coding and testing parts of the project can only happen once the wireframing, prototyping, and copywriting are complete.
To prioritize which tasks should be worked on first, you can use the SMART principle to guide you. Which tasks are the most important and urgent to get the project delivered? Can they be measured, and how? Who will be in charge of getting each task done? When do you need each task delivered to make sure the project is completed on time?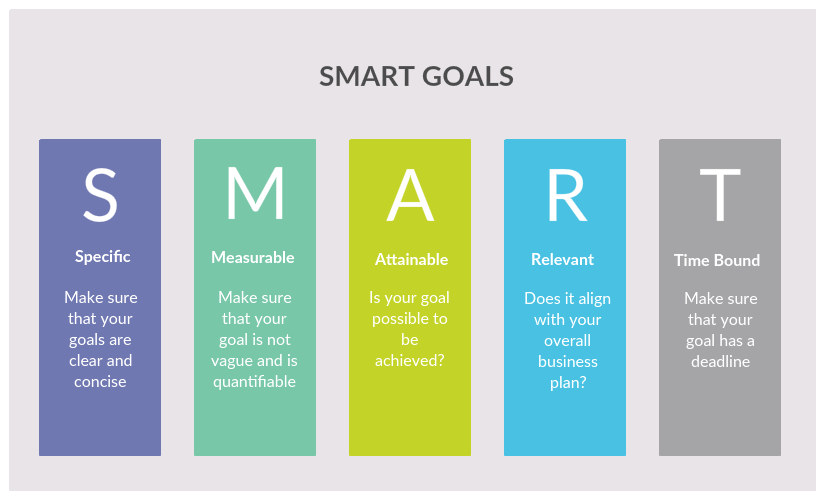 Answering these questions will help you create specific deliverables and plot them on a timeline.
2. Create (realistic) project deliverables
The next step in planning a project is not just to set deliverables, but to make sure your team can actually get them done!
According to a recent study, attempting to run too many projects at once is now the main challenge faced by organizations. Realistic delivery dates ensure your team's calendars aren't overwhelmed and that your projects get finished on time.
Plot the tasks you outlined in step one onto a project timeline, add a rough delivery date for each task and milestone, and then consult your team (this one is a biggie). Project Manager Wes Jones recommends consulting your team in two steps:
👩‍💻 Approach your team individually: If you have a small team, speak with them individually first to see what they're thinking. This makes everyone feel involved and gives them ownership over the work they'll be doing. It also gives you a chance to discover any holes in your project plan and take different perspectives into account.
👨‍👩‍👦‍👦 Then meet as a team: After you have gathered everyone's input and crafted an initial plan, you need to take it to the full team so they can see how everything is starting to fit together. During these meetings, you can finetune things and make any necessary revisions.
3. Plot your project on a final timeline
Finally, you need to take your rough plan back to your team to consult with them on the final details. While it may seem tedious, your team is worth it!
Before you can schedule your team their tasks, you need to know:
⏱️ The amount of effort (hours or days) required for completing the task
📅 Who has capacity on their calendar
✈️ If there are any availability issues you need to know about (like a vacation or other time off) that may impact your project plan
📝 If they need any more instructions to help them get started
Once you've determined that information, you can set a concrete delivery date for each task and schedule it onto the assigned team member's calendar. Using the right tool makes everything a lot easier at this part of the project planning process!
With Float, you can schedule tasks and deliverables to team members for entire projects in a snap. As your teams' rates are tied to their individual profiles, assigning tasks also calculates how much of your budget each person will take up.
Add project phases and create project milestones
Plan projects with precision in Float by adding phases and budgets. Break down your projects into smaller, more manageable parts and assign a budget to track progress.
Try it out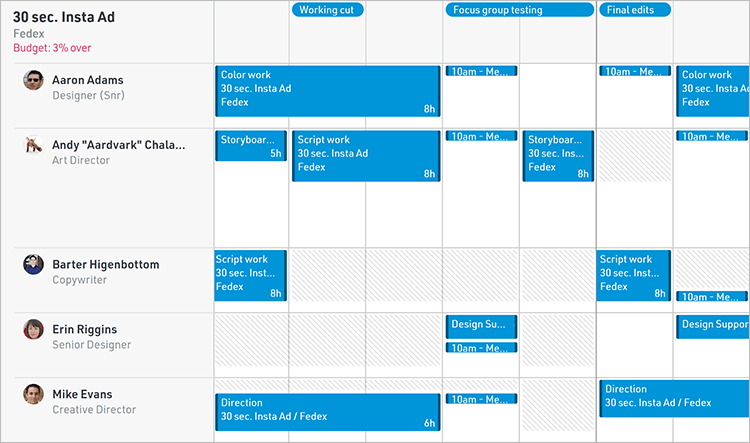 Using the above project example, you can see that a team member has 8 hours per day scheduled for color work, while other people are working on tasks like script work, storyboards, and design support.
Once the project kicks off and tasks are completed, Float automatically tracks how much of the project budget is being used so you can see how many billable hours you have remaining.
Project planning software can help your business
According to Wellingtone's State of Project Management Survey, nearly 50% of project managers spend at least one day manually collating project reports! Project planning software can cut out a lot of the manual effort involved in planning and tracking every task in your pipeline.
Software development manager Roger Barnett says he decided to invest in a tool to improve his team's project planning after initially tracking projects using an Excel spreadsheet. "The ease of use of Float as a one-stop-shop means all the development team (and subsidiary but linked teams) can see important dates like dev complete, bug fix windows, cert windows, and release date," he says. Since moving to Float, he and his team now plan projects by:
• Quickly blocking out time for features and upcoming projects
• Adding notes and details to individual tasks
• Using a holiday and time off structure
• Creating robust financial reports with a very high degree of accuracy for budget per project, per quarter, per annum.
"We used to get by with using Excel, then we invested in Float and it has taken the companies' project planning to the next step. I would definitely recommend Float for small to mid-sized companies—it is a great productivity boost and good way of reporting and seeing issues early."