Elise Dopson
Planning, monitoring, and evaluating construction projects is a challenge. With so many moving pieces, it's easy for tasks to slip through the net or to run out of budget, resulting in projects being delivered late.
When you've got multiple large-scale construction projects on the go, it's also tough to know what team members are doing and their individual impact on projects. And without this visibility, how do you know who to train, hire, or fire? It's near impossible.
But when you follow solid construction management procedures and implement software, it's much easier to understand who's having an impact and the overall success of your construction projects.
If you need any more convincing, take a look at this note from a recent Float champion 🏆.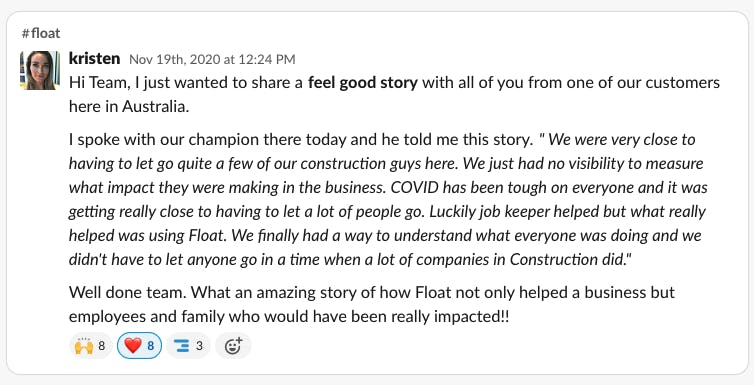 Today, we'll look at the importance of effective construction management, its core principles, and what features to look for in construction project management software. 
Read on to find out: 
What is construction management? 
Construction project manager roles and responsibilities
5 phases of a construction project
Construction project management process and principles
Best construction management software
Opportunities for construction management growth
What is construction management? 
Construction management is a process that enables a project manager to effectively manage a project—from concept, planning, and building—through to completion. Effective construction management should take into account: 
Schedule
Cost
Resources
Safety 
Project scope
Quality
The main goal of construction management is to complete the project according to the owner's predetermined budget, scope, and functionality. 
The key notion of project management is linked to technical variables, like budget and execution. But it also requires clear communication and consistent collaboration between everyone involved, like the stakeholders, contractors, owners, and managers. 
There are many different construction project sectors, including: 
Commercial 
Industrial 
Heavy civil
Residential 
Each of these sectors has its own unique set of challenges and processes for managers to face. For example, a commercial project could require a team of 10,000, while a small-scale residential project may need just 30.
Construction project manager roles and responsibilities
A construction project manager (CM) acts on behalf of the project owner. Their priority is to collaborate with all construction professionals to ensure that they deliver the project on time, at/under budget, and to the required standard.
A construction project manager is responsible for the following: 
Organizing the budget and managing cost estimates
Communicating with stakeholders about any budget or project-related issues
Monitoring staff on the construction site
Ensuring quality control
Coordinating with building and construction experts
Decision making throughout the construction process
Selecting the best-suited construction method and strategies
Communicating technical contract details with workers and managers
Negotiating work timetables
5 phases of a construction project
While every project is unique and requires its own processes, construction project management is typically divided into five stages.
1. Initiation
Initially, stakeholders determine the goals and viability of the project. This is an essential part of the whole project planning process since it can determine whether the project is worth pursuing or not. 
Depending on the project, you may want to conduct a feasibility study and, based on its results, follow the recommended solution or plan. Once you've decided on the steps to follow, you'll need to create a project initiation document (PID). This is the foundation of the construction plan. 
2. Pre-construction
Next, in the pre-construction phase, project teams need to do all the relevant planning in time for kickoff at the job site. For starters, you need to plan: 
Estimated time and schedule
Project costs
Resources
According to these elements, you need to create a realistic strategy that the rest of the team can follow.
To keep the team and project on track, producing a work breakdown structure (WBS) is a good idea. This acts as a checklist of all the work, broken down into digestible chunks. It's also important to implement a solid communication plan. Poor communication can result in lots of time-consuming back and forth and misunderstandings between general contractors, managers, and stakeholders.
Outline when stakeholders can expect to receive project updates and in what format. That way, everyone will know when to expect updates. Say goodbye to stakeholders chasing information about what's going on! A thorough and strategic approach keeps everyone in the loop and ensures communication continues to flow instead of creating bottlenecks during the project lifecycle.
Next, it's time to build a risk management plan. The team needs to evaluate all the possible threats that could negatively impact the project and determine suitable solutions.
3. Procurement
Procurement in construction project management is essential for ensuring you have all the right resources before you begin.
This phase goes hand in hand with the pre-construction planning phase. Gather raw materials, team members, services, and other resources you need to complete the project.
Before you start investing in project resources, it's vital to have a well-defined budget that stops you from getting off track before the project begins. As you're making purchasing and procurement decisions, any necessary legal contracts must be drafted before commitments are made. That way, you won't be caught off guard later down the line.
4. Construction
It's time for construction to begin and to put your project scheduling into action. During this execution phase, you'll need to divide tasks between the actual execution and the monitoring or controlling of the project.
Contractors are responsible for getting things done according to the pre-agreed plan. Project managers need to make sure tasks are completed on time and to the required standard.
As they monitor progress, they should make any necessary changes to the workflow or tasks. Project managers should prioritize tracking all project progress and relaying changes to the rest of the team and stakeholders.
5. Closeout
During the project's final phase (or closure stage), the manager reflects on what went well, possible failures, and anything that could be improved in the future.
At this point, you usually need to create a project report, check your final budget against your initial calculations, and relay any information about tasks that weren't completed on a punch list.
This evaluation will be valuable for planning future construction projects.
Construction project management process and principles 
Understanding core processes and principles will give your construction projects a firm foundation before you head into execution mode.
Bidding process and contract types
Before owners spend any budget on the project, they need to start a bidding process. This is where the project owner approaches contractors to ask for project bids. Construction managers then offer bids to the owner. 
A bid includes details of the necessary budget for the completion of the project and anything else the contractor needs from the owner to start the project. 
There are two types of bids: 
Open bids. Public projects use open bids. Any contractor is invited to make an offer. An open bid is usually promoted publicly. 
Closed bids. Private projects generally use closed bids. This is when the project owner sends a bid invitation to a set of predetermined contractors. 
Following bid collection, the owner selects their chosen contractor through one of several methods:
Best value selection. This method weighs both expertise and cost. Here, the owner is selecting the most appealing bid according to both price and quality.
Qualifications-based selection. This process is used when expertise and qualifications are the only criteria for making a decision. Owners send a request for qualifications (RFQ) to help them gain more information about the construction management company's experience and skills. In this case, the cost is less important. 
Low-bid selection. Here, the priority is the cost. Construction management businesses present the lowest bids for which they're prepared to complete the project. The owner would then select the lowest offer. 
As soon as the bid selection is made, companies and project owners must agree on the type of contract. There are four different contract types to choose from:
Lump sum. Here, the owner and the contractor agree on a fixed price for the whole project. The price stays the same, even if the project's total cost ends up being higher or lower than the original budget. This is generally the most popular option and works in the owner's favor, as they won't need to worry about any unexpected costs or price increases throughout the project. 
Cost-plus-fee. In this case, a cost-plus-fee agreement works in favor of the contractor. In addition to the project's total price, the owner must pay any other unexpected expenses, like the need for subcontractors at the project's completion. 
Guaranteed maximum price. Similar to a cost-plus-fee contract, this agreement's key difference is that there's a maximum set price that construction firms cannot surpass. 
Unit price. If it's proving tough to determine the final price in advance, this is usually the chosen method. The project owner puts forward materials with a certain unit price to lower spending. 
Cost, budget, and finance in construction management
Setting a realistic budget is one of the critical elements to be considered when you begin putting together a construction project. It also happens to be one of the most challenging parts of project planning. 
Getting it right at the beginning can lay the foundation for a successful and efficient construction project. As a guide, there are four key fundamentals project managers should remember: 
Project analysis. First, project managers need to take stock of all the objectives and limitations the upcoming project involves. That way, they'll have a clear idea of the project's ultimate goals and what needs to be done to get there. 
Budget estimation. When you know what you want to achieve, you need to align your budget with a clear project timeline. This is the time to ask for bids from contractors, as well as figure out all your procurement costs. 
Cost tracking. While your project is in progress, it's vital to track project costs accurately. This will enable you to identify any possible overuse or underuse of resources. Data like this is essential for making any necessary resource allocation changes.
Accounting. An efficient accounting team will help you keep all your financing on track and prevent budget overspending. 
Best construction management software
Construction project management has multiple moving pieces for team managers, project owners, contractors, and stakeholders to track. Doing this manually is complicated, if not impossible, and leaves you open to human error. 
Construction project management software is a centralized collaborative platform that enables everyone working on the project to stay in the loop. 
Use construction project management software for:
Scheduling tasks and contractor hours
Storing and managing all project-related documents, like blueprints
Assuring quality 
Managing contracts and permits
Risk and safety assessment
Updating stakeholders on progress or delays
Creating summary reports
Streamlining your CRM and accounting software, legal and compliance, bidding software, and takeoff 
Desktop vs. online software
As you choose the right construction project management system, you first need to decide between desktop or online software. Online software has the key advantage that you can access it from anywhere with an internet connection (you're not dependent on installing a large desktop software file and using it from just one device). 
If you choose construction project planning software like Float, you'll also have the added bonus of an iOS and Android app, so you can easily plan and track projects on the go (or onsite).  
Must-have construction project management software features
So what are the key features you need in your software? Let's take a look at all the essential features that Float and some other construction project management software offer to ensure your projects run smoothly. 
Capacity management 
Ever booked a project only to realize half your team is out of office on the scheduled kickoff date? It's a project manager's nightmare! But accurate capacity planning features that automate managing your team's availability will ensure you can say goodbye to overbooking your team or putting people on projects that don't match their skill sets.
The best way to plan capacity is to integrate your software with Google and Outlook calendars, import public holidays, and set any custom work days so that all of your team's availability is in one place. 
If hours change in the future, schedule automatic alerts to let other team members and managers know instantly. 

Resource allocation and management 
Your project management software needs to be able to handle vast numbers of team members and different resources. After all, the last thing you want when you've taken on that massive project is for your software to get glitchy and only handle half of your requests. 
Fast and easy-to-use resource scheduling features are key. Float can handle teams of 10 to 10,000+. There are also bulk scheduling tools to make changes fast. 
As we've mentioned, sticking to a clear budget is vital in all project management. It's key that your software lets you easily set a project budget so you can forecast final delivery and track spending in real time. 
Depending on the project, you may want to set different budgets. For example, you may set hours to be spent on a project, the fee by project, the hourly fee, or hours by phase. You may also want to set tasks as billable or non-billable so that different project elements contribute to your budget or are eliminated. 
Task management
Once you're clear on who's got availability, when, and which projects you can take on, it's time to use project management tools to create tentative tasks. 
Later, timesheets will help you track how long each project took and whether it matched your predictions. This ultimately will help your team's time management and help you build more realistic project plans. You can also view each team member's output and evaluate if task distribution was fair.
Adding task dependencies helps see which tasks need to be completed before starting another one. Dependencies are vital for prioritizing tasks and following the workflow. 
In Float, it's easy to link task dependencies so you can see competing priorities and visualize everything on the schedule. You can also automatically move related tasks together when a project's timeline changes. 
Integrations 
The whole point of construction project management software is to make everything run as smoothly as possible. Look for integrations with your project management software so that any updates can be made instantly across the board without having to double-check other platforms. 
For example, Float has integrations with project management software like Asana, Jira, Teamwork, Trello, and WorkflowMax. 
In addition, if your team likes to use Slack to communicate, a handy integration can send your team their work schedule, reminders to log their time, and keep everyone in the loop about important changes.
Different views
Some days you'll need a broad overview of the project from start to finish, and on others, you'll need to zoom in on the finer details. Gantt charts are helpful for planning out a project's duration, the resources needed, and the order for completing tasks.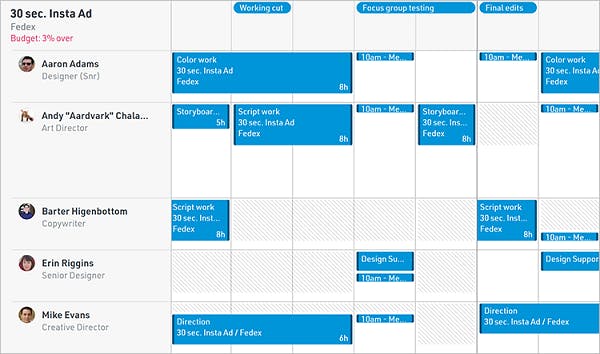 In Float, a dedicated project view shows the current budget status, a full breakdown of your team, and the tasks they're working on. You can also add project milestones to help you track project progress and key deadlines.
If you take on another similar project in the future, you can duplicate an existing project to mimic similar tasks as your own style of project template. For instance, in Float, you can use project phases to break down your project into smaller manageable chunks or groups and move tasks around according to timeline changes.
Reporting
Reporting tools are essential for pulling vital project stats and evaluating project progress, success, and failure. 
In Float, dedicated project reports show all the numbers you need to know. View budgets, your utilization, logged hours, and your project totals at the client level. Access to these reports helps keep present projects on track and helps you better plan future ones.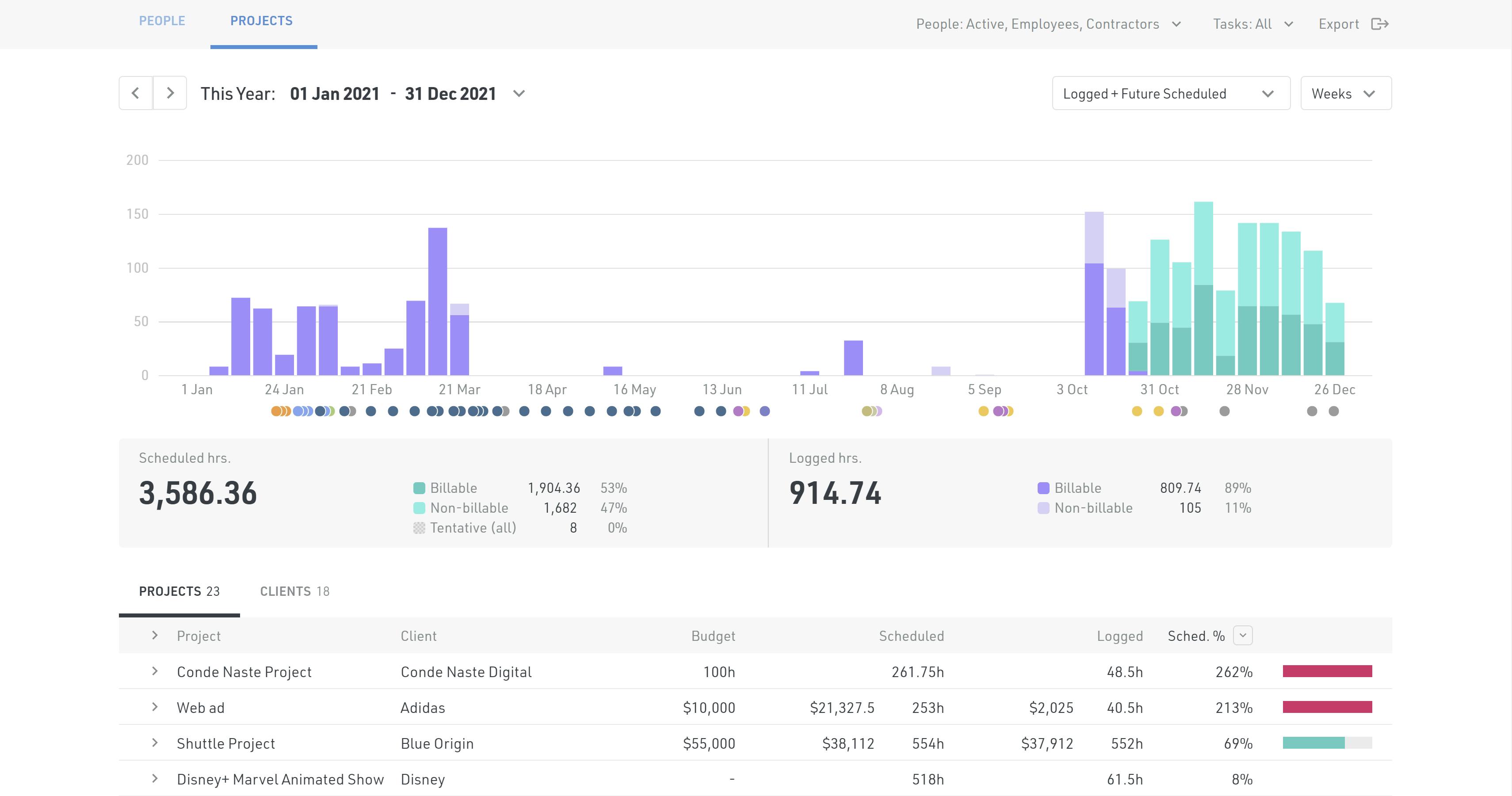 Implement construction project management software for better visibility 
Large-scale construction projects are complex. With so many resources to allocate, tight budgets to follow, and different team members to monitor, it's no wonder things can get out of control when you rely on old manual project management methods. 
With Float construction project management software, you can hone in on the details and track where your budget is going, who's working on what, and that the project delivery is to a high standard.
Say goodbye to vague updates and unclear estimations. Instead, always know what's happening and stay on track for a successful construction project.