Challenging Our Hiring Practices as We Grow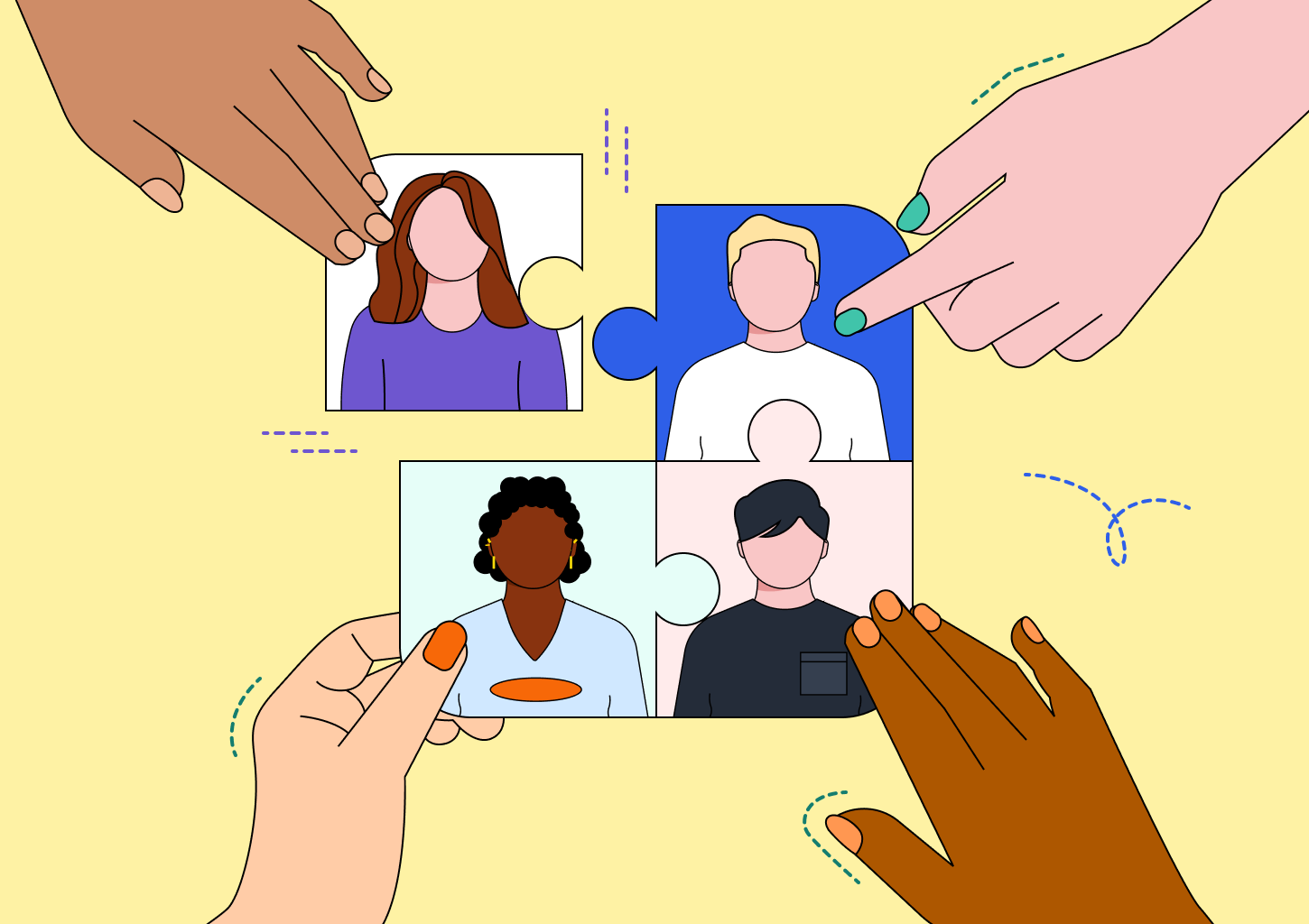 When I first joined Float almost two years ago, our hiring practices were not much different from other medium-sized tech companies. We posted a job, filtered candidates, conducted interviews, and made an offer when there was a good fit. That process served us well for many years.
A deep personal value of mine (and also a value at Float) is to continuously improve. Resting on our laurels is just not part of our DNA, and we are always asking ourselves, "How can we do this better?" Sometimes this is triggered by a specific pain point, but often, we challenge ourselves because we want to keep pushing boundaries and provide everyone involved in the hiring process with a better experience.
While the fundamentals of our process haven't changed, the transparency, metrics, and expectations have. Here's how we have evolved.
A job requisition template for a more deliberate hiring process
Float has always taken a purposeful approach to hiring and growth, which go hand in hand. Each role is strategic, and hiring managers think about why the role is needed, who they are looking for, and what will make a person successful in the role.
Twelve months ago, this was a much more ad hoc process. We noticed that each manager had their own way of working through this information, preventing consistency in the hiring process.
We developed a job requisition template to support managers and create a more streamlined and consistent process for each role. It provides all the questions our talent, people & operations team needs answers to and examples of how to think about communicating the information. It's not rocket science, and the template certainly isn't fancy. Still, it allows us to support a very busy and high hiring velocity down the pipeline that would otherwise be tedious and unclear internally.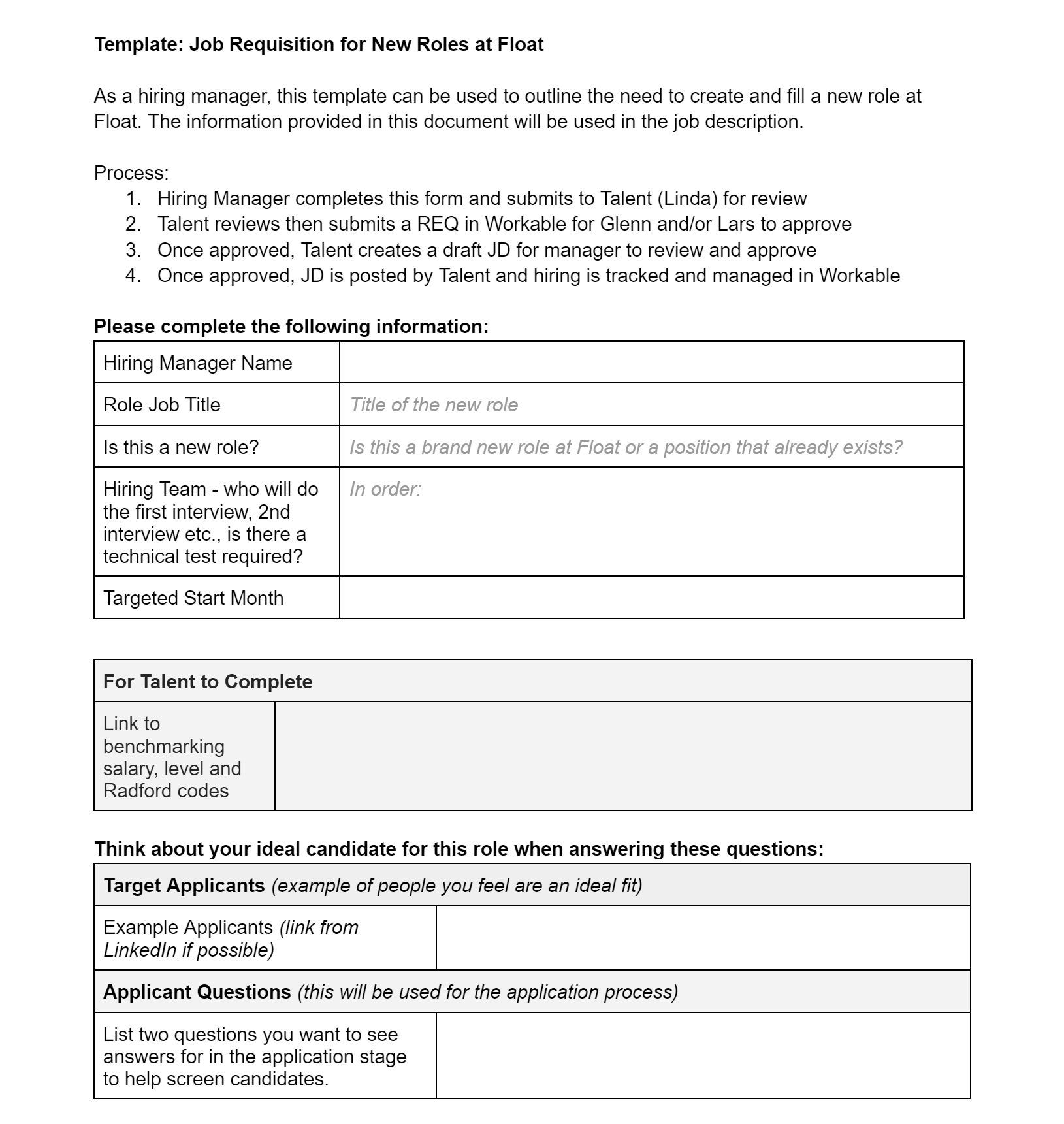 As we continue to grow, we've also started automating some steps in the hiring process to further streamline things for our hiring team and candidates and become more open and transparent in reporting hiring statuses. We've automated the following into our ATS:
An email response with additional information for all applicants
Global background checks
Offer letter templates
As a fully remote company, siloed communication is easy to fall into. We've ensured that all managers and company leaders have a holistic view of the hiring updates weekly to keep everyone on the same page. This mitigates the you don't know what you don't know conundrum.
Developing the hell yes scorecard
Things felt unclear regarding hiring metrics and how our team aligned on a candidate. We wanted a diverse set of feedback but lacked common terminology, which made interview feedback inconsistent.
We developed a hiring scorecard called our hell yes metric to do better. It looks at three key areas: capability (skill set), capacity (goals), and alignment (values + mindset + working style). It's not enough to have functional fit—what we look for in terms of previous relevant experience and education—we also believe that value alignment is just as important in setting people up for success at Float.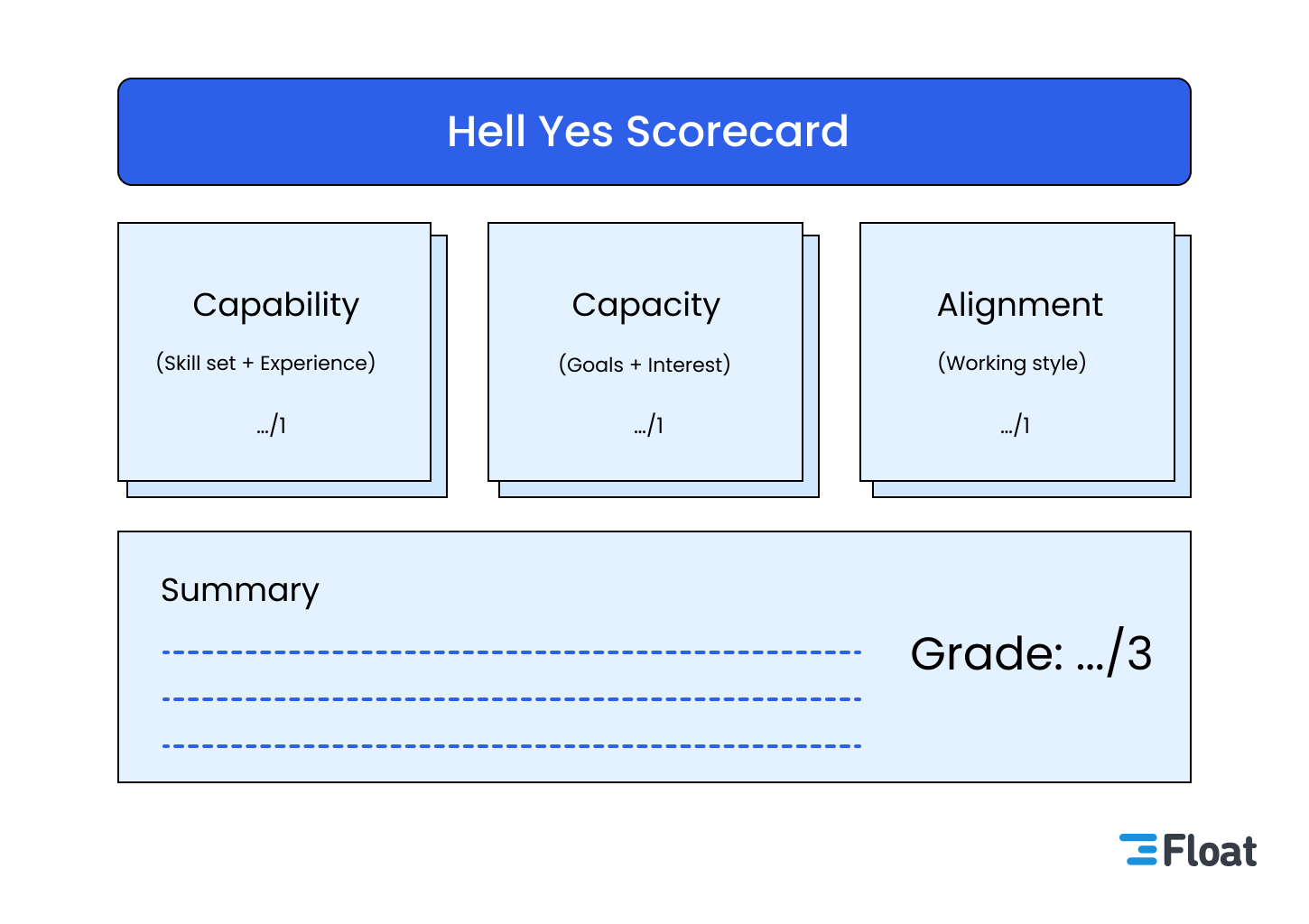 Each stage of our hiring process considers these aspects and provides feedback on each. So when we're discussing a candidate, we're always linking it back to these three criteria sets. The awesome part of this scorecard is that every person brings different perspectives into each one, giving us much richer insight as a team.
Seeking feedback: wins and loses as data points
Hiring is both an art and a science. Unless you're a mind reader or have a Magic 8 Ball, you are relying on a best guess based on experience and the data collected. People are complicated, and as much as we want to get it right all the time, the truth is that we don't. By treating wins and losses as data points, we can look back, see trends, adapt, and do better moving forward.
A win is someone who has joined Float and successfully worked through their eight-week onboarding process. They have found their groove and voice and are diving right into the work and thriving. We're really happy to note that this is the majority of experiences. Even with wins, we reach out for feedback, asking what worked for them, where the roadblocks were, what information was missing or hard to find, and what is one thing they would change.
This quarter, we've developed a survey that will go out to new team members (and even to candidates in later stage interviews) to get their feedback. This way, we can track the data and identify trends on what works well over time.
Flipping the coin, we do have occasional losses. It's never easy, and we take these very seriously. In fact, with both involuntary terminations and voluntary separations, we extend the offer of an exit interview to get feedback on what didn't work and learn firsthand where the team member felt there were gaps. We also track these data points to share insight with the team and do better in the future.
Moving to inclusive language: cultural add vs. cultural fit
Most folks are familiar with cultural fit and its intention—hire someone based on whether their values, goals, and working styles align with our team and culture.
Yet, fit can also encourage biases and groupthink and can create a culture that is not inclusive or open to new ideas. Cultural add opens things up a bit and encourages hiring people who bring in new ways of thinking and could challenge the status quo; both  important factors to a culture that is looking to continuously improve.
Studies also show that teams with diverse thinking are smarter and do better work. "People from diverse backgrounds might actually alter the behavior of a group's social majority in ways that lead to improved and more accurate group thinking, note David Rock and Heidi Grant in the Harvard Business Review.
Looking back to go forward
To support our hiring in the first half of this year, we brought on our incredible talent coordinator Romina in Q2. Now, as we slow down our hiring velocity in Q3 and Q4 this year, we are using the opportunity to reflect again and take the time we need to continue to build on the foundational elements.
We'll also be able to leverage the feedback and the experiences of all the new team members and start the cycle of continuous improvement again so that we're starting 2023 strong.
"When your mind goes from 'work is work, and you are not meant to like it' to being part of a community that naturally strives for better,  it inspires you to be your best self through work and life. To feel confident and strong because there is a sense of purpose, and you know you have made the right choice and the right move." - Romina Aranzola, Talent Coordinator
In all the hustle talk we hear about growth, one key topic is missing—reflection.
Reflection allows us to learn and move forward in a better way. Changing our cultural fit criteria to cultural add, establishing more supportive processes, and leaning into difficult conversations to gain valuable feedback are all part of our deep desire to continuously improve as individuals and an organization.
---
Get exclusive monthly updates on the best tools and productivity tips for asynchronous remote work
Join 100,000+ readers globally