There's something oddly satisfying about diving into a project's work breakdown structure (WBS) phase. After the sometimes laborious effort of finalizing the project charter, I can finally sit down and start figuring out the nuts and bolts of how this whole thing will work.
For many project managers, the WBS is the crucial step that bridges the gap between theory and practice, laying out the blueprint for successful project delivery.
We'll walk you through the essential components of a WBS, why it's a critical tool for project planning, and the steps you need to take to create one. We've also included three free downloadable templates to help streamline your WBS creation process!
Components to include in a work breakdown structure
The term work breakdown structure is an apt description of the planning exercise you are doing. When you create a WBS, you take the work required to complete the project, break it down into discrete tasks, and structure those tasks hierarchically to map out the dependencies between them.
For instance, in a website launch project, you might have design-related activities and development-related activities. It's important to number the different elements of a WBS to distinguish between them, as shown in the graphic below. 
A WBS dictionary elaborating on each work package and any conventions used in developing the WBS should also accompany the WBS.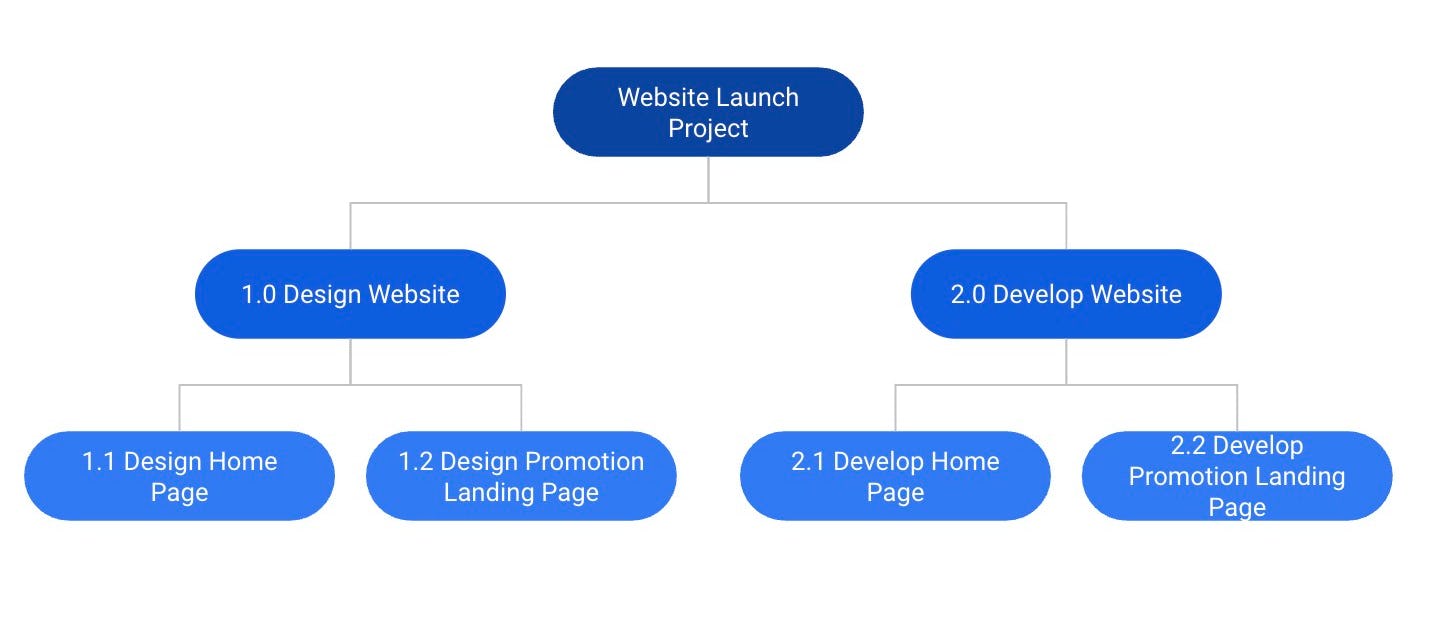 Why your project needs a work breakdown structure
Sure, your client may ask for a work breakdown structure (WBS). But even if they don't, creating one during the project planning phase can significantly benefit your project execution.
A WBS helps you:
Clarify the project scope, breaking it into manageable tasks for your team to execute.
Create a scope baseline that helps you track progress against project goals.
Ensure accountability across your project team by defining roles and responsibilities for specific tasks.
A WBS is also a key input for creating a project schedule, helping you to better manage time and resources.
7 steps to create a complete work breakdown structure
Creating a WBS can be broken down into seven key steps:
Identify project goals and deliverables: Start by reviewing your project charter, scope statement or statement of work to refresh your understanding of the goals and deliverables for the project. Then, consider what specific outcomes or deliverables you need to produce to achieve those goals. Whereas a project charter explains why you're doing the project, the WBS helps further delineate the what and the how. Organizing the WBS according to the goals outlined in your project charter ensures that you don't miss any key activities required for project completion. 

Identify steps for producing deliverables: Once you have a list of deliverables, break them down into smaller, more manageable steps or tasks. Think about the specific activities required to produce each deliverable, and list them out.

Number tasks hierarchically: Assign each task a number to create a hierarchy of tasks. Start with the main deliverables at the top level, and then break them down into smaller sub-tasks. I wouldn't go more than three or four levels deep into subtasks here; otherwise, the WBS gets too unwieldy.

Sequence the steps: Determine the order in which tasks must be completed, considering any dependencies or constraints. For example, some tasks may need to be finished before others begin.

Estimate level of effort: As part of your estimation process for the project, assign an estimated level of effort to each task. You can use a T-shirt sizing methodology to categorize tasks as high, medium, or low effort. This will help you get a general sense of how much time and resources each task will require.

Schedule the tasks: Use the estimates of effort to create a project schedule that outlines when each task will be completed. Make sure to take into account any dependencies or constraints.

Assign staff to tasks: Assign team members to specific tasks based on resource availability. Consider team members' skills, availability, and workload when making assignments. Resource planning software like Float can help you assess available resources and forecast future work.
Once you have completed the WBS, you can use it as a guide to create a detailed project schedule. The schedule assigns durations and dates to key tasks and maps out cross-functional dependencies to help you stay on track.
Schedule tasks with confidence and track capacity with Float
Get an accurate and live view of your team's capacity to plan projects and work with confidence. Allocate tasks onto your team's schedule, track actuals vs estimates, and make the most of your team's time.
Try for free
Work breakdown structure templates
Using a WBS template can save you time and effort in the project planning process, allowing you to focus on your project's specific details rather than formatting your document. We've provided free templates below to help you get started creating your own work breakdown structure.
WBS [Spreadsheet]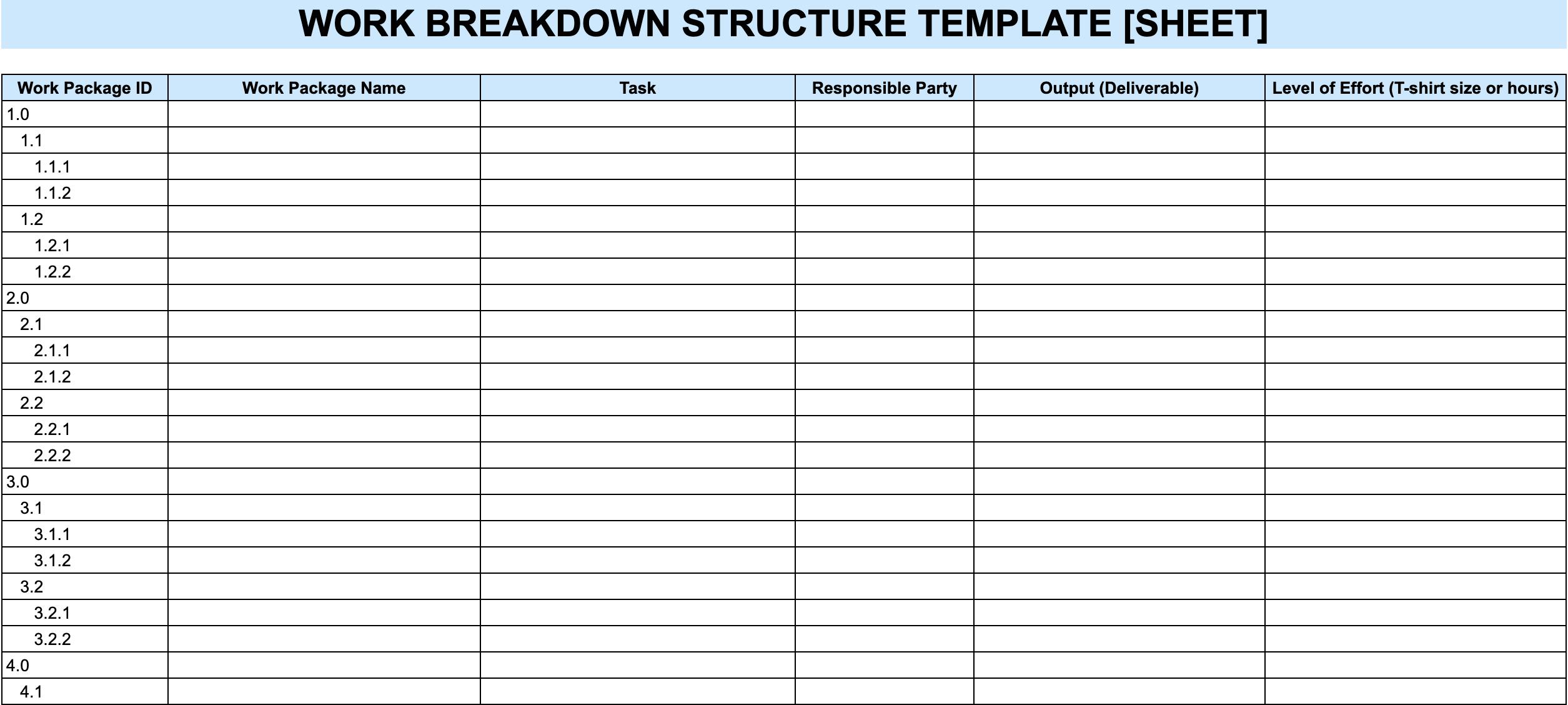 WBS [Hierarchical diagram]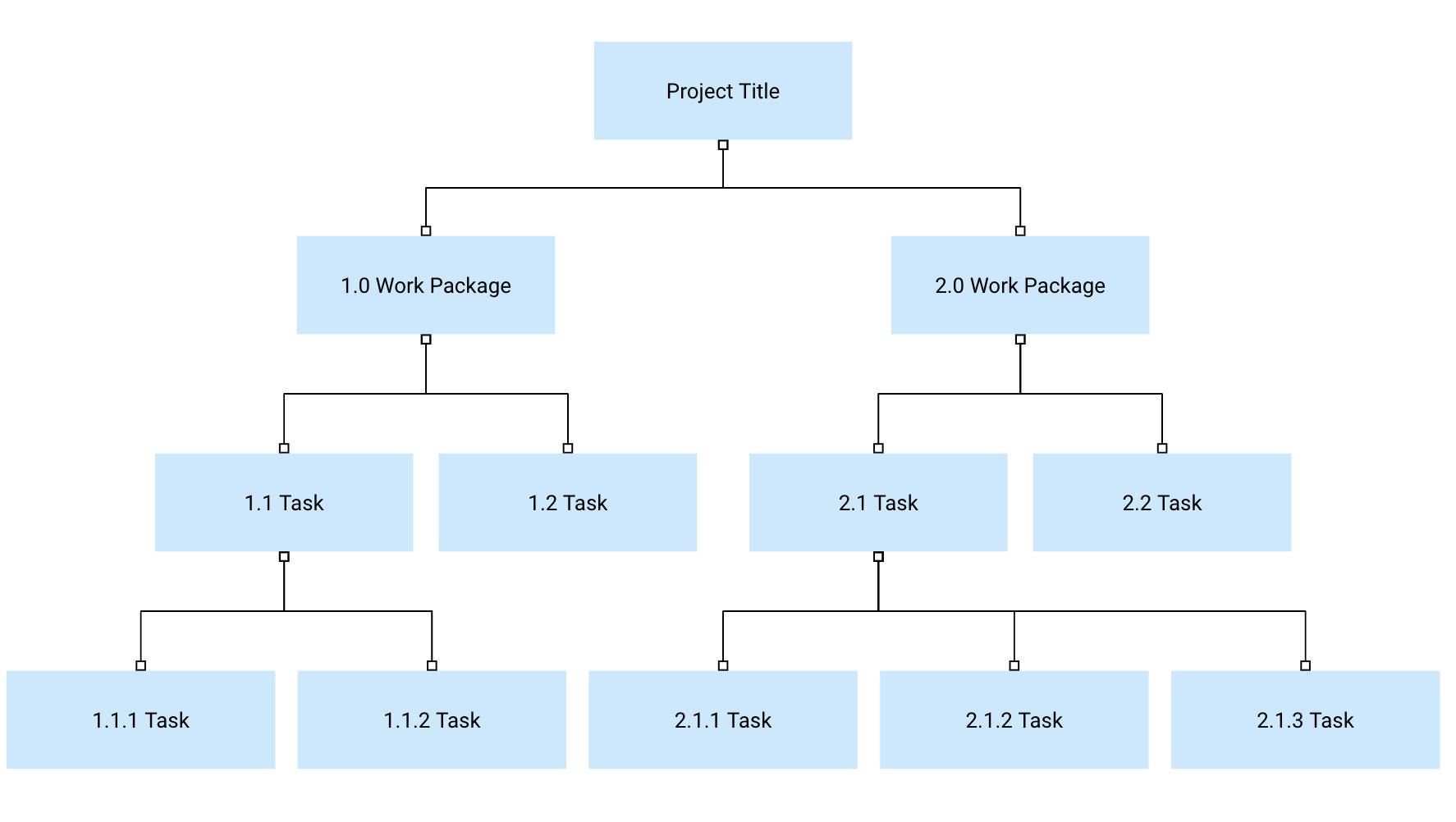 ➡️ Make a copy in Google Slides
WBS [Tree diagram]
➡️ Make a copy in Google Slides