Jess Thompson
Time tracking helps managers understand how their team's time is actually spent and allows them to create more accurate project plans and make better resourcing decisions.
Insights from time tracking close the loop on your planning by knowing how long tasks actually take to complete. Understanding how your team spends their time enables you to optimize how work is assigned and create a more efficient workflow.
This guide will walk you through how to use Float's time tracking and reports for a more accurate snapshot of your team's time so you can schedule sustainable workloads and help folks make the most of their time at work.
Make submitting timesheets easy for your team

The last thing anyone wants to do on a Friday afternoon is spend time racking their brain to remember how many hours they spent working on X, Y, and Z during the week.
With Float, your schedule generates timesheets mapped against planned work for quick and easy time logging.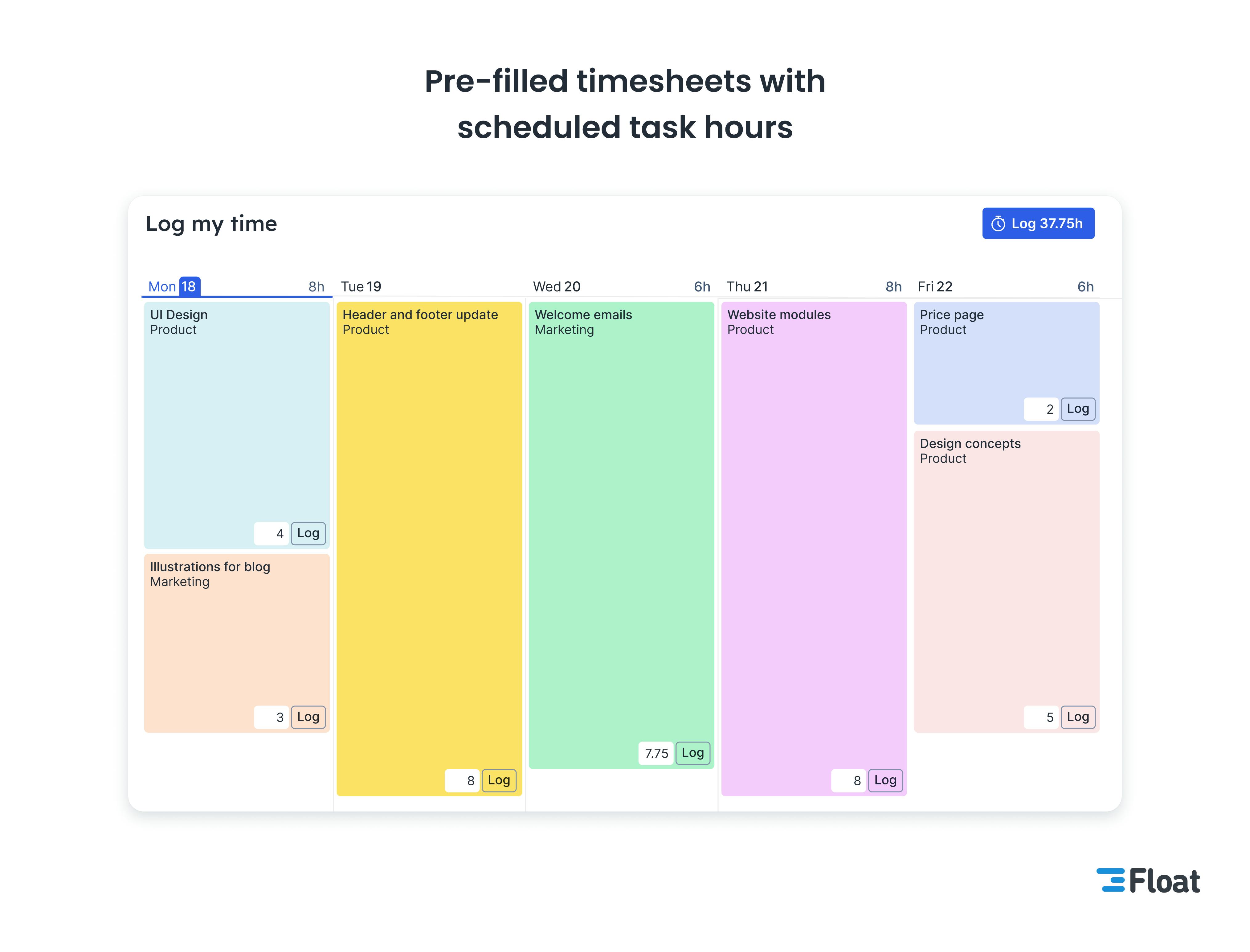 Pro tip: Automate and pre-fill the harder parts of time tracking
Log a whole week in one click with pre-filled timesheets. 
Adjust timesheets by dragging and dropping the task duration or editing the number of hours to log.
Sync with your Google or Outlook calendar to automatically add events to your schedule and timesheets.
Maintain context on tasks with notes that carry over from scheduled tasks to timesheets.
Automate reminder notifications to log hours via Slack, email, and mobile push for timesheets that get done without a fight.
Coming soon: We'll be introducing a start-stop timer to make time tracking even more accurate. The timer will work alongside your pre-filled timesheets, giving your team flexibility when logging hours. Contact us at support@float.com if you want to test the new timer feature before it's released!
Schedule work based on how long it takes
Once your team gets in the habit of submitting timesheets, you'll be able to ensure that future project plans match reality.
You can use these insights to avoid rushed work, undue stress, and unexpected overtime by scheduling work knowing how long it will take to complete in advance.
A team member working longer hours than scheduled may indicate they need additional support or coaching. It may also signal that it's time for your team to grow!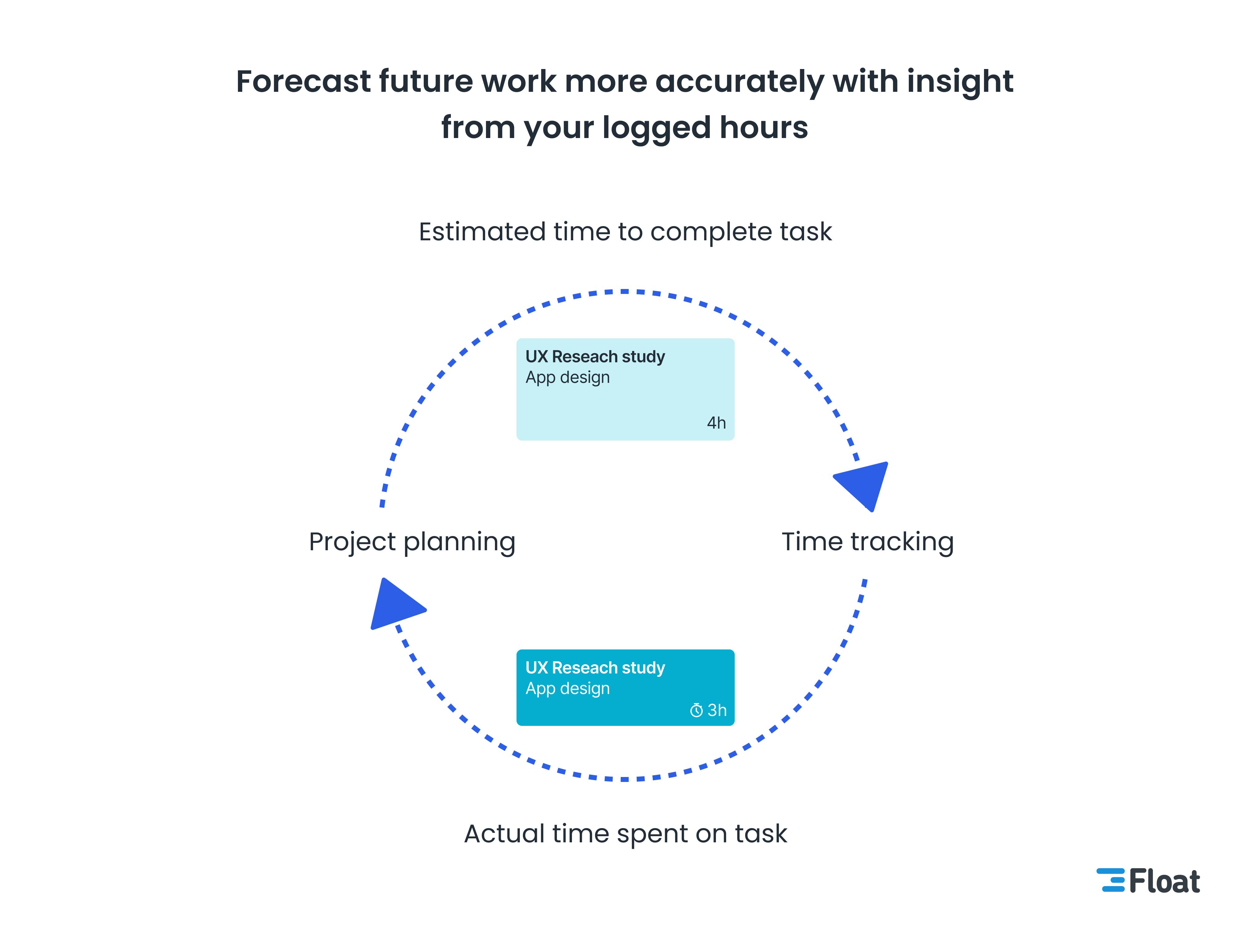 Pro tip: Use past data to predict how similar projects will run in the future 
Compare estimates to actuals in reports by filtering on Scheduled vs. Logged to see how long tasks actually take.
Drill down on logged hours per person on tasks, projects, and clients in reports. 
Create project plans based on how long tasks have taken each person in the past.
Prioritize how your team's time is spent
You can set up your projects and reports to highlight time spent being busy without being productive.
Understand where you can reduce meetings, refine processes, and streamline admin to boost job satisfaction, work-life balance, and profitability. 
Pro tip: Maximize impactful work by spotlighting where time is spent
With more visibility on how time is spent, you'll be better equipped to support your team to make the most of their time!
Schedule a demo today for a walkthrough on how time tracking can fit your team and workflow. Or reach out to our support team for help with any questions.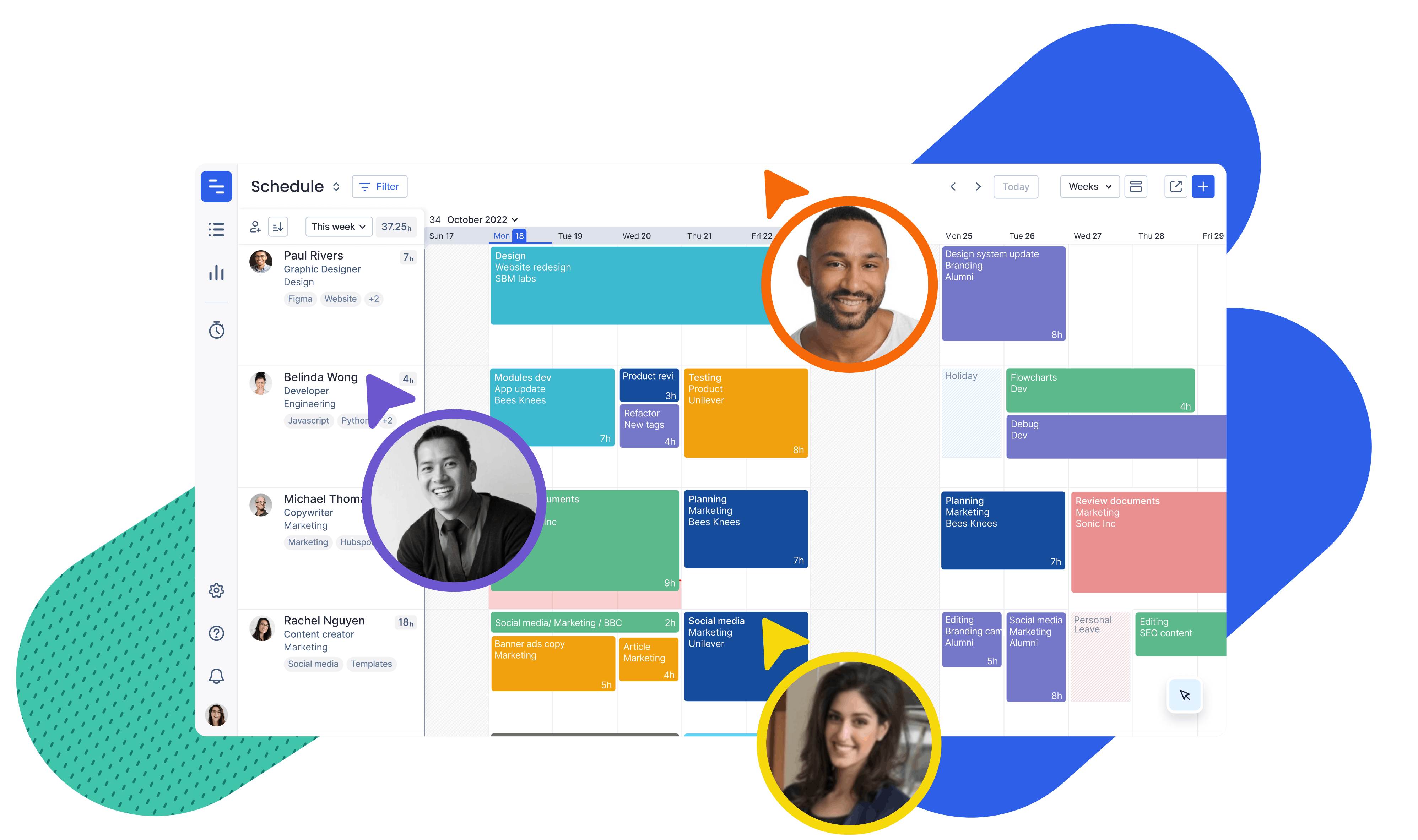 Book a 1:1 call with a Float expert!
Chat with one of our friendly experts to find out how Float can help your team plan and track time.
Get a personalized demo