Do you want to take your projects to new heights? Then look no further than stakeholder engagement.
Building solid relationships with those most invested in your projects is crucial to achieving positive outcomes. Stakeholder engagement is one of the most critical factors for project success.
Below, we explore why stakeholder engagement is such a vital part of the project management process and offer strategies and principles to help you establish and maintain effective relationships with your stakeholders. Following these tips can build robust partnerships and exceed your project goals. 
Stakeholder engagement vs. stakeholder management: What's the difference?
Stakeholder engagement is often confused with stakeholder management. Their most significant difference is that stakeholder management relates to the what and who, while stakeholder engagement is all about the how.
This translates into management being about the processes involved in communicating with stakeholders, while engagement centers around how you'll build positive connections with respect, involvement, honesty, and integrity.
Why should you engage stakeholders?
Engaging stakeholders is crucial to the success of any project. Stakeholders, including project owners, investors, employees, and community members, can make or break a project. Fostering healthy and constructive relationships with stakeholders is therefore essential.
Let's take a simple construction project as an example. You have a clear brief, a budget, a timeline, and a team in place. However, as the project progresses, you fail to keep the building owners updated on progress, overspend the budget, encounter unforeseen problems, fall behind schedule, and have to make significant design decisions. All the while, you neglect to engage with the owners or their finance team. By the end of the project, you find yourself in a nightmare scenario.
While this example is extreme, it underscores the importance of effective stakeholder engagement and managing stakeholder expectations as a project manager. By engaging with stakeholders, you can ensure everyone knows the project's progress, risks, and opportunities. This will enable you to maintain stakeholder trust, minimize surprises, and overcome challenges that may arise during the project's lifecycle.
The benefits of stakeholder engagement
Effective stakeholder engagement will:
Nurture feelings of investment and synergy for everyone involved.
Build team cohesion for when inevitable challenges arise.
Create advocates for the project—engaged stakeholders will give the project priority and visibility within (and outside of) an organization.
Make it easier to ensure a project is aligned with the overarching strategy and maximize the chance for positive value, even when goals and plans change.
Nine ways to build effective stakeholder relationships
While stakeholder management and engagement are different, they're intrinsically linked— and great processes can form the bedrock of a great relationship strategy. 
Let's run through some foundational steps to help build stakeholder relationships:
1. Identify stakeholders correctly
When starting any project and thinking about stakeholder engagement, the first thing a project manager needs to do is identify who their stakeholders are and determine their level of influence.
One approach is to use the Boston Matrix. This allows you to brainstorm with others to identify and plot stakeholders on a chart or map. Stakeholder mapping helps determine what engagement strategy you should employ for each stakeholder.
High-power/high-interest stakeholders. These are your key stakeholders. It would help if you always kept these people the most engaged audience with a project.

High-power/low-interest stakeholders.  Keep them informed and aware of a project's status, but don't overdo it, especially with low-level detail. You want them to retain interest.

Low-power/high-interest stakeholders. Keep these stakeholders informed, as they can often become project champions. This can unlock unknown challenges along the way and greatly benefit all.

Low-power/low-interest stakeholder. Keep them informed at a basic level—you may not want to include them on all updates and instead just the high-level ones with less cadence.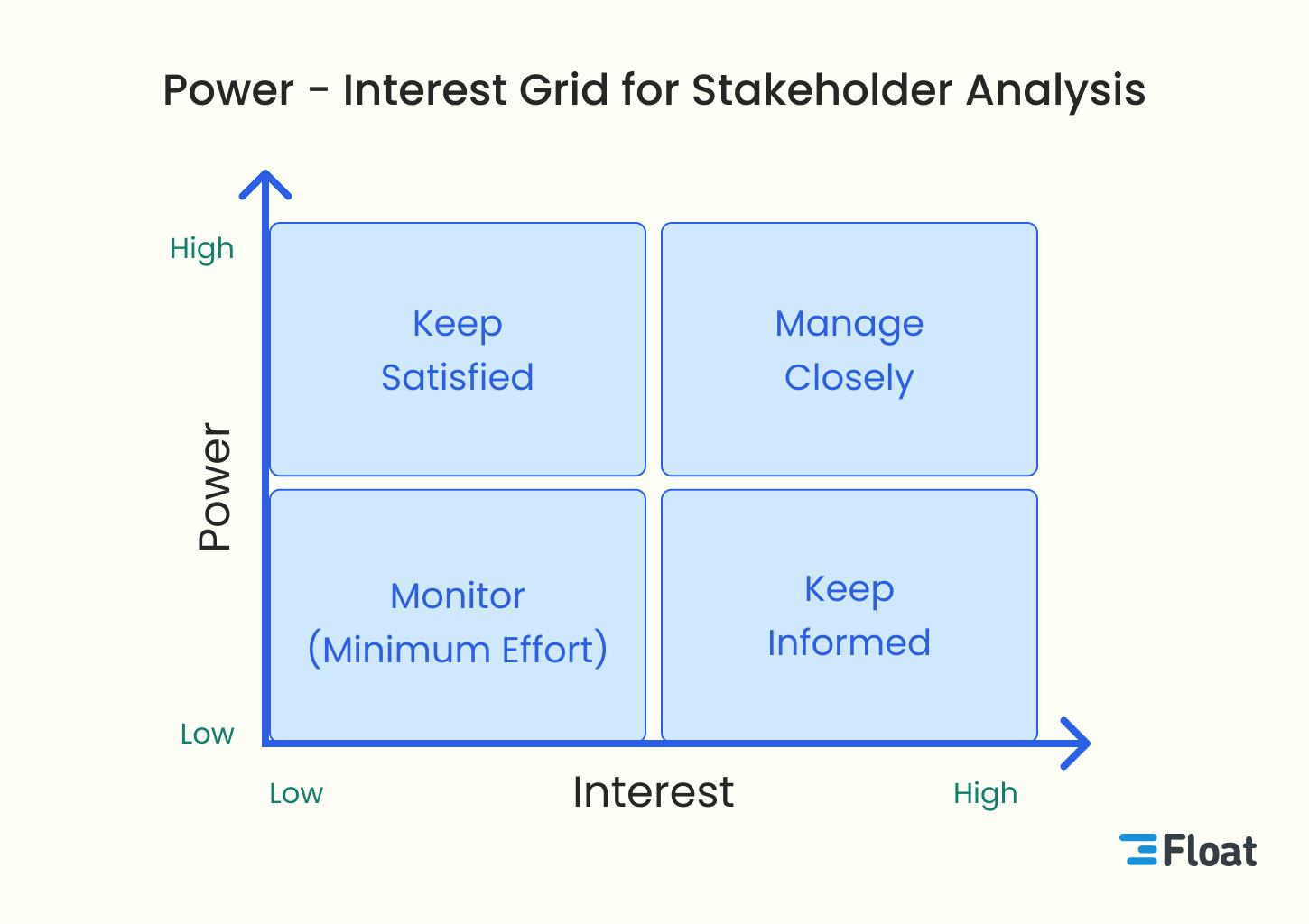 2. Map out roles and responsibilities
Defining roles and responsibilities is essential in developing a stakeholder engagement plan. This step of stakeholder analysis serves two purposes:
It determines how the project manager should interact with each of the stakeholders
It helps inform each stakeholder what their role is in a project
The most common method for mapping our stakeholder roles and responsibilities is using a RACI matrix, a project management artifact as old as time! RACI stands for: Responsible, Accountable, Consulted, and Informed. 
The typical way to build a RACI chart is to list the project breakdown phases or tasks on the x-axis, with the list of stakeholders spanning across the top of the y-axis. Where each intersects, you add an R, A, C, or I to denote for each project task whether or not a stakeholder is:
Responsible for the work to achieve a task
Accountable for the outcome but not necessarily the one doing the work
Consulted on crucial decisions relating to a task
Informed of the result of a task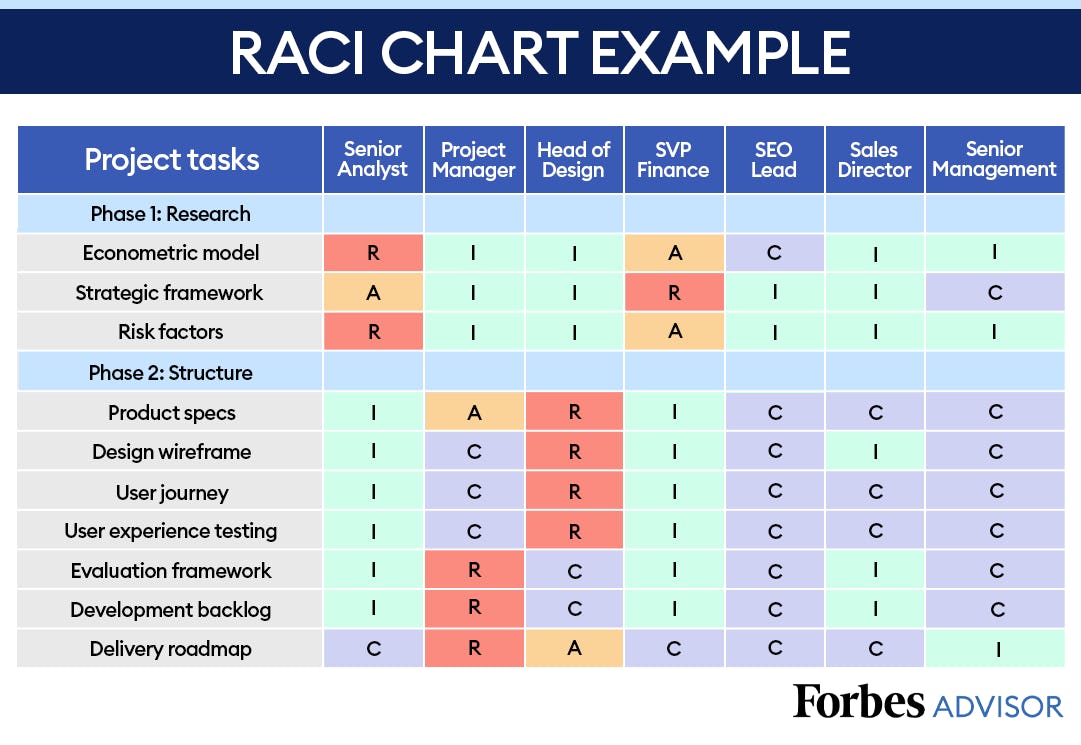 3. Create a communications plan
A communications plan (or comms plan) is how a project manager determines who, what, when, and how stakeholders should be updated about a project.
With stakeholders identified as the who, a project manager should work with the project team to define the following:
What information stakeholders will want about a project and what information or messages should not be communicated.
The frequency of updates and communication medium/channel. Not all stakeholders should receive communications in the same way. Instead, engage with different stakeholder groups in a way that best suits their type. You probably know each stakeholder group from the identification phase.
All of this should be documented in a table, along with a description of the comms type and an owner responsible for ensuring it's executed like in the brief.
4. Send project status updates
Updating your stakeholders on how a project is going is one of the most critical aspects of stakeholder engagement. This update is where everyone interested in the project will find out how it's going and is the single most read and talked about piece of project communication.
Each project status report should include some or all of the following sections:
An executive summary with overall RAG status
Project milestones update
Resolved issues or issues being worked on
Blocked issues with a path to being unblocked
Risks, probability, impact, and mitigation plan
Actions, with owner and date, to drive accountability, momentum, and delivery
Timeline update
Budget update
👉 Check out these handy project status templates.
Status reports must be sent out at the same time daily, weekly, fortnightly, or monthly, depending on the size and importance of the project. They should be concise and fact-based.
Above all, updates should be honest. It should be written as the single source of truth that can trigger the right conversations across the organization.
5. Set the tone with the kickoff meeting
Starting a project with a well-planned kickoff meeting is an effective way to build positive relationships with stakeholders. 
Invite everyone, plan the meeting carefully, and be clear about timing. Stakeholders will feel confident and motivated if the project manager has done their job well. As a result, participants will leave the meeting feeling energized and motivated. 
A productive kickoff meeting sets the stage for effective communication and collaboration throughout the project.
6. Foster positive human relationships
While often overlooked, human-to-human interaction is critical to building strong stakeholder relationships. No matter how well-managed the project may be, without positive and connected relationships, stakeholders may not take the charts, maps, and other management tools seriously.
As a project manager, it's essential to take the time to connect with stakeholders as people. Whether in-person or via video, prioritize this crucial component of stakeholder engagement. Don't let busyness stand in the way of fostering meaningful relationships with stakeholders. By building trust and rapport with stakeholders, project managers can create a solid foundation for successful project delivery.
7. Understand the stakeholder engagement lifecycle
Ultimately, stakeholder engagement ensures stakeholders feel constantly connected to a project from inception until completion. To achieve that, project managers must always stay hyperfocused on engagement.
It's important to understand that you must adapt your engagement strategy for different project phases. For this, you can use Bruce Tuckman's famous approach to team life cycles: 
Forming. Get stakeholders together and create a vision.
Storming. Be an excellent mediator and traverse the inevitable friction of multiple stakeholders and often conflicting priorities.
Norming. In the implementation phase, this is where your engagement strategic planning pivots into how you'll manage expectations, provide updates and resolve challenges as a team.
Performing. The project team and stakeholders will find their rhythm over time, and things will move quickly and easily.
Adjourning. As the project ends, you lead into lessons to be learned and celebrate success. You want to create a positive feeling of achievement and teamwork so that everyone feels great and eager to work with you in the future.

8. Demonstrate passion and empathy
When engaging with them, project managers can build healthy stakeholder relationships by displaying a high degree of passion, empathy, and honesty. 
Showing that you genuinely care about project success in an enthusiastically infectious way almost always makes stakeholders warm to you and want to support you. Talking in such a way that proves you understand the stakeholder's position will go far. 
Show that you can put yourself in their shoes regarding a project's political and financial aspects. This is vital in connecting with stakeholders and making them feel understood.  This approach will enable the stakeholder to do their job better and help you consistently garner support when needed.
9. Be honest, always
Honesty is a trait that stakeholders highly value in a project manager. Unfortunately, stakeholders, particularly senior ones, are often surrounded by people who sugarcoat news and withhold information to avoid confrontation. 
While this may seem more manageable in the short term, it erodes trust and confidence, making it difficult to build healthy relationships and engagement in the long run.
As a project manager, it's crucial to always be honest with stakeholders, especially during challenging times. By demonstrating honesty and transparency, project managers can build respect and support from stakeholders, making it easier to engage with them over time. This, in turn, maximizes the chances of project delivery success.
By cultivating a culture of honesty and trust, project managers can establish meaningful relationships with stakeholders that can endure even in the face of adversity.