Stella Inabo
Resource managers ensure that projects run smoothly by overseeing employees, fulfilling resource requests, and solving conflicts that arise—among many other duties. 
Resource managers ensure the smooth sailing of projects by assigning the right people to the right tasks. Using their knowledge of team capacity, skills, and gaps, resource managers help project managers keep projects on track, within budget, and on scope. 
Although resource managers play a critical role in businesses, they remain relatively unknown. However, the tide seems to be turning as research from the Resource Management Institute (RMI) shows that the demand for dedicated resource managers has grown from 24% in 2018 to 39% in 2020.  
If you've worked as a recruiter, a project manager, or are a total newbie who enjoys finding the right person for the job, a resource manager role might be right for you. But where should you start? We've curated information about the responsibilities, skills, qualifications, and salaries of resource manager roles in this article so you can learn everything there is to know. 
What is a resource manager?
A resource manager is in charge of planning, scheduling, and allocating resources to projects. They also ensure there are no staffing gaps and play a vital role in the planning and scheduling stage of projects. 
From agencies to consulting and IT services, resource managers are found in many different industries. The resource manager usually works with HR, project managers, and department heads to get the job done within an organization. 
Resource managers can go by slightly different titles depending on the organization. They may also be known as:  
Resource and operations manager
Digital resource manager
Project resource manager 
Resource consultant 
Creative resource coordinator 
Creative resource manager 
Is a resource manager the same as a human resource manager?
Resource managers are definitely not the same as human resource managers. 
Human resource managers deal with broad administrative functions like recruiting talent, training staff, handling payroll, and ensuring compliance with company rules. On the other hand, resource managers focus on projects. They ensure that projects run smoothly by overseeing employees, fulfilling resource requests, and solving conflicts that arise—among many other duties. 
The duties of a resource manager (forecasting resource demand, monitoring utilization rates, and matching skills with tasks) complement those of the HR manager. 
Is a resource manager the same as a project manager?
While both roles are focused on projects, resource managers and project managers perform different functions. 
Resource managers help project managers plan the use of resources, allocate team members to tasks, find external contractors to work with the team, and monitor team performance. Depending on the size of the business, the resource manager might handle resource-related activities on all projects or specific accounts. 
Project managers, on the other hand, lead and execute projects. Their job extends beyond managing resources and can be thought of as a much broader role. 
What do you do as a resource manager?
As a resource manager, your primary responsibility is to assign available resources to projects. Resource managers also create reports, regularly meet with stakeholders, and manage workloads.  
Assigns resources to tasks 
An essential part of your job as a resource manager is to allocate team members to tasks based on their skills and availability. 
Let's say your agency has a web design project. At the start of the project, you'll work with the project manager to determine what skills are needed to complete it, and decide who is needed to work on each task. Your list might include a front-end developer, a web designer, and a copywriter. You'll then work with each department head to find the right resources to join the project team. 
Resource managers also have to make demand forecasts based on data. If your agency lands a bunch of projects, you might look at the availability of your staff and determine you need to hire freelancers to meet demand. 
You'll also have to monitor projects closely to ensure that no one is overloaded or left on the bench with nothing to do. For instance, if you notice a designer has too much on their plate, you can bring on a junior designer to help or hire a freelancer. 
Source for new resources 
When you notice a staffing gap, it's up to you to inform the right stakeholders there is a need for extra help. Once you've received approval, you'll have to find someone with the right skills for the job. This could mean bringing on a full-time staff member or hiring a temporary contractor for a specific project. 
Keeping an up-to-date database of freelancers to reach out to also helps when you need more hands in a hurry. 
Some companies require resource managers to be involved in the hiring process. In this case, you'll review resumes, interview applicants, and recommend the best candidate for the job. If you're wondering if resource managers can fire people, well, the answer is it depends! Some companies give resource managers the power to let go of underperforming employees, while others leave that to department heads. 
Help team members stay on track
As a resource manager, you have to meet the needs of the business while keeping employee well-being and engagement in mind. It's not just about getting the job done. You are required to monitor workloads to detect over- and underutilization and step in to balance workloads when a resource needs to be added or removed from a project. 
Another important part of your job is developing a good understanding of team members' skills and using this knowledge to assign them to the right tasks. Some companies may require you to work with team members directly to guide their individual development plans. 
Resource managers also have to check in on how team members and external resources are performing. You'll need to speak to project managers about the progress of resources and stay in close communication with resources to monitor their successes and challenges. 
Meet with project managers and other stakeholders 
Resource managers have regular meetings with project managers and other stakeholders to keep them informed on progress. 
While many of these meetings will be to plan the use of resources, you'll also need to resolve resourcing conflicts and manage resourcing problems like underperforming and misallocation of resources. Some of these meetings may cover ways to meet resource demands and manage fiscal parts of the resourcing process, like generating invoices based on time/effort and reporting on project budgets.
Create actionable reports 
Resource managers analyze data and create weekly reports on utilization rates, project statuses, and expenditures. This data helps you decide how best to use team members and keeps stakeholders informed on workloads, capacity, and resourcing problems. 
Many businesses rely on spreadsheets to track and manage resources. This manual process often makes the work of resource managers (and project managers) harder and increases the risk of missing information. 
Using a resource management tool to create reports is much easier. For example, with Float, you can: 
Compare capacity to scheduled time, billable hours, time off and overtime to make better projections about project timelines.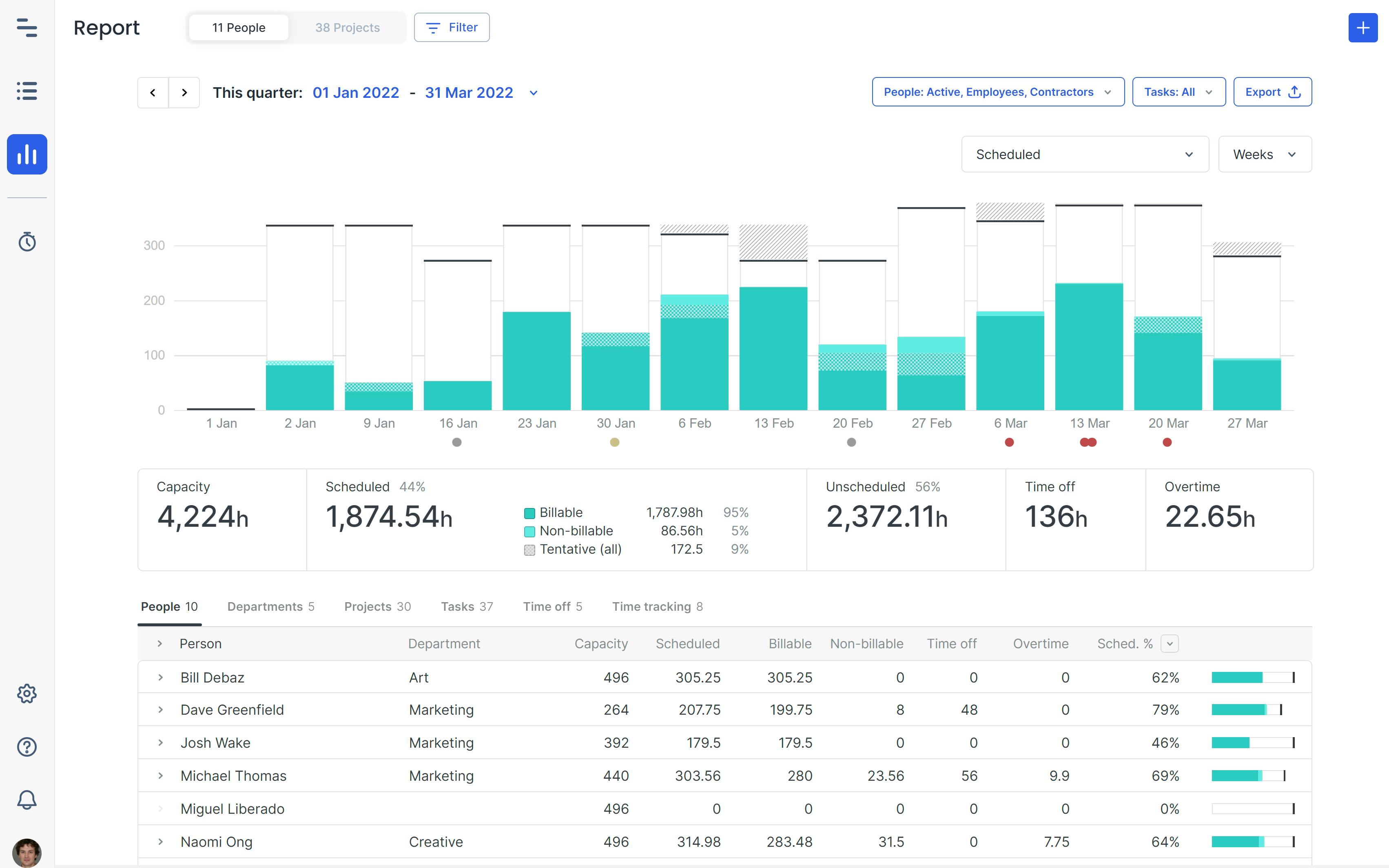 Combined with Time Tracking, you can see how scheduled time compares to logged hours for better capacity management, planning and forecasting.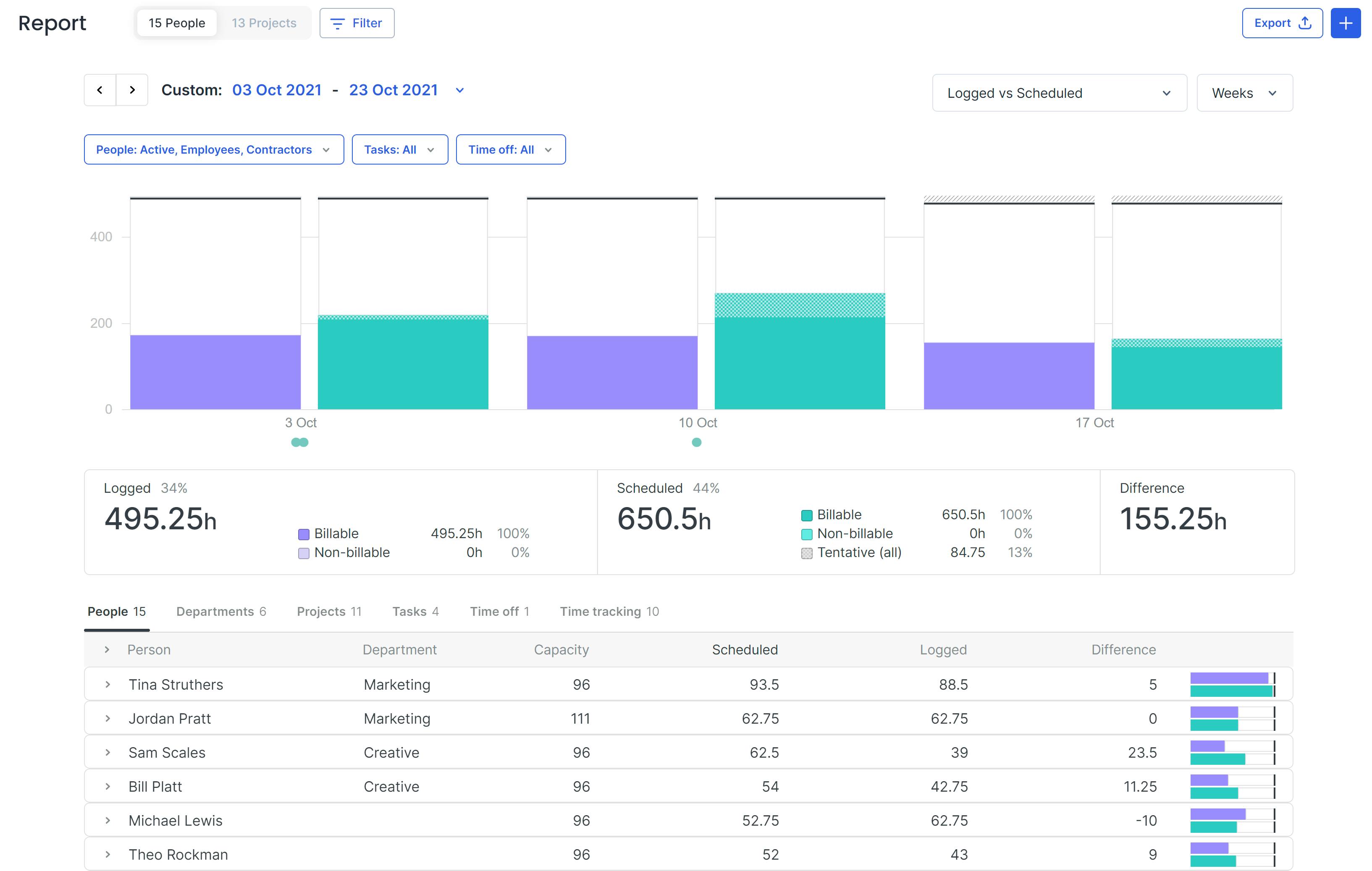 What makes a good resource manager? 
To be efficient in this role, you should possess the following resource management skills: 
Communication (both written and verbal)
Resource managers spend a lot of time interacting with people. Whether it's communicating with team members, project managers, or department heads, you must be clear and engaging when you speak and write. Miscommunication is a huge problem in project management, so resource managers need to know how to convey information well. 
And make sure not to overlook a critical skill like listening. It's important that you take the time to hear and understand what people are saying to you to ensure you don't miss any important details. 
Conflict resolution and prioritization 
Project managers sometimes have to share resources, which can lead to conflict. Resource managers often have to wade into scheduling conflicts to find a solution. 
For example, two project managers may want the best developer in the agency on their team for their upcoming projects. Unfortunately, the developer has limited capacity and is unable to work on both projects. As a resource manager, it's your responsibility to negotiate with the stakeholders and find the best solution for both the projects and the developer. 
You'll have to negotiate carefully and make tradeoffs without anyone feeling cheated. You may be able to resolve any conflicts by hiring an external contractor or assigning another skilled team member to one of the projects. 
Analytical and data-driven
Resource managers need to understand and use quantitative data to inform planning and make accurate forecasts. 
Creating reports is a fundamental part of the job as you will likely be required to send in weekly reports on utilization rates, project expenditure, and project status. You also need to have good presentation skills so you can convince stakeholders to make the right decisions that will move the project forward. For example, you might need to make a case for hiring more freelancers when your reporting shows that available resources are at maximum capacity. This requires you to explain your data in an easy-to-understand way. 
Technical prowess 
You'll have a stronger chance of landing a resource management job if you know how to use the tools of the trade.
If you are working remotely or in a hybrid team, most roles will require you to use collaborative project management software like Asana or Jira and communicate via tools like Slack or Microsoft Teams.  
Luckily, Float doesn't require any special skills or training to use. As it integrates with many of the project management, calendar, and communication tools you already use, it's easy to hit the ground running!
"I really like how easy it is to use, that's the main thing! I have never used it before but within 15 minutes I'd managed to schedule all my projects." - Melanie C, via G2
What experience is required to become a resource manager?
Most resource management jobs require you to have a college degree. Previous experience in resource management, HR, or project management is also usually preferred. For example, your skills will quickly transfer to a resource management role if you've ever worked as a recruiter. 
Some jobs may require a resource management certification. You can become a Resource Manager Certified Professional (RMCP) from the course offered by the Resource Management Institute. 
According to a sampling of job descriptions on employment websites (Indeed, ZipRecruiter, Totaljobs), the minimum salary for a resource manager in the US is $65,000. But you can make as much as $125,000, depending on your skills and experience.
Getting started in resource management
As more companies realize the benefits and importance of managing resources effectively, the demand for resource managers will only grow. 
There's no better time than now to start your resource management career! 
If you'd like to learn more about resource management before you start applying for roles, you can spend time reading our resources on the topic. I recommend you start with The Project Manager's Guide To Resource Management.