Nikoletta Bika
The term resource breakdown structure may sound overly complex, but it's really just a way to organize available resources so you can complete certain activities more effectively.
For example, let's say you want to kickstart a new project. First, you must understand what work needs to be done—often through a work breakdown structure (WBS).
But what about other questions, such as: Who will (or can) do what? Who should you assign tasks to, and who will be accountable for each work package?
That's where a resource breakdown structure can help.
What is a resource breakdown structure?
A resource breakdown structure (RBS—not to be confused with risk breakdown structure) represents available and required resources, often organized hierarchically. It's essentially a list of everything needed for the project that will cost money—people, material, software, machinery, locations, and more.
RBSs work best when used in tandem with WBSs. You can match resources with tasks and activities outlined in the work breakdown structure during the project planning process.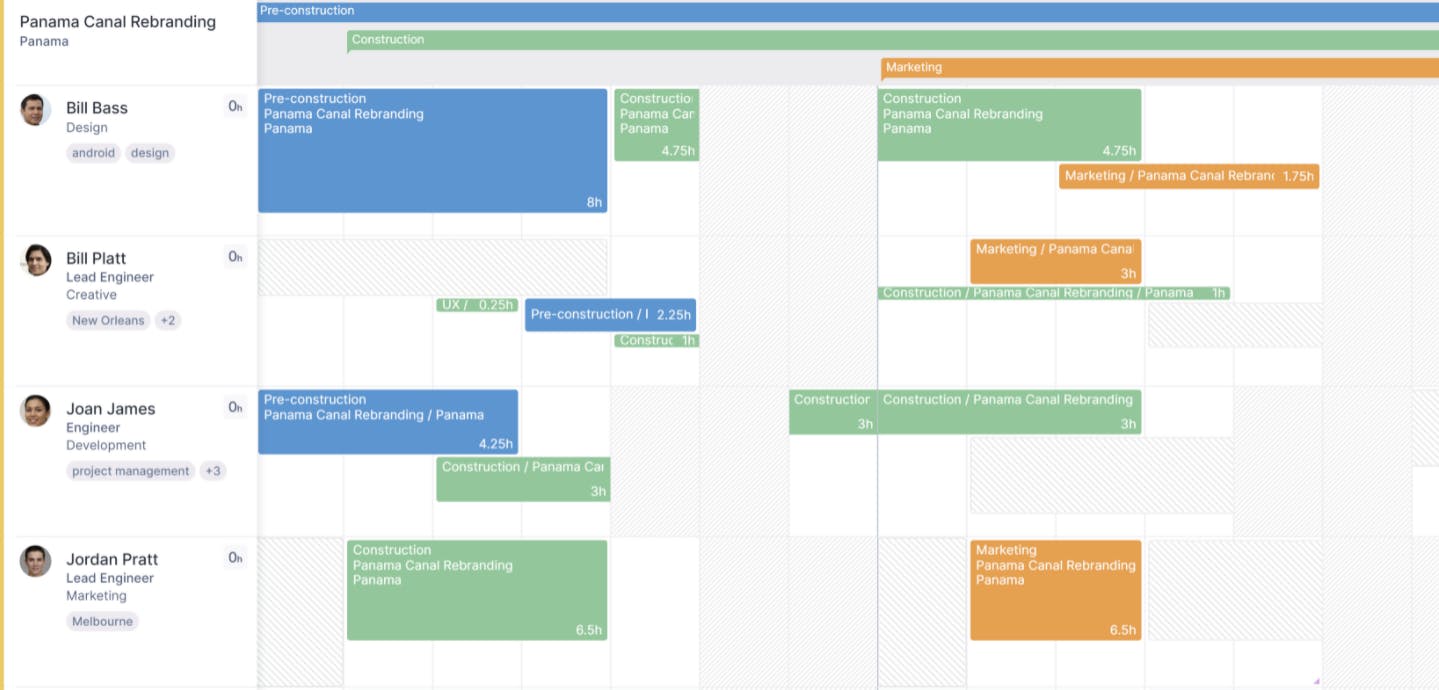 RBSs can take different forms
While you can create RBSs in a good ol' spreadsheet or even use a design tool for visualization (e.g., Invision or Figma), most project and resource managers should use dedicated software for project planning.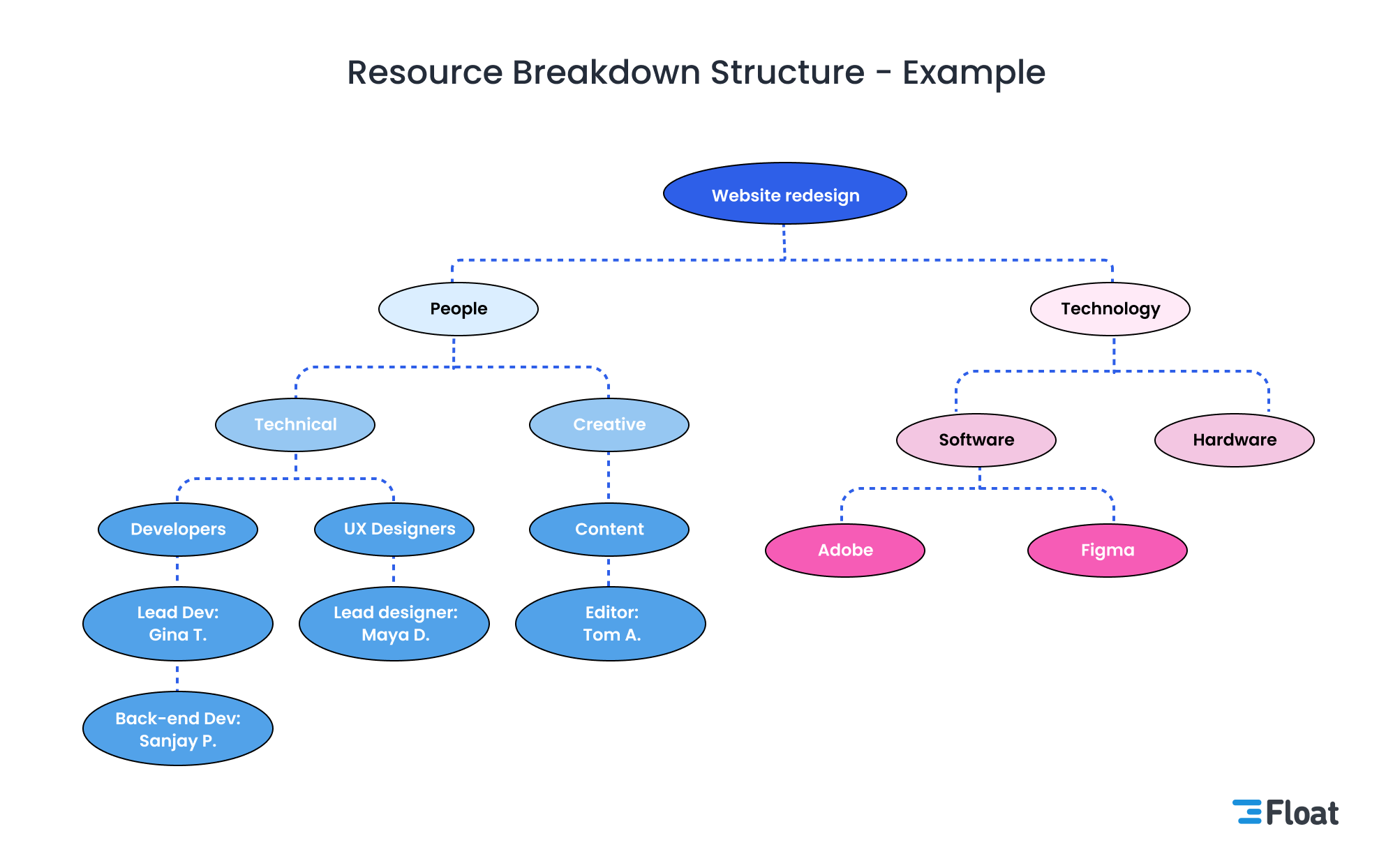 You'll have a list of people categorized by department or function and can see which projects they are working on from the get-go.
An RBS example
Let's say you need to plan a simple print advertising campaign. Here's a fragment of a structure you could create:
1. Marketing
1.1. Copywriter
1.1.1. Max
1.1.2. Celine
1.2. Automation Software
2. Design
2.1. Designers
2.1.1. Craig
2.2. Design software
2.2.1. Photoshop
2.2.2. Canva
3. Printing supplies
3.1. Printer
3.2. Paper
3.3. Toner
This is an example of a hierarchical structure of resources you'll need to execute this project. Depending on the project, you may have different branches; e.g., in a construction project, you could assign one branch for people, one for equipment, one for software, etc.
This structure can also have more detail to help you plan, e.g., hourly rates/salaries, titles, etc. You could also drill down to a more granular level, including specific licenses needed, team capacity, or equipment brands.
Pro tip
You can track all of your team's relevant rate, skill, and capacity info in Float. Find the right person for each job using people tags.
What is a resource breakdown structure used for?
You may be asking yourself: What do I need this structure for? Great question! There are several benefits to having a detailed breakdown of your resources:
Better organization
RBS project management helps you keep track of needed resources, not just at the beginning but throughout the entire project timeline. It's a centralized document of your resources and needs, so you can draw from it even if you use other resource management techniques. 
Improved alignment
RBSs are created at the initial resource planning stage, providing an excellent opportunity to secure buy-in and approval from stakeholders. This means you'll be better aligned on the project's resource needs and whether or not you need to hire more people. 
If you're working on a project for a client, going over an RBS from the start makes it less likely that there will be surprises down the road that may strain your working relationship.
Pro tip
If you create your RBS in Float, you can export your resource plans to share with clients or invite them as guests to the schedule. You can add unlimited guests to your account for free.
Better estimation of project costs and budget
The resource breakdown structure also helps you plan the budget for each resource. Starting from the lowest level, you add the budget to the previous level until you reach the top. 
For example, in our RBS example above, the costs of Photoshop and Canva are added to the total cost of design software, which is itself added to the cost of design resources. It's an easy way to visualize what each resource contributes to the total cost of your project.
Resource breakdown structures in project management
The RBS is often included in many PMP exams and presented as a tree diagram.
In real life, RBSs may look and be used differently. You can also find highly detailed spreadsheets where teams simultaneously track resource availability and capacity. For example, Float's Director of Product, Michael Luchen, says:
"In my previous role at an agency, when a client would come in and we had to determine resources, we'd jump right into our resource allocation tool. We'd look at who's available and know we need developers, product managers, designers, etc., with a high-level consideration of skill sets."
Resource management tools like Float make this process easier because you already have the resources you need in an organized way, with their capacity and availability displayed in real time.
Want a way to track and manage your resources without hassle?
Rated #1 on G2 for resource management, Float gives you the most accurate view of your resource capacity to plan project work.
Try for free
How to create a resource breakdown structure in 4 easy steps
Though there are often a lot of considerations about resource availability, the basic process for putting together an RBS is straightforward:
1. Think about your project's deliverables. To do this, draw from the work breakdown structure (or create one if you haven't). The philosophy is similar to the RBS, but you'll list all tasks and subtasks needed to complete a project.
2. List the resources needed for each deliverable, e.g., people, equipment, software, and rooms. Here's a basic resource breakdown structure template you can use as a starting point and shape for your needs. It helps to start from labor resources, as knowing people's disciplines will make it easier to determine equipment and other needs. For example, if you know you'll need product managers, you can find out what software they use and add it as a required resource.
3. Drill deeper into each type by as many levels as you need. The purpose is to reach a level where the resource is completely broken down and can be matched to a task. For instance, let's say you want to implement a new finance software. The project will involve the finance department, broken down into financial advisors and accountants, broken down into specific names. These people will then be assigned specific tasks.
4. Add costs, skills, or other information. This is useful for calculating budgets, tracking progress, and allocating resources based on skill sets, availability, and other criteria.
Once you have your list of resources, you can begin the resource allocation process. Part of this process is also planning for the resources you don't have. For example, you estimate you need three designers, but you only employ two, or the third one is at full capacity. This means you need to either hire someone or find a contractor.
A resource management tool like Float can help you forecast your capacity and hiring needs by bringing your people and project timelines into one view. You can create tentative projects and include placeholder roles for a more accurate project and staffing prediction. 
Distribute and refine
Arguably, the most important part of project planning is agreeing on the actual plan. This is why you need to communicate your RBS to everyone involved as soon as possible and get feedback or approval. 
You'll be able to clarify expectations early on and identify issues with scope, capacity, or risks. Remember that you don't need to reinvent the wheel every time. New projects often have things in common with past projects, so the resource breakdown structures will be similar.
Always involve your team and keep refining—this will enable you to create a robust resource management process that will help your team deliver projects much more efficiently!