Float brings the most powerful set of resource management features together in one place to make scheduling your team's time faster, easier, and more efficient.
---
Where does Float fit?
One of the most common questions new users ask is: "Why do I need Float for resource planning when I'm already using 'X' project management software to plan my projects?"
We know that you're likely to already be using other apps to manage your projects, and we're not here to replace them! Float helps set up your projects for success by giving you a bird's-eye view of your team's work schedule and overall capacity that, to put it simply, isn't possible with project management software alone. Your schedule in Float makes it easy to see at any time what tasks your team is working on and what's upcoming, so you can plan your resources most efficiently.  
While project management tools are great for organizing and collaborating on projects, Float is your single source of truth for planning, scheduling, and tracking your resources and team capacity.
Connect resource planning with time tracking
• Time tracking in Float lets you compare your scheduled task hours with the actual time taken, in one place.
• Time tracking is free during your trial. If you're an existing user and want to add time tracking, you can do so from the Billing tab within your Team settings.
Read more about time tracking
---
Float basics: People, projects, tasks, and more
How does Float work? In a nutshell, it comes down to creating projects, adding people, and assigning tasks.
• People appear on the Schedule. They are your full or part-time employees, temporary contractors, and any other resource you want to schedule.
• Projects are what your people work on. They can be big, complex projects with several phases or small, quick projects with short turnaround times.
• Tasks are the individual jobs you assign to people that help propel your projects towards the finish line. All tasks live within a project.
There are also: departments, which your people belong to; clients and phases, which correspond to your projects; and scheduled and logged tasks, which represent the estimated time work is expected to take and the actual time a person spends on it.
Here's how Float is organized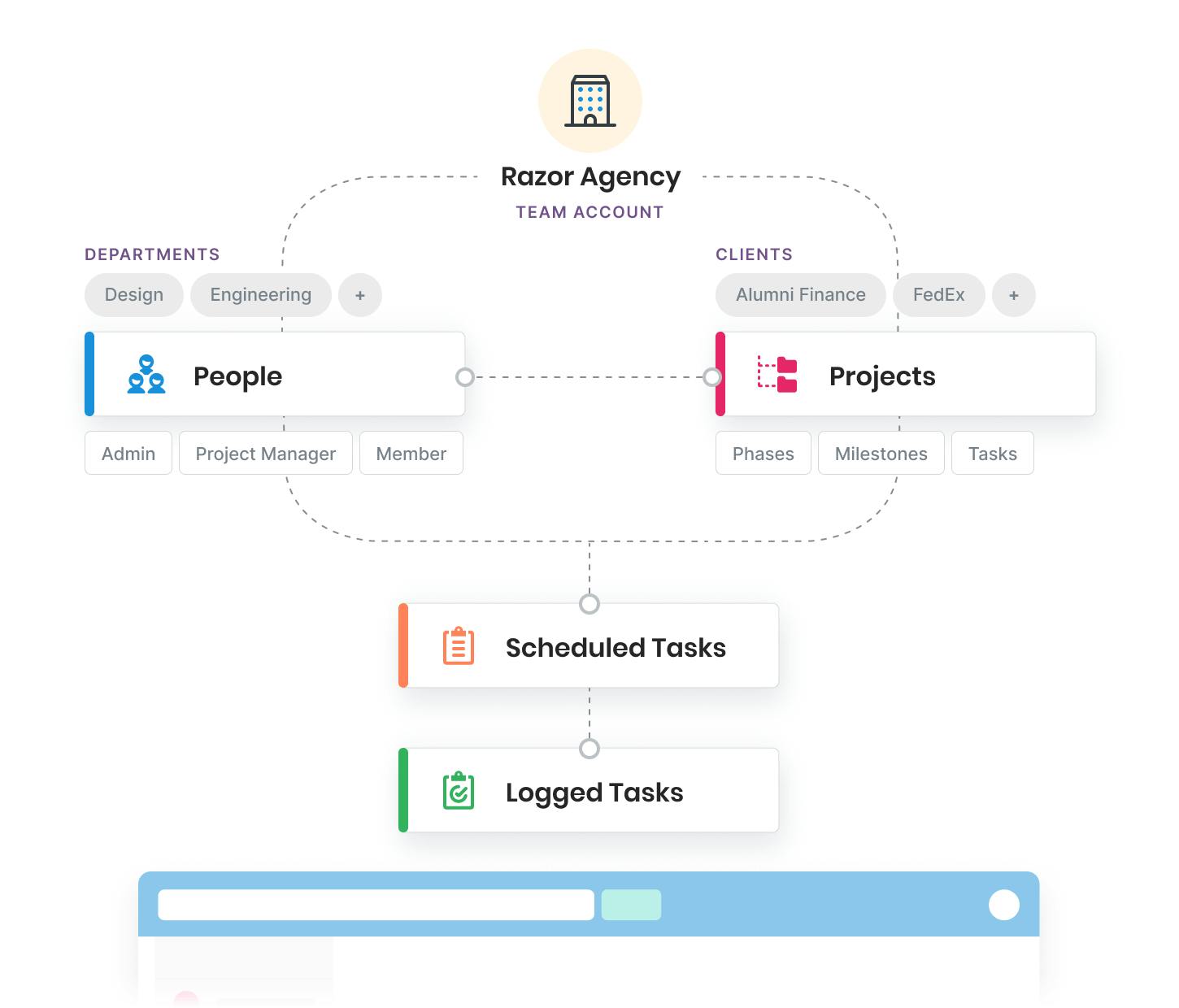 ---
Setting up: Start here
1. Import your people and projects
Whether you're bringing your data over from another platform or starting from scratch, it's easy to get up and running in Float using the CSV import tool or by importing from your existing project management tool.
Start by selecting Import from the People or Projects view of the Manage page.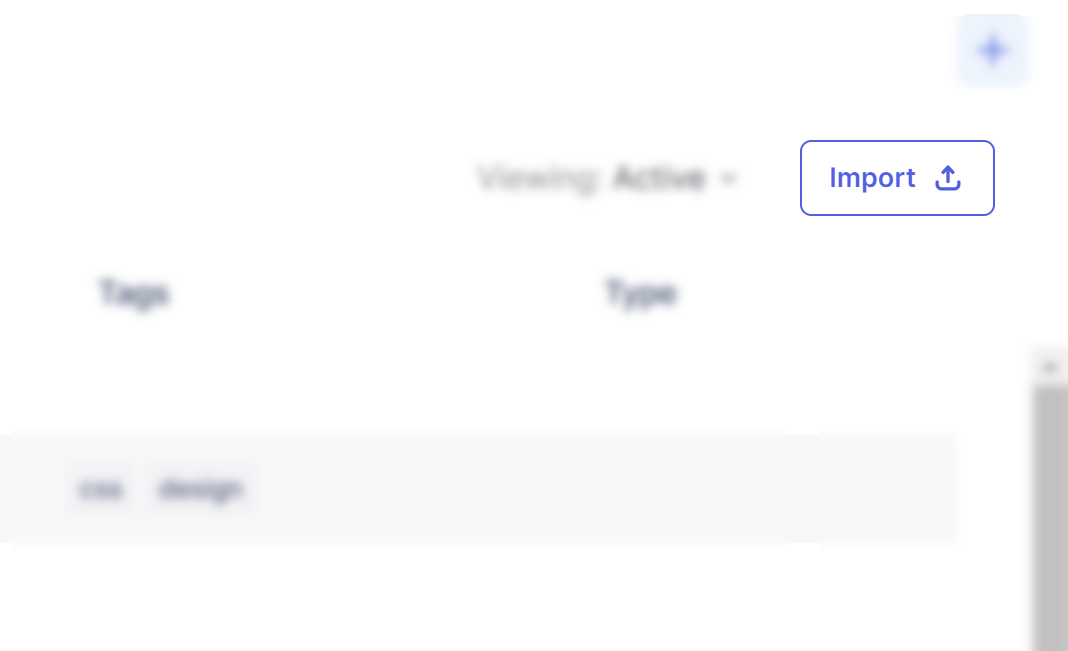 Choose the Upload a file option and then Download template.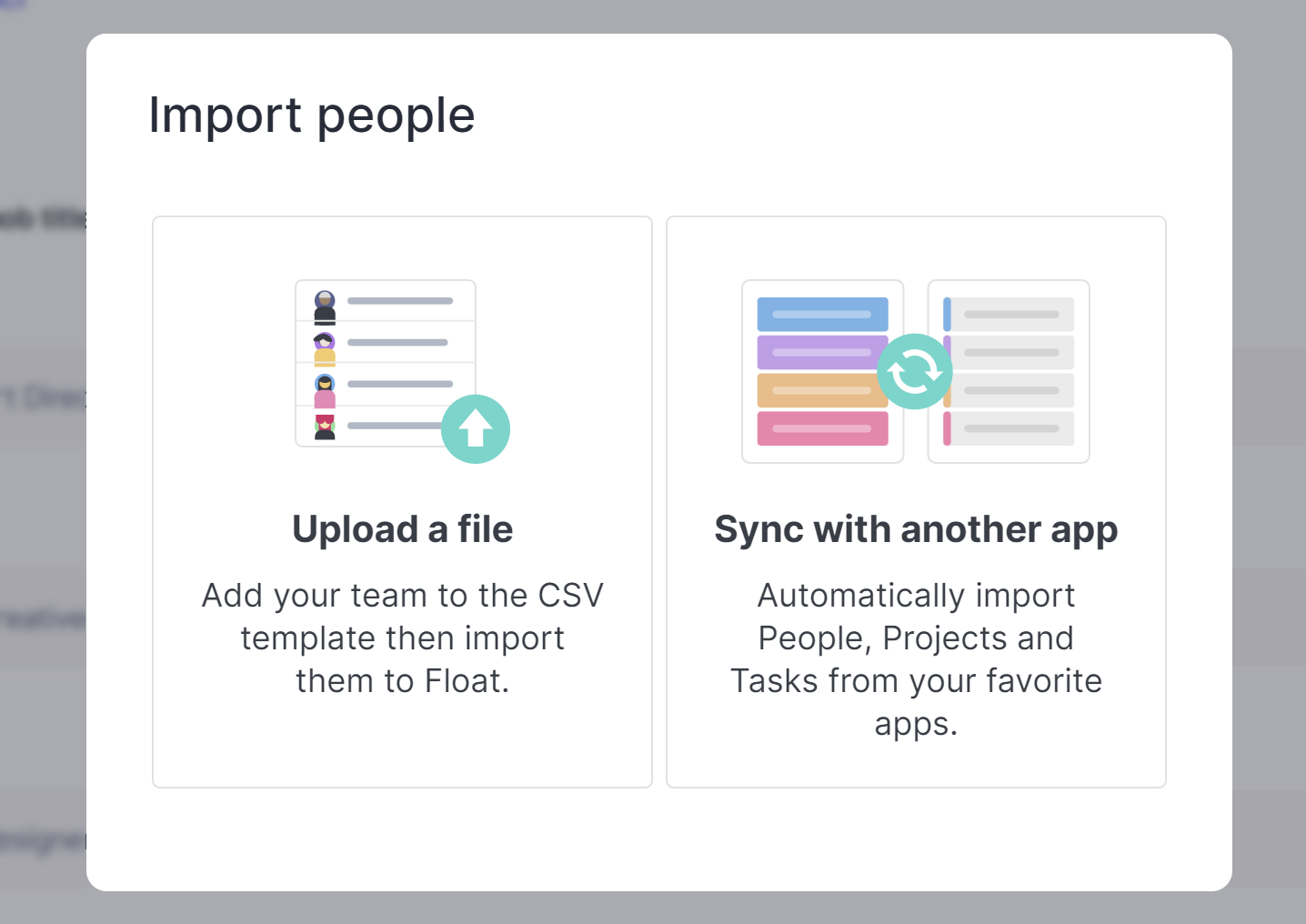 The name field is all that is required for your people and projects. If you want to import details like titles and departments for people, and clients and budgets for projects, you can add and map those fields as well.
When you're finished, click the Upload CSV file button to import your data to Float.

You can also sync your people, projects, and tasks with Float from your existing project management tool using one of our direct integrations. The Account Owner can set up a new integration in a few clicks from within your Team settings.
The number of integrations in Float is always growing, but here is the list of integrations that are currently available.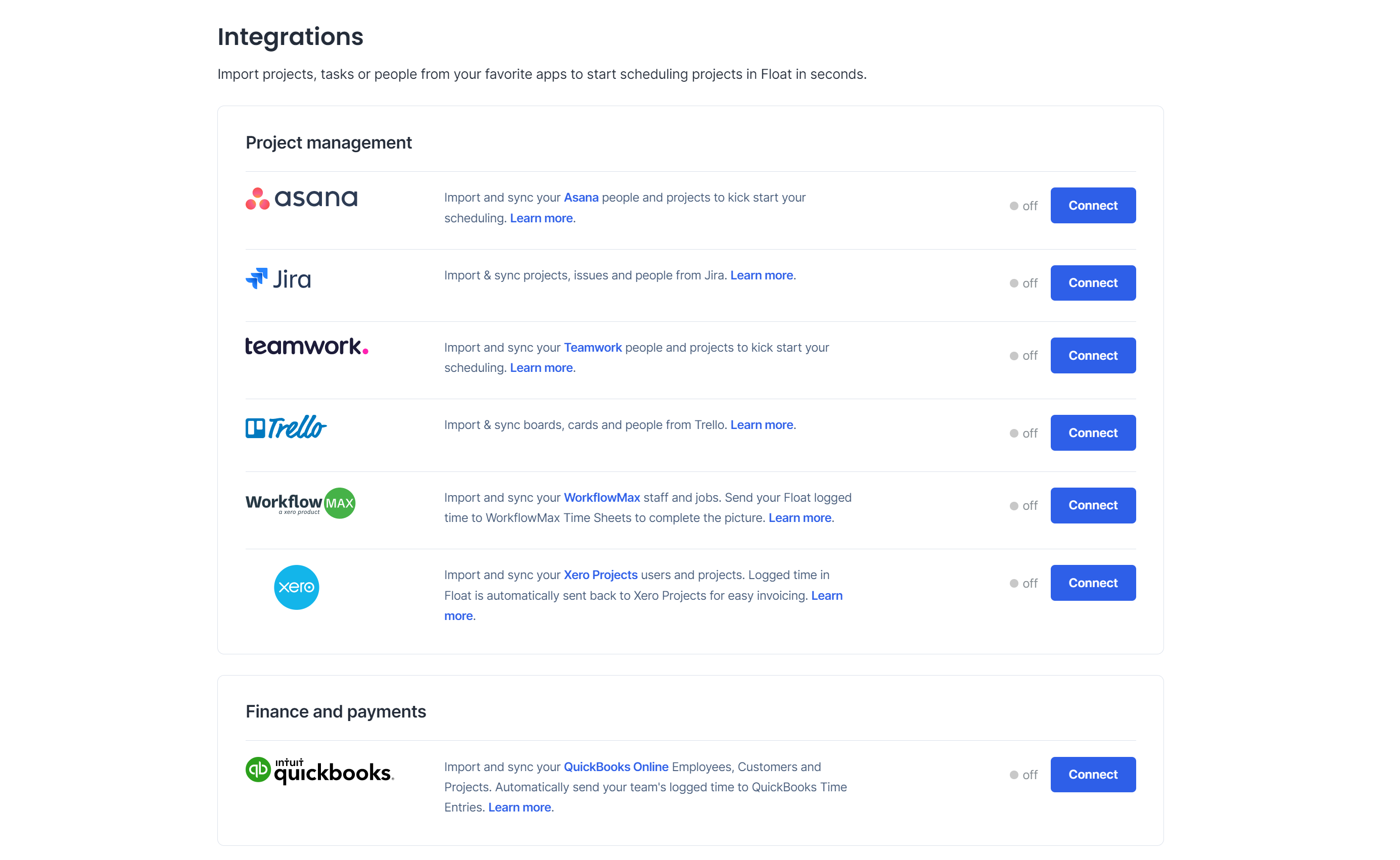 Adding new people and projects using keyboard shortcuts
After your initial import, new projects and people can be added to Float by selecting the + button at the top of Float or by using the keyboard shortcuts E (to add a person) and P (to create a project). To review all of the keyboard shortcuts available in Float, hold "Shift"+"?" from your keyboard.
2. Add your first task
Once your people and projects are ready to go, it's time to assign tasks to your team. To assign a new task, click and drag across the Schedule to open the task menu.
Pick a project, name the task (if you want to), and set its hours and duration.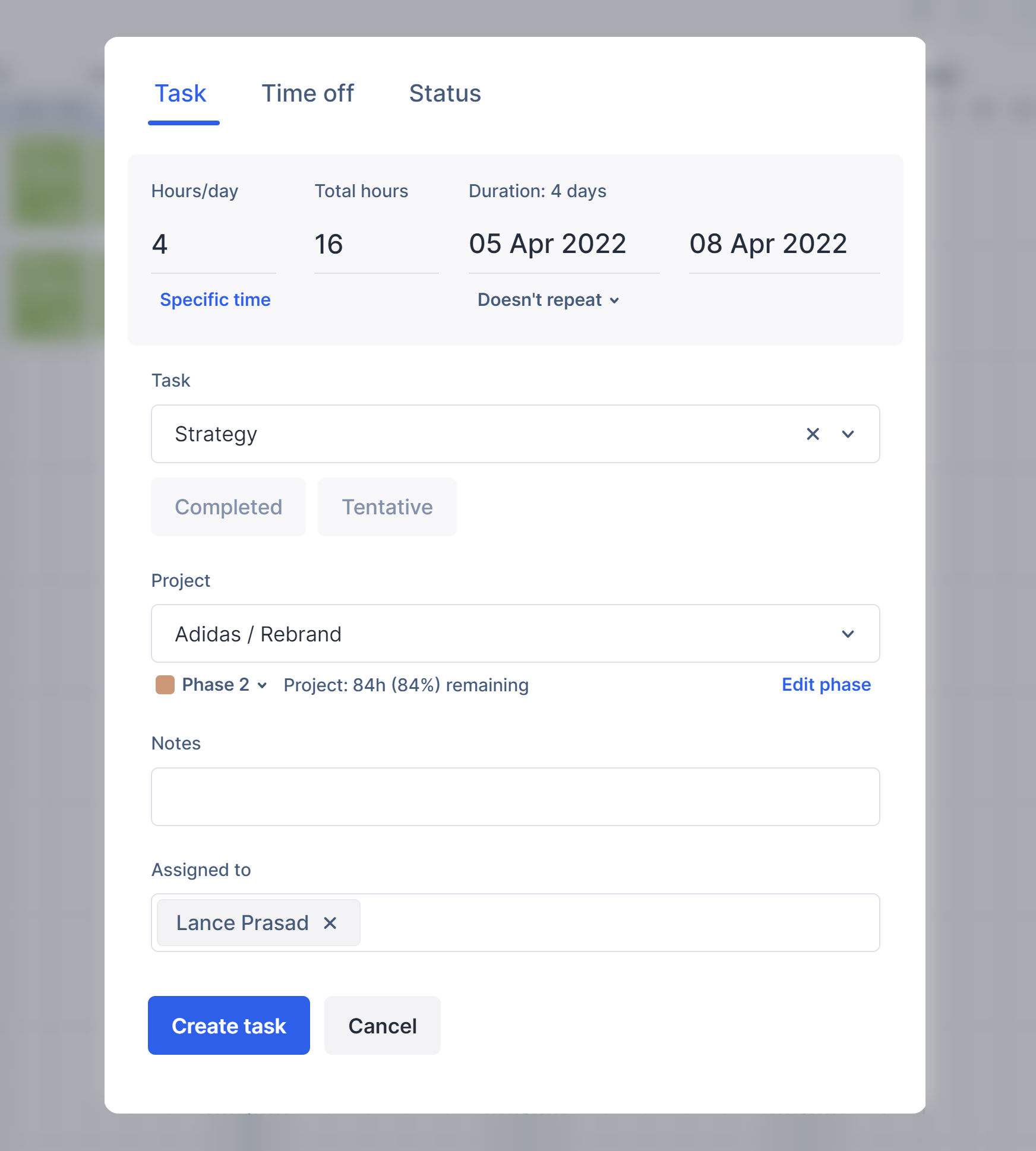 You can assign the same task to multiple people at once by adding their name in the Assigned to field or your whole team by clicking Select all.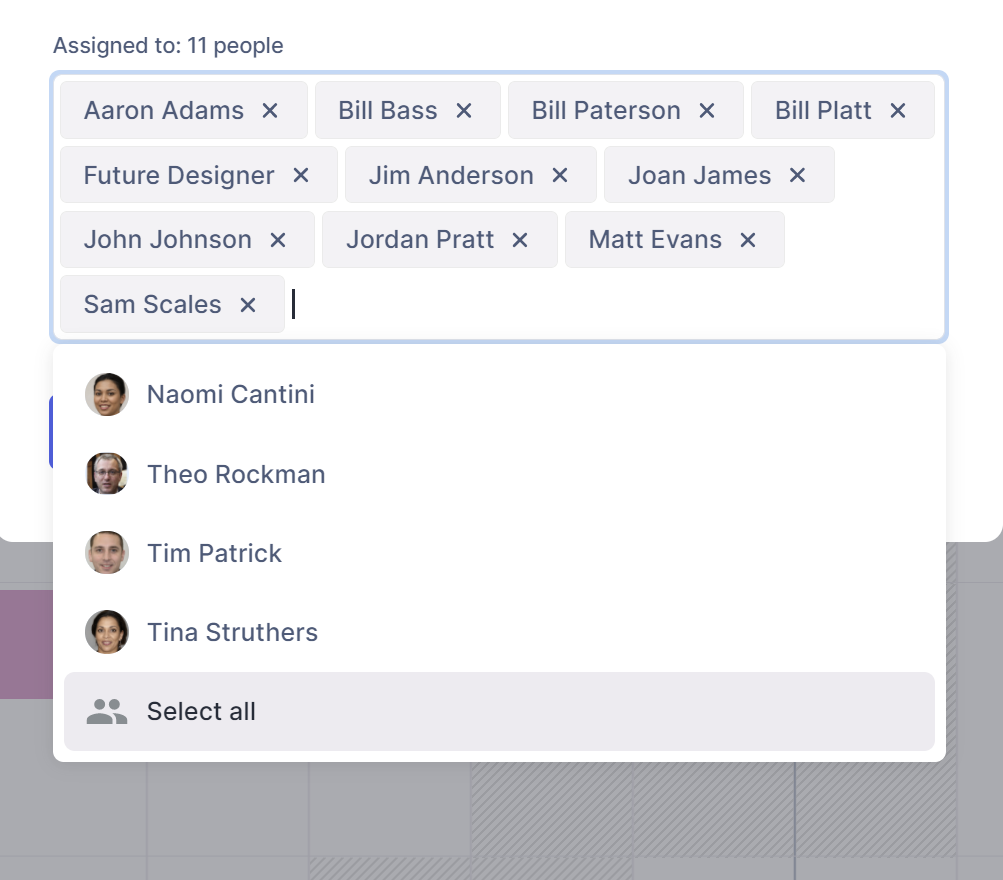 You can add all of your tasks for a project to the Tasks tab in the project menu and they will automatically appear in the task drop-down when you're ready to assign them to your team. You can also create new tasks directly on the schedule.
Tasks that have been scheduled already display a green dot next to them within the Tasks tab, and you can set individual tasks to non-billable from here or merge two or more tasks to consolidate them.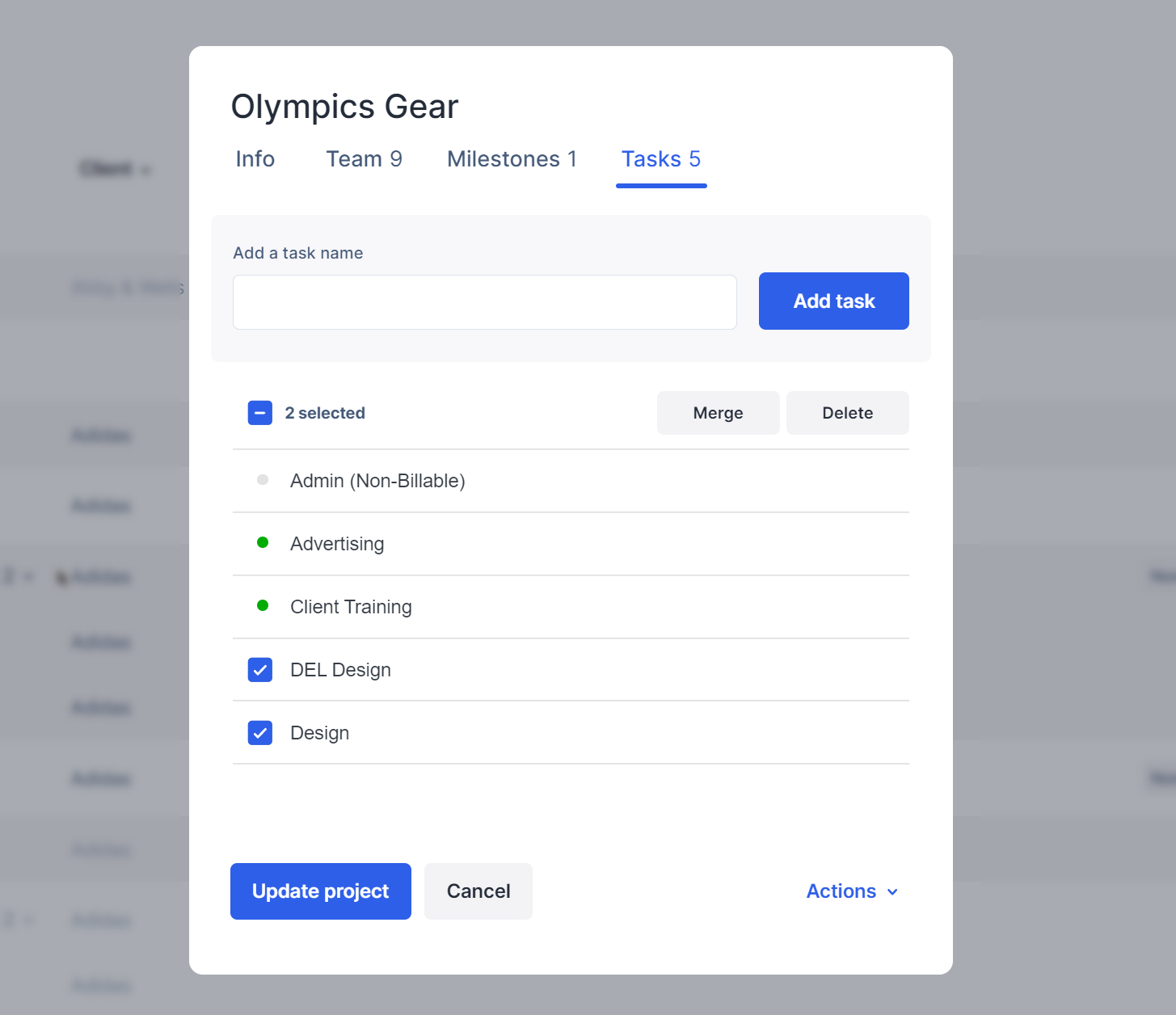 Schedule repeating tasks
Save time scheduling your team by setting a task to repeat when you create it. Any changes you make to a repeating task can be applied to that task alone or to all tasks in the set.
Find out more about repeating tasks
3. Set and manage your team's availability
You can set your team's work hours and work days from the Hours & currency tab within your Team settings. Your team's capacity is tied to their work days and hours, so these settings have a direct impact on your reporting.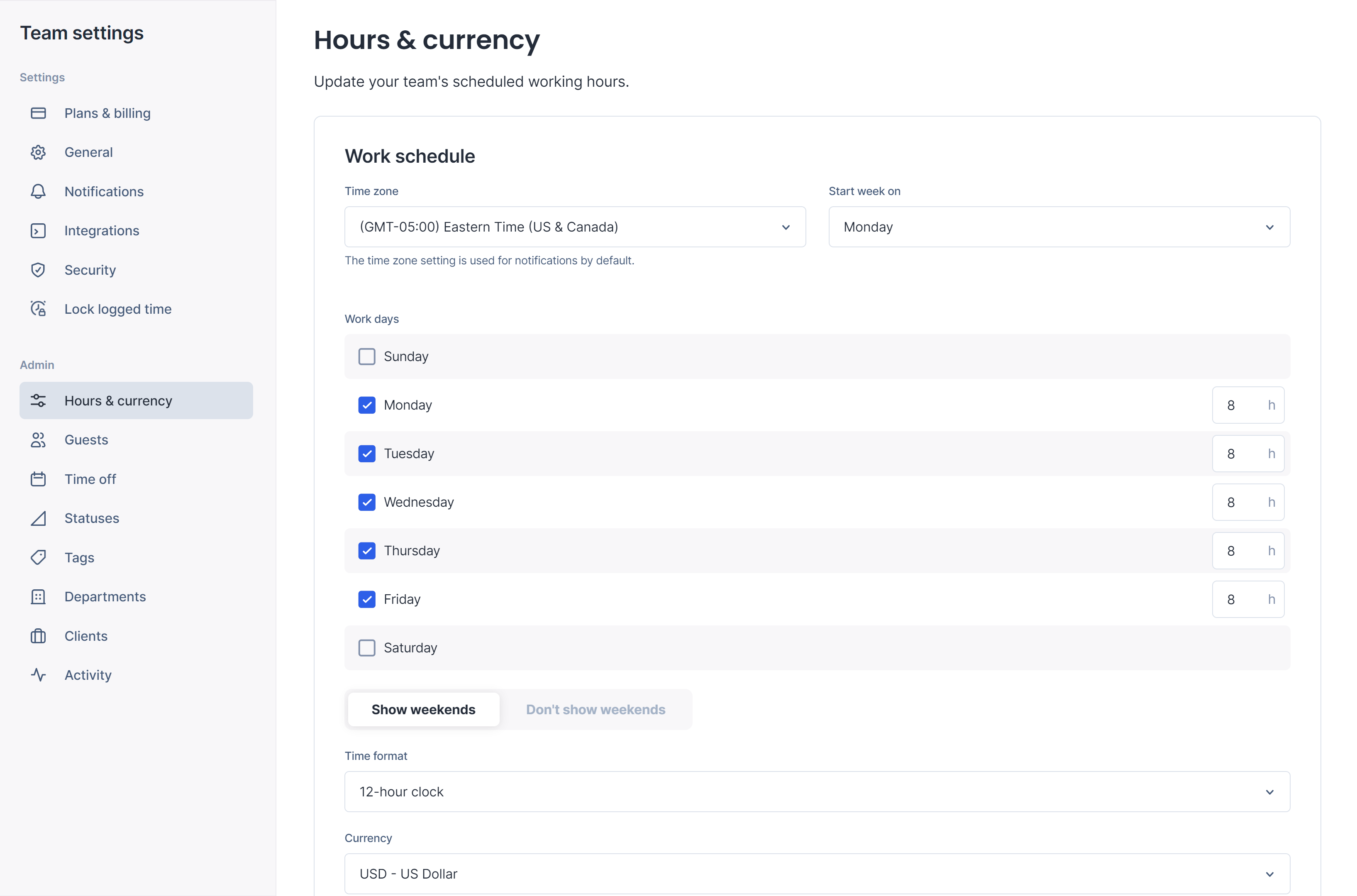 Team members who work different hours or days can be marked as Part-time, which allows you to change their individual availability.
Make point in time changes
To adjust your team's capacity in the future, simply increase/decrease their hours and select the A specific date onward option. This allows you to change your team's work days and hours while keeping your reporting accurate.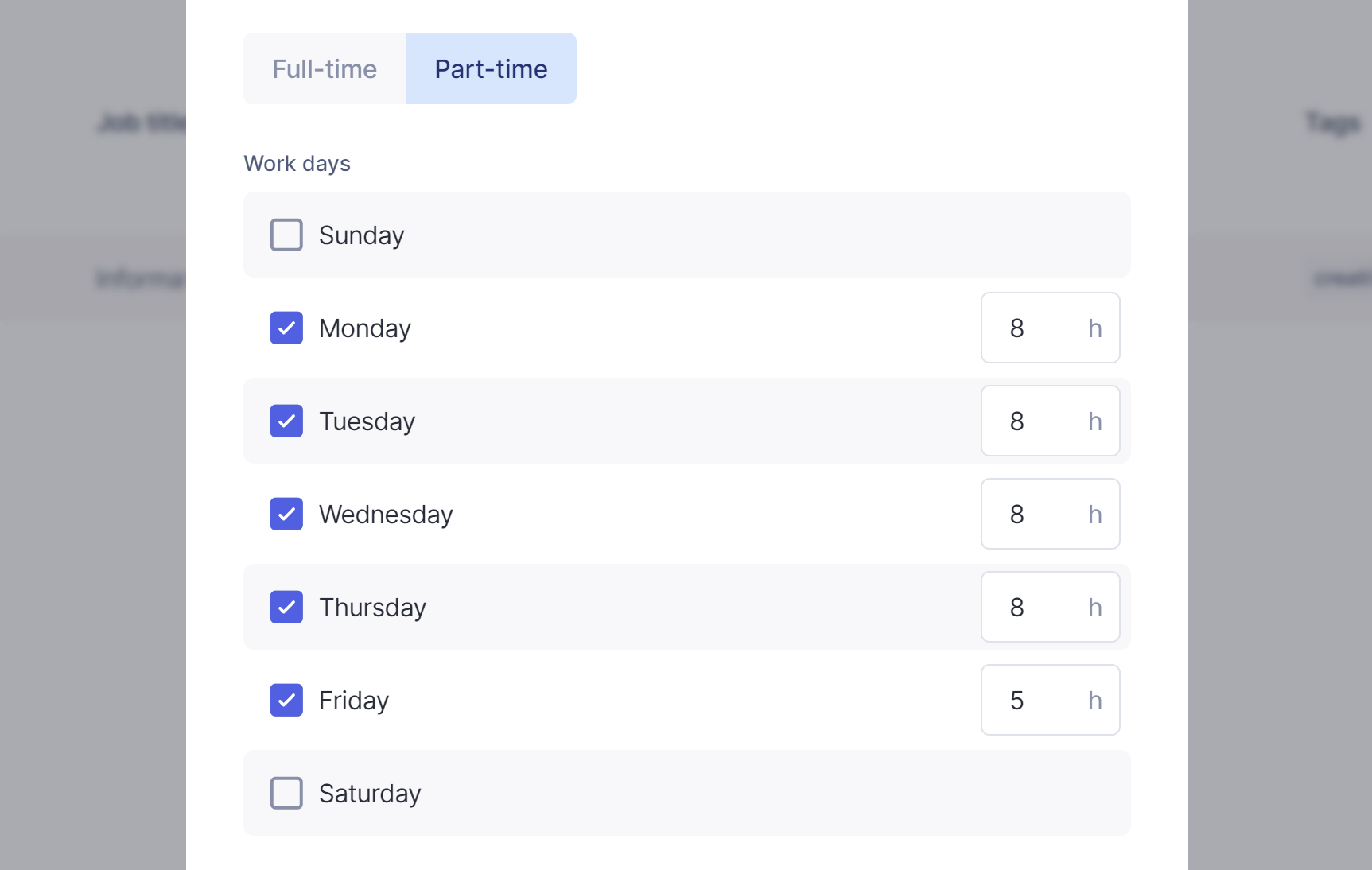 People who appear on the Schedule can also connect to Google Calendar or Outlook Calendar and sync their existing events to Float.
New tasks and updates are reflected immediately, so your team will never need to worry about viewing an outdated version of the schedule.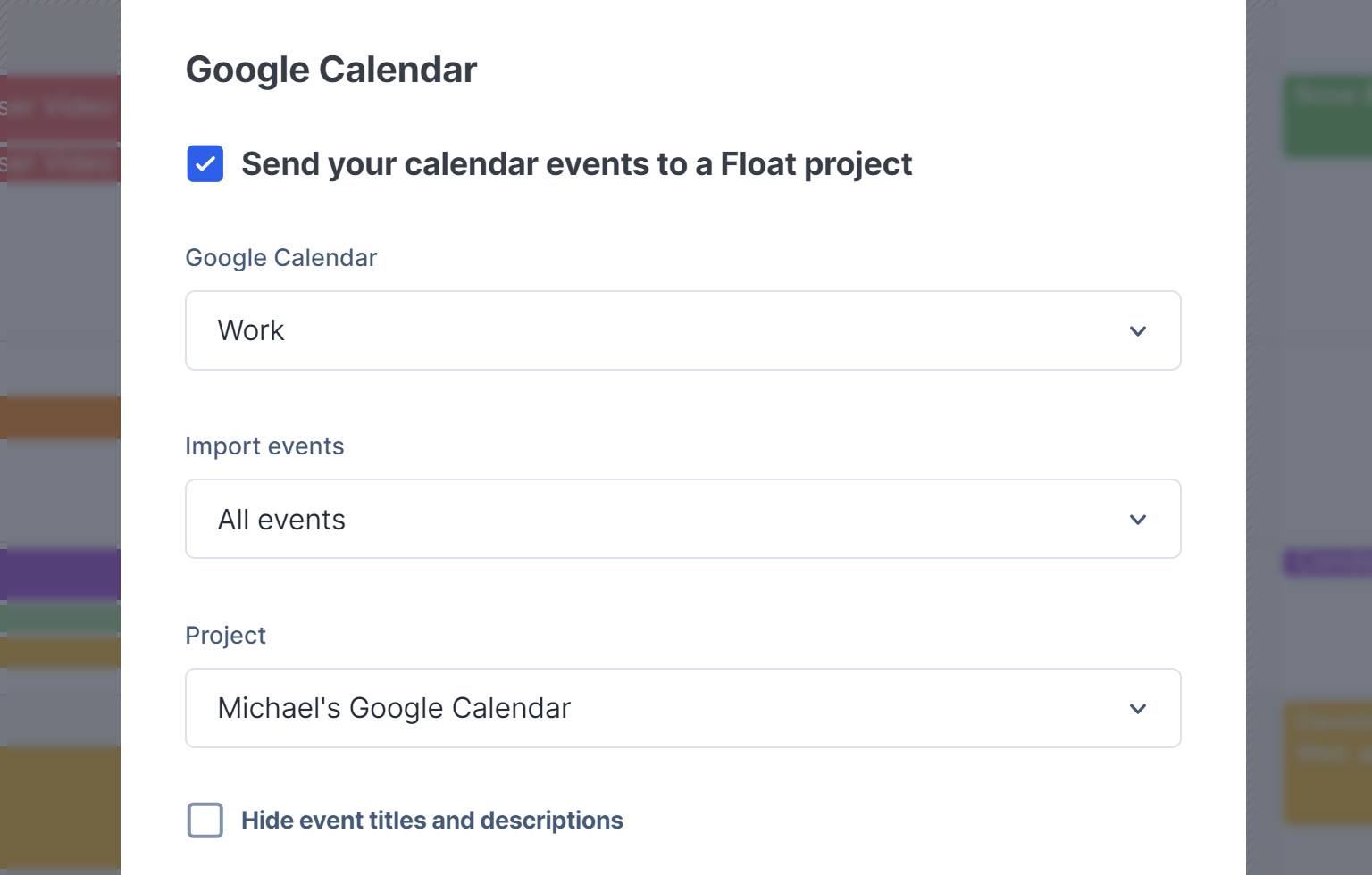 You can also send your Float tasks back to your calendar app using one of the calendar integrations or with an iCal link.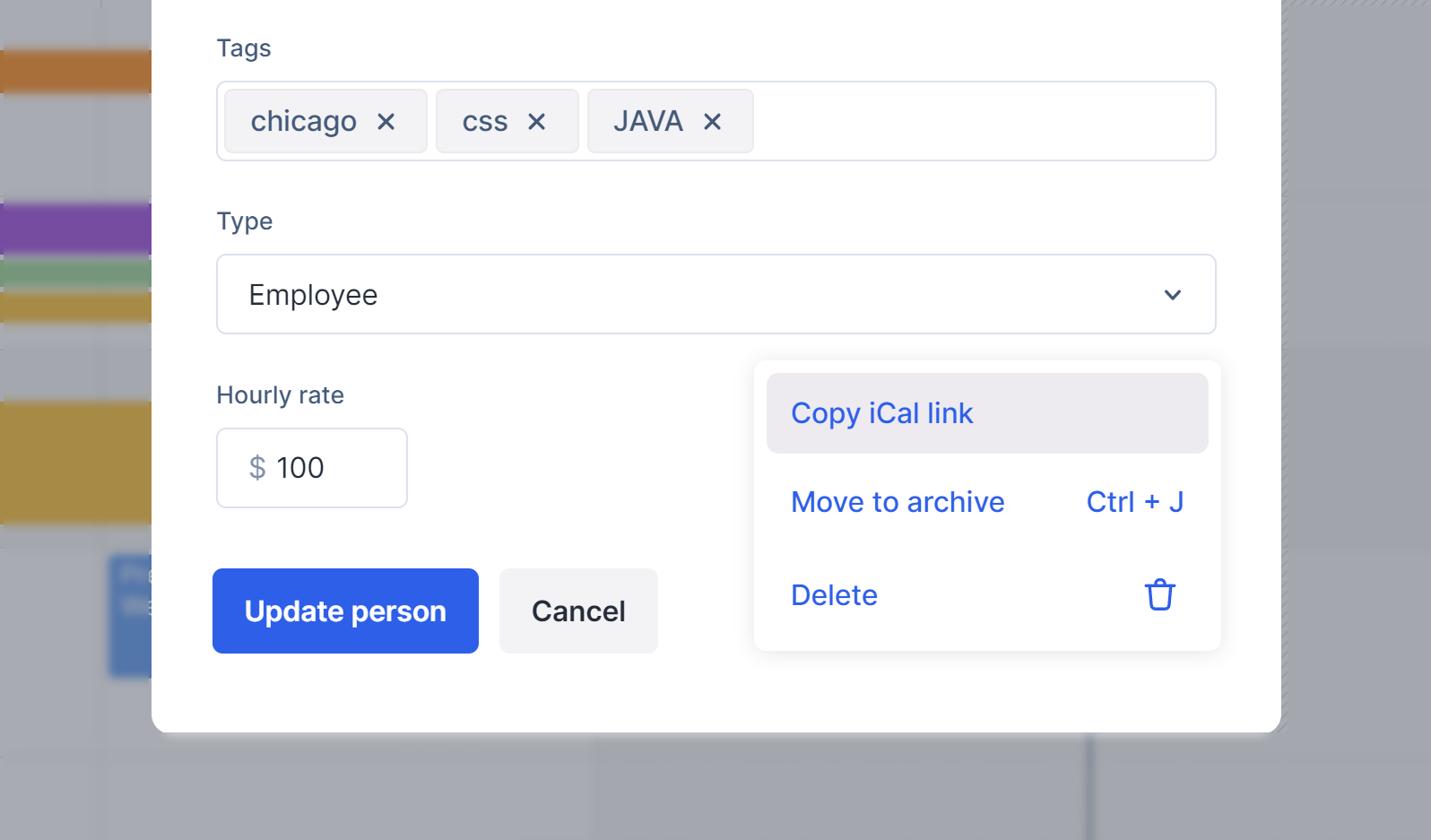 Streamline your workflow with direct integrations
Float has a range of direct integrations to sync with your favorite tools.
• Project management: Asana, Trello, Teamwork, Jira, WorkflowMax, and Xero Projects
• Invoicing and timesheets: QuickBooks
• Communication: Slack
• For everything else: Zapier
View Float integrations
---
Onboarding: Rolling out Float to your team
1. Invitations and access rights
With your people, projects, and tasks in place, it's time to invite your team to log into Float.
Set their access rights, make sure their email is correct, and click Add & invite person.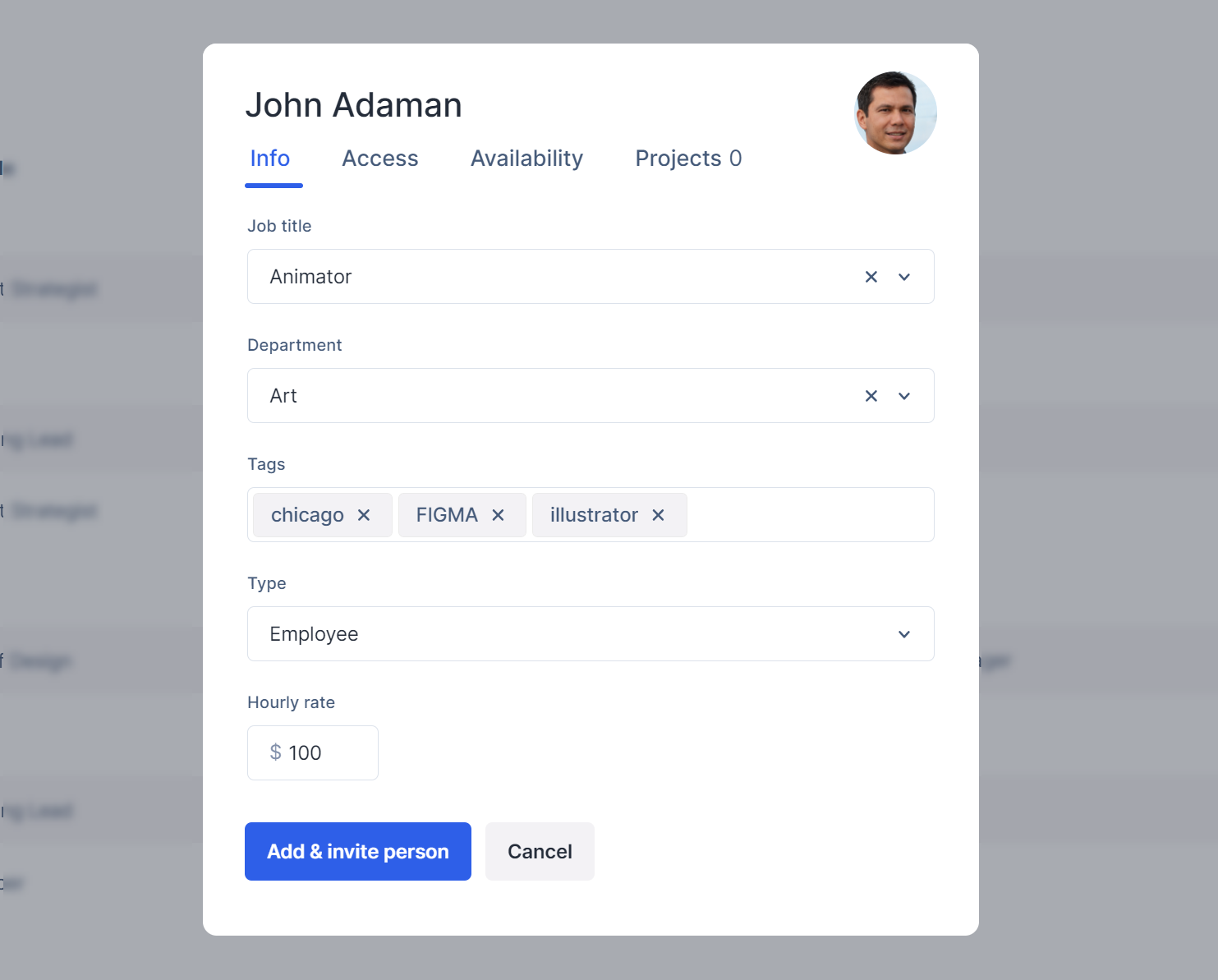 They'll receive an email invitation to join your team and can click the link to set a password and log in.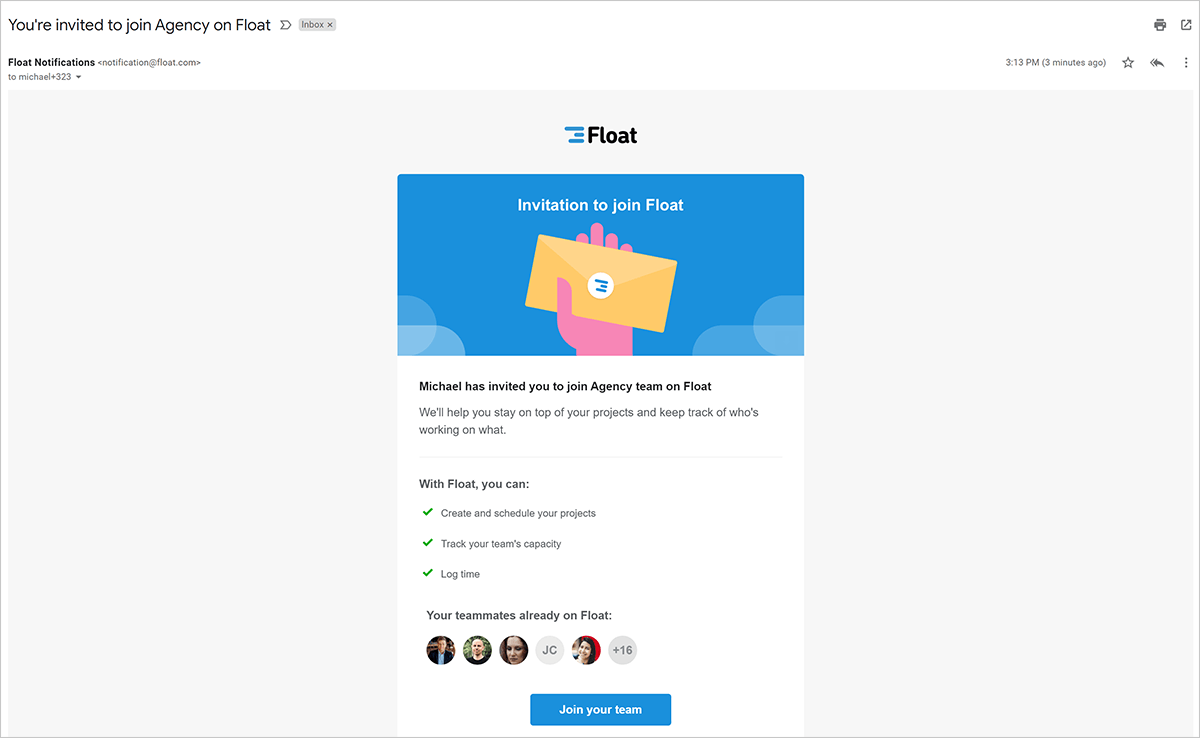 Team members who don't need to appear on the schedule can be added as guests. Guests can view and edit in Float, and they are always free.
You can also give people outside of your team access to view a read-only version of the schedule by sharing a link with them.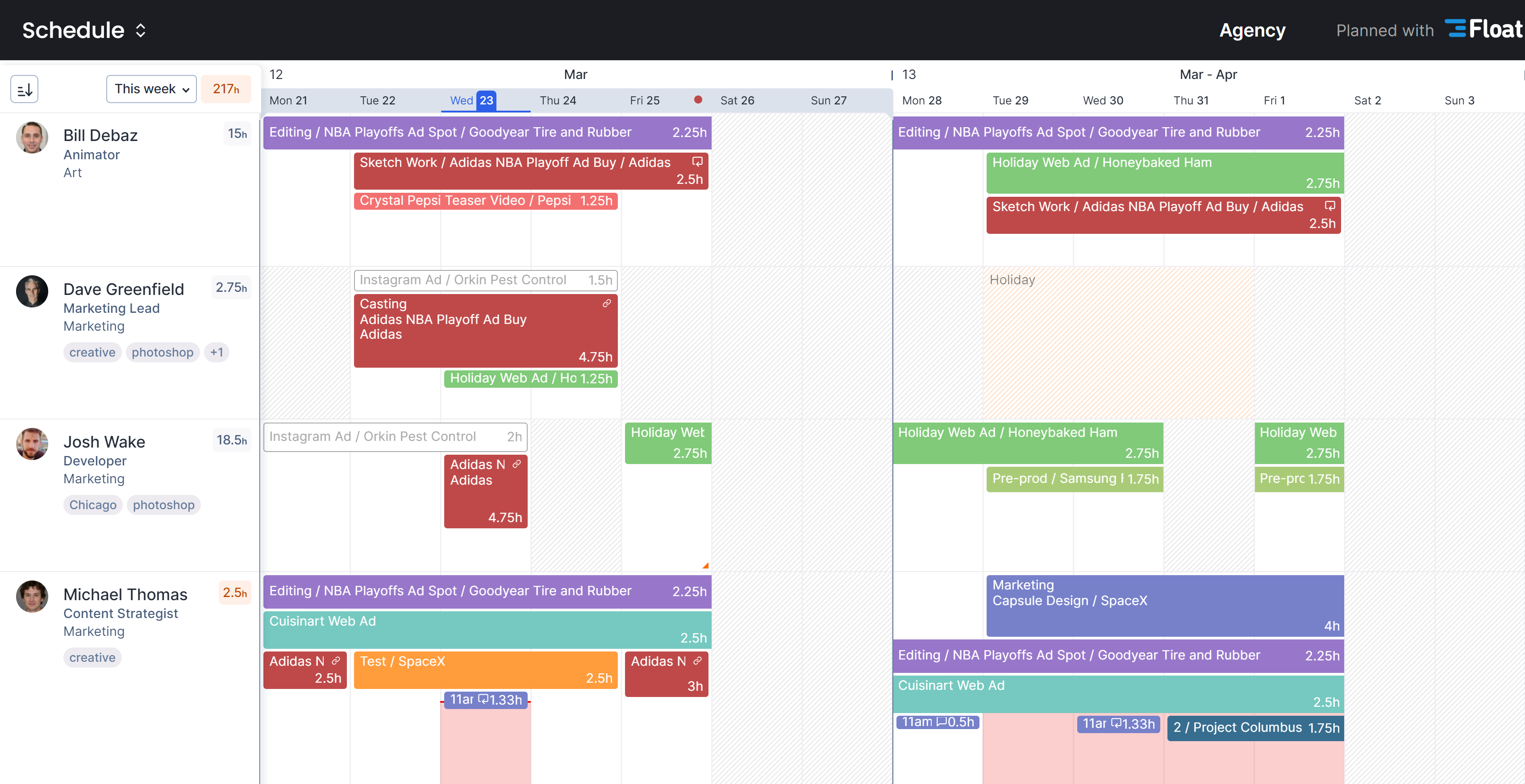 Sharing a link lets you give your co-workers, clients, and other collaborators real-time visibility into your projects and capacity without needing to log in. Read more about this feature here.
2. Schedule and time tracking notifications
Staying up to date with the latest changes is easy in Float. There are various notification options available to your team, including daily and weekly email reminders, notifications via Slack, and mobile push notifications.
The Account Owner can manage the frequency of your team's email notifications from within the Team settings.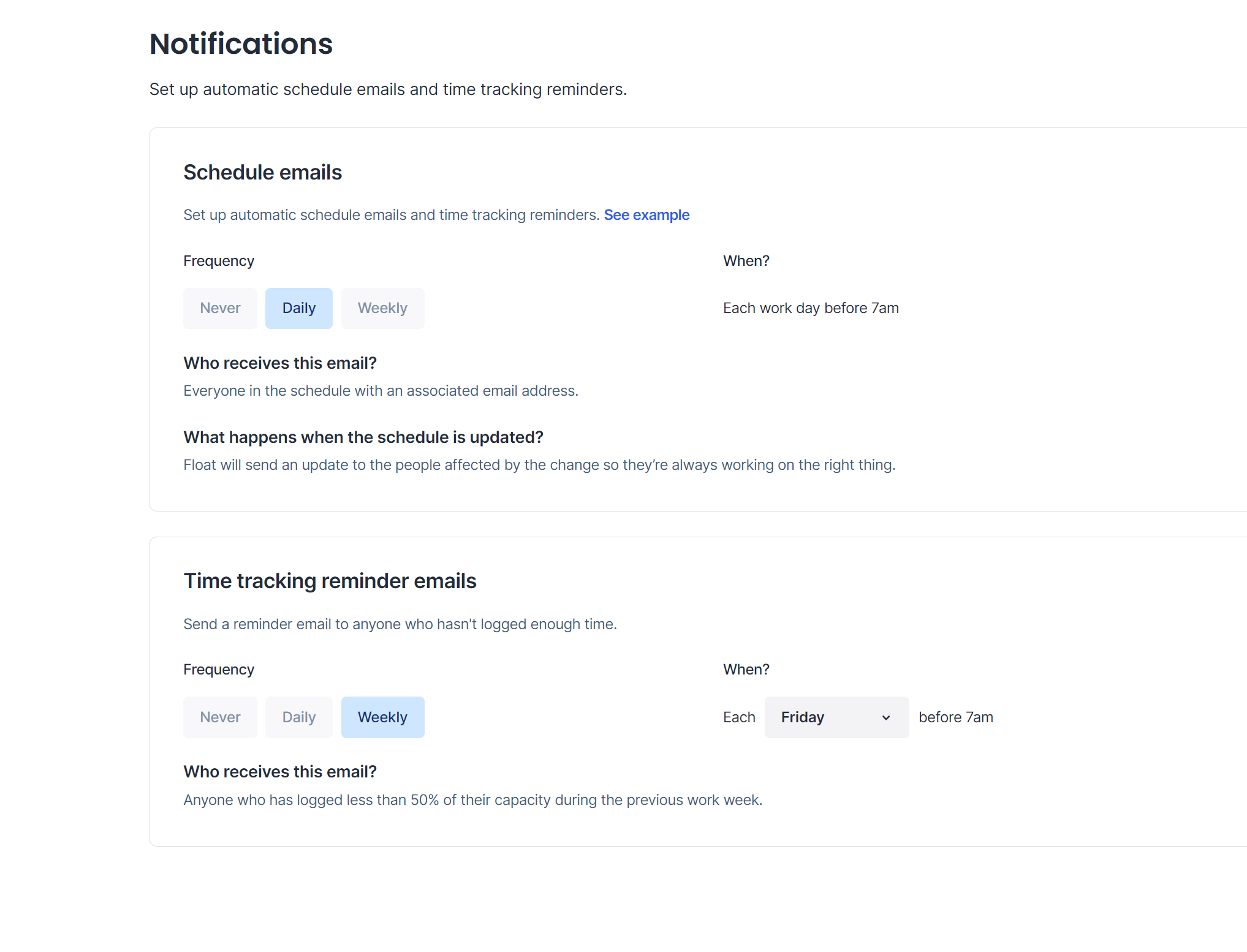 Your team can also personalize the notifications they receive by clicking Notifications from the Personal menu.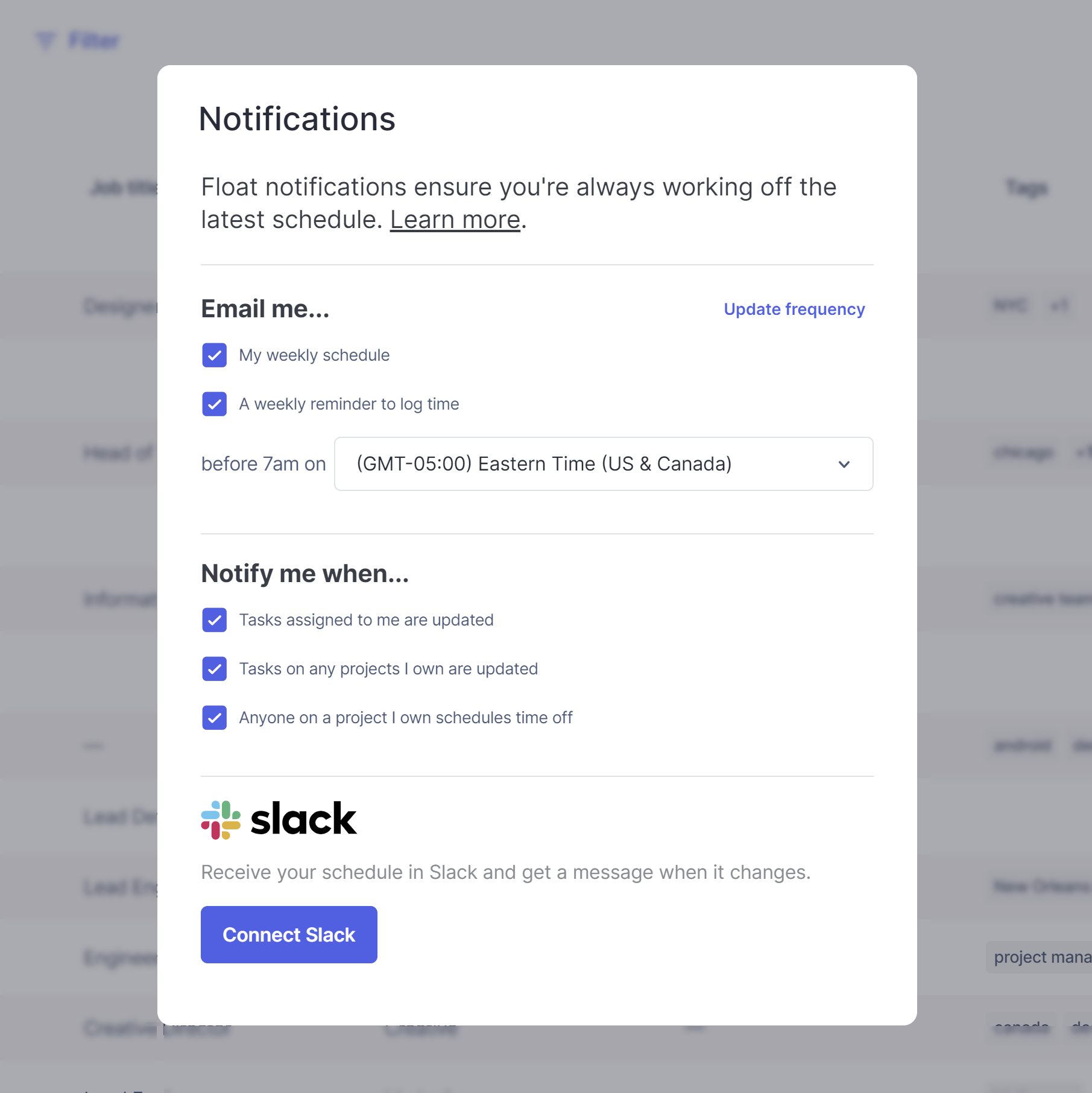 Additionally, they can connect to Slack and receive schedule updates and notifications directly in Slack whenever relevant activity occurs in Float. Check out the notifications app on Slack here.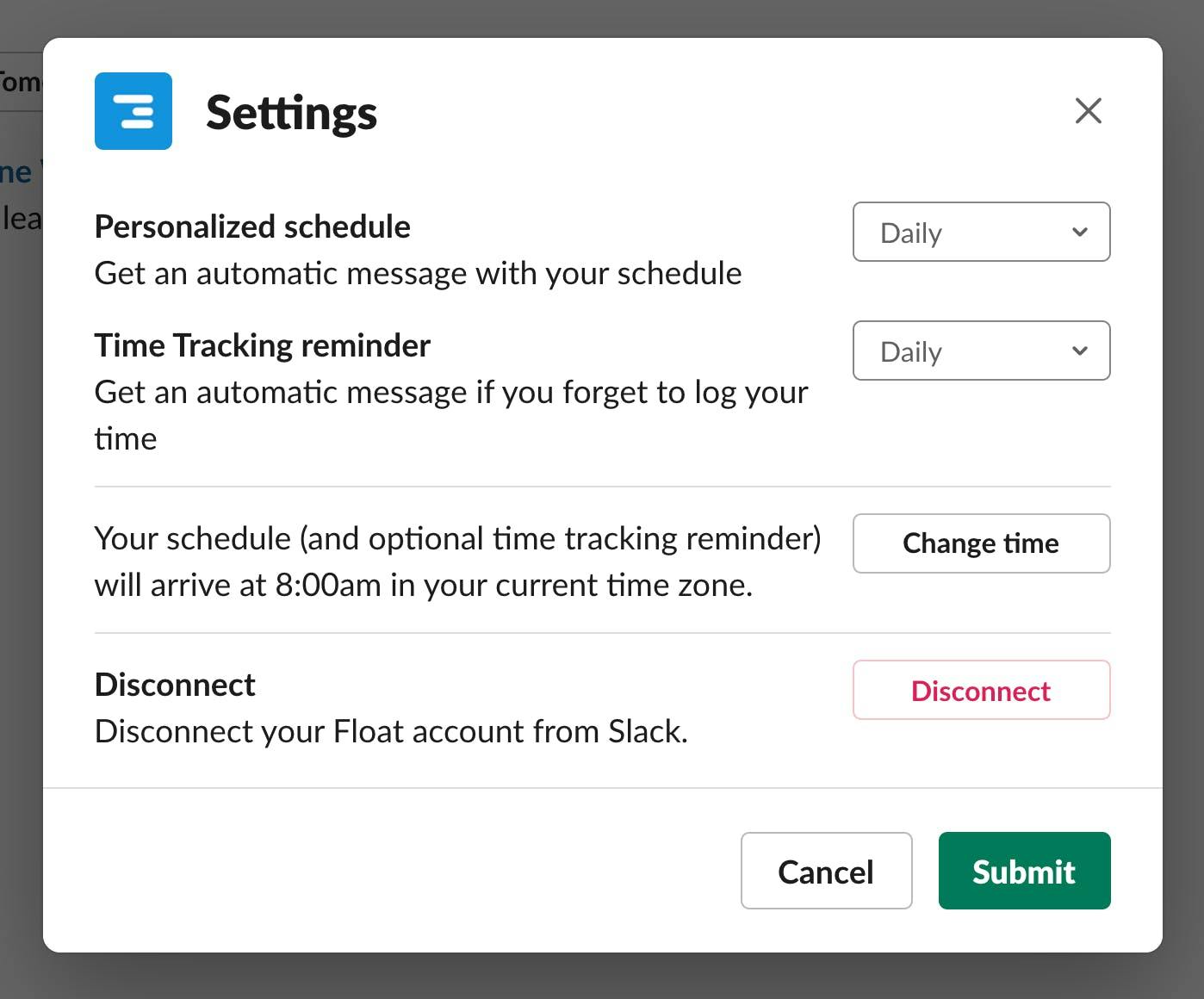 Team members with the mobile app for iOS and Android installed will also receive push notifications straight to their devices.

The first notification is sent after approximately 15 min if the person is offline, with additional notifications following until they log back into Float.
Available notification triggers
• A task assigned to you is created or updated - Applies to the remaining current week. Tentative tasks are not included.
• A task on a project you own is created or updated - Applies to tasks that are completed, ongoing, or scheduled in the future.
• Time off is created or updated by someone who is part of a project you own - Applies only to time off that is scheduled in the future.
Note: The project owner is responsible for its upkeep and can be set within each project.
3. Expanding Float to your whole team
Whether you're a team of 10 or 10,000, the process of getting people to adopt a new platform can be a real struggle sometimes.
Float helps teams create and schedule projects, track capacity, log time, and more—but identifying and defining how it can help improve your team's unique workflow and make everyone's jobs easier is a great way to get people to buy into using it.
With BuzzFeed's post-production team managing hundreds of projects on the go, they needed to be confident that Float could handle their workload without compromising on performance or speed, before rolling it out across their department.
"We had a few people test it out with a couple of projects before we rolled it out. Once we decided to go ahead, it only took users about a week to transition over to Float and get comfortable with it."
Read more about how the post-production team at BuzzFeed plans hundreds of projects simultaneously in Float here.
Do you need assistance in rolling out Float? Our Customer Success team is here to help!
Useful links
• Get in touch for personalized support. Whether it's a presentation to share internally, a video demonstration to educate your team, or specific questions about how Float can work within your organization, our friendly team is happy to assist.
• Download a copy of the Float Security White Paper for a detailed breakdown of our security and privacy measures.
• Check out the Who Uses Float? page to learn how some of the world's top brands have set up hundreds of people and projects in Float and improved their team's efficiency.
Save 10% on teams with 100+ people
Large teams can save an additional 10% off their subscription costs by scheduling 100 or more people in Float. That's in addition to the 20% you can save by signing up for an annual subscription plan.
Check out our pricing
---
Wrapping up: Unlocking your scheduling superpowers
Mastering these basics will put you on a path to becoming a Float expert in no time, but there's still plenty more to learn! Here are some additional resources to help your team get the most out of Float.
Learn more about these popular features
• Reports
You can also find step-by-step articles on all of Float's features in our Help Center.
Stay up to date on the latest news
Check out our What's new page for the latest updates and other helpful project management and resource planning tips.
Let us help you schedule better
We are available 24/7 to help. Reach out to us or click Help > Chat directly in Float to get in touch.
For even more personalized support and training, book a live demo with us below.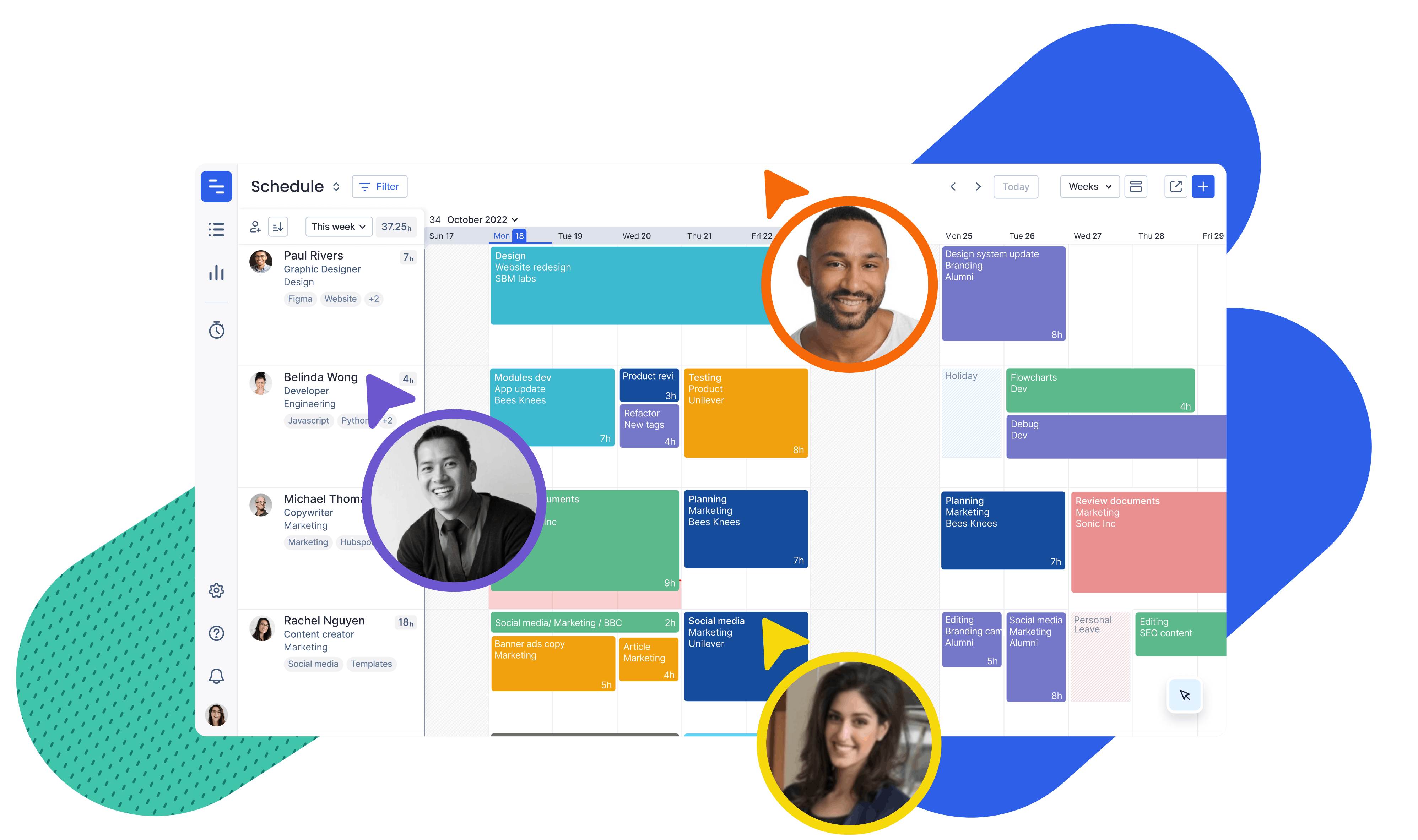 Book a 1:1 call with a Float expert
Chat with one of our friendly experts to find out how Float can help your team plan resources and track their time.
Talk to sales