Are you ready to take on a project sponsor role and steer a project toward success? As a project sponsor, you have the crucial responsibility of advancing and approving a project from inception to completion. 
You need to understand your responsibilities and how best to provide guidance throughout all phases, from setting deadlines and ensuring goals align with organizational objectives to anticipating problems and staying up-to-date with progress. 
This article is your guide to successful project sponsorship. We'll provide you with all the information and insights you need to confidently navigate the world of project sponsors and lead your project to the finish line. 
So let's dive in and ensure that when crunch time comes around, you're ready to take charge and deliver!
What's the role of a project sponsor?
A project sponsor is a vital role responsible for approving, funding, and ensuring the success of a project, even without direct management authority. Understanding the critical responsibilities of a project sponsor is essential to be an effective requestor. It's crucial to comprehend the initiatives they approve, how they fit into the overall company strategy, and how success is measured.
As an expert, the project sponsor can guide and motivate the team, identify potential escalation points, and make quick decisions to ensure optimal project results. Project sponsors can set up successful workflows by asking questions, providing additional resources, or offering guidance when needed.
Effective project sponsors also take responsibility for achieving outcomes without micromanaging day-to-day operations. Knowing how to handle common scenarios with poise is the key to success.
What does a project sponsor do at each stage of the project?
Project sponsors have a crucial role in ensuring the success of a project from initiation to closure. To achieve this, sponsors need to be involved at every stage of the project lifecycle and perform the following tasks:
Initiation: Set objectives and identify success criteria for the project
Project planning: Review the scope and business case against those objectives
Execution: Define and agree on deliverables with stakeholders, and provide necessary resources such as people, budget, and equipment to achieve the project goals
Monitoring/Controlling: Monitor and measure progress against milestones, and review performance throughout the project to ensure desired outcomes are achieved
Closing: Provide the final validation that the project has achieved its desired outcomes, signaling the formal closure of the project
By performing these tasks, project sponsors can ensure that the project is aligned with organizational objectives, each key stakeholder is engaged, risks are identified and managed, and the project is delivered within budget and on time.
Project sponsor vs. project manager
Project sponsors and project managers both play essential roles in completing a project, but the two have fundamental differences. The project sponsor is typically senior management responsible for initiating, funding, and approving a specific project and ensuring it achieves desired outcomes.
The project manager, however, is usually responsible for managing everyday elements of the project—including tasks like organizing resources and establishing deadlines—to ensure they stay on budget and reach their overall objectives. 
The key differences lie in the responsibility and accountability for various project elements. Remember, the project manager has little (if any) authority over the project team, funding, or outcomes. Most of the critical decisions about the project's value, budget, approval, and results are determined by the project sponsor. 
You can see a high-level breakdown of responsibilities across the roles in the image below.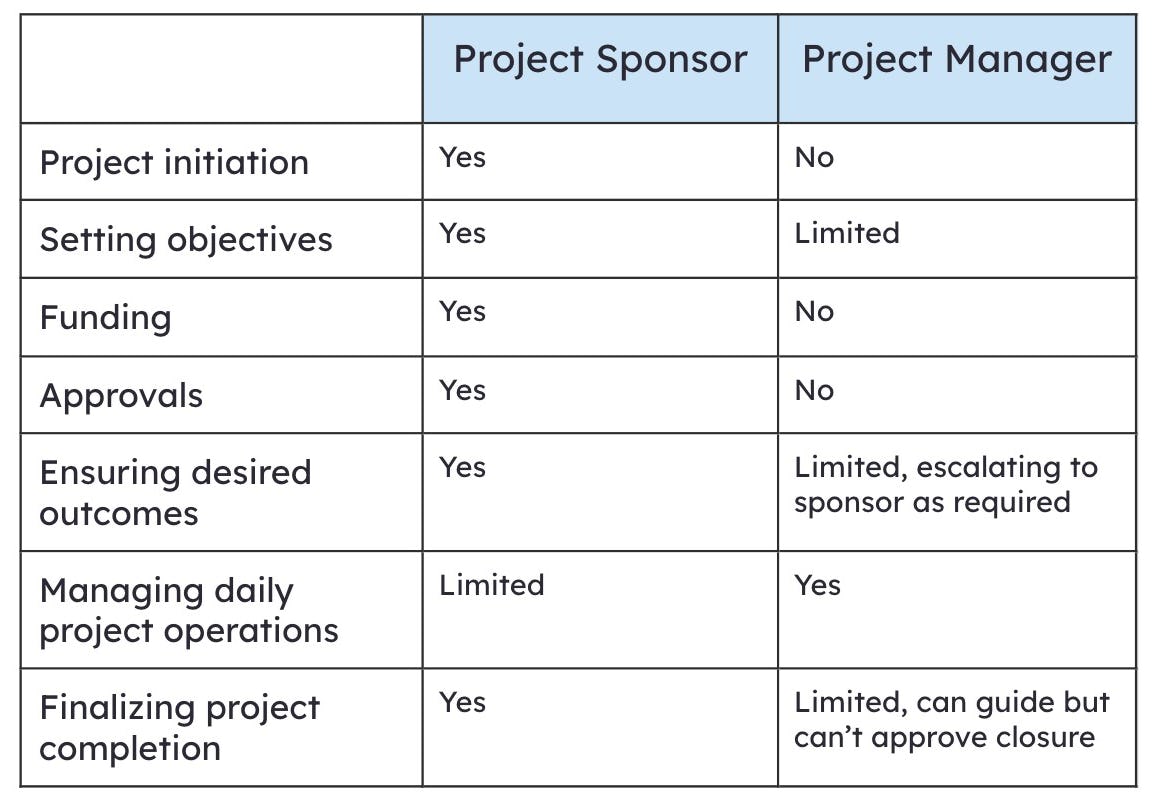 While the roles are separate, they are deeply intertwined, and both significantly influence the project's outcome.
As the project sponsor, you are responsible for defining, approving, and funding the project. On the other hand, the project manager is responsible for facilitating, planning, guiding, and monitoring the project. Understanding the governance structures in place is essential.
To be an effective project sponsor, you must have a solid ability to comprehend complex problems, make critical decisions, and direct resources toward achieving business objectives. The project's success rests on your shoulders, and it's crucial to appreciate the distinct characteristics of your role and how it contributes to the project's success.
What makes a good project sponsor? 
Successful project sponsorship requires a clear understanding of roles and responsibilities from the outset. As a project sponsor, it's essential to grasp the project's desired outcomes, milestones, and deadlines, as well as the budget and resources available.
Effective project sponsors must be committed to monitoring project progress, providing guidance and input where necessary, and removing potential obstacles to ensure the project team has the resources they need to succeed.
Motivating the team with ambitious yet achievable goals and recognizing excellent work are other hallmarks of a good project sponsor. Above all, a successful project sponsor ensures that everyone involved understands their role in achieving the project's objectives.
Keep track of progress and schedules in Float
Stay in the loop with how projects progress and how task are allocated to ensure you can support the team effectively. Get a bird's eye view of capacity and project plans to further facilitate desired outcomes.
Try for free
Eight tactics to foster trusting relationships between sponsors, project managers, and teams
Effective communication is vital to building trust between sponsors and project managers. 
Sponsors should establish a sponsorship contract or charter that defines each person's roles and responsibilities. Clear expectations and open dialogue create a positive working relationship that supports innovation, trust, accountability, and respect. With these foundations in place, sponsors and managers can share a clear understanding of objectives, leading to more efficient outcomes.
Here are eight tactics to foster trusting relationships between sponsors, project managers, and teams:
Establish a sponsorship contract or charter that defines the roles and responsibilities of each role involved in executing the project.
Communicate expectations early and often. Be explicit.
Foster open dialogue and encourage innovation, trust, responsibility, and respect within the team, at every level. Respect every individual, regardless of role.
Provide recognition for work done well to motivate team members involved in achieving collective project success.
Set ambitious and achievable collective goals to inspire successful outcomes in projects.
Demonstrate accountability by removing potential blockers or obstacles as needed when they arise during the lifecycle of the project.
Regularly review progress made on projects, provide input where necessary, and make sure everyone is aware of their role regarding its completion.
Show commitment towards ensuring desired milestones, deadlines, and budget allocated are used efficiently during development stages; give the team what they need to be successful.
Becoming an effective project sponsor may seem daunting, but it is attainable for anyone with the proper knowledge and preparation. 
Understanding the project sponsor's role, following the basic steps throughout the project lifecycle, and building trust between sponsors, project managers, and teams are essential components for success. 
By committing to these principles and continuously improving your skills, you can elevate your performance as a project sponsor and achieve your organization's objectives.