As you gain more experience in project management, you'll discover new strategies to keep your projects on track and achieve the ultimate goal of delivering on time, within scope, and under budget. However, one aspect of project management that remains consistent is the project management process, especially in a waterfall approach.
The Project Management Institute (PMI) defines this process as having five distinct phases: initiation, planning, execution, monitoring, and closure. While you may encounter different terms or variations of the process, these five phases are widely recognized and accepted globally.
Let's delve into each of these five phases and explore how to execute them successfully. By the end, you'll clearly understand how to complete each phase and ensure your project is a resounding success.
The five phases in the project management process
Although you may see different names for the five phases, the order of operation stays fairly consistent—what changes may be the number of deliverables under each phase depending on the project size. That said, this project process isn't necessarily a one size fits all approach. I'm a huge advocate for adaptability, based on the answers to the following questions:
What approach will turn out the best quality work?
What is the best method to support your project team so they can focus within their wheelhouse of expertise?
What does the client need to ensure they are working well with their stakeholders, have everything they need to support us in moving the project along, and are happy?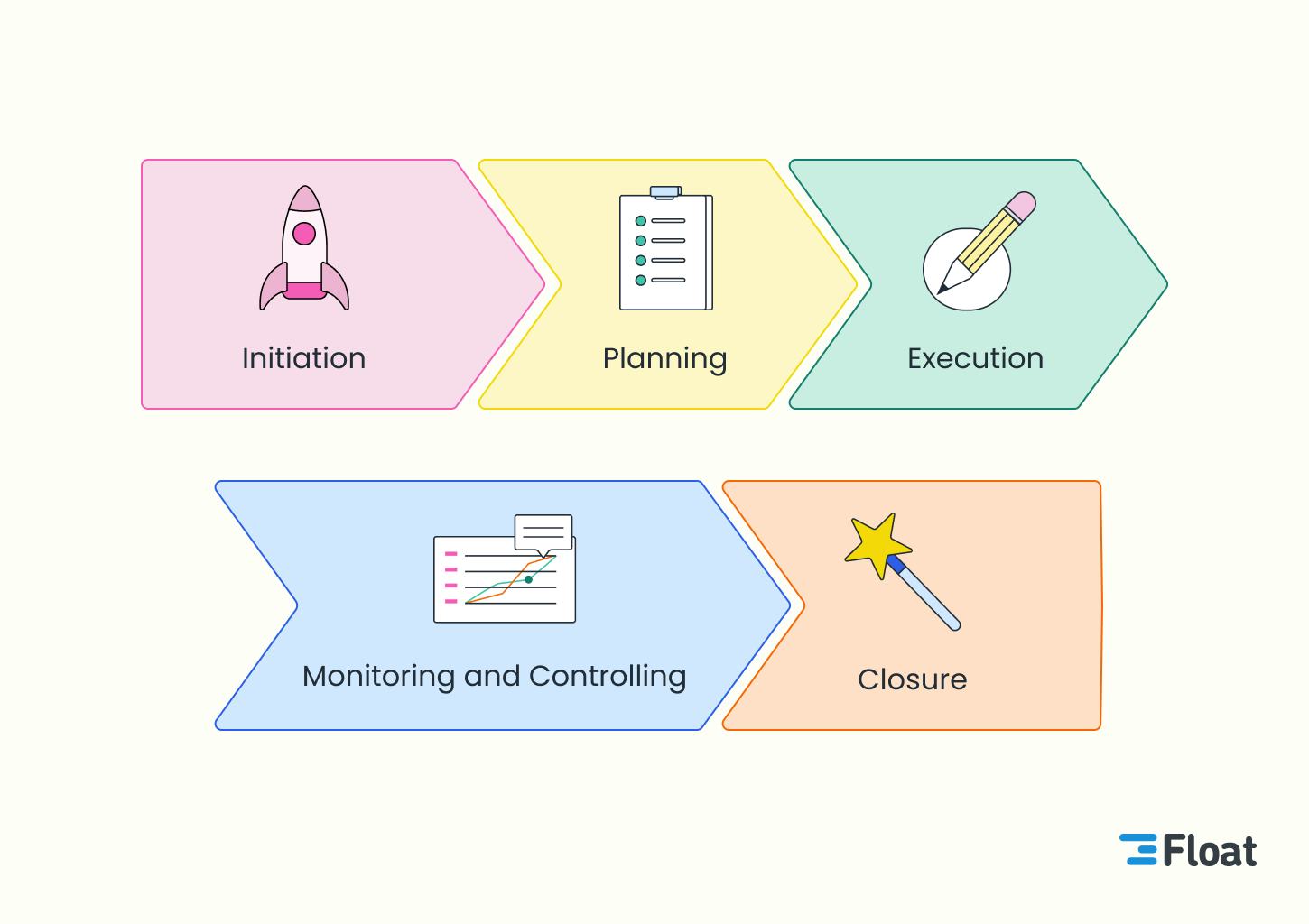 Phase 1: Initiation
During this phase, ensuring that the project aligns with the organization's overall goals and objectives is crucial to its success.
Build a business case. This involves defining the project's goals and objectives and identifying how they will benefit the organization.
Establish the project charter. The project charter will help establish the project's objectives and scope and how they align with the goals. 
Determine stakeholders. Identify all stakeholders, including internal team members, external vendors, clients, or customers, and determine their roles and responsibilities.
Estimate timeline. Determine when the project will start and finish, as well as the milestones and significant deadlines along the way.
In many organizations, the initiation phase can happen during pre-sales, when the business development team creates a proposal before the contract is officially signed.
No matter the company's size, I recommend having the project manager or another team member vet every scope of work, budget, and timeline. This ensures a well-defined scope and stakeholder alignment, which can lead to greater success in delivering the project while avoiding a potentially risky commitment to the client that may not be executable.
Phase 2: Planning
During the planning phase, also known as the planning and organizing phase, you'll be developing a well-thought-out plan for resources, budget, and activities. This is a crucial step in the project management process, and you won't achieve high-quality success without it!
Review project objectives and scope with your team to ensure clarity and develop a project plan. This plan could be a Gantt chart that identifies the tasks and activities needed to complete the project and the resources and budget required.
Identify potential risks and construct a communications plan to define who, where, and how often stakeholders will receive project updates, as well as how the team will communicate with you.
Create a work breakdown structure (WBS) to organize and define the work required to achieve each deliverable. A WBS is a valuable tool for new project managers to understand and can make you a more valuable PM later in your career.
Produce a resource management plan to find the best talent for each role and the client's needs and personality. Resource planning tools like Float can be used to identify who is best for each task.
Walk through the scope as a team to identify each deliverable's dependencies, risks, and complexity to create a detailed project plan. Ensure that all team members know what is in and out of scope.
Communicate potential risks to the client and ask them if they can identify any additional ones on their side, so everything is accounted for, and you can plan to mitigate these risks.
Phase 3: Execution
This phase involves executing the plan and ensuring the project is completed on time and within budget. 
Manage resources. Ensure everyone knows what they should be doing and at what time. Learn more about resource management in our guide for project managers.
Track status & reports. Manage tasks through various tools (Gantt chart, kanban board, spreadsheet, etc.) and send regular status reports to clients to keep them informed.
Meet objectives. Continuously check in on the deliverables being worked on to ensure they are in scope and aligning with the project's objectives.
As project managers, we are more than just taskmasters overseeing the execution of the project plan. We also have a vital role in managing the human element of the project, from team morale to conflict resolution.
During the execution phase, we must be ready to handle any issues that arise and facilitate operations to keep the project moving forward. Here are some of the responsibilities that often fall on the project manager:
Eliminating unnecessary distractions for resources so they can focus on their work and deliver their best performance.
Managing team morale to create a positive work environment and foster a sense of teamwork and collaboration.
Resolving conflicts that arise, whether with clients or within the project team, to ensure everyone is working towards the same goals.
Helping underperformers get back on track by identifying the root cause of the issue and working with the individual to develop a plan or solution.
Track project progress easily
Join the thousands of teams managing their resources in Float, and easily keep track of workloads and project schedules.
Try for free
Phase 4: Monitoring
Throughout the project, monitoring the progress and making necessary adjustments are essential. This helps ensure that the project is on track and that the objectives are met.
Identify and mitigate risks. Continuously assess and identify risks throughout the project. Be prepared to take action and mitigate any issues that arise.
Make project plan adjustments. Adjust the project plan as necessary based on changing priorities, scope changes, or delays. Don't hesitate to make adjustments on a daily basis if needed.
Ensure quality. This could be through user testing or regular reviews with the team and stakeholders.
Monitor budget. Check-in on the project's budget daily and be prepared to notify the client of any budget constraints or areas where spending is higher than expected. In Float, you can set a project budget and monitor it as the project progress. If the project exceeds the budget, the summary will turn red, making it easy to spot.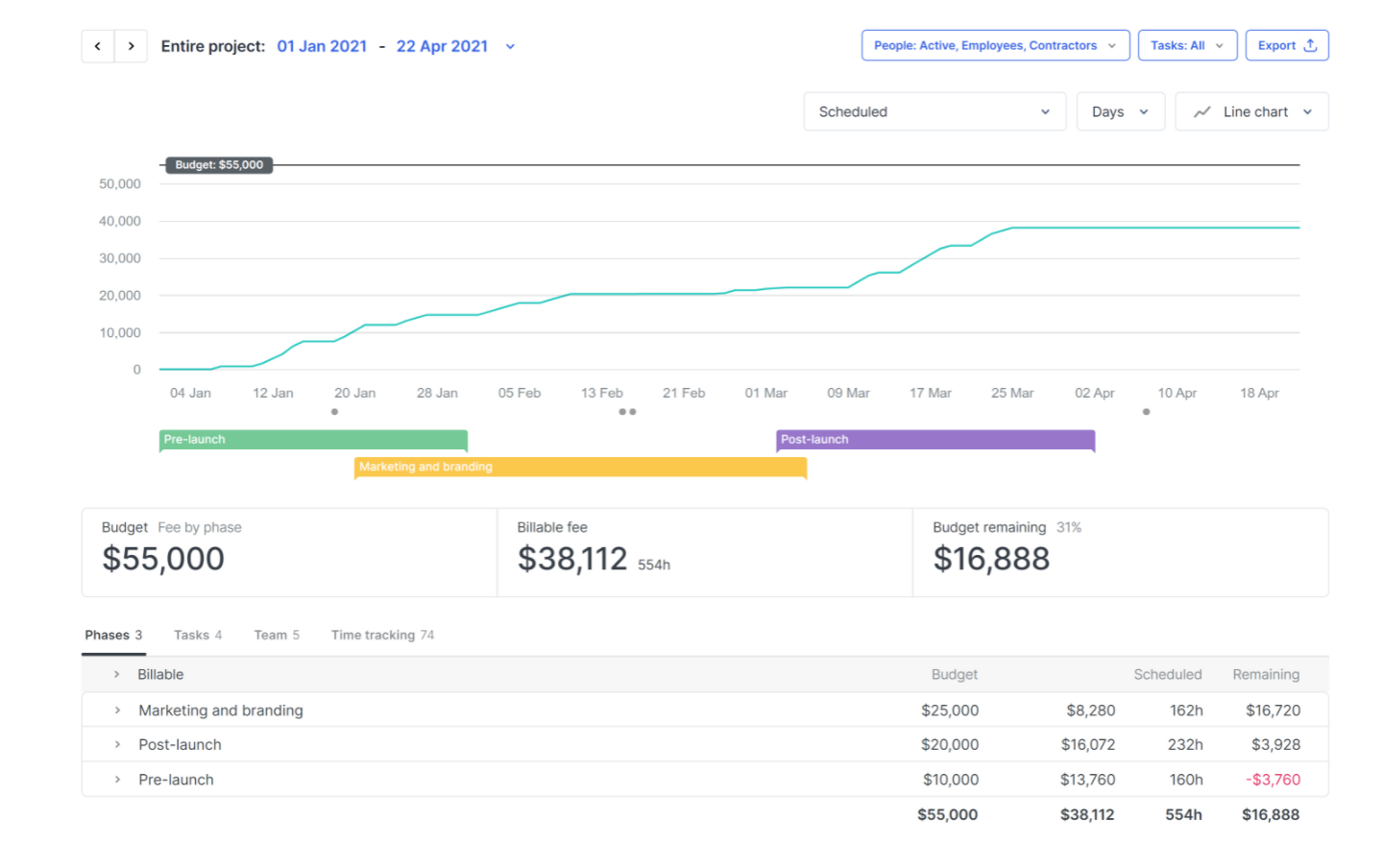 Phase 5: Closure
This is where you'll wrap up the project and evaluate its overall performance. A standard project closure checklist in your organization is a great way to ensure you don't miss anything in the closure phase and that the client and your company have everything they need to commit to close.
Conduct retrospectives. Gather feedback from stakeholders and team members to assess the strengths and weaknesses of the project. Consider having an informal person conduct a retro with your client to get truthful answers from project team members.
Document lessons learned. Record any lessons learned from the project so that processes can be updated or implemented for future projects. This should be done throughout the entire project to make retrospectives easier.
Approve, sign off, and hand off. Double-check with your client that all deliverables meet the expected objectives and that they have everything they need for their closure process.
Create a project closure report. Wrap up all the objectives and goals, and identify the deliverables that were met. This report will help you document the project's success and ensure that all parties involved are satisfied.
Beware of any risks
As you work through each project phase, watch for potential risks. Risks can appear in almost all phases, and it's important to document, analyze, and build mitigation plans to address them.
One key element of successful project management is planning for the project's future well in advance. This means continuously identifying and assessing risks and involving the entire team (including the client) in solution planning.
Remember, risks can be related to everything from scope and budget to stakeholder delays and political turmoil within your client's organization. By documenting and assessing risks continuously, you can stay on top of potential issues and ensure your project stays on track.
Deliver projects on time and within the scope
Congratulations, you now have a solid understanding of the five phases of the project management process! By following these steps, you'll be well on your way to completing your projects successfully and on time.
Throughout the process, staying organized and keeping all stakeholders informed of the project's progress is essential. Documentation is also crucial to ensure the project stays on track and meets its objectives.
A structured project management process will set you and your team up for success and result in a happy client. So put these tools into practice and start delivering projects that everyone is proud of!
Want to learn more about how to create effective project plans? Check out our guide and start planning your next project with confidence.