Elise Dopson

(Updated: )
Resource planning is a process of allocating tasks to team members based on their capacity, skill sets, and the best fit for the job.
---
When resource planning, you're assigning tasks to team members based on their skillset, capacity, and whether they're the best fit for the project.
The two most important questions a project manager can ask are:
How do you make sure you deliver your projects on time without overworking your team?
How can we make sure we deliver this on time and budget?
The answer to both of these questions? Resource planning.
What is resource planning? 
Resource planning is a process of allocating tasks to human and non-human resources to maximize efficiency. Resource planning helps teams manage resource utilization and track resource capacity, to keep projects on budget.
Resource planning makes it possible to organize your team so they know what to work on and when. A resource planner that accurately manages capacity helps you manage your team's time efficiently so you don't burn anyone out.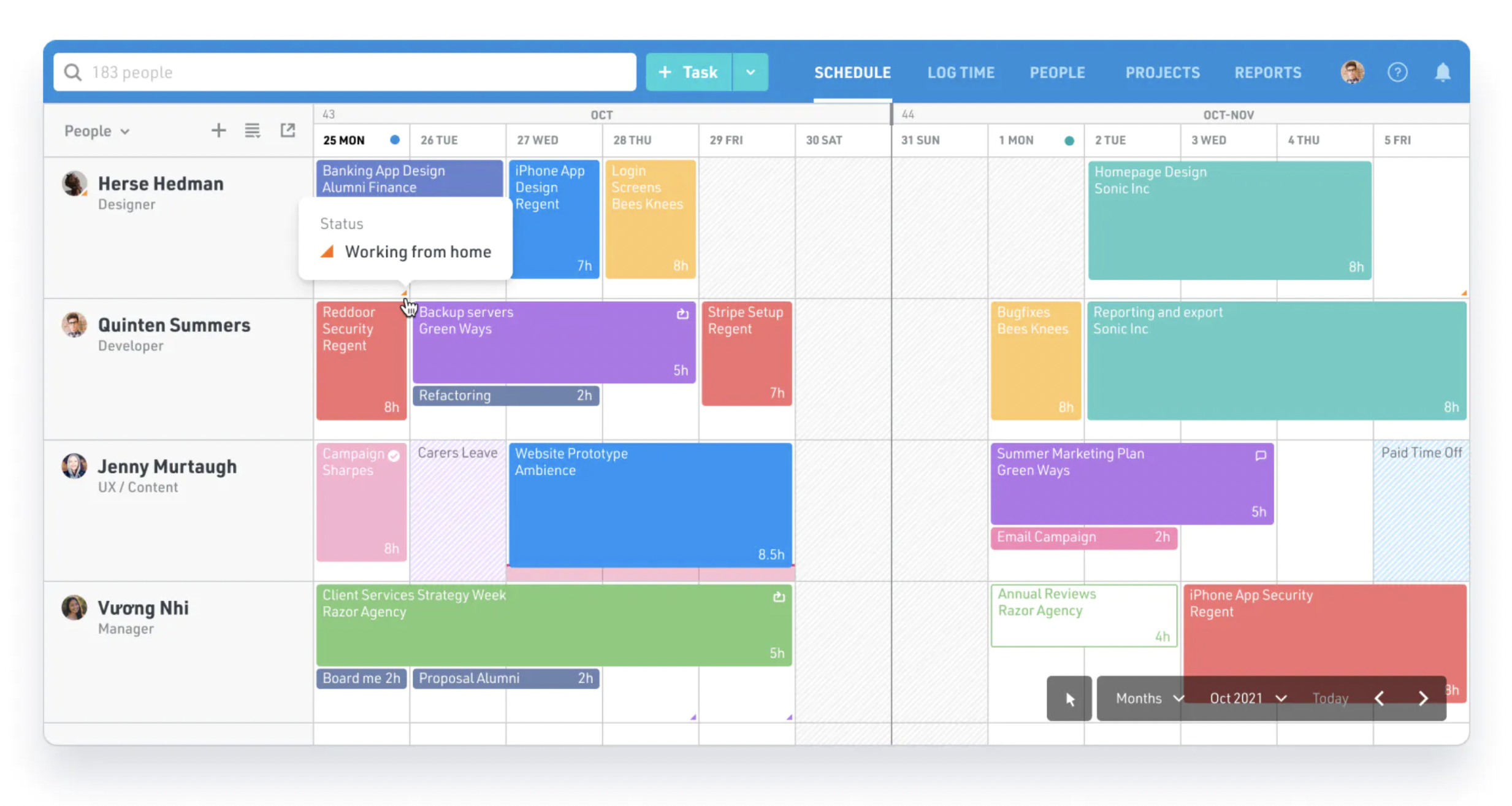 Companies save 28 times more money when they resource plan because their output is more reliable. Not only that, 83% of senior executives say strategically managing resources is the top lever that powers company growth. It's important to remember that, ultimately, the most important resource your business can plan for is its people.
This guide will walk you through:
Resource planning for teams
Why resource planning is an essential part of project management
The steps in the resource planning process  
How to use the right resource planning tool
The key features of an agile resource planning tool 
Let's get started.
Start resource planning with the #1 rated software
Plan your team's best work with Float, the #1 rated software on G2 for resource management. Get an accurate view of your team's capacity to plan resources and schedule tasks with confidence.
Find out more
Resource planning for teams
Maximizing project outcomes by allocating tasks to both human and non-human resources is the textbook definition of resource planning.
But what does that actually look like for teams in practice? If done well, your resource planning will help you:
Be more efficient
Maximize all of your resources
Deliver the best results for projects by being more organized
Plan and predict your resource availability for future projects
Improve job satisfaction and retention in your team
Stop team burnout
Improve your relationships with clients
But how do you make this happen?
Think about when your company starts a project. Before you begin, you need to figure out who can work on it, how long it's going to take, and how it will fit into your overall project pipeline.
To get the most out of resource planning, you need to be able to customize and keep track of every part of a project (like the creatives working on it) and what it's going to cost you. We're talking about variable resource inputs like:
Workdays
Contract start and end dates
Hourly rates
Title and job roles
Skillsets
Availability
This is where resource planning shines because, without the right tool, it's easy for businesses to get lost in the weeds managing their resources across projects.
Spreadsheets and project management tools might seem like good options at first, but when your team starts to expand, you take on more projects, or God forbid something (anything!) goes wrong, planning your resources this way can quickly become impossible. That's the point when you and an actual resource planning tool become best friends for life.
With resource planning software, your projects are kept within budget, and your team's schedules are less likely to be overstretched to the point of burnout. Best of all, with a resource planner, you're able to see what everyone is working on—at all times!
Steps in the resource planning process
Let's go through the specific steps for effective resource planning for any project.
Plan to project
In the plan to project phase, you'll want to decide which project your team should tackle next strategically. This is also when you'll determine and request the resources needed for the project.
Along with listing your resources, you'll want to lay out each of your project tasks. Will some tasks take much longer than others? Are there tasks that need to be frontloaded?
34% of teams work overtime to complete their assigned work, 80% or more of the time. Carefully consider every task necessary to complete the project so that nothing goes unaccounted for.
Hold a resource management meeting
We all love to hate meetings, but they're a necessary part of the resource management process. Imagine planning an expensive trip to Vegas with five of your friends but never telling them. Chances are, your trip won't turn out as planned. It's the same with resource planning.
62% of leaders identify resource scheduling to be their biggest project management challenge. So you need to hold a resource management meeting to ensure everyone is headed in the same direction. To ensure everyone is following the right metrics.
This involves determining what resources are needed for the project. If you're juggling multiple projects with multiple crossover teams, it might mean you'll need to take the time to compromise on the allocation of those resources with team leaders. As you make these decisions, it's important to have a point of reference for all stakeholders involved to give you a hand with resource management techniques.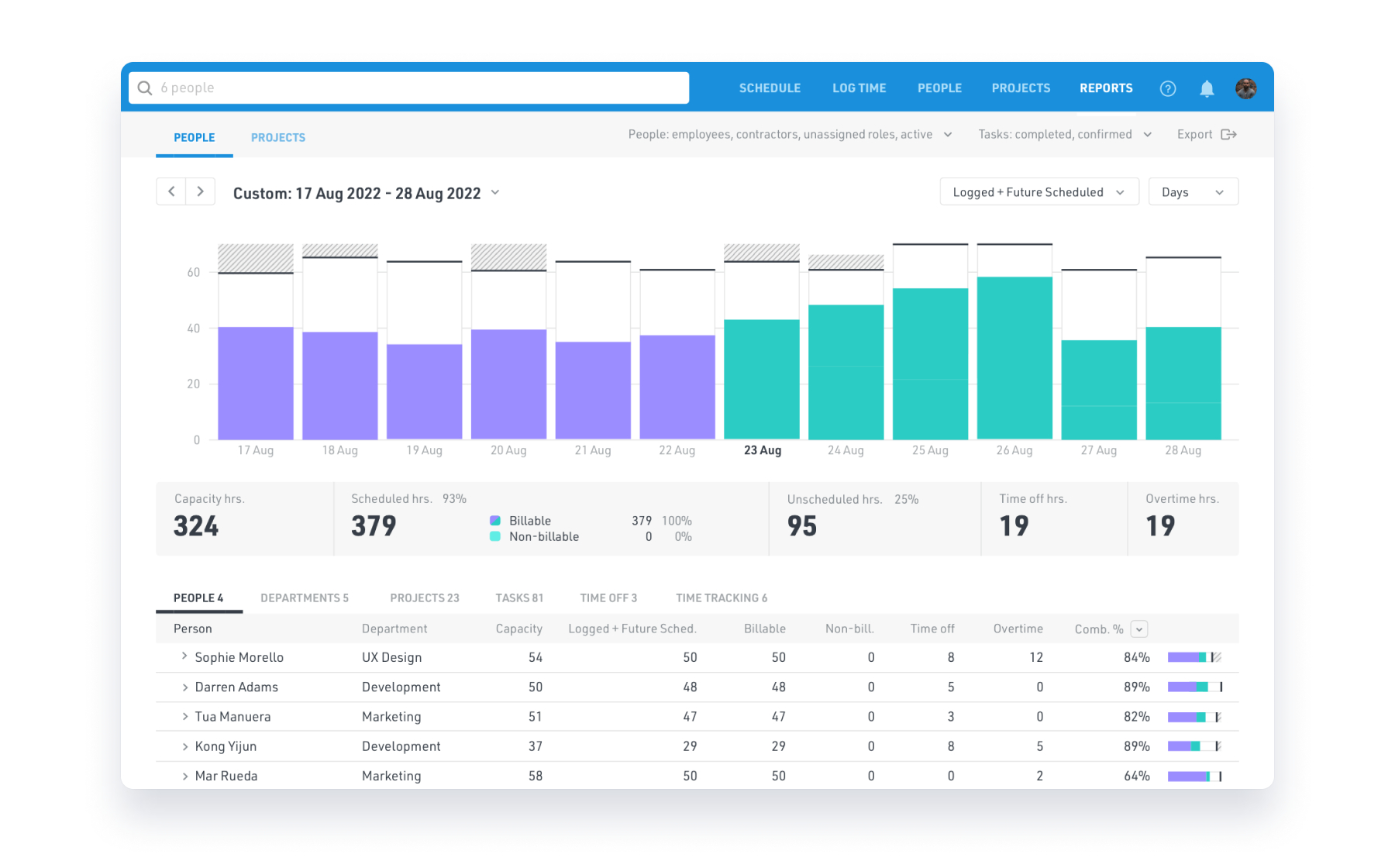 Take MetaLab for example. Operations Manager Georgia McGillivray was able to save about three hours per week with Float once she ditched spreadsheets to manage the company's resources. It took that long for resource managers to keep the sheets updated as her team worked through projects, sometimes asynchronously. "Now we're able to plug tentative projects into Float and see three months into the future. That gives our executives and partnerships team a line of sight into how we'll staff future projects and our ability to take on additional projects."
Match resources to tasks
Managing team workloads means matching resources to tasks. However, it's important to remember that you'll never nail matching resources to tasks perfectly—but you can get close.
Social Chain's team knows matching resources to tasks is possible with the tools resource planning software like Float arms them with. "We use Float as a workload management tool to see where teams might need support, where we might need to hire, and where we might be able to shuffle things in terms of workload," says Managing Director Kay Leeson.
For the next step in the resource planning process, let's go through a case study to learn how they've also set budgets and track time seamlessly.
Set a budget and track time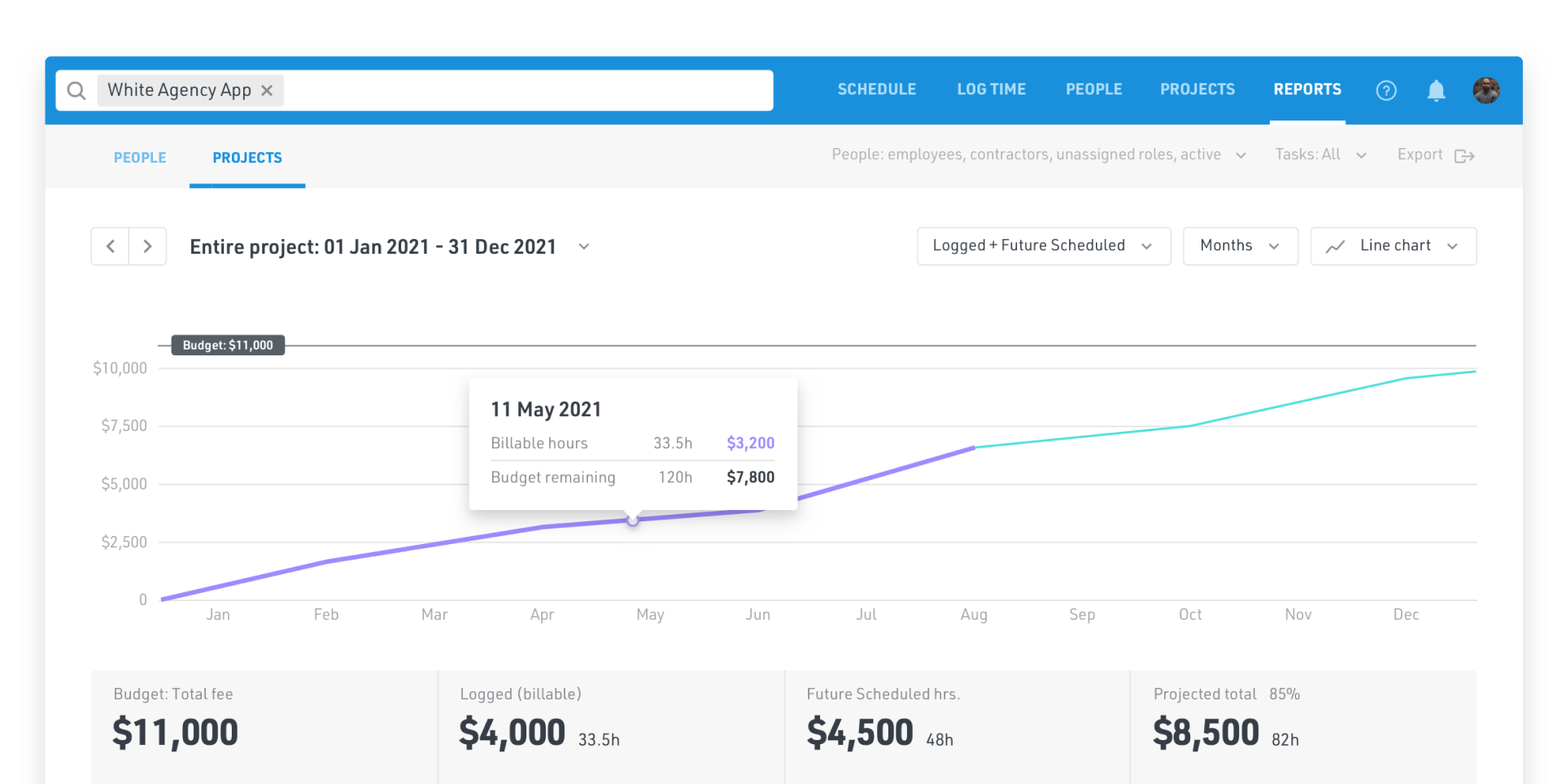 In project management, budgets and time are closely correlated. You can try to track your time and budget with an Excel spreadsheet, but it's no match to the power a resource planning tool like Float gives you at this stage of the planning journey.
Social Chain has managed hundreds of projects with Float's resource management software. The accounts and project teams can plan campaigns based on their key project data, including what the budget is as hours are tracked. As you set a budget, it's helpful to refer to post-project data from previous work to gauge how much you'll spend with the resources at hand. Reliable resource forecasting and reporting tools can be of great help here.
Every project and scheduled resource is managed through Float. To put it simply, if it's not in Float, it's not getting done!" — Jamie Bryan
Forecast future planning
Situations like these are all too common:

Freelancers, small agencies, enterprise-grade businesses, and everyone else in between that manages projects need to get a handle on their future planning.
What's happening in the future that we need to take care of now as we juggle ten other things? When you forecast future planning it becomes easier to answer that question.
To forecast future planning, it takes deciding on the approach you'll take first—whether that's lead, lag, or match. Then, you'll want to use a tool like Float to prepare your team for each approach.
For instance, if you're taking the match methodology, you'll need to know when you've hit a resource shortage, which might mean staffing your project workflow with outside contractors to help get the job done. But do you have room in the budget to do that? Float makes it easy to make that determination quickly.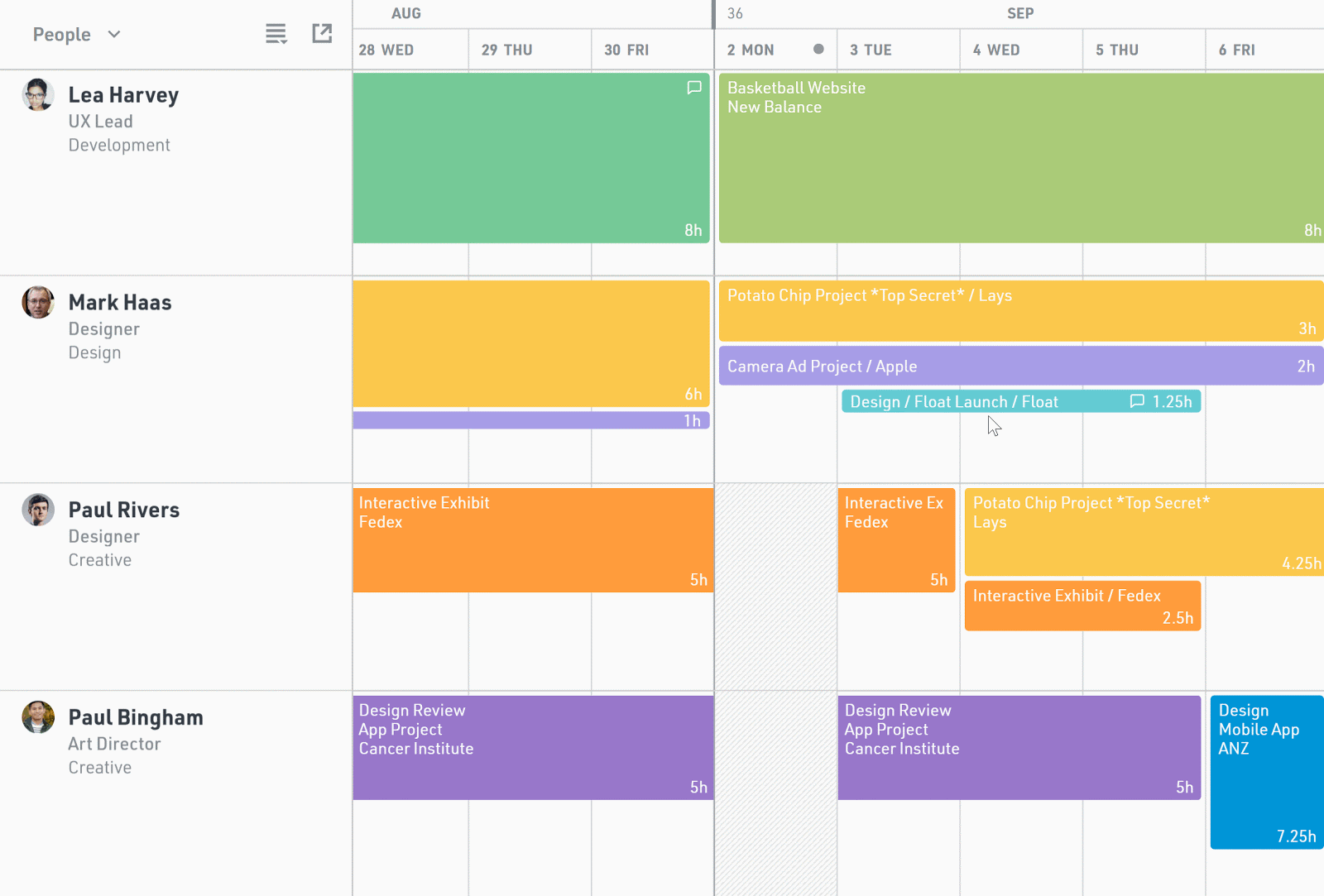 Update your resource plan
Though it would be nice for it to be a one-and-done process, resource planning is something you'll constantly have to update as you go.
Why? It's likely not everything will go as planned, and you'll need to make adjustments along the way for things like:
Slow approvals
Unforeseen scope adjustments
Team members dropping out of a project for unexpected reasons
Getting the hours you initially allocated cut in half
Situations like these are when resource management software shines. Can you imagine having to handle slow approvals and scope adjustments while two team members drop out altogether without a tool to help you bounce back?
Project management can be challenging. There's no debating that. But resource management software makes it a breeze to make adjustments based on resource availability
Perform a post-project analysis 
Now it's time to perform a post-project analysis that'll help you approach your next project armed with the knowledge to maximize resources even better. Performing a post-project analysis involves looking at the number of resources you budgeted vs. the resources your project took to complete.
Were you over or under hours? Did you need to bring in outside contractor help to complete certain tasks? Is it possible that any hours went unaccounted for?
Asking the right set of questions at the end of every project will help you get a bigger picture of how your project management efforts are paying off. It also helps with the future planning process. If you discover discrepancies between profits and resources spent on projects, a thorough post-project analysis makes it easier to course-correct as you move forward.
Still using spreadsheets for resource planning? Try built for purpose software that's easy to use and get started.
More than 4,000 of the world's top teams choose Float to plan resources and schedule their team's time. Connect resource planning with your existing workflows via direct integrations, and get set up within minutes.
Try for free
How to use a resource planning tool
A dedicated resource planning tool is way more convenient than running around to organize budgets and schedules in a spreadsheet. It also sets your team up for success by having a place to schedule their time with accuracy.
A resource planning tool is like having a brilliant team schedule that helps you with optimization. It can with project resource tasks like:
Identify the resources and people you need for a project
Forecast your resources required for every day/week/month of the project, and schedule them accordingly
Create a detailed project timescale and resource schedule
Stay on budget—all of your team's rates are calculated automatically when you allocate their time
Maintain a live view of when team members are available and when they're on holiday
All of this would be impossible to achieve without some kind of dedicated software. What does project organization look like using a resource planning tool, you ask? Let's map out a real-life scenario.
A real-life example of using resource planning software
Let's imagine you've just landed a new client, and they need you to build them a new website. Your company has made similar sites before, so you know that you will need development and design resources to execute the job. 
You also know that it should take your developer roughly 20 hours and your designer 10 hours to complete their respective tasks. Using a resource planning tool, you can create the project and effectively forecast what you need in terms of resources (ahem, people).
Next, you need to assign the tasks to your team. You can search your resource availability and select team members based on their job titles and skills (in this case, developer and designer):
Okay, now we've selected the team members you need to complete the project and know the required hours. All that's left is adding the tasks to each respective team member in your resource schedule.
Create and assign project tasks to resources in seconds with Float.
Boom! Tasks scheduled.
Keeping your team in the loop is instrumental to your project's success and is an important feature of resource planning software. 
In Float, once a team member has been assigned a project, they'll be notified by email, push notification, and/or Slack, and can get to work on completing their tasks. You can keep tabs on their progress on your end and make sure they're hitting their milestones.
Keeping a project on track requires proper planning, and using a resource planning tool is one of the best ways to do it. But what does a great resource planning tool look like?
Key features of an agile resource planning tool
1. It gives you the tools to plan resources for multiple projects
Organizing a single project within your team might be easy enough, but once you have multiple projects going simultaneously, resource planning starts to get a little trickier.
The reason is simple—our brains aren't made to plan and delegate thousands of tasks at once. Luckily, that's exactly what a resource planning tool is built to do!
Morgan Collett grew the team at Praekelt Consulting through resource planning. As CIO, he recognized the company needed a way to organize their tasks, some of which take a few hours, and some that take multiple weeks or months. They decided to use Float to plan all their resources in-house. "Float handles all this, enabling us to see which of our team needs work, and how we can juggle or reschedule work when things change," he said.
Social media marketing agency Social Chain faced this hurdle when its team size grew from just a handful of people to more than 160 creatives across the UK and the US. The company's Group Director of Video, Jason Fisher, realized as his team of videographers and editors grew from 3 to 12, he needed a resource planning system to help organize them all.
The agency began using resource management software Float to tackle its most significant hurdle—scheduling multiple team members on numerous projects.
As the agency is always juggling several projects at once, Fisher needed a way to coordinate projects and manage his team's calendars efficiently. Sometimes multiple daytime blocks were needed for a video shoot. Using Float, Fisher was able to manage his team's schedule with half, full, and consecutive blocked days for resource bookings.
Social Chain's accounts and sales team can also access their project pipeline using their resource planning tool (in this case, Float). This helped with another issue—selling above the team's resource capacity. Because they could always check their team's availability, it stopped them from booking projects without having the resources available.
"As a team, we can view the overall workload and time frames involved, while as an individual you can keep track of what tasks or projects you are working on and what projects you can (or cannot) take on based on your schedule," says Fisher.
2. It tracks and updates your resource capacity in real-time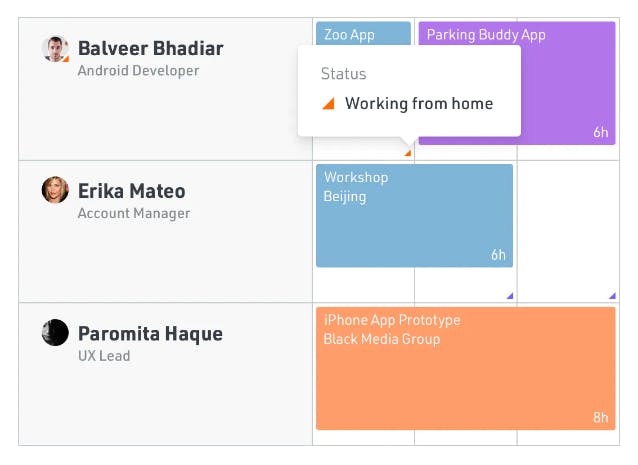 When a team member books a holiday or changes their availability, who updates that resource spreadsheet? 🤨 After all, delivering projects on time (and on budget) relies on people completing the tasks when they've been allocated. Yet tracking project performance is still a massive problem for businesses.
With a resource planning tool, updates should happen in real-time. Using a tool like Float, any changes made on a project or a schedule will appear instantly in a live activity feed:
Never miss a beat with a live activity feed of updates made to your schedule, project tasks, and team members in Float.
And the next time a team member looks at their schedule? Yep, it will have already updated itself—automatically. It's the easiest way to keep an eye on a project and its status, without bombarding your team's email inboxes.
3. It gives you a high-level view of your team's work schedules and resource availability
Or more accurately, your team's availability.
Chances are your team's availability is varied. Some people might work part-time, others might only be available on certain days and don't forget those lucky few who are on vacation. Keeping up to date with who is available (and when) is crucial to your resource planning strategy and keeping your projects on track.
Do you remember the website development project we scheduled earlier? Let's see what would happen in a resource planning tool like Float, if the lead designer's availability suddenly changed from full-time to part-time:
Not only can you see this update to their profile in the activity feed, but it will also change their availability on the team's resource scheduling.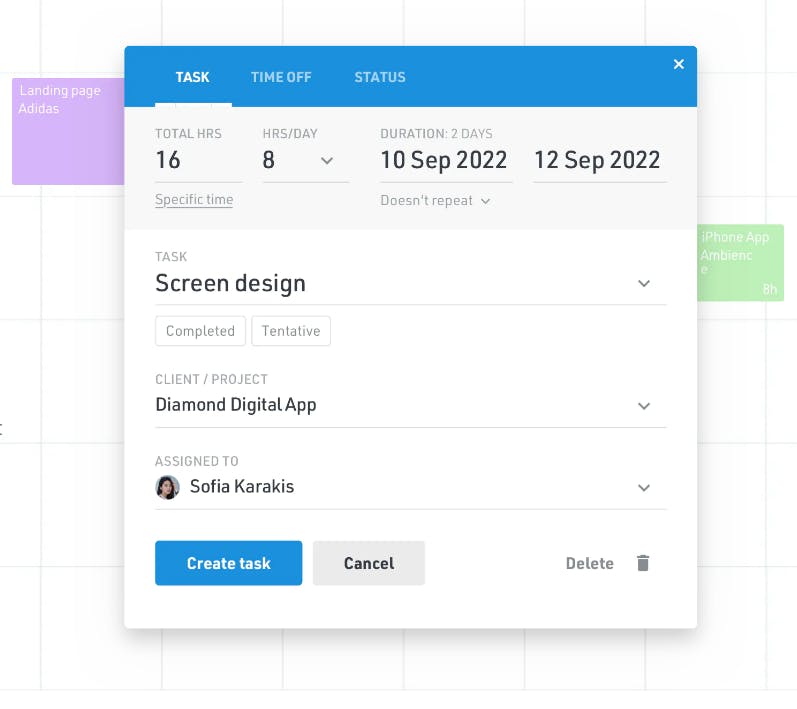 With Float resource planning, you can set and update your team's individual work hours. This availability is reflected in your resource planner, so you can schedule resources based on your real capacity.
Of course, the real beauty of this comes when you're juggling a bunch of different projects and allocating resources to tasks. With a resource planning tool, you can visualize your entire team's availability on one screen, and then decide how you're going to allocate each task to a resource.
4. It forecasts your resource capacity and tracks project budgets in real-time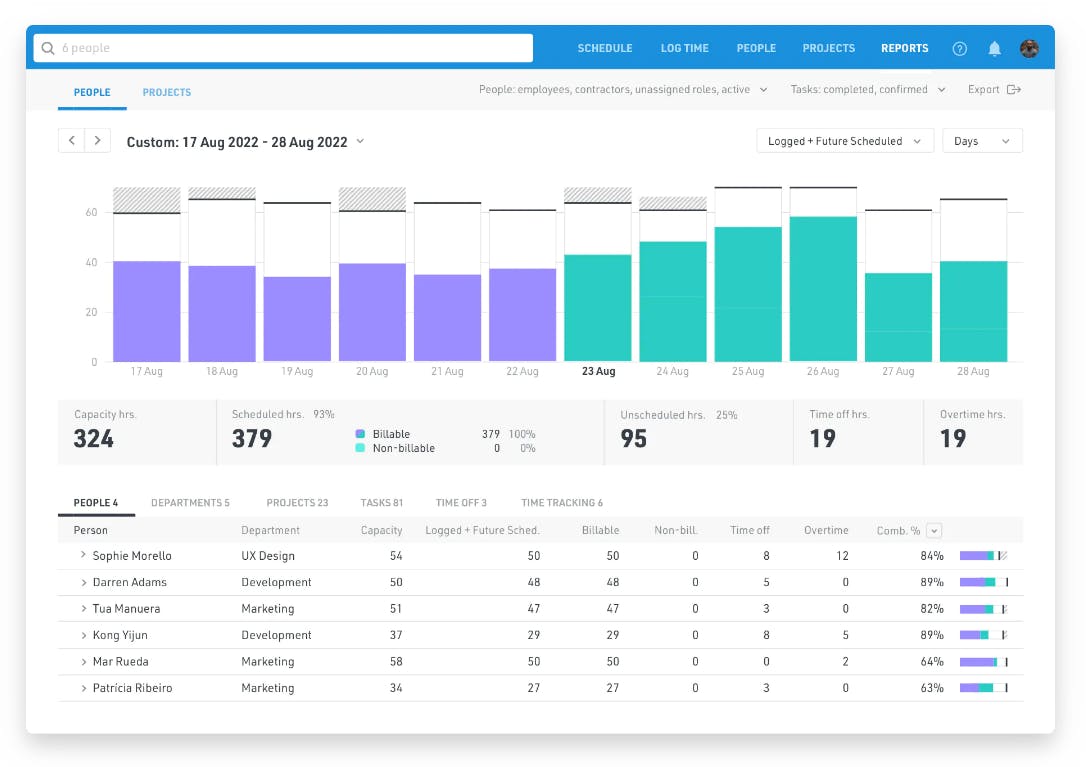 Keeping a project in line with budgets is one of the biggest challenges in project management. A study by PMI found less than 60% of projects are completed within their budget.
With a resource planning tool, it's easy to keep projects within budget—automatically. Using Float as an example, every team member has their hourly rate saved into their profile. If you're assigning a design resource to a $2000 project and they charge $50/hour, you know you can allocate 40 hours to it. Once you allocate more than that, you'll be able to see that you are over budget within your project budget report.
Of course, you're likely to have several different departments working on a project and their hourly rates might be different. Using a resource planning tool keeps track of them all. Once you set milestones for them to hit, a tool like Float will closely track the project's performance alongside its resources' billable hours.
5. It provides project reporting tools to make smarter decisions
Having a birds-eye view of every project in your pipeline and resource capacity is the best way to keep your entire business on track. This is an important role of resource planning software.
Not only does resource planning software help you to predict if your projects are going to be successful, but it also gives you an easy way to collate all your data. A McKinsey study found companies that used scenarios as a decision-making technique in their resource planning were 36% more likely to become a faster-growing company compared to their competitors.
Using a resource planning tool will give you a clear visual of:
Available resources and future resource capacity
Scheduled/unscheduled resource hours
Project budgets (and if you're sticking to them)
Overallocation
Team member's scheduled hours and their capacity
Try the #1 rated resource planner that keeps projects on track
Rated #1 on G2 for resource management software, Float gives you the most accurate view of your team's capacity and workload to create accurate resource plans.
Try for free
Resource planning made easy
If you're still planning your projects with spreadsheets and whiteboards, chances are you're not maximizing your team's time or tracking budgets efficiently. This is exactly how project deadlines and budgets get thrown off track. 
57% of agencies with a dedicated resource planning tool say that their organization is always effective in scheduling their team's workload and time on projects. Onboarding a resource planning tool to solve your project management issues doesn't mean you have to learn to use complicated software. With a tool like Float, planning your team's time and scheduling your resources can save you up to four hours a week!
But the real win comes from keeping every member of your team on the same page. They will know what projects they're working on, when they need to be finished, and what the overall project pipeline looks like. 
Not to mention, you'll finally get to ditch the inefficient whiteboard and start delivering all your projects on time and within budget. What could be better than that?
Float is the resource management tool without the learning curve that has been helping the world's top teams plan their projects and schedule their time since 2012. Try it free for 30 days—start your trial here!
---