Jess Thompson
These quick tips will show you the ropes and help you get the most out of Float—starting now!
If you've just accepted an invitation to Float and are figuring out what to do next, you're in the right place!
Float centralizes people and projects, so you'll always know what to work on and when. Tasks can be scheduled with an understanding of when you're available and your capacity to get them done.
The following tips will help you get to know your schedule, ensure your availability is accurate, show you how to log your time, and keep you in the loop with schedule updates.
1. Get to know your Float schedule

The schedule is where you'll find the projects and tasks you've been assigned alongside a view of your team. This is where the action happens—competing deadlines and double bookings are officially a thing of the past!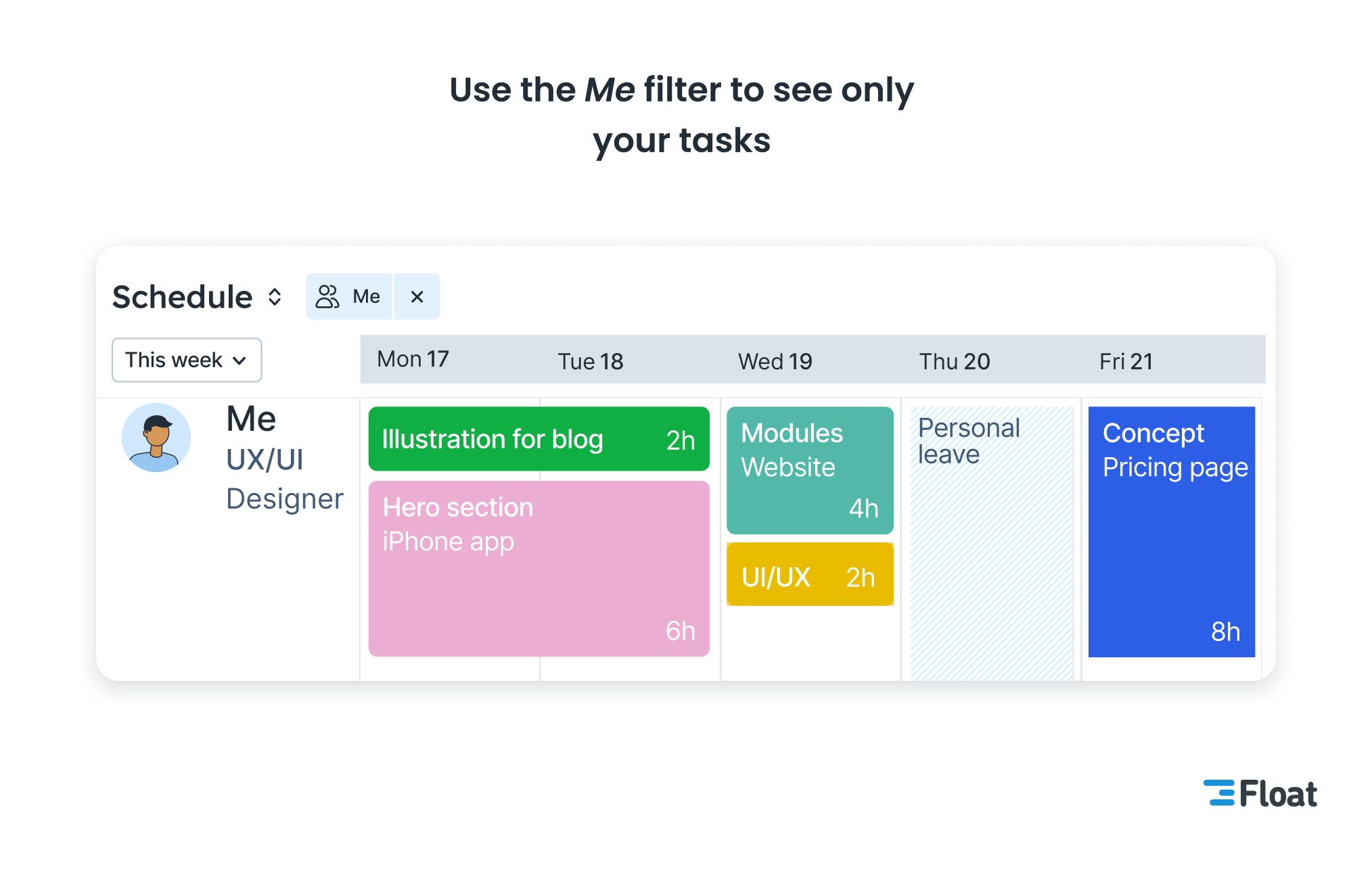 Pro tip: Always know what you're working on by checking the schedule
Focus your view of the schedule with the Me filter. 
@mention your manager or a colleague in the notes on a task or time off for contextual notifications. 
Switch to the Project plan view to see the full range of projects your team is working on.
2. Keep your availability up to date by adding your calendar events 

Adding your calendar events ensures you're not scheduled on tasks when you're unavailable—no copy-pasting or switching between apps necessary. Any changes in your calendar will update in Float and vice versa.
Pro tip: Sync your Google or Outlook Calendar with Float to centralize your availability
Add client meetings synced via your calendar to projects in Float. They'll automatically be added to your prefilled timesheet (more on timesheets below).
3. Schedule time off with a view of planned work and your team's capacity
Plan your time off around your teammates' availability to ensure client work is covered. Enjoy your hard-earned PTO with confidence, knowing that your team isn't expecting you to complete any tasks while you're away.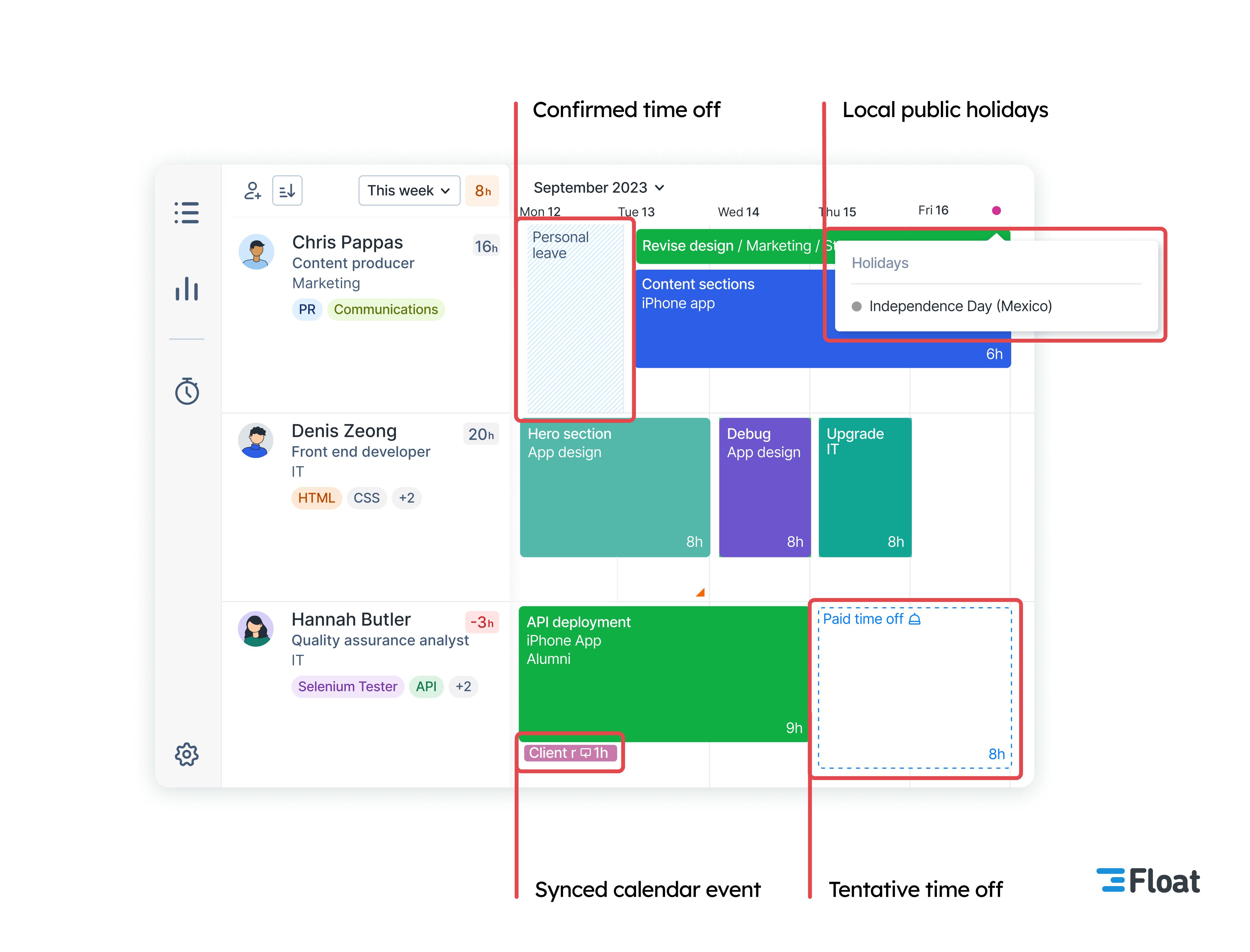 Pro tip: Keep your free time free of planned work with visibility where tasks are scheduled
Check how many days off you have remaining with time off policies per leave type.
Add tentative time off while you're still finalizing your holiday plans so your team knows what to expect.
See when your next public holiday is coming up based on your location.
Set your status to let your team know where you're working from. 
Coming soon: Ensure your manager is on board with your time off plans with an easy time off approval workflow.
4. Meet your easy new timesheets

When the only thing standing between you and the weekend is your timesheet, it must be quick and easy! Luckily, your new Float timesheets are just that.
If your team has time tracking turned on, you'll see a Log my time button in the left-hand navigation.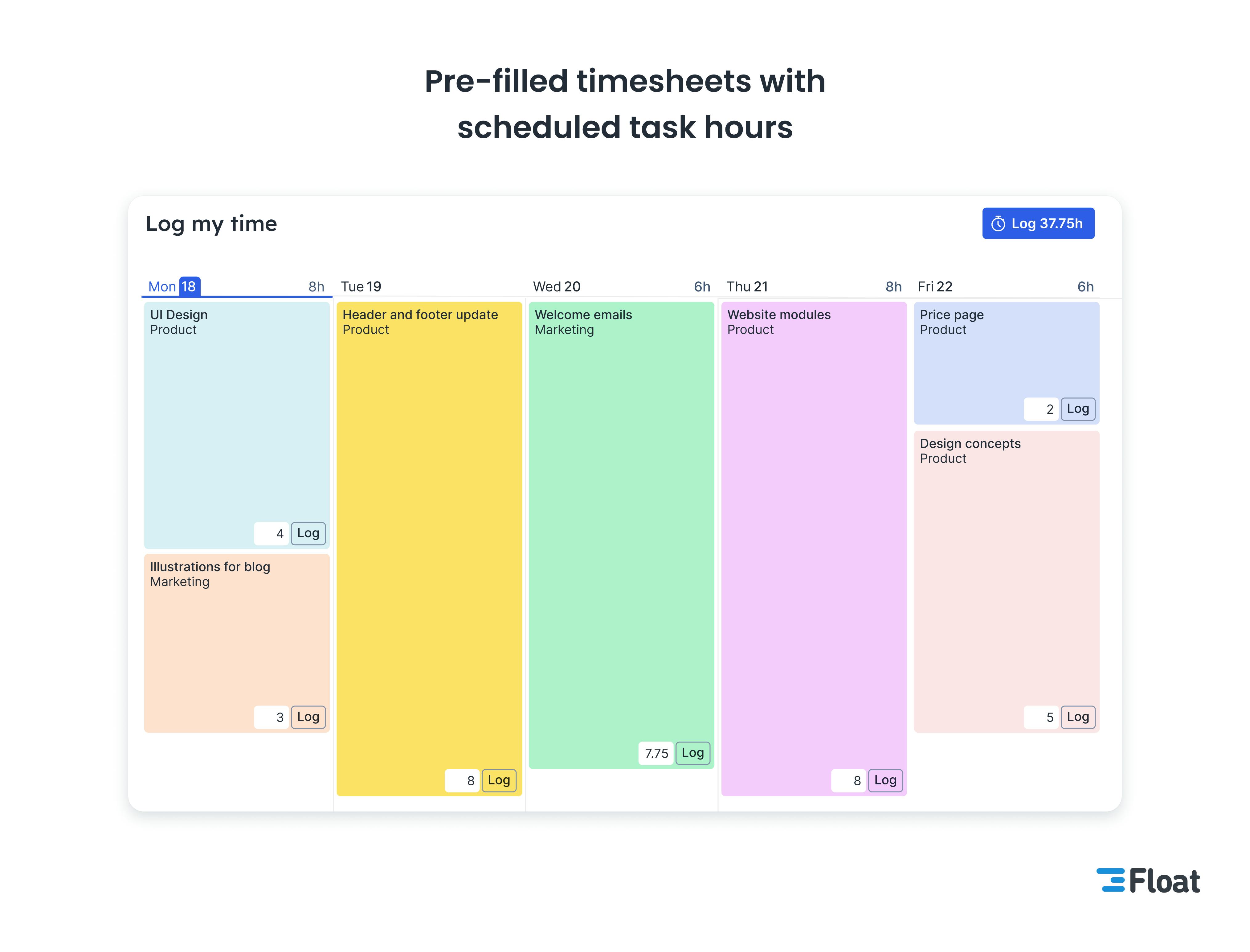 Pro tip: End your week on a high with prefilled timesheets based on scheduled work
Coming soon: Time your tasks to the minute with a new timer that works alongside your prefilled timesheet. If you want to get a sneak peek before everyone else, contact us at support@float.com.
5. Stay in the loop no matter when or where you get work done

The only thing left to do now is set up your notifications, so you never miss a schedule update or forget to log your time!
Pro tip: Customize your notification settings to receive updates when and where you want them
Set up your notifications for schedule updates and time tracking reminders via email, Slack, and mobile push notifications.
Download the mobile app to check your schedule on the go and log time, even after you've closed your laptop for the day. 
That's it—you're all set up and ready to start completing tasks and hitting project milestones!
If you have any questions or need a hand getting started, reach out at support@float.com.