As more organizations look to improve their planning and forecasting, and employees increasingly try to protect their time, managers may be hard-pressed to answer the question: How do I plan resources effectively and efficiently? 
If you're in the same boat, read on! We've compiled a list of resource management best practices and tips from experts to help you:
Plan projects successfully
Allocate tasks based on capacity and suitability
Handle time off
Keep project costs balanced
Get the most out of your team's time
What is effective resource management?
Effective resource management is planning, allocating, and tracking resources (like team members, budgets, office space, software, etc.) to successfully complete projects. 
Managing resources effectively is important because it helps you deliver projects on time while adopting a people-first approach and minimizing costs. 
How can you be a more effective resource manager? Start with these 10 tips.
1. Determine your team's capacity before planning projects  
This might surprise you, but your team members don't have a full eight hours to complete their daily project tasks. 
Consider all the other essential admin activities your team does for projects to succeed. According to Asana's Anatomy of Work Report, workers lose 58% of their work week to "communicating about work, searching for information, switching between apps, managing shifting priorities, and chasing status updates."
For this reason, resource planning based on your team's perceived capacity is ineffective and doesn't account for these time-consuming tasks. Michael Luchen, the director of product at Float, says a better approach is to find your team's actual capacity and make project plans based on their availability. 
"It's important to understand your organization's baseline capacity when it comes to planning projects," he explains. "Think of admin and management tasks they might have to do. For example, if the design lead has to do admin work for an hour or two a day and then meet with team members for another hour, that should be allocated on their schedule." 
Use resource management software to determine your team's real capacity and availability
Float shows your team's capacity at a glance with a visual schedule. Add each person's availability, including full or part-time hours, time off, and outside calendar events to paint a full picture of their time and capacity. You can see the number of scheduled vs. available hours for each person or across the whole team for precise project planning and forecasting.
Find out more
2. Narrow your project focus to avoid context switching and reduce cognitive load
To avoid stretching your team thin and prevent the strain of context switching, Rachel Gertz, the CEO of Louder Than Ten, suggests working on a minimum number of tasks instead of multi-tasking. 
"If you can, always try to narrow your project focus to three (but no more than five) ... so that you don't burden your team's cognitive load," she says. "The less your team gets distracted, the greater their focus, efficiency, and satisfaction at work."
We usually think of context switching as pausing a specific task like writing code to take on a more mundane task like replying to an email, but sometimes it could mean switching between multiple projects. In her article "5 Diagrams That Show How Context Switching Saps Your Productivity," Ashley Faus describes the cognitive load of constant change:
"Think of trying to write a three-year strategy document and then immediately trying to copyedit a tweet. Or architect the infrastructure for a new system and then immediately find the missing semicolon that's causing a system to crash. Exhausting!"
Jumping between tasks can sap energy and reduce productivity, especially for knowledge workers. To eliminate the constant back and forth, Colin Ross, director of engineering at Float, recommends assigning team members to a primary task that is their main focus while providing "a sensible backup option when they need a break or have hit some sort of blocker in the primary task."
To take off the pressure, ensure that the backup task doesn't have a close deadline and is part of a longer-term initiative. 
"For example, a developer's primary focus might be some new product feature, but with a secondary focus of adding tests to our existing code base. This allows the developer to take occasional breaks from the main focus while still doing valuable work as their brain recharges and gets a break from the primary," says Ross.
3. Schedule work only for the amount of time team members are available
Imagine a scenario where one of your QA engineers has annual leave scheduled close to the launch of a new feature, and the activity's start date can't be moved.
What do you do? One option is to try to frontload their schedule before they leave. However, pushing as many tasks into the team member's available time could cause undue stress. It could also leave you with unfinished activities that threaten the completion of your project. 
Instead, it would be best if you planned for time off in your capacity planning to increase the chances of project success. 
"I believe in factoring time off into the capacity plan. If a team member has a two-week vacation in the middle of a six-week project, then I would work to ensure their scope of work fits into four weeks," says Luchen.
Of course, you'd have to know your team's availability ahead of time for this to be effective. You can use a tool like a Float to track custom work hours, time off, local public holidays, and even tentative time off for a complete view of availability. Managing time off in the same place you plan work reduces scheduling errors and ensures project plans stay on track. The shared visual schedule also increases transparency so everyone can see when a teammate's planning to take time off. 
Once you know how long they'll be unavailable, you can allocate tasks to another team member with availability and the right skills. A visual schedule like Float helps to reduce scheduling conflicts and overbooking, with a single source of truth of what everyone's working on and when. If changes need to be made to planned work, it's as easy as dragging and dropping a task to a teammate with more capacity.
Drag and drop tasks to reassign tasks to available team members
4. Consider the effect of schedule changes beforehand
You might have to change the project schedule when you don't have enough time or people to complete your project. These changes often affect the project's timeline or cost. 
Let's say you move a deadline back, so a team member has enough time to finish a task. While it will allow more time to complete activities, some team members scheduled to work on dependent tasks may be left without much work to do. The project could end up costing a lot more than planned as well.
"Idle team time adds up to massive daily expenses that can not only blow your project budget but create unintended cashflow issues at the company level," notes Gertz. 
To avoid such scenarios, determine the long-term impact a schedule change will have on your project. Before making a decision, here are some questions you should ask:
What other activities will be delayed if I extend this deadline?
Would bringing on a freelancer to perform the task be the best path, considering the time needed to onboard them?
Would splitting the tasks work well for the person carrying out the activities?
Would the team member assigned to task A have availability to take on work on the proposed date?
This is even more important if you use automatic resource leveling or smoothing. While resource leveling software might suggest splitting a task through several days, Senior Consultant at Projectum and Microsoft MVP Erik van Hurck suggests ensuring the solutions can work in the real world before implementing them. 
"Any scheduling application (be it Microsoft Project or other) will only visualize what could be a possible solution. Therefore a scheduler or project manager should never fly blindly on the results of resource leveling, but always scrutinize it to uncover any possible issues."
It's always good to check with the team member or a stakeholder who knows the activity to determine if such a scenario would lead to your desired outcomes.
5. Have a people-first mindset when handling resource conflicts
75% of team members surveyed in Float's Agency Global Productivity Report admit they are overbooked at least once a month. It's safe to say that scheduling conflicts are a constant in resource management.
When faced with a resource conflict, managers often try to find a solution independently. However, your team members are often better suited to find solutions because they're the experts on their work. They know how long specific tasks take, how much extra work they can take on, and who the team can get the job done if they're unable to. 
"It's crucial to have a people-first mindset. If/when resource conflict happens, it's best to include the person involved in deciding how to proceed," says Luchen. "Sometimes team members might be able to take on more work for a brief period. Other times, given they're the experts in that specific work, they may have a more effective resolution."
While you may not implement exactly what they suggest, you'll be better equipped to make a decision that optimizes available resources without jeopardizing the project.
6. Pick your battles wisely 
Conflicts are bound to happen in projects, from scheduling issues to unrealistic timelines and unreasonable expectations. Wading into every battle could rob you of valuable time and effort. So how do you know when to take a step back and when to speak up? 
It helps to consider whether you can win or whether the situation is even a priority. "Know when it's time to take a loss and keep that in mind when you need a win," says Stephanie Hockeborn, employee experience & resource manager at Sequence Inc.
For example, if you don't have enough people to finish a project with a looming deadline and the client changes direction on the project for the fifth(!) time, it might be time to push back. "When it comes to doing the right thing for my team, my employer, and preferably both, I go full Rocky and give it all I've got," says Hockeborn. 
She recommends using everything at your disposal; "data, documentation, ROI, rapport, and presentations" to get what your team needs. For example, to avoid the resource conflict mentioned in the previous tip, you could document initial expectations and note subsequent changes to protect your team from constant change. Then you could explain the negative impact of such changes on the project's success. 
7. Stay organized 
With an abundance of information to process and everyone needing your assistance, it can be hard to keep up while managing different projects. Proper resource management begins with staying organized. That way, keeping tabs on your project's moving parts is more manageable. It also comes in handy when you must provide essential information at a moment's notice. 
"You never know when you'll be asked to have your budget reviewed or resource forecasting data analyzed," says Hockeborn.  
In her article "15 Ways to Stay Organized at Work," Elizabeth Harrin suggests blocking out half a day for a process review to reflect on how well your project plan is going. She also recommends booking time to write reports—a helpful tip when you have to turn them in at short notice. 
Don't leave out your workspace while organizing. Going Marie Kondo on your desk and laptop might be just the thing you need to find a report you've misplaced for weeks.
"Start with a clear, organized workspace, whether that is your home office or a shared office," says Harrin. 
8. Prioritize and leverage one-on-one meetings 
One-on-one meetings shouldn't just be a monotonous routine. In his book Output Management, Andy Grove, co-founder of Intel, emphasizes the power of one-on-one meetings for performance management: 
"Let's say you have a one-on-one with your subordinate every two weeks, and it lasts one and a half hours. Ninety minutes of your time can enhance the quality of your subordinate's work for two weeks, or for some 80+ hours, and can also upgrade your understanding of what they're doing."
One-on-one meetings, in particular, provide a quiet, safe space to connect with your team members, track project progress, and spot problems that aren't always apparent. They can also save you time that would have been spent putting out fires.
Before you grab some time on a team member's calendar, here are some things to keep in mind:
No agenda, no meeting: With meetings taking up more than half of a professional's work week—about 21.5 hours according to Reclaim.ai's Productivity Trends Report— meetings aren't an employee's favorite. An agenda can eliminate unnecessary meetings and keep conversations short and focused. For example, if you notice all the items on your agenda are status updates, you can opt for an async update in Slack or move the meeting to another time when there are issues to discuss. 


Take and share notes: Think back to your last meeting; how much of the discussion can you remember? Not much, right? Forgetting important and not-so-important details is natural. So taking notes during your meetings is essential. For Hockeborn, notes help her stay on track with "to-dos" and review previous conversations before the next one-on-one. You can use a tool like 15Five to store and share notes during the meeting. 
Assign action points: What should your team member do after the meeting? While it is great to develop solutions to problems or point out areas to improve, you need to take immediate and concrete steps to get the desired outcome. It could be as easy as saying, "Please reach out to Stanley to help you with the user stories, and let me know if you run into any trouble."
Learn how to create a culture with fewer meetings and more time.
9. Be ready to have difficult conversations 
In one-on-one meetings or Slack threads, challenging subjects like low-performance metrics or costly project mistakes must be discussed. 
No one likes those uncomfortable conversations, but they are essential for solving problems before they balloon out of control. Such discussions might improve team engagement. 40% of respondents in Shrm's The High Cost of a Toxic Workplace Culture Report say their manager fails to engage frequently in honest conversations about work topics. 
Before getting started on a touchy subject, Hockeborn suggests "setting up a safe environment." You can do this by having a conversation in your office or during a one-on-one instead of in front of everyone. It is also vital that you avoid sharing details without your team member's permission. 
Ensure you ask questions first to understand the situation and listen without interrupting. Once you know the situation, address the concern and look for ways to solve the problem.  
10. Make time to care for yourself 
Project and resource managers often focus so much on others that they forget to care for themselves. You can only do practical work when you are in good health (mentally and physically). 
"Burnout affects everyone. To prevent it and maintain a healthy work-life balance, make sure you think about your own needs so that you can best care for your team," says Hockeborn.  
To avoid burning out: 
Prioritize and delegate tasks: Prioritize the tasks that need to be done right away and delegate tasks that others can do. 
Be comfortable with done over perfect: If you are a perfectionist, getting things done sometimes feels like performing the labors of Hercules. Get comfortable with getting things done over striving for flawless execution. 
Acknowledge productivity peaks and valleys: Use your peak periods to complete the challenging tasks. When your energy levels plummet, carry out the tasks that take less mental energy. 
Keep your workload realistic: Use daily and weekly goals to prevent overloading yourself with work. If you can't finish everything, move less critical tasks to future dates.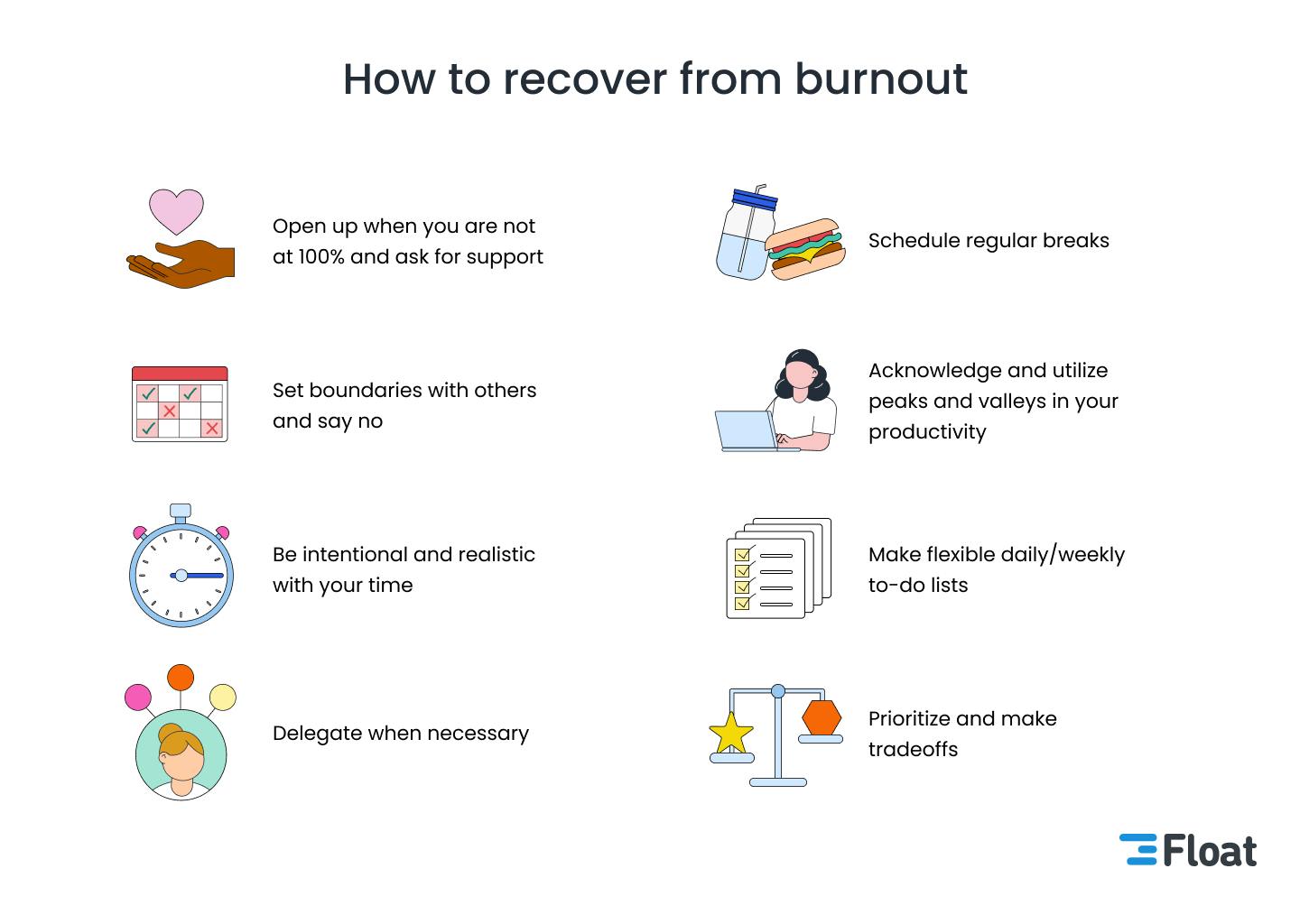 Try the #1 resource management software for project work
More than 3,500 of the world's top teams choose Float to plan, schedule, and track their team's time. Rated #1 on G2 for resource management, Float gives you the most accurate view of your resource capacity to plan project work.
Try for free
Use the right tools for more effective resource management
Now that you know some of the critical elements of effective resource management, the next step is to implement them. Use the right tools to make this as easy as possible.
Tracking people's time and workload through spreadsheets can be daunting and ineffective. A purpose-built resource management tool like Float combines people and projects into a centralized view—allowing you to plan work from a single view of your team's availability, capacity, and skills. The visual schedule makes it easy to track who's working on what and when, keep an eye on project progress, and ensure that workloads are balanced and sustainable.