Stella Inabo
While searching for resource management software, you are likely to discover two things:  
1. There are a lot of options available! On G2—a top review site—over 60 tools are listed as resource management software. 
2. Not all of these options can solve your problems. In a 2020 study by RMI, 75% of respondents said their resource management tools lacked the features they needed. 
Finding the right resource management tool is easier if you have the proper criteria and follow the correct process.  
This article shares what essential features to look for, how to evaluate your options, and how to make a case for resource management software to decision-makers. 
What is resource management software?
Resource management software is a tool that optimizes the planning, allocation, and forecasting of human and/or material resources needed to complete projects. 
The best resource management software should work in collaboration with your existing project management tools.
One thing that differentiates resource management software from project management software is capacity management. Instead of just assigning resources to tasks, you can manage your team's time across projects while putting their well-being first. (Goodbye burnout!)
There are various types of resource management software available:
Professional services resource management software
Agency resource management software
Employee resource management software
Construction resource management software
Professional services automation software
Architecture, engineering, and construction resource management software
The right choice for you depends on who or what you need to schedule and manage. 
Employee resource management tools are built to manage humans, while some other tools can be used to manage all types of resources—people, time, equipment, money, and office space.
Learn 10 best practices for effective resource management
Do you need resource management software? 
Here are some signs resource management software may be right for you: 
You're unable to track how much time is allocated and spent on tasks
Your team is growing rapidly and projects are becoming too complex to use spreadsheets
Members of your team find themselves double-handling tasks
Your team members are constantly over capacity
You can't forecast resource demand or analyze data from past projects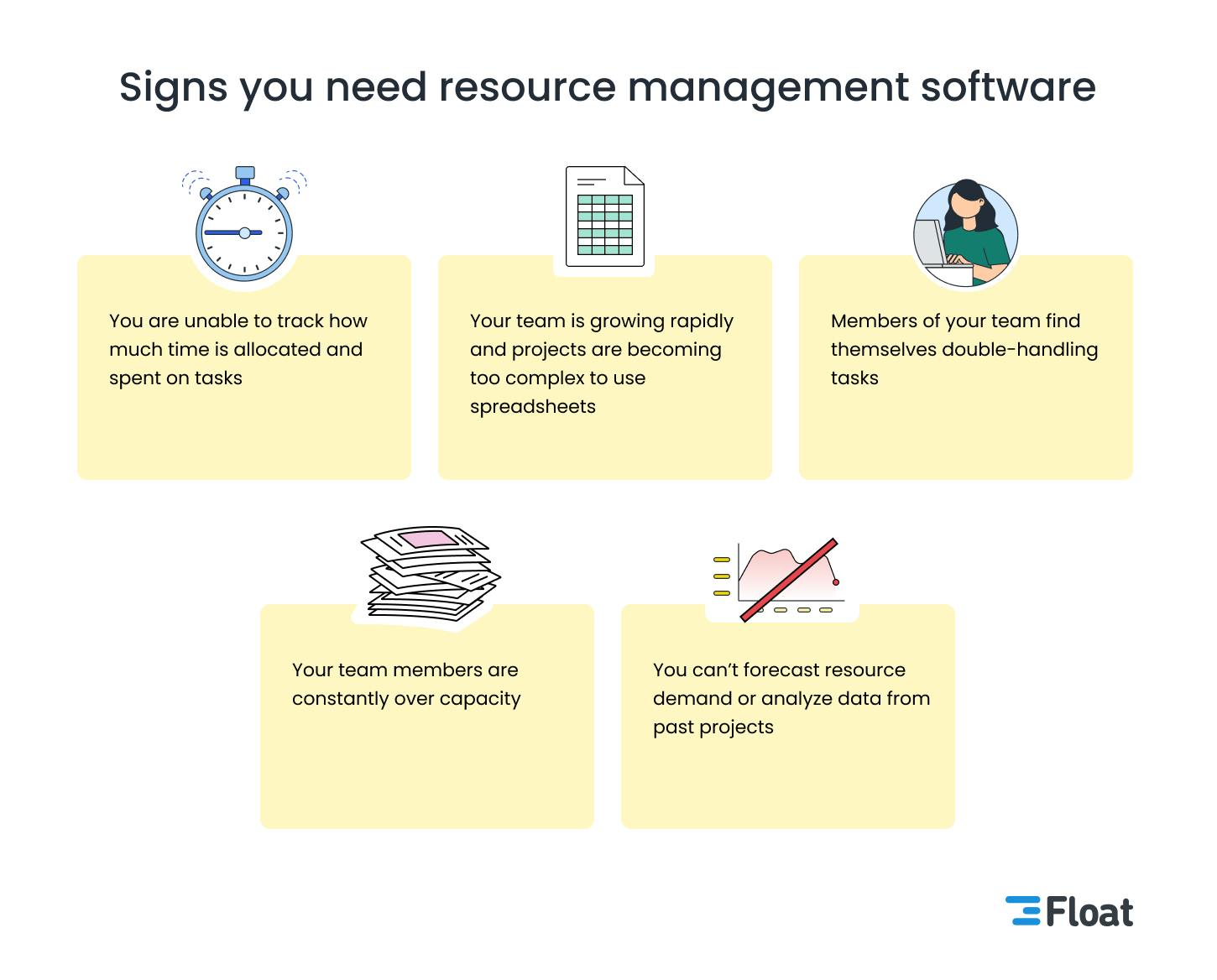 Why should you use resource management software?
The right software helps you make the best use of your team's time, keep costs down, and ensure projects are successfully delivered. Here are some additional benefits:
Improved capacity management  
Capacity management is a critical element to your team's success. 
Features such as visual schedules, heat maps, and color codes represent availability and enable you to plan your team's time wisely while they work on different projects. You can easily see when someone is near their limit, reduce tasks assigned to them, and find replacements to work on their other tasks.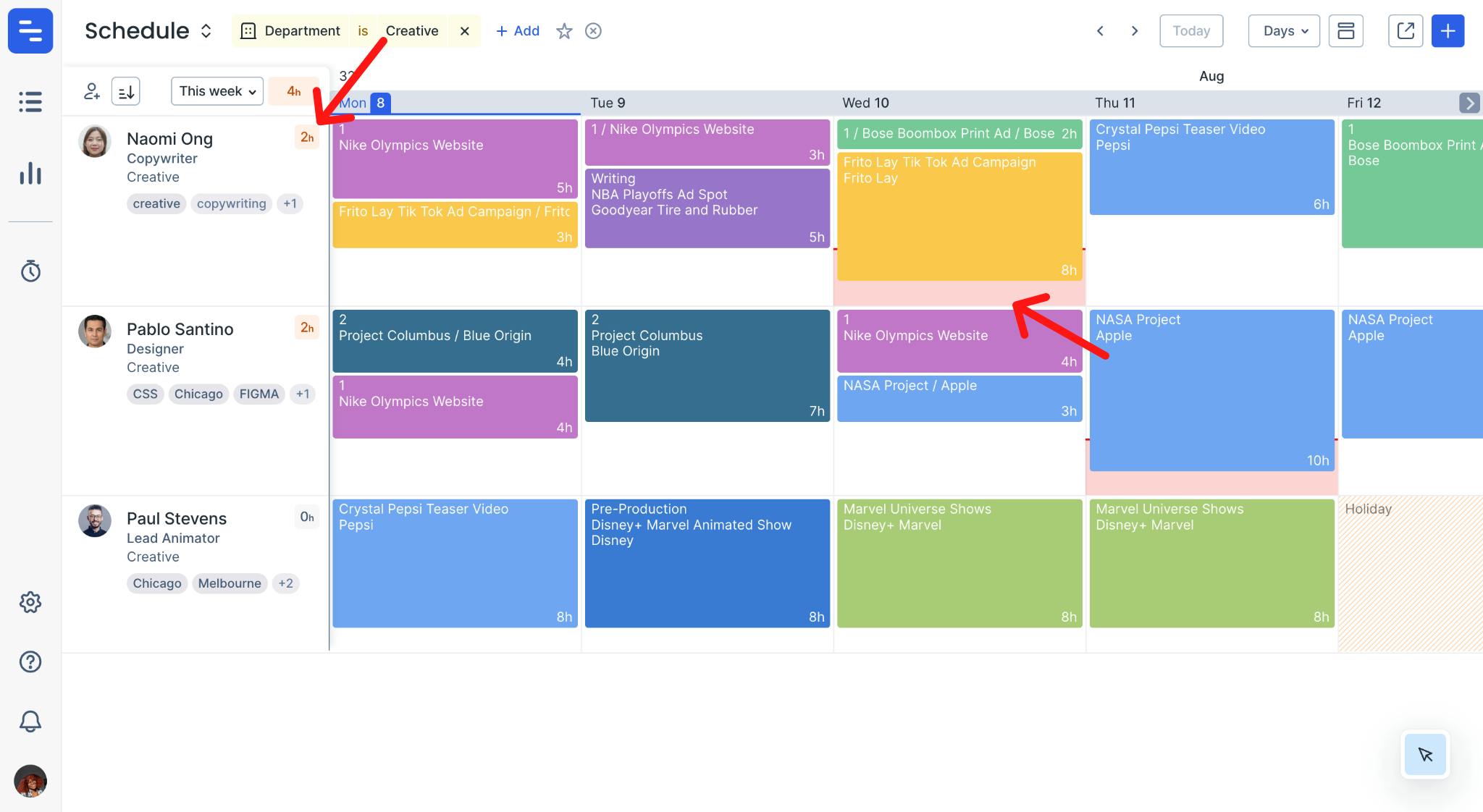 Effortless scheduling 
Many agencies struggle to schedule their teams' time. In Float's Global Agency Productivity Report, 74% of team members said they are overbooked on projects every month. 
Scheduling is easier to handle when you have a single view of your team's availability. You can see real-time changes to the schedule, and make adjustments on the fly when someone is on vacation or out sick.
Assign and maintain manageable workloads
The average workweek is now 45 hours, according to Adobe's Future of Time study. 
Longer work hours could be the result of unrealistic workloads. Resource management software makes it easy to detect overloaded schedules and prevents your people from taking on too much work. Some tools flag allocation that lasts past work hours or into the weekend, ensuring that it's easy to take a more people-first approach to projects.
Accurate forecasting 
Without insight into team capacity and the progress of past and current projects, resource managers can't forecast how much demand to expect on their team. 
Software provides critical insights that can be used to make accurate decisions about workforce size.
Five steps to help you choose the right resource management software
We recommend following the steps below to find the best resource management tool:
1. Identify what problems you need to solve 
The options for resource management software are numerous, so it's easy to get overwhelmed. 
The first step is to create a definitive list of what you want and need to accomplish. Let's say you discover that with the growth of your team, the manual process of using a spreadsheet to allocate resources to tasks has become too time-consuming. Not only that, you have no insight into your team's capacity or availability.
To solve these problems, you need a tool that optimizes scheduling, keeps track of the numbers behind your team, and allows for tentative resource planning. You also need an easy learning curve so you can get started immediately. 
Hence your needs and wants list would look like this:
Needs
Optimizes resource scheduling 
Generates reports
Allows for tentative planning
Wants
If you are not the end user, you'll want to involve your team members in the process so you choose a tool that helps them be more productive. 
2. Find tools that fit your criteria 
With your needs and wants in mind, search for options that fit your criteria. You might begin by typing resource management software into a review site like G2 or Capterra. 
G2's competitive comparison grid for best resource management software 
Pay particular attention to the features, pricing, and review from current customers—as all three will help you pick the right solution. Once you've narrowed your choice down to a few options, visit each tool's website to conduct more research. You can check out case studies from their customers and sign up for a free trial.
3. Look for the right features
While there are a plethora of different tools to choose from, it's unlikely that all will be a good fit for your specific needs. Here are some essential features the best tools offer:
Forecasting helps you identify hiring needs and foreplan future projects. In order to do this, you need a tool that uses data to determine future demand on your resources. 
Some questions to consider:
Does the tool allow you to plan for possible scenarios?
Can you plan tentative projects? 
Can you anticipate your cash flow well enough in advance?
Are you able to make hiring decisions with a comfortable amount of time for onboarding?
Without capacity management, your team might be constantly playing catchup.  An ideal tool should provide information about utilization levels and flag overallocation or under allocation.   
Some questions to consider:
Is there a single view of resource availability and schedules?
Are you able to see what your team is working on and when? 
Can you filter and sort your team based on availability (including work hours) and holidays?
Can you schedule time off to signal non-availability?
Are you able to see who's working (or scheduled to work) overtime and rebalance workloads?
A good resource management tool should allow you to track and manage your team's time. Letting team members record how much time they spend on projects will help you figure out the number of hours worked, plan the costs of future projects, and identify time-sucking activities. 
 Some questions to consider:
Can people log their time? 
Are timesheets easy and convenient for the team to submit? 
Can you compare estimates to actual time spent on tasks? 
Can you match logged time to specific projects, clients, and tasks? 
Can you export timesheets or integrate with invoicing tools for simple billing? 
One of the hardest parts of scheduling is figuring out who is the right fit for a task and who is also available to take on work. A feature that filters skills so it's easy to spot gaps, find replacements, and know who is capable of taking on additional work is crucial. 
 Some questions to consider:
Can you tag people with their job titles and skills?
Can you quickly find the right person for the right job using filters?
Can you track skill-related attributes like seniority or previous work with a specific client?
There's a lot of data in spreadsheets but it may be hard to analyze it and get insight into your resource utilization, capacity, and availability. 
With reporting features, you can identify when too many people are underutilized or the team is over capacity, determine estimates vs. actuals to assist in future planning, and share numbers with decision-makers regarding hiring needs.  
 Some questions to consider: 
Is there a dashboard that generates reports?
Can you customize reports and export data?
Is reported data actionable or key for decision-making in your organization?
What metrics are you not able to track that would improve your operations? 
Projects can be unpredictable—clients' demands might change the scope and deadlines might need to be moved. An employee resource management software that provides real-time updates helps you keep track of variables like changes in availability. 
 Some questions to consider:
Are events like meetings/time off reflected?  
Do you receive notifications when changes are made? 
Can you access a long-term record of all changes made by your team? 
Integrations with other tools in your stack 
You want a tool that allows you to access and share data across applications without creating silos.
Ideally, changes and updates should be reflected in your tool, e.g., schedules are synced with outside calendars, logged time is sent to your payroll tool as timesheets, and tasks scheduled in a project management app are reflected in your resource management tool. 
  Some questions to consider:
Which tools are you currently using to plan people and projects?
How many tools do you have to update manually?
What data do you need to export for easier operations (e.g., timesheets for billing)?
If a direct integration is not offered, will an indirect integration work (e.g., using an automation tool like Zapier)?
Do you need custom integrations or workflows via API access? 
Do integrations sync both ways (e.g., changes made in one tool updates the other, and vice versa)?
The right tool should be intuitive and simple. Clunky interfaces and difficult functionality waste precious time and may make it harder for your team to adapt to using it. 
  Some questions to consider:
Is it easy to use and implement with your existing workflows? 
Can the interface maintain speed as more people and projects are added? 
Will internal training be necessary to get the team up to speed? 
Scalability
The best tools have the capacity to grow with your team and present information in a way that's succinct and easy to grasp. They should also support customizable access rights and privileges to ensure the privacy of sensitive projects, time off, and compensation. 
 Some questions to consider:
What is the maximum number of people and projects that can be handled? 
 Can it support a team twice your size?
Does it offer features you don't need now but may need in the future (e.g., employee time tracking)?
Are plans tiered so you only pay for what you need (with the option to expand)?
Let's talk costs. It's essential to pick a tool that gives you the best value for your money now, and won't become cost prohibitive in the future.   
 Some questions to consider:
How does the pricing compare to similar solutions? 
Are essential features offered as add-ons or extensions? 
Are plans and pricing transparent?
Can guest users (e.g., outside stakeholders) view project progress for free? 
You'll likely be storing a lot of sensitive data, so you need to be confident that the solution you choose is up to the task of keeping your data safe.
 Some questions to consider:
What are your organization's compliance regulations? 
What data security certificates does the tool have?
Are they GDPR compliant?
Does it offer secure sign-on? 
Will you get timely support for any issues that arise after you sign up? Ensure the software offers fast and effective help when you need it. 
 Some questions to consider:
Do they offer 24/7 support?
Can they be contacted via multiple channels?
Do they have a help center or knowledge base you can reference for self-service?

4. Evaluate the tool
Before committing to a new tool, you need to know what you are getting yourself into. Here are some ways to evaluate the software and ensure you're getting a good deal: 
Check reviews on trusted review sites:  A lot of negative reviews is a red flag. In addition to the average score and volume of reviews, also check out a few individual reviews to get a complete picture of what it's like to use the tool. 
Request an RFP: To get your questions about pricing options and features answered, you can send a request for proposal to the various tools' sales team, and then compare the pros and cons of each. 
Use the free trial: Let your team take the software for a test drive to see if it's a good fit. You can start with a few project managers and see how things go. During the free trial, look out for how easy (or hard) it is to use the tool, and whether it will ease (or complicate) your resourcing problems. 
Speak to the sales team: You might have some questions about pricing and customizations. Reach out to the sales team to get the answers you need. 
Get a demo: Ask the sales or customer success team for a walkthrough of the tool. Keep an eye on features that will help you solve problems, and ask questions about functionality, ease of use, integrations, and customizations. 

5. Present your case to decision-makers 
You've done the heavy lifting and found the tool that is right for your team. Here's how to get decision-makers to sign off on it: 
Lead with benefits: How will investing in resource management software benefit your organization? Highlighting benefits like improved project performance, customer satisfaction, time savings, increased employee well-being, and improved utilization rates all present a compelling case. 
Address concerns: Think of any objections that might be raised e.g., concerns about price, security, or adoption rates, and how you can put them at ease. You can consult other members of your team as well. 
Share sales material: Share case studies or industry reports if you think it will help get decision-makers on your side.
Get a demo: Ask the sales or customer success team for a walkthrough of the tool. Keep an eye on features that will help you solve problems, and ask questions about functionality, ease of use, integrations, and customizations.
Use resource management software to efficiently schedule your team's time
Float works with your current suite of tools—including calendars and project management apps—to give you a combined, bird's-eye view of your people, projects, tasks, and time.
Find out more
Why use Float?
Float is a people-first approach to project planning that supports teams of 5 to 500+. It provides a simple yet comprehensive view of your team's capacity to plan work more effectively. 
You can schedule tasks based on skills, availability, and capacity—all from one central view. Availability can be customized to suit part-time workers and freelancers, as well as future changes to capacity. Sophisticated time off management allows you to create custom time-off types, set leave policies, enable manager approvals, and assign region-based public holidays.
The reporting feature in Float helps you keep track of your team's capacity, time off, and project budgets, so you can plan future work more efficiently.
 Try the #1 resource management software for project work
More than 4,000 of the world's top teams choose Float to plan, schedule, and track their team's time. Rated #1 on G2 for resource management, Float gives you the most accurate view of your resource capacity to plan project work.
Try for free