Keeping the Trust Battery Charged in Remote Teams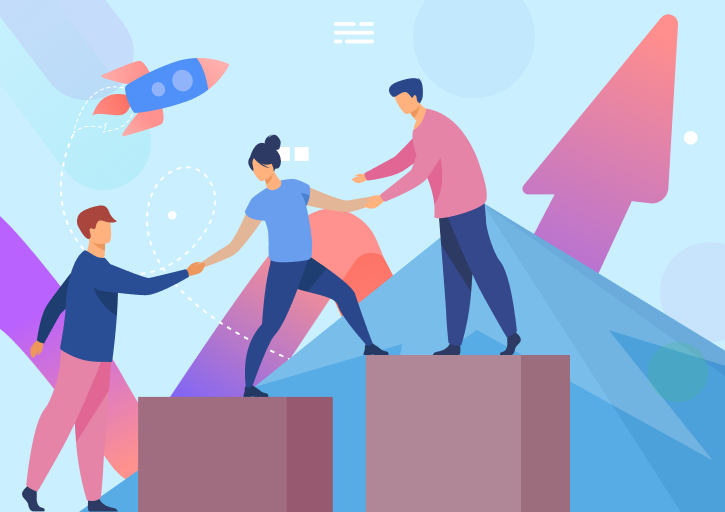 Our customer success team is the face of Float. We wear many hats, including acquiring and retaining our highest touch customers and responding daily to customer support tickets.
There's a high level of trust required in our roles, including:
Trust in the Float product continuing to be the #1 solution for resource management so that we can champion it with confidence
Trust in our work that we are delivering a best in class experience and releasing new features without bloat
Trust in each other that we are part of a team that genuinely cares about and supports each other to be the best versions of ourselves
At Float, we call this the trust battery. Keeping the trust battery charged when you're 25+ people working fully remotely and communicating asynchronously is as critical as it is challenging. It requires a unique and deliberate approach.
Specifically in sales, trust is often built through camaraderie in the office, which can help boost morale when you're dealing with the wins and losses of closing deals. For customer success, it's crucial to earn the trust of our teammates since we're the ones talking directly with customers and representing the business. Having trust in one another also makes our jobs easier and more enjoyable.
When I used to work in an office, I would remove my headphones at 3 p.m. and look over at my neighbor to indicate that it was time for our afternoon snack ritual. Working remotely, I have to be a lot more proactive in building and maintaining trusting relationships with my team. The good news is that it is still possible and equally rewarding!
Here are my top tips for keeping the trust battery charged in remote teams, specifically for those working in sales or customer success.
Servant leadership
There is a great Simon Sinek story about a barista, Noah, who felt like he could really be himself at work. It was because leadership was invested in making sure that anything Noah needed to do his job better, they would help with.
Ensuring that your team feels supported becomes even more critical when you work fully remote and async. Because we don't get the same face time as teams who work together in person, we have to actively seek ways to stay connected and ensure that no one feels isolated.
Here are a few ways we do this within customer success:
Weekly meets: Emily (EMEA) and I (APAC) meet weekly via video call and connect with Mike (US) async via Slack. We keep each other informed about conversations we're having with customers, and identify any shared needs, challenges, learnings, and opportunities. At Float, we work with very few meetings, so this half-hour call is actually the only internal meeting we have all week. The rest of our time is spent with customers and doing deep work.

#customer-success Slack channel: We have a dedicated #customer-success channel on Slack that the entire Float team is a part of. We're able to share what's happening within our department, and can reach out to others with questions or (even better) relevant updates that support us to work smarter.
Monthly customer voice newsletter: Every month, we put together an internal newsletter that lets the rest of the team know what's happening in customer success. This includes customer success metrics, key new accounts, our most-read support articles, and a summary of customer feedback we're hearing on the frontline.
Try new ways of working

When your team trusts that they are supported to do their best work, they feel more confident looking for improvements and better work methods. At Float, we have a company value of accountability, which means that we all take ownership of our work. Another value is to continuously improve both the product our customers use and how we work as a team.
Here are a few examples of new things we've tried in customer success recently:
Sending client presentations via Pitch. Late last year, I proposed the need for a presentation template that I could personalize and send to prospective Float customers. Our CEO, Glenn, suggested we try ​Pitch, a cloud-hosted and collaborative presentation tool. I worked with our Director of Marketing, Siobhan, to sharpen the story and brand message, and our Senior Design Lead, Cam, to design a unique Float branded template that could be personalized to each client. We've had great success with creating and sharing these presentations with customers and loved the Pitch tool so much that we now use it for our quarterly all-hands and ​new team member onboarding!
Recording customer support videos via Loom. Early last year, we started using ​Loom to record short videos to provide even better support to our customers and give them clear and concise answers to their Float questions. We've since created a library of common questions for everything from integrations to upgrading to a paid plan. It's been a huge success, and our customers love it!
Proactive support from the customer success team. It would be misleading to suggest that every new idea works out as we hope! For example, we tried reaching out to customers directly for a few months to see if providing extra support over chat was helpful. It turns out that most customers reach out to us when they have questions during the start of their trial, and contacting them directly didn't really move the mark for new trial users or our paid customers. It took a lot of extra work from the team, and after examining the results, we quickly pulled the plug since it had no meaningful impact.
Teammateship
At Float, our internal language is centered around being a team, folks working together, and building a culture that supports us living our best work lives. We rarely, if ever, refer to each other as colleagues. I think of my co-workers as teammates, and with that comes mateship. Mateship is an Australian term that refers to the equality, loyalty, and friendship between people.
To put it simply, it means we have each other's back. We recognize that we're just as much people outside of work as we are at work, and we genuinely care about supporting each other to be the best version of ourselves so we can do our best work and live our best life.
For example, when a power outage hit Mike's home state of Texas after a ​severe winter storm, we were all quick to help as best as we could to cover his workload!
The COVID-19 global pandemic has also been a real testament to the mateship within our team, with varied experiences based on where we live in the world and our personal circumstances.
One of the biggest upsides of a global, fully distributed team, is a pulse on life across 12 countries.

We're all working through COVID in different ways. You become more empathetic for those less fortunate, and grateful for what's good at home.

— Glenn Rogers (@GlennFloat) July 21, 2021
Everyone is responsible for charging the trust battery
It's a team effort to keep the trust battery charged. Celebrating each other's wins, supporting one another when someone is going through a challenge (at work or home), and knowing that we all have each other's best interest at heart helps us remain a cohesive unit and energized to do our best work!
---
Interested in joining a fully distributed remote team with a culture that supports living your best work life? Check out the current open roles on our Careers page.
---
Get exclusive monthly updates on the best tools and productivity tips for asynchronous remote work
Join 100,000+ readers globally