Why Coworking Spaces Make Life Better for Remote Workers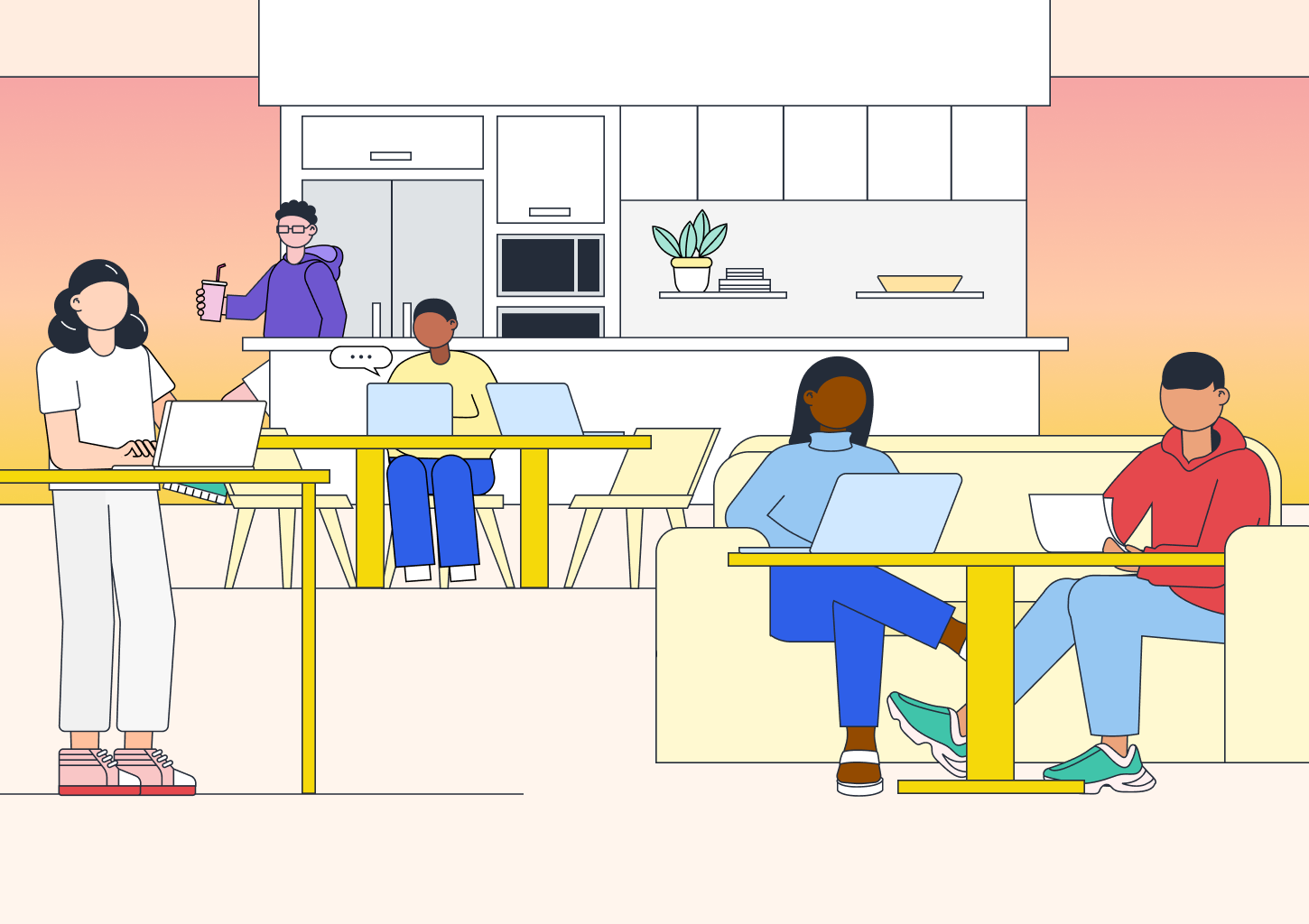 There's an ongoing struggle between organizations and their employees centered on when (and how) to return to the office. Some people want to return full-time, some wish to remain remote, while others would like a hybrid option that allows them to work remotely at least a few times a week.
Not to be outdone by the office vs. WFH crowds, there's another intriguing option to consider—coworking spaces.
Remote work doesn't necessarily mean WFH
When we think of remote work, it's often an image of a person in their home office or on their sofa with a laptop. But that's not necessarily the case. Coworking spaces can be a great alternative to—or even complement—working from home.
The modern version of these spaces began in San Francisco in 2005. Coworking spaces have grown far and wide since then, and can be found in almost every major city across the globe. Remote employees may choose their preferred coworking space themselves, or companies may lease space for them and establish a come in whenever you feel like it policy. Startups may also lease coworking spaces when they're not ready to put down roots or are unsure about their future team size.
Float has been a fully remote company since day one, and one of the perks for our team is a monthly allowance for a coworking space (around 25% of our team is currently using one).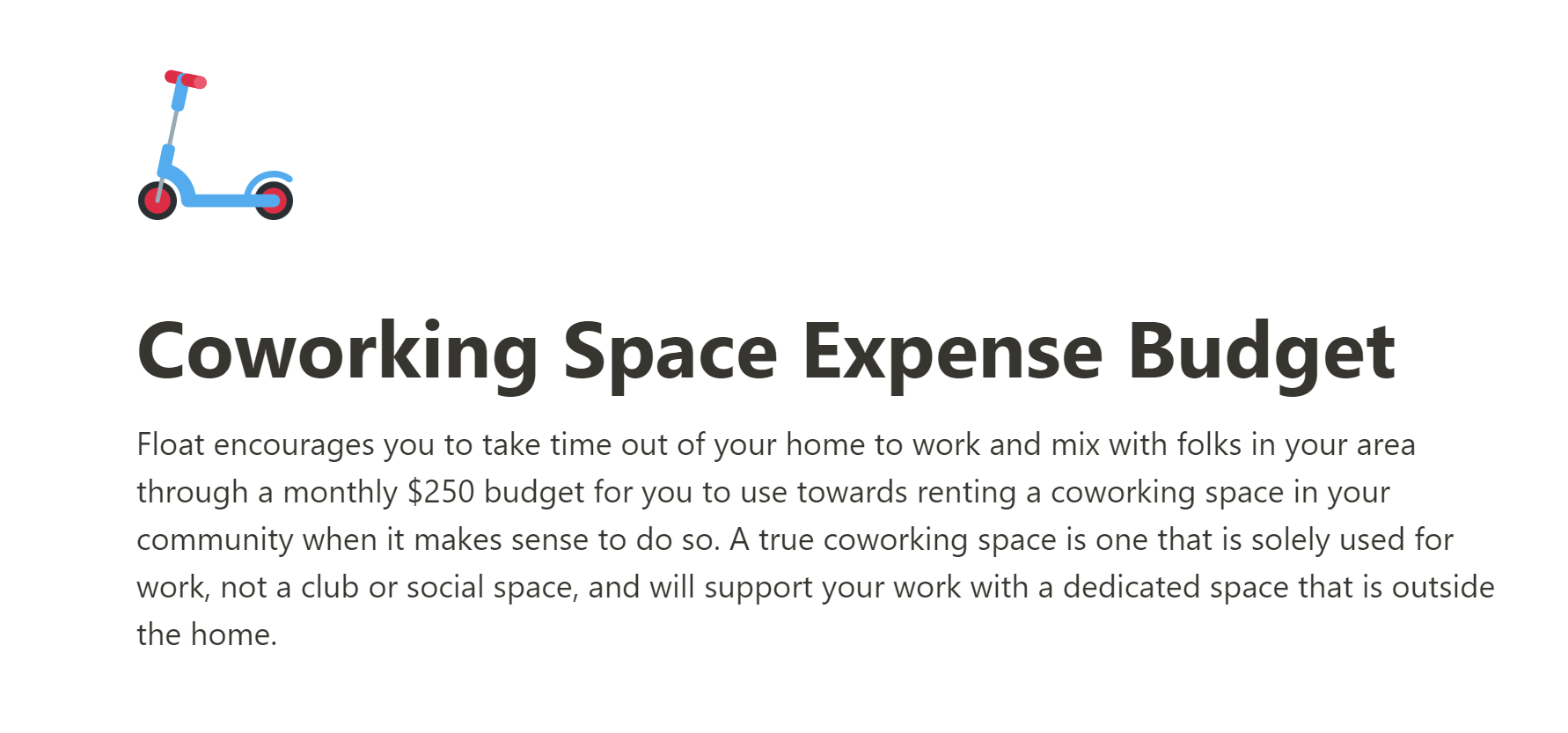 How popular are coworking spaces?
Though we often hear about coworking spaces in professional networks, how many remote workers actually use them?
We sought the answer out on LinkedIn. Our (very) unscientific poll found that 35% of respondents use coworking spaces (including 26% who do so weekly). Another 20% said that they want to try coworking in the future.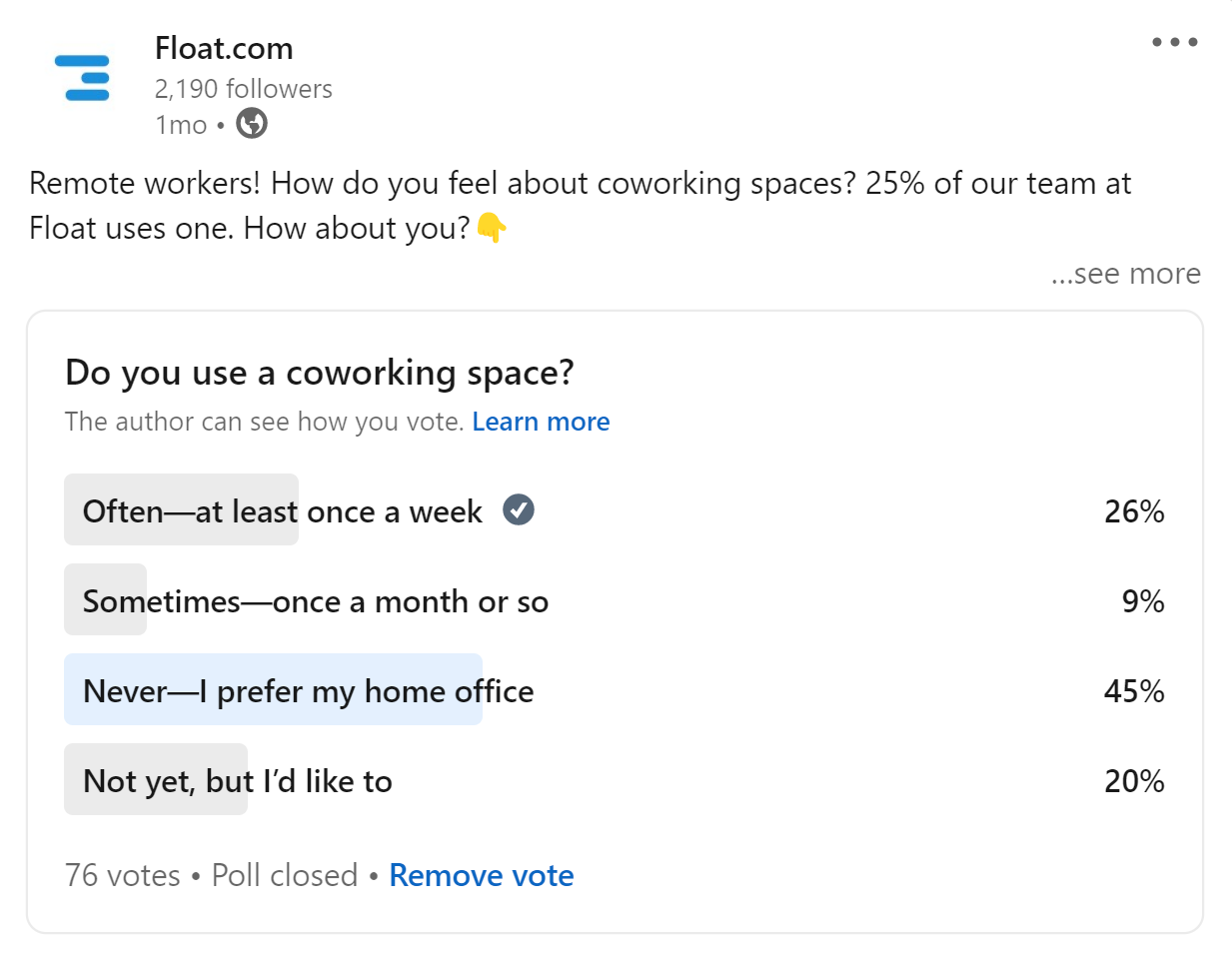 Other surveys show that while workers who use coworking spaces are still in the minority, their numbers are growing. By 2025, it's expected that nearly 5 million people will use a coworking space!
Here are a few benefits to consider if you're thinking about trying a coworking space.
What coworking spaces can do for remote employees
Set clear boundaries
One of the biggest challenges with working from home is that it blurs the line between work and personal life. With a coworking space, though, you can be more deliberate about maintaining a work-life balance.
"For me, the biggest benefit is having a differentiated home and work space to set clearer boundaries between each. That way, if I've had a bit of a busy or stressful day, it's more satisfying to physically walk away and close the door on that day than try to transition into my personal time while still sitting in the same chair." - Jess Thompson, Senior Product Marketer
If you or someone on your team struggles with work-life boundaries, experimenting with a coworking space may be the solution. Even the act of closing your laptop screen and putting it away to return home can be a mental reminder to unplug for the day!
Find solutions to unforeseen problems
The first time I ever went to a coworking space was when there was a power outage on my block and I needed to get some work done. Instead of going to a cafe (where there would have been less room for my notebooks and more distractions), I went to a coworking space.
I was able to work productively and still find time to complain about the power outage to my temporary coworking buddies 😂.
"I started going to a coworking space when the bathroom was being remodeled, and it was too noisy at home. It was convenient to be able to relocate temporarily and have a dedicated desk where I could leave my standing desk converter and extra monitor. It was a novel change of scene." - Mia Northrop, UX Research Lead
So whether it's out of necessity or simply a change of scenery, a coworking space can save the day when you least expect it.
Offer bottomless coffee (and other beverages)
Ok, this may sound like a joke, but we should never underestimate the power of a steady and regularly available caffeine supply. (Thanks for the reminder, Jess!)
Help with social isolation
Many folks can handle working from home without the benefit of face-to-face contact. In fact, some of us have found our best work life working remotely.
But not everyone is happy working this way. During the pandemic, 69% of workers experienced burnout symptoms while working from home. The World Health Organization (WHO) even issued guidelines on organizing remote work in ways that protect and promote workers' well-being.
Coworking spaces can't solve all these issues singlehandedly, but they can provide vital support. Seeing and talking to people can alleviate loneliness and negative feelings. For example, Float's Front-End Designer Fabio Azevedo uses coworking spaces to avoid being cooped up at home. He explains: "I like going to the coworking space because it forces me to leave the house. When working from home, I tend to close myself off and only leave when it's strictly necessary (e.g., to walk the dog). Coworking spaces allow me to see and hear people, which I enjoy."
This kind of socializing is also far less stressful than in a permanent office space where you might have to deal with office politics or power dynamics. That way, workers can fully enjoy their time with others. "As much as I'm an advocate for remote work, I am also an extrovert at heart," says Siobhan Hayes. "I appreciate the small opportunities to connect and converse with people, and I value having a community."
"When I first joined Float, I'd also moved to a new city—New York. I found a coworking space community at Kongo. Everyone there was a freelancer, i.e., working solo, and I think that was a big part of what made it so special. Everyone knew the loneliness that, at times, can come with working at home or on your own, which meant that we really valued having a space where we could come work and connect." - Siobhan Hayes, Director of Marketing
Give a productivity boost
If the past few years have shown us anything, it's that working remotely can be an efficient and productive way to work. That doesn't mean that your home office is the ideal place to work from every single day.
For example, a recent survey found that 80% of people turn to other coworking members when they need help or guidance. This can be a massive productivity booster, as you can learn and develop faster and complete tasks more efficiently.
Depending on the circumstances, coworking spaces can also be optimized for deep work. If you have too many distractions at home, booking a small room at a coworking space may provide you with the quiet you need.
"I usually go to a coworking space one or two times a week. I find it's good to get some variety where I am doing my work and I try to really focus on deep work when I'm there. I often get my best ideas to solve problems during this time. Plus, I really enjoy the 10-minute scoot next to the river each way." - Tony Rule, Senior Technical Product Manager
Using a coworking space can also introduce a routine that is often missing while working from home. A study published in the Harvard Business Review found that "coworkers thought having a community to work in helps them create structures and discipline that motivates them."
Provide team-building opportunities
Float has team members distributed all over the world and no physical office to speak of. Coworking spaces have given our team the opportunity to work with each other in person whenever possible.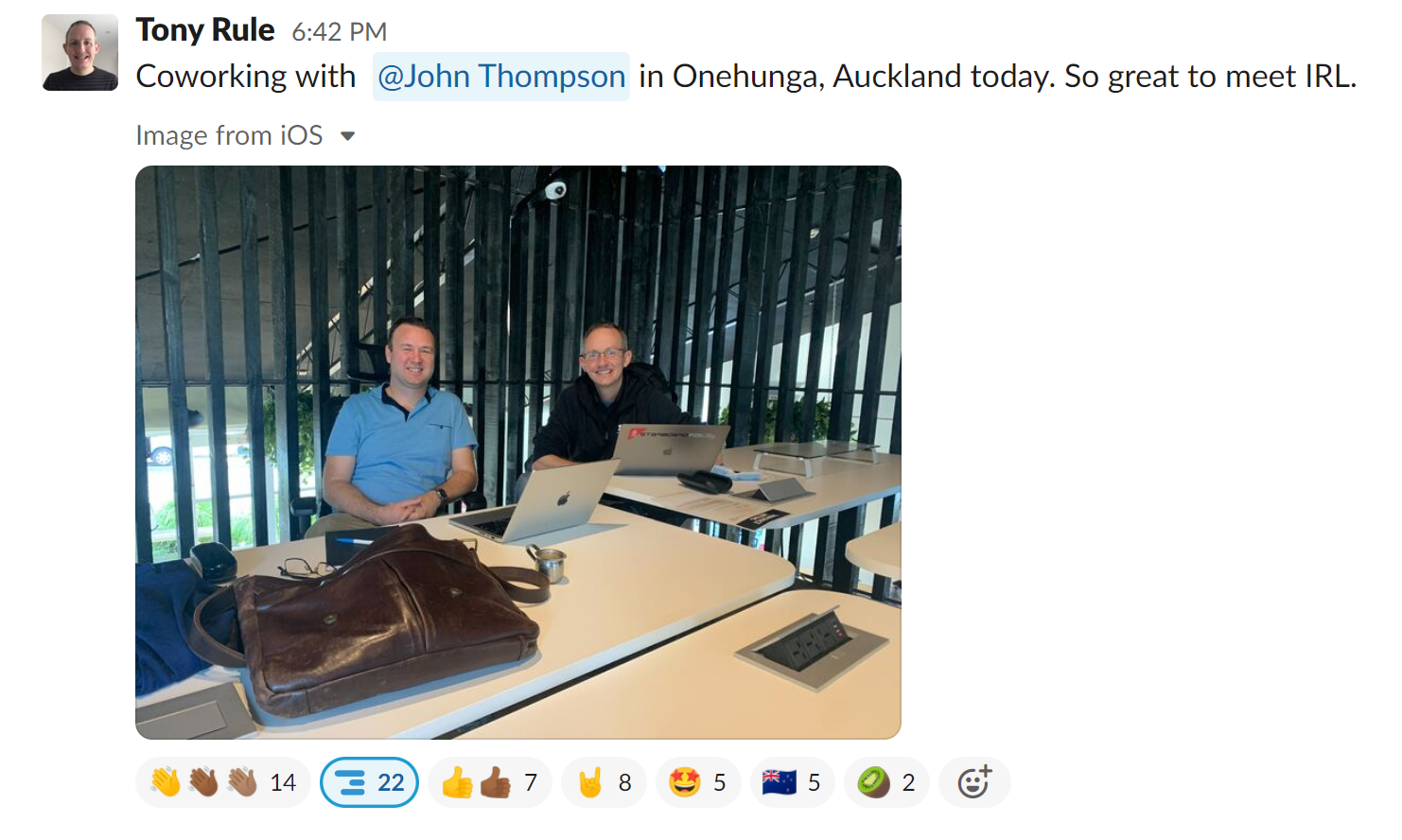 Undoubtedly, this would be less likely to happen if the only options were meeting at someone's home or a local coffee shop. Coworking spaces provide a place to meet and nurture trust within even the most far-flung teams.
Making the most out of coworking
As with other modes of work, coworking is not without its challenges. Similar to regular office spaces, you may not always find the best conditions for your needs. "The biggest pet peeve for me is that you have a lot less control over your environment—oftentimes the music may be too loud, the A/C is too strong, or the lighting isn't quite right," says Jess.  
The operative word is flexibility.
You can experiment with different days and times, and only go when you know you can be productive. Different coworking spaces offer different vibes, and each may have various subscription plans, room types, and dedicated workspace options to choose from.
Take some time to find what works best for you!
---
Get exclusive monthly updates on the best tools and productivity tips for asynchronous remote work
Join 100,000+ readers globally