10
Features Teams love
Considering making the switch to dedicated resource scheduling software?
Here are ten of our customer's favourite features.
START A FREE TRIAL
Greg Pin
Aironair
I did months of comparison and it was it's streamlined interface and ease of use made the difference.
Jake Thompson
Socialchain
An amazing tool which has transformed the way we book in work in our organisation.
James Weller
Extreme Creations
A great visual collaborative tool for managing resources.
Rob Boyett
Mentally Friendly
A great product that's saving us a lot of spreadsheet action.
Lama Riachi
MOJO
It's the design and ease of use that allows me to easily navigate the schedule.
Nadine Husain
Integration New Media, Inc.
I compared many options. I like the interface, it is not trying to be everything for everyone.
Kevin Jason
Ten24 Digital Solutions
It's easy to use, flexible and simple to get up and running.
Søren Eskildsen
Trifork A/S
I made my decision based on it's simplicity and speed.
Ashley Johnson
Access
It's easy and fast to update, cut and change elements being scheduled.
Design (6h)
Nike Microsite
Development (4h)
Hall St Prototype
Design Review (4h)
White Knight
Art Direction (3h)
Big Apple Co.
Interface Design (6h)
Rock Co.
Design (4h)
Orange County
Creative Review (4h)
Pitch
Sprint Review (4h)
Internal
Redesign (4h)
Our Website
Website Design (6h)
Walker
Design (4h)
Green Bear Productions
Design (4h)
Incognito Co.
Design (4h)
Incognito Co.
UX Design (4h)
Jeans Pitch
Creative Design (3h)
Randall Brothers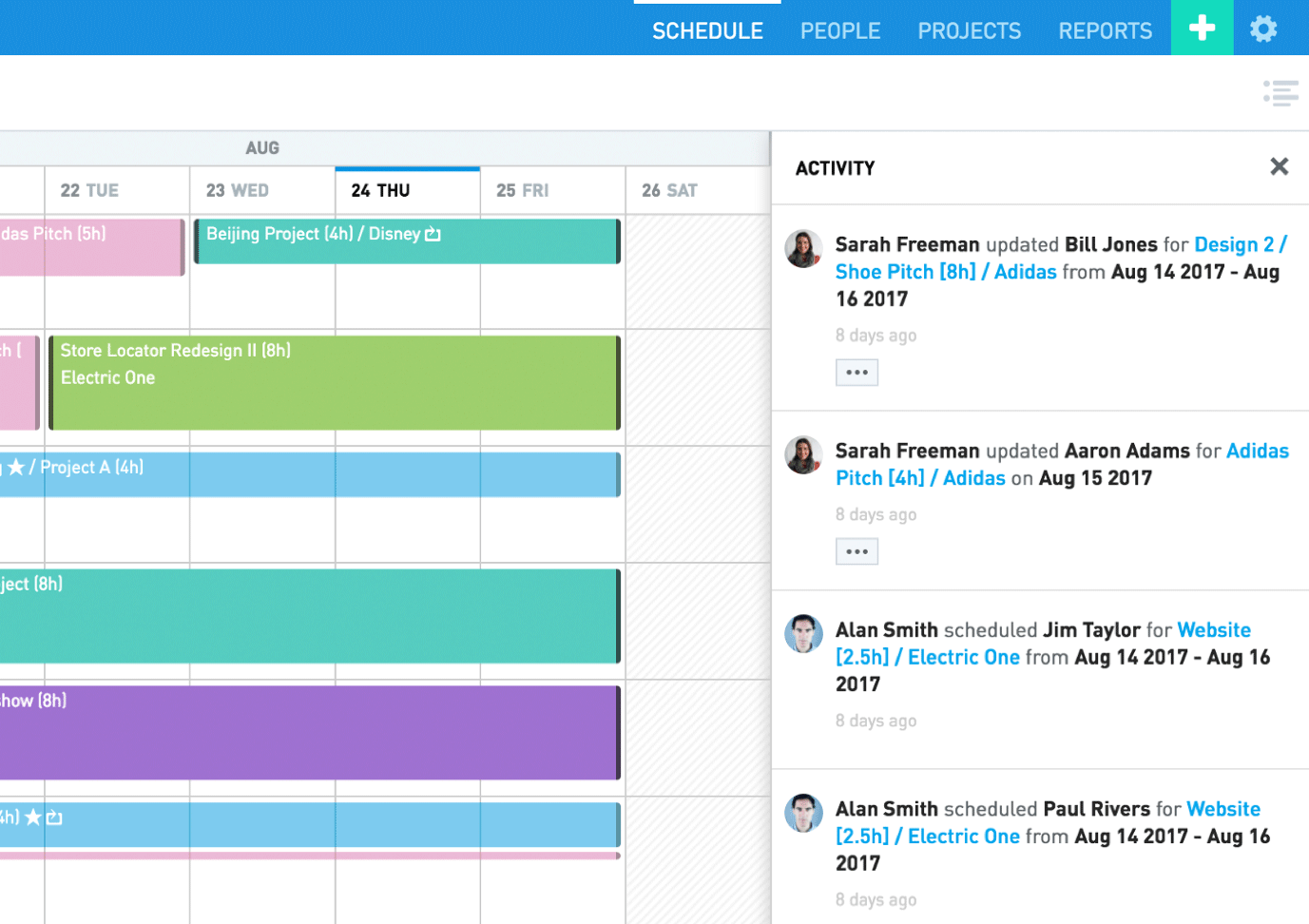 Live schedule updates.
No refresh required.
We know that scheduling isn't always a one-person job, which is why you and your team can both make updates at the same time. You'll see changes as they occur—in real time—so you're always up to date!
Super-powerful schedule editing.
Have a conflict? Let us help you solve it.
We offer the most comprehensive set of editing tools available, so when things change (as they inevitably will), we've got you covered. You can drag, drop, insert, replace, split, and duplicate any task with ease using our right click tools and keyboard shortcuts.
Art Direction (6h)
Bradford Pitch
Creative Review (4h)
Wiggins Web Design
Art Direction (6h)
Bradford Pitch
Art Direction (6h)
Bradford Pitch
Maintenance (6h)
Wall Brothers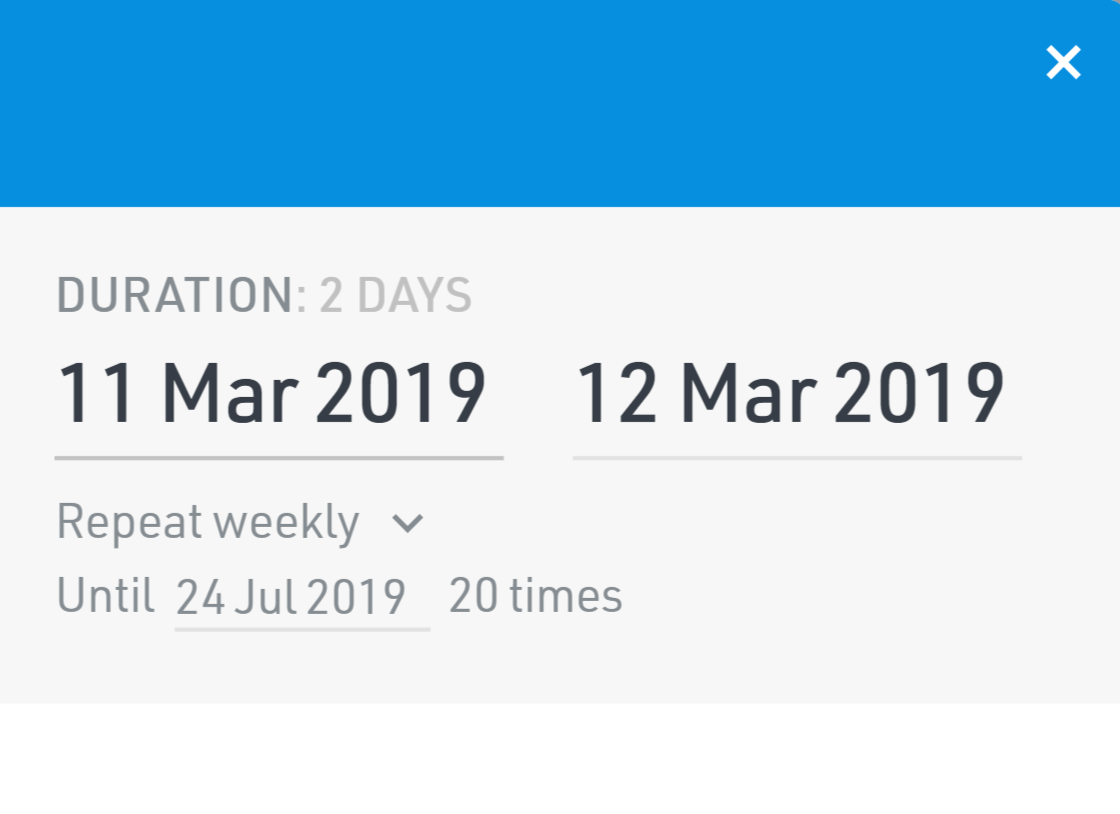 Rinse and repeat tasks.
Effortlessly schedule work for your team.
Have a weekly maintenance task or a monthly town hall to schedule? No problem. Set weekly and monthly repeating tasks. Need to copy a task from Rachel in Creative to Paul in Design? Done. Simply duplicate the task by holding Shift and dragging it to where it needs to go.
Stay up to date. Anywhere, anytime.
Free apps available for iOS, Android, and Slack.

Whether you're in the boardroom, classroom, or waiting room, you'll always be up to date with the latest schedule changes. Live updates notify you of changes as they happen.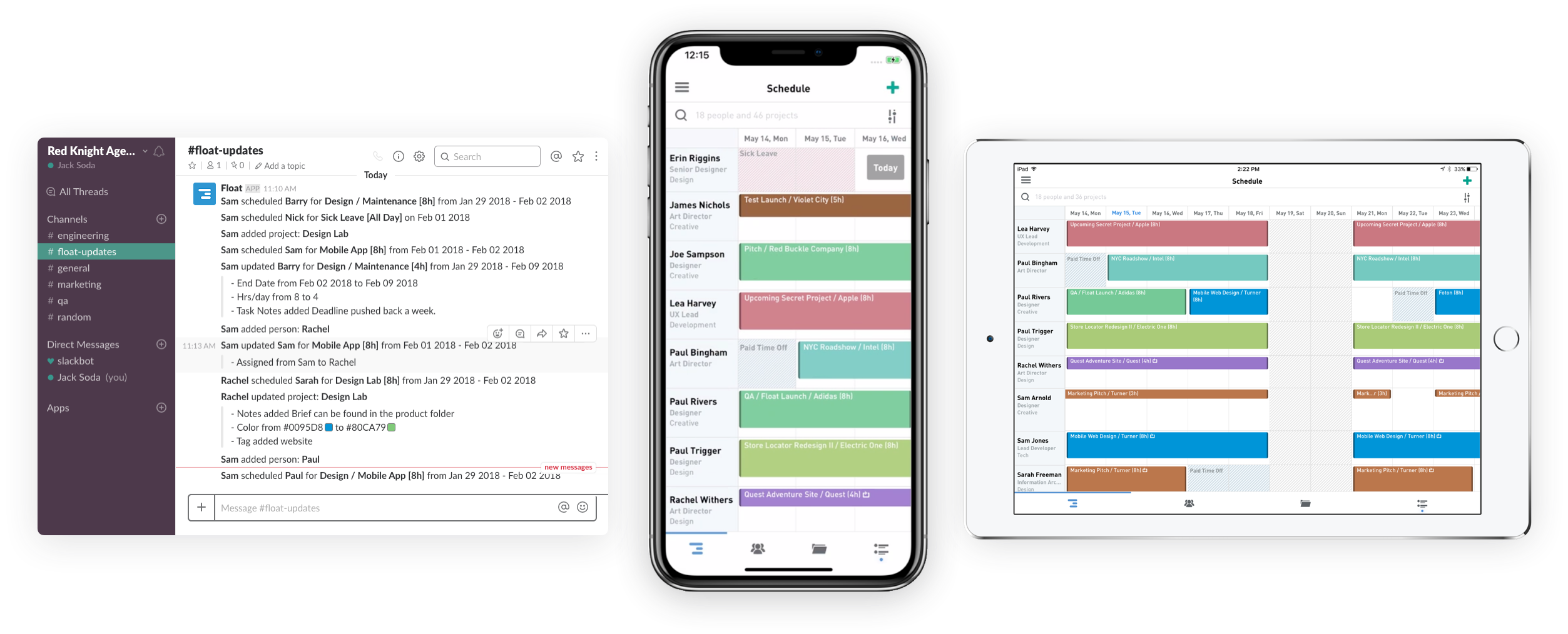 05
One-off weekend scheduling for those one-off occasions.
Weekend warriors-we salute you.
The schedule is flexible when you need it to be, even if it means working on (and not just for) the weekends. You can hide non-work days, set part-time availability, and even schedule team member holidays and one-off weekend tasks.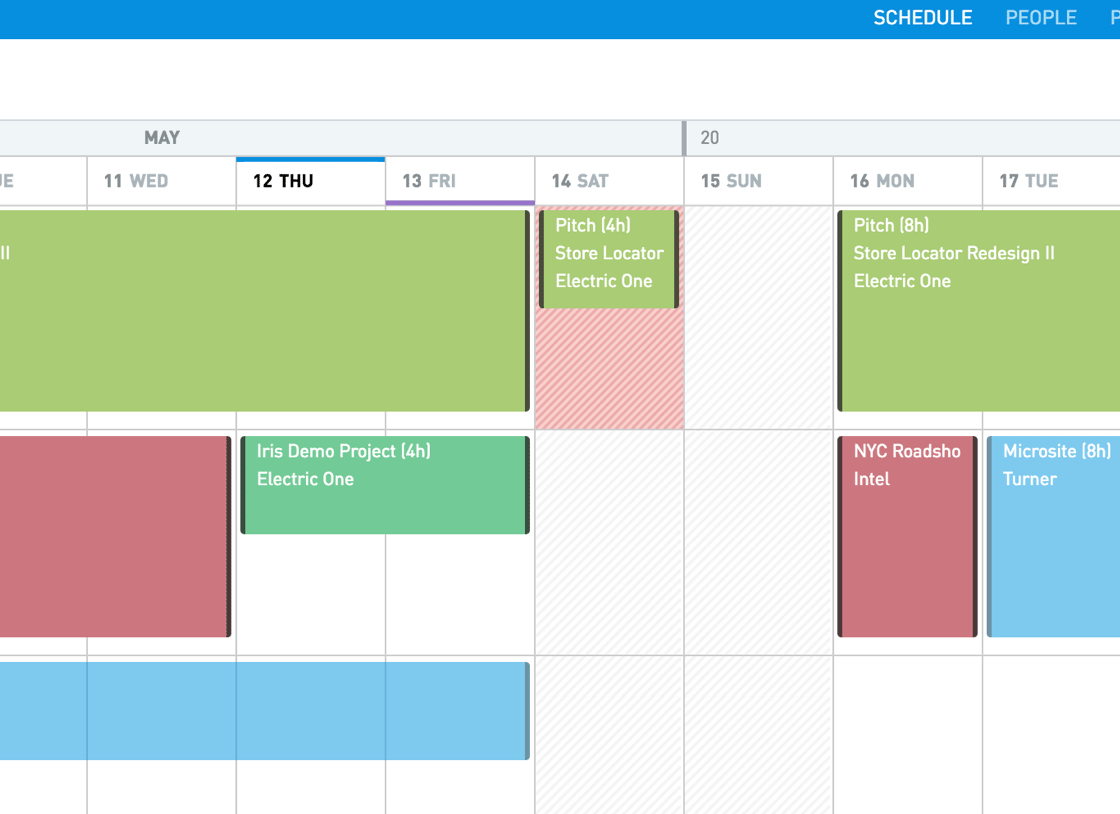 06
Custom sort, search, and save.
Find the right person or project using our
powerful search and sorting.
A search bar appears at the top of every page, allowing you to filter virtually any team or project variable—including tags, departments, and clients. You can also save your searches, align team members into a specific order, and search across every section at once.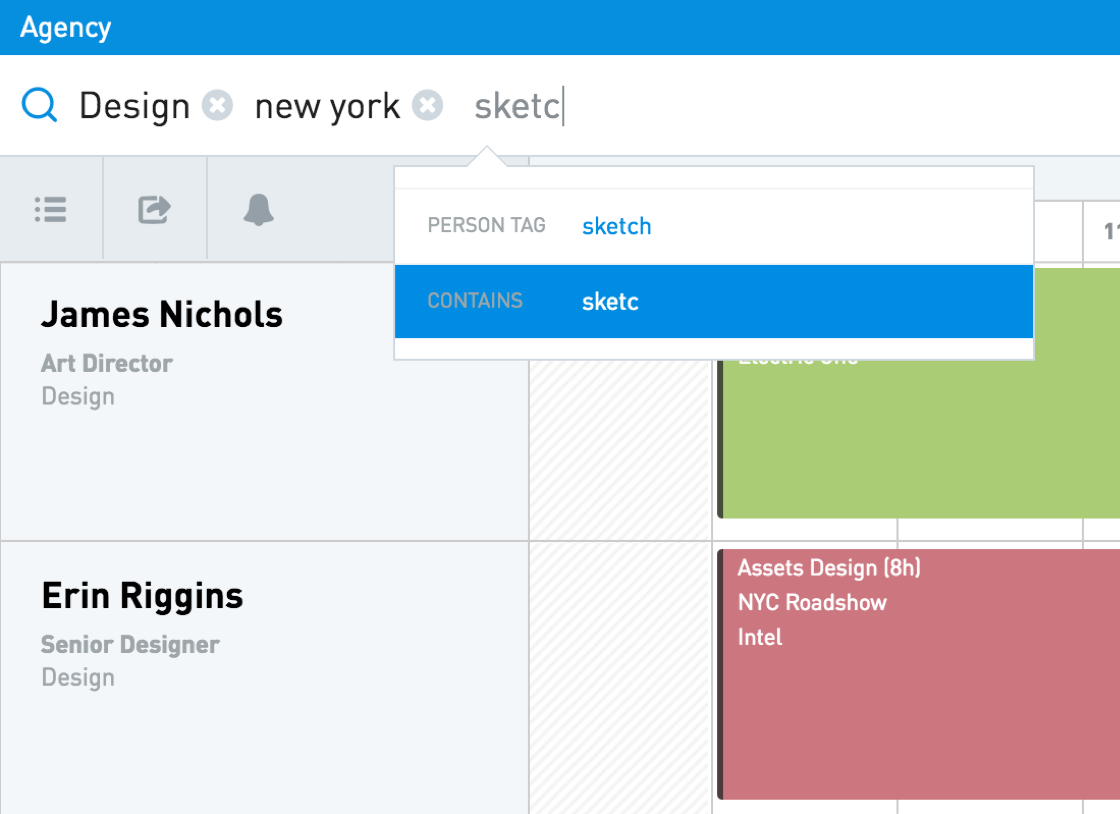 Move one task. Move many tasks.
Create task dependencies using multi-select.
Since deadlines are constantly evolving, we've made it simple to make bulk schedule changes with our task multi-select and move feature. Just hold down Shift, select the tasks you'd like to move, and then drag them to their new date.
Design (8h)
Website Redesign
Development (8h)
Android App
Report on the numbers.
Track team utilization using Reports, and then export the data.
Data is all the rage these days, and since it doesn't just stop at the schedule, we also offer Reports and CSV exporting. You can report on virtually anything—from people and projects to departments and clients—while also keeping track of individual hours booked and overall team utilization.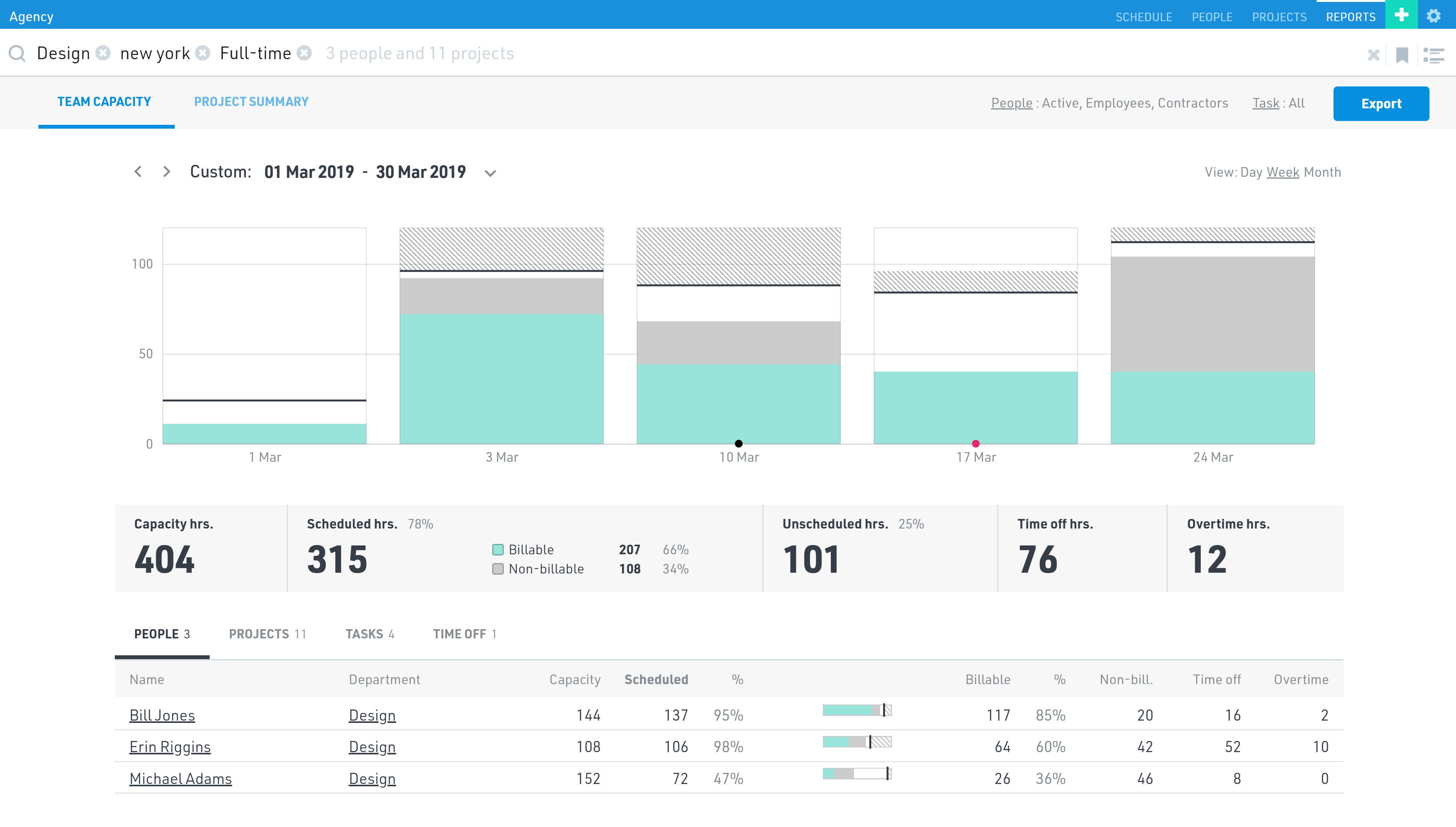 Connect with all your favorite services.
Dedicated API and Zapier integrations connect Basecamp, Asana, Trello and more.
Need to import your Basecamp projects? Easy. Want to create projects from your Trello boards? No problem. With our API and Zapier integration, these things (along with 100's of other integrations) are possible with just a few simple clicks.



Basecamp

Asana

Trello

Harvest

Slack
Teamwork Projects
You're in good company.
Trusted by the biggest and brightest (as well as the smallest and wisest).
Top brands across almost every industry, including advertising, media, finance, government and education.
The biggest, baddest brands on the planet
The most-awarded agencies
And the brightest small teams and studios