Hosting a Successful Remote Team Meetup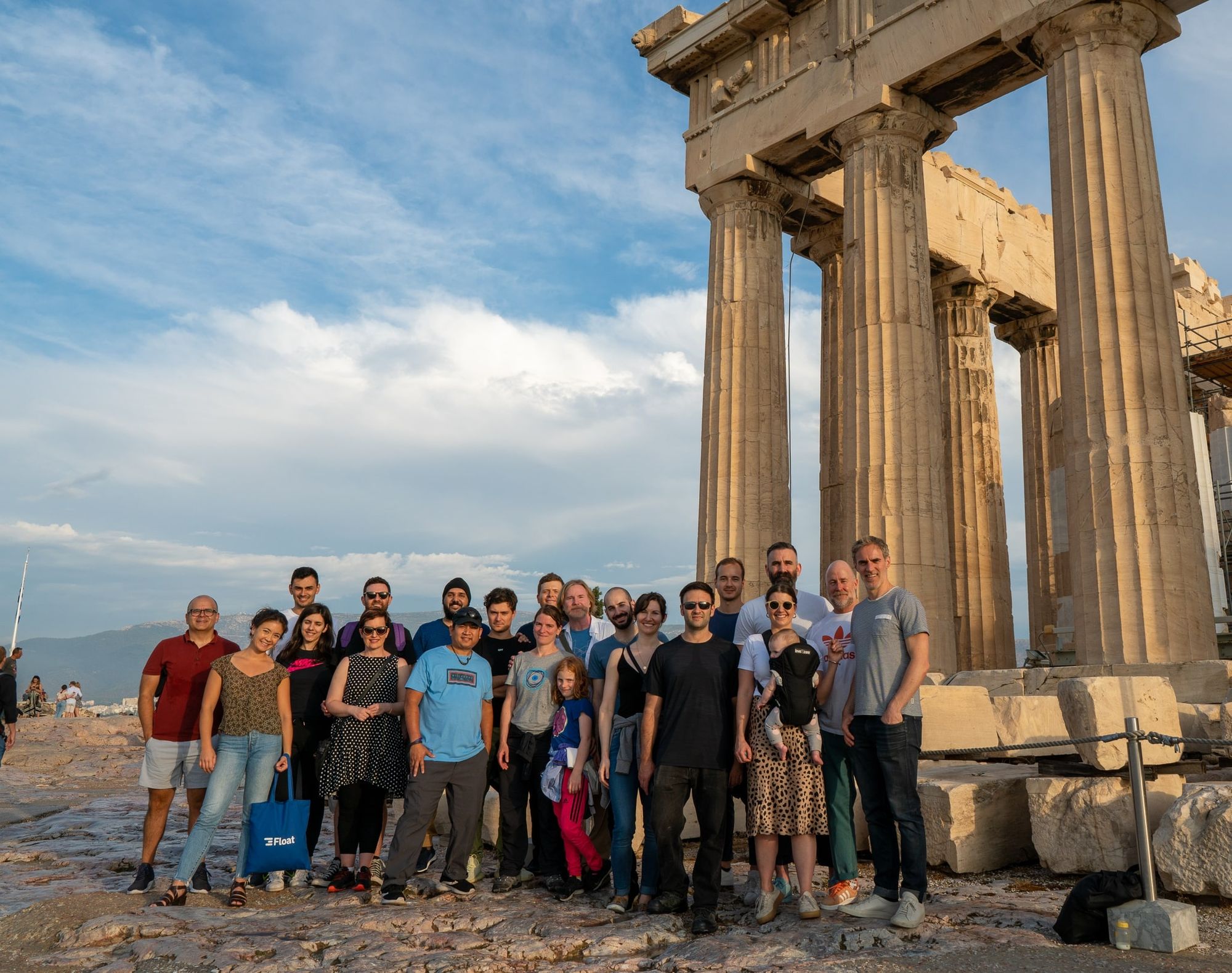 It's been eight months since joining Float, and I've just met most of my colleagues for the first time at our annual team meetup! One of the perks of being a fully remote company is that once a year the co-founders Glenn and Lars invite everyone to get together in a nominated location, with flights and accommodation all covered by the company. In 2018, the meetup was held in Lisbon, Portugal, while this year, Athens, Greece won the popular vote as the destination of choice.
The main priority of the two days together was to spend some time getting to know each other better in person, with some workshop sessions and team presentations thrown in as well. This year's meetup was a great success! Everyone was upbeat and energized to spend time together in person, and the agenda was well run (kudos to Glenn).
Since joining Float, it's been interesting to learn and observe the operations of a fully remote company, and the people management of a remote team. With this being my first meetup working in a remote role, I was especially interested in seeing how two days could be maximized to bond as a team, align on business goals, and not end up totally exhausted! Here are my thoughts on how this was all achieved.
The days were clearly separated between work and play
Here's the agenda we were given for the two days together: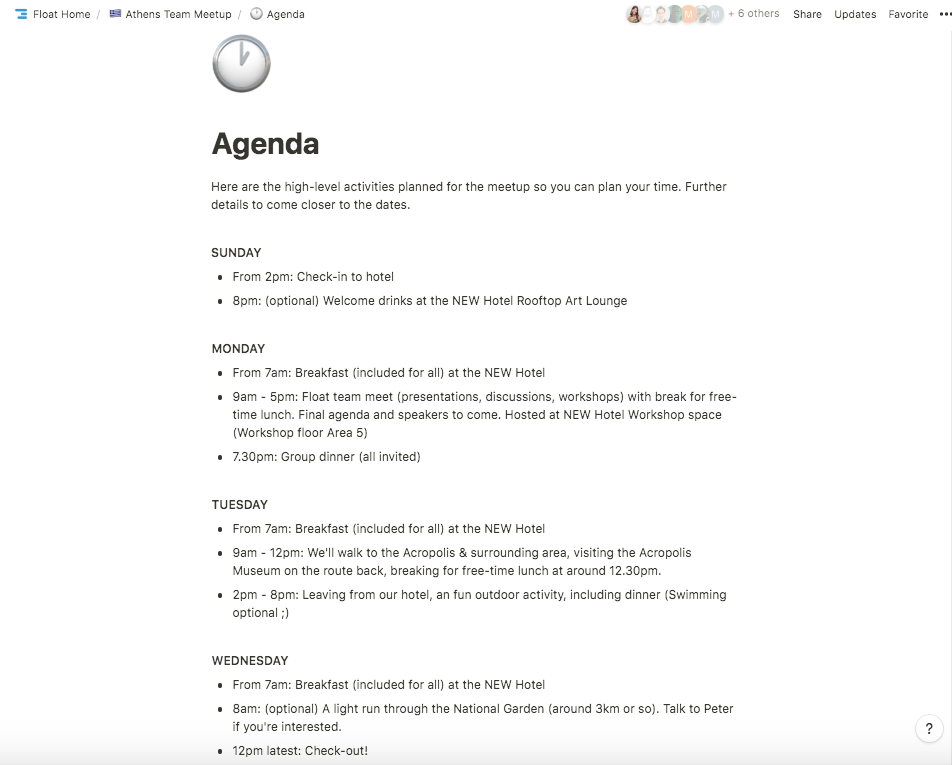 Day one was all about work, while day two's focus was on enjoying an activity and connecting as people rather than colleagues – easy to do in a fascinating, ancient city like Athens! This clear distinction helped in knowing what you were turning up for each day. It also made expectations clear to mentally prepare yourself for each, i.e., giving a presentation vs. cruising the Aegean sea for a few hours. Very different mindsets!
The 'work' component was structured but informal
Being the first year Float has had a dedicated marketing team, naturally, I was motivated to give a presentation that would inspire the group about the brand we're building and excite them to be a part of. Ahead of the meetup, I was provided with clear expectations about what should be covered in my presentation, which was specific enough to guide the content, but also informal enough for me to feel comfortable to shape as I saw best fit.
I really noticed this set a more relaxed energy within the group, as it was less about chest beating numbers and selling rainbows, and more about genuinely sharing what we do and what we're working on. This meant everyone was more at ease with not only presenting, but also participating and contributing, which is the most valuable outcome you could ask for in a room full of coworkers!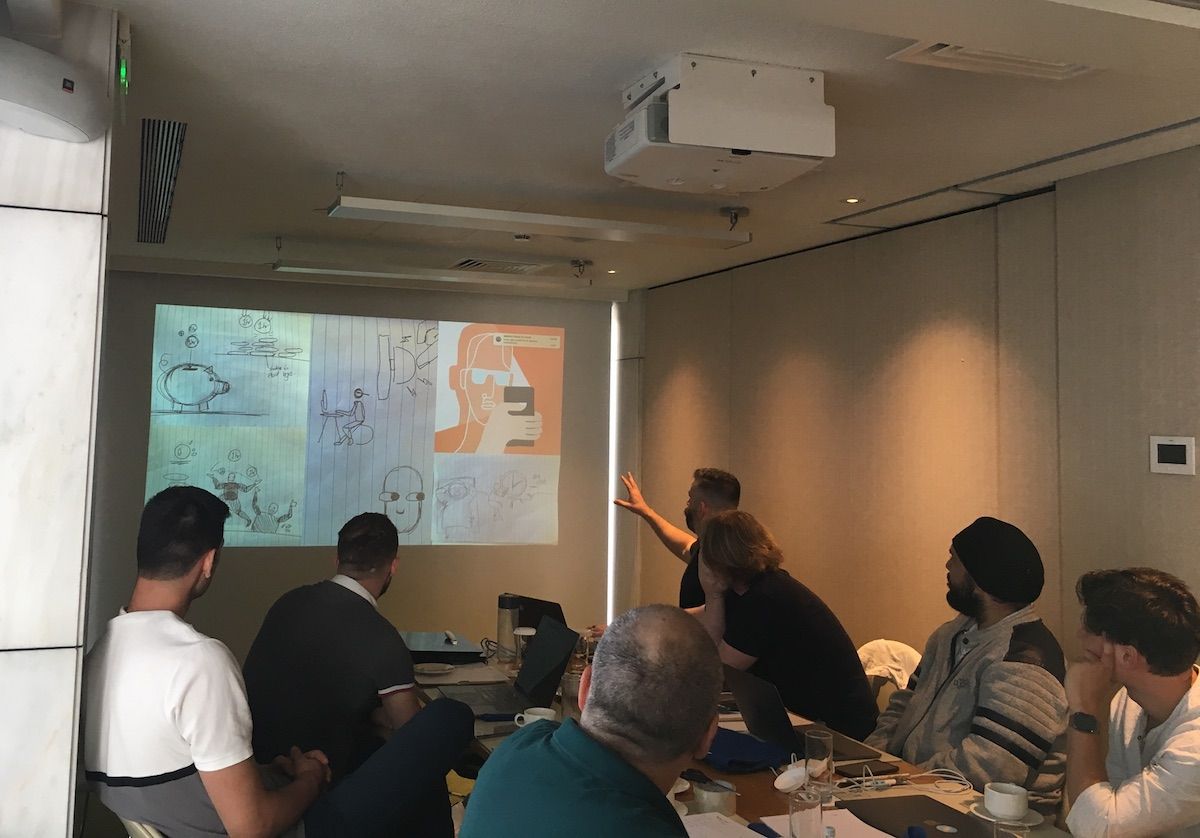 There was adequate 'free time'
The free time was so crucial. I've been to work offsites before with minimal to zero free time, which I have found challenging. As extroverted as I may be, being with a group of people all day, especially a very long day, can be extremely draining!
From the agenda, you can see that in addition to breakfast (which was essentially free time), we had a fair 1.5 to 2 hours in the middle of the day where we could do our own thing. What I loved the most about this, other than the opportunity to nap or lie in silence on the incredibly comfortable hotel beds (cue the most incredible black out blinds), was that it meant I could arrive at each session with the energy to be my best self.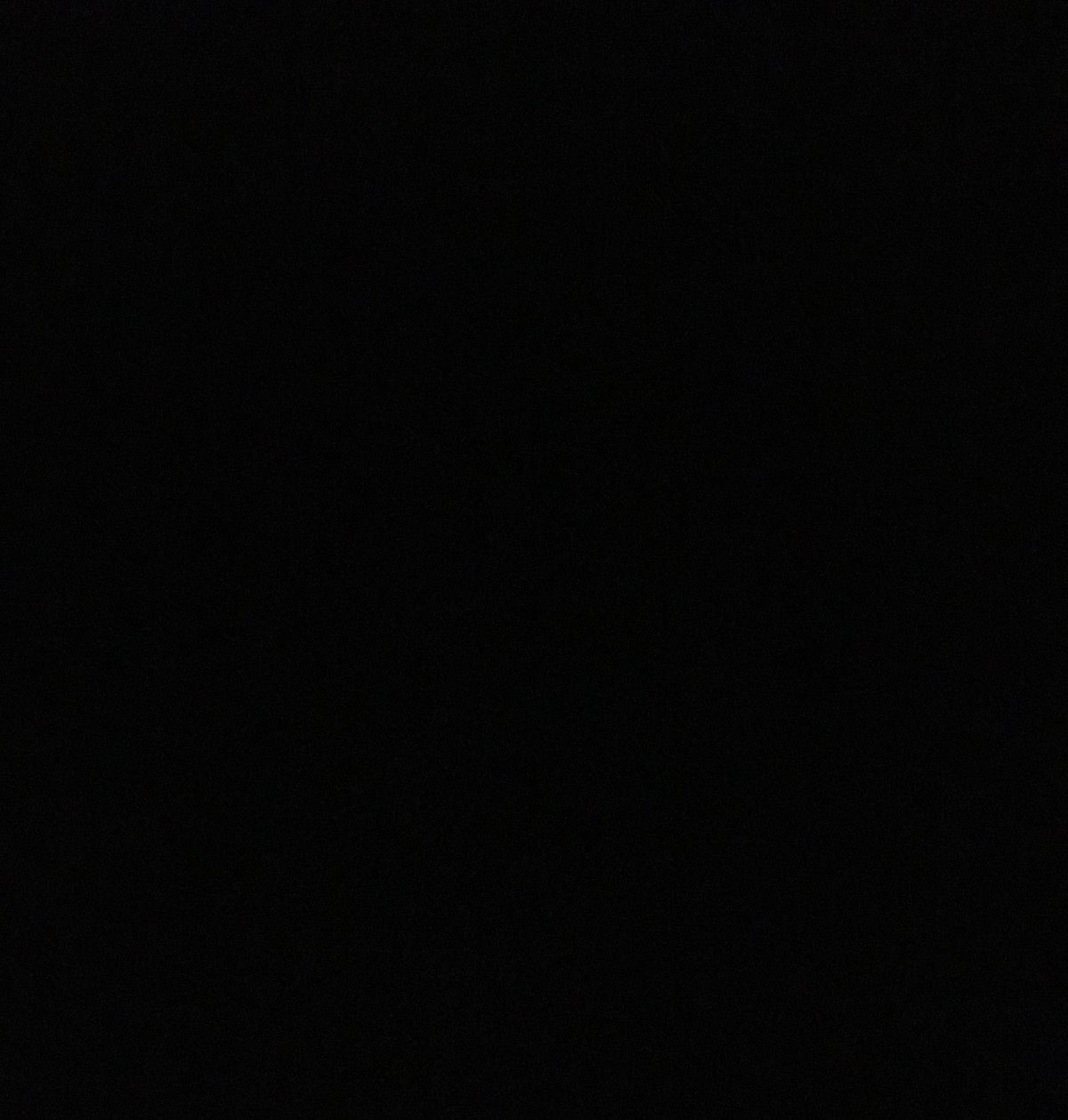 Having this clearly set in the agenda also took the pressure off anyone feeling obligated to socialize when they didn't feel up to it. Seeing this scheduled in before the meetup kicked off had me feeling quietly relieved (did I mention my mild PTSD from previous work offsites that did not account for how necessary this is?!).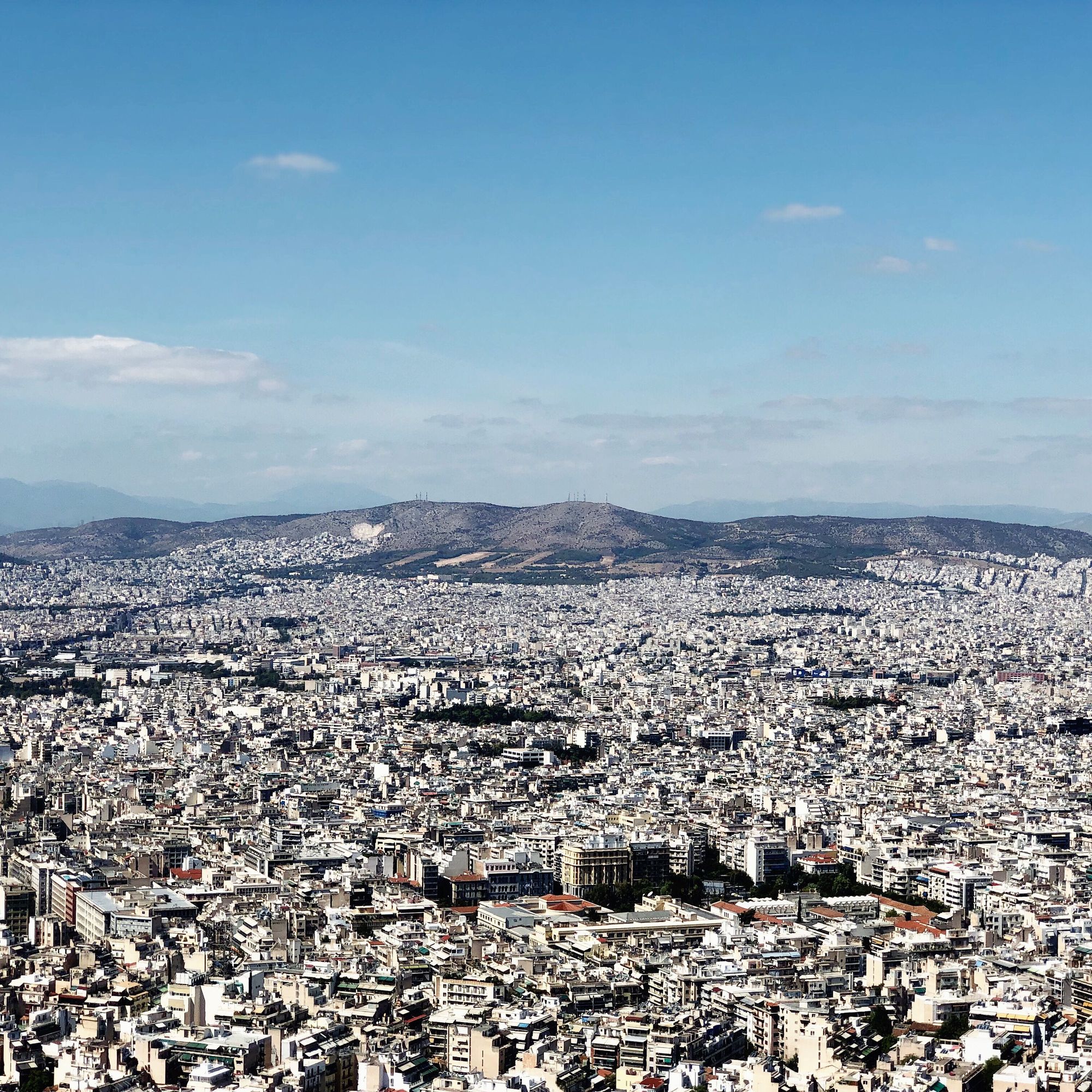 Partners and family were welcome
While this was totally optional, the extended invitation to partners and family to share your hotel room and join in non-work team activities highlights a company culture of welcome inclusion, and an emphasis on work/life balance. To recognize that it can be an ask of your partner to travel for work, especially with a family, and accommodate for this is appreciated. In Athens, we had two babies, a seven year old, and half of the team's partners. This made it easier to not slip into the habit of talking about work all the time, as Elsa (our seven year old) would have quickly lost interest!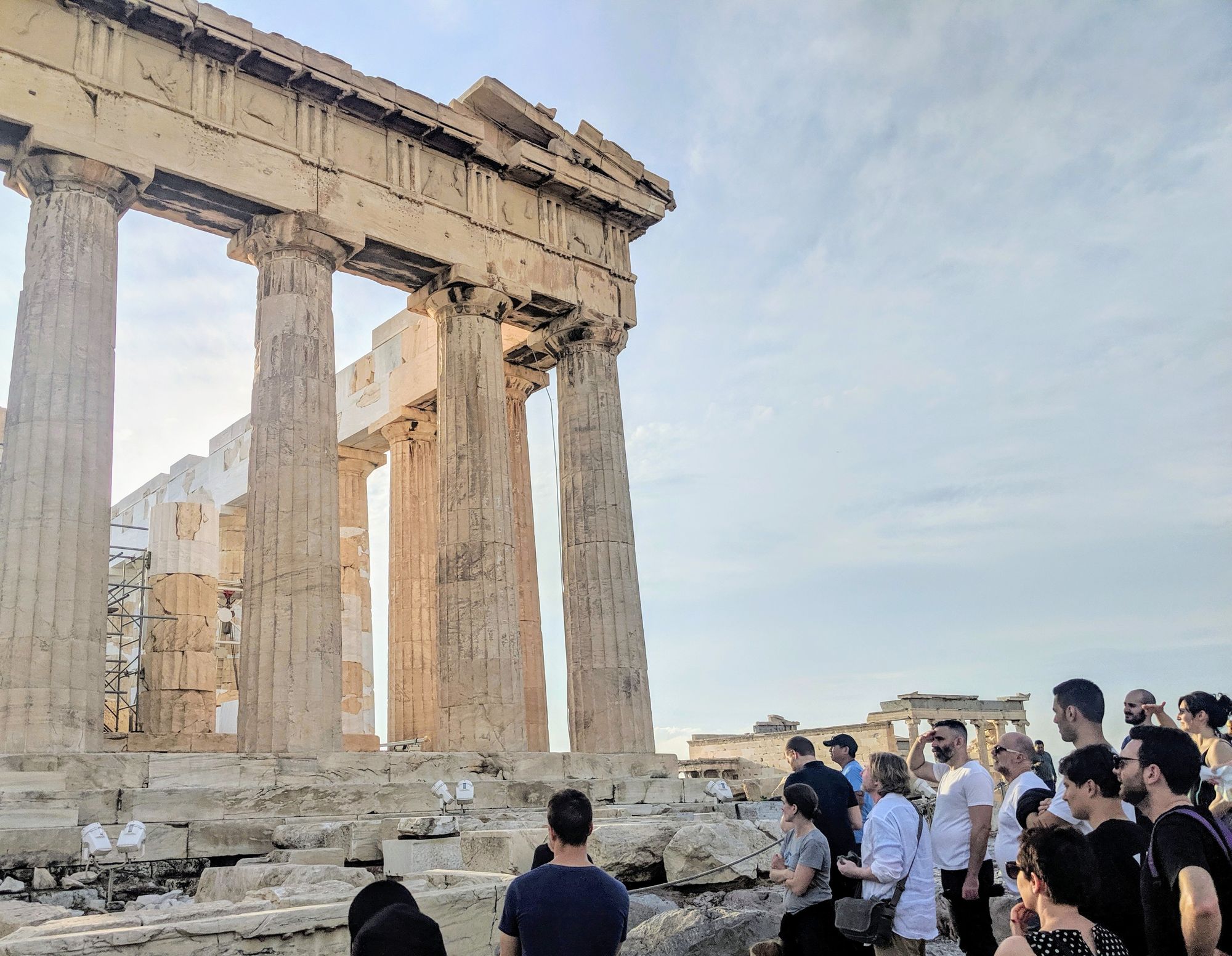 There were non-work team activities
On the Sunday prior to kick off, there were optional welcome drinks hosted on the hotel rooftop (I wasn't able to attend, but I wished I'd arrived earlier to!). Again, the flexibility of making this optional was important, as I know not everyone felt up to it after a long day of travel.
Following the first day's agenda, there were a couple of hours of free time before we were all invited to a group dinner at an authentic Greek restaurant. The food was fantastic, and after a full day of workshops and presentations, it was a nice way to switch off from work mode.
Every year, the second day of the meetup is about bringing everyone together to participate in a non-work activity, usually something of touristic interest. In Athens, we were treated to a 5-hour sailing cruise which included a buffet lunch, followed by a couple of hours of free time, before a guided walking tour in the afternoon of the Acropolis. The sailing cruise was a surprise, and was a great way for everyone to kick back, relax, and enjoy some time out on the water.
After a full day of sailing and touring historic sites, the last night was left as free time, with most people choosing to meet up together to grab dinner and drinks – a true sign of team bonding meetup success!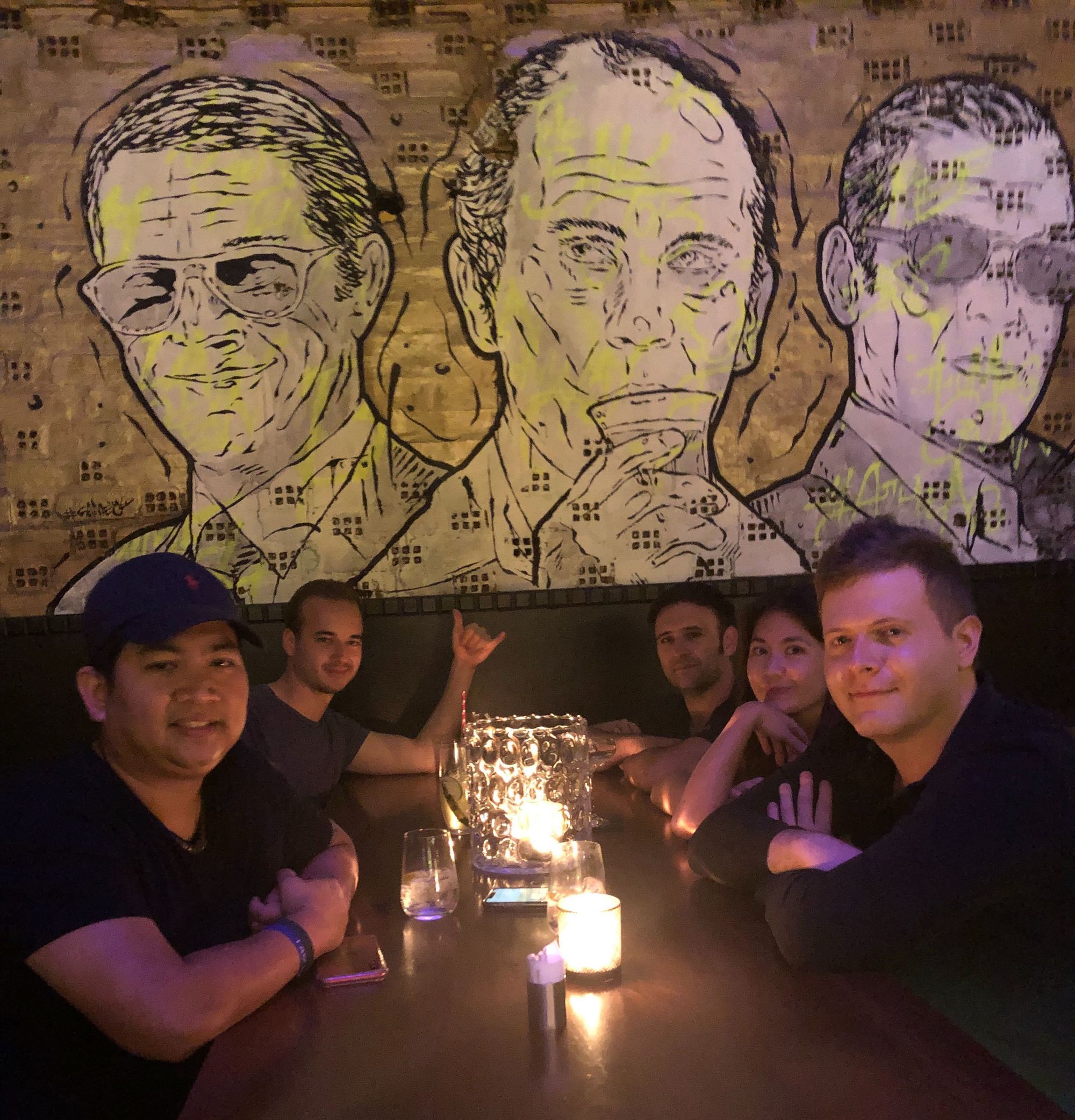 It was short, but sweet
When you consider how many working days there are in the year, two days is a pretty short amount of time to meet and hang out together. While I would have liked a third day with the team, two full days is a reasonable ask of everyone's time, and achievable for those with families and other commitments. I also really appreciated the company providing flights, three nights accommodation, scheduled activities, and most meals. These small considerations, like an extra night's accommodation before day one kicks off, is very much noticed and appreciated. Similarly, having the last night to yourself to spend as you feel (before taking some additional vacation time or flying back home), made the few days together feel less intense. It's these thoughtful provisions that made the meetup possible and easily accessible for everyone.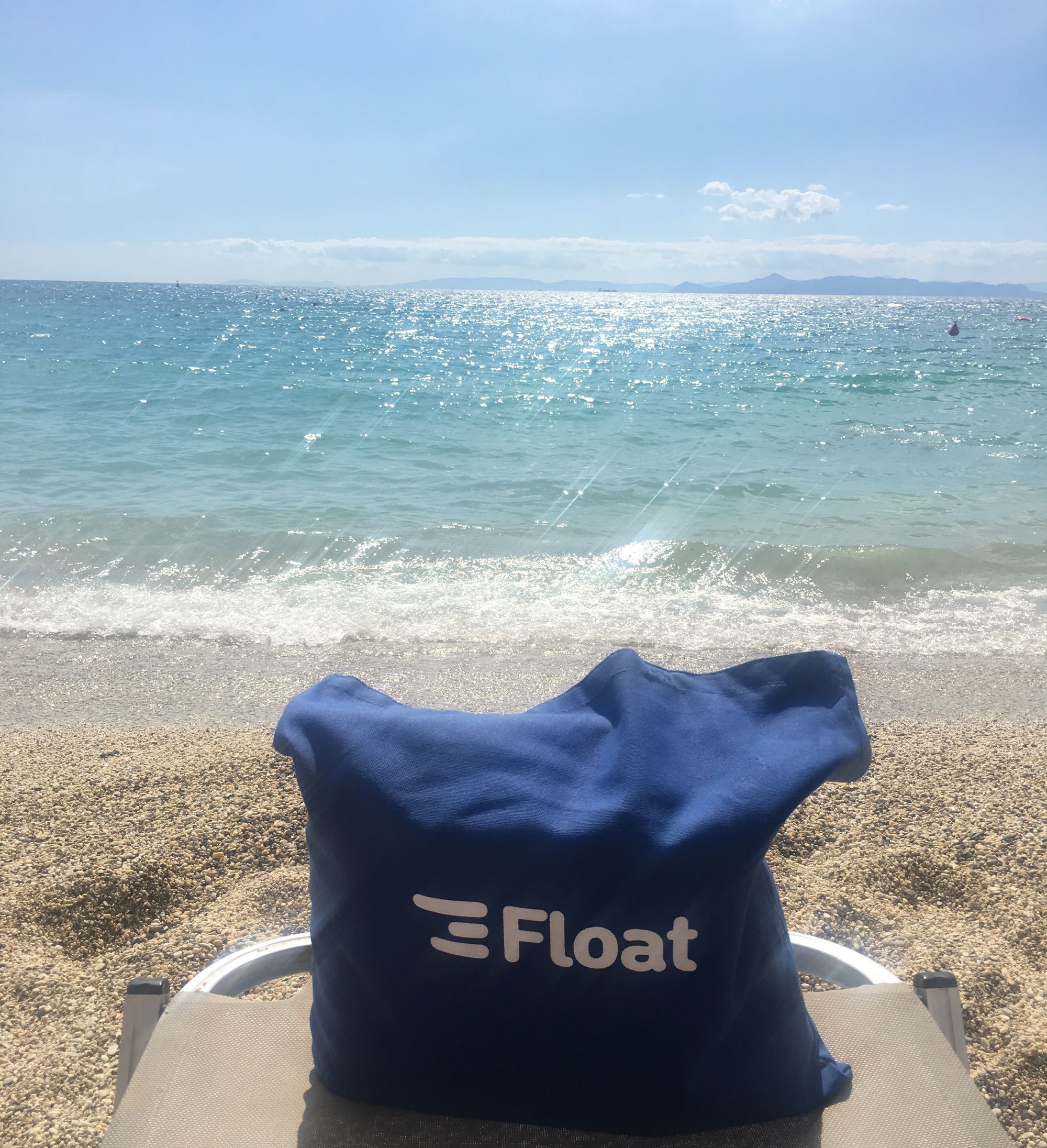 So what should you consider when organizing a remote work meetup?
After this experience, (which I enjoyed and was highly impressed at the organization of), below are my top five suggestions to anyone looking to organize a remote team meetup:
Have a clear agenda and share it beforehand
If the purpose is about connecting and bonding as a team, let this be the priority of activities and the overall energy of the meetup
Schedule in free time during the day to give everyone the opportunity to recharge and arrive as their best self
Include at least one activity that is purely 'not work'      
Consider that even if it's paid for by the company, the meetup is still an out of the ordinary ask of your team's time. Therefore, it should be made as accessible as possible for everyone.
Interested in hearing more about what it's like to work at Float?
Check out our careers page, and connect with us on LinkedIn.
---
Get exclusive monthly updates on the best tools and productivity tips for asynchronous remote work
Join 100,000+ readers globally