Overit's CMO Lisa Barone on Juggling Her Career with Motherhood + Trusting Your Gut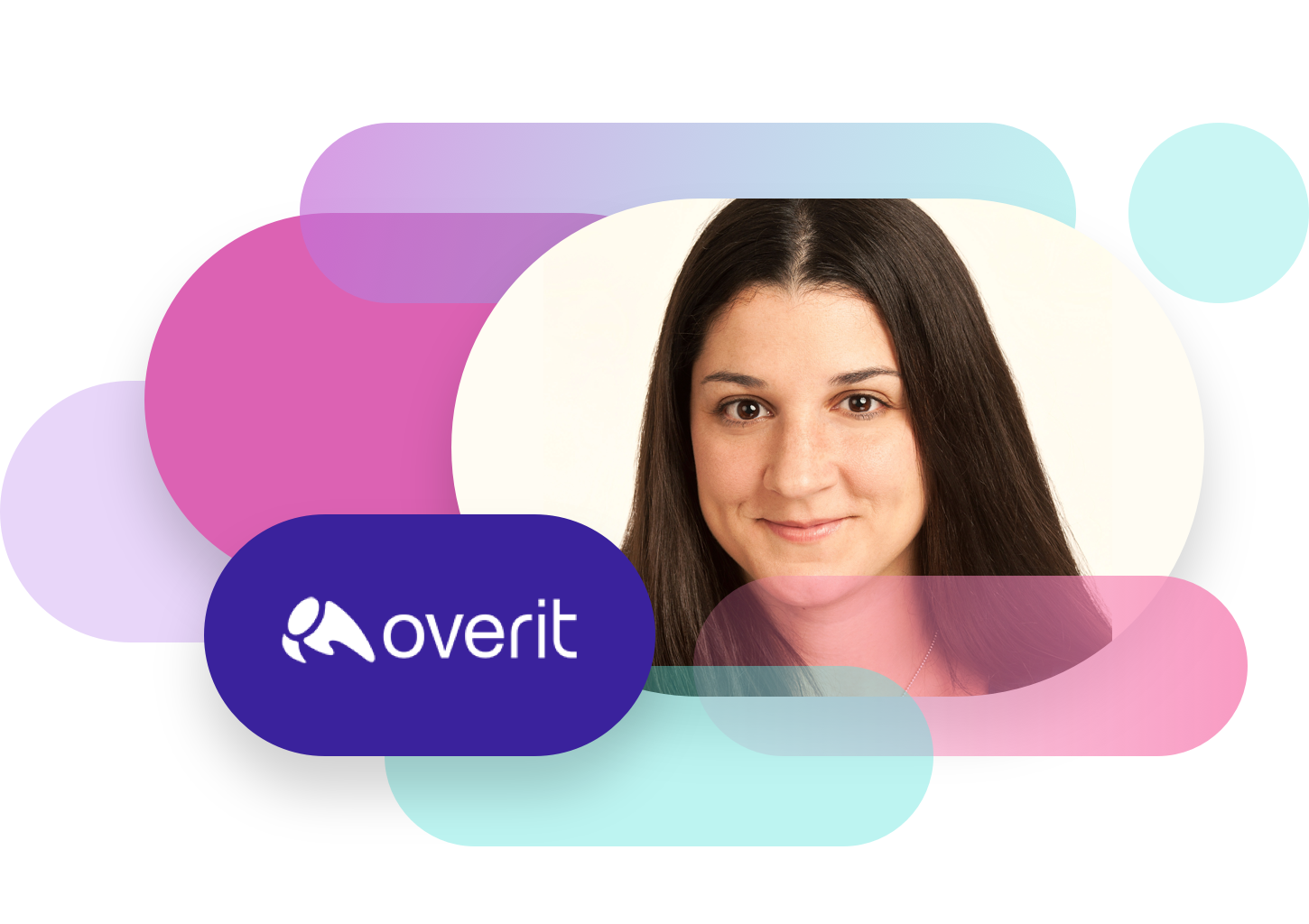 Lisa Barone is a respected voice and thought leader in the marketing world, with nearly 15 years of experience working in agencies to share. She's also a full-time mom, an advocate for disability rights, a TedX host and speaker, and the CMO at Overit.
Her writing has been published in leading publications like Inc. Magazine, Business Week, Forbes, and the New York Times, and Lisa's Twitter is a witty stream of consciousness on what agency and mom life is really like.
Can you tell us about Overit and your role there?
Overit is a strategy-first marketing agency. We plan, execute, and measure digital and traditional advertising campaigns for clients across a variety of industries.
I'm Chief Marketing Officer at Overit. I've been at Overit for seven years and oversee marketing for both clients and Overit as an agency. My love (and focus) is on the brand and content side, but I have a strong background in SEO and digital as well.
How large is the team, and what's the vibe like?
We are 40-strong of the most talented, creative, and fun group of folks I've ever worked with! The vibe is all about passion and teamwork. Culture-wise, we're very tight-knit and supportive of one another.
"We love what we're doing, and Overit has given us an opportunity to push the envelope and to produce innovative ideas for clients."

Lisa Barone
In more normal times, does everybody work out of the same office?
When we're not in the middle of a global pandemic, we all work from Overit's headquarters – a rehabbed 1930s gothic church that sits tucked within the streets of Albany, NY.  It's a beautiful, technically-filled space. If you're ever in town, I'll give you a tour!

How has the transition to working from home been for your team?
I definitely miss my people and seeing their faces every day. I've been proud of how quickly everyone adapted to our new normal. We weren't accustomed to a fully-remote experience, but our leadership had the foresight to get together very early on (before the state required people to work from home) and put a technology plan in place that allowed us to access the files we needed and to stay in constant communication.
We have an all-team video meeting every morning, which allows us to see each other's faces and get some of that water cooler banter in before we go about our day. I think it helps. We use Mattermost as our office chat so we're constantly checking in there or sending fun stories or memes in group chats. We were already using Float for our team scheduling, and it's come in especially handy now that we don't see each other every day, but still need to see what everybody's working on!
We all genuinely like each other, so the more "contact" we can create, the better.

What does a typical workday look like for you?
I'm working to balance client strategy with Overit's internal marketing needs. Both have really evolved over the past 30 days, so looking for new ways to keep clients relevant, top of mind, and to help them advocate for their customers during this time.
Still, there's nothing typical about my workday right now! I'm working remotely with my four-year-old son, so it's a bit of organized chaos, to put it mildly 😊.
I do my best to work in two hours chunks and to take breaks with him throughout the day – starting before he wakes up and working after he goes to bed. It stretches my day and makes it quite long, but we both need it. I don't want him to feel my stress or to feel like something bad is happening around him.
"I really want him to come out of this weird period remembering it as a time when he and his mom played and hung out and went on neighborhood adventures."

Lisa Barone
Shh, baby, mommy's on a call. A 6-word story in #COVID19 @joehall @SpicyBrianna @_dinsmore_ @BJtheWebGuy @CDTA https://t.co/NGMgv219p4

— Lisa Barone (@LisaBarone) April 24, 2020
Can you describe your personal workspace for us?
Right now, I'm working from my kitchen table. I have a home office, but it's easier for me to be out in the main area with my son than tucked away in a back office.
During more normal times, Overit has an open office environment that I love. I feel energized by the creativity happening around me. Our desks are all made from the original pew wood from the church, and it's a really creative space.
What were some of the challenges you faced when you started your career?
Like a lot of people, I didn't know where I fit in. I went from not knowing anything about SEO to having an immediate audience of folks who were checking in to read my thoughts on the subject. That gave me a fair amount of imposter syndrome – do I know anything, why are people reading this, should I be doing something else?
It took a while for me to grow to trust myself and my knowledge. I might have landed in the industry without a firm understanding, but I worked my tail off to learn. I read everything, I asked questions, I showed up, I stayed late, I put in the time.
If I could do anything differently, I'd trust my gut more, but I think that comes with time and experience. If I didn't go through what I did then, I might not trust myself like I do now.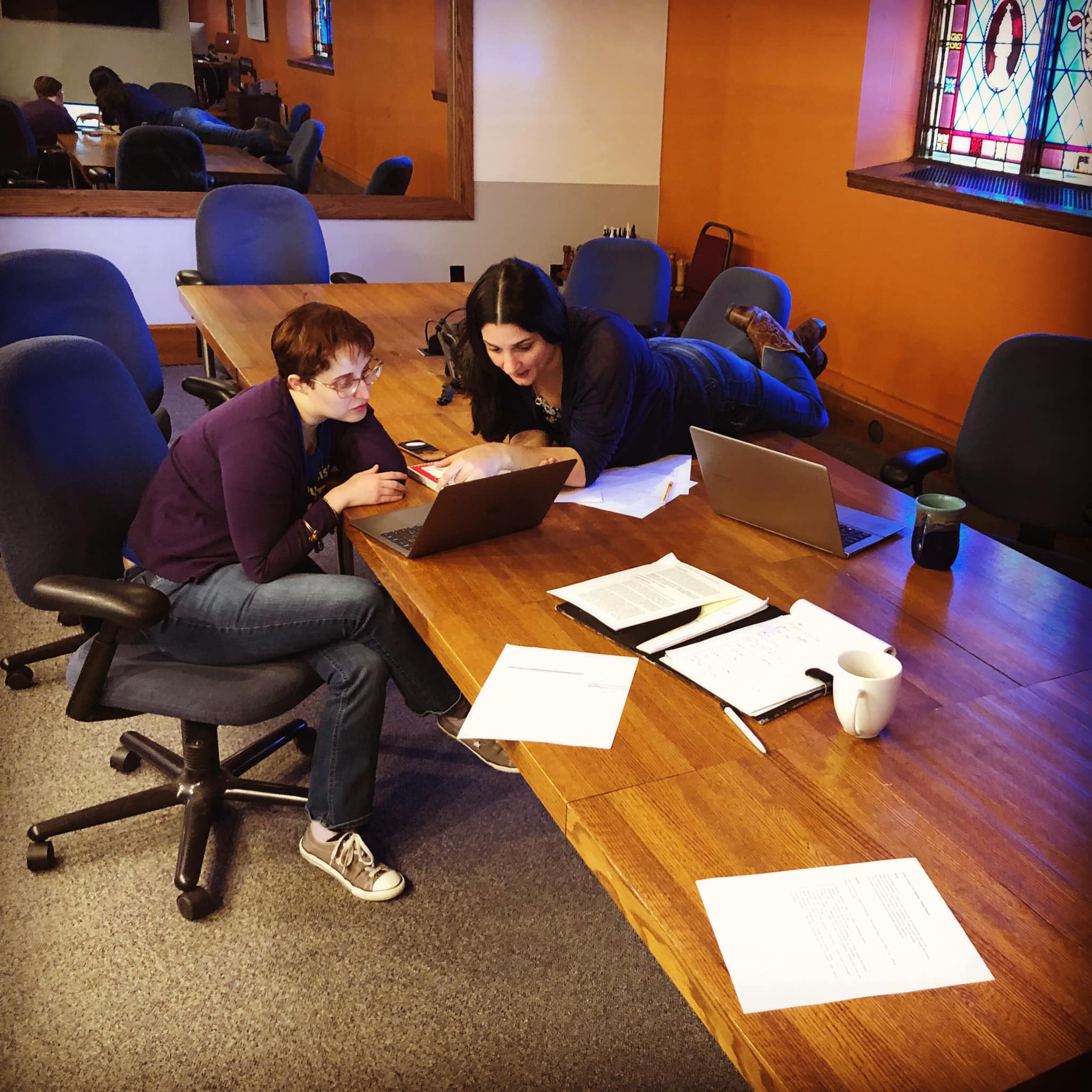 What makes a marketing campaign great?
When it creates an emotion. Whether it makes you cry, makes you look at something in a new way, or gets you to call your doctor to make that appointment – if it makes you feel strongly enough to do something, that's a success and that's a great campaign.
I worked on a bariatric marketing campaign a couple months ago that I'm really proud of. There is so much stigma and negative feeling around bariatric surgery that our team felt it was important to get to the heart of how those considering surgery felt about their decision, what fears they had, their motivations, etc. We conducted a series of focus groups that let us ask direct questions and made people feel safe being really honest. The result was a hard-hitting campaign that did exceptionally by all measurements – the client literally couldn't handle the volume of calls and interest.
"But more than that, the patients whose stories we were telling loved the campaign. It made them feel proud, which, to our team, was the greatest reward."

Lisa Barone
What advice would you give someone considering a career in marketing?
Learn everything you can from anyone you can. Regardless if you think it relates to what you do or what you want to do, soak it up. It will never not help you.
Worry less about tactics and more about what you can do to make the customer experience more seamless, more delightful—just better.
We'll end with a lightning round ⚡. What's the best book you've read recently? Your go-to work playlist? Last TV show you've binged?  
Obviously Awesome by April Dunford. It's a must read for anyone interested in strategies for branding and positioning.
We created an Overit WFH Spotify playlist!
I'm decades behind but I started watching Grey's Anatomy while I've been quarantined in my house (like from Season 1, Episode 1). I'm not proud to say I'm already halfway through Season 5 and I'm usually bawling through whatever episode I'm watching. I should have picked a lighter show!
---
You can follow Lisa on LinkedIn and Twitter, and check out her team's work at the Overit website.

---
Get exclusive monthly updates on the best tools and productivity tips for asynchronous remote work
Join 100,000+ readers globally