How To Build Culture in a Fully Distributed Remote Team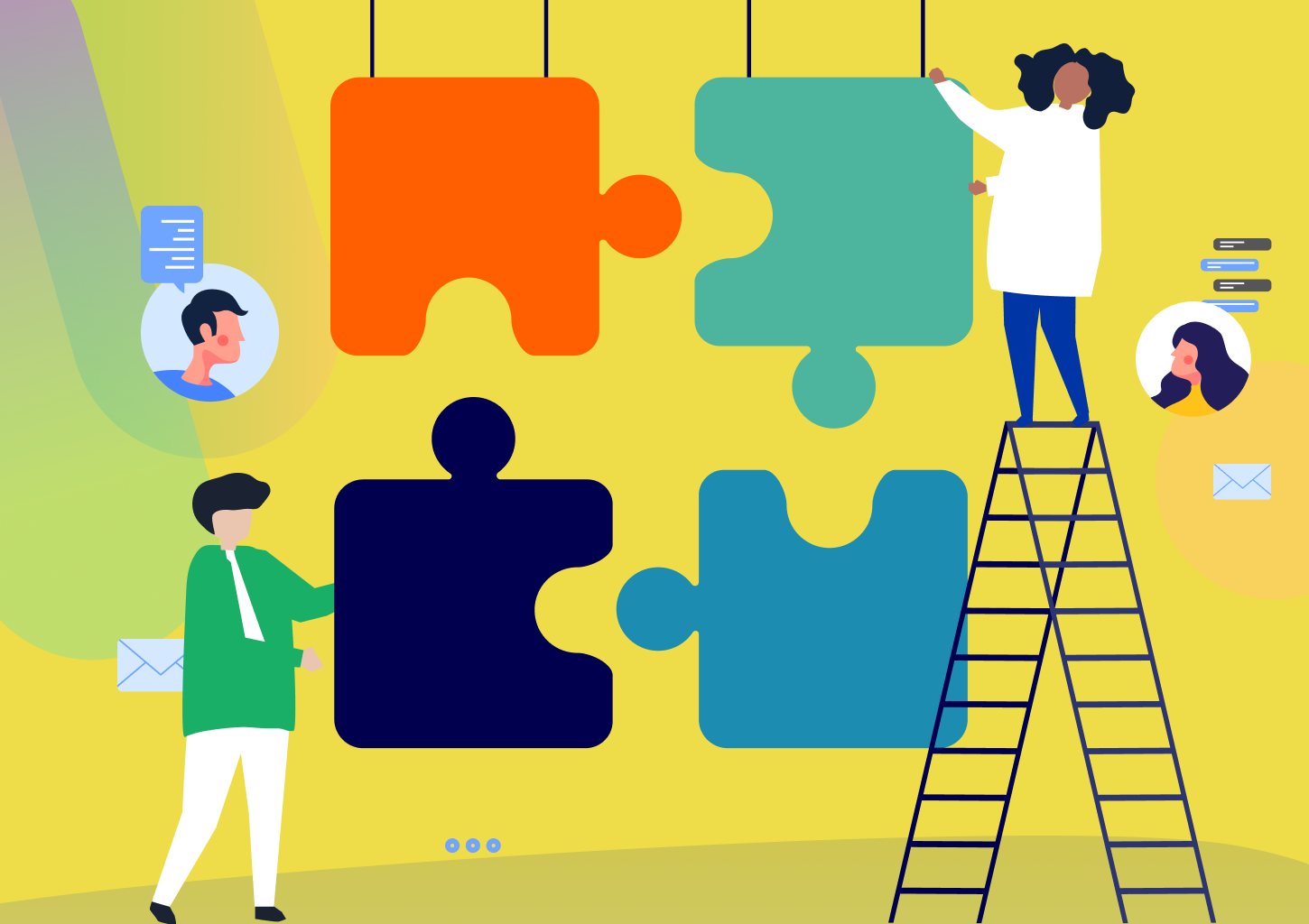 At Float, our team is spread out across 12 countries! With canceled team meetups this year and last, 1 in 4 of us have never actually met in person.
Yet, despite the setbacks to connect in IRL, our team culture is thriving.
As our team grows and we navigate these surreal global times, we've become acutely aware of the impact company culture has on a team's health, and we've been doing the work to find out how we can support our team to live their best work lives.
First, I should clarify what it means to be a fully distributed remote team. Float has been fully remote since day one—we work from where we live best, and we have no physical headquarters. Distributed remote means that we're truly global and hire on merit, not location. Working distributed remote means that we don't get those unexpected opportunities to engage with each other (e.g., watercooler chats or hallway run-ins) that come with sharing an office or attending meetings in person.
However, there are benefits to working the way that we do. For example, we have very few meetings, so when we do connect with each other, it's often motivated by genuine interest, intention, and care.
The operations team are the custodians of our team culture. Over the last year, we've spent time carefully integrating moments of connection into our processes that help nurture a culture that is true to our values, inclusive, and celebrates the unique diversity of our team. Here are a few insights on how we approach building and maintaining our culture as a fully distributed remote team.
It all starts with onboarding
A personalized intro Q&A sent via Slack
When new team members join Float, we kick things off by asking a few questions to help introduce them to the team. These questions are personalized to their role, location, and anything else we think could help the rest of the team learn a little bit about them as a person.
On day one, they post their answers to our #float Slack channel and introduce themselves. We've found that this tradition (we've done it enough times to call it that now!) helps us engage on a more human level right off the bat and provides our team with more "more than work" reasons to connect.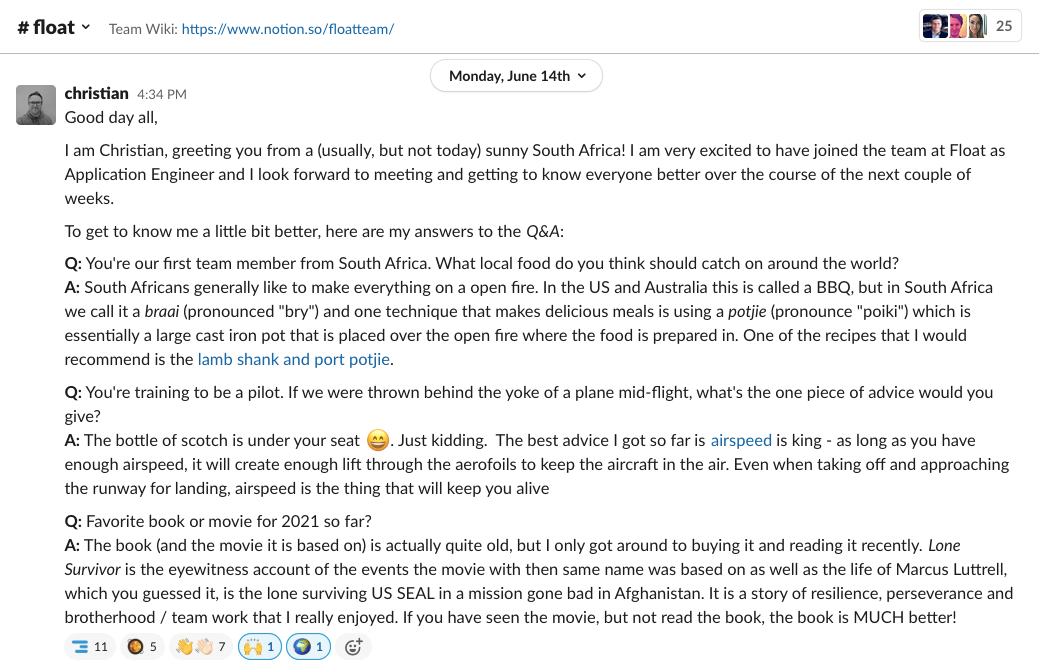 Read through the Notion profiles page and add your own
Our team page in Notion provides a "who's who" across the business. Everyone has a profile page that covers their role at Float and gives a window into their home life and hobbies.
With a team as spread out as ours, it's pretty amazing to see everyone's hometowns, read about each other's interests outside of work, and browse through family photos (which are often very cute!).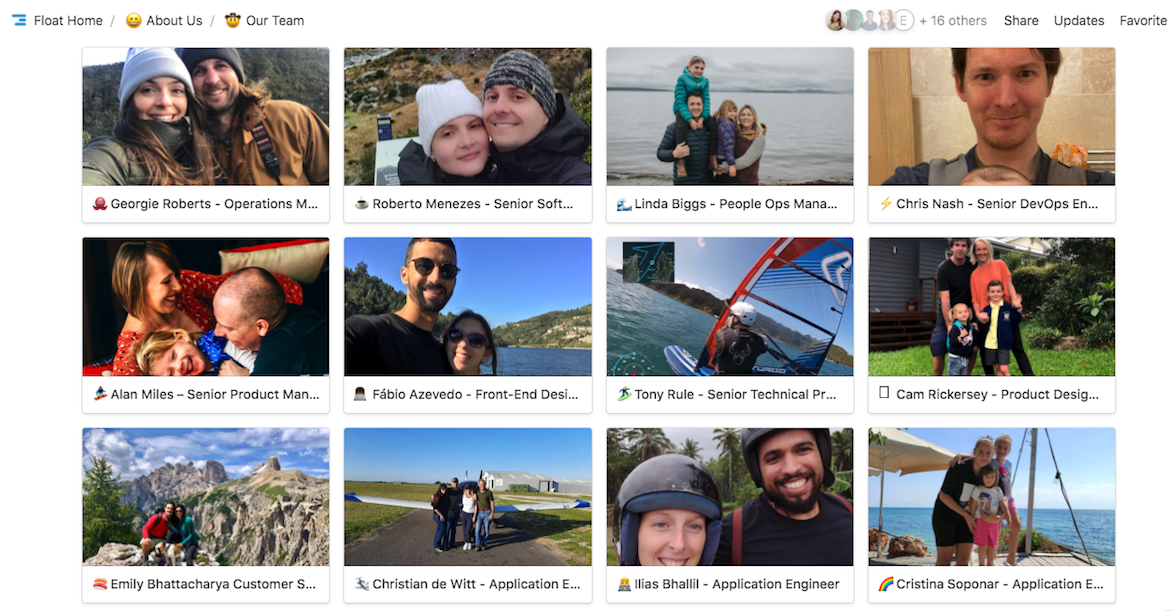 A welcome meeting with Float's CEO
While we have role tracks and leveling, operationally, we exist within a relatively flat org structure. Asynchronous work requires high levels of trust across the team, and we know that trust building starts on day one.
Every new starter meets with our CEO and co-founder, Glenn, on their first day at Float. Glenn walks them through our mission, vision, strategy, and values to help each person get acclimated to the team quickly.
Creating light touch rituals
Supporting our team to live their best work life means adopting rituals that fit easily into everyone's schedule. Connecting needs to be genuine and straightforward, and respectful of each other's time.
Geekbot
On Mondays, we set our goals for the week using Geekbot in Slack. Throughout the week, we also share what we are working on, how we are tracking, and how we feel.
We have found that this daily ritual of sharing what we're up to has nurtured an open, inclusive, and supportive Slack workspace. We don't have expectations on how everyone responds—happy photos, emojis, brutally honest negativity—it's all welcome, and it's all there!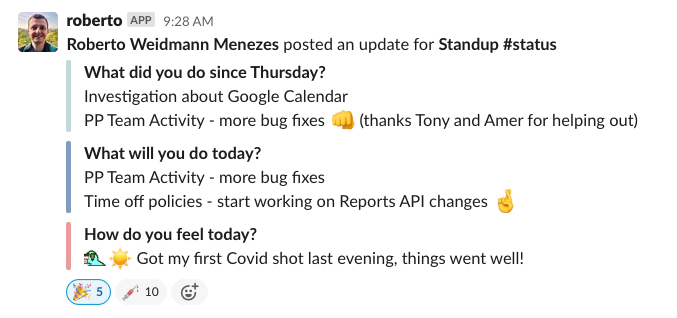 Donut
We have Donut integrated with Slack, and every four weeks, it connects us with one other Float team member at random to schedule a 15-minute catch-up. We find that most of the Donut chats go on for way longer than 15 minutes, but, ultimately, it's the team who is driving this.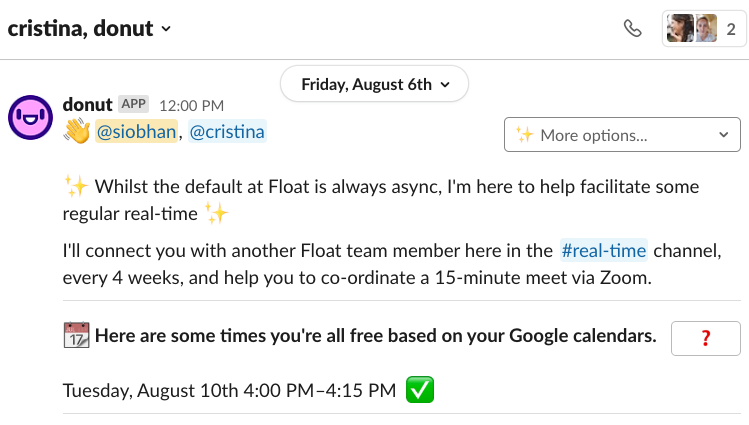 Annual team meetup (when it's safe to again)
Our annual meetup is a special team tradition that energizes and connects us. Most of the team also takes a holiday on either side of the meetup, making it the ultimate triple threat—work, rest, and play!
Our last in-person meetup took place in 2019 in Athens, Greece. In 2020, we met virtually and created a video of our home cities to share with each other. I won't pretend that we haven't missed being able to get together in person during the pandemic, but we will add the meetup back into the calendar as soon as it feels right.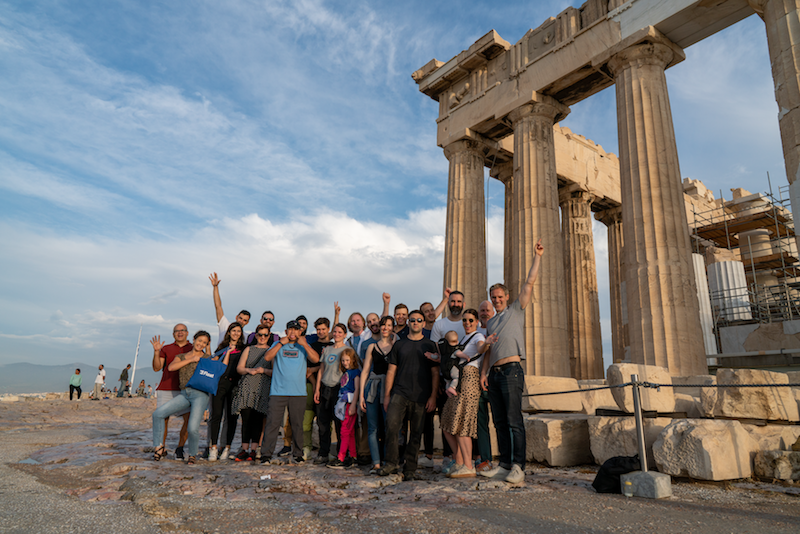 Culture building is an organic, integrated, and evolving process
Most of us have probably been part of teams that host regular work drinks or lunch, and while those can be great for getting to know each other, they can sometimes feel unnatural (or worse, like a chore 😬).
With a delicate balance of light touch rituals and processes in place, we've found that a lot of relationship building and nurturing happens organically. Our workspace is welcoming and honest, our DMs are open, and our team takes care of the rest.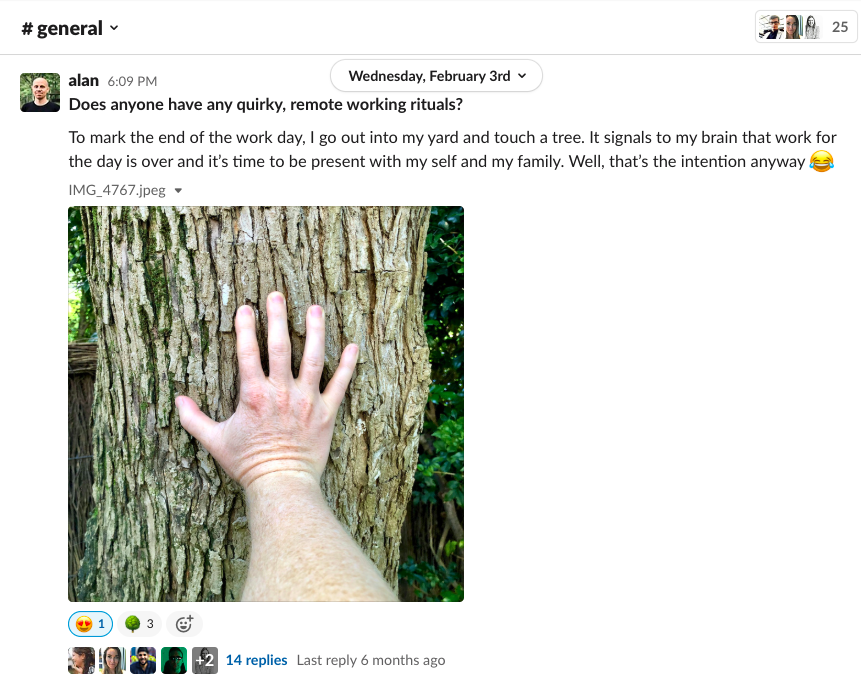 Every team is different, and your culture will shift and change over time depending on what stage the business is in, the makeup of your team, and what the world looks like at the time. Even though we've been remote at Float since 2012, our team culture continues to evolve and be driven by our people, processes, and values.
We're passionate about raising the bar when it comes to supporting our team to live their best work life and building a culture that rallies around that idea. That belief is weaved into our procedures, rituals, and the way we all work.
It starts on day one, the moment you walk through the door—or in our case—sign in to Slack!
---
Interested in joining a fully distributed remote team with a culture that supports living your best work life? Check out the current open roles on our Careers page.
---
Get exclusive monthly updates on the best tools and productivity tips for asynchronous remote work
Join 100,000+ readers globally