You've just finished allocating team members their tasks on a new website redesign project only to realize that you've made a big mistake—the lead developer has to work for 10 hours a day to meet the project deadline, and you've forgotten to factor in your visual designer's time off! 
If this scenario is familiar to you, you are not alone. 62% of respondents in the 2020 Global Agency Productivity Report said resource scheduling is one of their biggest challenges. Resource scheduling and allocation mistakes add significant stress to your team. Overbooked team members struggle with exhaustion, reduced morale, and increased errors that can impact the project. 
The best way to solve this problem? Using resource management techniques to accurately match resource availability with supply. In this guide, we will show you two techniques that will help you optimize your resource management and keep your projects humming along.
What are resource management techniques?
Resource management techniques are methods used to assign and utilize resources efficiently. They help correct allocation and scheduling mistakes made in the earlier stages of the project.  
Let's say your agency has taken on a new app development project. You've determined the right fit for each task and assigned people to work on the project. However, you've now discovered that the lead designer, Jim, is currently working on another project and won't have maximum availability for the first few days of the project. To solve this problem, you'll need to adjust the project timeline (resource leveling) or find someone of the same skill level to begin the project (resource smoothing). 
Why are resource management techniques important?
Resource management techniques are essential to solving resourcing conflicts, preventing overutilization, and making use of underutilized resources. 
74% of team members are overbooked at least once a month, and 26% say this happens regularly. Overbooking occurs when tasks are assigned without a view of current work or without any idea of resource demand. And most people don't realize it until it's too late. At that point, your only two options are to adjust the project timeline or find new resources. Techniques like resource leveling and smoothing reduce overutilization, prevent fatigue, and help your resources put out quality work. 
Resource optimization techniques also reduce project failures and missed deadlines. According to the 2021 Pulse of the Profession study by the Project Management Institute, 12% of projects were deemed failures by project managers.  One of the reasons projects fail is inadequate resources. It's not uncommon to start a project and stop midway because there aren't enough people with the right skills to carry out a task.  
Techniques like resource leveling and scheduling help you know your limits and adjust project scopes to what your team can achieve. 
What are the types of resource management techniques? 
There are two types of resource management techniques:
Resource leveling 
Resource smoothing  
Resource allocation and resource forecasting are sometimes presented as resource management techniques, but they're not. They are resource management steps. Check out our guide on resource allocation if you'd like to learn more about this process.
Resource leveling 
Resource leveling is the process of adjusting the start and end dates of projects to accommodate constraints (usually time and availability).
You can use this technique when shared or critical resources are available at limited times and in limited quantities. 
For example, you've assigned a four hour task to Jim on the first day of the new app development project, but Jim can only spend two hours working on it while he wraps up another project. And Michael, the applications engineer, cannot get started on his task until Jim has finished.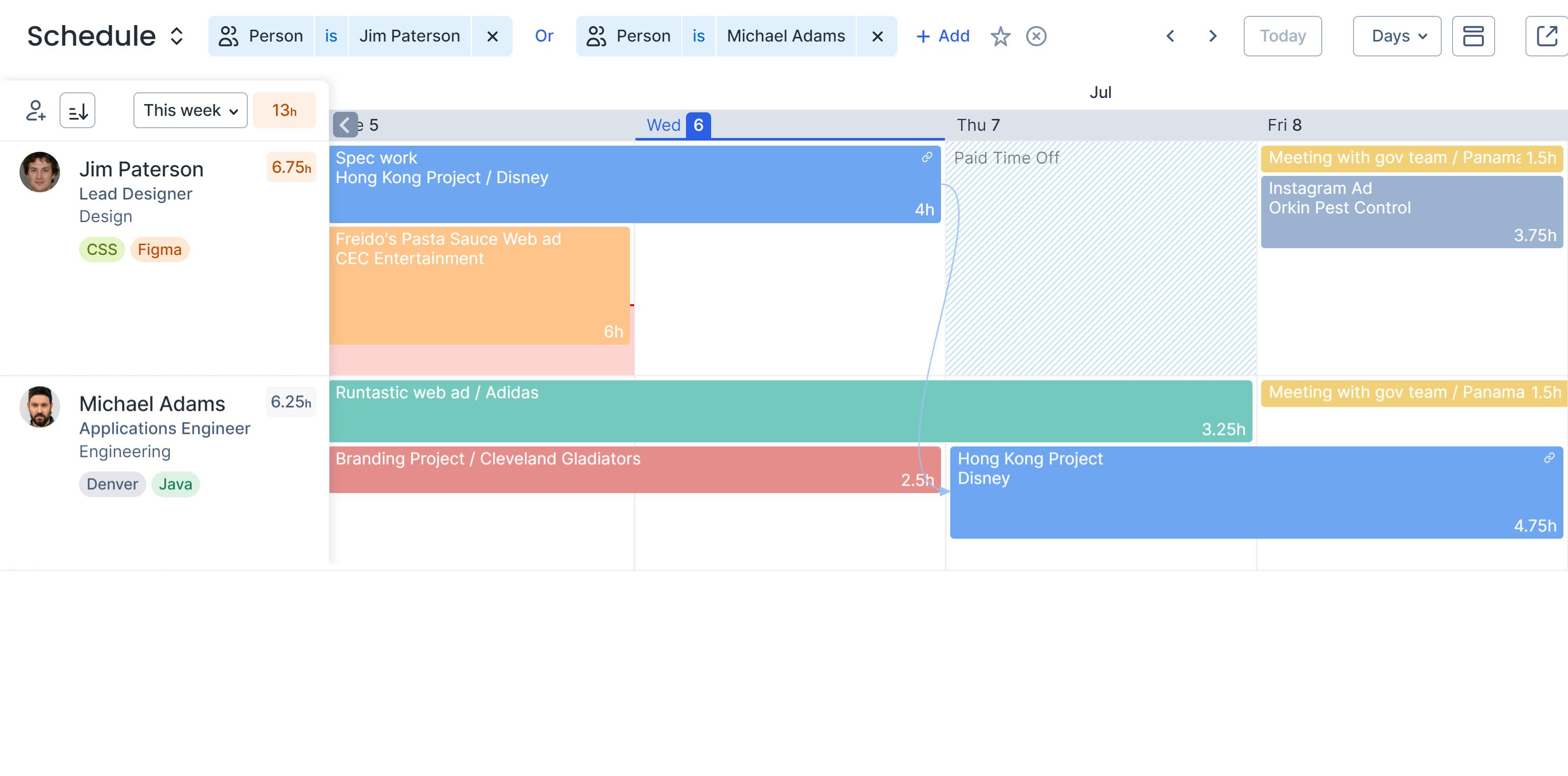 Using Float, you can easily spot overallocation with a visual schedule, red overtime indicators, and remaining hours per person. 
To avoid Jim working overtime and level the schedule, you can do one of the following:
Adjust the start date 
Adjust the end date
Reduce the scope of work and focus on the critical aspects
Bring tasks forward to avoid clashes 
Split tasks
After adjusting the schedule and making tasks sequential instead of parallel, Jim can work for two hours on the first day and then six hours on the next day. That means Michael can get started on the third day and the project stays on track.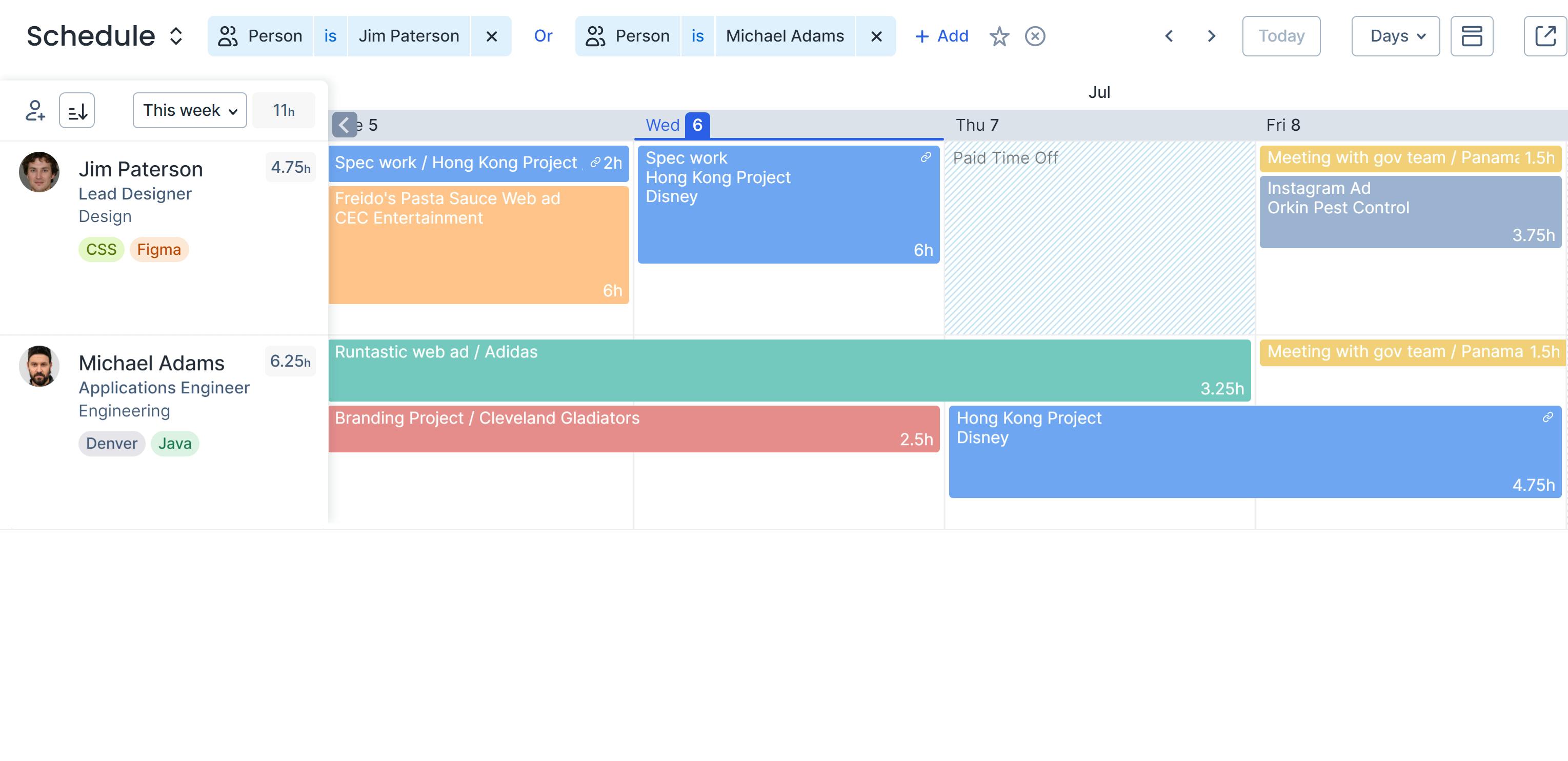 The project schedule after resource leveling 
Of course, this is only one example. In real life, you might have a case where Jim is fully booked for the rest of the week and can't dedicate eight full hours to the project. In that case, you can call for reinforcements (someone else on the team or a freelancer) or extend the timeline again.  
Spilt and adjust tasks in Float
Pro tip: Tasks that span more than one day in Float can be split and adjusted as needed to keep workloads in sync. Split tasks can also be assigned to other team members with a quick drag-and-drop. 
Try it out
Resource smoothing 
Moving a project's start or end date is not always an option. This is where resource smoothing comes in. Resource smoothing lets you adjust the project schedule without changing the critical path or affecting the end date. 
If you are a bit confused about the difference, think of resource smoothing as managing time constraints while resource leveling is managing resource constraints. It ensures that you still meet the deadlines and get the project done by using more resources or reducing the scope of the work.  
Let's go back to the app development project example. You've just discovered that shifting the end date will leave you with a dissatisfied client, so you've got to find a workaround. Instead of asking Jim to work eight extra hours, you can assign the task to a person with a similar skill set and open availability. 
With Float, you can assign tags to people and match team members to tasks based on their skills and availability. For example, Jim has been tagged with Figma as one of his key competencies. If the project manager needs to reassign a task to someone else because Jim is busy, they can use the person tag filter to find others with that same skill. 
Luckily, Sam has the required skill and capacity to take on the additional work and keep the project on track. This frees up Jim to focus on his other projects. 
Also, keep in mind that you can take advantage of extra time when smoothing. Say you added in some buffer time while you were planning and you now have an extra day to play with. Instead of working for eight hours on a task one day and then four hours on it the next, Jim can work for four hours each day to complete the task.
Use a resource management tool for effective planning
If you are using a spreadsheet or managing a lot of resources, you might find it hard to spot overallocation or unavailability until it's late. This is why using a resource management tool is crucial. 
Next time you have a resource conflict, don't panic! Apply these resource management techniques and take advantage of a resource planning software like Float to fix scheduling issues and manage your team's workload more efficiently. 
Optimize your resource management and project planning with Float 
Float helps you spot overallocation easily with a schedule that centralizes all planned work and time off. Integrations with Google and Outlook calendars give you a complete view of your team's time with live insights on capacity and utilization. And if you need to smooth out the schedule, find a team member with similar skills and availability using the search and filter feature.
Try Float for free