Kimberlee Meier

(Updated: )
The way agencies work is changing.
Upwork predicts 73% of all teams will have remote employees by 2028, while Float's Global Agency Productivity Report found that 82% of agencies already provide some form of remote work opportunity to their employees.
As the workforce becomes more flexible, agencies must become more critical of their workflows and invest in solutions that will help them increase their productivity. An inefficient work process can bog down your team's efficiency, so choosing good tools is incredibly important.
The right tools can empower your agency team to deliver better work, while the wrong tools can do the exact opposite. If you aren't providing your team with the right toolkit, they'll be less organized, less communicative, and your workflow will be more chaotic. An agency management tool can help create better workflows, increase communication, and make it easier for your team to stick to deadlines.
What are agency management tools and why are they important?
Agency management tools allow teams to plan and manage projects, schedule resources, track tasks, and deliver projects on time and budget. The right tools make it easier for teams to plan, collaborate, and communicate to keep projects on track and to meet deadlines. By doing so, agencies can work more productively and collaboratively—even in a remote environment.
While many agencies may already be using agency work management software, it's important to note that one tool might not cover every need or fix every problem. For example, resource scheduling (where your team's work schedules are created based on their availability) is still not widely used. A HubSpot report found that while 80% of agencies use project management software, nearly half of all agencies aren't using resource scheduling or tracking utilization rates. At agencies with a dedicated resource scheduling tool, 57% of team members say their organization is effectively planning workload management.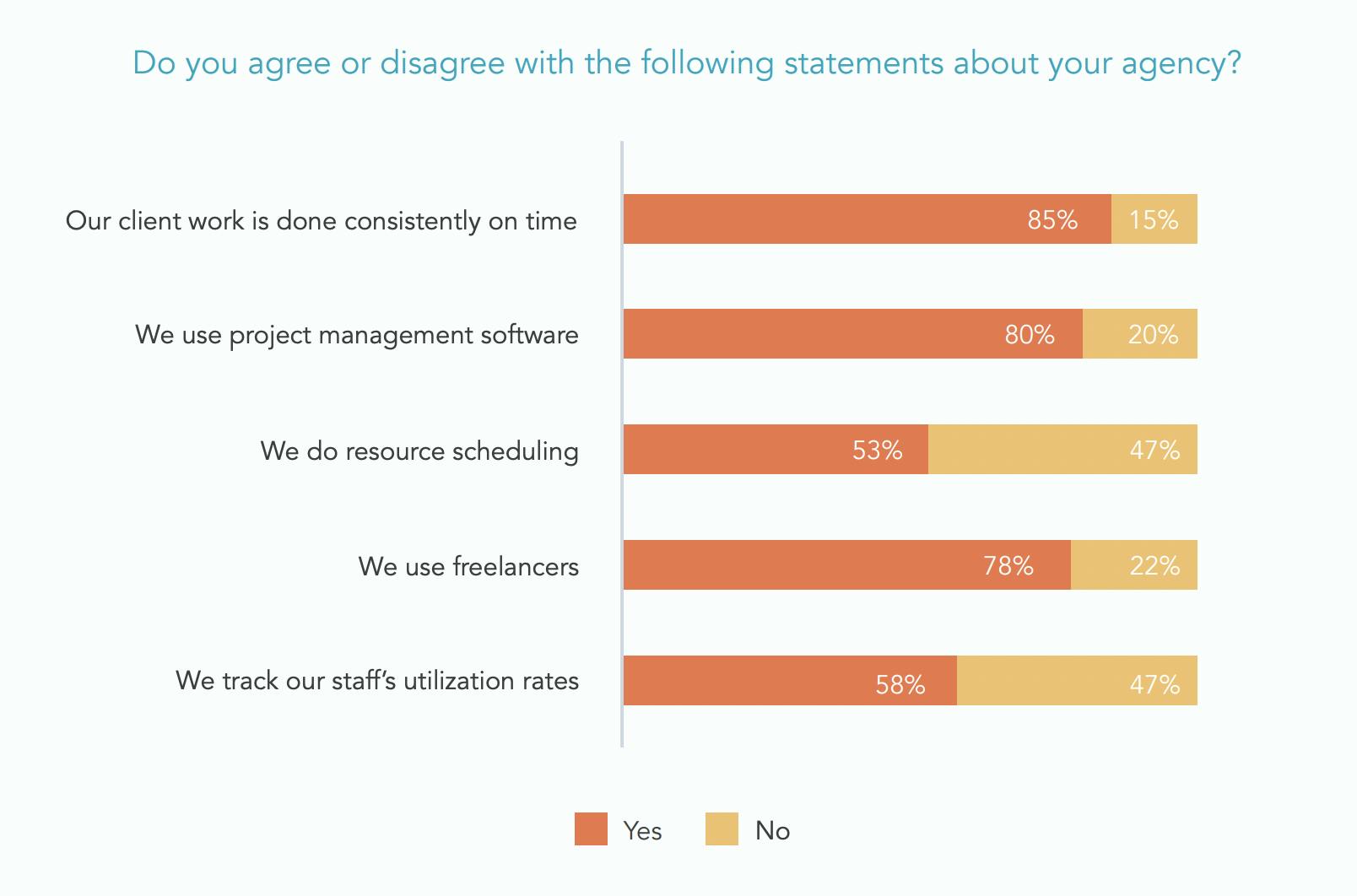 Source: Marketing Agency Growth Report by Hubspot
The lesson here for agencies is to pick tools that fit your specific needs rather than paying for a one-size-fits-all solution that might not work well for your team.
How to choose the right agency management tool: 4 point checklist
Selecting the right agency management tool can be a bit of a minefield if you're not careful. With so many tools available in the marketplace, figuring out which one is the best fit for your agency's needs and budget is no easy task!
Here are the 4 bases to cover when searching for agency management tools for your team.
1. Usability
This might seem obvious, but the tool needs to be easy to use.
If the software is overly complicated and your team needs a full day of training just to get the basics down,  that is a red flag. The best tools are intuitive and easy to learn through a quick demo or onboarding videos. Some helpful questions to ask when you're critiquing a tool's usability are::
Does the tool have a steep learning curve? If we need to be trained on how to use it, how long will it take?
How long will it take to move our workflow over to the new tool? If we need help, is support provided?
How much time and money will we be saving if we switch from our current tool to this one?
The ideal tool will make the day-to-day operations within your agency more efficient. Whether it's giving your team a simpler way to manage their files, communicate, or request time off, the tool should make it easier—not harder—for them to do their jobs.
2. Features
One of the most important parts of picking an agency management tool is making sure it's the right tool for the job. There are tons of "all-in-one" agency management solutions that claim to be the best to schedule, manage projects, invoice, and track progress. More often than not though, all-in-one tools excel at one particular feature (like project management), while the other functions are far less robust (like resource planning).
Creating a list of the problems you want to solve is a great way to help identify the features required of your agency management tool:
List your challenges: Start by thinking about what your team is currently struggling with. It might be that they're constantly overbooked on projects or that you don't have a way to organize tasks transparently.
Take a closer look at the problem: Why does it exist? If your team is constantly overbooked, perhaps your team leaders don't have a transparent way to accurately create schedules.
Connect problems to your workflow: How are these problems impacting your team's workflow? If your account managers are booking projects that your team can't fit into their schedules, that can impact delivery dates. Having a tool that shows all of your teams' schedules concurrently can stop this from happening.
Think about your team's unique circumstances: Are there any specific processes that you need to consider? If half of your team is made up of contractors or people are working from different time zones, you need to take that into consideration when planning resources.
Understanding the problems you want to solve is a great way to help narrow down your choices when searching for an agency management tool.
3. Integrations
An agency management tool must play nice with your other apps if it is going to fit seamlessly into your workflows. To approach this:
Create a diagram of your team's current workflow and tools used.
Identify where the agency management tool you're considering is expected to fit within this.
Identify which tools need to be able to talk to each other, and what data you'd like to sync between them.
Think hard about which integrations are "must-haves" and which are "nice-to-haves," as specific integrations might be a key factor in your choice of agency management tools. If the tool you're considering doesn't have the direct integration you're after, all is not lost, as you can also use a third-party service like Zapier to help connect with other apps.
4. Pricing
Finally, does the tool's price tag fit in within your budget?
It's important to calculate both the cost of the tool, as well as how much time you will save by using it. Cross-check a tool's feature list against similar tools to see if its capabilities match its asking price. Then, check that the tool's pricing doesn't outweigh its benefit to your agency. For example, a tool might cost $10/per person per month, but if it increases your team's productivity and helps them get more done in less time, then it pays for itself in the long run. Ask yourself questions like:
How much time will the tool save our agency every month? What does that equate to in dollars?
Will the tool help recoup costs elsewhere in your business?
Will the tool increase your team's efficiency and decrease their stress levels?
Finally, check for transparent pricing. A tool's pricing information and subscription terms should be clearly explained so that you aren't hit with unexpected charges or contracts.
Top 7 Agency Management Tools
By now, it's obvious that there's quite a bit to consider when investing in agency management tools. While 80% of agencies rely solely on a project management tool, half of them say they need to get a better system in place. The one-size-fits-all approach simply falls short for many agencies.
The message is clear; the right tool can make all the difference when it comes to a more streamlined, productive workflow within your agency.
Here are our top picks for agency tools that specialize in resource management, project management, project collaboration, and time tracking.
1. Float for resource planning and management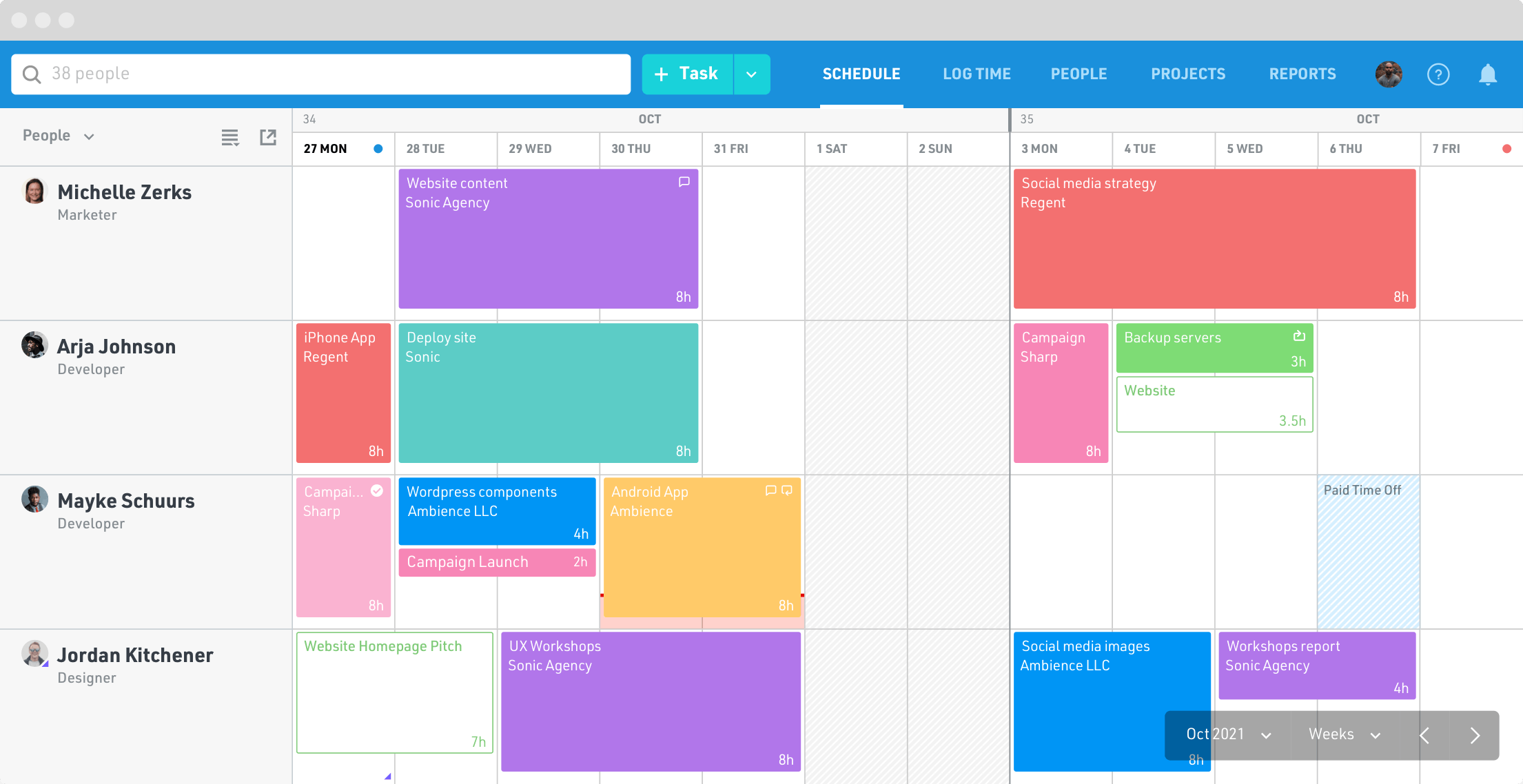 Float's schedule gives you a high level view of your agency's capacity and workload
Before investing in a management tool, creative agency Impression tried a bunch of different methods for managing their workflow—with limited success.
"We tried to use project management tools for our resource planning and it quickly became difficult, in fact nearly impossible, to forward plan our projects effectively. It ended up causing us all sorts of problems and it simply wasn't fit for purpose. We needed one solution that offered flexible resource scheduling, a simple process for employees to track their time, and powerful reporting on our project data. For us, Float ticks all the boxes."
— Impression Director, Charlie Hartley
Usability
Float is a robust project resource management tool that allows team leaders to plan projects and schedule their team's time in an easy drag-and-drop interface.
Beyond giving teams a simple way to view projects and schedules, Float also helps teams manage their availability by setting individual work hours, scheduling time off, and assigning location-based public holidays. It can also automatically track and calculate utilization rates and build powerful reports. All changes and edits to your schedule are made in real time, making it easy to track budgets and use accurate data to plan future projects.
A shared calendar serves as your team's single source of truth and let's you always know who is working on what. You can view and track your team's real capacity, and see who's overbooked, and who has availability to take on additional work.
Features
✅ Multi-project and task planning
✅ Real-time budget tracking
✅ Forecasting and reporting
✅ Resource utilization tracking
✅ Capacity management
✅ Easy-to-use visual interface
Integrations
Float's list of dedicated integrations continues to grow. At the moment, teams can connect with project management tools like Teamwork, Jira, and Asana. Float also has integrations built with Slack, Google Calendar, Outlook, and Zapier.
Pricing
Float's resource planning tool costs $6/month. If you want to add on time tracking (see tool #7 on our list!), it's an extra $4/month per user.
Start resource planning with the #1 rated software
Plan your team's best work with Float, the #1 rated software on G2 for resource management. Get an accurate view of your team's capacity to plan resources and schedule tasks with confidence.
Find out more
2. Teamwork for project management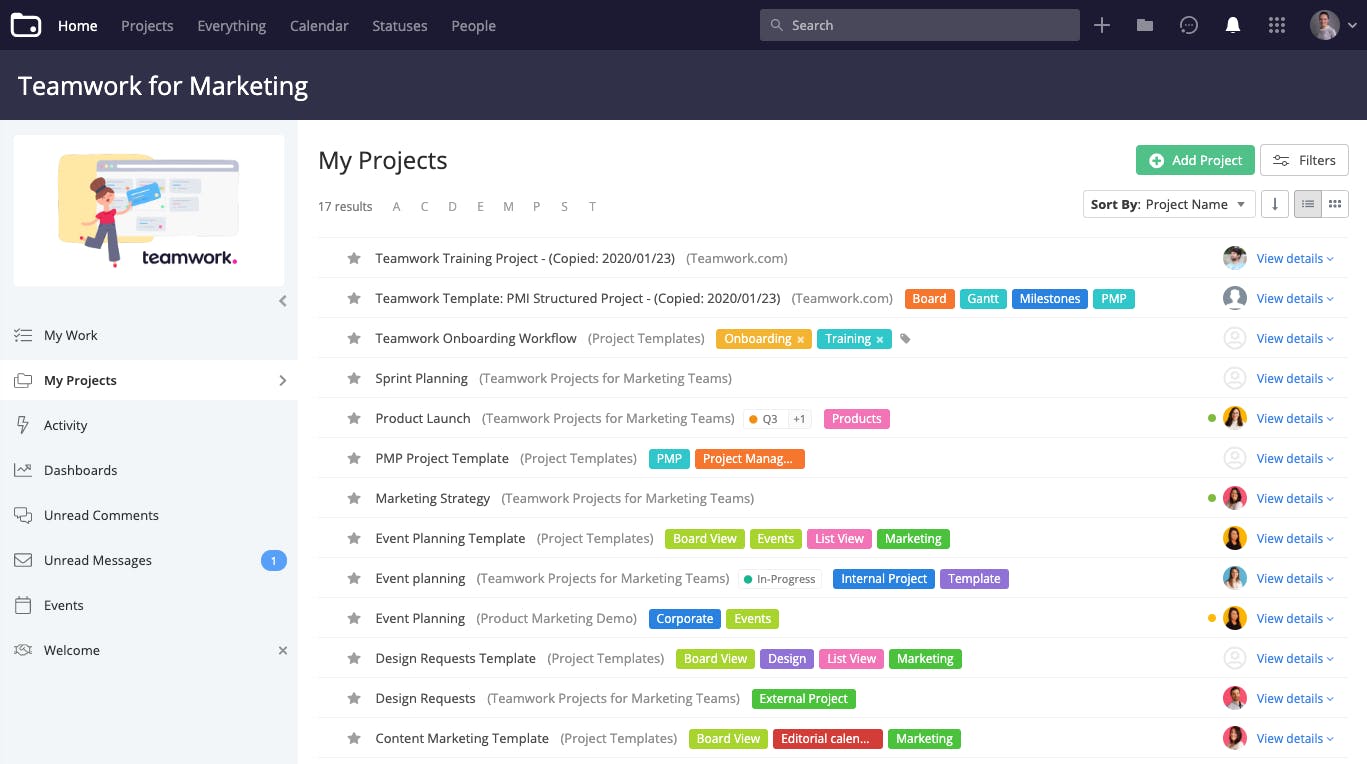 Task lists and people in Teamwork's agency project management software
Usability
Teamwork is a project management solution for in-house and remote agency team leaders.
The best part about Teamwork is it makes collaborating feel effortless. Project managers can build customizable workflows to suit their team's needs, and their project templates make getting started easy.
The interface is user-friendly and intuitive for scoping out your project's deliverables and creating task lists. Once tasks have been assigned, Teamwork's boards make it simple and visual to keep an eye on every part of a project's progress—from start to finish.
Pro-tip: Start your projects by creating task lists in Teamwork, and import them directly into Float where you can drag-and-drop them onto your team's schedules. Check out the Teamwork and Float integration here.
Features
✅ Customizable templates and boards
✅ Task tracking and deadline setting
✅ Visual milestones and project timelines
✅ Real-time status updates
✅ In-app communication through messages, chats, files, & notebooks
Teamwork has customized its project management software with agencies in mind. You can check out their full feature set for agencies here.
Integrations
Teamwork has a host of custom integrations specifically built for its users. The most popular integrations for agencies include Float, Gmail, Hubspot, and Slack. Check out the full database of integrations that play well with Teamwork here.
Pricing
Teamwork offers a free plan as well as paid plans. Its Pro plan starts at $10/month. Visit their pricing page here.
3. Jira for managing software projects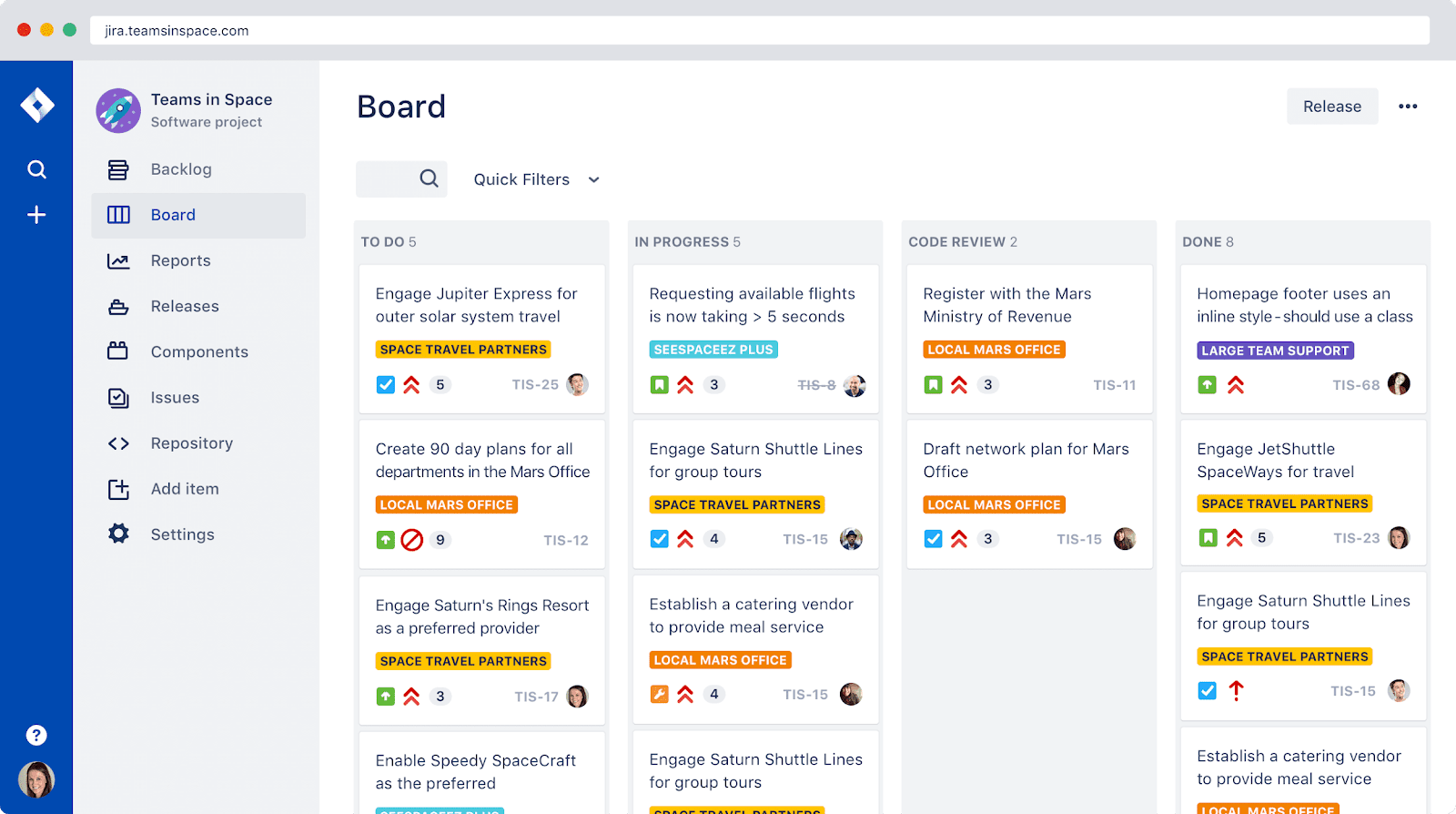 Product design and development agencies use Jira for their project management
Usability
Jira is one of the most popular tools for agile teams organizing software projects.
Jira allows teams to build boards based around projects, ideas, and coding reviews/issues. Its kanban layout means dev teams can organize issues and tasks based on priority and deadlines while keeping the entire team informed of how a project is progressing.
Wait…what is kanban? 🤔
Kanban (a Japanese term for signboard or billboard) is an agile project method that uses capacity and full transparency to move projects forward. Every task is visually displayed on a kanban board which allows team members to see the progress of individual tasks at any time.
Here's the difference between Jira and other tools on the market. Because it's made for developers, it has inbuilt workflows that you can easily adapt to your team's workflows as they develop. On top of that, it offers both kanban and scrum boards out-of-the-box so you can choose whichever one fits your project best while you're in the planning stages.
While a project is in progress, Jira tracks it in real time and builds sprint reports and velocity charts so you can monitor productivity, and, if needed, change things up to meet a deadline.
Features
✅ Agile project management/sprints
✅ Pre-built, customizable workflows
✅ Real-time project updates
✅ Scrum/Kanban boards
✅ Issue tracking
Integrations
As Jira is part of the Atlassian family, it has integrations with 3,000+ apps, including must have developer tools like GitHub, BitBucket, and ScriptRunner. Jira also integrates with other agency management tools like Trello and Float.
Pro-tip: For fast resource and capacity planning of your Jira projects, check out the Jira and Float integration on the Atlassian Marketplace here.
Pricing
You can use Jira's free plan, or opt for a paid plan starting at $10/month. View Jira's pricing plans here.
4. Asana for collaborative project management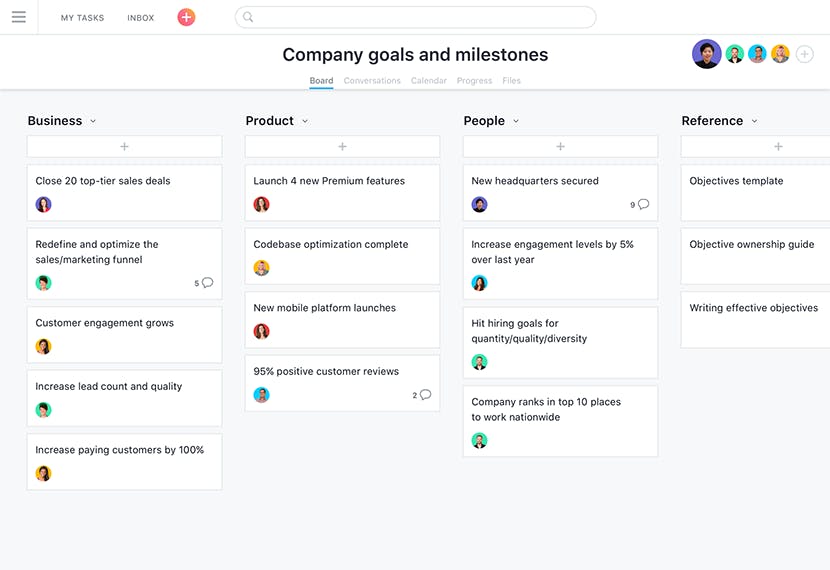 Asana is a popular agency project management tool for collaborative teams
Usability
Asana is an agency management tool that allows teams to manage their projects, store files, and collaborate in one place.
Team leaders can plan projects in Asana simply by creating a task, adding instructions and a deadline, and then assigning it to a team member. These tasks will then appear on a shared board or timeline, where team members can share notes, feedback, and attachments as each task progresses.
As Asana has a visual kanban option, team leaders can move tasks from early stages along a project pipeline as they progress. This visual part of Asana makes it easy to track how a project is progressing without wasting time in back and forth email threads.
Features
✅ Assign multiple users and tasks within a single project
✅ Keep communication outside email and within each task or project
✅ Create custom calendars and deadlines for individual projects
✅ Easily assign tasks to team members using @username
✅ Custom fields allow team leaders to capture information and track statuses
Integrations
Asana is a popular tool among agency folks, so it's not surprising it boasts integrations with other agency software like Adobe Creative Cloud, Google Drive, and Microsoft Apps. It also integrates with Float, making it super easy to sync and schedule your Asana tasks to resources. You can check out the complete list of Asana's integrations here.
Pricing
Asana's free version is perfect for smaller teams of up to 15 people. If your team is a little bigger, Asana Premium starts at $10.99 per user per month. Check out Asana's pricing plans here.
5. Trello for managing and collaborating on tasks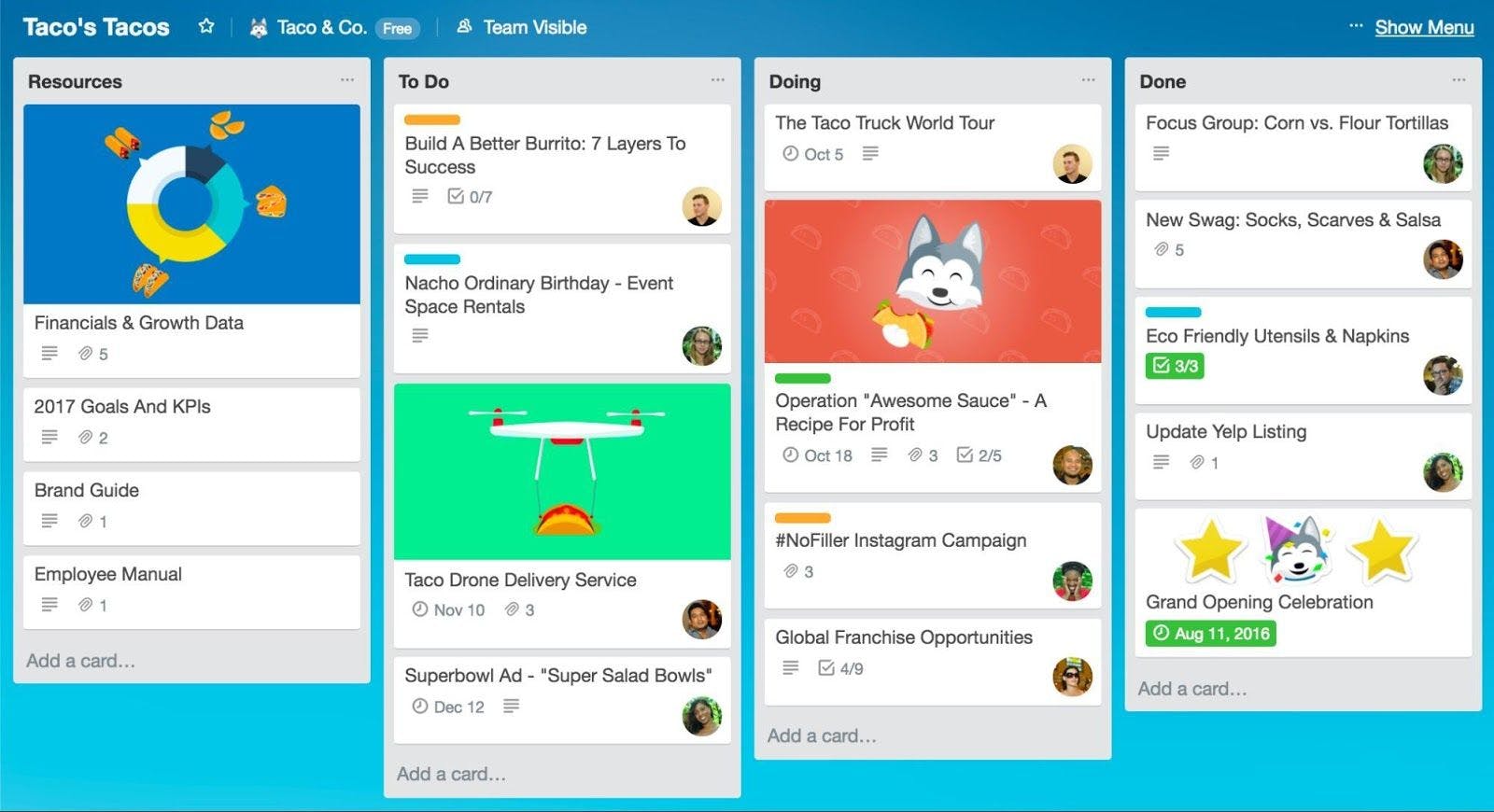 Usability
Trello is like a digital whiteboard and pinboard rolled into one.
Teams create individual tasks (referred to as "cards") on custom "boards", which they can collaborate freely on by sharing comments and replies, adding attachments, assigning labels, due dates, team members, and more. The boards can be set up into different areas, each with a customizable heading. This keeps the status of tasks and projects transparent to the whole team. It also keeps everybody on your team accountable for meeting their individual deadlines.
Features
✅ Create custom boards and cards
✅ Add checklists within task cards
✅ Add team members, labels, attachments, and deadlines to task cards
✅ Team members can comment on cards to log and track task activity
✅ Create public or private links to share your boards and cards
Integrations
Trello Power-Ups are card add-ons that let users import or connect their boards with other services from directly inside the Trello app. Popular Power-Ups include Slack, Map, and Custom Fields. Trello also has integrations with big software names like Salesforce, Github, Evernote, and Google Drive. Check out Trello's searchable integration database here.
Pricing
Trello offers a free trial as well as a free version. For an upgraded version, pricing starts at $12.50/month per user. View Trello's pricing plans here.
6. Milanote for collaborating on feedback (and ideation)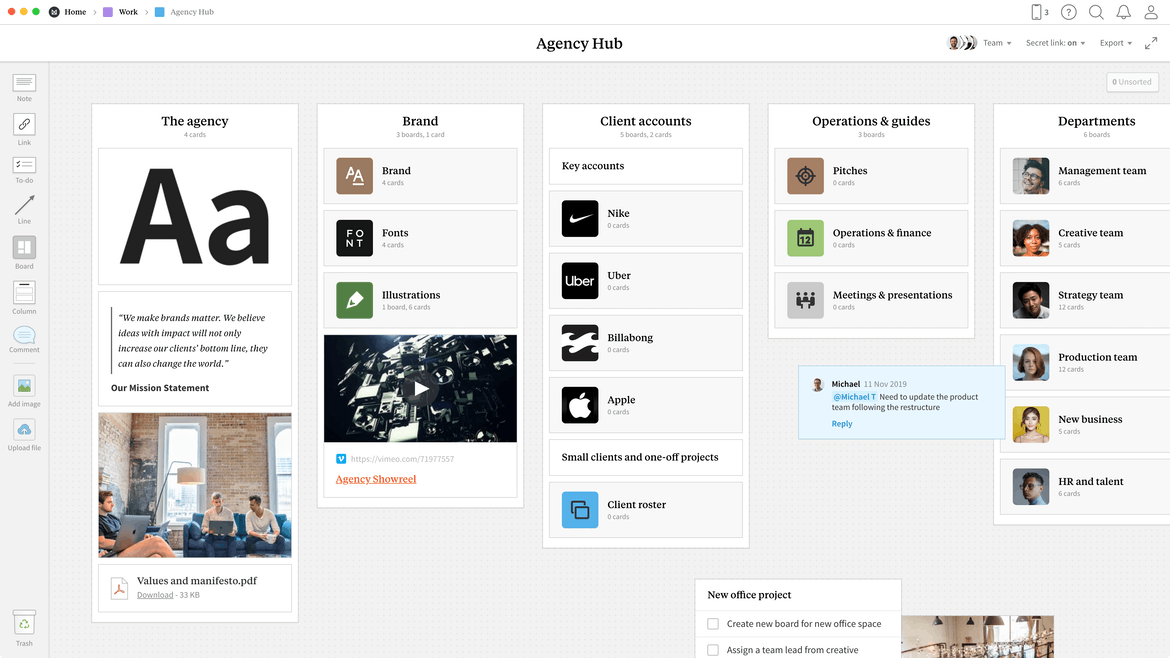 An example board of an agency collaborating in Milanote
Usability
Milanote is known in agency circles as "The Evernote for creatives."
The cloud-based collaboration tool allows creative teams to plan projects on storyboards and co-write briefs in real time. It also lets creatives take notes and brainstorm their ideas, and then attach them to tasks for the rest of the team to see. Team members can leave comments to share feedback with each other, attach files, links, and even color swatches!
Using Milanote feels like mind mapping on a digital whiteboard. It's a great app for visual thinkers and teams who prefer tools that are as aesthetically pleasing as they are practical.
Features
✅ Create and collaborate on shared visual boards
✅ Built-in templates for instant workflows
✅ Real-time commenting/editing
✅ Export creative briefs to PDF or Word
✅ Link cards to create click previews and embed content
Integrations
Milanote's link card feature works well for sharing files from tools like Google Drive, Dropbox, Evernote, and Trello. It even lets you preview video content from Youtube, audio files from SoundCloud, and Google Maps.
Pricing
Milanote offers a free version of their tool as well as a paid version, which starts at $9.99/month. Check out their pricing page here.
7. Float time tracking for budget management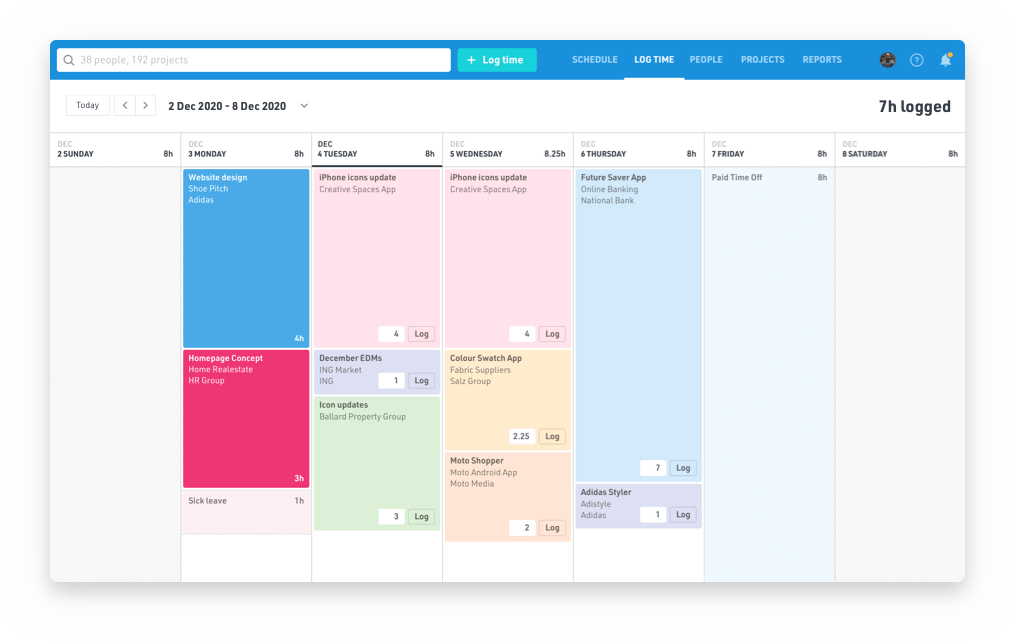 Float time tracking pre-fills timesheets based on your work schedule
One of the most efficient ways to monitor a project's progress is to use a time tracking tool. Float time tracking is an add-on feature to their resource planning tool, and it integrates directly with the Teamwork, Jira, and Asana project management apps above. By tracking your team's actual hours worked, you can monitor your project budgets in real time.
Usability
Float's time tracking add-on is built specifically with agency teams in mind. It aims to take the chore out of manually submitting hours by providing teams with pre-filled timesheets based on their scheduled hours in Float. Team members can confirm their task hours in one click, or quickly make adjustments to their actual time worked before hitting "Log." By comparing project estimation with the actual time taken to complete tasks, project managers can see if a project is on, under, or over budget.
To understand how this tool works for agencies, let's take a look at a real-life example. The creative agency we mentioned earlier, Impression, also uses Float's time tracking tool to log their team's hours every day and get an accurate view of their estimates vs. actuals.
Head of Project Management, Emma Louise, says that before the agency used time tracking, it was difficult to get their team to switch between platforms to log their actual hours worked.
"Now no one has any qualms about logging their time daily, and we're able to make smarter resourcing decisions with accurate data."
Features
✅ Pre-filled timesheets based on your schedule
✅ Real-time budget tracking and reporting
✅ Teams can log hours directly from the iOS and Android app
Integrations
Float has a range of direct integrations to smooth your team's workflow. You can remind your team to log their time via Slack, or drag-and-drop tasks from Jira, Asana, and Teamwork directly onto your teams' timesheets.
Pricing
If you're already using Float, the time tracking feature is an additional $5/month per user. Check out Float's pricing page here.
Which agency management tools will make your life easier?
With projects getting increasingly complex and more agencies going remote, it's more important than ever to invest in tools that simplify your workflows.
With the right tools, team leaders can create a tech stack that helps their organization work smarter, not harder. Choosing your agency management tools is a lot like selecting sides for a pick-up-game of soccer. You want to pick the best tool (player) for a specific task (position), and feel confident that they're going to play well with your other software (teammates). In business (as in sports), the team with the highest score at the end wins.
That's why investing in the right suite of agency management tools is simply smart business! You'll help your team be more productive, and put them in position to deliver their best work going forward.
Looking for an agency resource management tool that plays nicely with your existing tech stack? Teams save at least 4 hours a week planning their project resources with Float. Start your free trial here.
---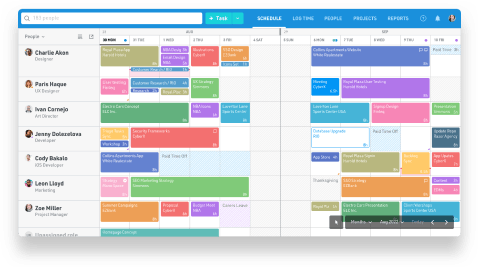 Try the #1 rated resource management software for agencies
More than 3,500 of the world's top teams choose Float for their resource and capacity planning.
Try for free