Introducing Our Slack App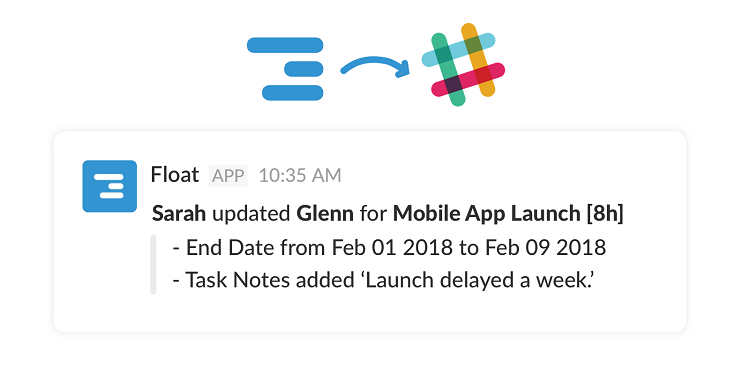 Happy New Year! It's still okay to say that, right? We're kicking off 2018 with an all-new Slack app, a zoomed in schedule view, and a new round of API enhancements that make Float even more accessible.
The new Slack app helps you stay on top of schedule changes by sending live updates to a Slack channel whenever activity occurs.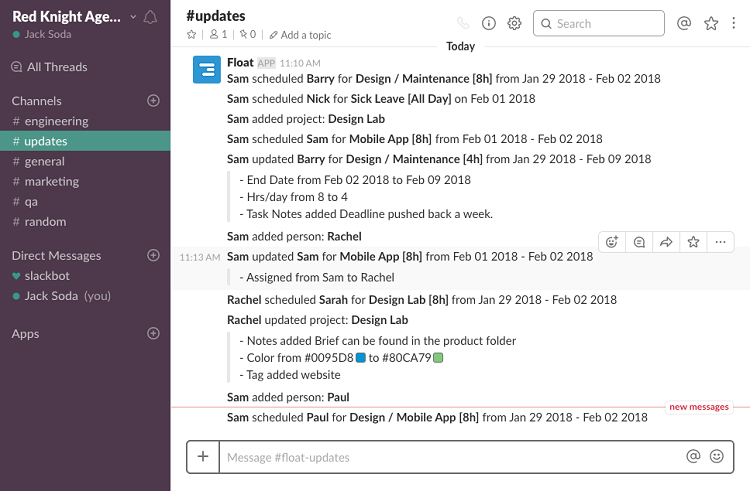 Did a task deadline change? Has a team member scheduled sick leave? Now you can be the first to know. Account owners can add the app from the Account Settings Integrations section.
Get into the detail with our new zoom view
We've added a new zoom height this month so that you can get more up close and personal with your task assignments. Find it by selecting the magnifying glass in the lower right-hand side of the Schedule page.
This new height also paves the way for a 15-minute booking option, which will be available before you know it.

API V3: Enhanced
Still using API V1? Put those New Year's resolutions to good use and upgrade to API V3 in 2018. We've just added a new set of enhancements to POST task names for projects, POST and GET project teams, and the option to GET people by a specific department or a project by client.
In the news
We've started the year with several mention-worthy mentions:
We were crowned #1 in resource management software over at DigitalProjectManager.com.
Time Doctor has listed us as a top scheduling tool for productive teams.
Build gave us a shout out as their scheduling tool of choice in Creative Review's Productive Year Ahead list.
Whether you're hibernating away the cold winter, riding the crest of a summer heat wave — or stuck somewhere in between — have a fantastic week from the team!