The Ultimate Guide to Resource Management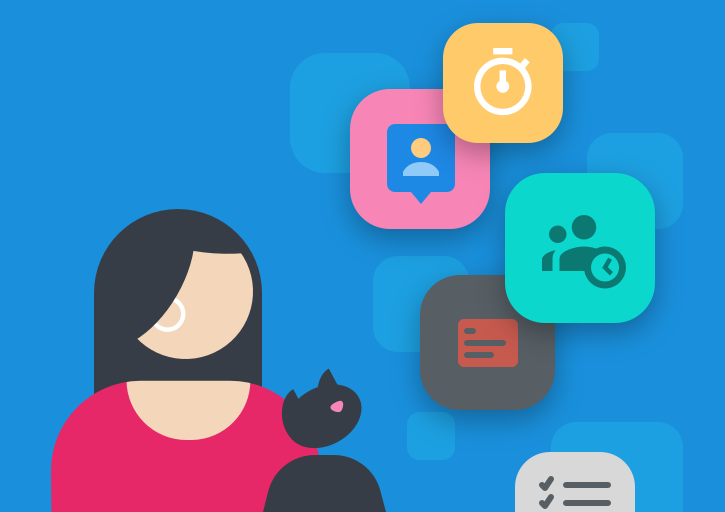 At the beginning of any project, the first questions a project manager will ask themselves is what are the deliverables, what is my budget, how long will it take, and who is available to work on it. The who, your team, are your resources. Planning their time across project tasks is where resource management comes into play. Resource management is a process that helps businesses forecast, schedule and optimize their team's time on project work.
In this piece, we're going to talk about:
What is resource management?
Resource management is the process of planning, managing, and tracking your organization's resources, to deliver projects with maximum efficiency. Resource management helps project managers to plan their resource capacity, utilization rate, and resource schedule effectively, to deliver work on time and budget.
When we talk about managing resources, we can consider things like:
Time
Human resources (the most crucial resource of all)
Hardware resources (e.g., computers and other software)
Budgets
Think about the last time you planned a project. How did you organize your team member's time? Did you have a plan to stay on budget?
According to a study by Wellingtone, the main reasons projects fail (apart from poorly trained managers) is taking on too many projects at once and a lack of budgeting. Without a clear plan, projects are at a higher risk of failure, which is where resource management steps in.

The importance of resource management to plan and track your projects
Resource management provides a high level overview of your resource capacity and project schedule at any given time. The ability to see what tasks the team is working on and which projects they're assigned to gives project managers a clearer picture of the true resource availability and work schedule so they can plan with confidence.
It's important that your team's resource management process keeps everyone in the loop. Any changes to team tasks or your project timelines should take place in real time so that everyone always sees the latest schedule. Smart resource management is collaborative and gives your team the best chance to deliver projects on time and budget.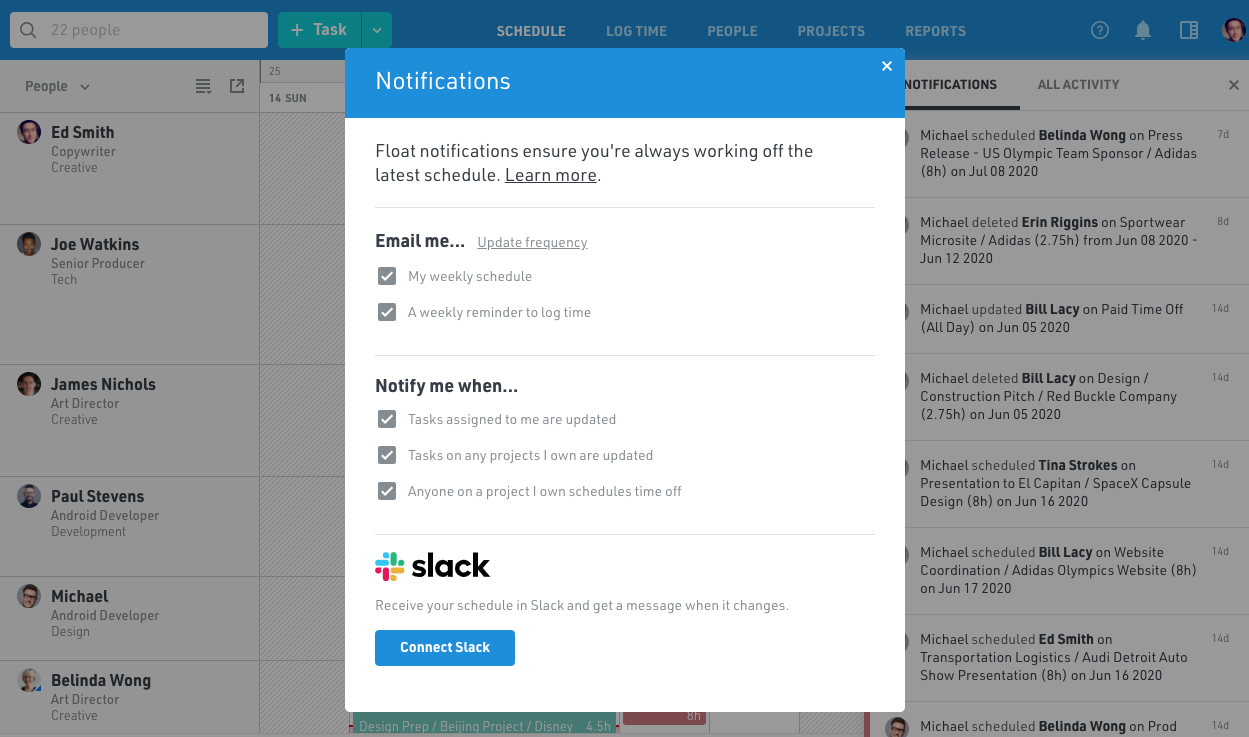 What are the main components of resource management?
Now that we've covered why resource management is important, let's dive into what the main components of resource management actually are.
1. Resource planning and scheduling
Resource management helps you plan and schedule your resources to projects efficiently and effectively.
Planning your resources across multiple projects at once is no easy task. It requires having real-time access to your team's project calendar, and a system to book their time. When your projects change or don't go to plan, project managers need to be able to reassign tasks and reschedule their resources quickly and easily.
Check out this project manager's guide to resource planning.
2. Managing and tracking resource availability
Each employee or contractor on your books has unique skills they bring to the table and different availability from one another.
Resource management gives you the tools to manage and track your employee schedules by creating profiles that capture each of of your team member's unique inputs. Project managers can then filter and sort by these variables to identify the best resource for the task at hand. Managing resource availability is one of the most challenging variables for project managers to stay on top of. Being able to see your team's work hours and days, and having an accurate view of who's working on what, is critical to resource management. Keeping track of other variables such as skills, department, and hourly rates are also important factors to consider in managing resource availability.
3. Planning and forecasting resource capacity
Here's where resource management really starts making sense for businesses.
Forecasting gives you insight into your future resource capacity and helps you see whether or not you can afford to take on more projects. With a resource management software like Float, you get an instant snapshot of your team's capacity and availability, so they'll never be overbooked or underutilized.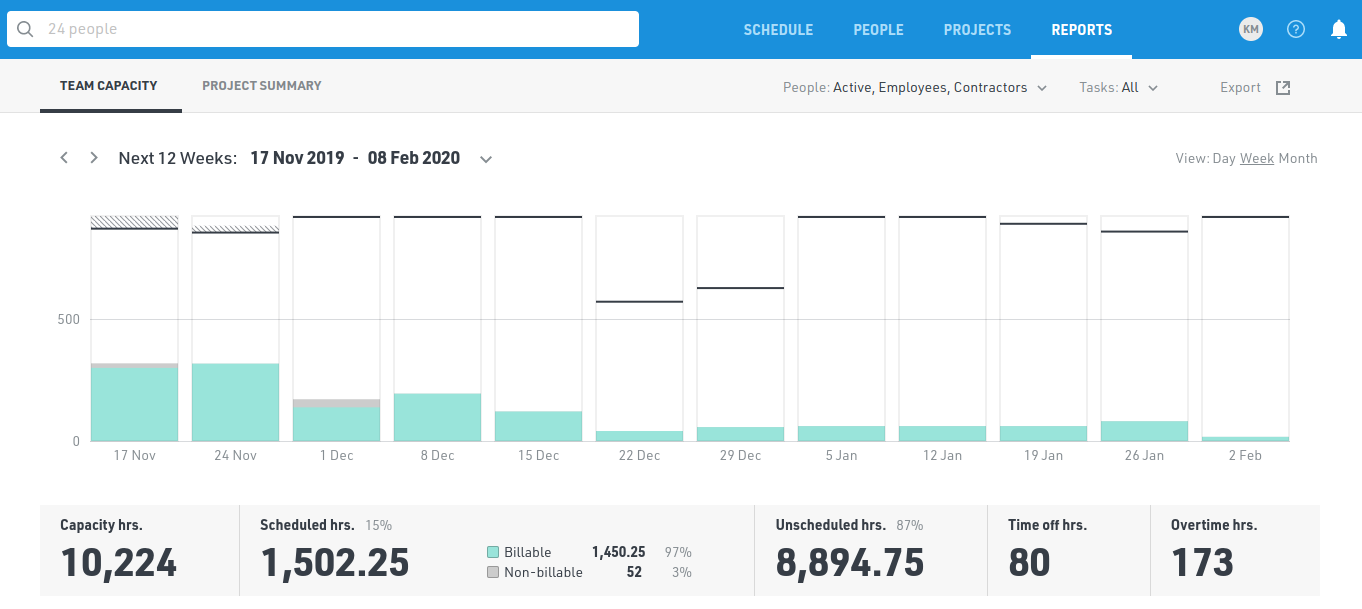 Resource management should also capture your team's data on sales, projects, launches, and schedules to help you make smarter resource decisions moving forward.
The advantages of resource management
Resource management can help you address core challenges like managing your team's availability, seeing what they're working on, and knowing ahead of time whether you're going to hit your project deadlines.
Advantage #1: It stops you and your team from burning out
Overbooking (or underbooking) teams on projects is an ongoing problem for businesses. Take on too many projects, and your team will be swamped; take on too few projects, and your cash flow will suffer.
Resource management helps you gauge your team's capacity so they stay busy—but not to the point of burning out. Using software, you can encourage your team to complete their work on time, and reallocate their tasks when a project timeline shifts.
Let's say that halfway through a project your client requests some extra deliverables. Can you take them on? Can your team handle the additional work without being overloaded? Will it affect other projects in your pipeline?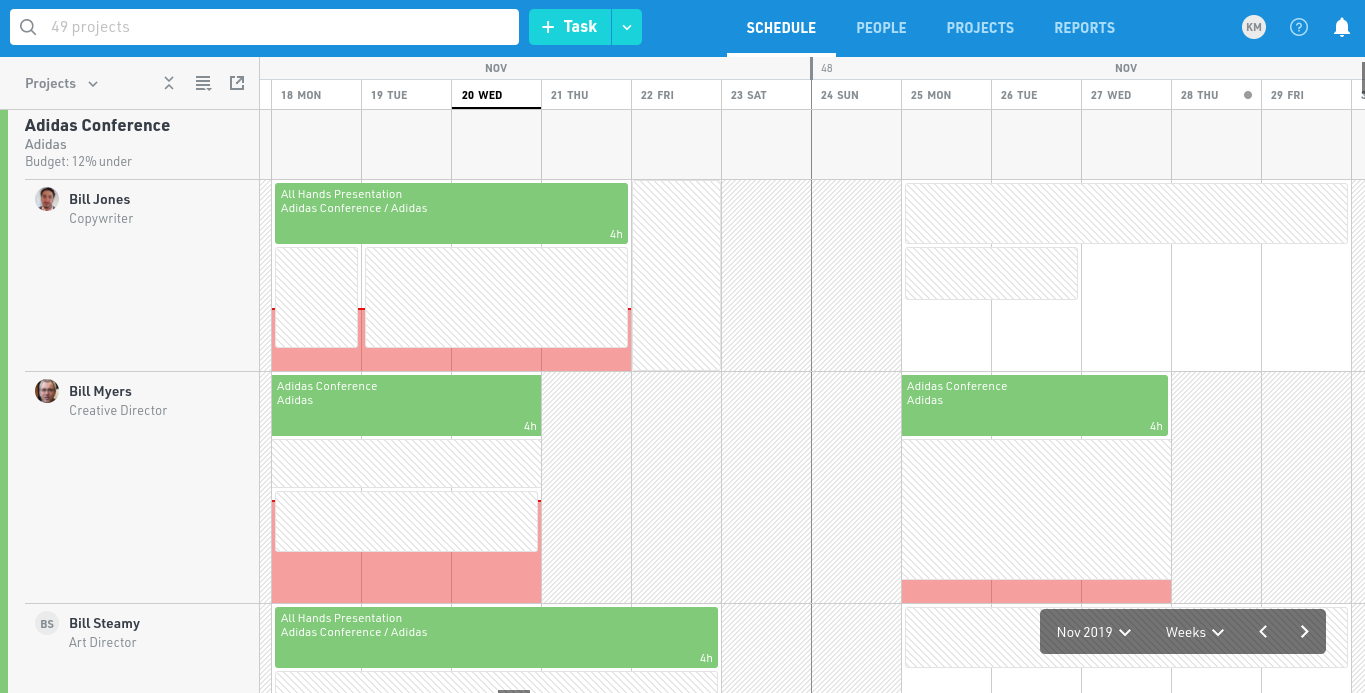 Resource management helps you decide if you should pull team members from elsewhere to take on the extra work, or if you need to look at other options such as hiring contractors or negotiating timelines. Situations like this are by no means uncommon, so don't be surprised if your resource management software quickly becomes your "single source of truth" for planning projects.
This can help you:
Save time: Nobody likes crunching numbers (unless your last name is Taxman), and a resource management software can automatically generate scenarios based on multiple variables and give you instant insight into project capacity and budgets.
See current (and future) resource gaps: Underutilized team members can lower team morale just as much as those who are burnt out. Resource management software helps you in workload management and fill in any gaps that exist. When availability changes or a project needs an extension, you can rearrange your team's workload in a few easy steps.
Advantage #2: It boosts cross collaboration
The success or failure of a project can hinge on how well your team works together.
For example, a video production agency needs everybody, from its art director to the designer and copywriter, working in sync to ensure the project gets delivered on time. Without a team working collaboratively, projects won't get finished. It's that simple!
Resource management gives everyone on the team a birds-eye view of what's happening on a project and when tasks are expected to be delivered. This takes the guesswork out of who is doing what, and when a project deadline is looming.
Digital project studio Okay Bueno uses resource management software to encourage collaboration within their team. Product designer Alvaro Secilla says that their software of choice, Float, helps the whole team know what other team members are up to at all times.
Secilla says the software's simple navigation helps convey information easily to their entire team, and the visual UI makes it much more user-friendly than similar tools available or (ugh!) spreadsheets.
The whole team knows, at a glance, what other team members are doing at all times, and that's really useful when you have to collaborate. - Alvaro Secilla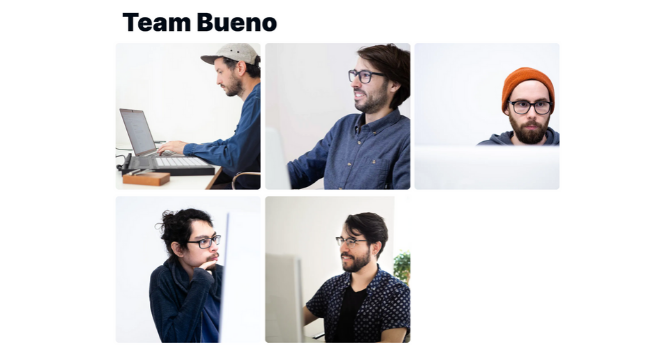 Advantage #3: It saves you money
Last but not least—money!
Employees who don't have a full workload can affect your business's bottom line in a big way. On the flip side, if you take on too many projects you don't have the capacity for, you could end up losing clients if you don't deliver on time or projects go over budget.
All of these financial sinkholes can be fixed with resource management. By reallocating team members to other tasks, as well as automatically keeping track of project budgets, resource management software pays for itself in the long run.
It's challenging to track how much you've spent on a project's resources if you're manually updating a spreadsheet or relying on your employees to do so. With the right software, project costs are calculated automatically based on allocated tasks. If you assign a designer to a project for a 10-hour task, their hourly rate will be automatically deducted from the project's total fee, and you'll be able to see how much money you have left to spend.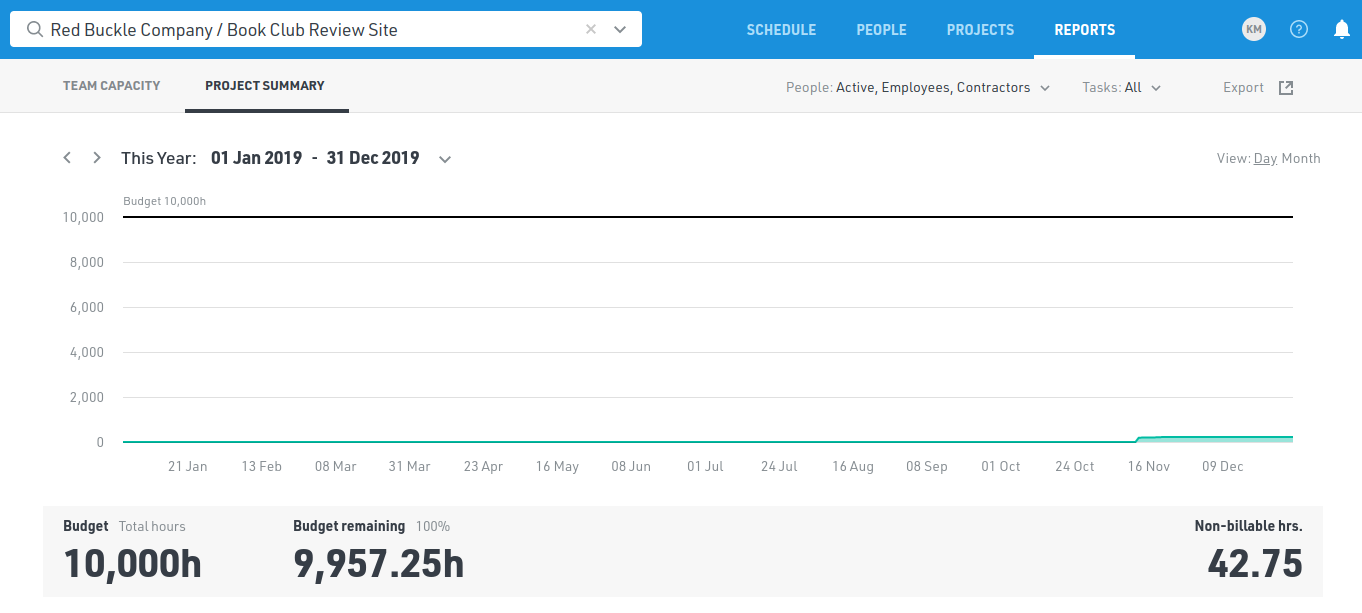 Before VCFO began using resource management software, the company struggled to allocate their sourcers' time and keep them on task. The company's director of recruiting, Vita Trevino-Garcia, says resource management software has enabled their entire team to get on the same page and keep their schedules and budgets on track.
Using resource management software has given us a better ability to calculate cost per hire based on the number of hours worked on each role. - Vita Trevino-Garcia
One of VCFO's main services is sourcing talent for finance, accounting, HR, or c-suite professionals for other companies. Here's how VCFO uses Float to make their lives easier.
If one of their sourcers spends 20 hours of time looking for a professional, and another spends 10 hours on the same search, the total time spent on the project is 30 hours. Trevino-Garcia says once VCFO places the professional with their client's company, that's where Float really shines. VCFO uses Float to figure out if the search made them a profit by taking those 30 hours of sourcing expense (e.g., at $40/hr) and deducting it from the overall project fee.
This gives us a very clear picture of our "cost of hire" for every placement. - Vita Trvino-Garcia
Resource management techniques and tips
Why teams need a resource management process
Every company plans its resources, but not all do so smartly. A resource management process that focuses on planning, scheduling, and allocating resources can be a secret weapon for sticking to your budget and delivering your projects on time.
Let's look at one important resource in particular—your team.
Each team member is assigned tasks that match their skill set, and it's crucial to the project that they complete them on time. When it's approached the right way, resource management can take the stress out of planning your team's time. Using resource management software can also help you stay on top of your team's availability and unique resource inputs (and take you out of those clunky spreadsheets!).

Resource management using a spreadsheet
If you're planning your team's time across multiple projects using a spreadsheet, there are countless details being missed in your resource planning and precious hours being lost to manual record keeping. Effective resource management streamlines the resource planning process for project managers, and helps them allocate and schedule your resources in a more efficient and productive way.
While historically, teams might have used a shared spreadsheet to create project plans and manage their resources, this method is no longer most efficient. Resource inputs like your team's work hours, scheduled time off, hourly rate, etc. become difficult to keep track of and update in a simple spreadsheet.
Spreadsheets also leave the door open for human error. If a task slips through the cracks or a budget gets miscalculated, it can put the success of the entire project in jeopardy. Resource management software solves this by providing a dedicated system that captures your resource data inputs and allows project managers to plan, schedule, and track their resources more effectively.
Find out why MetaLab made the switch from spreadsheets to resource management software Float here.
How to use resource management software
Companies of all sizes can benefit from efficient resource management. A resource management software becomes necessary when you're managing and planning for several projects at a time, and need an efficient solution to allocate resources and track team tasks.
Many team-based organizations like agencies, studios, and firms prefer a shared calendar resource management tool that makes the process of resource planning visual and collaborative. If your projects often require hiring contractors, a calendar UI for your resource scheduling makes it easy to forecast your capacity needs ahead of time. Resource management software that presents a shared calendar view of your resource schedule also ensures that everyone is working from the same page.
Agency teams that use resource management software
Kobe is a creative agency that focuses on mobile application development. To plan and measure the financial health of their projects, Kobe uses resource management software. As a company with less than 50 employees, they've harnessed the power of resource management software to help them select the best team members to work on specific projects.
The company's co-founder, Bruno Bulso, says that since rolling out Float resource management software across the business, it's been much easier to forecast Kobe's resource capacity and the predicted success of their projects. By having a single source of truth for their upcoming projects, team availability, and overall schedule, Kobe is able to visualize the resources they'll need to complete a project, cross-check it with whom they have available, and allocate the best team members to each job.
Software development agency Fusonic uses resource management software Float to plan their resources with better transparency.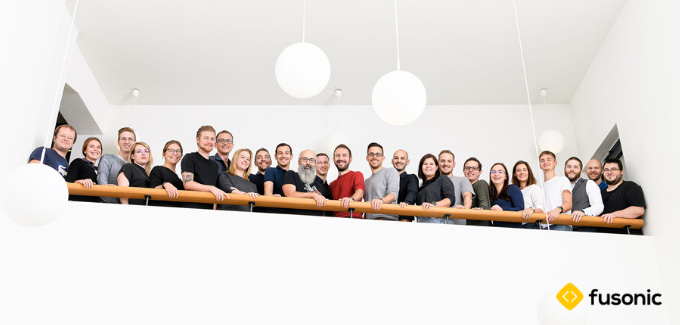 The company's CEO and co-founder, Matthias Burtscher, says resource management software has enabled the team to see their own (and their co-workers') schedules in advance, and make changes to it.
It forces project managers to do capacity planning, as the software is our single source of truth for planned work. - Matthias Burtscher
Larger companies often have a mind-numbing number of resources to manage and clients to satisfy. Having the right tools to plan, forecast, and allocate tasks (not to mention manage budgets) is a necessity.
For any enterprise who wants to keep their profit margins and resources under control, resource management software is a must-have tool in their tech toolkit.

It's your turn
No matter what size your company is, juggling your projects, people, and deadlines is difficult work.
That's where resource management software can help. It automates the essentials like budget and capacity tracking, so you can make smarter decisions about what your team should be working on.
When a project comes into your pipeline, it's easier to envision how you're going to get it done when you have the help of a visual tool at your disposal. Using the right software, you can see if your team is at their peak capacity, or if you have the ability to rearrange schedules and take on a new project on. Plus, dragging and dropping tasks into a team member's calendar sure beats the dullness of updating spreadsheets!
It's time to start working smarter, not harder. With resource management software, you'll be on your way to doing just that!
Tired of using spreadsheets to plan your resources? Join 3,000+ teams that choose Float for their resource management needs. Start your free trial here.