How to Boost Cross Collaboration in Your Remote Team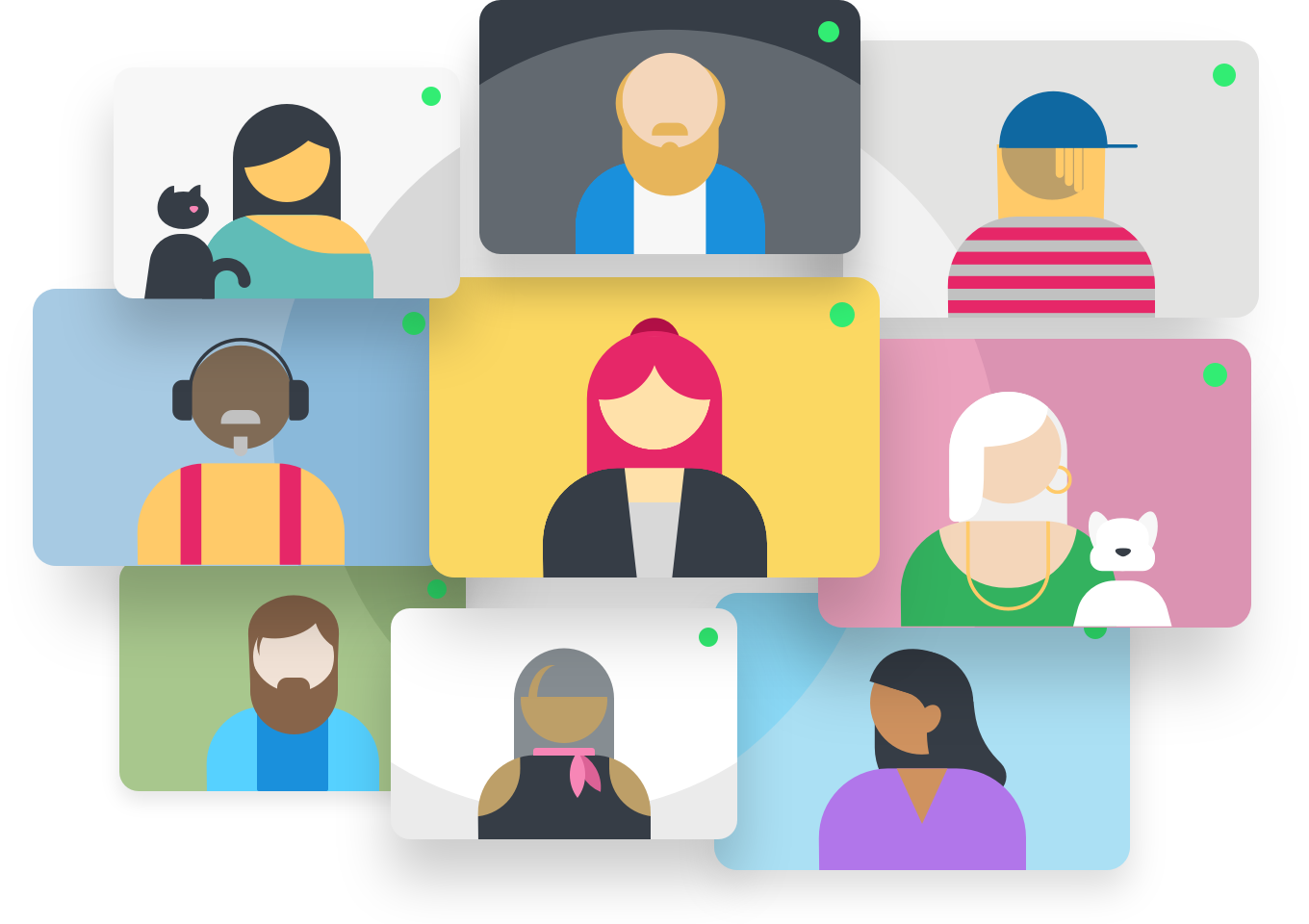 It's an age-old question of remote working: How is it possible to get people working together when they're not physically in the same place?
According to a recent survey of the Microsoft cloud community, almost 60% of professionals were offered home working as a benefit. A remote work option is not just a nice job perk though, it can also give your business a competitive edge in the battle to attract the best talent.
But what impact does remote work have on your team's ability to cross collaborate on projects together?
While 85% of remote workers chose remote work to have greater flexibility with their time, a 2019 Buffer survey found that unplugging after work is remote workers' most significant challenge! Juggling the pros and cons of working remotely is the key to successful cross collaboration (not to mention a happy team).
First, let's walk through the state of cross collaboration in remote teams, and look at how to improve the most common issues those teams face.
The current state of cross collaboration in remote teams
According to a report in the Harvard Business Review, 75% of cross-functional teams are dysfunctional and fail in at least three of five areas:
Meeting a planned budget
Staying on schedule
Adhering to specifications
Meeting customer expectations
Maintaining alignment with the company's corporate goals
75% is an intimidating stat for any team to hear. Yet the same research found that cross-team projects championed by a high-level executive, or overseen by a group of leaders from different departments had a 76% success rate. A further study of over 1100 companies found companies that embraced collaborative working are five times as likely to be high performing than those that don't.
With more Gen Zers entering the workforce, it's expected that by 2028, 73% of all teams will have remote workers. To make remote work a success, it's important to create a sense of closeness within your team, even when they are thousands of miles apart.
A Harvard Business Review article found that there are three kinds of distance to overcome to make remote collaboration more successful:
Physical: Place and time
Operational: Team size, bandwidth, and skill levels
Affinity: Values, trust, and interdependency
According to the article, the best way for managers to drive team performance is by focusing on reducing the affinity distance between team members. One way to close that gap is by switching from remote communication to regular video calls, which are a much better vehicle for establishing rapport and creating empathy than either e-mails or voice calls.
At Float, there are two status updates a week via Slack video.
"The only other meetings are to kick off or retroactive important projects. A lot of our conversation happens asynchronously. I've realized that it's very inefficient to force people to be available at the same time for a fixed amount of time; it simply doesn't scale."

Glenn Rogers, CEO of Float
Interacting regularly with co-workers and and seeing the impact your collaborations have on your organization are fundamental to a healthy, happy remote workplace. Additionally, the best remote work tools make team building feel organic. For example, Slack's app directory has a bunch of integrations that teams can use to build rapport with (like by awarding each other bonus points after a job well done).
At Float, the Geekbot integration is used to conduct daily stand-ups, and a simple question at the end asks, "How do you feel today?". This allows the team to let each other know when they're under the weather, jet lagged, or simply sleep deprived from being a new parent. Adding this question has enabled everyone to interact with each other on a more personal level, and gauge the different moods and rhythms of the team.
Now let's take a look at five tips to help your team collaborate remotely and succeed.
Tip 1: Centralize your communications
The first port of call for building successful remote cross collaboration is to centralize your communications.
To stay up to date with what's happening and how things are progressing, teams are turning to project management apps like Asana, Trello, and Teamwork to streamline their communications. Project management apps enable everyone on a team to share updates, write messages, and ask questions without having to be in the same room together.
The key to centralizing your communications is to make technology work for your team, not against it. You should avoid using the latest tool or trend just for the sake of it, and stick to a tech stack that reflects how your team works best.
This is exactly what the team over at Doist do.
They use a pyramid to outline their design team's project workflow to ensure remote collaborations stay on track. Doist's head of design, Ana Ferreira, says the pyramid gives her team a clear, top to bottom hierarchy of practices and approaches, which creates the basis for how they work, collaborate, and communicate.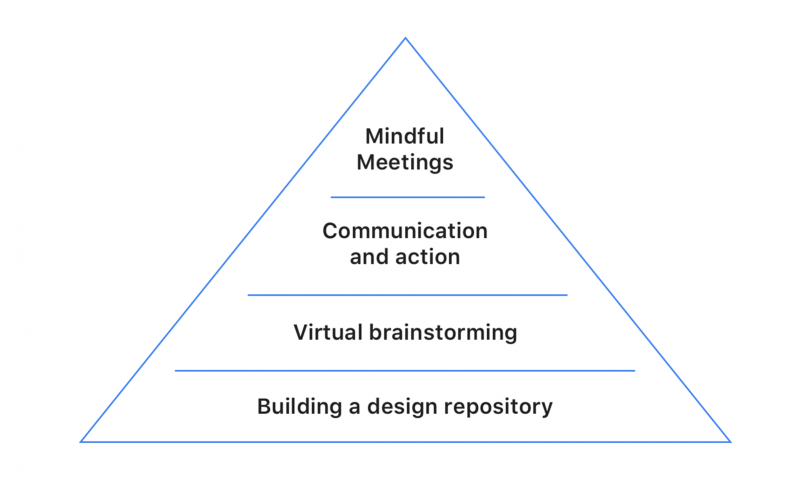 Ferreira says that without a universal system for organizing their work, collaborating together would be impossible.
"While we all have individual approaches to design, having a basic shared system…informs all the other layers of the pyramid of design collaboration.

Our design team can brainstorm, comment in place, iterate, and create specs and guidelines that are shared not only between designers but with everyone in the company.

This facilitates in-team and cross-team collaboration."
Tip 2: Set (and reward) your project milestones
Whenever a new project is started, it's also a fresh chance to build and maintain cross-team momentum.
Once the day-to-day challenges of a project set in, it can be a constant battle to keep a remote team on the same page. To ensure everyone stays inspired and motivated to hit their targets, team leaders should make a point of not only recognizing, but of rewarding, cross-collaborative efforts and achievements.
While it's great to single out and recognize a team member for their achievements, it's important to invite their colleagues to recognize their achievements as well as peer recognition helps to build and cement strong bonds between team members.
Cross collaboration tools can help achieve this without taking up a ton of time. For example, using Float, project owners can create milestones within a project to call out or recognize individual accomplishments.
However, there's a difference between setting milestones and rewarding them.
Let's take a look at how San Francisco based GitHub uniquely rewards their cross collaboration efforts.
The company requires every single new hire to spend their first week in its San Fran office to get a real taste of its culture and vibe. After that, employees can stay in touch using its #toasts-forum, which mirrors the atmosphere of an online water cooler.
Team members are encouraged to post significant accomplishments to the forum. Then, their colleagues from across the globe respond by snapping a selfie of themselves "toasting" their accomplishment. Cool, right?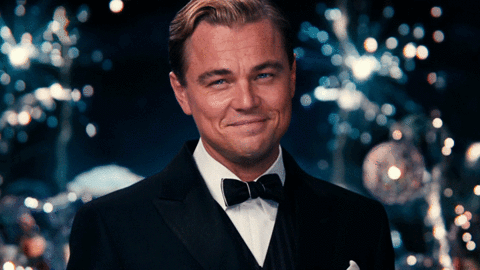 For remote workers located around the world, this type of quirky activity provides a connection to colleagues and ingrains the company's culture.
Tip 3: Create teamwork opportunities
It's hard to cross collaborate when the opportunities for teamwork simply don't exist.
Creating situations where your team has the opportunity to cross collaborate—like proactively scheduling meetings and discussions—can make all the difference. The beauty of having a remote team is that you're in charge of what those communications look like.
Companies like Merck have created unique acronyms for their digital communications. Emails or messages are tagged with acronyms like "4HR" (Four Hour Response) and "NNTR" (No Need to Respond) that help bring a sense of certainty to their virtual conversations. The company also allows its smaller teams to create their own acronyms and norms, giving them the freedom to decide whether or not it makes sense for them to use company-wide tools like Slack, Google Docs, or WhatsApp.
Communication like this doesn't have to be strictly related to work either. Isolation can become a problem for anyone working remotely, so creating a way for teams to communicate outside of milestones and agendas is super important. Encouraging your team to chat in an off-topic channel is a way for them to build relationships with each other—virtually!
The crew over at MetaLab makes the most out of their 100% remote team by communicating through feedback loops and standing meetings to collaborate effectively. They take their virtual collaboration so seriously, they even have their Christmas party over Zoom!
At Float, there's a #general Slack channel for team-wide communication and announcements, that may or may not be work related. It's a quick way to share what everyone is reading, a Friday "lol", or banter about your favorite basketball team!
Tip 4: Keep asking questions
The best way to keep your finger on the pulse is to always keep the lines of communication open with your team.
If you're worried that your remote team isn't engaged and collaborating as they should be, try using questions to open up a conversation like:
"What do you need help with, today, this week, or this month?"
"Is there anything in your work that's affecting or frustrating you?"
"Are you clear on what you should be working on right now? If not, what do you want to discuss, so it's crystal clear?"
"Looking back on the day/week, can you find any part of it that could have gone better?"
"Is there anyone that you want to get to know better on the team? How about setting up a time to chat with them virtually?"
Apart from asking questions, 1:1 check-ins are crucial for team leaders to figure out where their staff are at mentally. 1:1 meetings can help you break down the barrier between you and team members, and allow you to:

Build a trusting relationship
Stay informed about their mindset and well-being
Give (and receive) feedback to help you both grow
Uncover and address topics that might've been lurking under the surface
Over at Reddit, employees share talking points with their manager before the chat takes place. Reddit's VP of people and culture, Katelin Holloway, says this allows the employee to guide the conversation in a way that they want. Before a meeting, Hollaway asks employees to email her an outline of where they need help and what roadblocks they're experiencing, as well as listing their successes.
Oh, and those Reddit check-in meetings? They're hosted every single week.
Tip 5: Don't forget about time zones (and that your employees have a life outside of work!)
A remote team gives you access to talent across the globe, but you also need to consider the different time zones in which team members live.
In a remote environment (especially with a small team), having a considerable time difference between team members can be a huge productivity killer if people aren't cross collaborating successfully. Wherever your team members are based, it's best to try and coordinate schedules so that there are at least a couple hours of overlap each day. Otherwise, it's impossible for your team to ever talk in real time, and there's a delay in answering important questions and communicating that can be a detriment to your productivity.
Not taking your team's time zones into consideration can make the timelines of even small or straightforward projects go off the rails. If your team is spread out across the globe, it's unavoidable that some members will be waking up way too early or staying up way too late, just to participate in discussions.
This can leave team members feeling like they're being treated unfairly or that they're less valuable as a whole. Not ideal!
Using a cross-collaboration tool can help put a lid on this problem. With the Figure It Out (FIO) app, you can choose which time zones you want to add, and at a glance see what time it is where your team lives. Using Float, you can also automatically import public holidays to your team's calendars. This stops you from accidentally scheduling a project on what seems like a random Thursday in July in Australia, but is actually Independence Day in the U.S. 🇺🇸
Finally, remember that while technology potentially gives you 24/7 access to your team, it doesn't mean they're available 24/7. Don't expect your team members to be online and replying to every message all the time. They might find it challenging to relax and recharge if that's the case, and switching off after hours is just as important as when they're on work time!
Wrapping Up
Building a remote team that collaborates and works together successfully takes real effort.
There are a lot of benefits to remote work, and its prevalence is only going to grow in the years to come. However, it is not without its challenges. Distractions, pressure to be available 24/7, and a lack of human contact can potentially derail teams that don't have a solid game plan in place.
The key to overcoming these challenges is to regularly check in with your team, encourage them to communicate with each other (even if it's not about work), and to set clear, rewarding milestones. The right communication and cross-collaboration tools can make all the difference in the world when it comes to remote work. After all, they are this decade's boardroom, water cooler and whiteboard planner—except they're on your screen.
Looking to boost cross collaboration within your remote team? Join the 1000's of creative agencies and teams that plan and manage their remote team's time using Float. Start your free trial here!